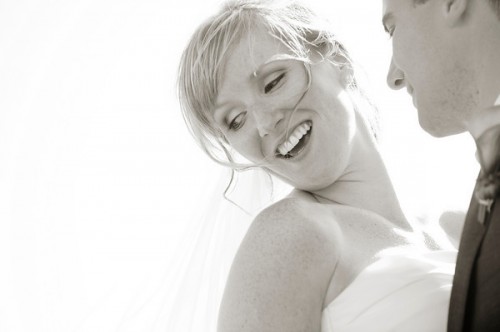 Sandra, 27 & Jason, 30
Victoria, BC
Wedding Date: September 19, 2009
Number of Guests: 54
Wedding Cost:$11,000
Wedding Ceremony Location: Glencoe Cove Park, Victoria, BC. (This is an enclosed grassy point that looks out over the Pacific  Ocean. It was really important to us to be married outside, preferably on the water, but the challenge was in finding somewhere secluded where we would have the intimacy that the day demanded.)
Wedding Reception Location: Sea Cider Farm and Ciderhouse, Saanichton, BC.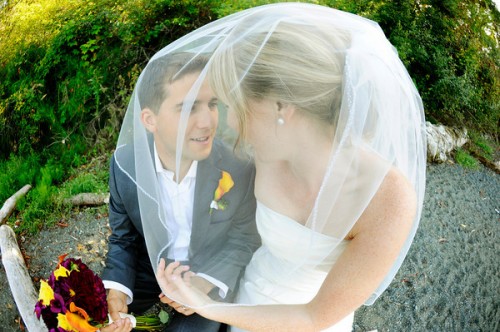 Why did you have an intimate wedding?
It was important for us to have a wedding that represented who we are as individuals and who we are as a couple. We both truly value family and the tight bonds we have with our closest friends. Thus, we wanted the people sharing the day with us to be those people who truly knew us, and understood what this day meant to us both.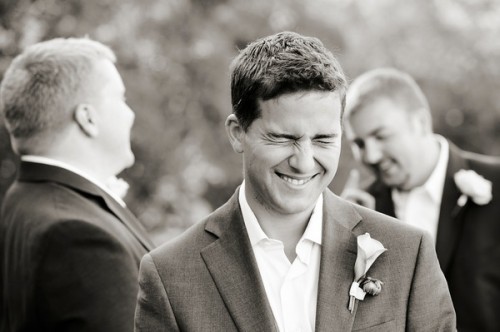 What are some of the challenges that you faced planning an intimate wedding?
Once we picked our venue, we had a set number of seats, so while we knew we wanted a small wedding, our venue somewhat dictated exactly how small. It then became a little of a numbers game, as we had to decide whom to invite and make hard choices to ensure we stayed true to our vision.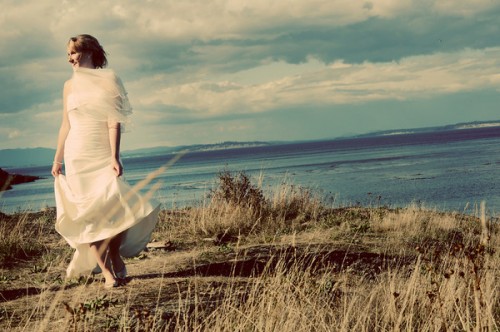 Was it difficult to pare down the guest list?
Initially, yes. However, we started by making groupings out of our guest list. This helped us pare it down. Aside from a couple of close old friends, we only invited friends who knew us as a couple, and family who we see or talk to on a regular basis.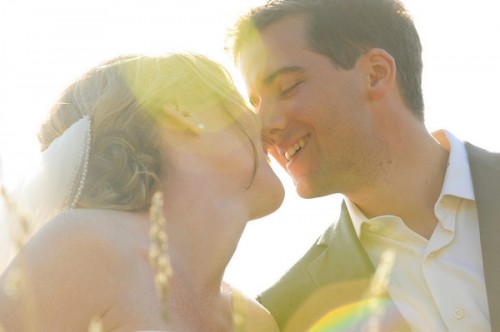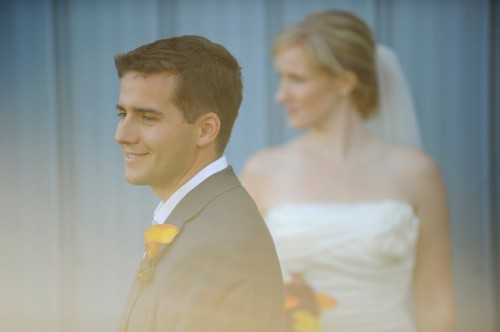 Did you have any 'issues' with the small guest list from friends and family?
There were some questions about inviting more extended family, but we were firm with our intentions from the start. We were clear about why we wanted an intimate wedding, and addressed issues directly and right away. We approached the planning as 'our day'. Our guests were there for us, to share in our celebration, not for our families. It helped that neither of our parents had lists of people that they believed should be invited (either for personal or business reasons). They were very supportive of us and our desire to have a small ceremony.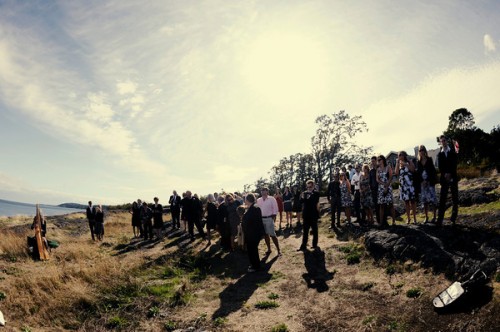 What were the highlights of the ceremony?
Jason's close family friend played the harp on the rocky point while guests arrived and following the ceremony. Sandra's close family friend conducted the ceremony. We didn't want to hire a marriage commissioner to attend our ceremony, as we wanted to keep it as intimate as possible. Instead, we met the commissioner over a pancake breakfast the morning of our wedding, and she did the 'legal' portion for us with our witnesses. This left us able to dictate what was said at our ceremony, and who it was said by. Instead of our wedding words being directed by a stranger, the words were chosen by us, had meaning to us, and were said by someone we love and respect.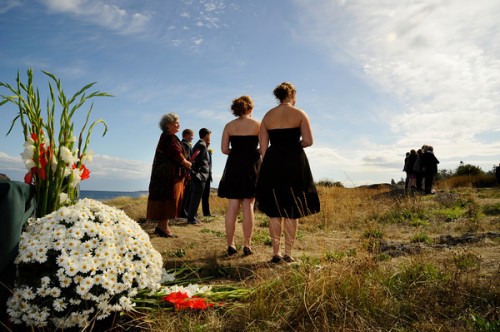 What were the highlights of the reception?
We loved having four long tables of 13 or 14, making the catered buffet dinner more 'family style'. We didn't have a head table, simply a long table of friends. We had great appetizers and cider cocktails while people chatted on the deck overlooking the orchard and ocean. This was followed by a casual dinner with lots of laughs. The speeches were heartfelt, funny, and had even the toughest people in the room reaching for tissues (Jason's best man barely had three words out before he was blubbering). There was spectacular wine and dancing continued into the evening on both the deck and the above mezzanine.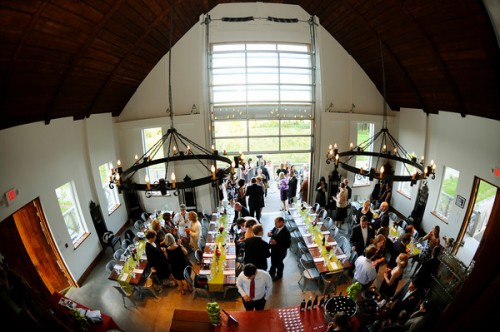 What was the best thing about having an intimate wedding?
That we were able to visit with all of our guests, and look around at any moment and see our closest friends and family, who are a big part of our lives. Even with a small group of guests, the day goes so quickly and you have so little opportunity to share moments with loved ones. Having a larger wedding would only dilute the experience. Instead it was true to us, and perfect.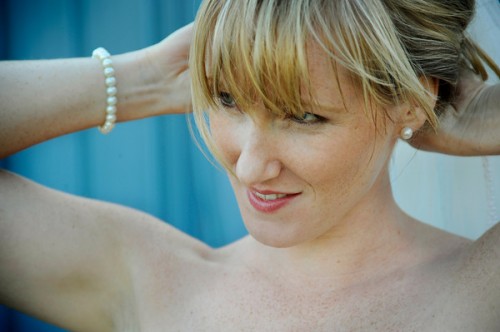 What advice do you have for couples who are considering an intimate wedding?
Planning a wedding is really hard and we certainly had our challenging moments, but the one piece of advice we try to give people is always be true to who you are. It's your day and while others might have an idea of what they think would be nice, or might have elements that they think you should incorporate, just remember that you have to follow your heart. After all, others will remember that it was a great day and that they had fun, but you're the one who will remember all the minute details of the day.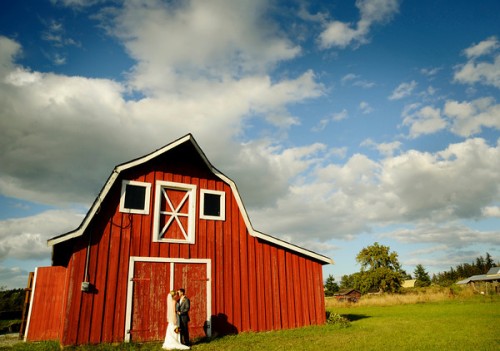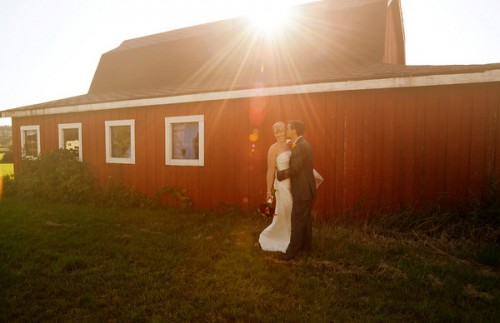 Vendors:
Photographer: Eunice Montego and Julie Williams, Funky Town Photography (All photos shown were taken by Eunice Montego.)
Food: Truffles Catering
Wine and Beer: Kitsilano Wine Cellar, Driftwood Brewery
Cake: Pure Vanilla Bakery
Flowers: Kenmar Flower Farm
Wedding Dress: Blush
Groom's Suit: Outlooks For Men.