As the founders and operators of the Mala Collective – a company that believes in spreading the ideals of conscious living through sustainably harvested, fairly traded, and ethically produced handmade jewelry from Bali – Ashley and Matthew have a truly special connection to the Indonesian island. So, when it came time to plan their nuptials, it goes without saying that a destination wedding in Bali was the obvious choice.
Filled with good friends, lots of champagne, and a group of local fire-dancers, the couple's wedding day was as laid-back and unique as the island itself. Not even a little rain could dampen their spirits, because, as the bride perfectly put it, when you're on a beach in Bali surrounded by your family and friends, what can really go wrong?
Special thanks to Gusde Photography for all the beautiful photos!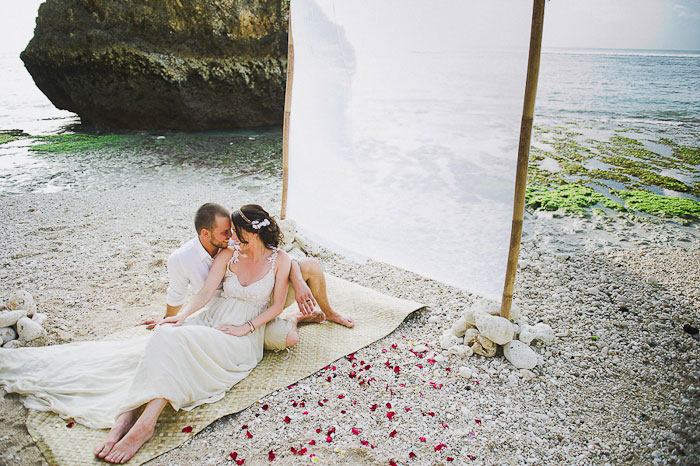 Ashley, 26 & Matthew, 26
Bali, Indonesia
Wedding Date: July 14, 2013
Number of Guests: There were 13 of us for dinner. After dinner and speeches, all of the staff who helped prepare the evening got changed into their traditional dress and came down to celebrate and dance with us!
Wedding Cost: Hmm, this one's a bit grey. The wedding itself cost around $5,000. That was for the ceremony, reception, and also included the retreat day we had the day before the wedding. We had a private outdoor yoga class in the morning, followed by a beautiful Balinese lunch at a restaurant down the street. Then the men went surfing, and the women had foot massages overlooking the ocean. Flights and accommodation were extra.

Wedding Ceremony Location: The wedding ceremony was on Bingin Beach, Bali. We found the spot the day after we landed. It was at the end of the beach, so it was a bit more private (it's a popular surf beach, so it's usually really busy). We chose a beautiful spot tucked away between some large rocks. We found out after the ceremony, as we were taking photos, that there was a beautiful cove tucked behind the rocks – perfect for our wedding photos!
Wedding Reception Location: The reception was up on the cliff, overlooking the beach. We got married at our friend's house, Villa Soma. We met Soma on a plane two years ago. We were wearing some beautiful mala bead jewelry, and she happened to be the woman who made it. Long story short, I have since quit my job to help her spread the love of these mala beads, and Matt and I have started Mala Collective. Soma believes the mala bead jewelry provides peace and a calmer mind, body and spirit – an idea which we loved. Returning to her house to get married was only the second time we've met her, but it feels like she's been a part of our lives forever.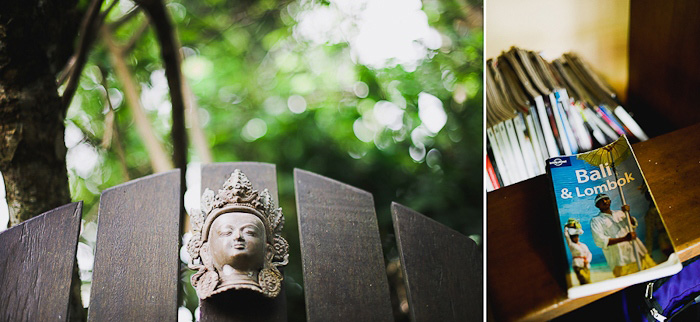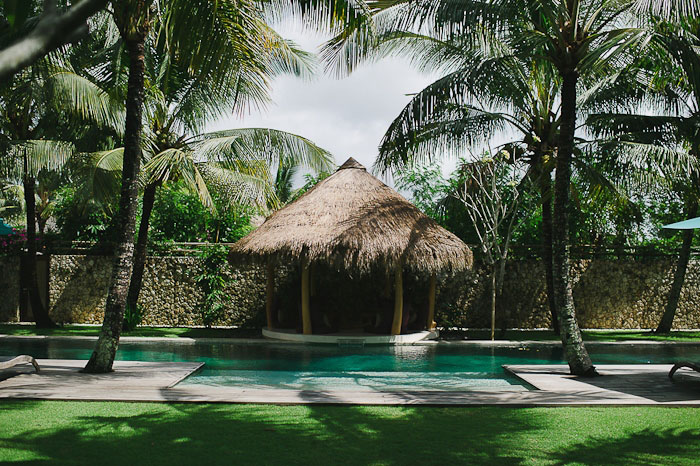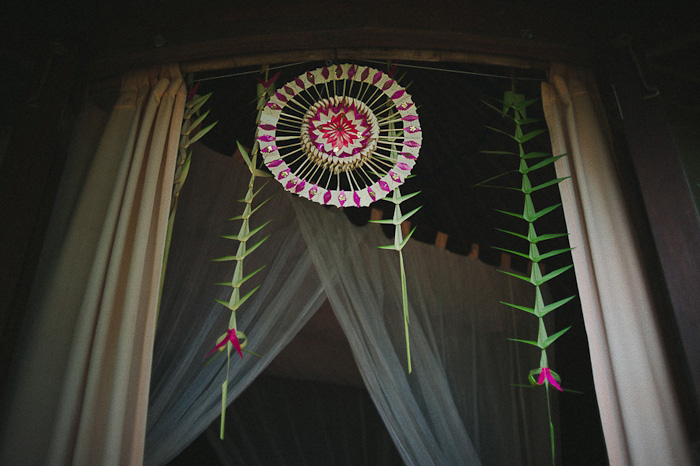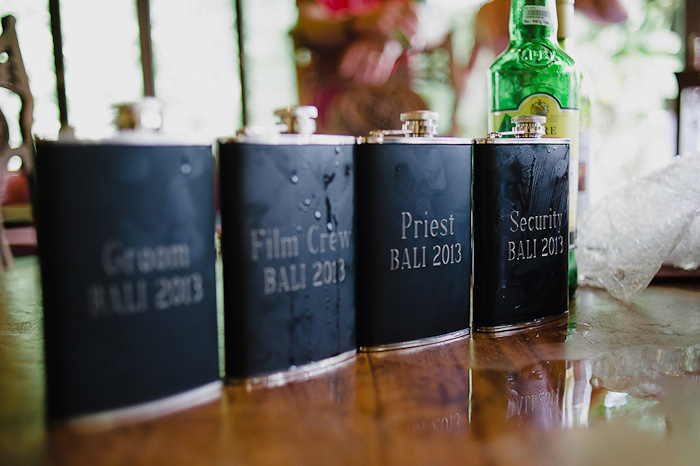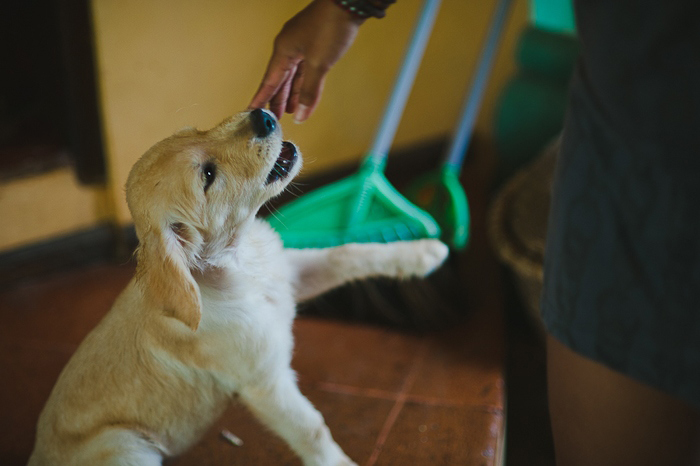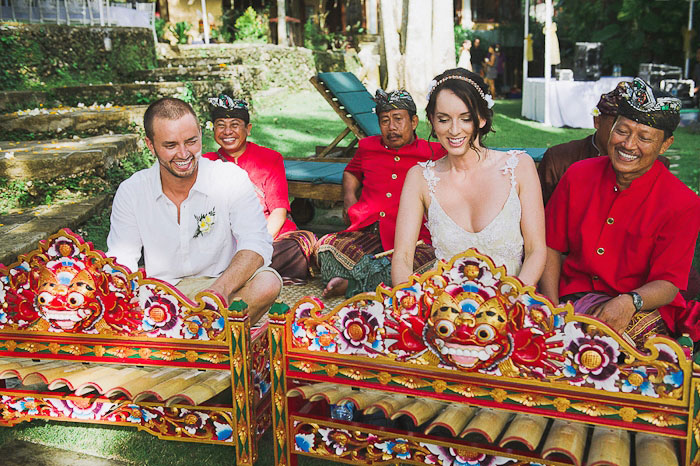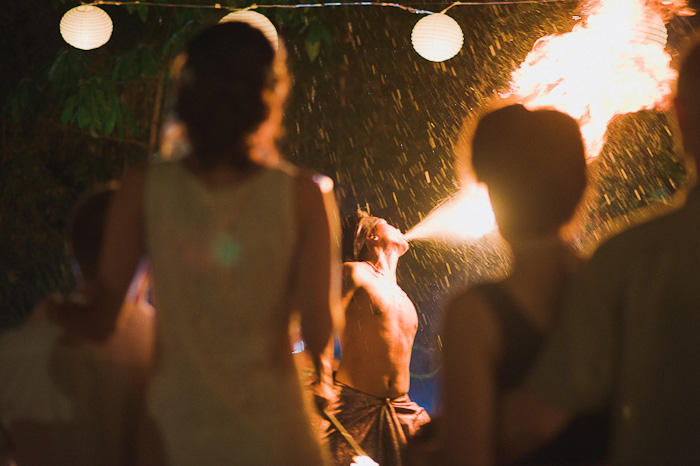 Why did you have an intimate wedding?
When I was a little girl, I saw a man and woman have a small, hippie wedding on a beach where we camped in the summer and I fell in love. It was simple, everyone was happy, and their energy was so strong. Luckily, Matt wanted the same thing!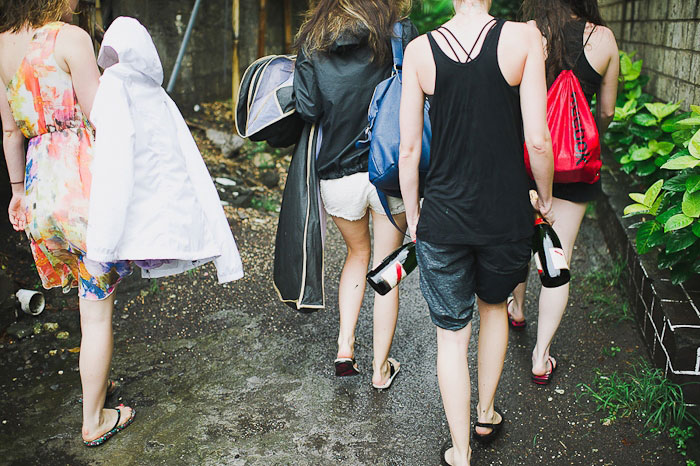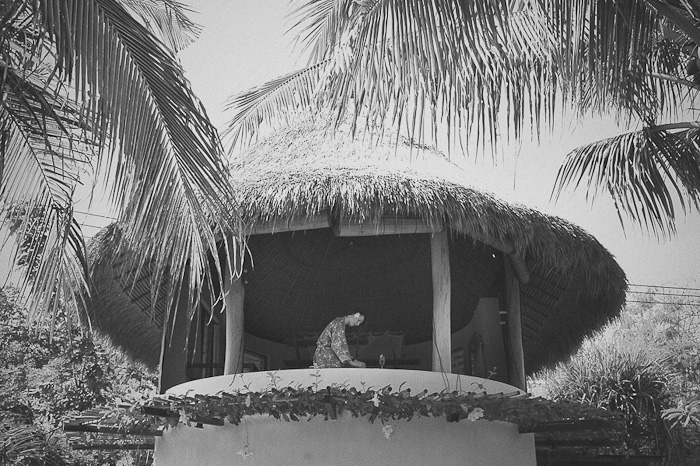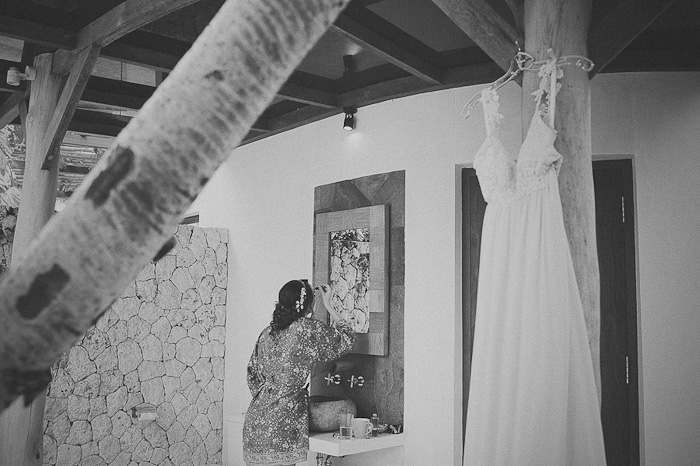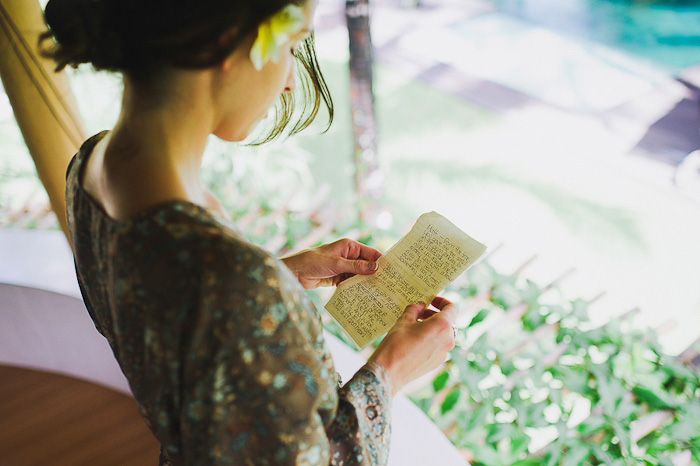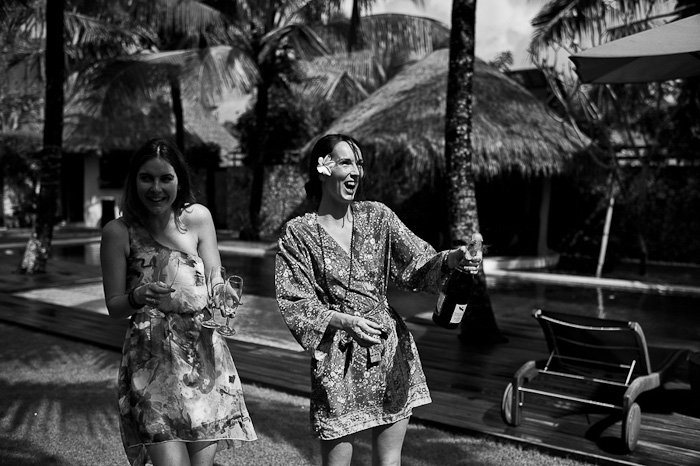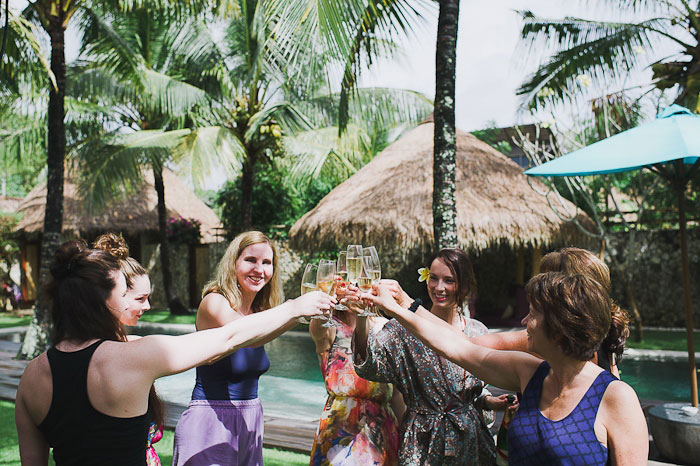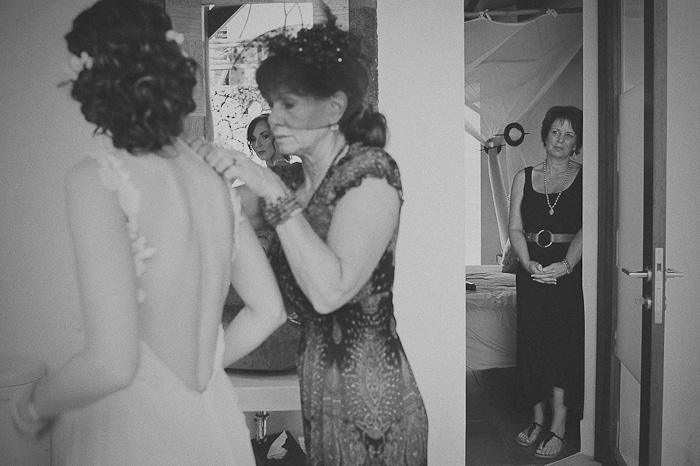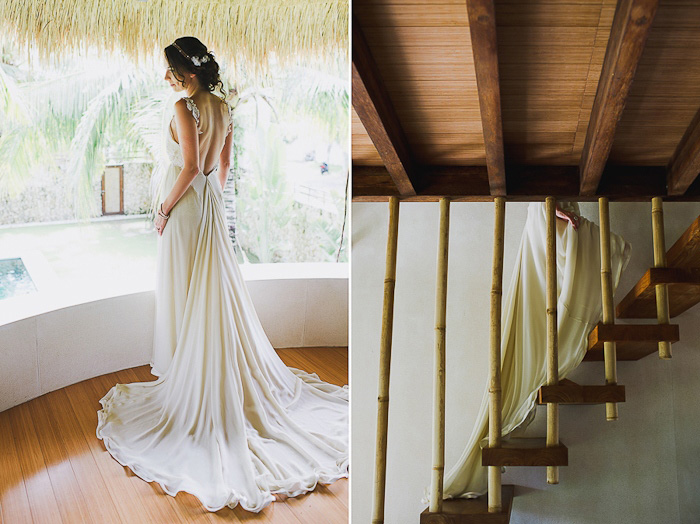 What are some the challenges that you faced planning an intimate wedding?
To be honest, we had very few challenges. Having the wedding out of the country leaves very little that you can 'do' yourself. We were very laid back about the details as there was nothing we could physically do until we reached Bali! We had an amazing team of people helping us from Bali, so we just had to trust that they would do an amazing job; which they did.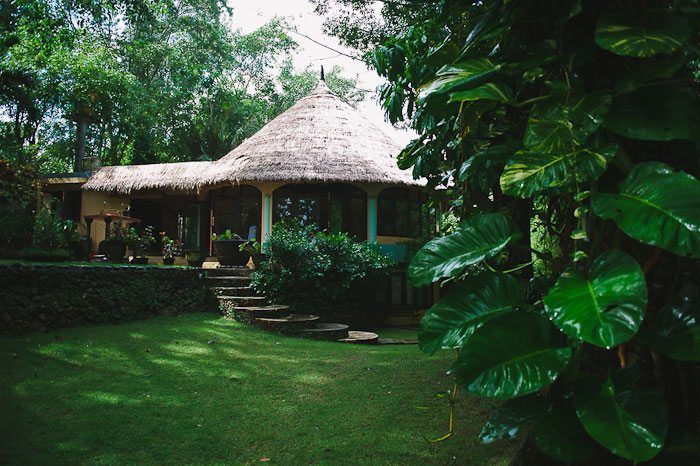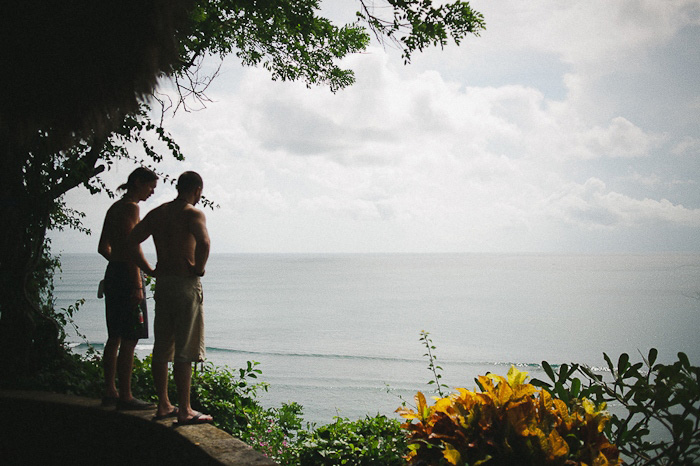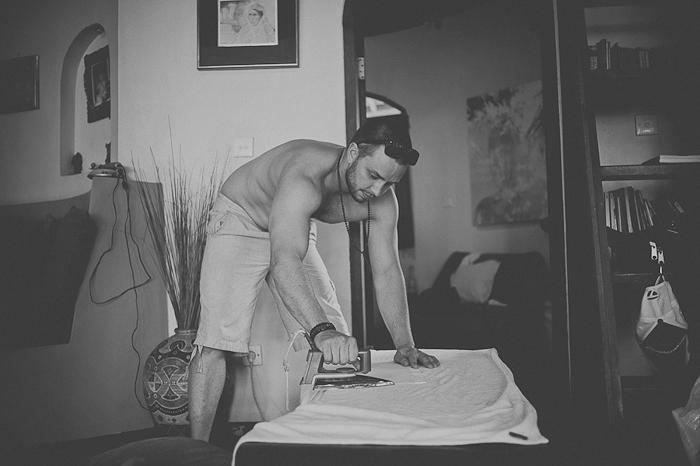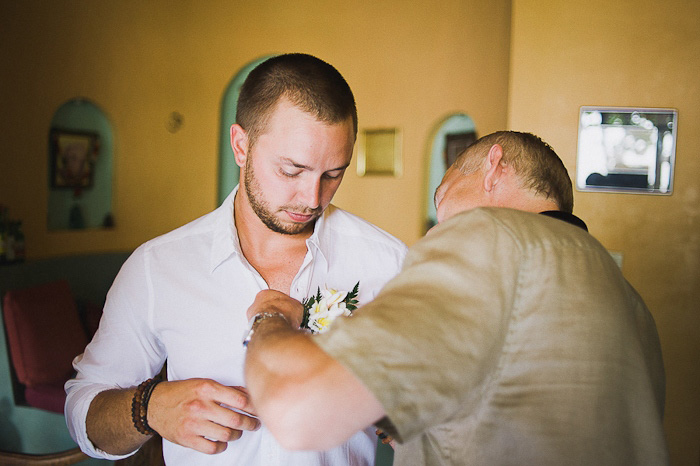 Was it difficult to pare down the guest list?
At times it was difficult. We were really back and forth about how many people to invite, but in the end it came down to all or nothing. We decided that immediate family and closest friends would be best. Including any more guests would have made it too hard (as much as we would have loved everyone to be there…).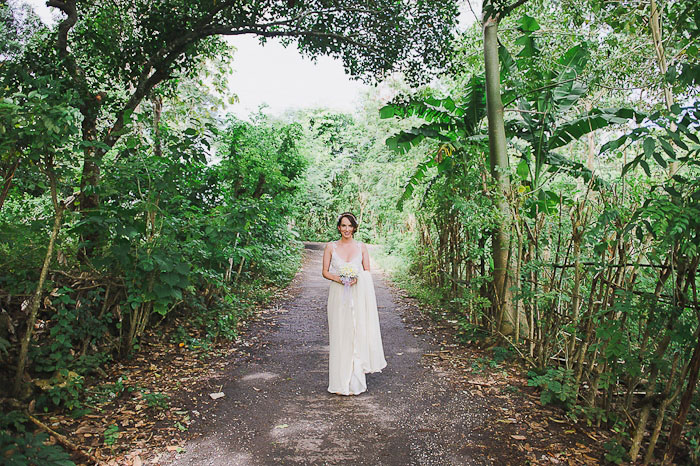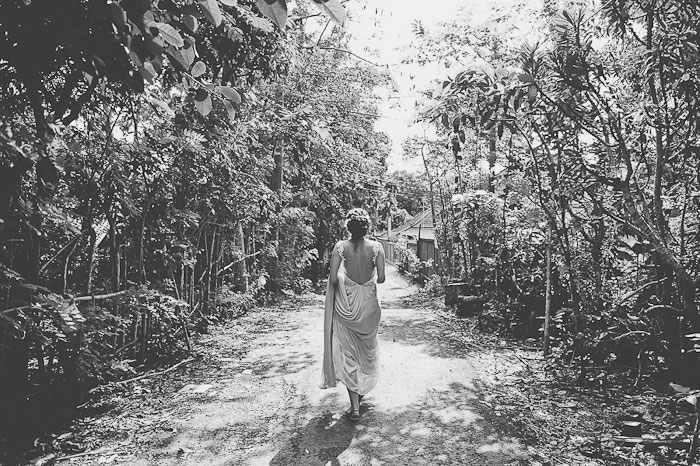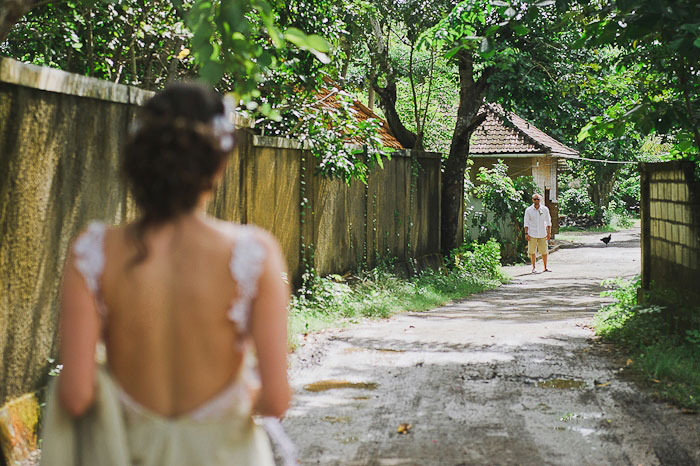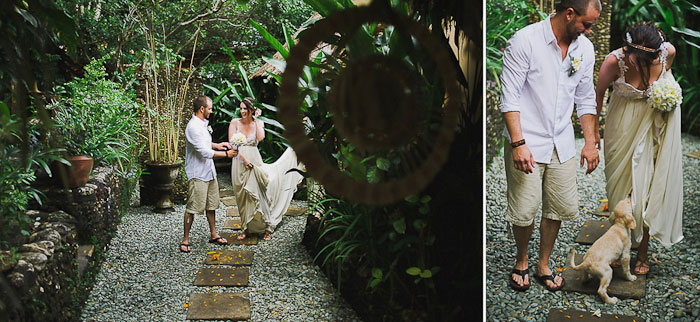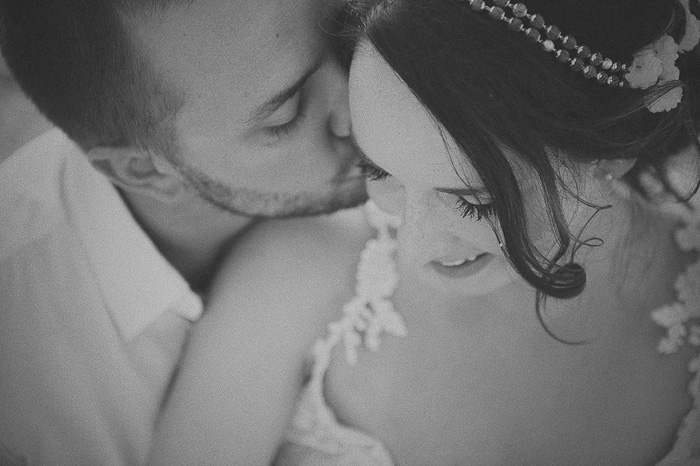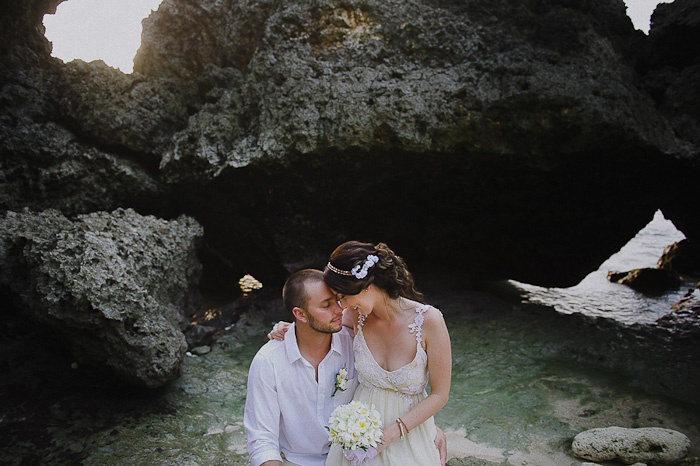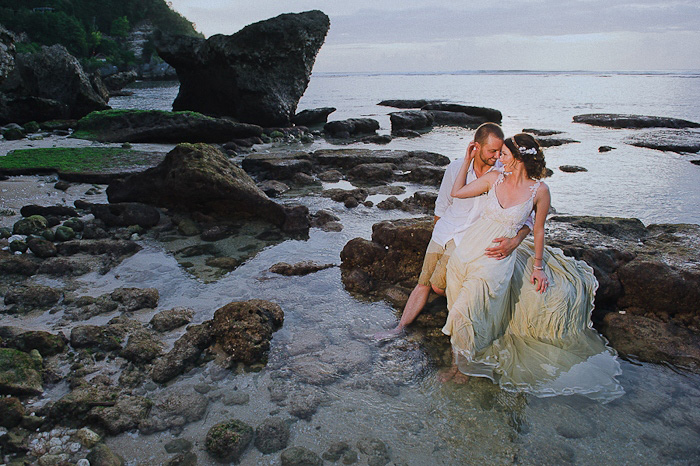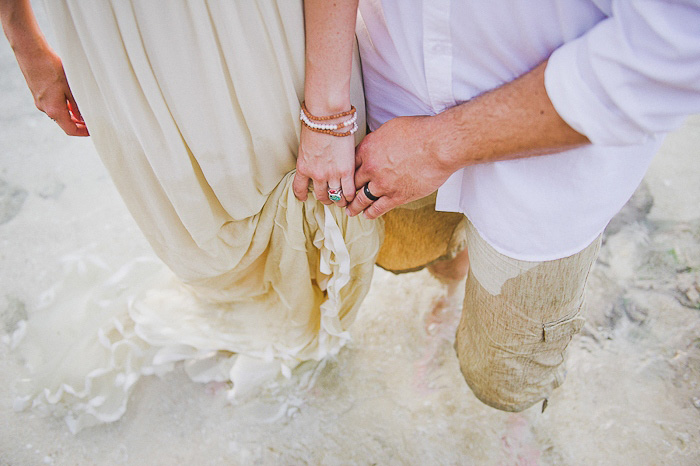 Did you have any 'issues' with the small guest list from friends and family? If so, how did you address them?
Nope! Not that we were told anyway. We were kind about the process, and explained that we would have a reception to celebrate when we got home; which is what people want to do – celebrate your love. I think people really respected that Matt and I have a special connection with Bali, and wanted us to celebrate in our own way. It was the most 'untraditional' wedding that either side of our families had encountered, so I think they were happy and excited for us to express ourselves in our own unique way.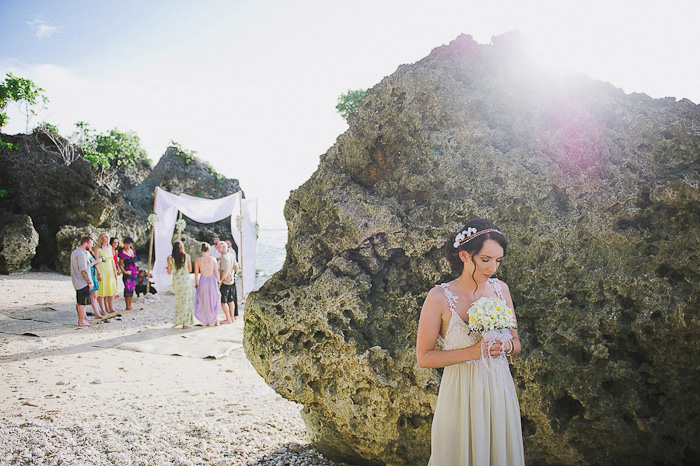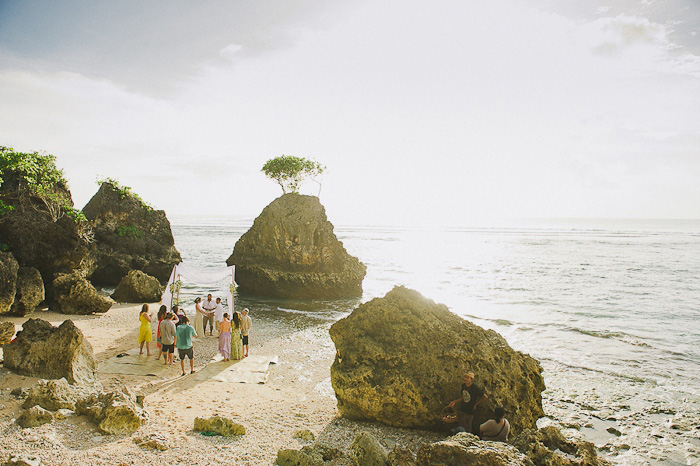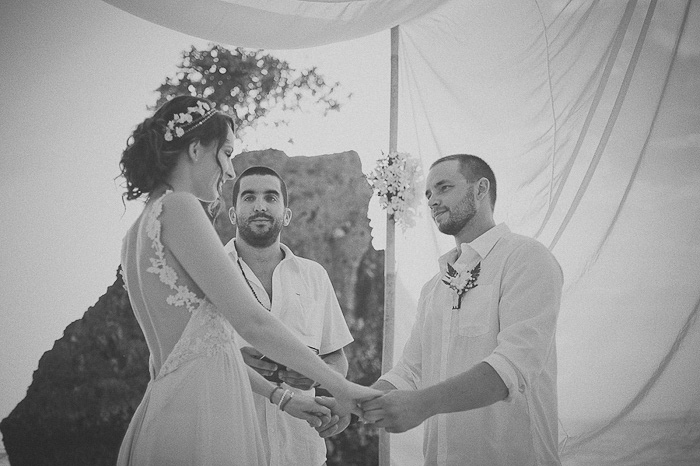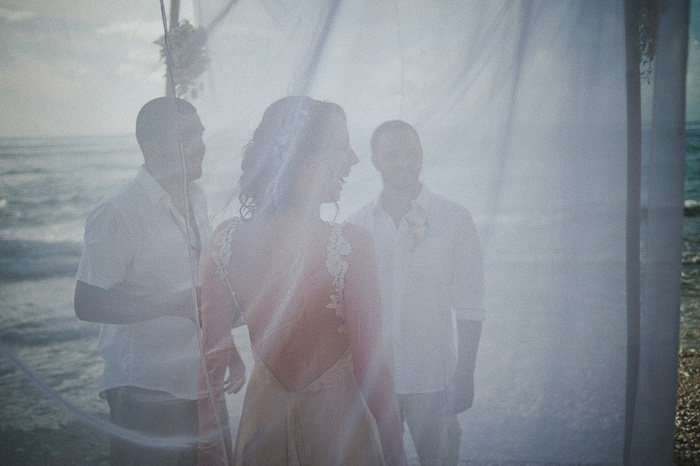 What were the highlights of the ceremony?
Getting to the ceremony was a highlight in itself! We walked down the cliff side, on stairs made of mud. Only one person fell, but she was ok! Once we were down on the beach, we walked through a crowd of surfers, sun bathers, and snorkelers and they were cheering and sending us congrats the whole way along. It was a great lead up to the ceremony!
During the ceremony, the highlight was having our close friend Scott Goldfinch marry us. He was ordained online, and took it all very seriously. It was so special to have someone so close to us give us such a personal experience; it was filled with sincerity, humour, personal experiences, and so much love.
And of course, looking up at one another during our vows and seeing the beautiful ocean in the background. That was extremely special.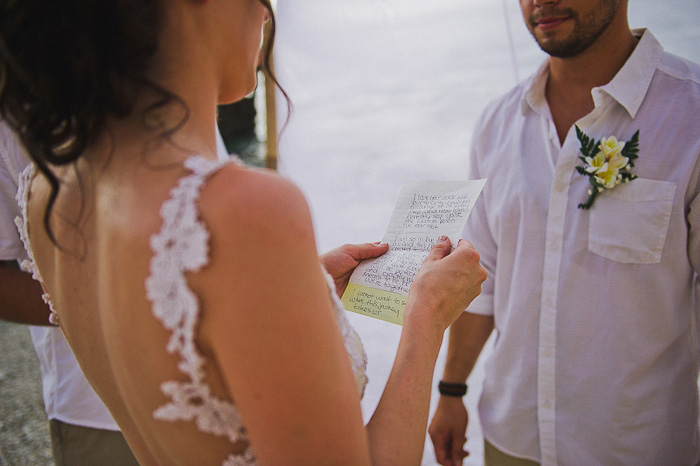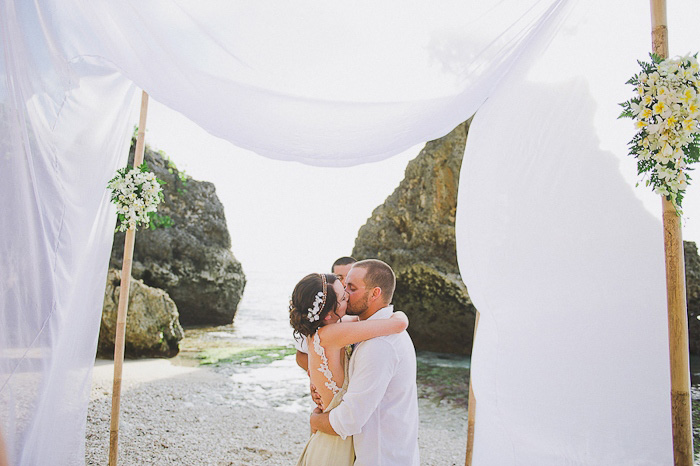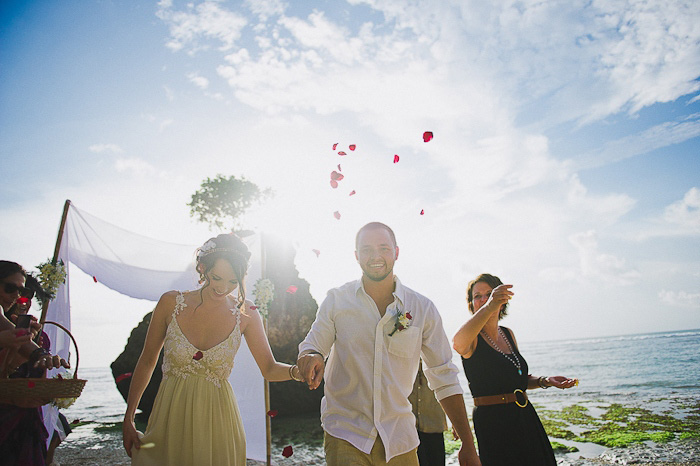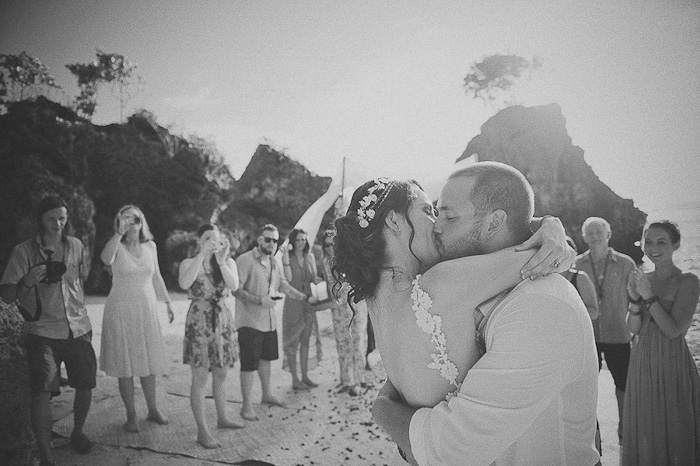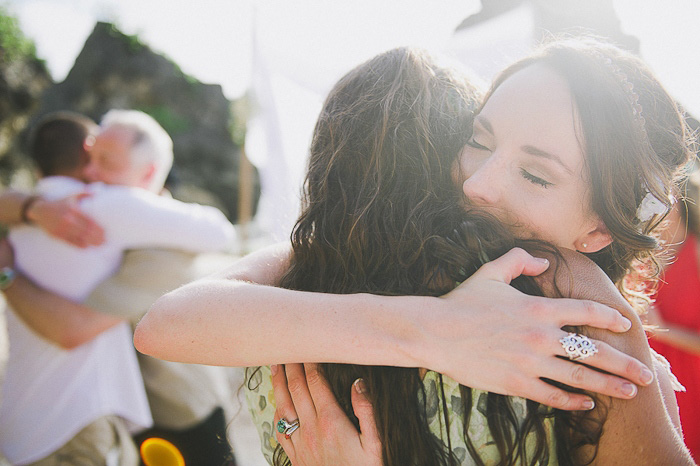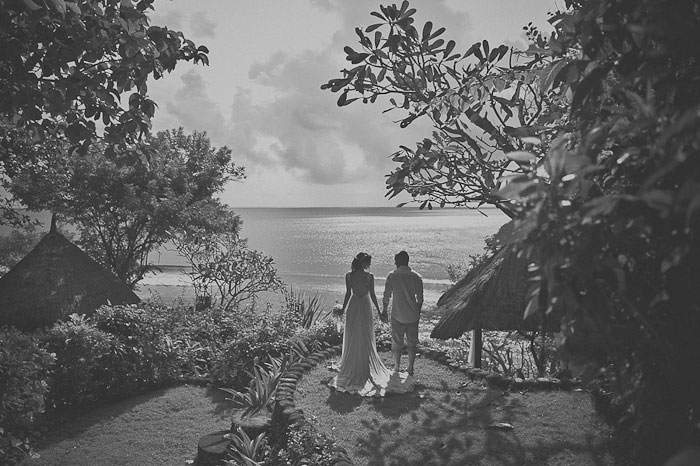 What were the highlights of the reception?
Watching the fire dancers perform after dinner. Almost as entertaining was watching everyone's faces during their show! The main performer blew fire out of his mouth so high we thought the paper lanterns in the trees would catch fire.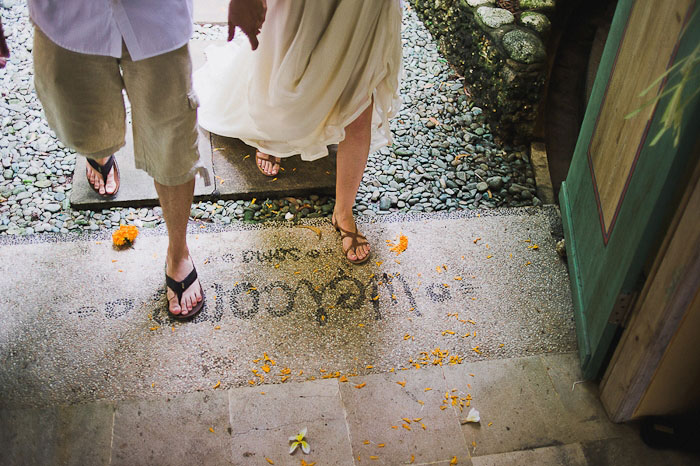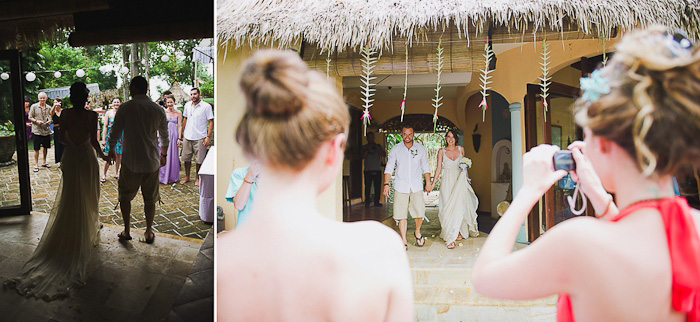 What was the best thing about having an intimate wedding?
Being able to spend quality time with everyone. It was even better because the quality time was so relaxed. We were able to go swimming with our friends in the morning, get ready as two small groups before the ceremony, and even have a snack together before we made our way down to the altar. The reception itself was fantastic because we were able to hug and cry with each person right after our vows. It was amazing to share such a deep experience with close friends and family and feed off of one another's energy.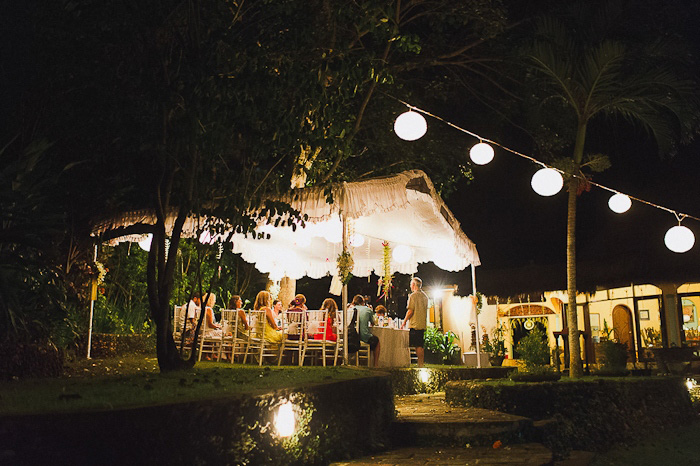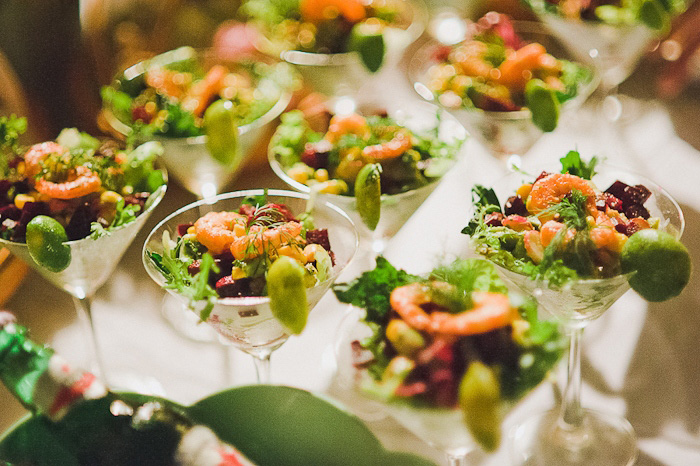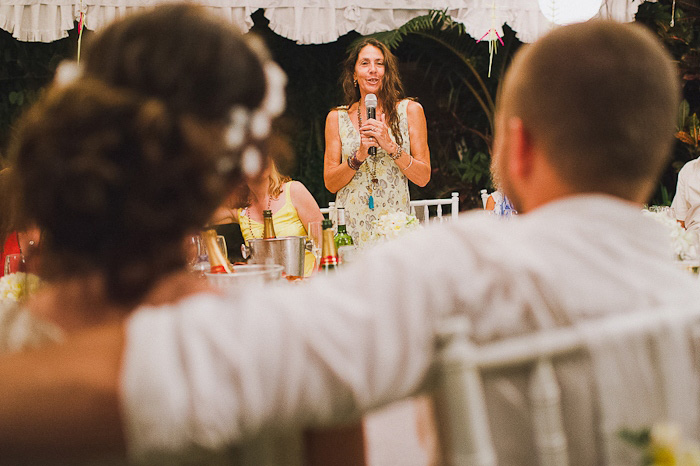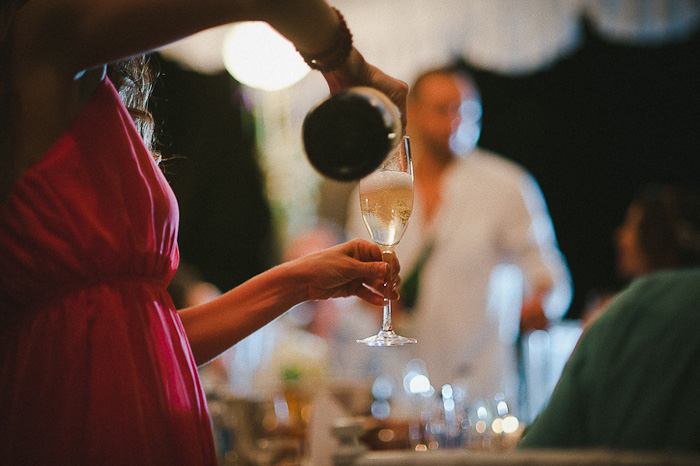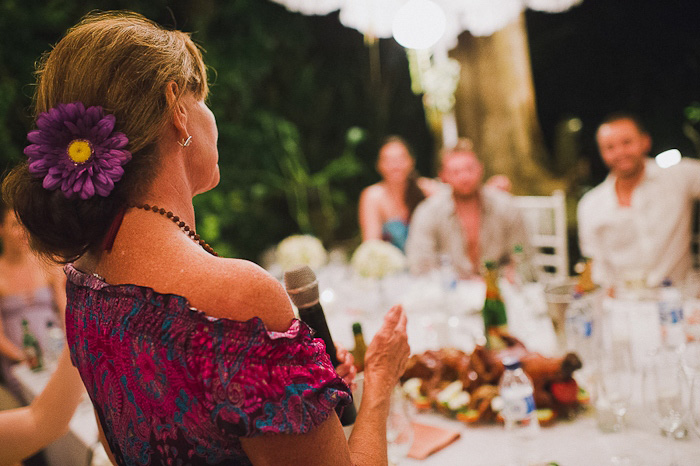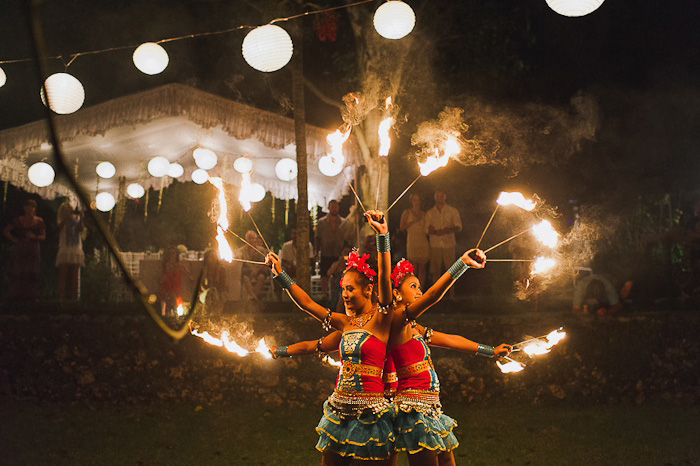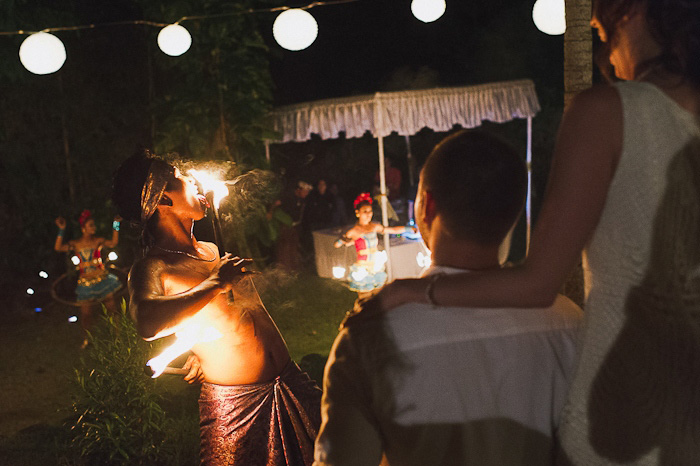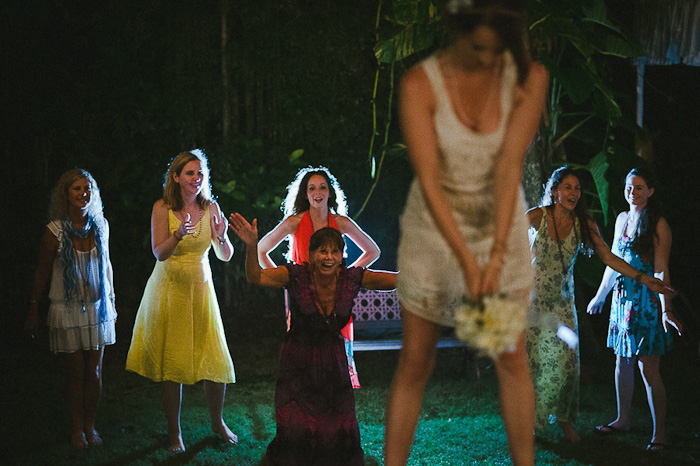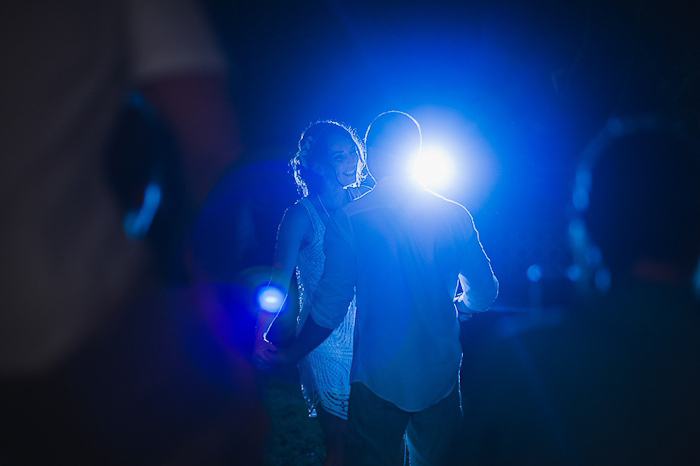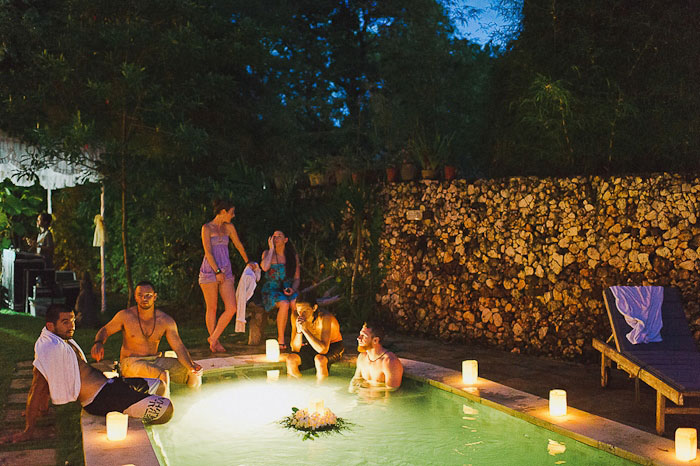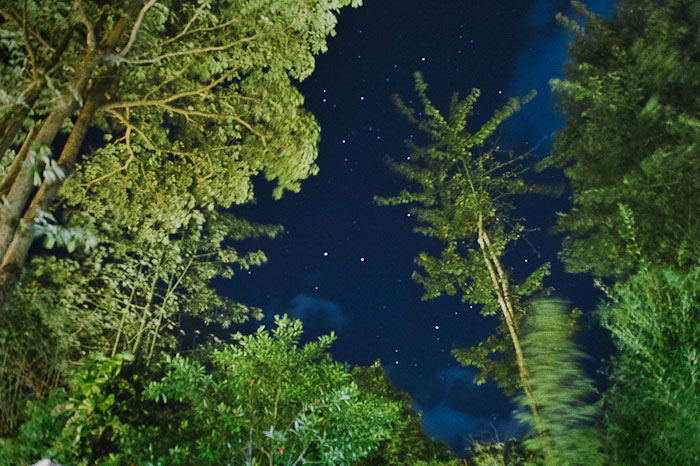 What advice do you have for couples who are considering an intimate wedding?
My advice would be to create exactly what you want. And don't stress out. Matt and I were extremely relaxed on the day of our wedding because it was just another day we got to spend with our friends. We figured 'what can go wrong – we're on a beach in Bali with friends and family.' Even when it poured rain in the morning, we were ok. We also made sure we had plenty of champagne on hand.
Vendors:
Planner: BaliBubu (They planned everything – the food, the flowers, the music. It was a collection of friends and family of theirs that helped them put it together.)
Photographer: Gusde Photography