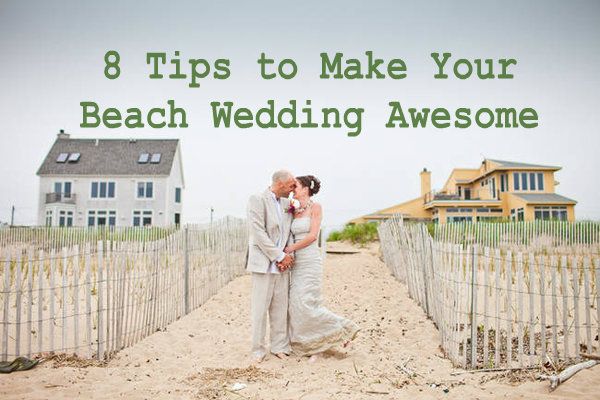 The water, the sand, the breeze. What's not to love about a beach wedding?
A beach needs little adornment, which makes it perfect for couples who want to give Mother Nature a starring role.
Here are eight tips for creating a fabulous beach wedding:
Since going shoeless on the beach is the norm, have a shoe valet for your guests so they don't have to worry about getting sand in their shoes. With a shoe valet, guests can check in their shoes and receive tags to reclaim their shoes after the wedding. Offer guests a pre-moistened towel to wash their feet before putting their shoes back on.
 Speaking of shoes, flip-flops are ideal for beach brides. The kind with a wedge heel are great for outdoor weddings because they make it easier to walk around (they are as comfortable as slippers). Flip flops come in ivory, satin and white and are dressed up with beads and sequins.
 Rent a sound system. For any outdoor wedding with more than 40 people, you need amplification – especially on the water. Make sure you have a microphone and generators to run the power and make sure musicians who are outdoors have amplification.
 For your wedding gown, choose a fabric like chiffon and silk taffeta because they are lighter than many other fabrics and don't require as much "babysitting" throughout the day.
 Offer a water station for your wedding guests. Place several containers with ice and bottled water throughout the ceremony entrance to keep your guests hydrated.
 If your ceremony is in a hot, sunny area, offer parasols or fans for your wedding guests.
Although some couples choose to have their guests stand during the ceremony,  chairs are a nice touch. Be careful about using Chiavari chairs; they which will sink into the sand and possibly break.  Instead, use white Samsonite folding chairs, white wooden chairs or benches.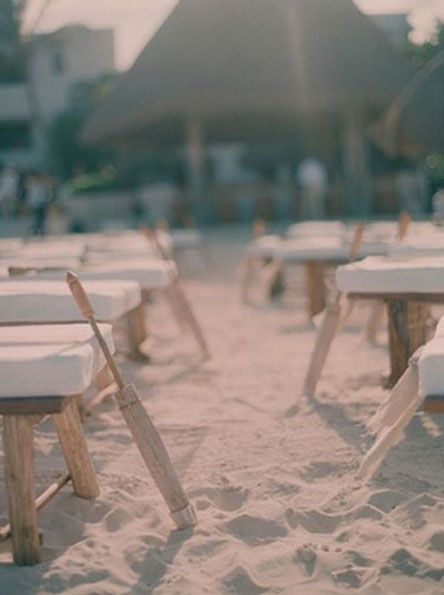 Have a back-up plan. Mother Nature is as unpredictable as she is beautiful. And the last thing you want is rain to extinguish your wedding day bliss.
Thanks to Wedding Planner Kathy Piech-Lukas, owner of Your Dream Day, a special events planning company in Cincinnati, Ohio for these helpful tips!
Photo One:  Ashley Stelzer, AE Stelzer Photography; Photo Two: Visit South Walton; Photo Three:Four Seasons Magazine; Photo Four: Elizabeth Messina