Naturally, introverted couple Sarah and Tim simply weren't interested in a large or traditional style wedding. Rather, they were looking for something a little more laid-back and spontaneous when it came to their own nuptials. They chose to have an intimate ceremony, complete with a ring warming, along the Shepherd Nature Trail in North Carolina's Duke Forest surrounded by 23 of their closest family and friends followed by a casual restaurant reception. Dropped rings, impromptu speeches, and a broken dress strap due to too much hugging – while being possible disasters in the eyes of some brides and grooms – only added to the memorable nature and intimacy of Sarah and Tim's perfect wedding day.
A big thank you to Carolyn Scott for sharing all the wonderful photos of Sarah and Tim's special day with us!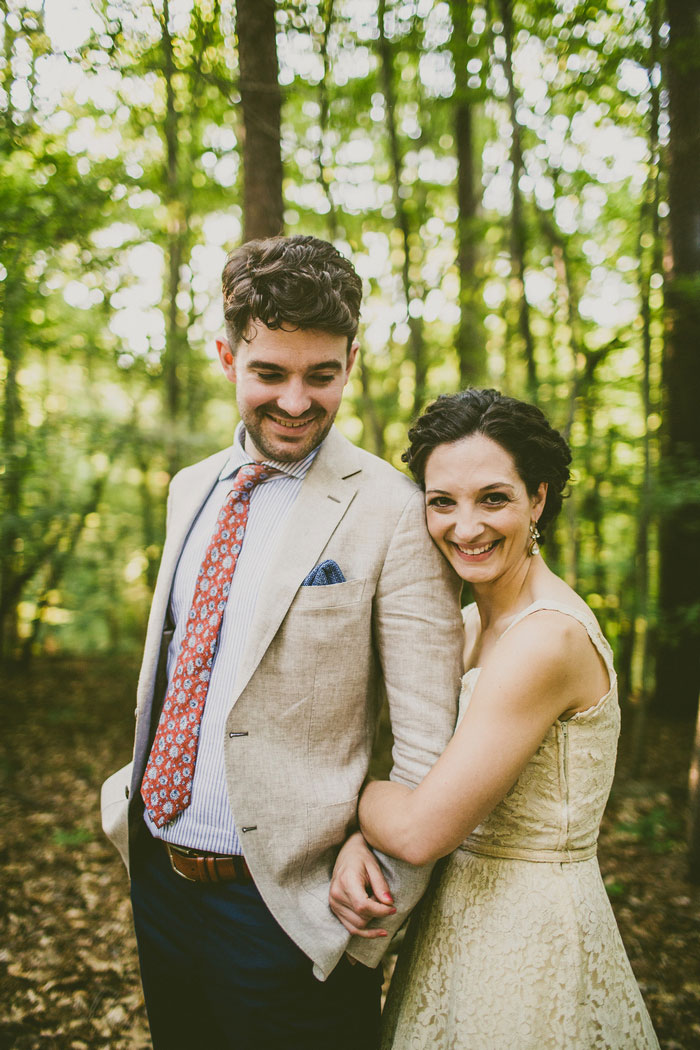 Sarah, 30 & Tim, 30
Durham, NC
Wedding Date: May 22, 2015
Number of Guests: 23

Wedding Cost: just under $6,000 (including ceremony and reception costs as well as our wedding rings, wedding attire, and an Airbnb rental for the long weekend)
Wedding Ceremony Location: Shepherd Nature Trail at Duke Forest
Wedding Reception Location: Rue Cler Restaurant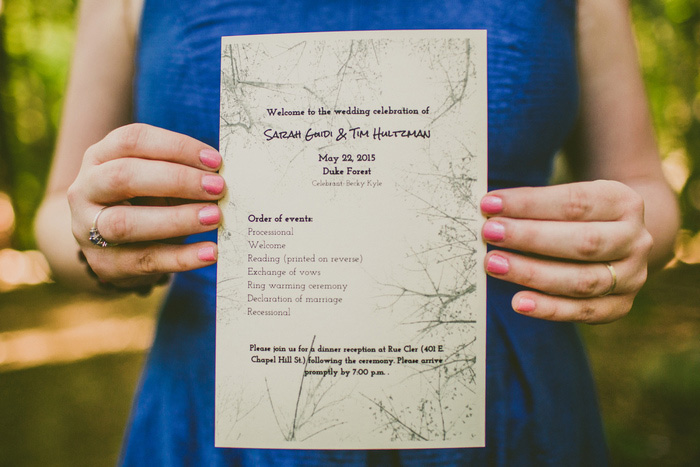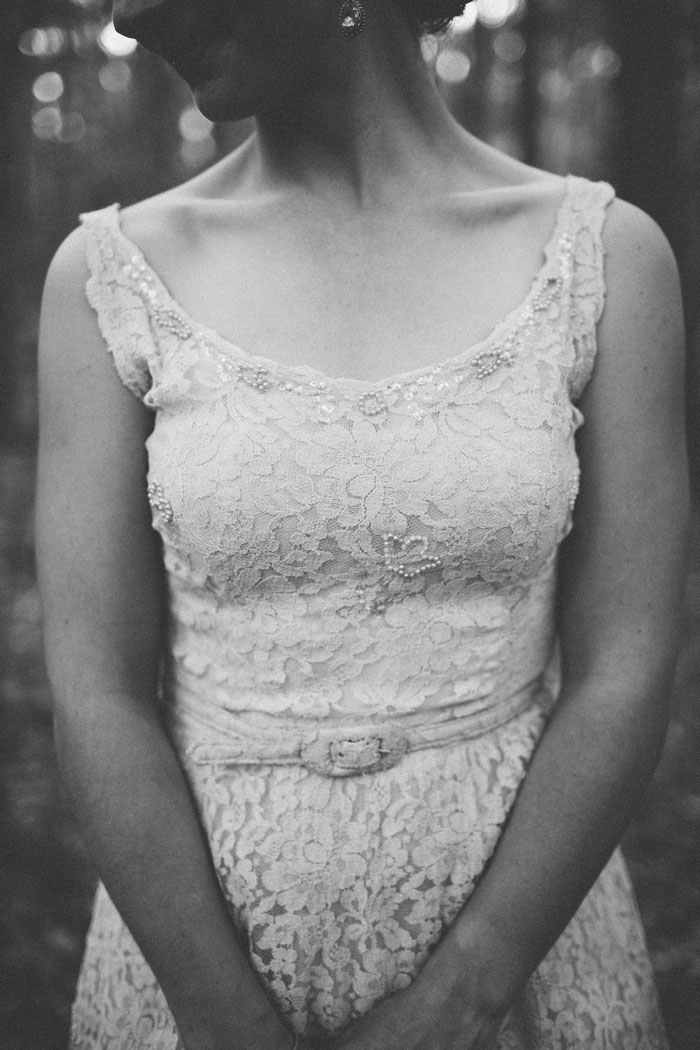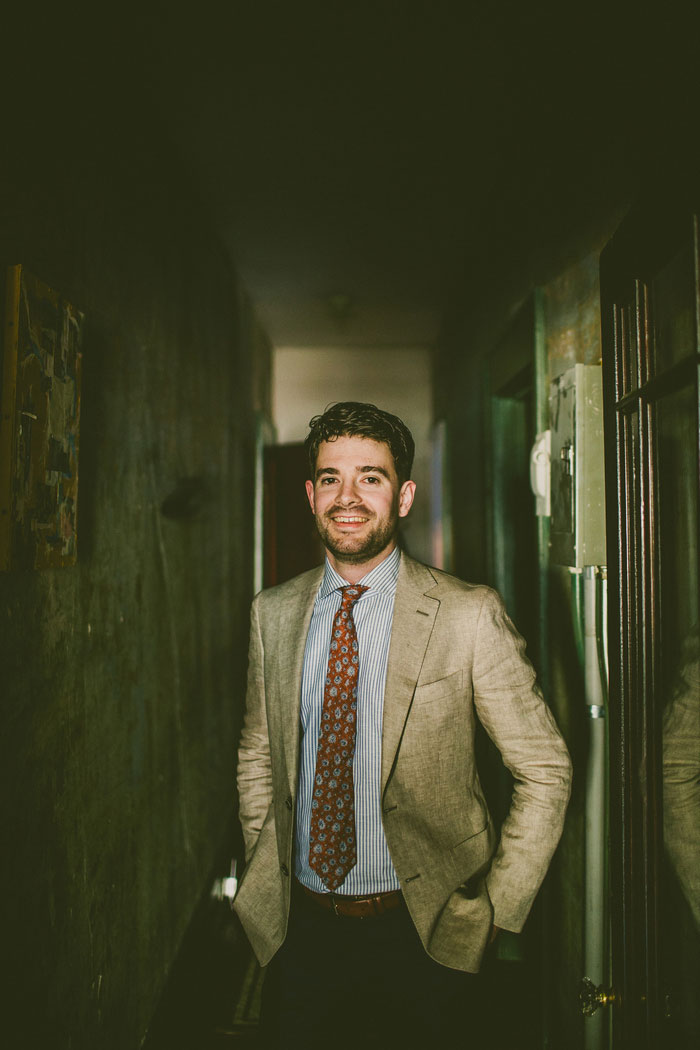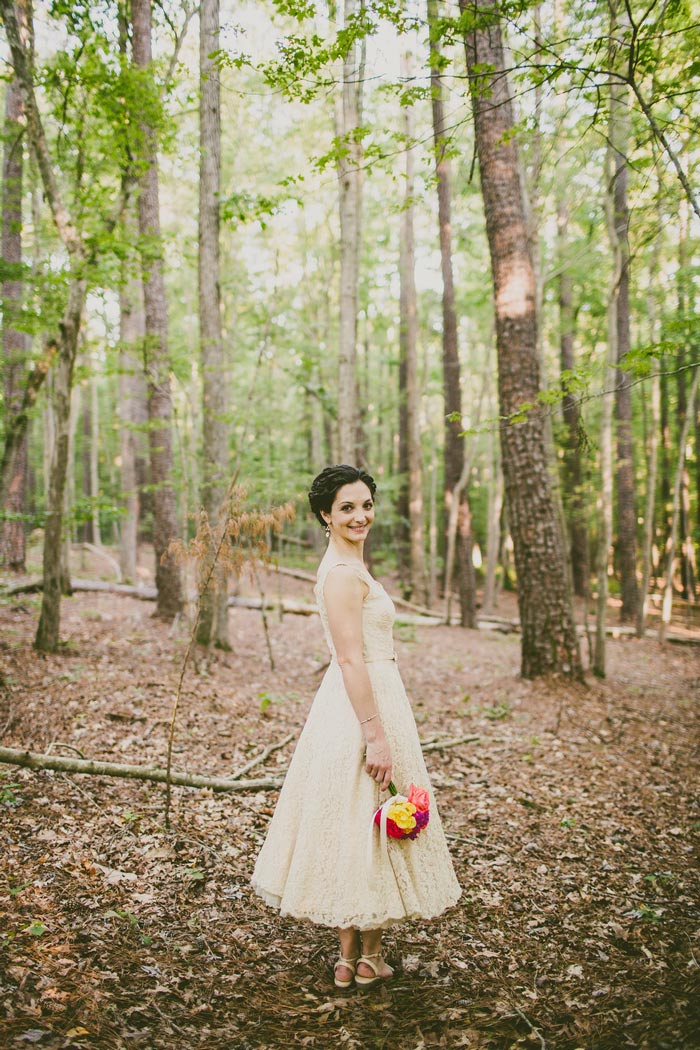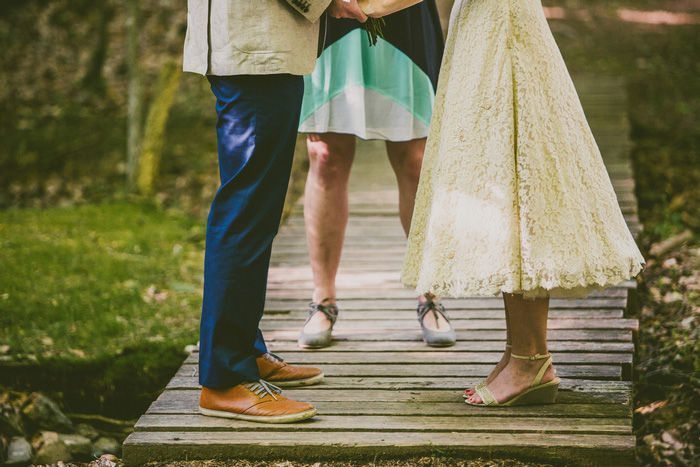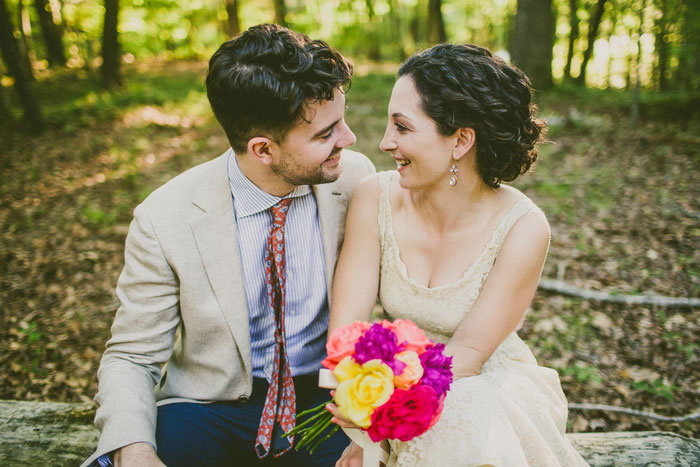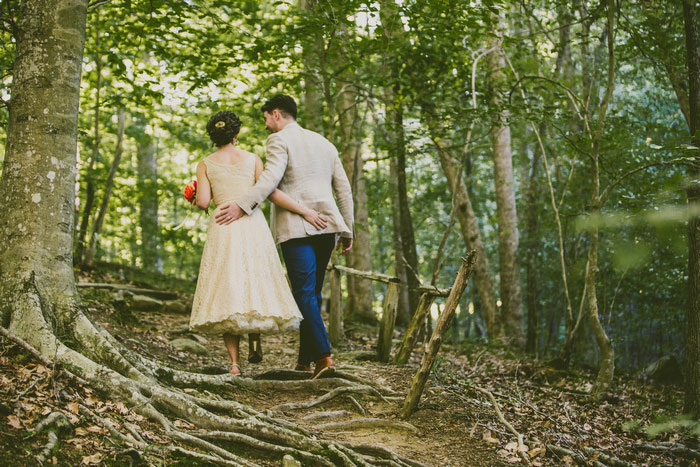 Why did you have an intimate wedding?
We are individually, and as a couple, pretty introverted, so having a small wedding was always a likely option for us. It was important to us to create an atmosphere that represented our relationship and also provided us the opportunity to spend quality time with the family and friends who would be there. Neither one of us is particularly traditional, so the idea of having a big wedding with all the conventional trappings did not appeal to us. During the planning process, we read about Pop Wed Co. and the idea of a small ceremony with a laid back, spontaneous feeling really resonated with us, so this served as our guide as we planned our wedding.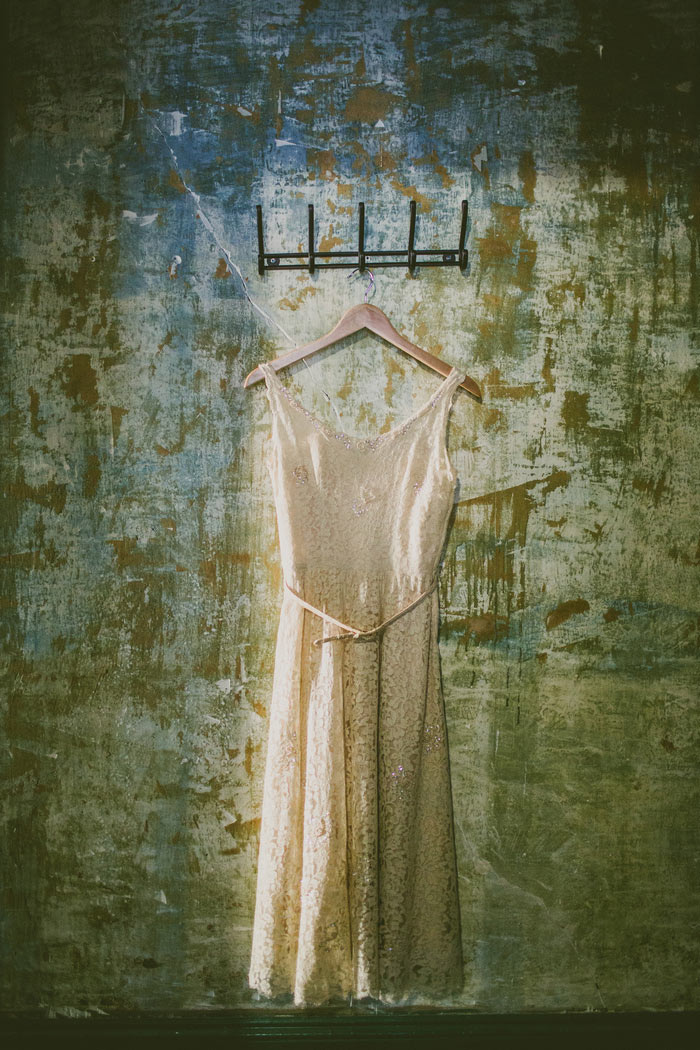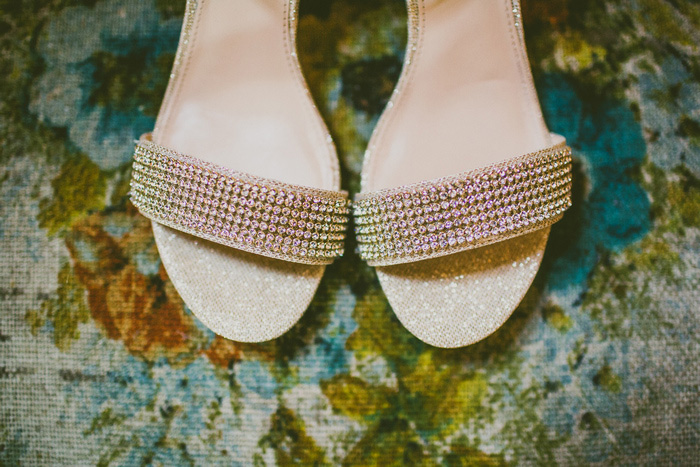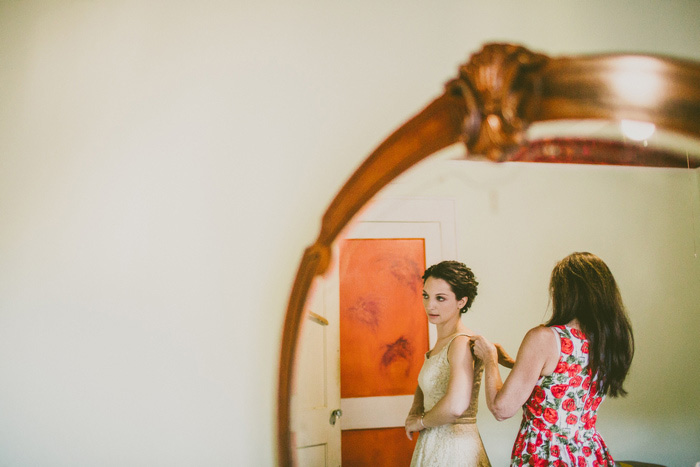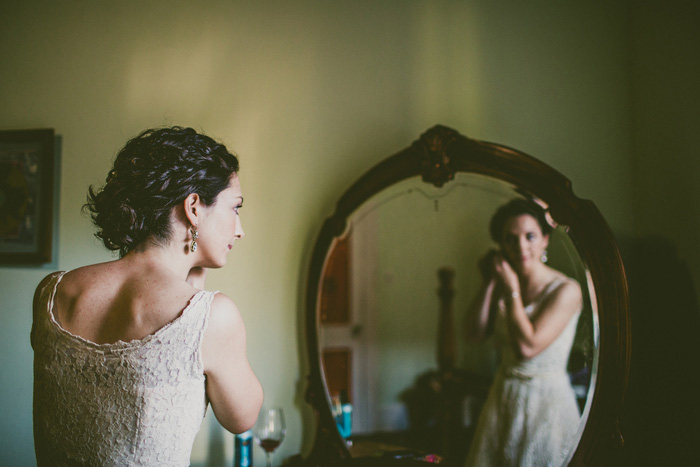 What are some of the challenges that you faced planning an intimate wedding?
Letting go of traditional notions of how a wedding should be was the hardest part for us. It actually took us a little while to commit to the idea of a non-traditional wedding because we had questions, ourselves, about how to manage a small wedding. For example, Tim was worried that I might regret having a small wedding that did not include some of our closest friends. While the internet is full of traditional wedding etiquette and advice, most of that didn't seem to be relevant to what we had in mind. So, we just had to go with our instincts and trust that our family and friends, those who attended and those who didn't, would support us.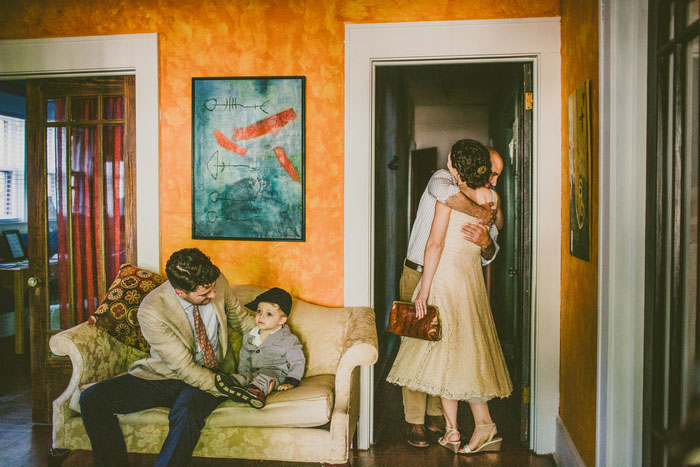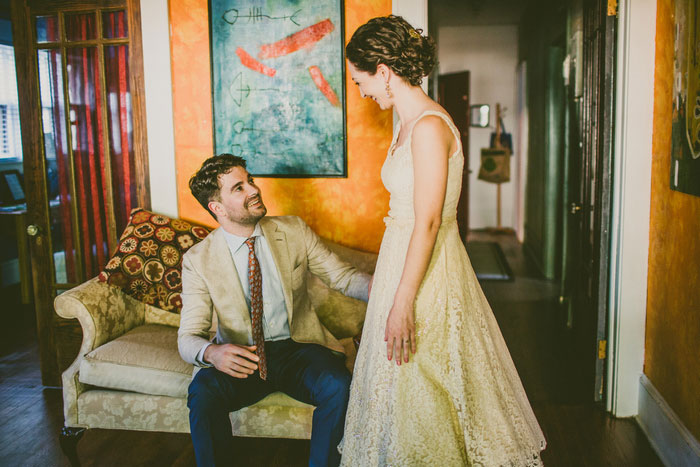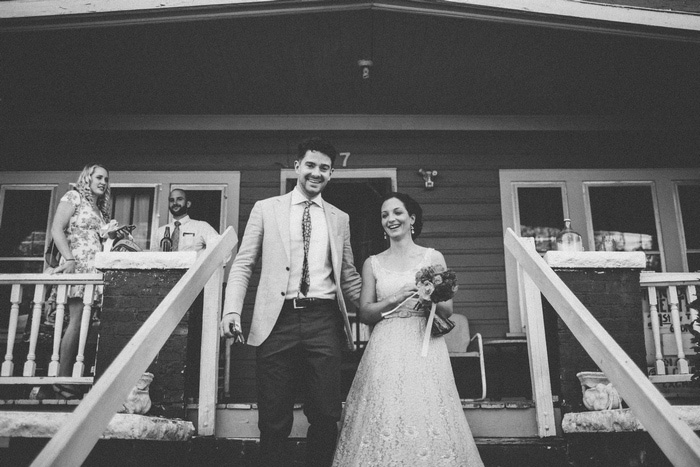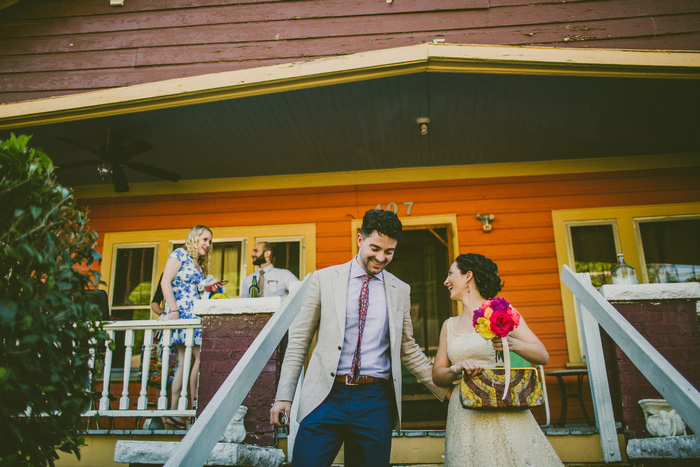 Was it difficult to pare down the guest list?
Once we determined that we were going to have a small wedding, it wasn't hard to settle on the appropriate guest list. We decided it would be immediate family and a few mutual friends who still live in the Durham area. Since I have a much larger family, and it was important to Tim to have a few extended family members present, there ended up being a mix of immediate and extended family.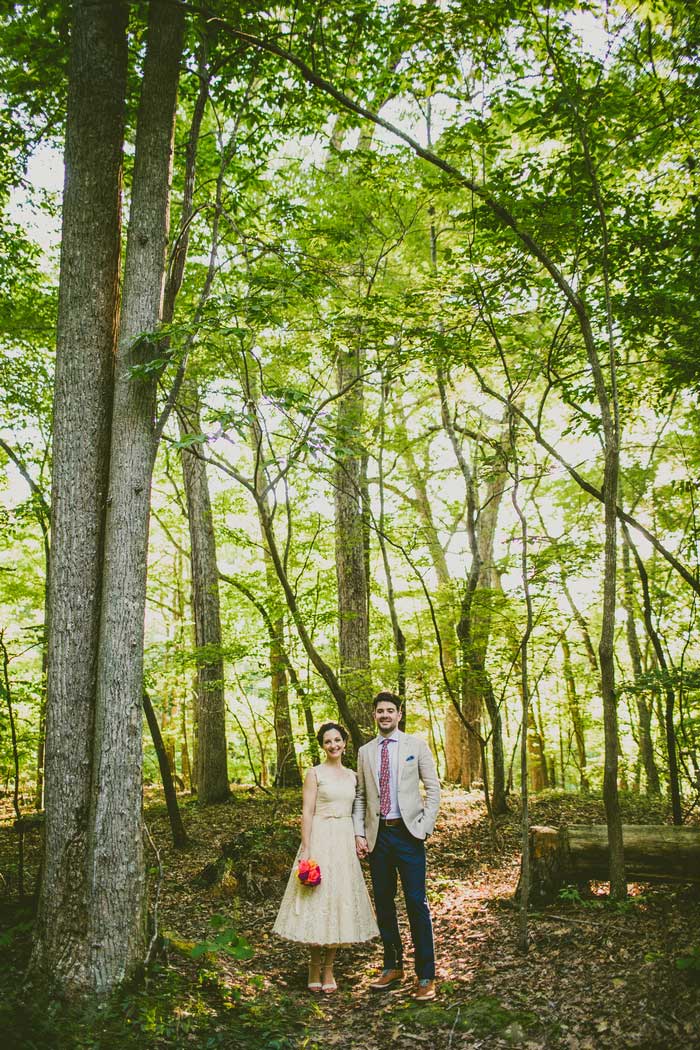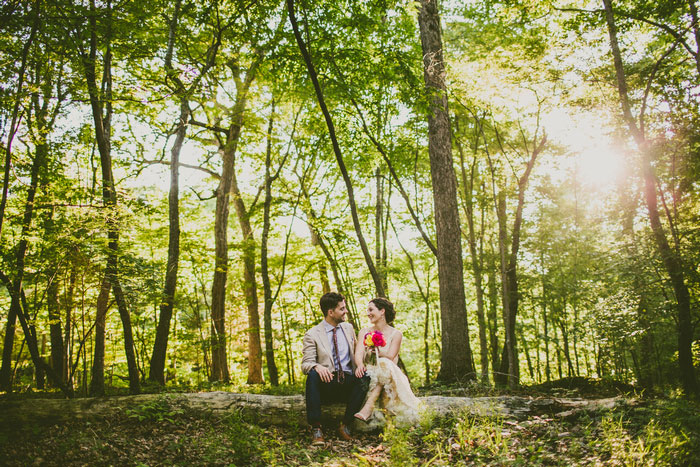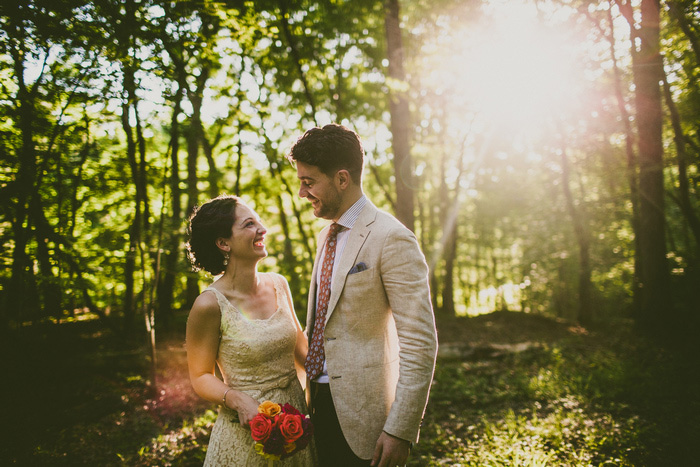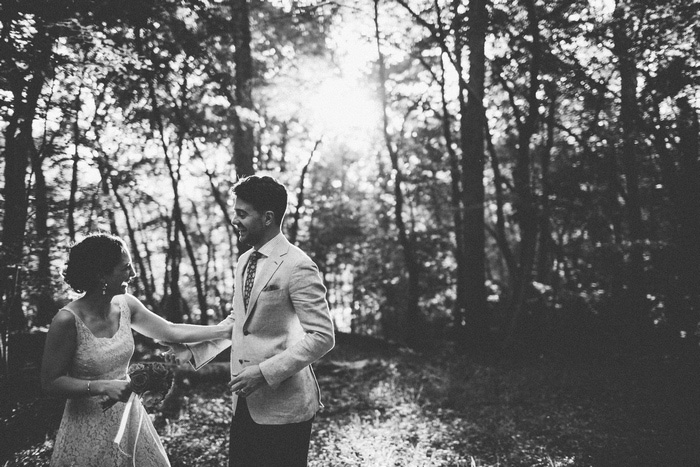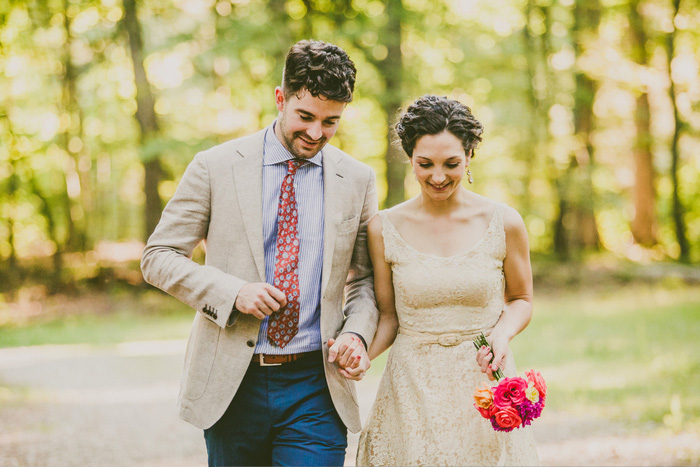 Did you have any 'issues' with the small guest list from friends and family? If so, how did you address them?
Some of our extended family members were disappointed they were not a part our wedding day. My dad and stepmom offered to host a reception for the family and friends who would not be there on the day of our wedding which we hoped would help them feel included and loved.
I have three very close friends from high school (who actually introduced me to Tim!) and because I'd been (or would soon be) in each of their weddings, I wrote each of them a letter explaining what we had decided and why they would not be part of this occasion. These friends, and others, were very supportive and sent lots of love and good wishes on the day of our ceremony. We were so grateful for the texts and cards, and gifts from our friends and family who were thinking of us from afar!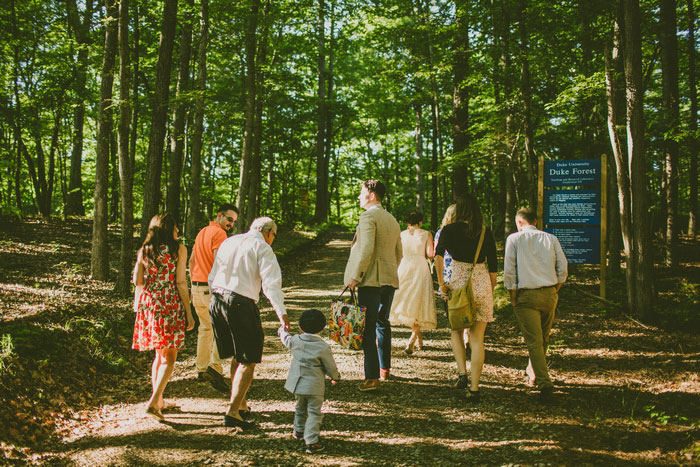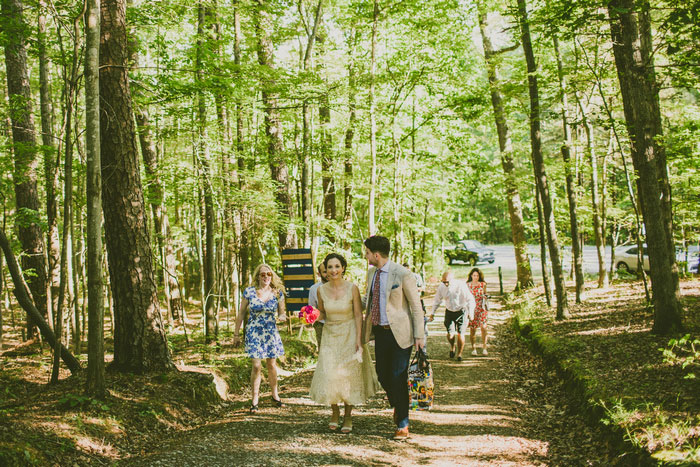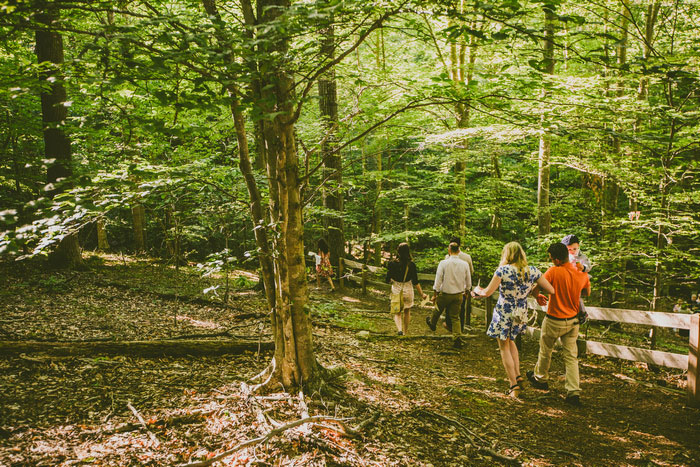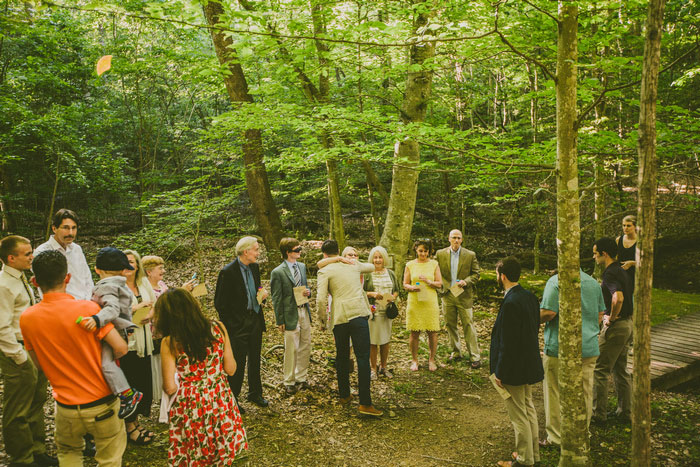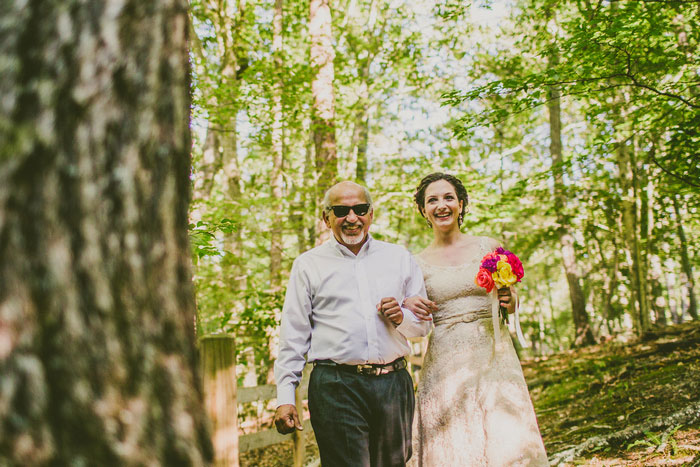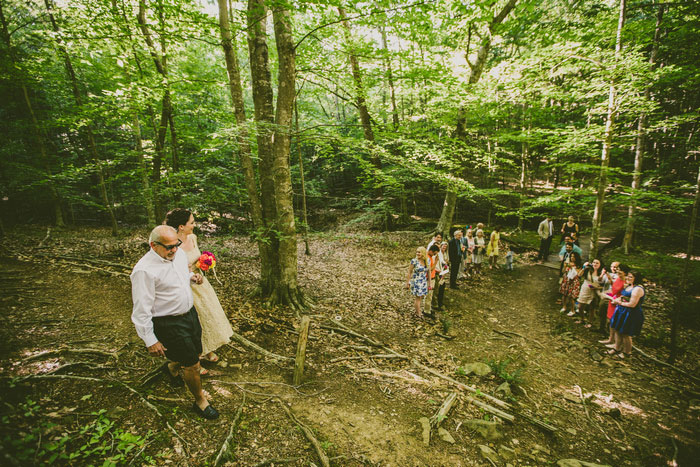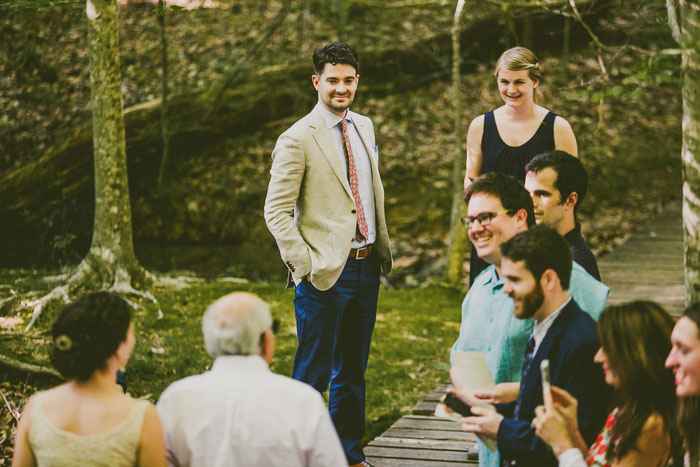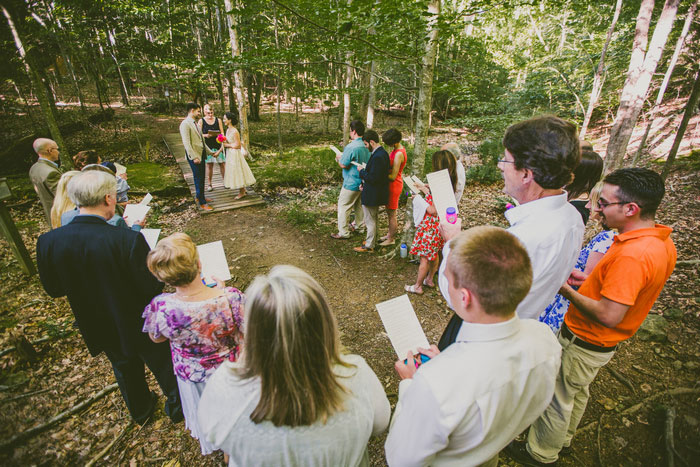 What were the highlights of the ceremony?
We spent a lot of time crafting our ceremony with the help of our friend Becky who did an amazing job as our officiant. Neither of us is particularly religious, so we wanted a secular ceremony that felt meaningful, but not too traditional. In our research, we came across a ring warming ceremony, in which guests pass the wedding rings and offer a blessing, imbuing the rings with good energy and wishes. This ended up being one of the most touching parts of the ceremony for us and, we think, for our guests. Watching these people who love us, and who we love, take a moment to pass their positive thoughts and energy into our rings was so lovely. The other memorable moment was when we dropped my ring (heavy with good wishes) as we were preparing to exchange the rings! Since we were standing over a creek, there was a collective inhale as we all waited to see how the ring bounced (luckily, it bounced the right way). It was funny, and touching, and contributed to the spontaneity of the ceremony – something we had envisioned.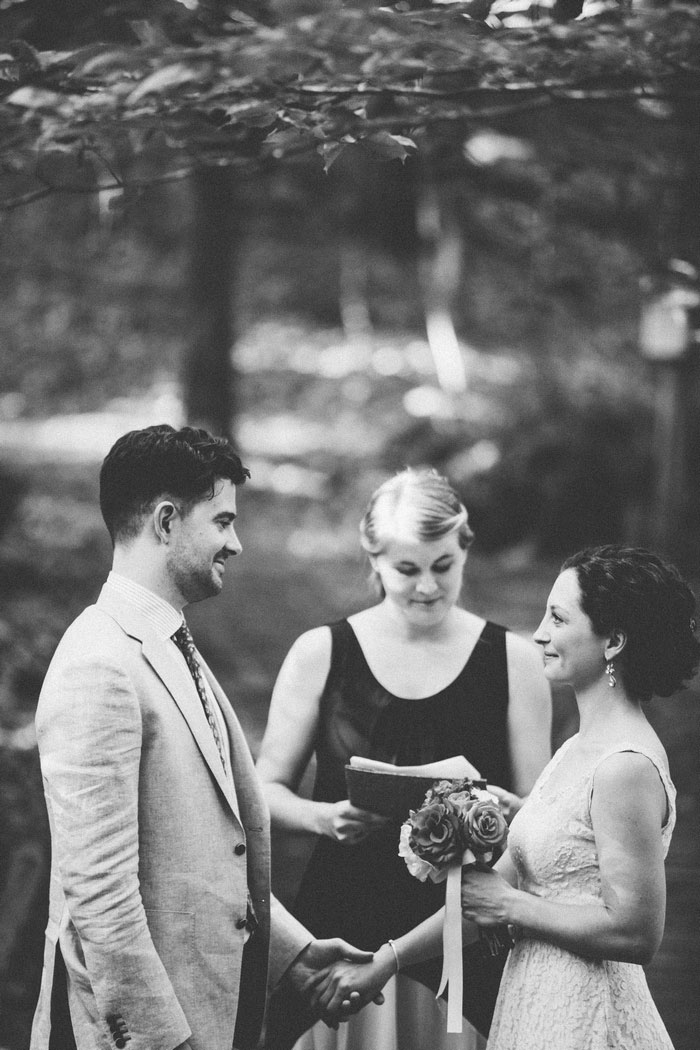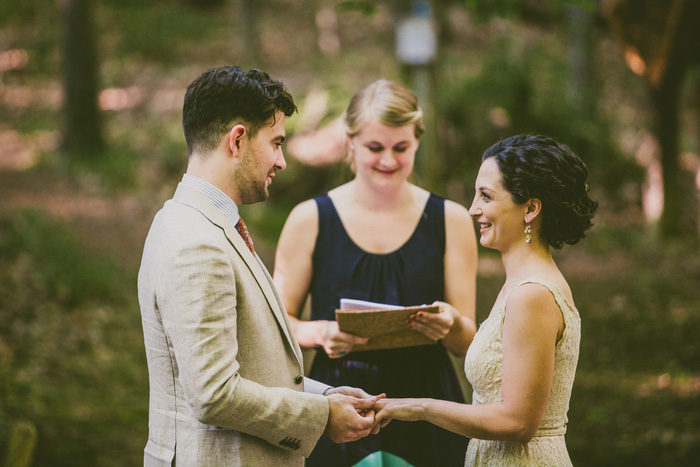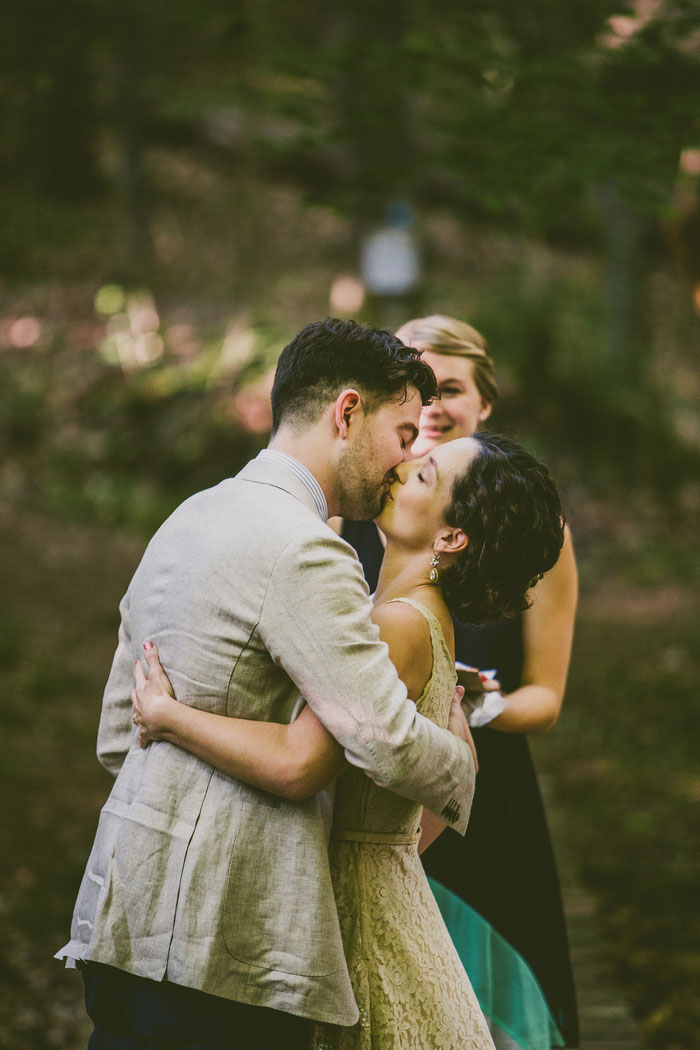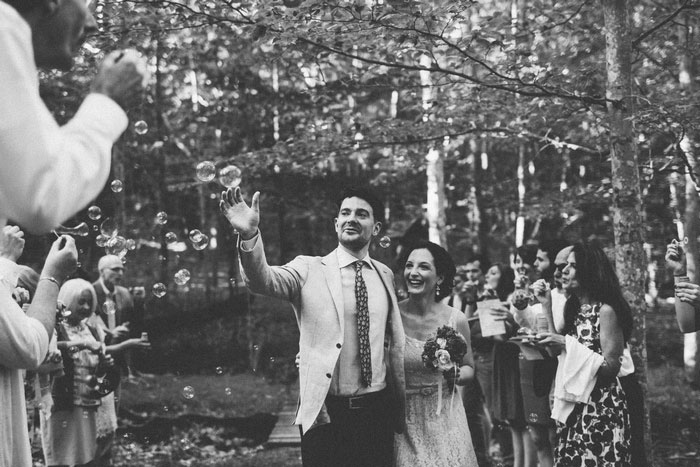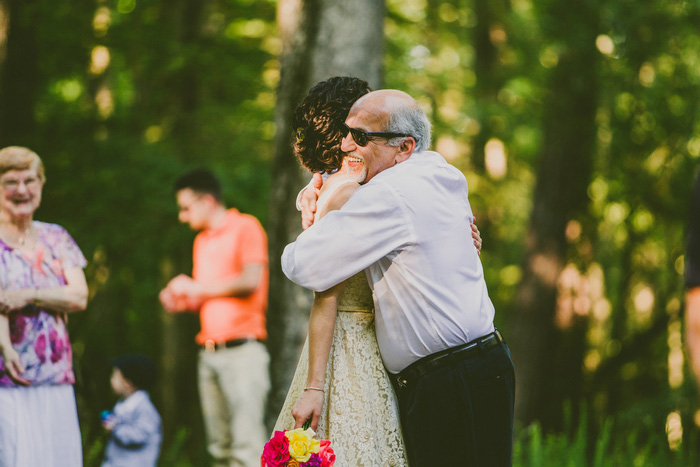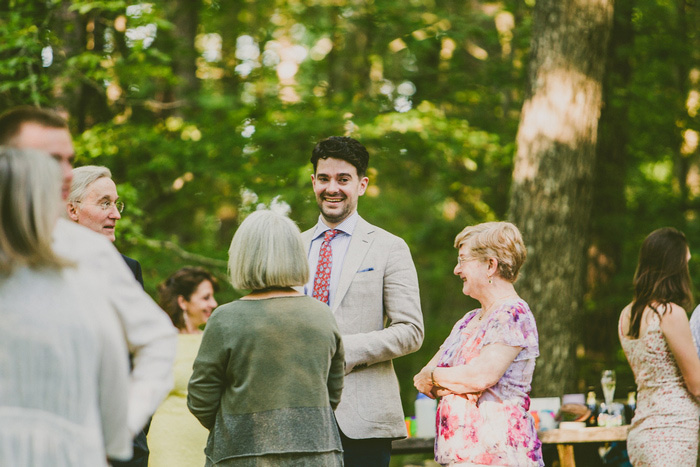 What were the highlights of the reception?
We held the reception at Rue Cler, a restaurant in downtown Durham, and the food, wine and champagne were certainly a highlight for us. Rue Cler did such a great job of putting together a menu that incorporated our tastes and what we wanted to share with our guests – a little piece of North Carolina. One of the other highlights was when Tim's mom and my youngest brother each gave toasts, which was unexpected and very touching. One of the most memorable anecdotes from the reception was when my dress strap broke as a result of too much hugging (the dress is a 1950s vintage dress). We took that as a good sign and the restaurant staff came to the rescue with some scotch tape.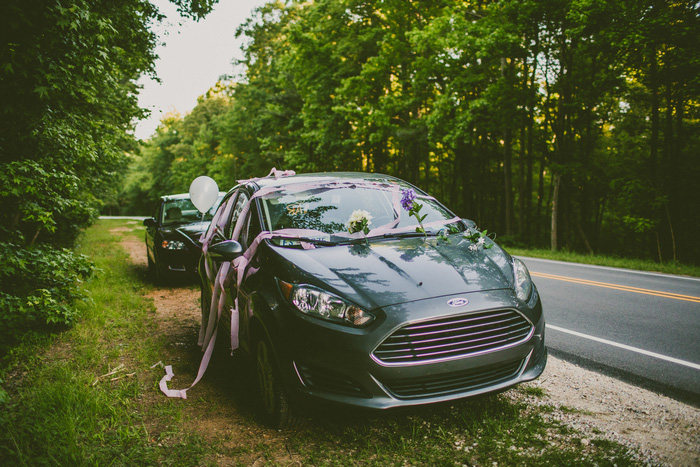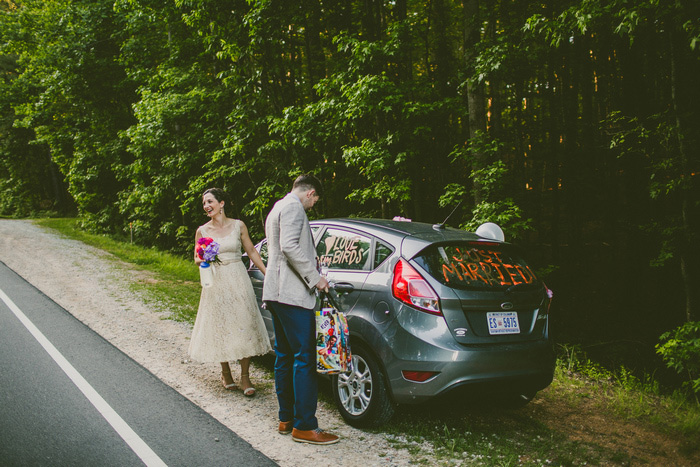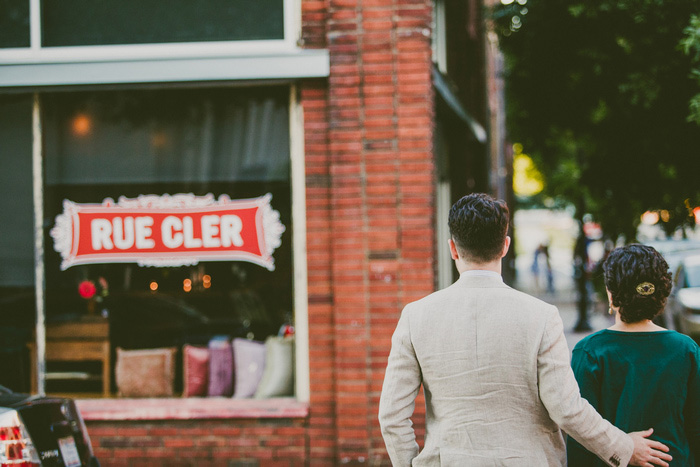 What was the best thing about having an intimate wedding?
We have been to a few, larger and more traditional weddings since we had our own ceremony and we have shared fleeting moments of doubt wondering if we should have done things differently. Those thoughts passed quickly, however, because our day was perfect for us. The planning leading up to the wedding and the day itself were low stress. Because we only had twenty-three guests, we got to spend time with everyone – we even hosted a casual lunch at our airBnB home on the afternoon of our wedding day. An intimate wedding helped us keep the focus on the awesome commitment we were making to one another and share that experience with the family and friends who were with us.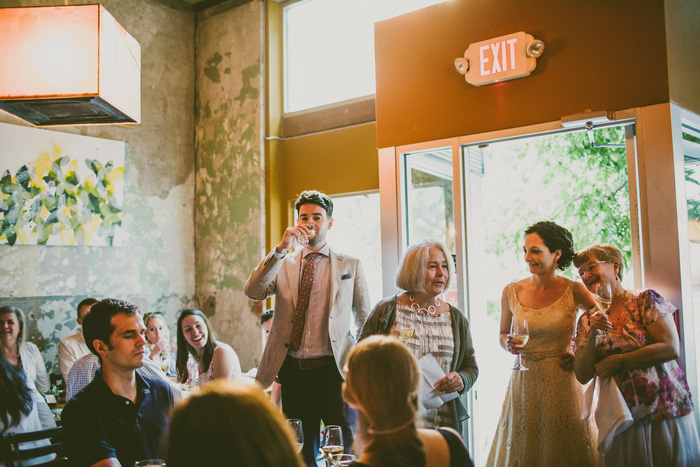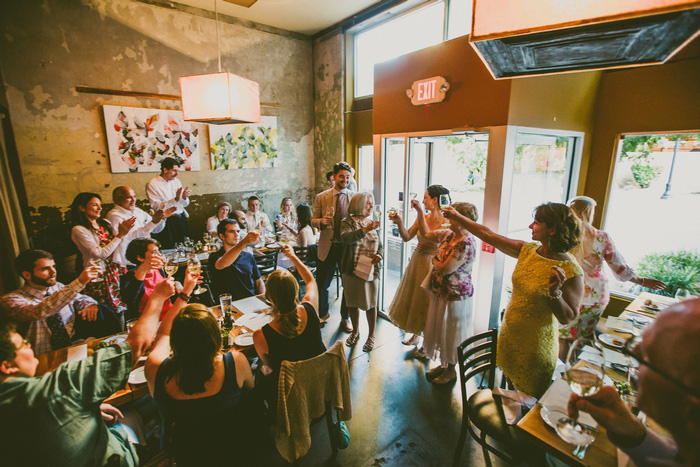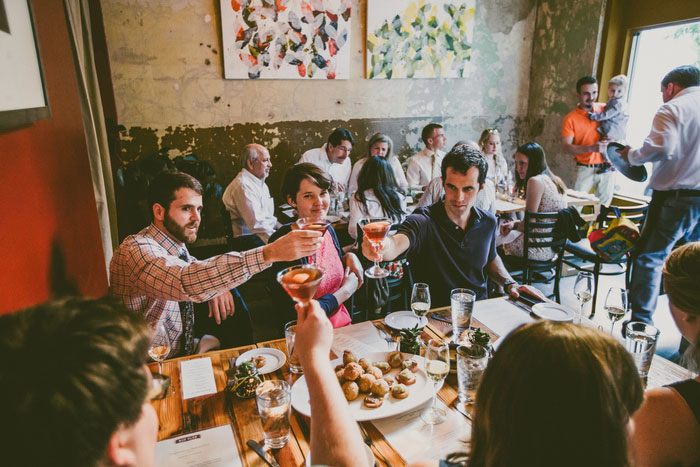 What advice do you have for couples who are considering an intimate wedding?
Sarah says: Trust that the people who you love and care about, both those that you invite as well as those who will not be there in person, will support you.
Tim says: Do what's right for you – the one off the rack doesn't always fit.
Also, spring for a photographer. We so appreciated how Carolyn and Geoff captured the story our of wedding for those who weren't there to experience it in person!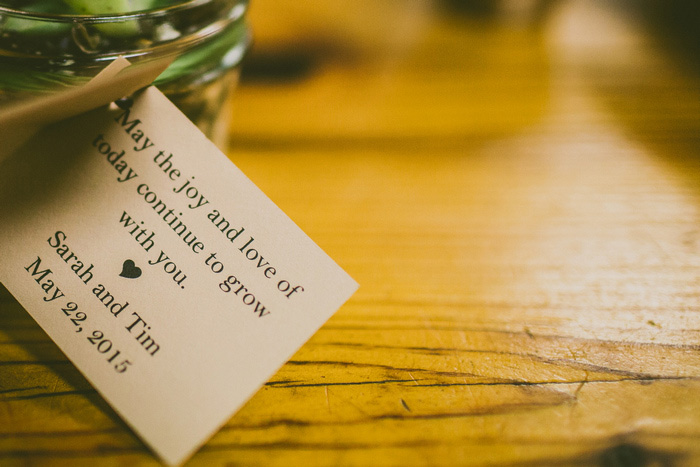 Vendors:
Sarah's Dress: Treasury
Tim's Attire: Suitsupply
Hair: Rock Paper Scissor (Sarah); Trim (Tim)
Makeup: Attraction Makeup
Photography: Carolyn Scott Photography
Wedding pies: Scratch Bakery
Reception: Rue Cler