Vintage hankies are a lovely idea that brings both a sentimental and decorative touch to your wedding. You can find them in thrift stores, online, or ask  family and friends. They will come in handy for drying happy tears but you can also use them in other ways. We've picked out 11 ideas for you to incorporate vintage handkerchiefs.
1. In a Box
Hankies can be neatly packaged into a box on display at your ceremony. You can repurpose any box of a suitable shape and customize it by making a label with blackboard paint.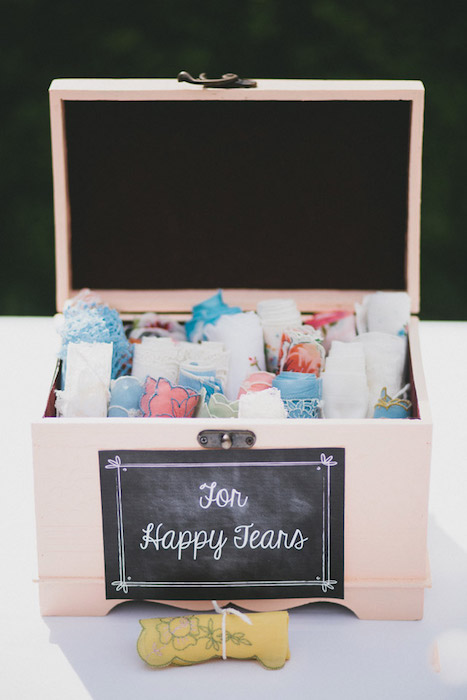 2. Hanging on Pegs
Use a reclaimed door for your outdoor ceremony as a display for the vintage hankies. It will really add to the look of a vintage-inspired wedding.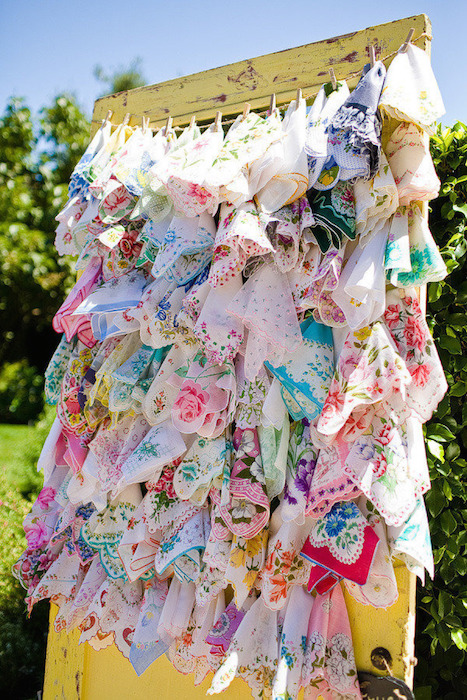 3. Printed Invitation 
If you want to use your handkerchiefs in a different way, you can print your invitations on them. You can then attach them to card to make them more sturdy, or keep them as they are and neatly fold them in envelopes.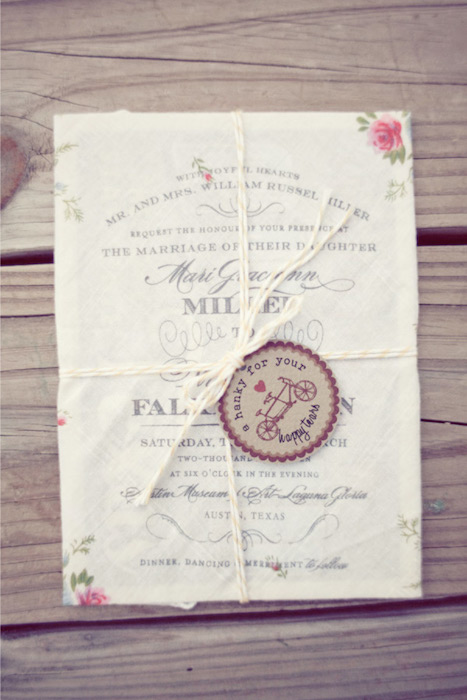 4. Hankies as Decor 
For an afternoon tea or garden party theme, you might have bunting on your shopping list. Using hankies instead adds some texture and the vintage prints will make the bunting more eye-catching.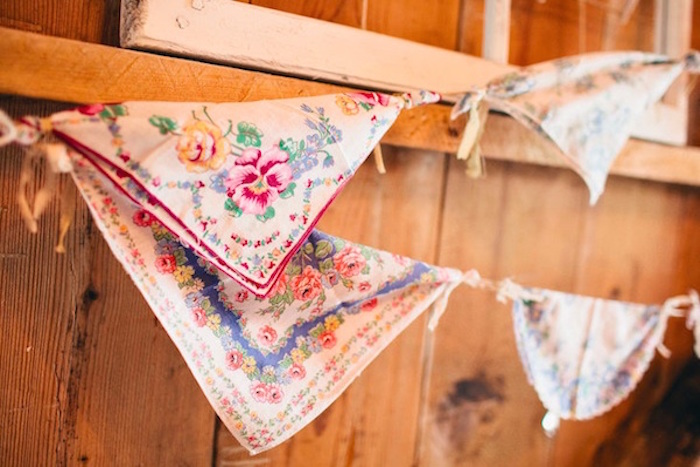 5. Individual Favors
Give your guests a meaningful favor by placing a handkerchief with a paper backing on each chair.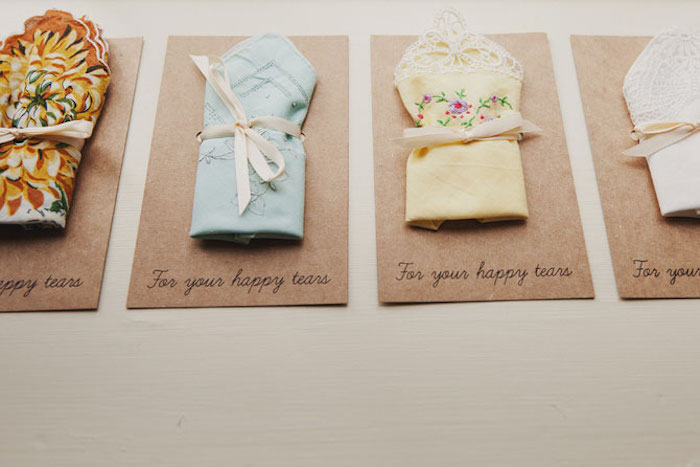 6. A Personal Touch
Say thank you to your bridesmaids with monogrammed hankies, this will make a lovely addition to a mini gift basket.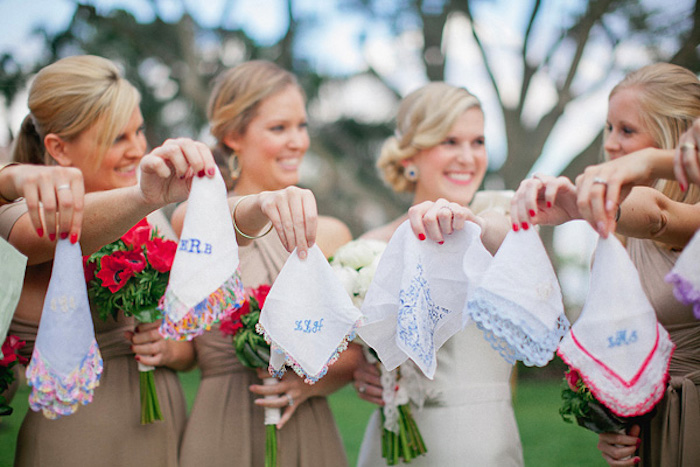 7. All Wrapped Up
If you're giving your guests the ultimate treat, the gift of a mini pie, why not take it one step further by wrapping your favors up with a handkerchief?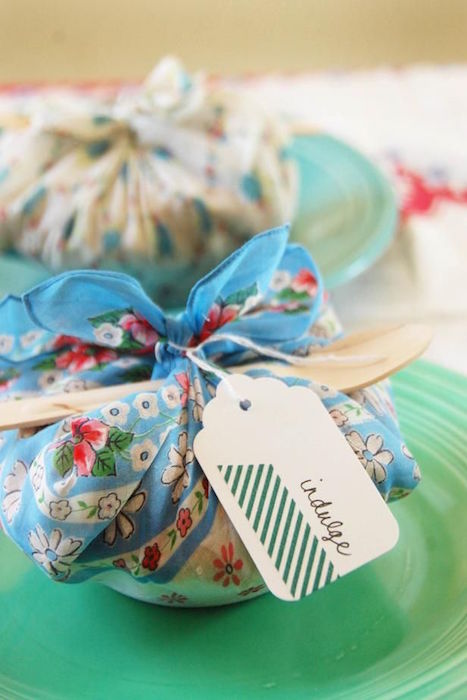 8. Outside Frame
An old mirror or window can be easily transformed into a welcoming display.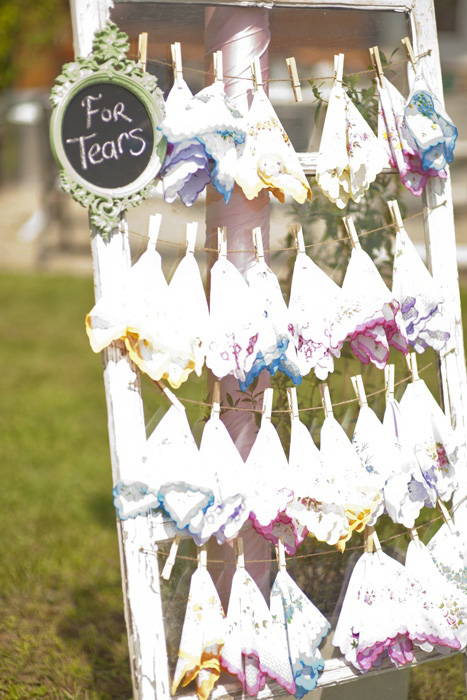 9. Escort Cards
Make your vintage hankies work a little harder, by doubling them up as escort cards. All you need are handwritten name tags.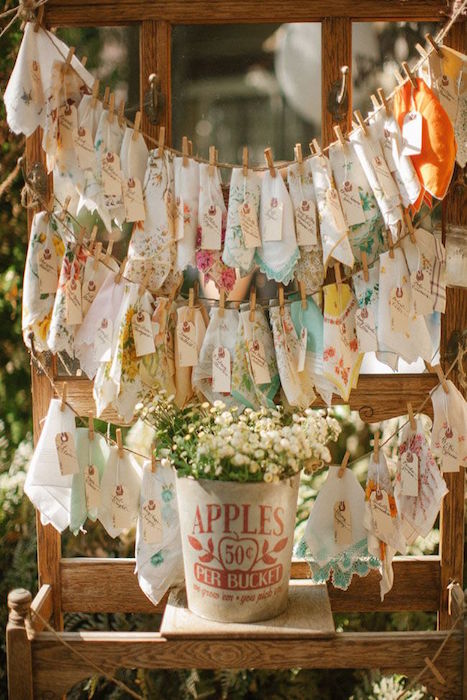 10. DIY Box 
It's so easy to create a stunning display on your welcome table. Fill a box with complementary colored hankies, that slightly fan out with a burlap sign.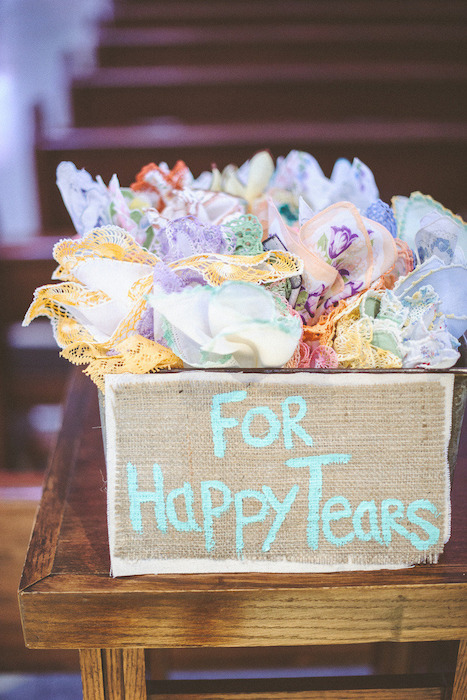 11. A Vintage Suitcase 
For the perfect finishing touch, a vintage suitcase is the ideal holder for your hankies.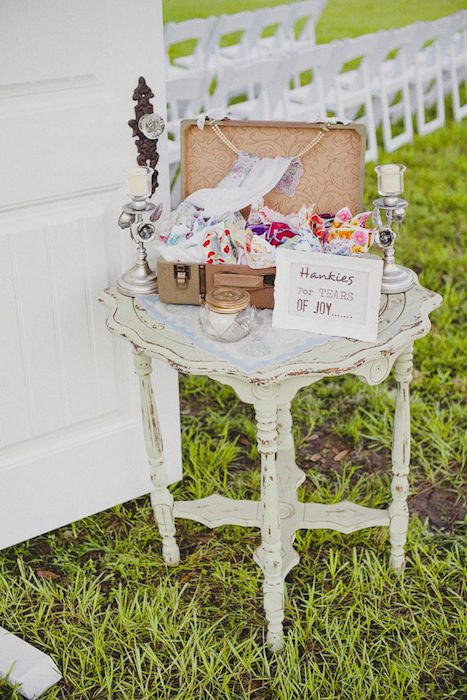 Photo one: ruffledblog.com; Photo two: jen-rodriguez.com; Photo three: stylemepretty.com; Photo four: Intimate Weddings; Photo five: jamesmoes.com; Photo six: estateweddingsandevents.com; Photo seven: hgtv.com; Photo eight: Intimate Weddings; Photo nine: greenweddingshoes.com; Photo ten: paperantler.com; Photo eleven: weddingchicks.com