T'is the season for yard sales and flea markets –  which means that there is no better time to get your hot little bargain-hunting hands on some serious shabby chic treasures.
If you are planning a wedding, you've seen plenty of examples of the rustic chic decor trend with meticulously styled items that are "worn," "distressed" and "aged." Well, guess what? You can pull off this look for very little cash. But you have to know what to look for. That's where IW comes in.
Not only have we made a list of 50 hot items to look for – we've hunted down some great examples on how to use them in your decor.
Because we got completely carried away with our list of treasures, we decided to break it up into two blog posts. Tomorrow's post will include the remaining  treasures as well as a printable list that you can bring with you on your bargain hunting excursions.
If you think we've missed something, feel free to leave a comment.
Now, on to the goodies! Before we go on, it's important to note that an open mind and a keen imagination are an asset when bargain hunting. A "worn" or "distressed" piece might not look like a treasure at first glance, but the right DIY touches can easily transform it into something special.
Let's start off with luggage. We love vintage suitcases and trunks!  You can use them for so many things! Stacked up together they can make great surfaces for decorations or even act as tables.They also make great props for photos.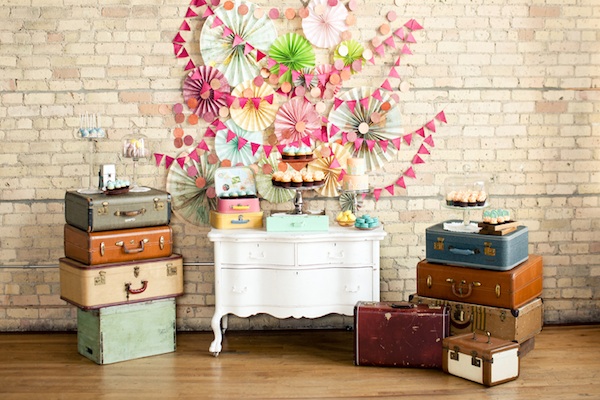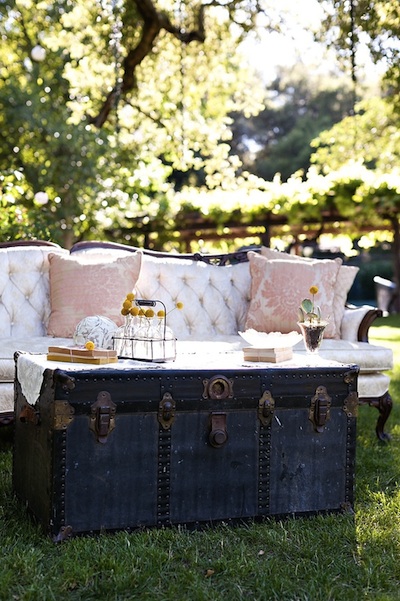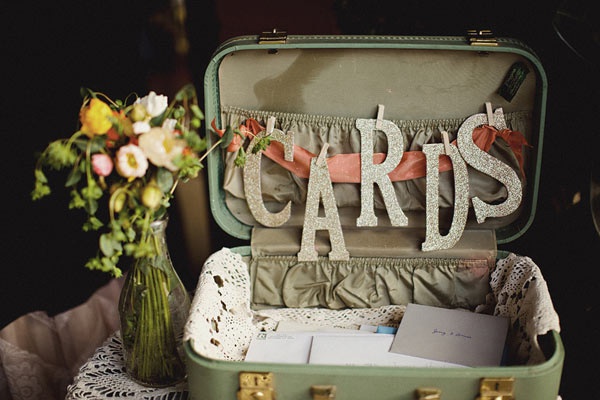 In keeping with the travel theme, if you find vintage globes, maps and postcards snatch 'em up!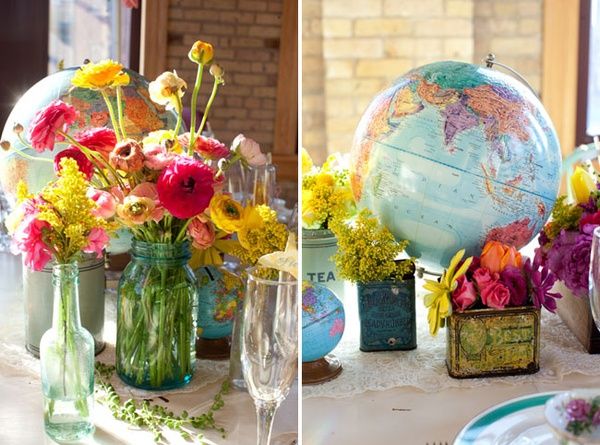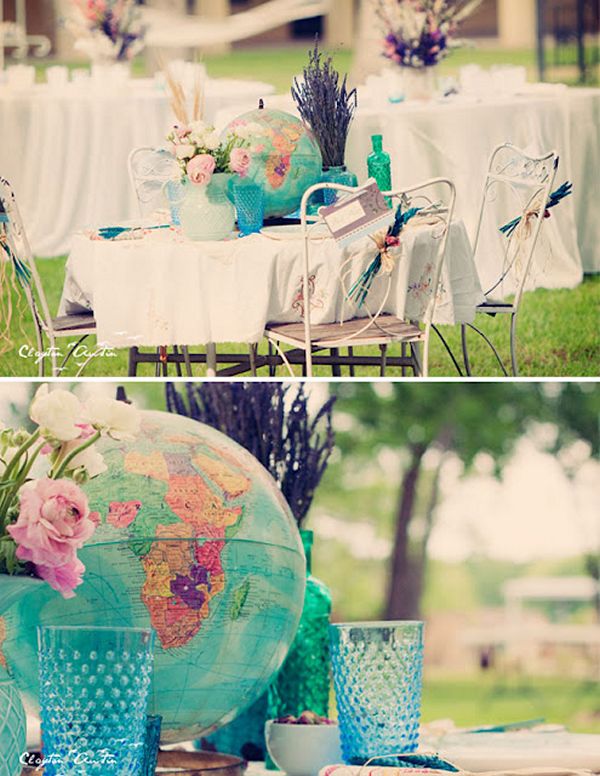 There's nothing more romantic than a dinner by candlelight or the soft lighting of antique oil lamps that harkens back to the pioneer days of rustic simplicity and beauty. The  antique oil lamps you find may not be in working order, but they can still make charming glass holders for flowers or candles.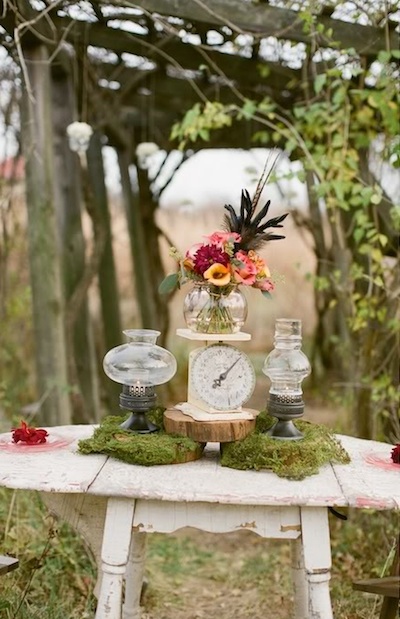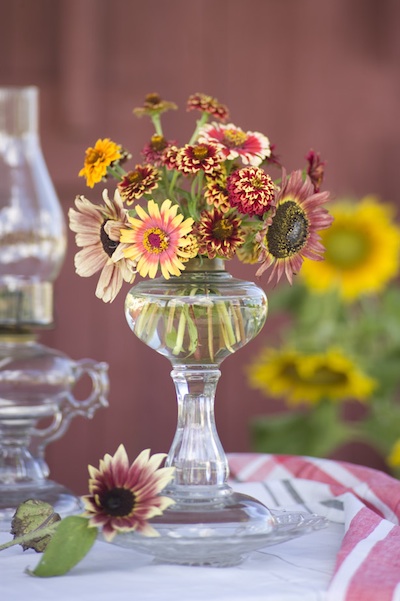 Doilies and hankies aren't so old-fashioned anymore. Vintage lace and fabric is back in a major way and is even found on wedding dresses now. Re-purpose some fabric into tablecloths, napkins, table runners and hankies. You could even tuck a cute hanky into your groom's tux.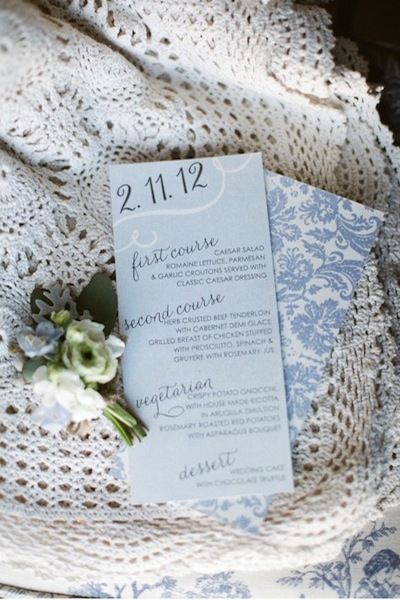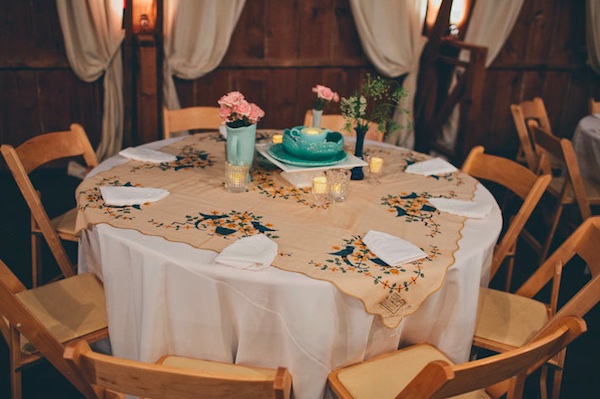 Yard sales are always a great place to find leftover craft supplies or scrap booking material. A package of doilies or patterned paper can be used to spruce up table settings and favor boxes and you may score a better deal than at a craft store. Also try wedding classifieds to find other brides looking to sell or trade supplies or crafting materials.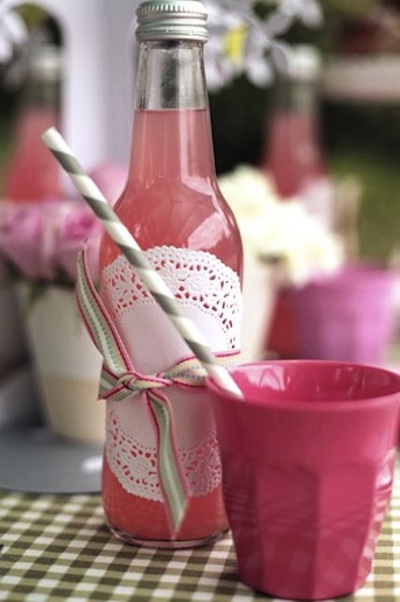 Some couples have chosen to film their wedding with Super 8 film or old cameras for a vintage look, but the cameras themselves can be used as props, decorations and even photo booths. Instead of disposable cameras, place a vintage camera on each table or have a photo table where guests can choose from a variety of cameras.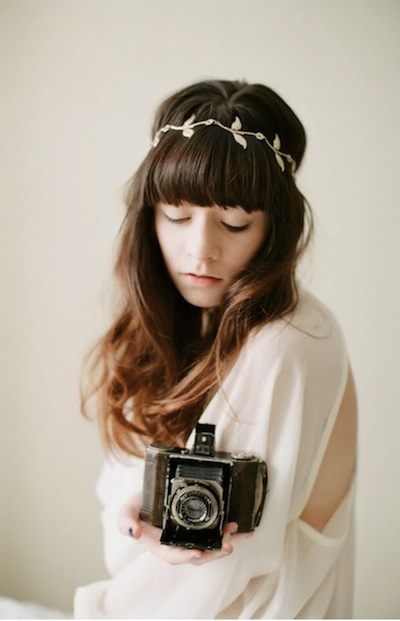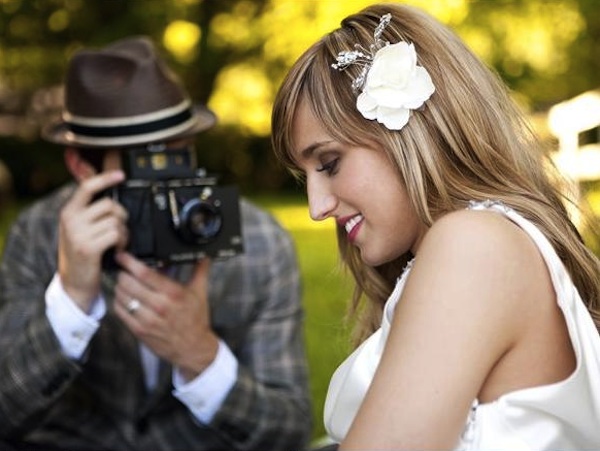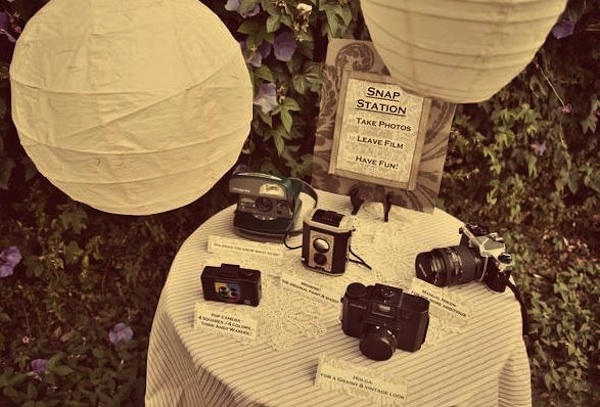 Bottles of all shapes, sizes and colors are a great way to make a visual impact in your wedding decor. Collections of bottles can fit your theme easily as well: you can pick the bottles to match your wedding colors or  make a collection of vintage bottles to fit a rustic theme. Bottles can also be hung to accent areas where there isn't enough table space. Don't you love the look of these hanging bottles?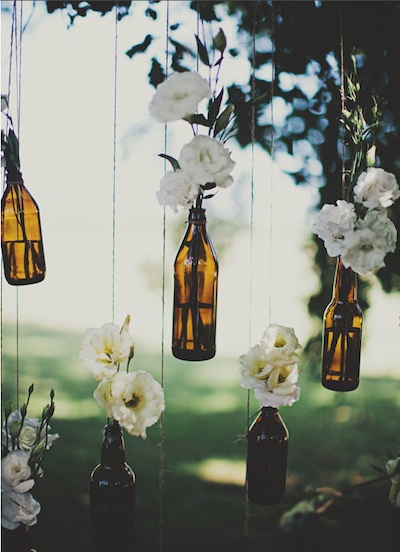 Even celebrities are loving the "shabby chic" trend. Actress Tori Spelling–also an avid crafter and decorator–decked out her outdoor wedding space with vintage-looking vignettes with mismatched pieces and white flowers scattered throughout. Check out the full wedding here.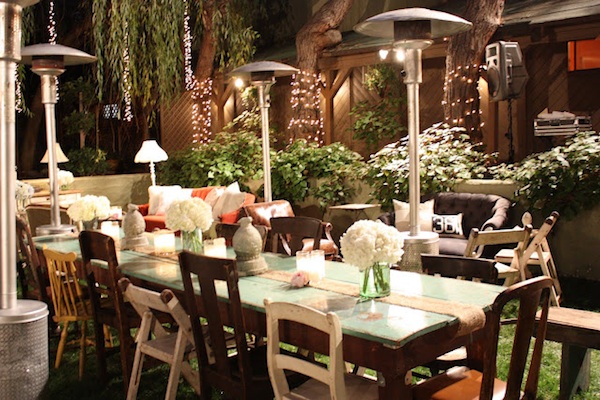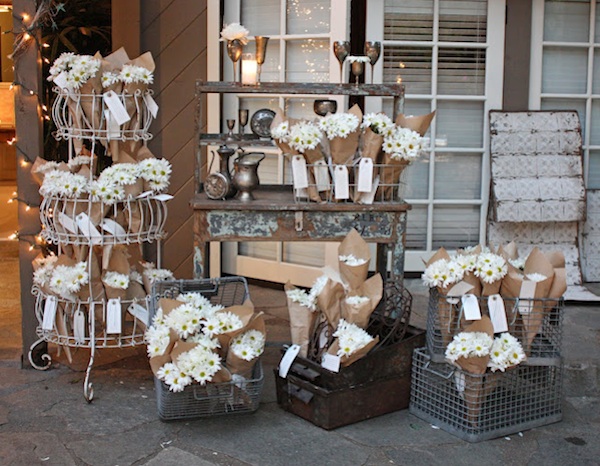 The "mismatched" look works especially well with vintage pieces, as it's often difficult to find complete sets. For example, with vintage chairs, shop around for a few different looks and styles and place them together or go with an all-wooden look like this outdoor, farm wedding. A few mismatched vintage chairs or benches would also work as seating for an outdoor lounge or fire pit for guests to have a quiet moment away from the dance floor.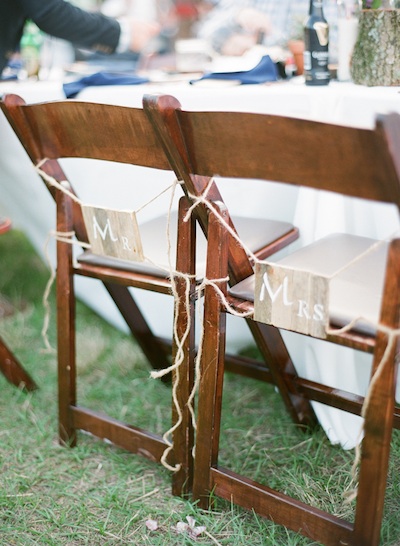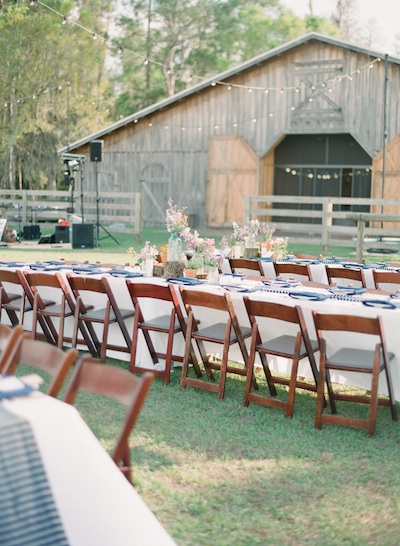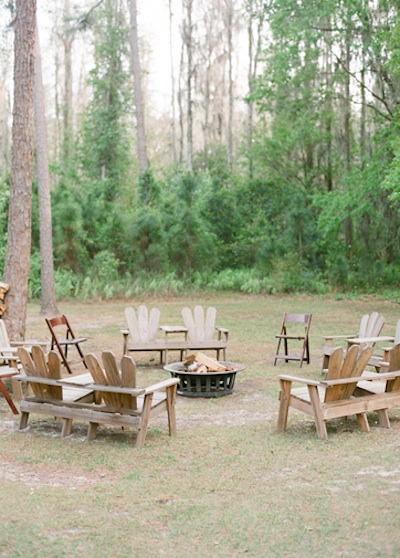 You'll want to display your decadent desserts on equally stunning plates and platters. Vintage cake stands come in many shapes, colors and sizes, a reprieve from the modern, square glass or mirror look for dessert plating. They can also let you have fun with the shapes and sizes of your desserts, like showing off multiple cakes on different stands instead of one large cake. A dessert table should be all about creating layers and texture so the sweets look as appetizing as they taste. You could even use vintage plates to make your own stands.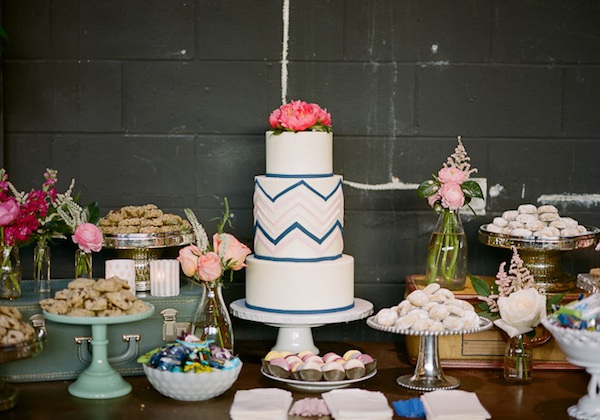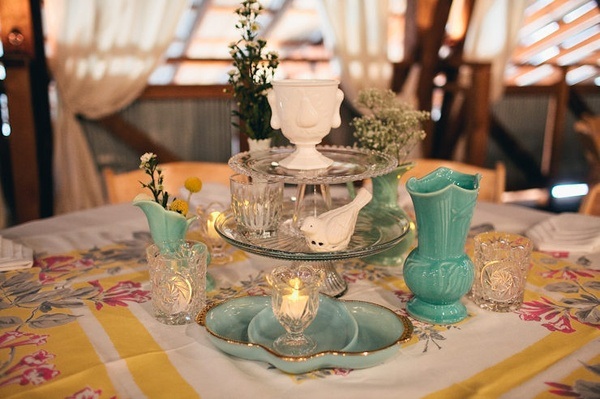 The same concept goes for  teacups and saucers. Get creative layering, stacking, mismatching and grouping pieces together and accessorize with flowers, linens and napkins. Sometimes an unusual combination or grouping of pieces often leads to a visually appealing display (like mixing colors and tints of glass with dishes). Some online stores and companies even specialize in dishware for vintage tea-themed or garden parties.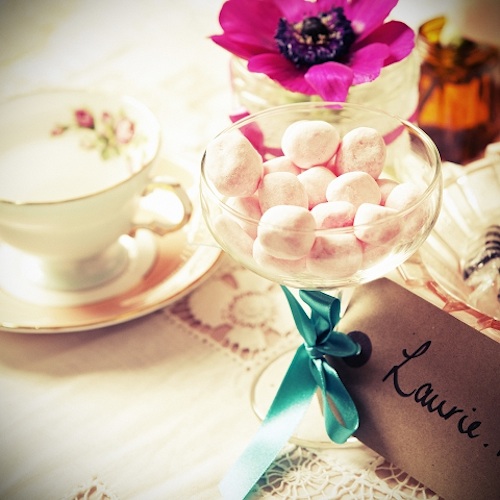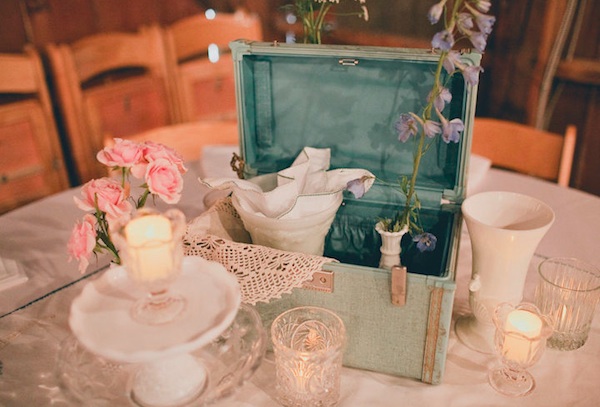 Guestbooks are one wedding aspect that are being taken to the next level when it comes to being interactive and DIY. They can often act as ice breakers, keepsakes and even displays for your home. Place an antique typewriter on your guestbook table for guests to type a special message.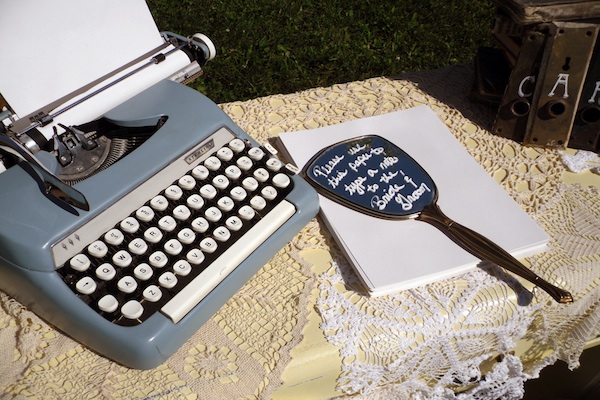 When vintage and antique shopping, make sure to buy in season. For example, more "summery" items like wooden produce crates, farm tools and outdoor items, may be more expensive in the summer months. Also, try not to go bargain hunting a few months before peak wedding season, as other brides may have the same ideas. Plan out what you need and want far in advance, so there's no disappointment if you don't find the perfect piece; however, the good thing about vintage is that it doesn't have to be perfect. Even a few wooden crates or boxes arranged to display flowers or hold favors can look rustic chic.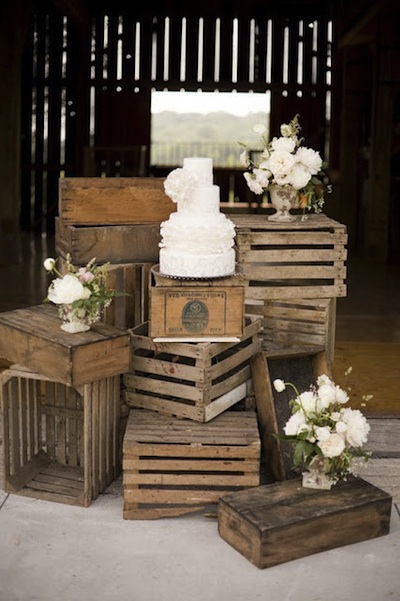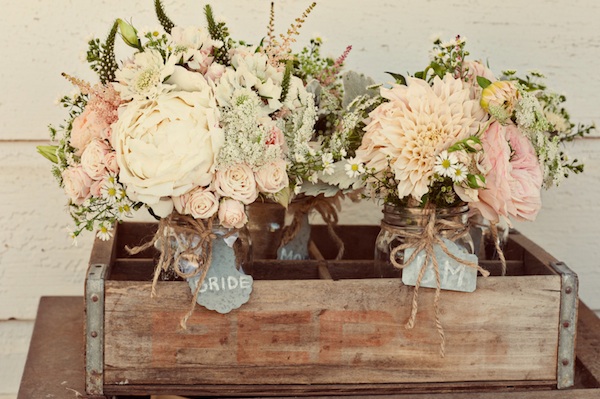 Recyclable items that you can find around the house, such as old tins and vintage canisters can be used or re-purposed as eco-friendly decorations. Ask friends and family members for contributions to your collection if you can't track any down while junkin'.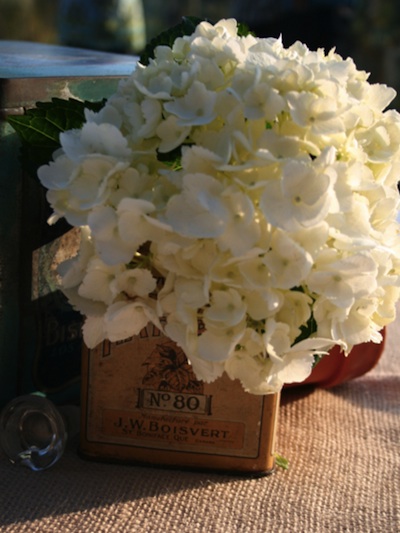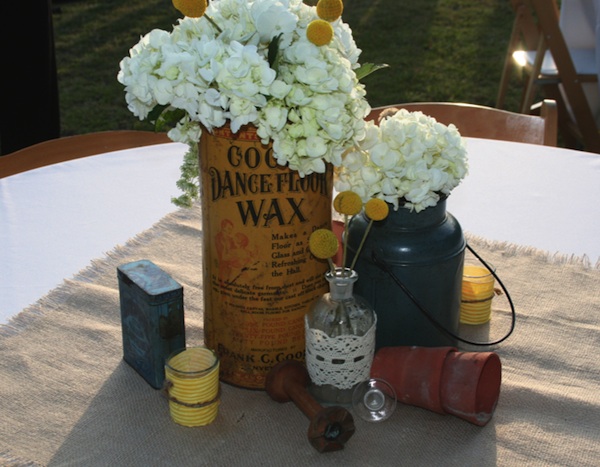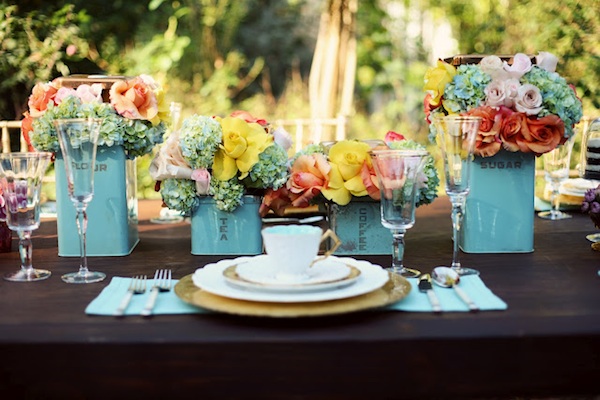 Highlight a prized collection whether it's antique books, records, comics or vintage games and show everyone a little touch of your favorite things. You could even let guests take home a piece of the display at the end of the night, whether it's a favorite book  or a vintage centerpiece. If you're worried about the condition of your collection, wrap the books in scrapbook paper or fabric for a more uniform look.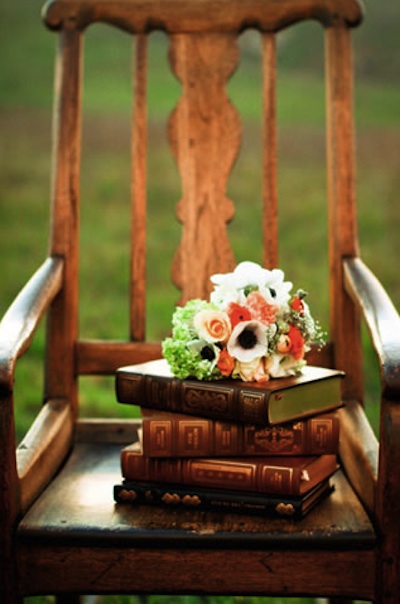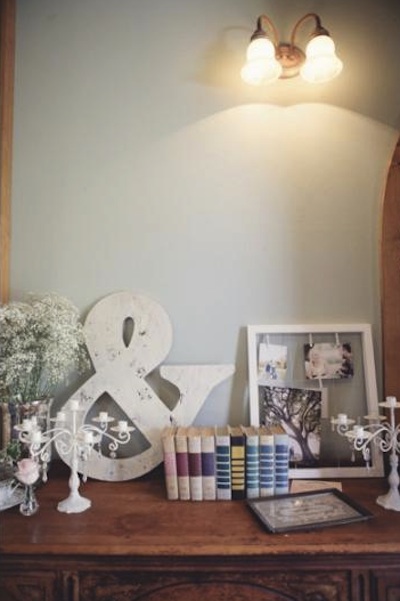 I love the idea of scattering Scrabble tiles on the tables and spelling out cute phrases. This bride used the tiles to spell out table and seat numbers.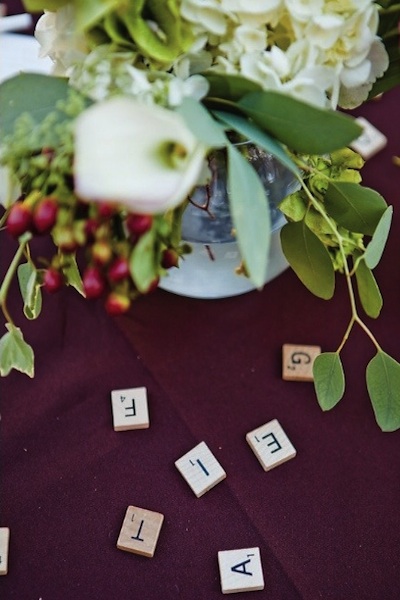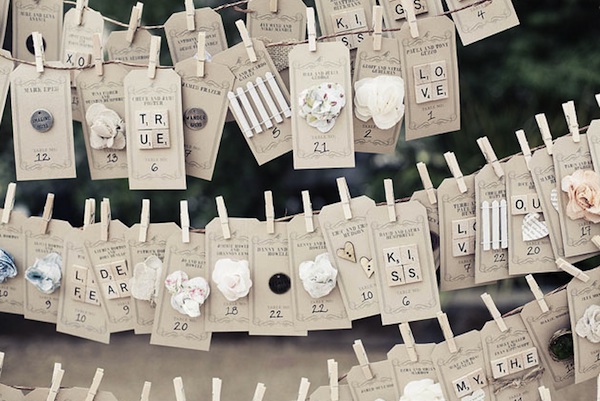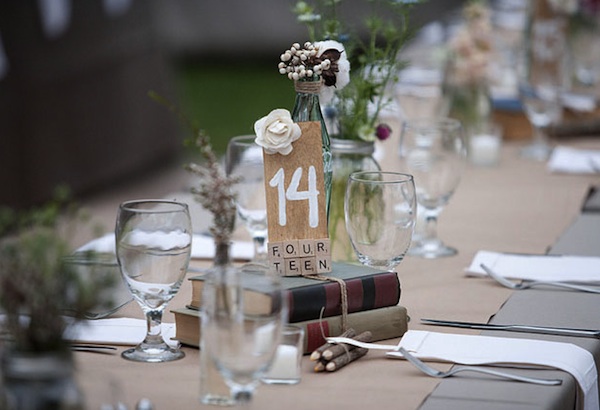 Stay tuned tomorrow for part two!
Photo One: Intimate Weddings; Photo Two: erinjohnsonphotoblog.com; Photo Three: archivevintagerentals.com; Photo Four: maddycakesmuse.blogspot.ca; Photo Five: Elizabeth St; Photo Six: Green Wedding Shoes; Photo Seven: Life of a Vintage Lover Photo Eight: alealovely.tumblr.com; Photo Nine: yourcozyhome.blogspot.ca; Photo Ten: alealovely.tumblr.com; Photo Eleven: katiedayphoto.com; Photo Twelve: blog.hwtm.com; Photo Thirteen: etsy.com; Photo Fourteen: alealovely.tumblr.com; Photo Fifteen: classicbride.blogspot.com; Photo Sixteen: classicbride.blogspot.com; Photo Seventeen: blog.pageruth.com; Photo Eighteen: heavenlybloomsblog.com; Photo Nineteen: heavenlybloomsblog.com; Photo Twenty: davelaphamblog.com; Photo Twenty One: davelaphamblog.com; Photo Twenty Two: davelaphamblog.com; Photo Twenty Three: erinheartscourt.com; Photo Twenty Four: katiedayphoto.com; Photo Twenty Five: blovedweddings.com; Photo Twenty Six: katiedayphoto.com; Photo Twenty Seven: trovevintage.com; Photo Twenty Eight: sarahtuckereventstheblog.com; Photo Twenty Nine: ashleymaxwellphoto.com; Photo Thirty: blairbrittevents.blogspot.ca; Photo Thirty One: blairbrittevents.blogspot.ca; Photo Thirty Two: sohappitogetherblog.com; Photo Thirty Three: labellebride.com; Photo Thirty Four: katielambphotography.com; Photo Thirty Five: thegoodness.com; Photo Thirty Six: jeffwallacephotography.com; Photo Thirty Seven: jeffwallacephotography.com;