Groupings of mixed bottles are a great way to make a visual impact in your wedding decor. Collections of bottles can fit your theme easily as well: you can pick the bottles to match your wedding colors or  make a collection of vintage bottles to fit a rustic theme. Bottles can also be hung to accent areas where there isn't enough table space.
Hanging bottles with a single bloom have a clean and modern look that can be altered by using all of the same flowers, or mixing varieties and colors for a more bohemian look.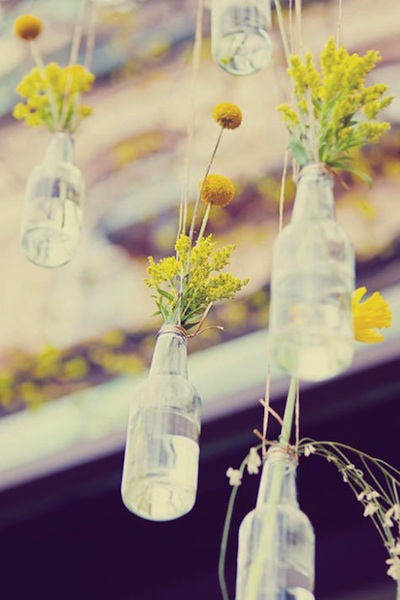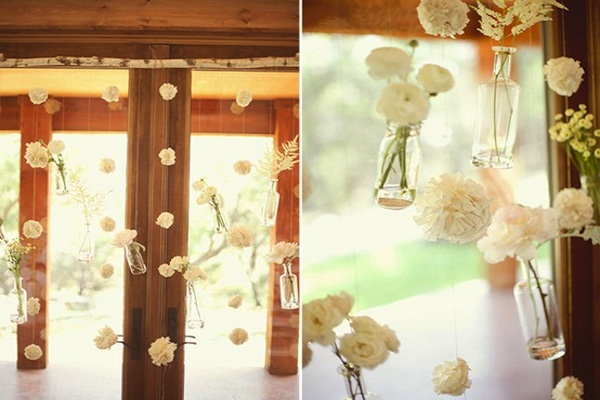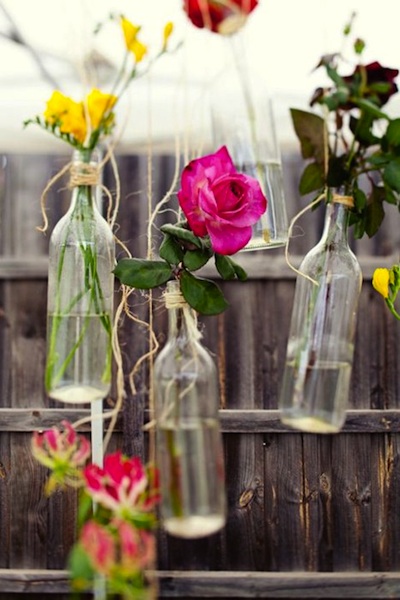 Another way to display a mixture of bottles is in a drawer or on top of a vintage desk or dresser. The bottles can either be mixed and matched, or be all the same style. You can also vary the style with the piece of furniture you display them from, as well as the variety of flowers you choose.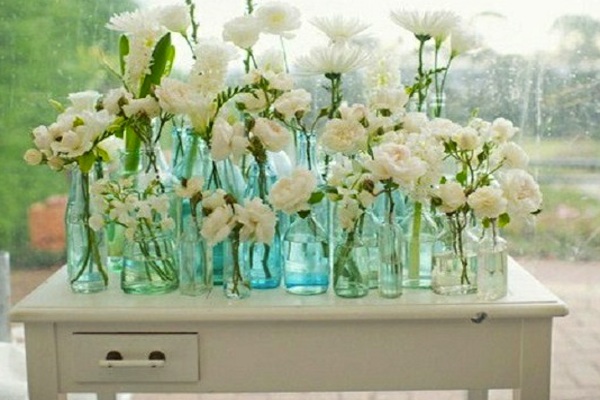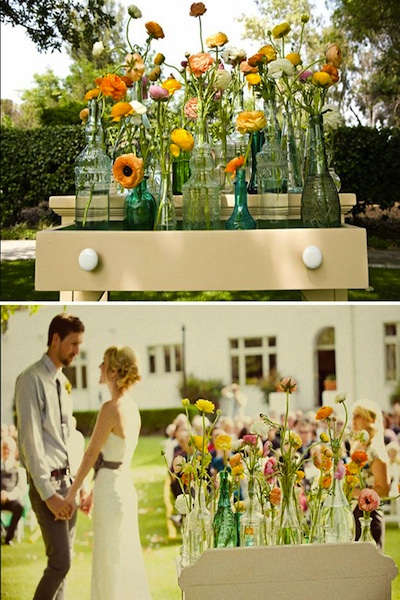 A collection of bottles can also be used as escort cards, with or without flowers.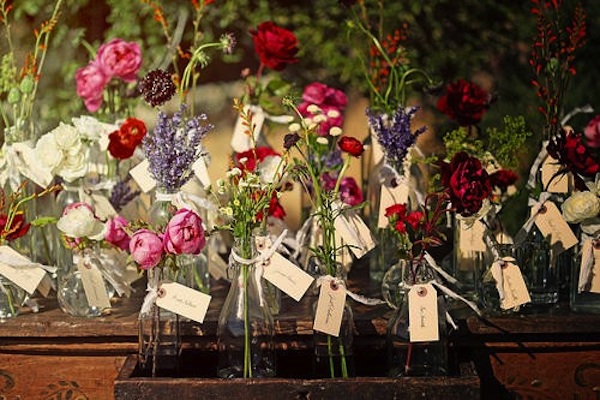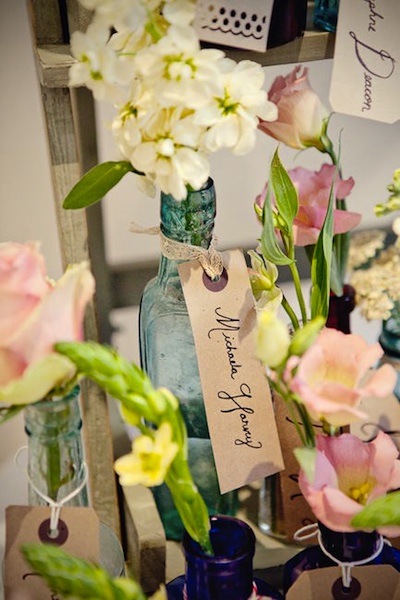 Another way to group your bottles can be by color; this grouping makes so much of an impact that using flowers isn't totally necessary.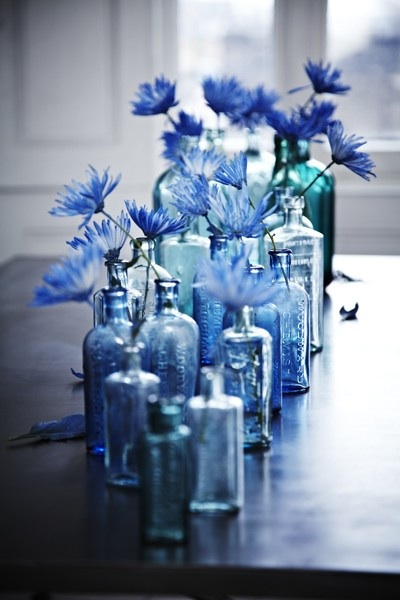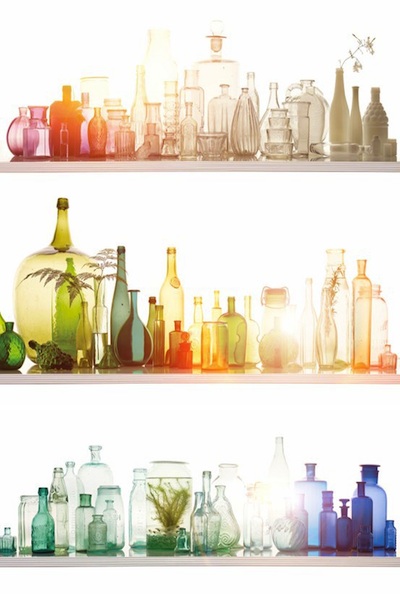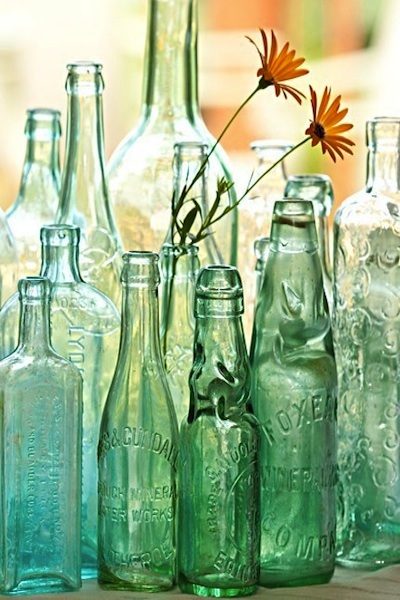 A mixture of various sized bottles can also of course be used as centerpieces. The centerpiece will seem the most interesting if the heights and shapes of the bottles vary like the examples below.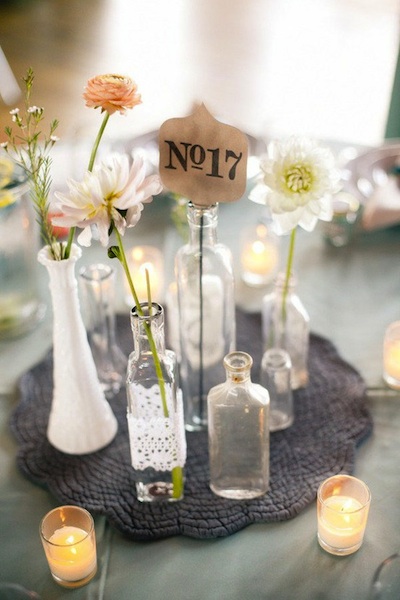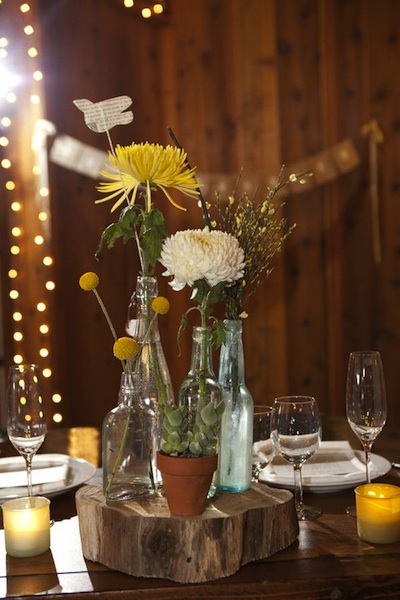 If you like the look of bottles as decor and want to use them for your big day, remember to start stocking up ahead of time! You can ask your family and friends to start selecting specific types and colors for you to help speed the process as well. Searching flea markets, thrift stores and your local Goodwill is a great way to start gathering vintage bottle collections.
Photo One: stylemepretty.com; Photo Two: weddings.theknot.com; Photo Three: utterlyengaged.com; Photo Four: celebrationsathomeblog.com; Photo Five: greenweddingshoes.com; Photo Six: oncewed.com; Photo Seven: stylemepretty.com; Photo Eight: browndresswithwhitedots.tumblr.com; Photo Nine: brightboldbeautiful.blogpspot.com; Photo Ten: libbyjamesblog.com; Photo Eleven: stylemepretty.com; Photo Twelve: stylemepretty.com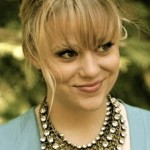 Rebekah is a DIY obsessed, wedding and event design wizard who loves hunting her bay area  homeland for clever craft ideas, vintage gems, bargain buys, new pieces for her vintage rental line  and  blogging inspiration. She and her husband live and write in Oakland. Read her blog.