When it comes to wedding flowers, simple is in. Using a single flower in a vase or  grouping similar flowers casually together is the latest look in rustic chic wedding decor.
These wedding flowers are all in the same color spectrum (variations of white and purple, respectively) and in similar vases, but only one type of flower per vase. It's a look that makes an impact without having to be a grand floral arrangement.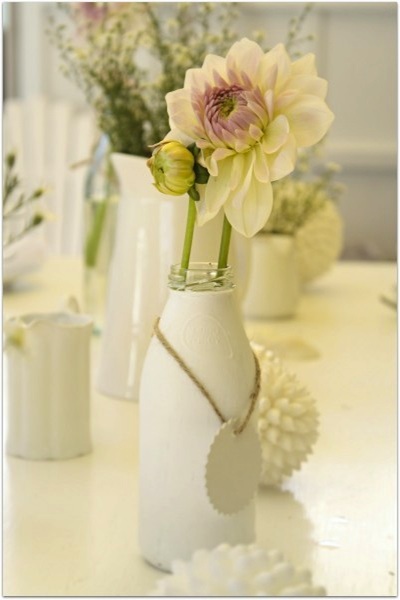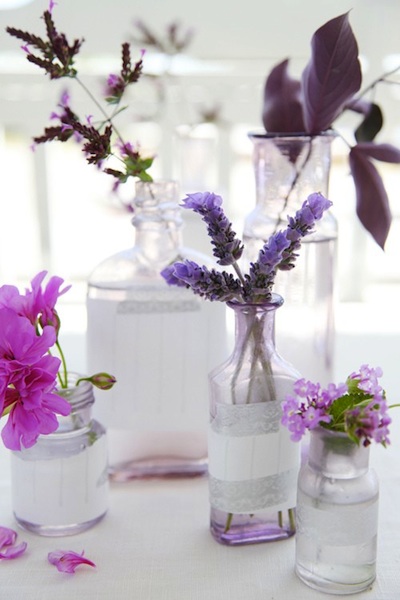 Check out these gorgeous David Austen roses!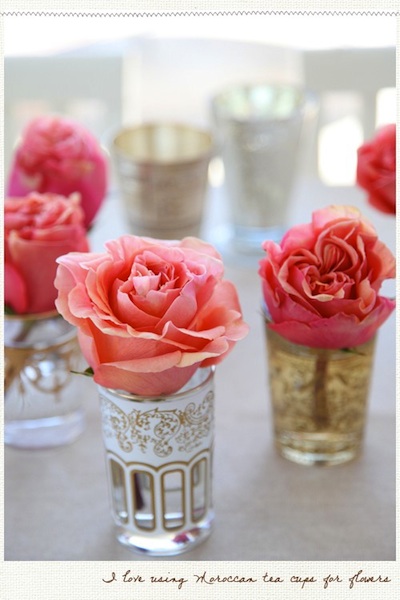 I love the table number flag with this gorgeous bloom!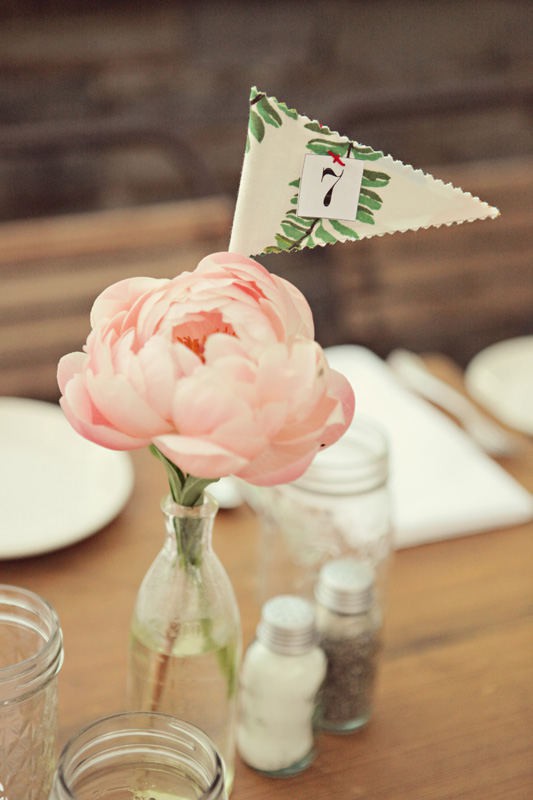 These groupings are all different in that their flowers are different, their colors are different and their vases are different. But they all make sense because of the common thread that pulls them together: there is only one type of flower in each various vessel and they all have their very own little vase to themselves.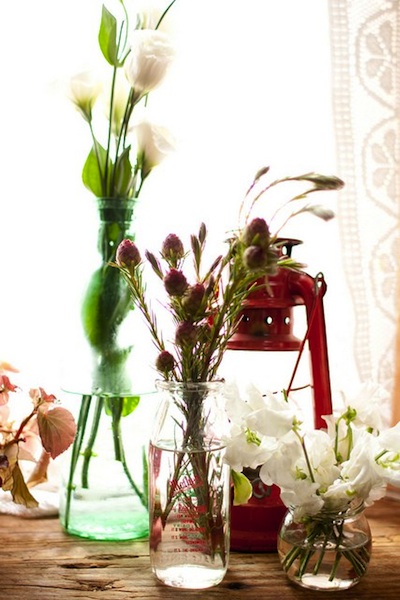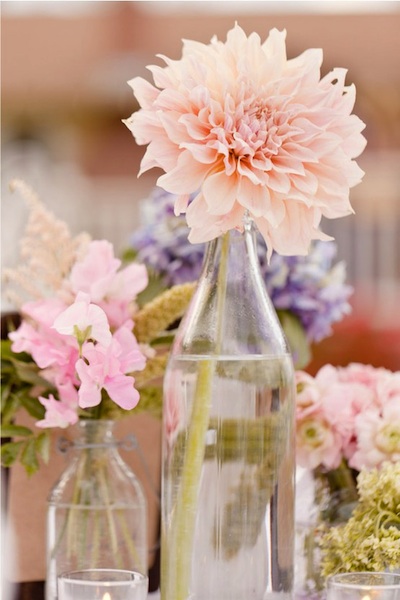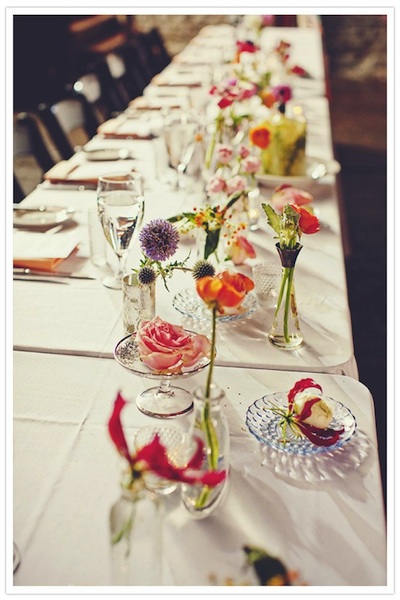 Another way to execute this look is by only having one flower per vase but mixing both the variety of flowers and the vessels as well.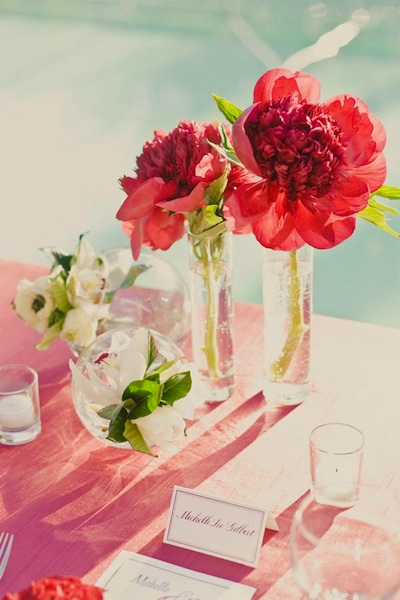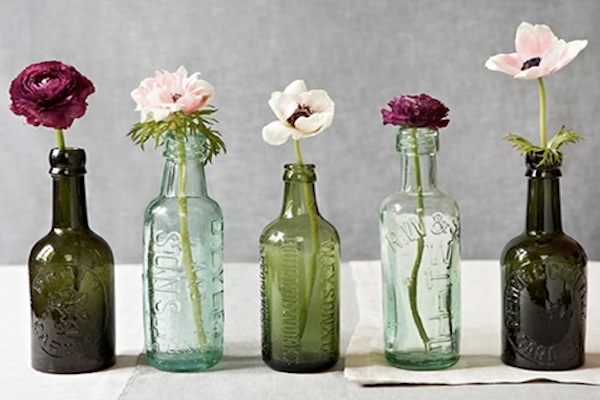 Last in this little bud love session is using the exact same flowers and vases with only one flower per vase. This is a sophisticated look that can be done simple with only a few vases, or for even more of an impact can be done with a mass of vases all grouped together.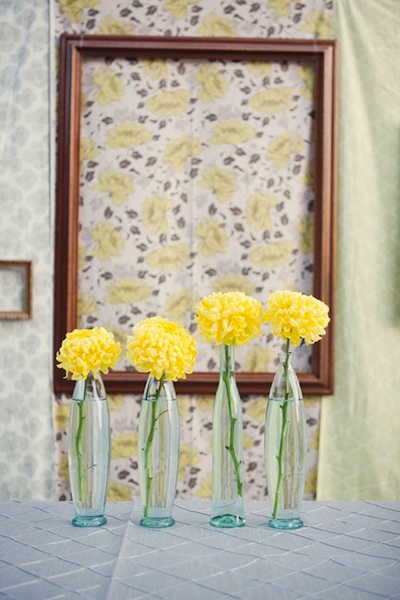 All of these looks are perfect for both saving money AND an easy DIY project! They're all gorgeous and take very little time to put together and can range from looking sweet and country to rich and sophisticated. What's your favorite style?
Photo One: abeachcottage.com; Photo Two: decor8blog.com; Photo Three: Country Home; Photo Four: Style Me Pretty; Photo Five: gibsonevents.com; Photo Six: stylemepretty.com; Photo Seven: 100layercake.com; Photo Eight: stylemepretty.com; Photo Nine: designspongeonline.com; Photo Ten: jesihaackdesign.com; Photo Eleven: acreativemint.typepad.com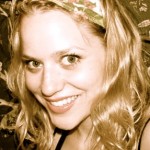 Rebekah is a DIY obsessed, wedding and event styling wizard who loves hunting her bay area  homeland for clever craft ideas, vintage gems, bargain buys, new pieces for her vintage rental line  and blogging inspiration. She and her husband live and write in Oakland. Read her blog.