Since immigrating to the Caribbean in 2011, Marianne and Luke had not seen many of their friends and family in three years. Their wedding day was an opportunity to spend as much quality time with their loved ones as possible!
The couple planned their Languedoc wedding from over 5000 miles away, enlisting the help of their guests to pull it off. Despite the challenges they faced, they were rewarded with the fun and intimate wedding that they envisioned – complete with a music festival vibe, garden games, great french food, and bottles of decadent Laurent Perrier Rosé.
Special thanks to the guys from Nordica Photography for sending us all the gorgeous photos from Marianne and Luke's Southern France wedding so we could share them with you today!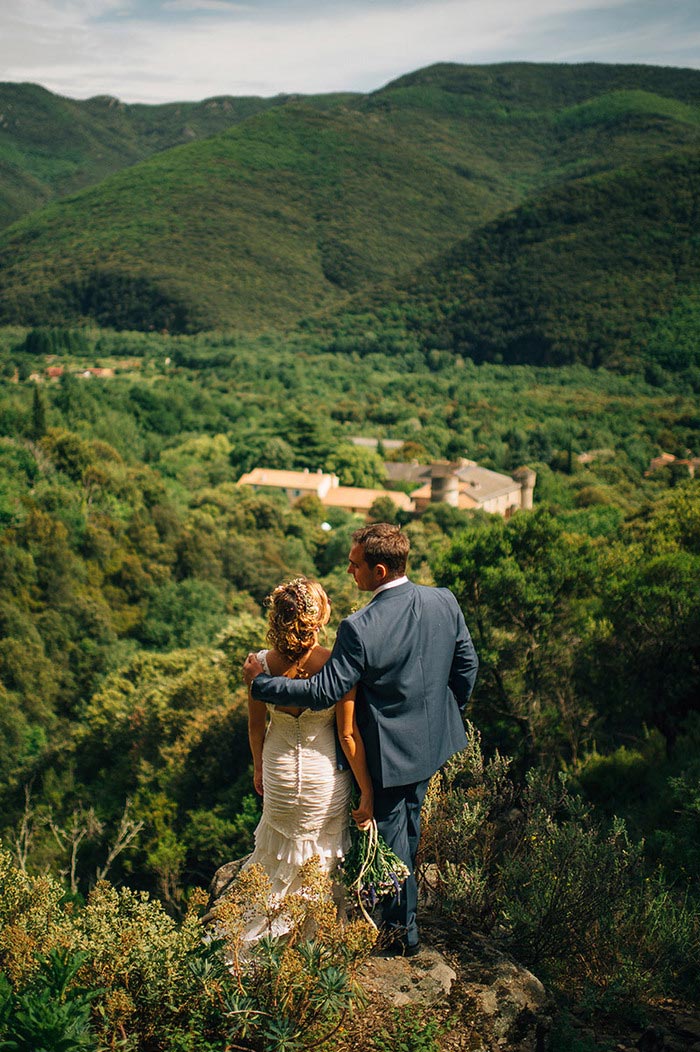 Marianne & Luke
Colobières Sur Orb, Languedoc, France
Wedding Date: May 25, 2014
Number of Guests: 65
Wedding Cost: $33,000 USD

Wedding Ceremony Location: Chateau de Colombières, Colombières sur Orb
Wedding Reception Location: same venue as the ceremony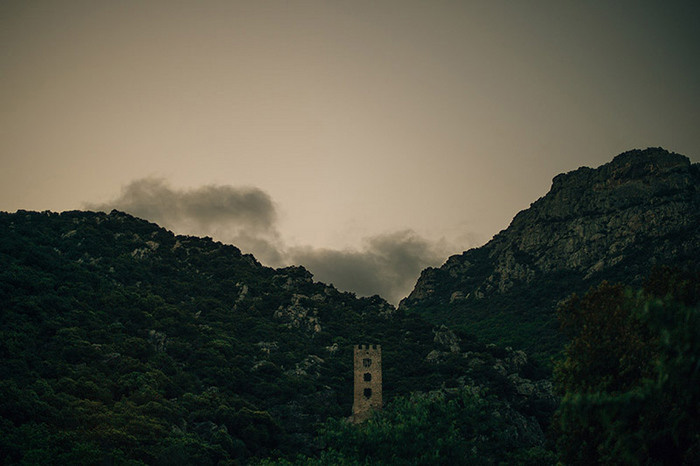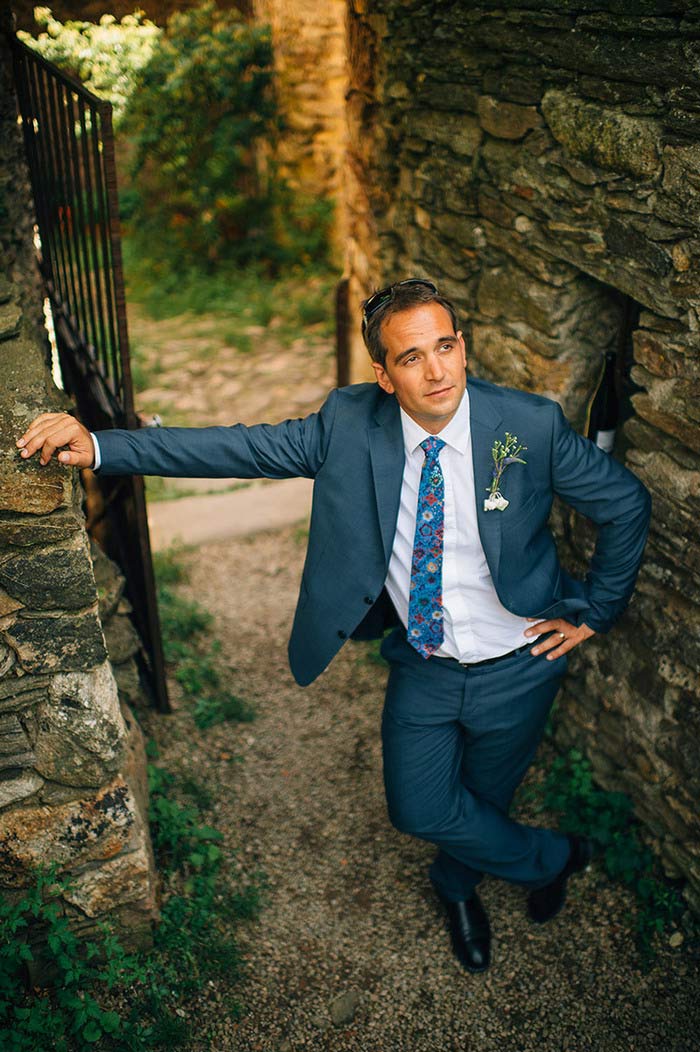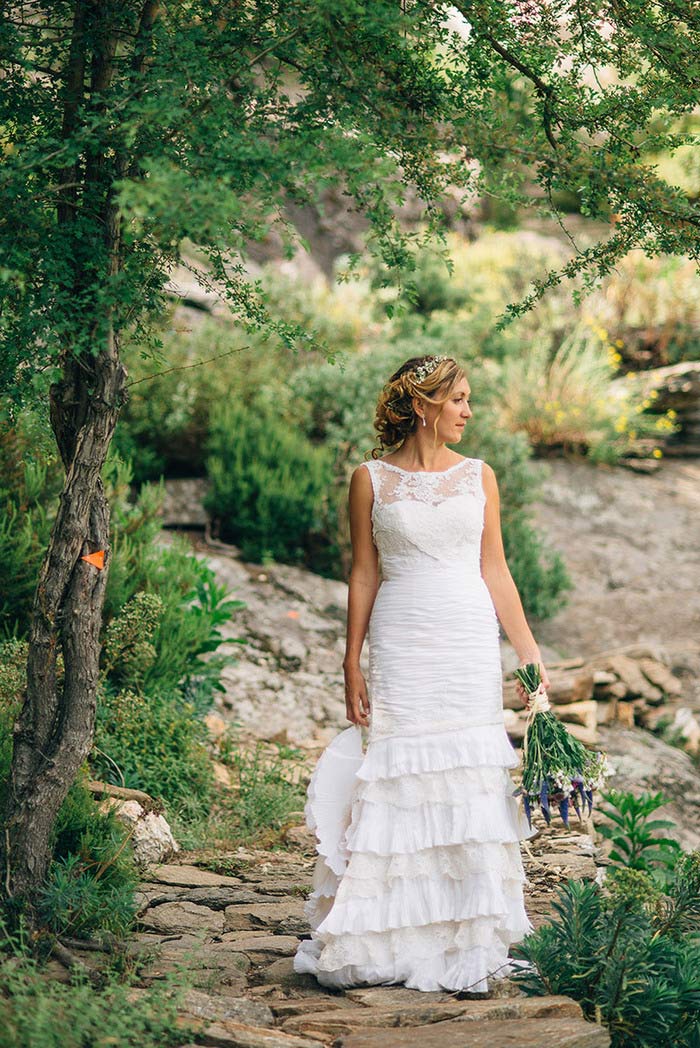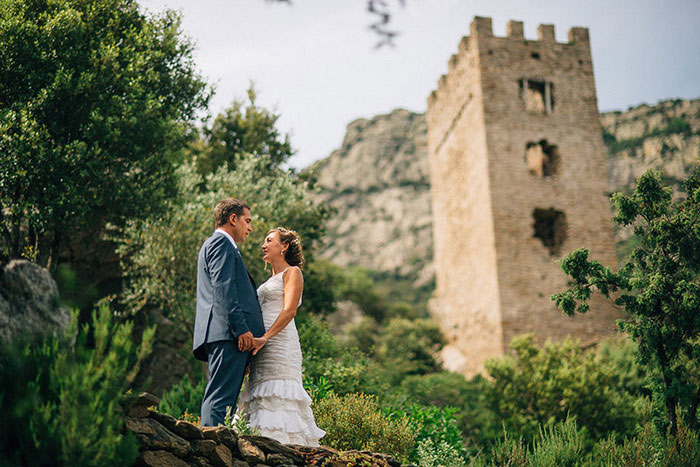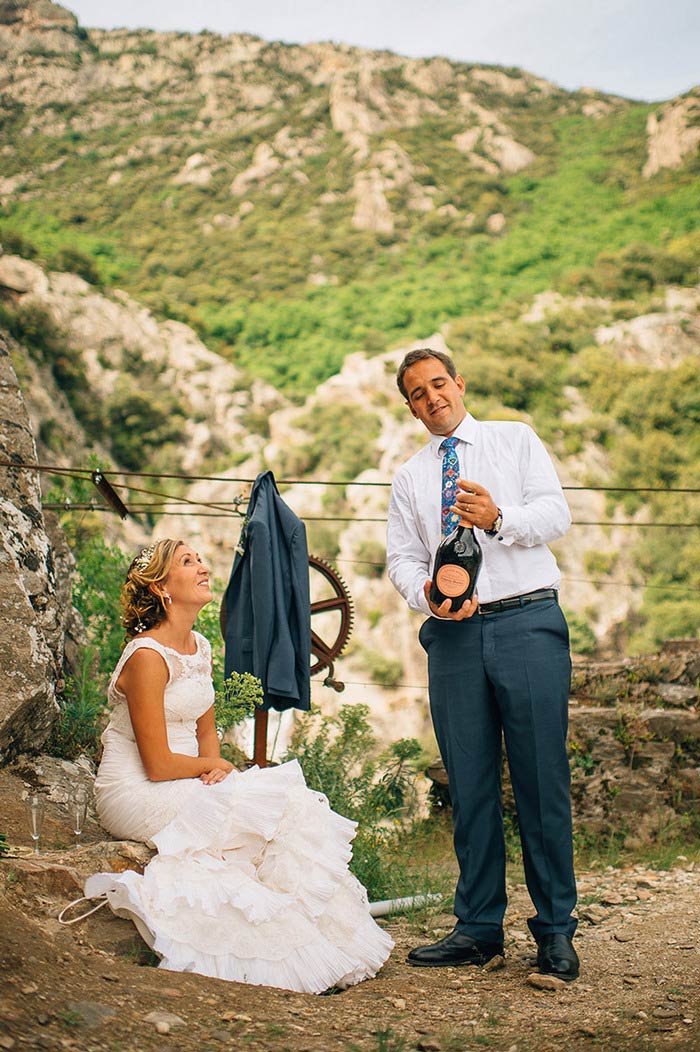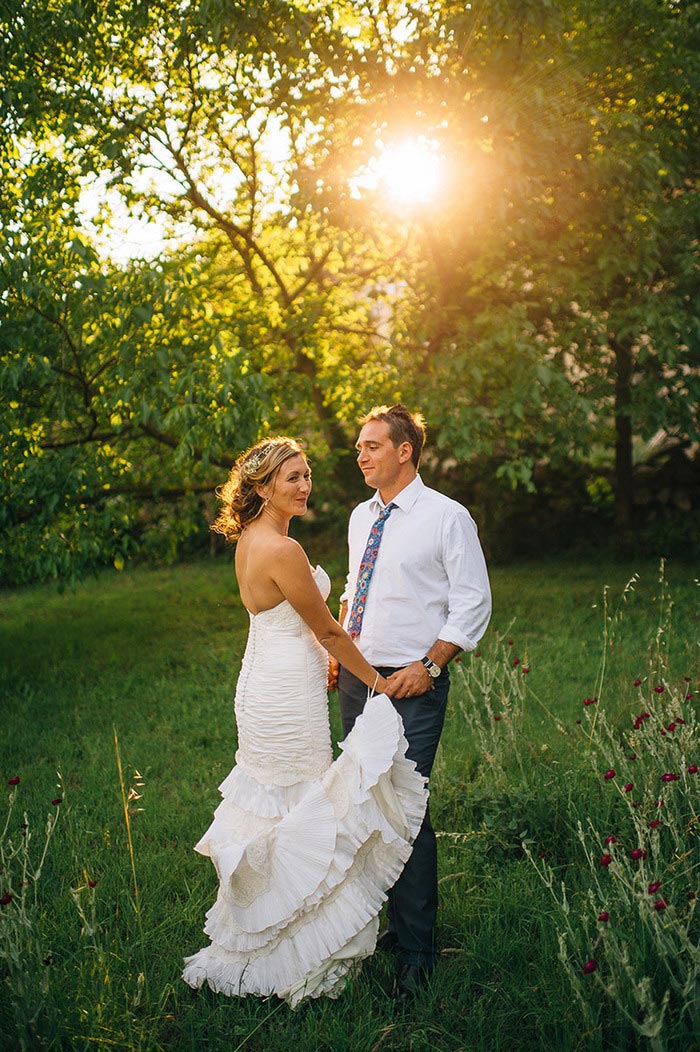 Why did you have an intimate wedding?
We immigrated to the Caribbean in 2011 and we had not seen many of our friends and family for 3 years, so we wanted an opportunity to catch up with all of them. We wanted an intimate, festival-like vibe and to have everybody involved in some way, and that is exactly what we got. We have good friends who have experience setting up music festivals, so we thought if we got everybody involved, we could do it all ourselves.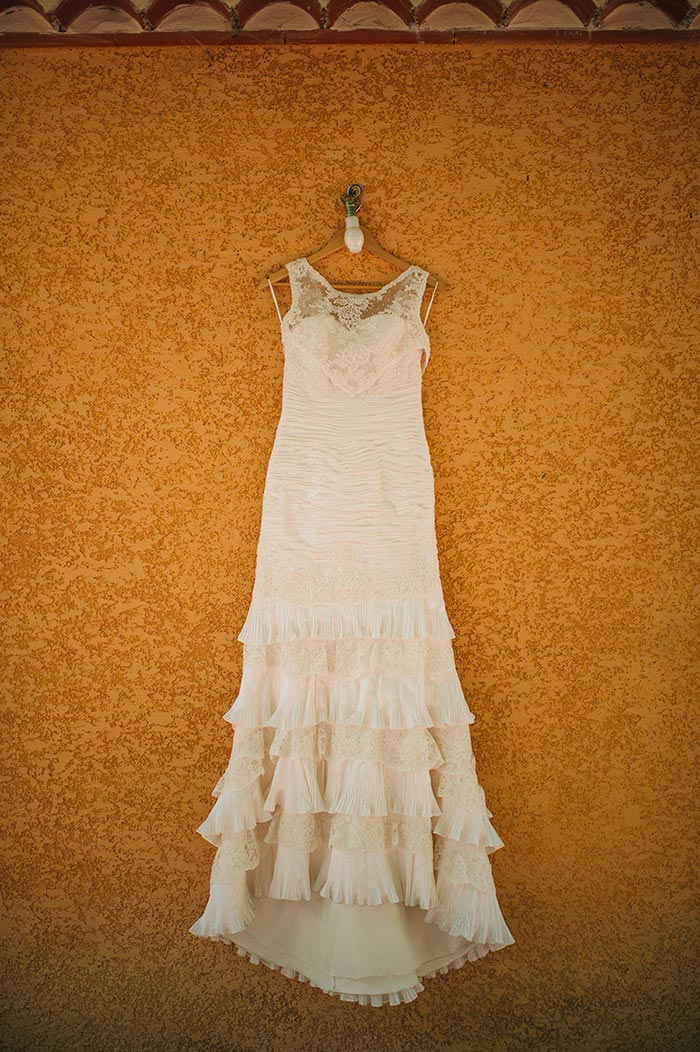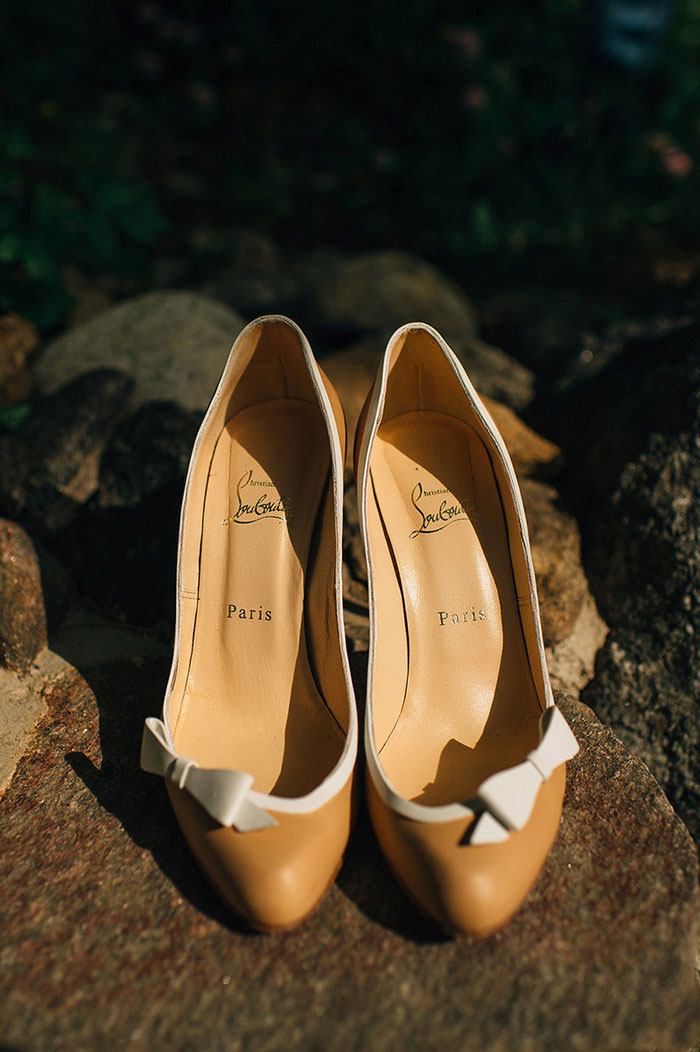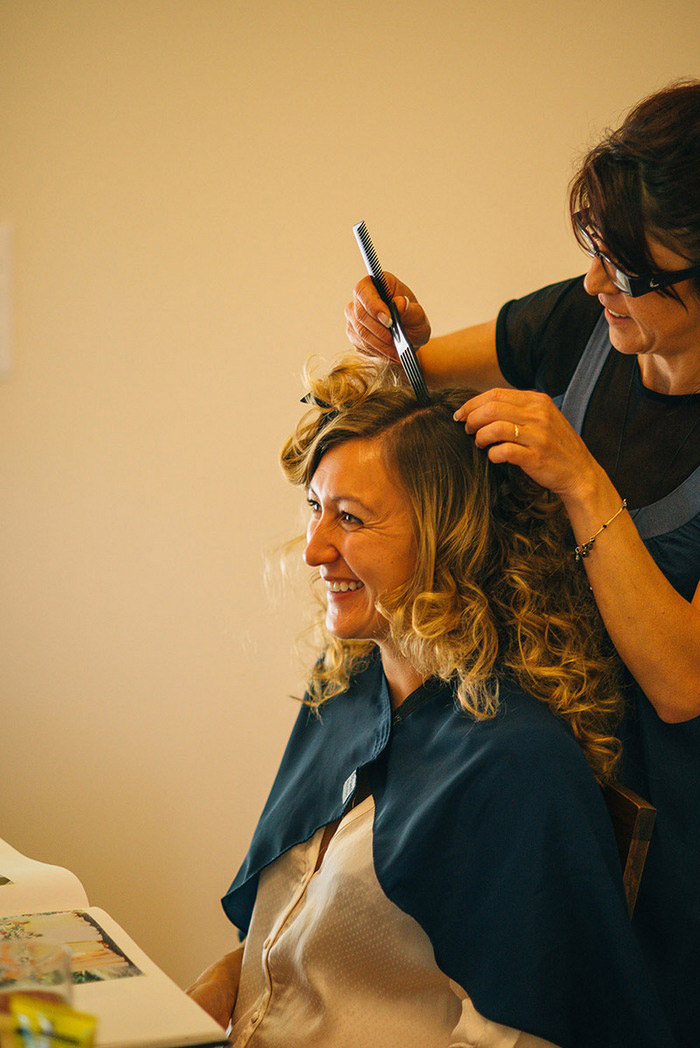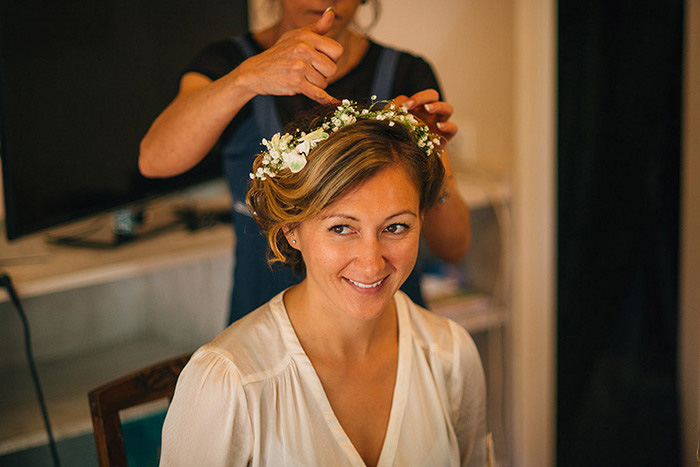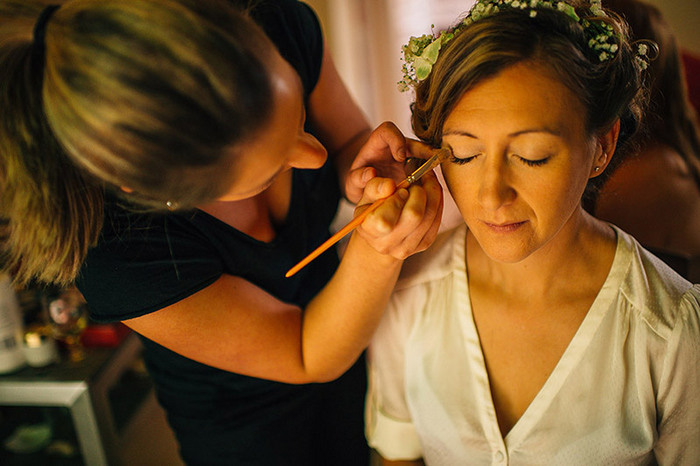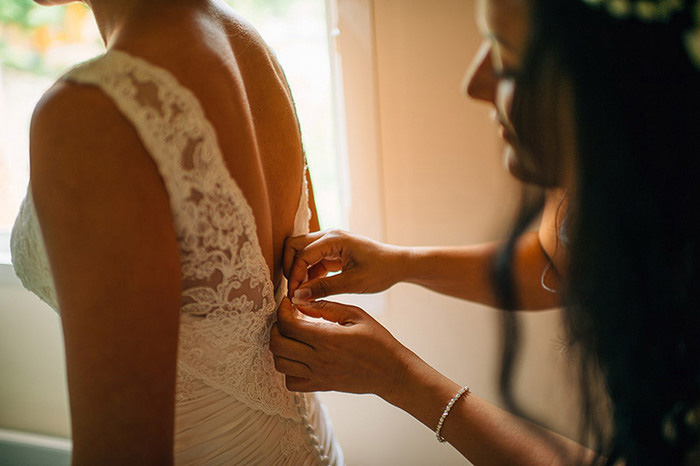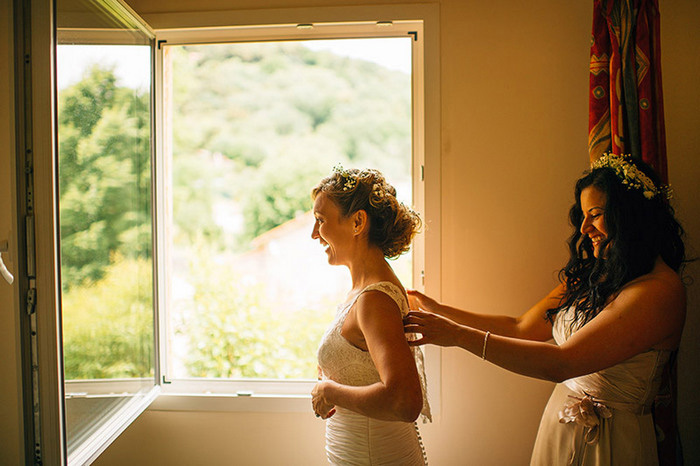 What are some of the challenges that you faced planning an intimate wedding?
Dealing with seating plan politics was probably the hardest thing! Seriously though, we had to plan it all and coordinate it from 5,000 miles away so we had to place of lot of trust in our friends and in strangers. In the end, they all came through. We planned the whole thing ourselves, but it was so rewarding on the day. Lack of sleep ahead of the big day was the only other issue!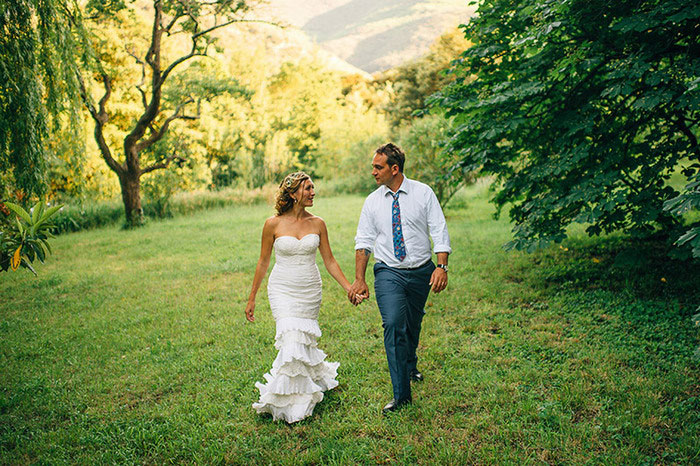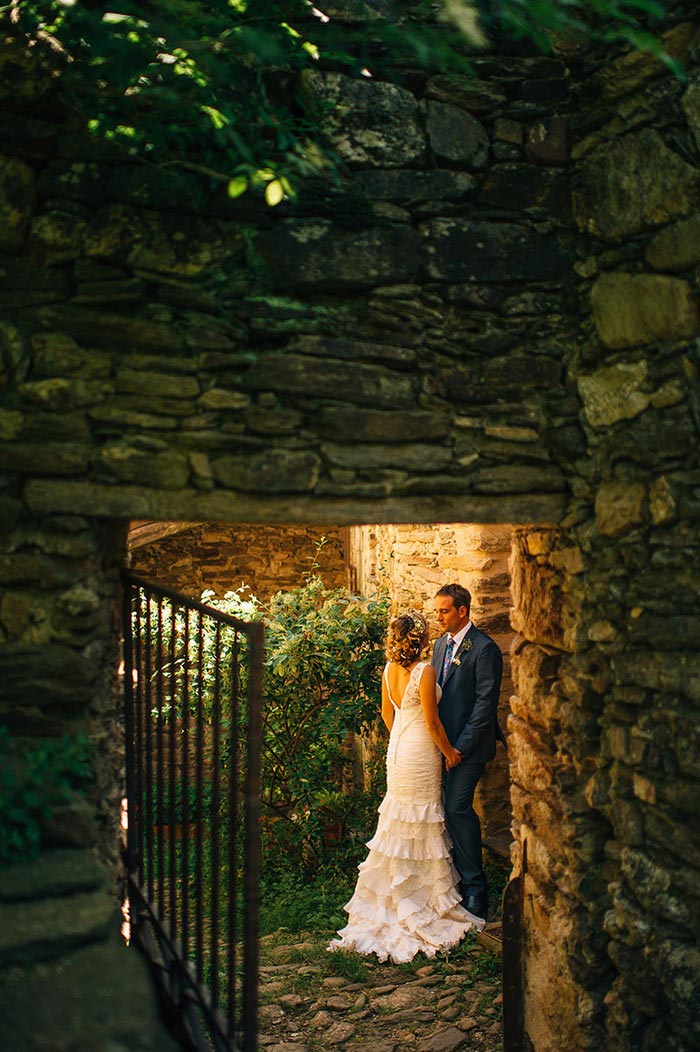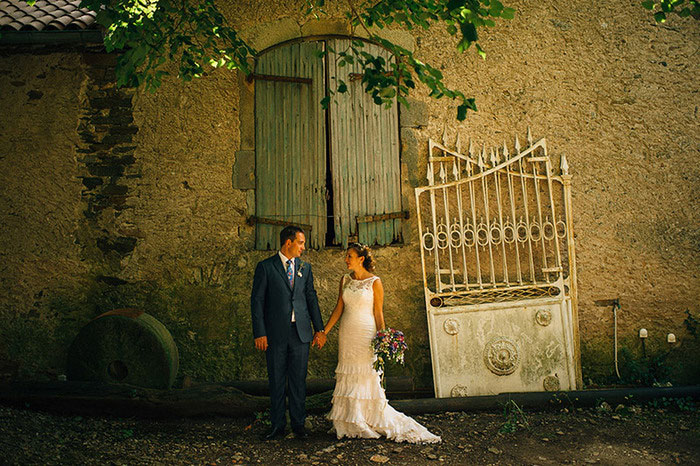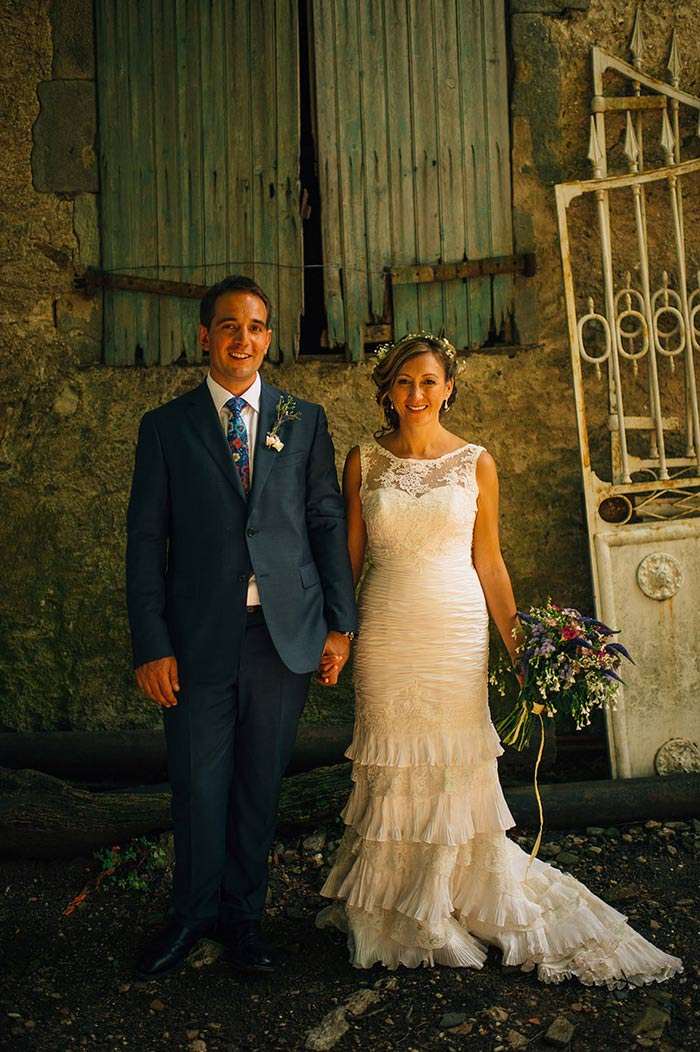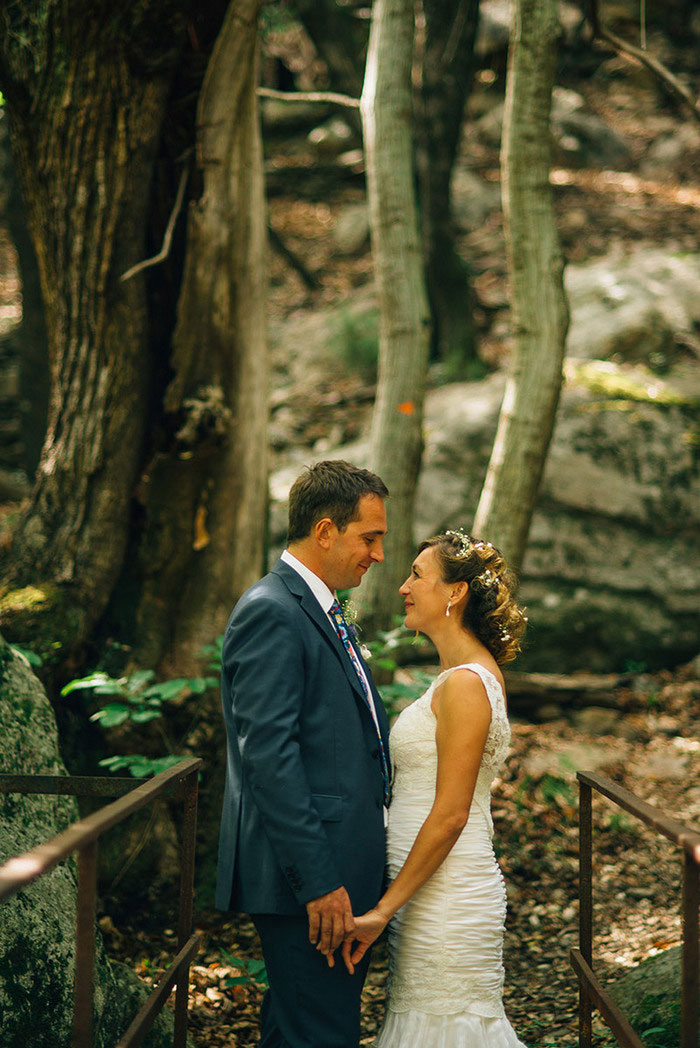 Was it difficult to pare down the guest list?
No, there were a couple of extra people we could have invited, but we had a budget and a cost per head for the catering, so it was pretty easy. One of the benefits of having a small guest list was that almost everybody we invited came – only three guests couldn't make it.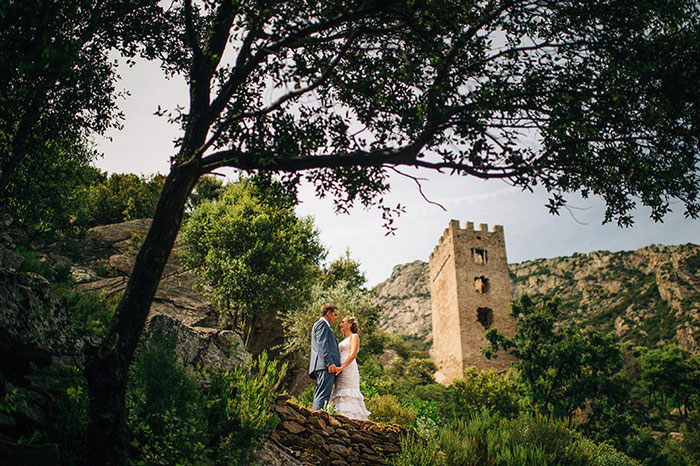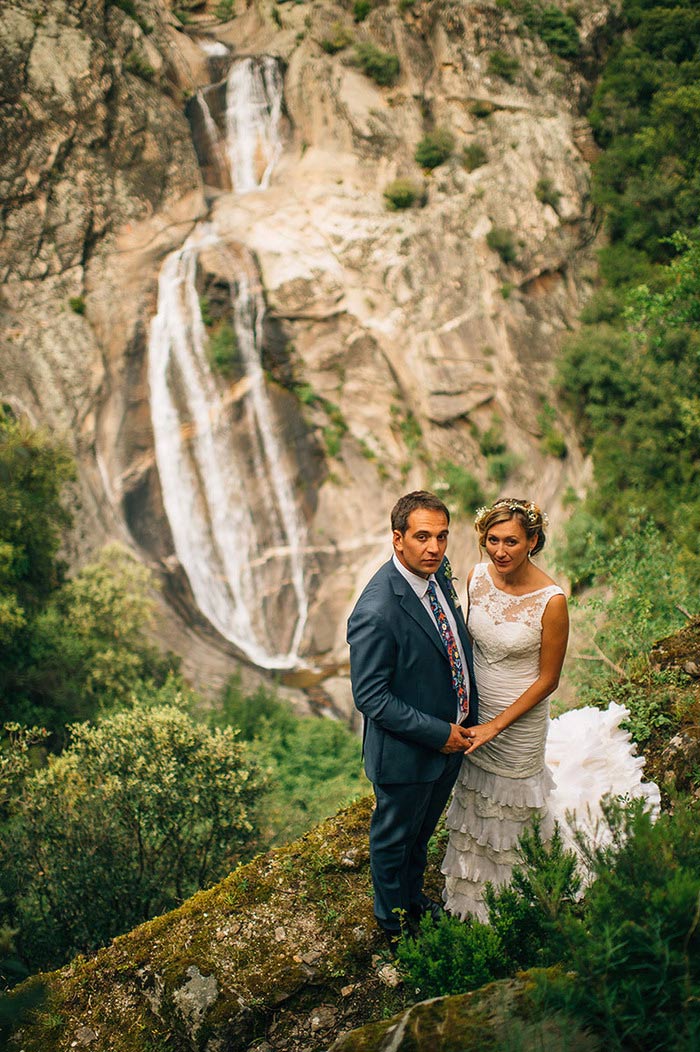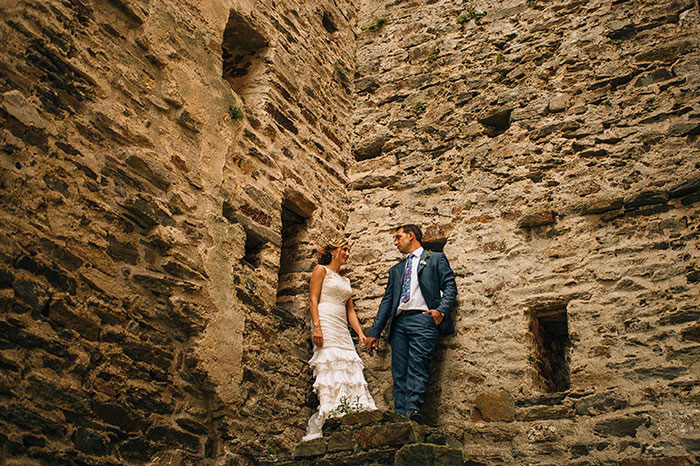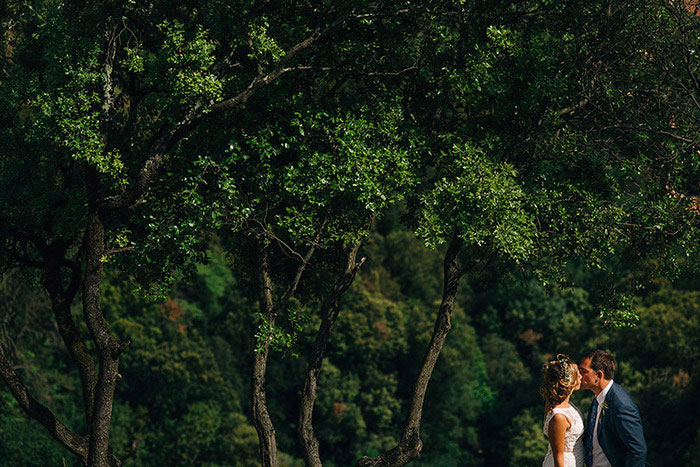 Did you have any 'issues' with the small guest list from friends and family? If so, how did you address them?
No, we invited close friends and family, and everybody respected our wishes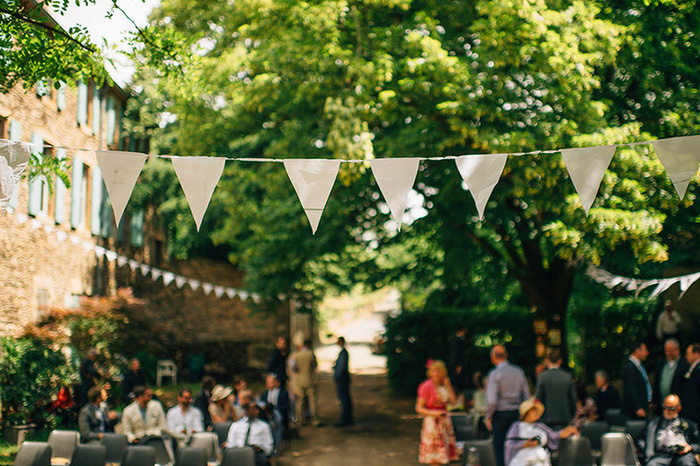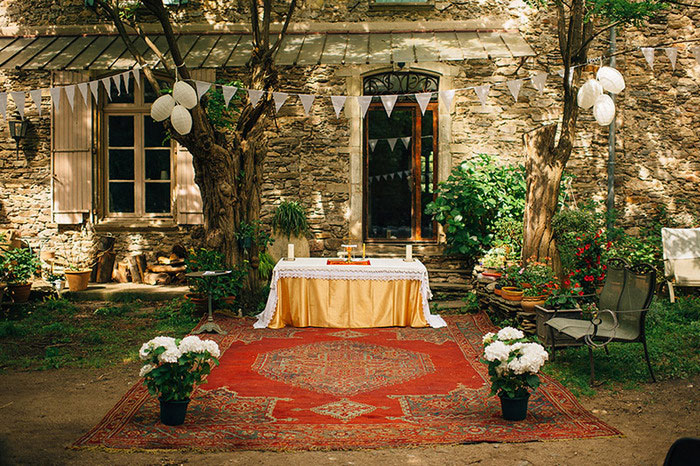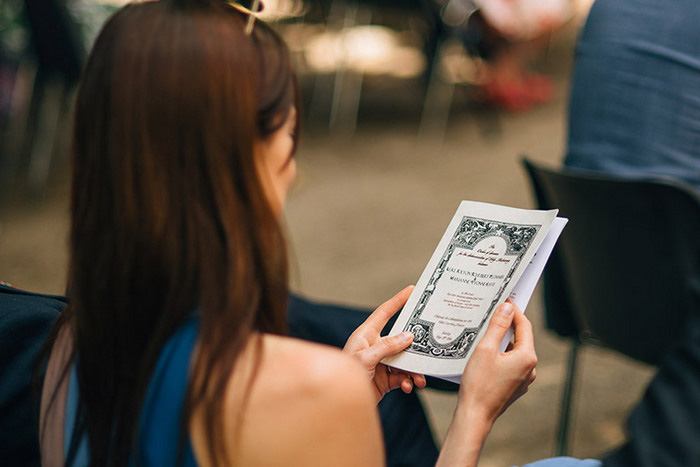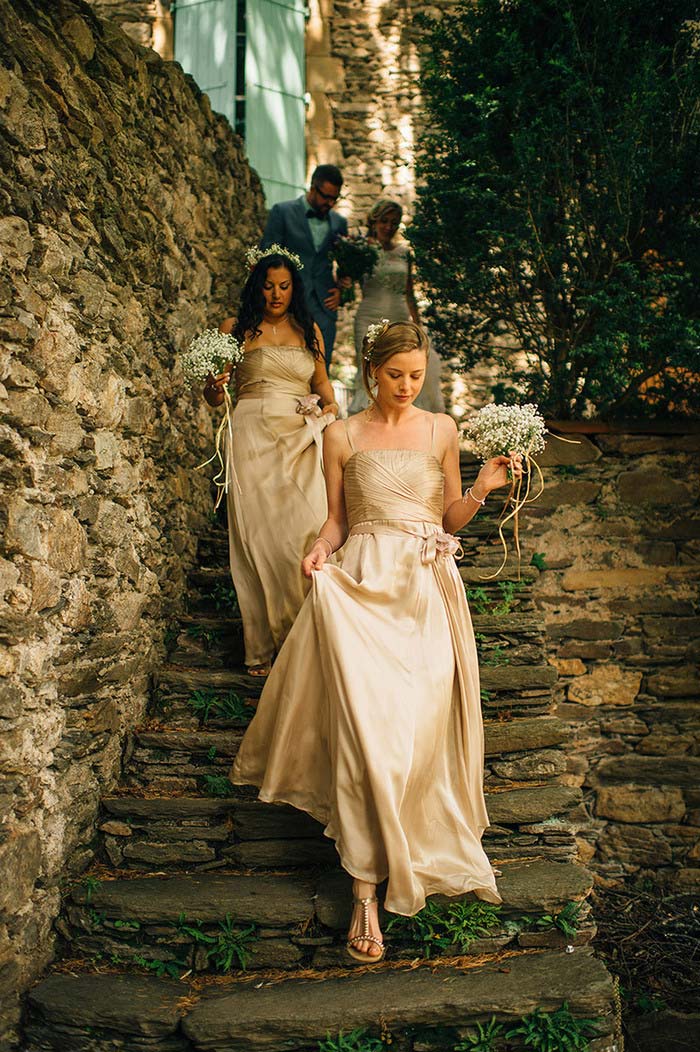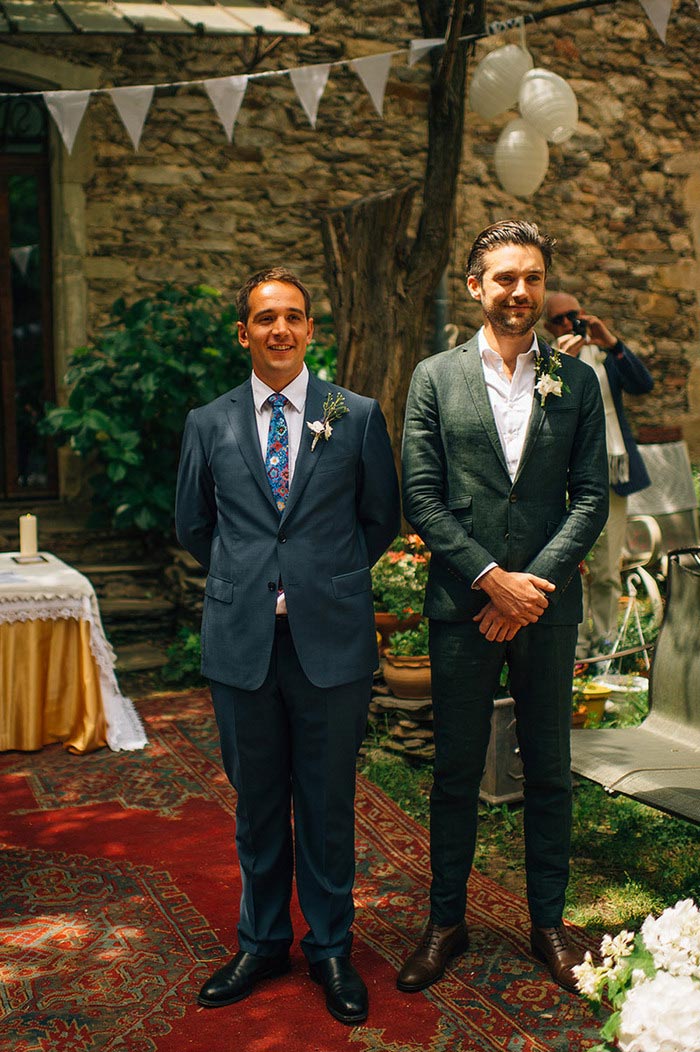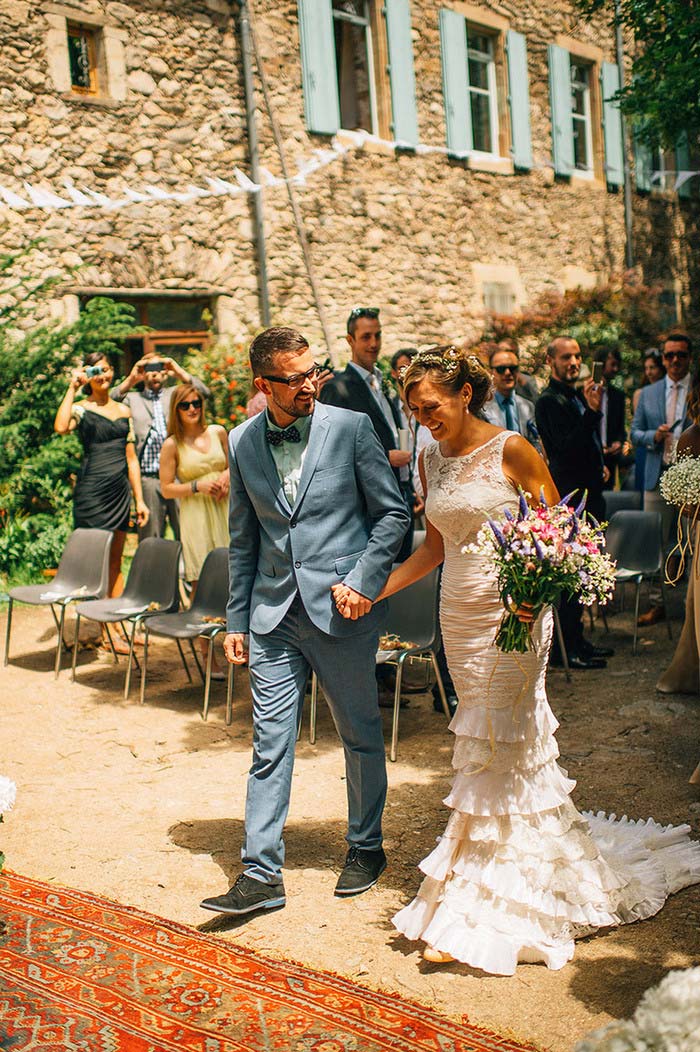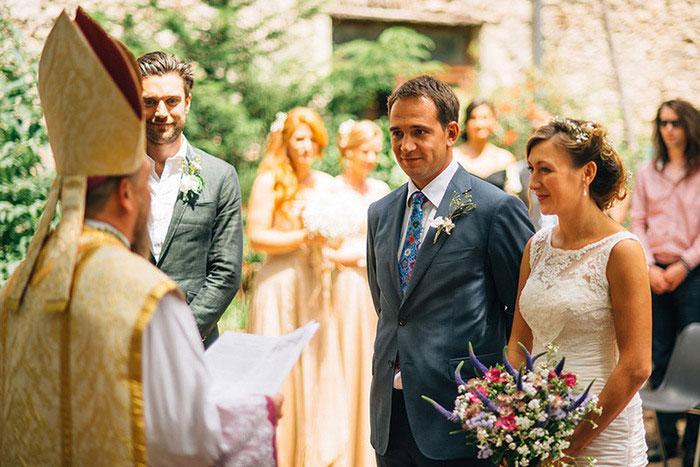 What were the highlights of the ceremony?
Saying the actual vows "through the good times and the bad" was very moving. Everybody has heard them before, but actually saying them was very special, and of course the first kiss was a highlight.
My brother was the bishop presiding over the ceremony and he delivered a very personal rendition of Leonard Cohen's Hallelujah, with the kind of tongue in cheek humor that only a sibling can muster. It set the mood for the reception perfectly.
And then the music as we walked back down the aisle together (Could you be Loved by Bob Marley) and the roar of applause and being covered with confetti was great.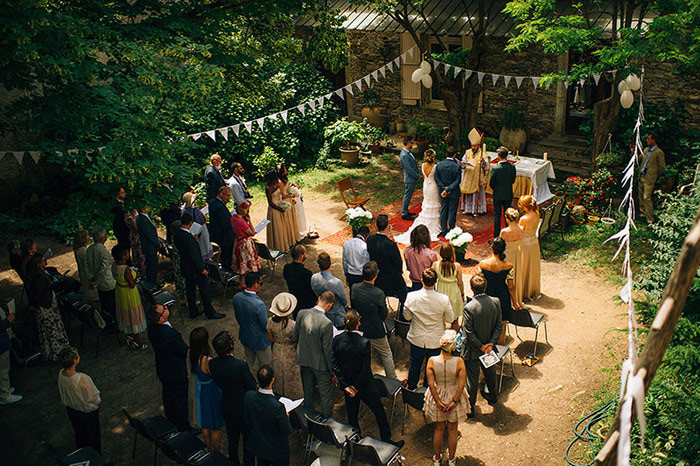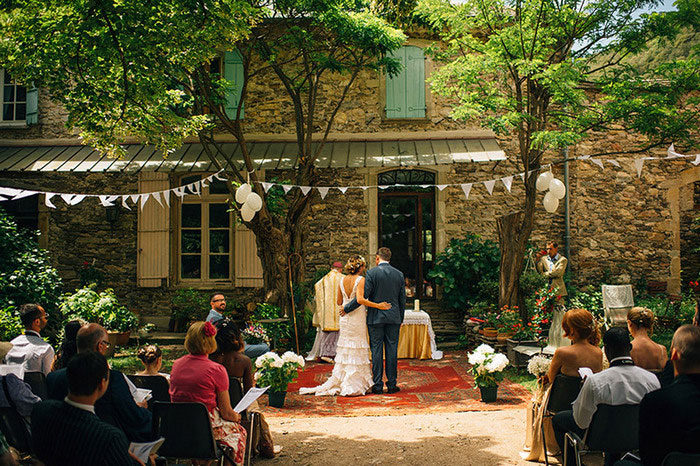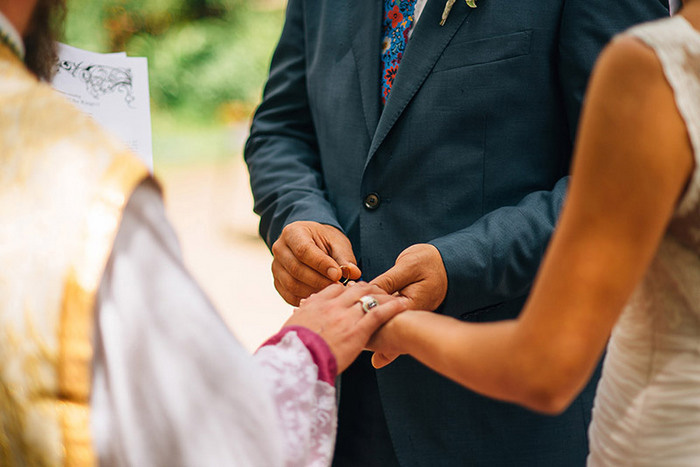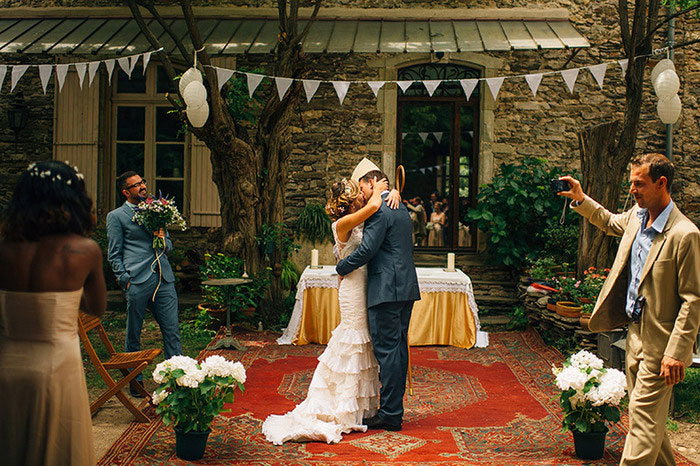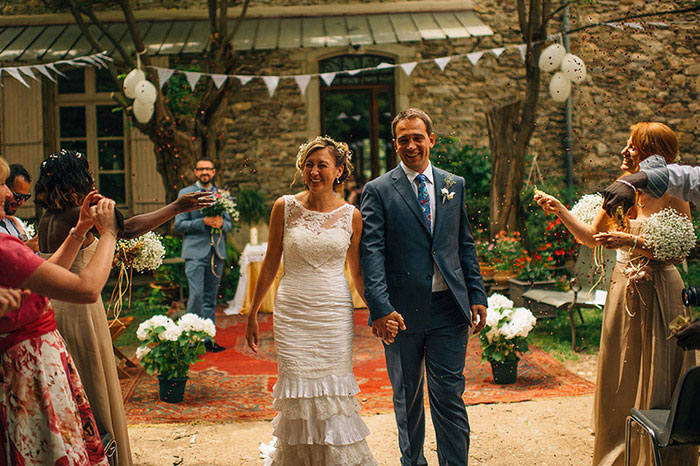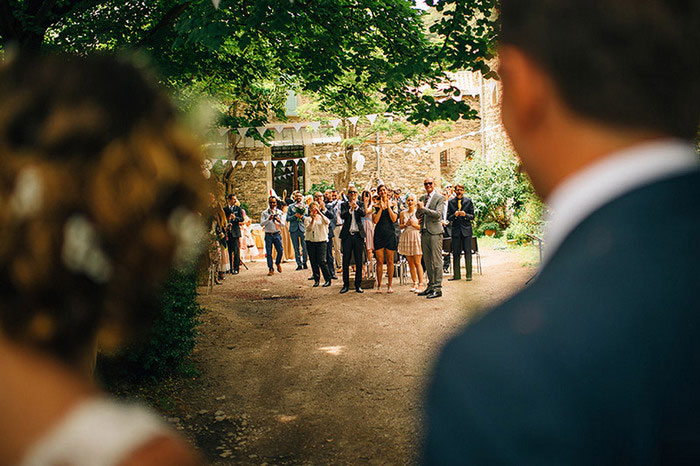 What were the highlights of the reception? 
Fun was definitely the order of the day with garden games such as giant jenga, and a caricaturist to produce Hollywood style drawings of our guests. We had great fun the days ahead of the wedding with a few of our guests tasting and buying regional wine and bubbly from the local vineyards, and serving Laurent Perrier Rosé with the evening meal as our touch of decadence. The French are renowned for their quality of food and we had no difficulties sourcing local caterers to create lip-smacking regional delights such as monkfish and lamb, topped off with the most sumptuous croquembouche (traditional French wedding cake made of a profiterol tower with fresh caramel) for dessert.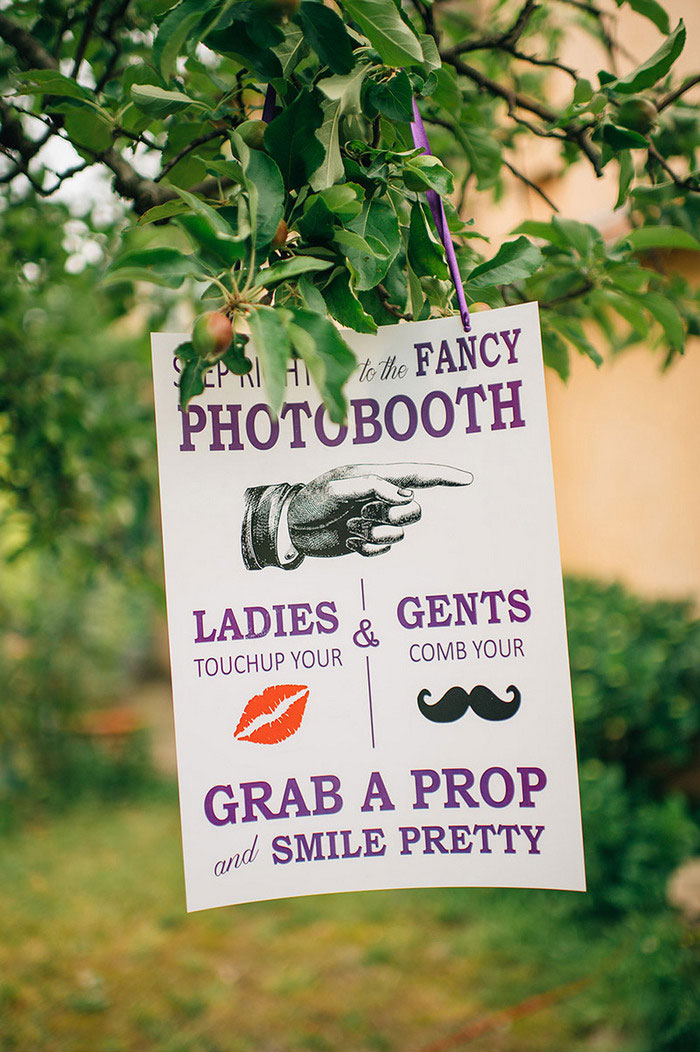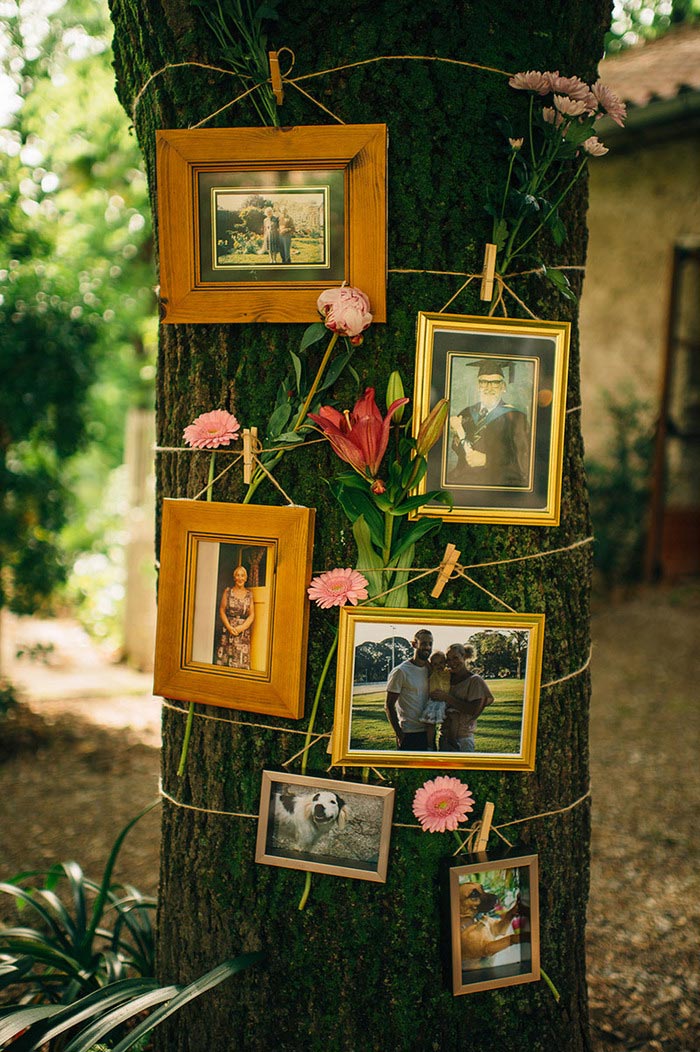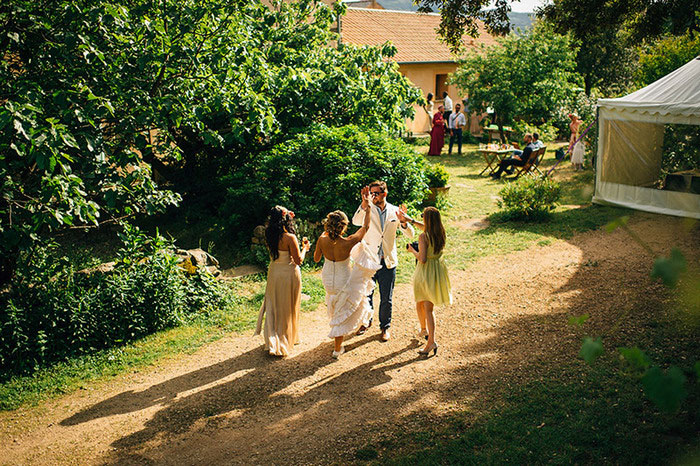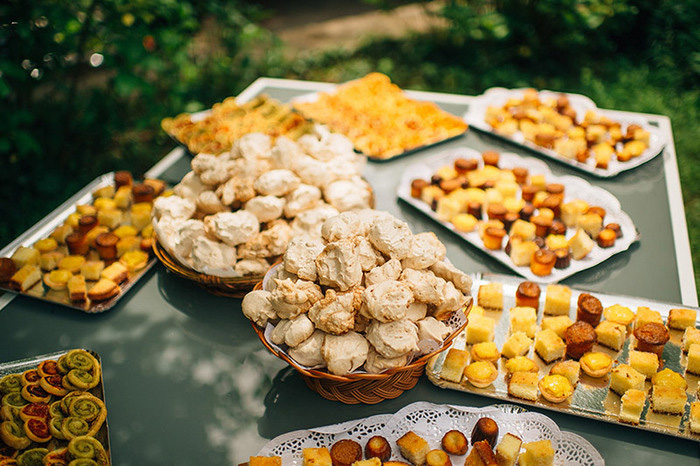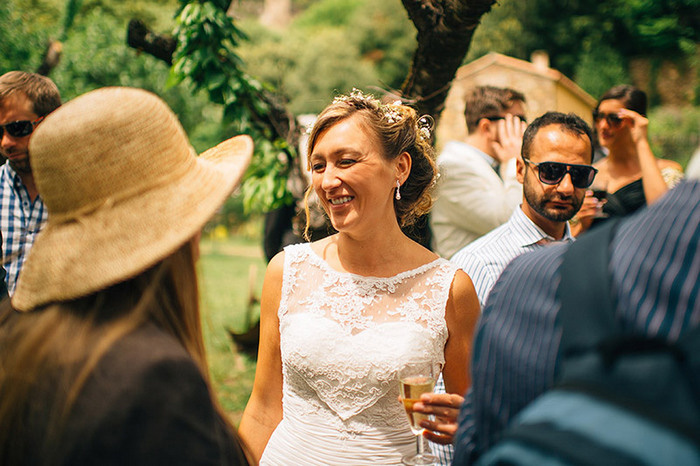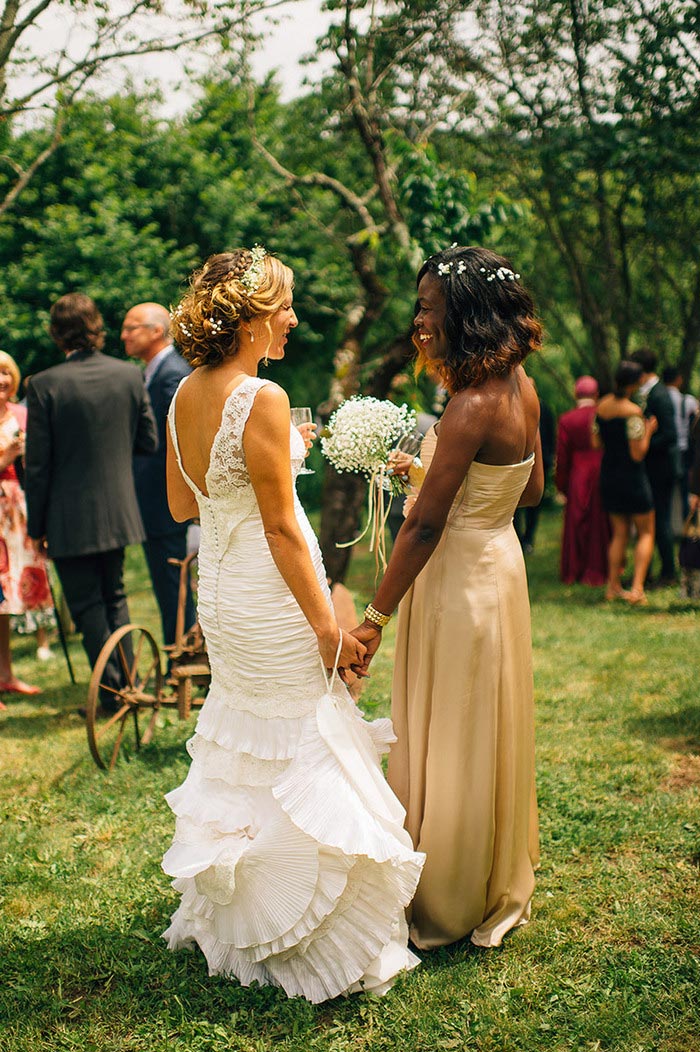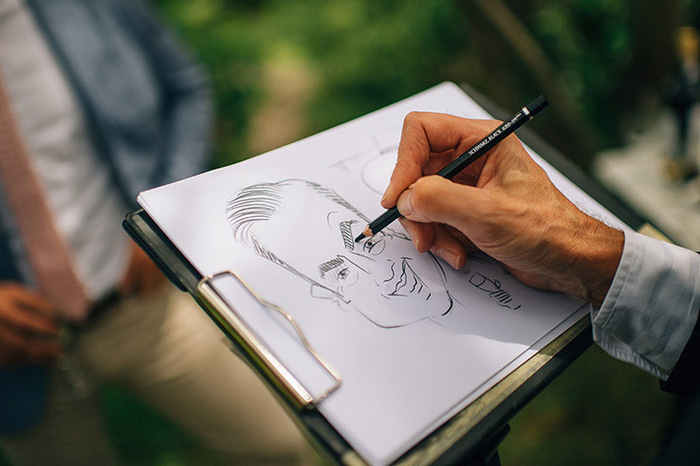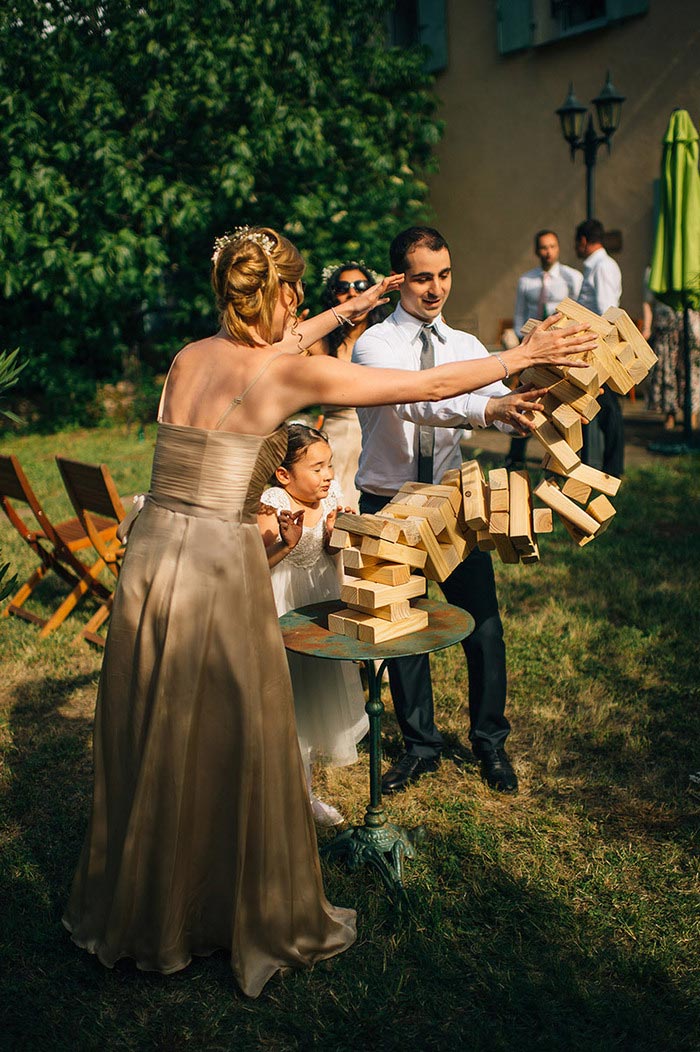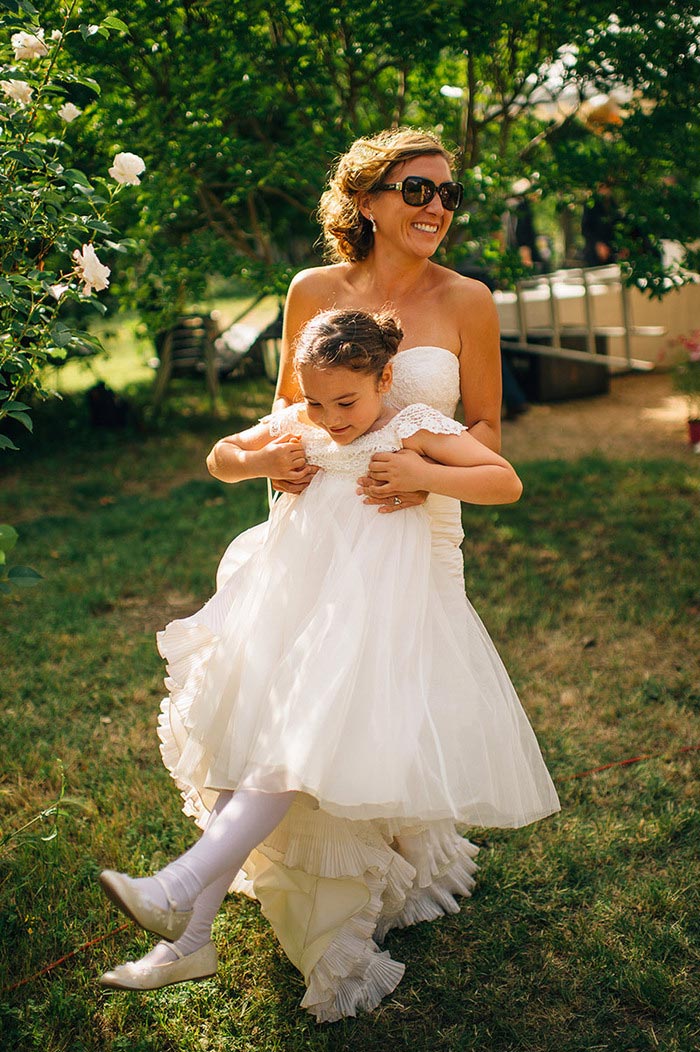 What was the best thing about having an intimate wedding?
Getting to spend some quality time with friends and family we do not see often. Most guests were there for three days at least and we had the opportunity to catch up with them all properly. We have been to many a wedding where you kiss the bride and say congratulations and then that's it – we wanted to see everybody properly.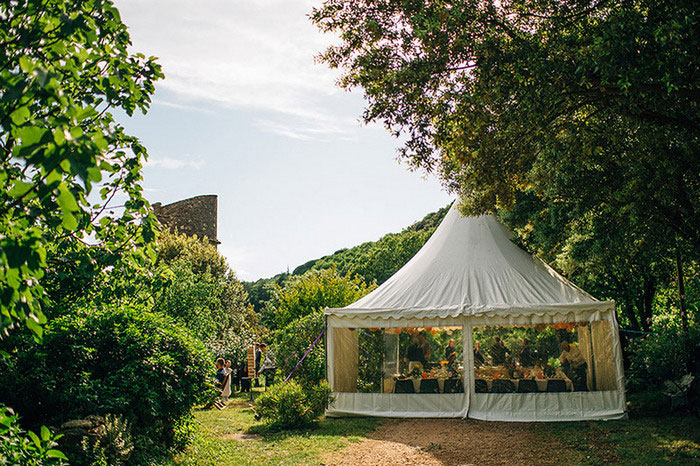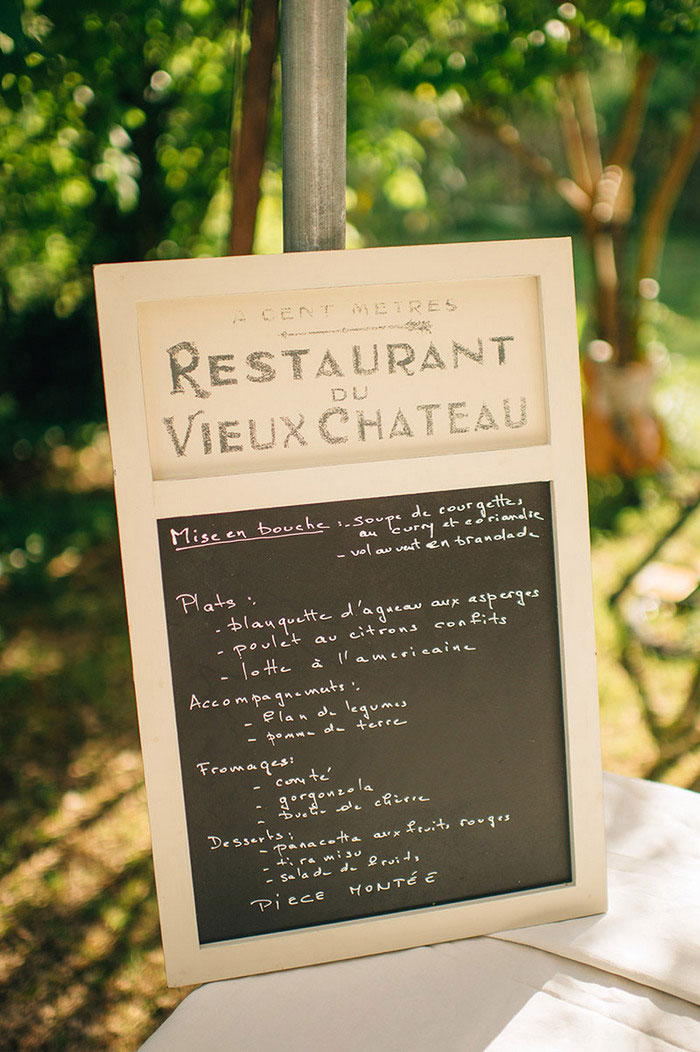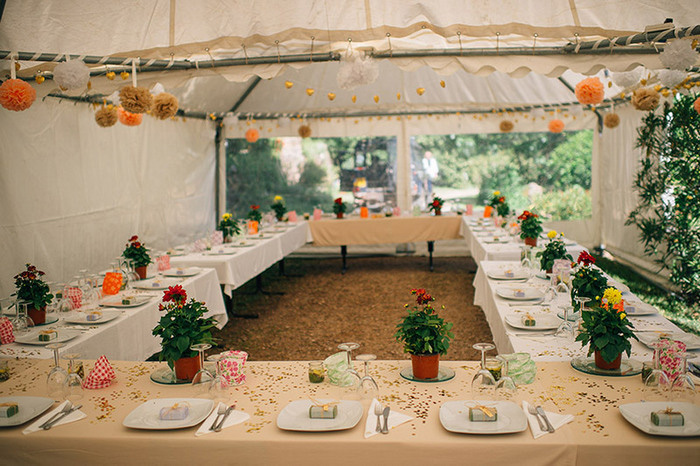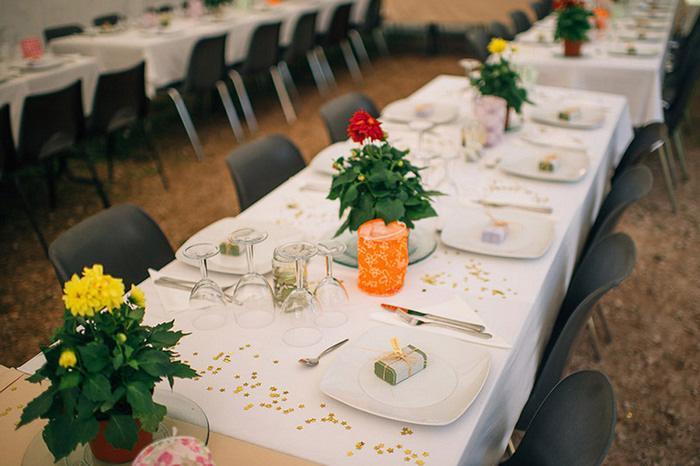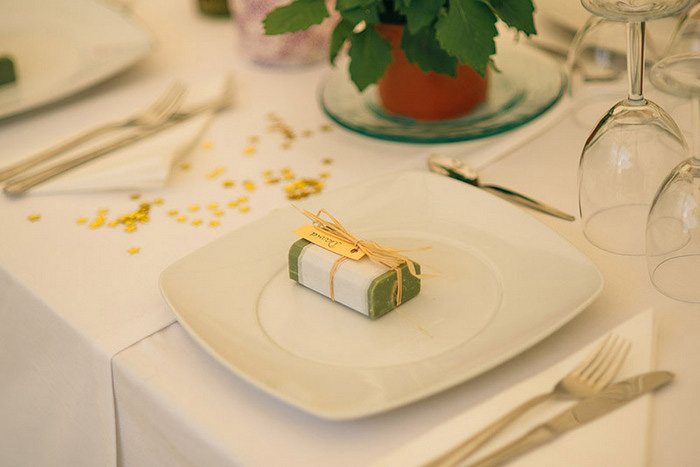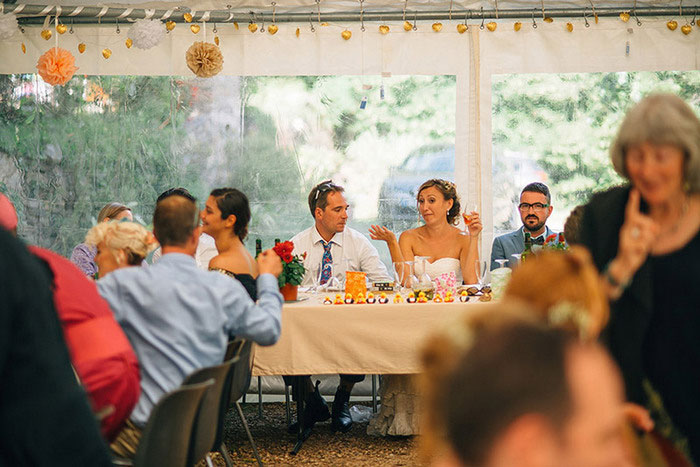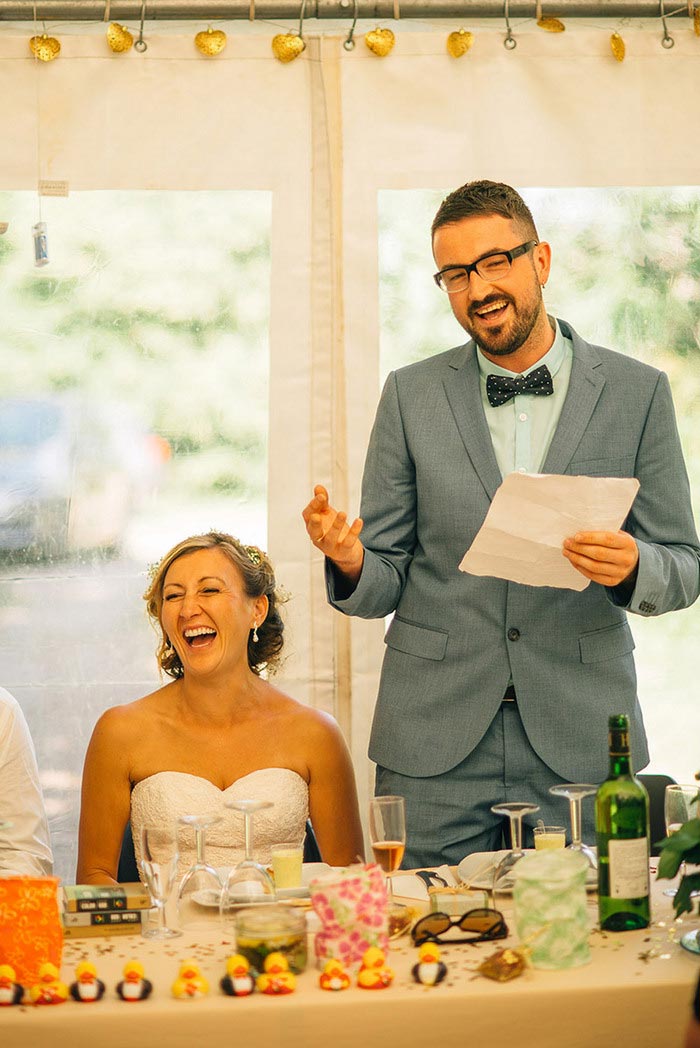 What advice do you have for couples who are considering an intimate wedding?
Do it (but get saving and pray for sunshine)! We really wanted to feel relaxed on the day, so having a smaller intimate group was perfect. We found a venue that had accommodation for 50% of the guests, so not only did it mean that we were with everybody all the time, but it also helped massively with the cost of the venue, which gave us a bigger budget for champagne (and photography!).
We wed on a Sunday and 99% of the guests arrived on Friday night, meaning that they all had a chance to relax and get acquainted, which is exactly what we wanted. By the time the ceremony rolled around, everybody was in such a good mood. The guests had the option of staying from Friday until the following Saturday, and many stayed on for the following week to enjoy a break in the south of France with us.
Vendors:
Photography: Nordica 
Wedding Dress: White Leaf Bridal
Wedding Suit (Groom): Moschino, Woodies of Brighton
Caricaturist: Caricatures4u
Venue: Gites de Charme
Wedding Rings: Anna Sheffield
Wedding Cake: A L'heure des Thés
Events Coordinator: Fai Watu ltd.
Champagne: Envie de Champagne
Potted and Fresh Flowers: locally sourced at Pezenas Saturday market  
Make-up Artist: Adelys Institut
Live Band: Carpentras Brothers – local band, sourced by the Event Coordinator
DJ: Shadow Sanctuary