With logistical issues to consider, and a desire to have a meaningful wedding ceremony without any external pressures and stress, Terra and Dominique decided that they wanted to celebrate their relationship and their marriage with only each other. So, on a beautiful fall day, amongst the old growth cedar trees, with Terra's sister officiating the ceremony and their photographer Tracie Howe and Terra's nephew acting as their only witnesses, the brides eloped in the secluded Grove of Patriarchs in Mount Rainier National Park. The couple exchanged wooden wedding bands made of juniper and redwood, and celebrated by drinking wine in front of the fireplace of a cozy mountain cabin – making for a simple, but incredibly sweet and heartfelt wedding day.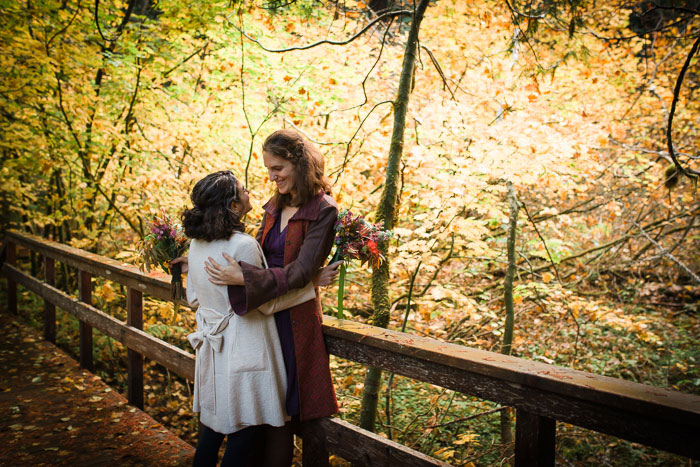 Terra & Dominique
Mount Rainier National Park, WA
Wedding Date: October 18th, 2014
Number of Guests: 2
Wedding Cost: $3,500
Wedding Ceremony Location: Grove of the Patriarchs
Wedding Reception Location: No reception. We spent the evening with Terra's nephew and sister (the two "guests" at the wedding) at a cabin near Mt. Rainier National Park – Jasmer's Cabins. We ate a picnic style meal with smoked salmon, bread, cheeses, vegetables, salad, hummus, and drank lovely wine in front of a cozy fireplace.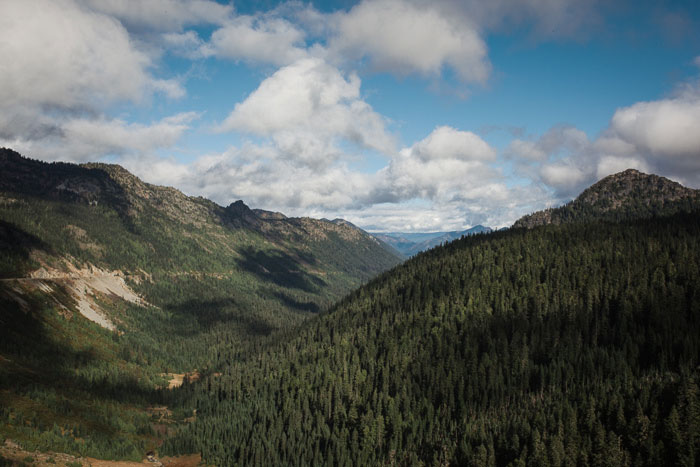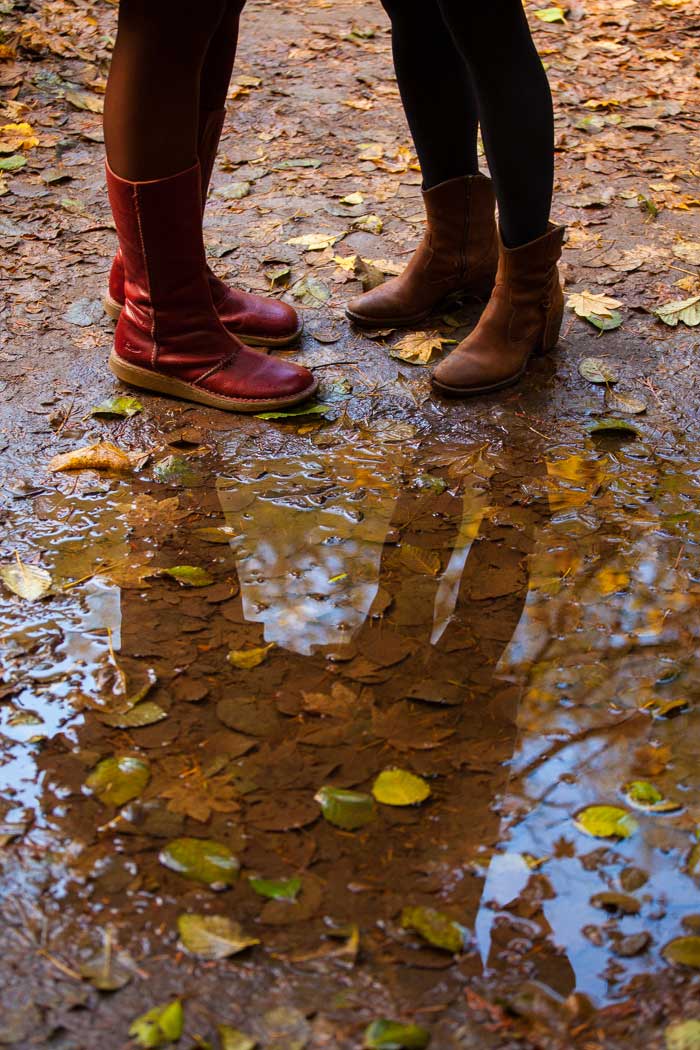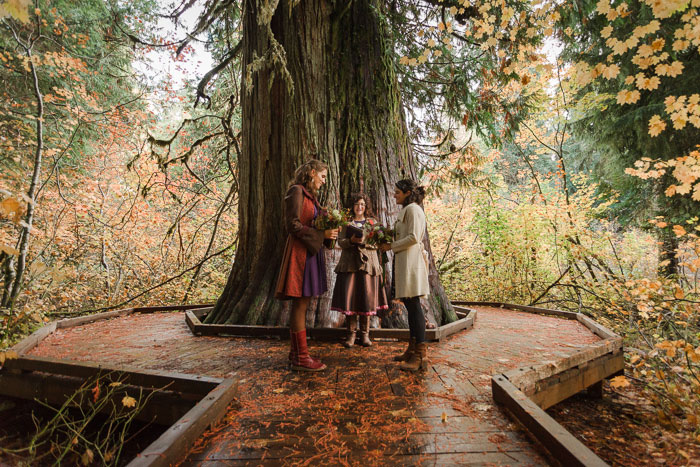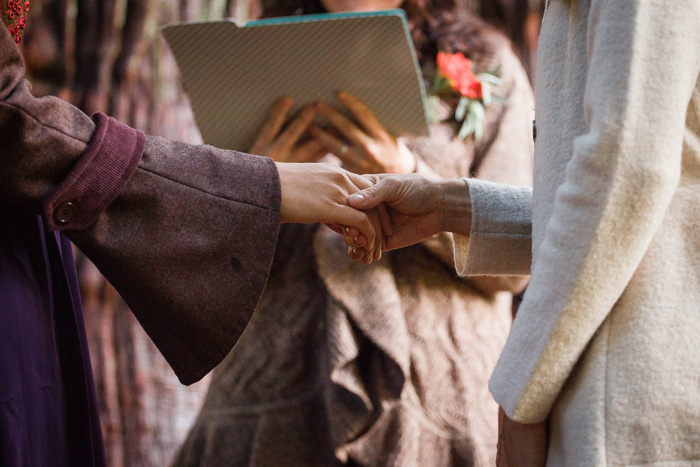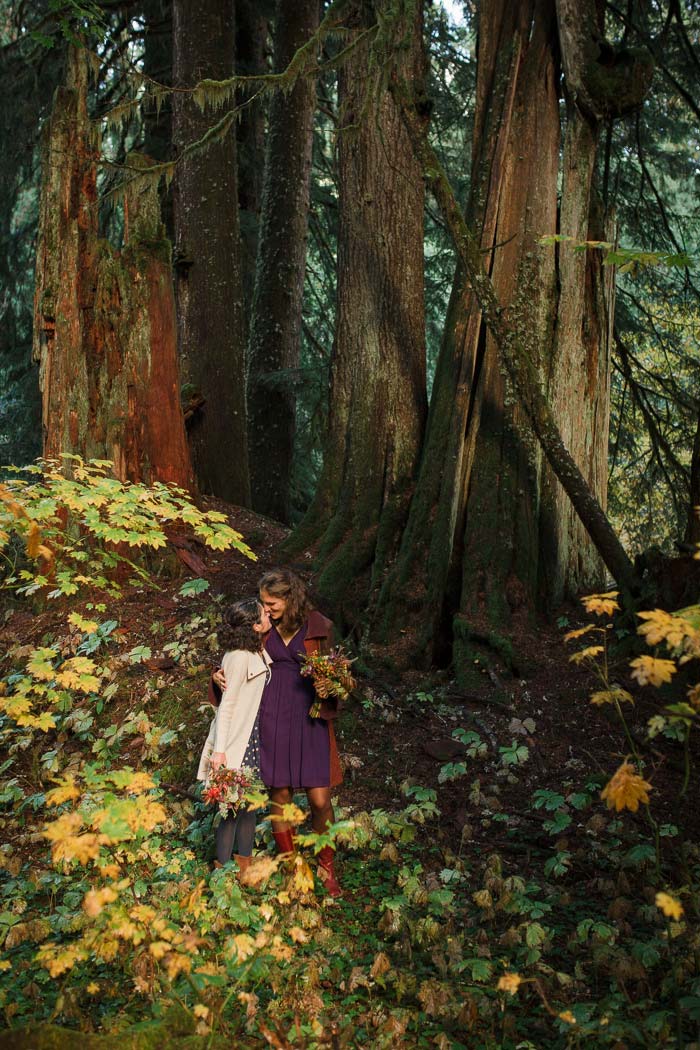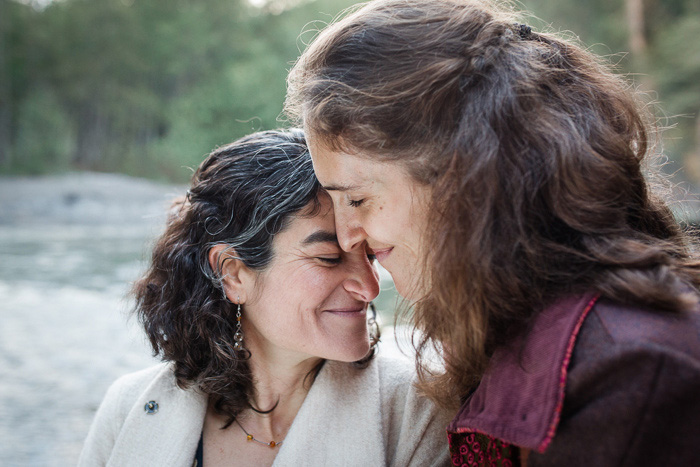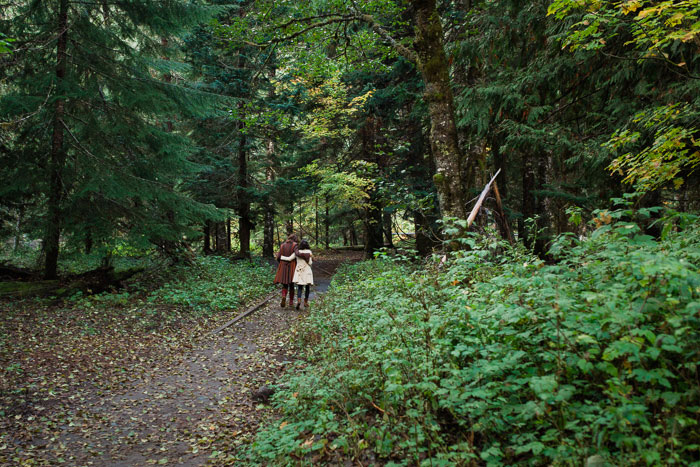 Why did you have an intimate wedding?
We really wanted a small, personal wedding by our design. We wanted to do it in a place and in a way that was meaningful to us without feeling beholden to the wishes of others. Terra had been married young and had a wedding that was dictated by what the parents wanted. This time around we both wanted a wedding without these external pressures and the associated anxiety. We love our family and friends, but we really wanted the ceremony to be unique and meaningful to us. For us, getting married wasn't about feeling the need to consecrate or solidify our relationship in the eyes of an audience. We simply wanted a day to celebrate our relationship and our marriage.
We had some logistical issues as well. Dominique is Austrian and all of her family and friends live in Vienna. It wasn't feasible for them to make it to the wedding and we felt that if all of our family and close friends couldn't come, we would just do a ceremony with the two of us.
It was also most important to us to have a ceremony outside in a more remote location which required a hike to get to. This would have not only excluded some people, but also a crowd would have detracted from the solitude, beauty and intimacy of the place.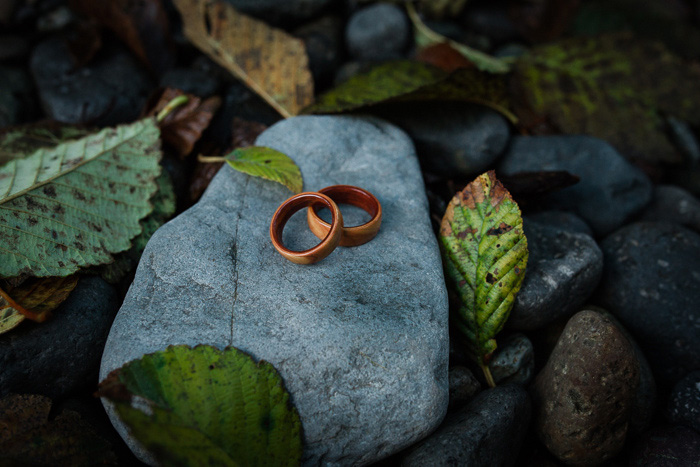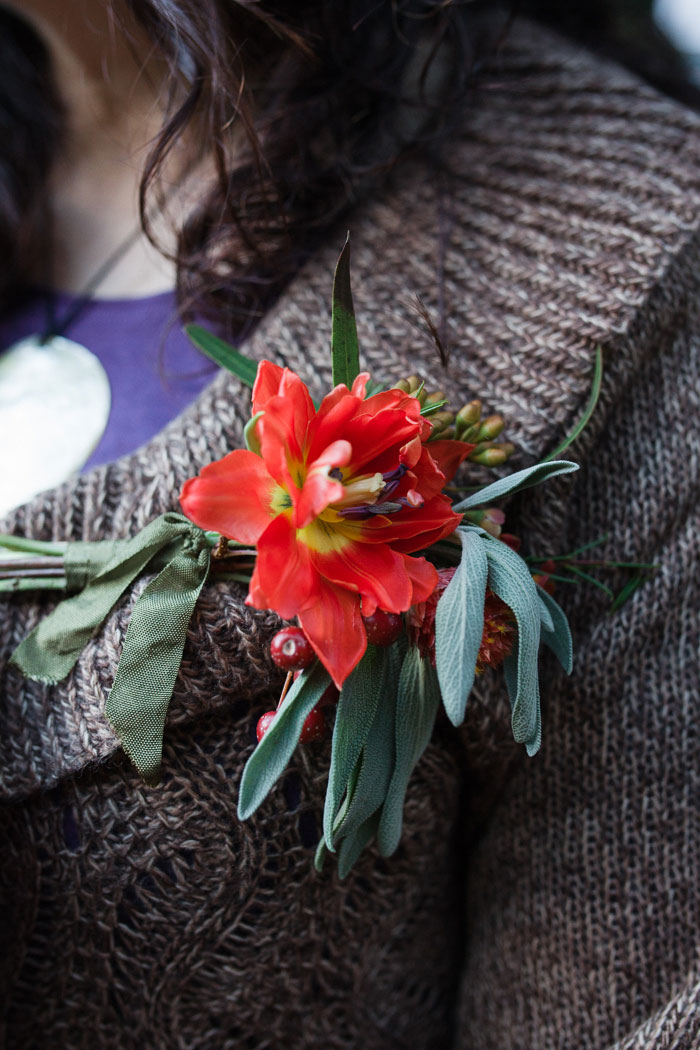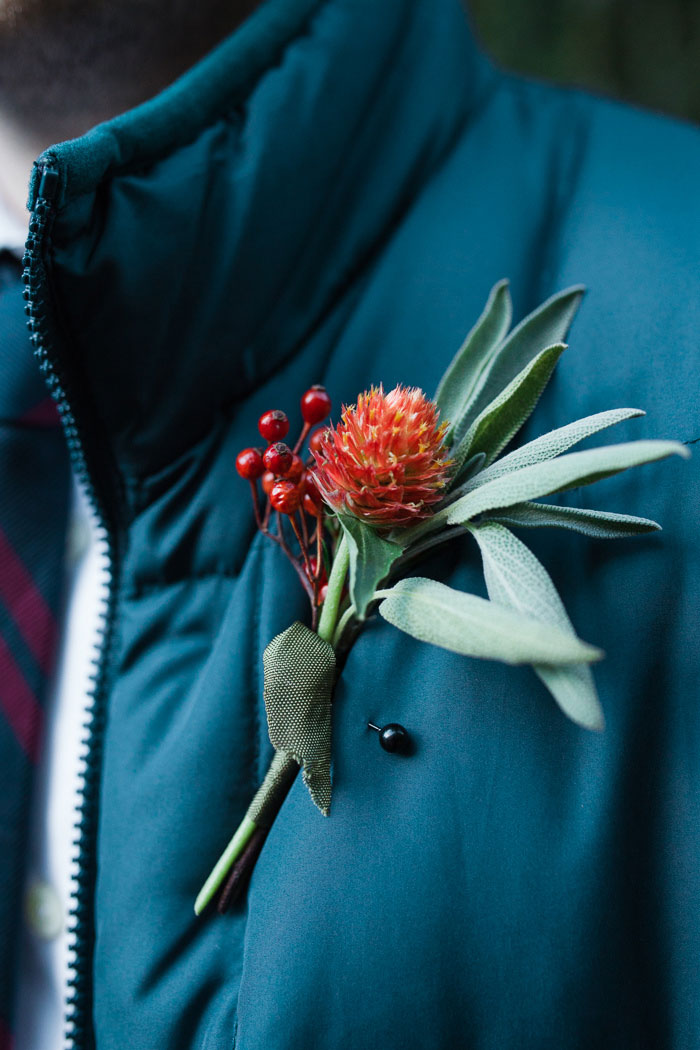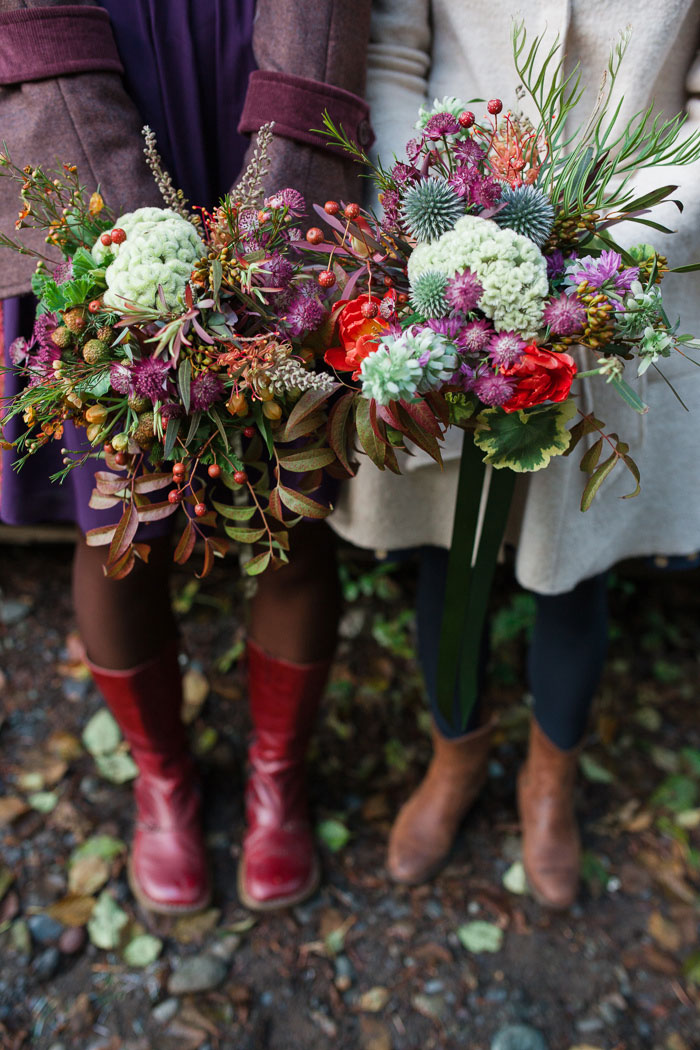 What are some of the challenges that you faced planning an intimate wedding?
Finding a photographer and officiant willing to drive and then hike to the location we wanted was a challenge. The one thing we did want to have was a professional photographer. It was important to us to document this very important day. Trying to find a photographer willing and fit enough to follow us up a mountain or into the woods, however, was challenging. Tracie was wonderful in this regard, even suggesting different places and fully game to go almost wherever we wanted.
In terms of an officiant, we ended up asking Terra's sister to marry us. This allowed us great flexibility in when, where, and how we did the wedding. Plus, we thought it would add to the personal nature of the ceremony.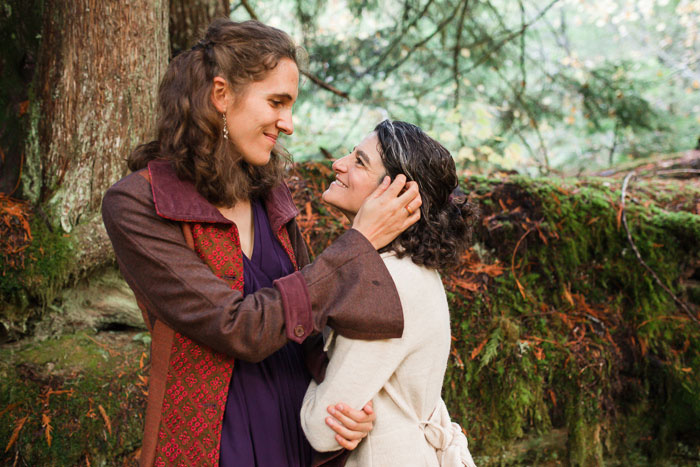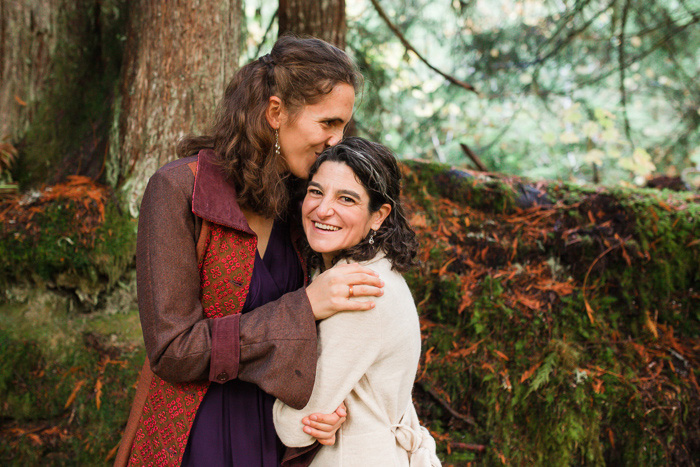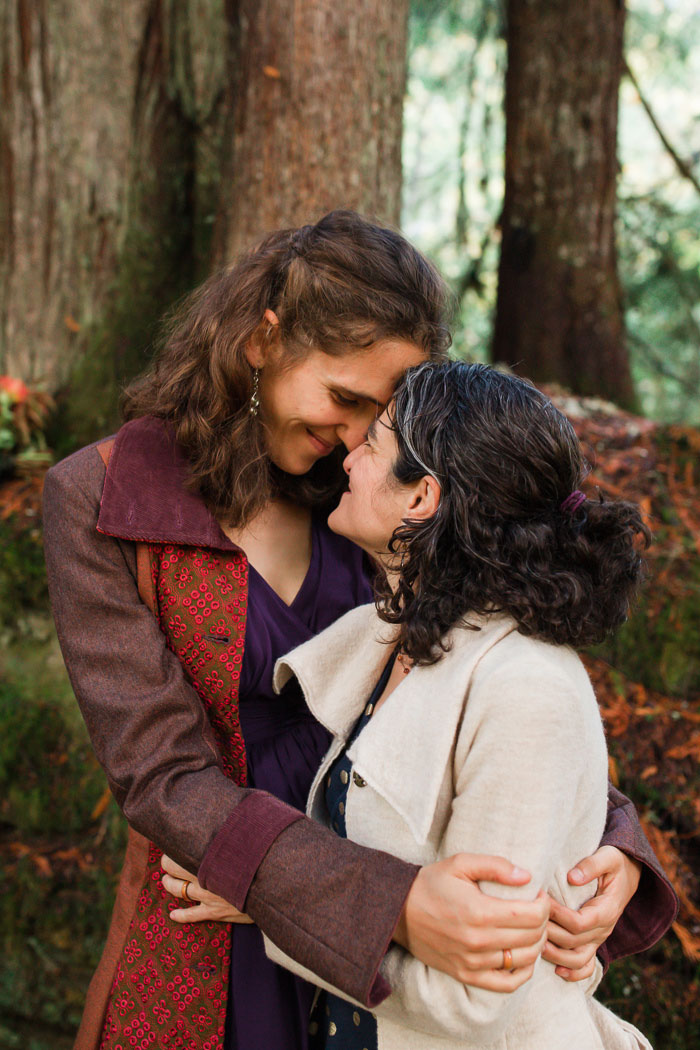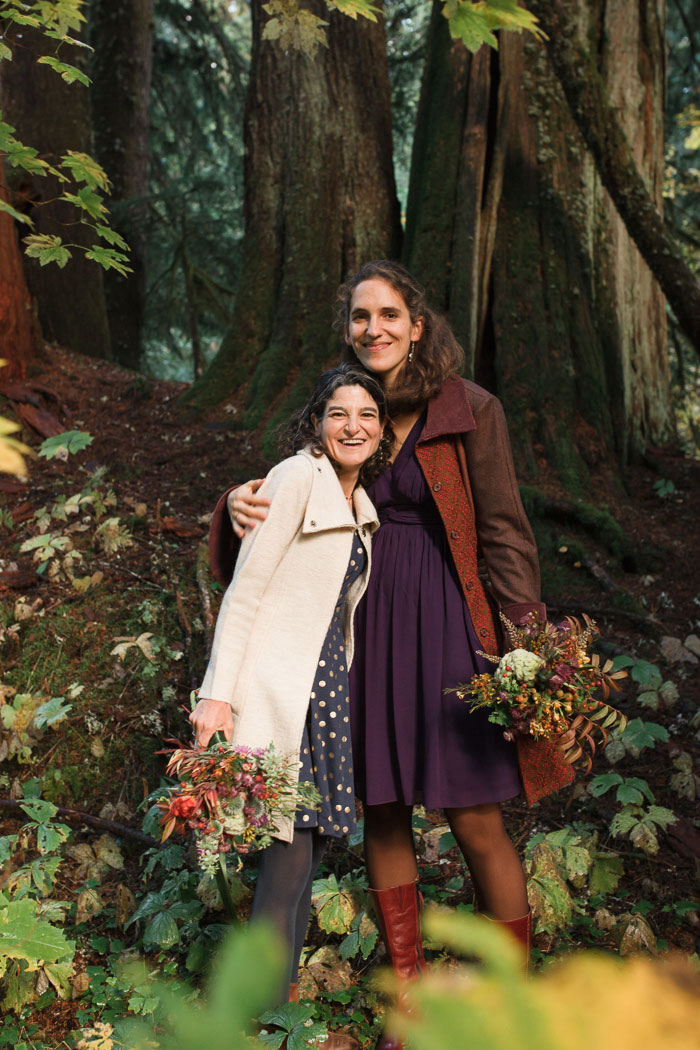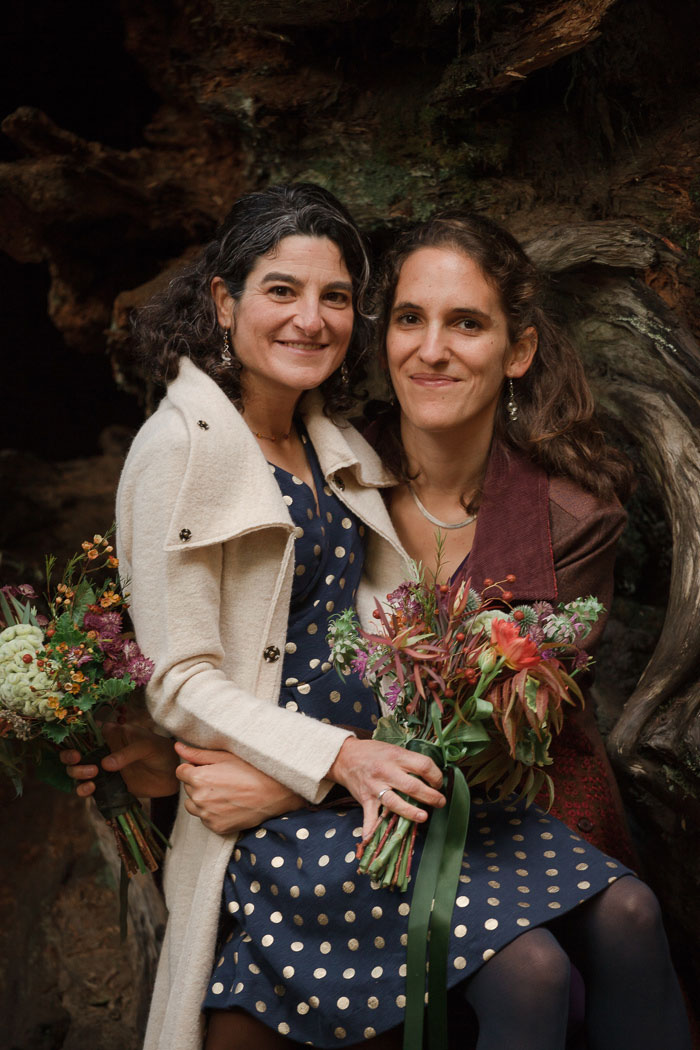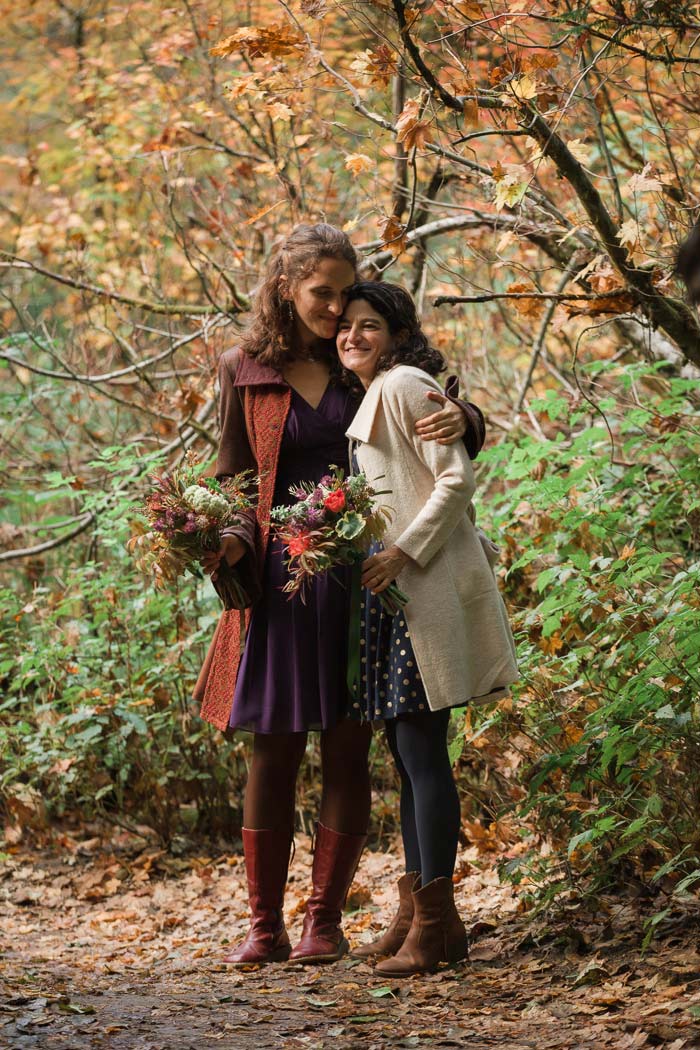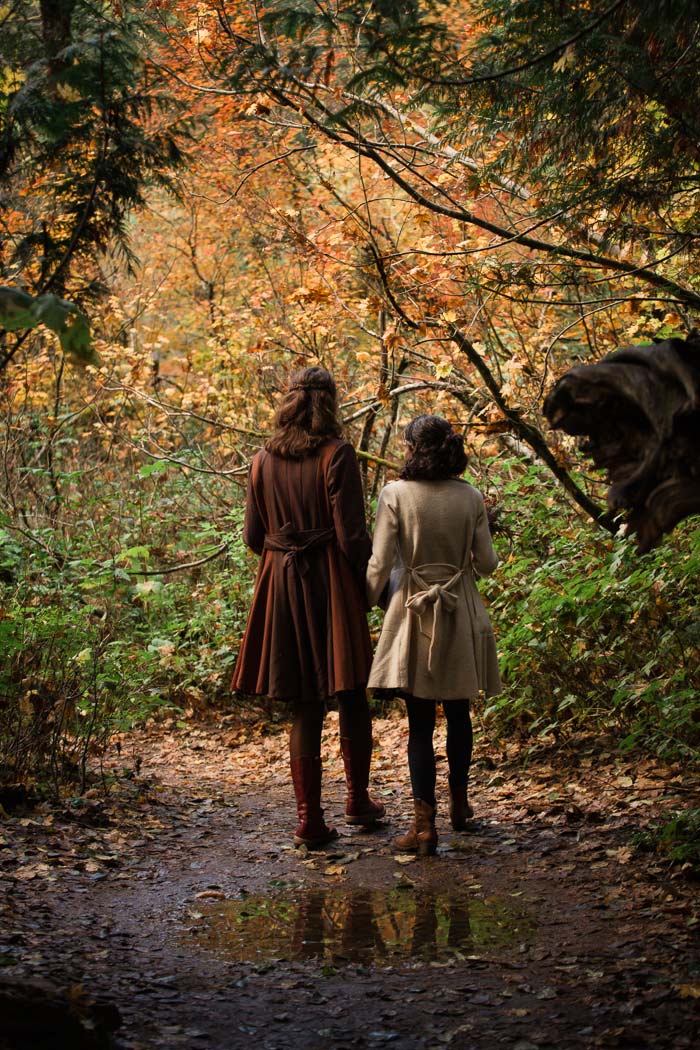 Was it difficult to pare down the guest list?
No, we had no guest list. Terra's sister officiated. We needed 2 witnesses and we asked Tracie, our photographer, to be one and since Terra's nephew really, really wanted to be there, he served as our second witness.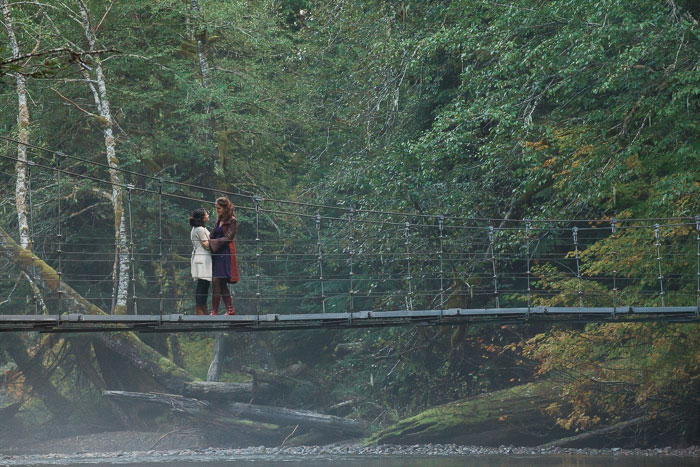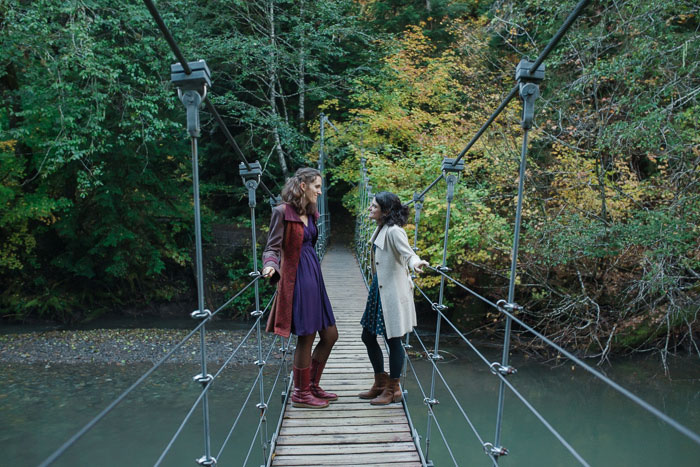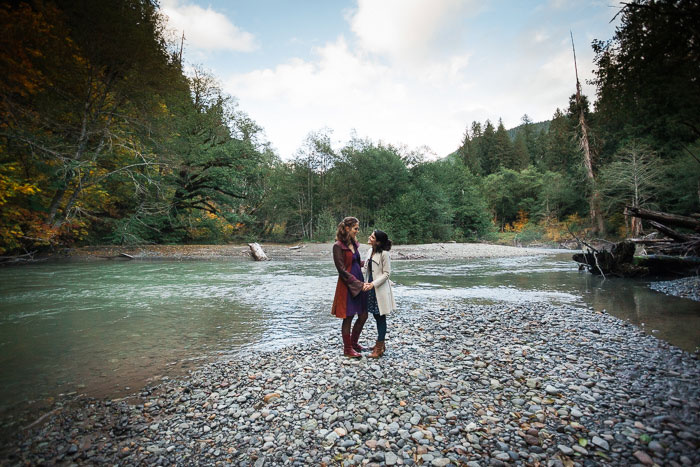 Did you have any 'issues' with the small guest list from friends and family?
No. Our family and friends were completely understanding and supportive of our wish to do the wedding this way. Both of us have a reputation for disregarding cultural norms so they are used to our unorthodox decisions.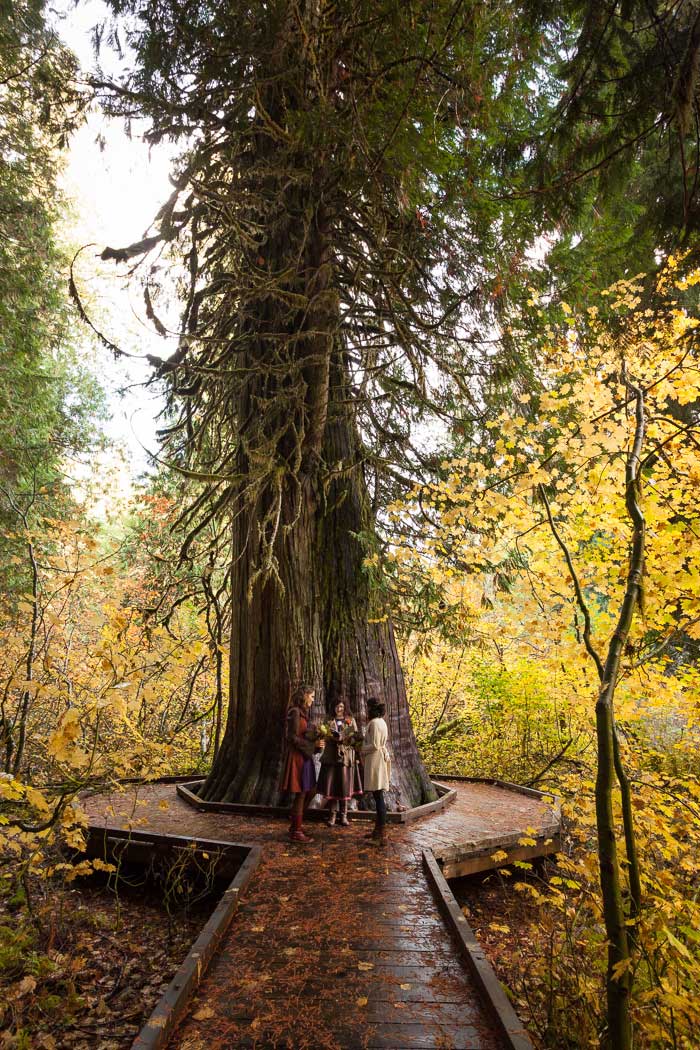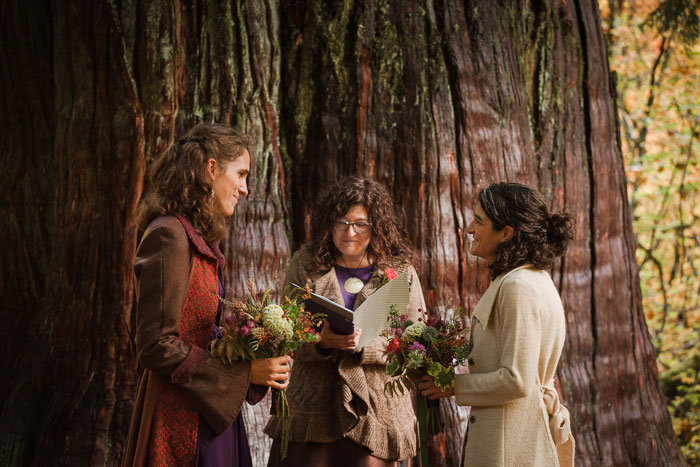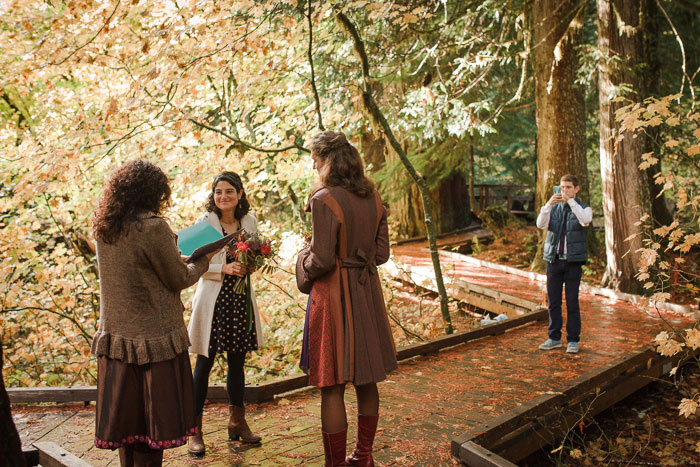 What were the highlights of the ceremony?
The place itself was absolutely amazing, almost surreal. It had rained earlier in the day, but then cleared for the ceremony. It was a beautiful, crisp October day. The leaves were an array of vibrant orange and yellow, amongst the towering old growth cedar trees.
In addition, our vows and Terra's sister's speech were so intimate and personal. It was a really moving ceremony that focused on us and the story of our relationship.
The rings were also particularly special to us. They were hand made by a wonderful couple in Canada. We chose to have them made of juniper and redwood. The redwood was especially meaningful to us because our relationship had developed into a romantic one while traveling in the Redwood National Park.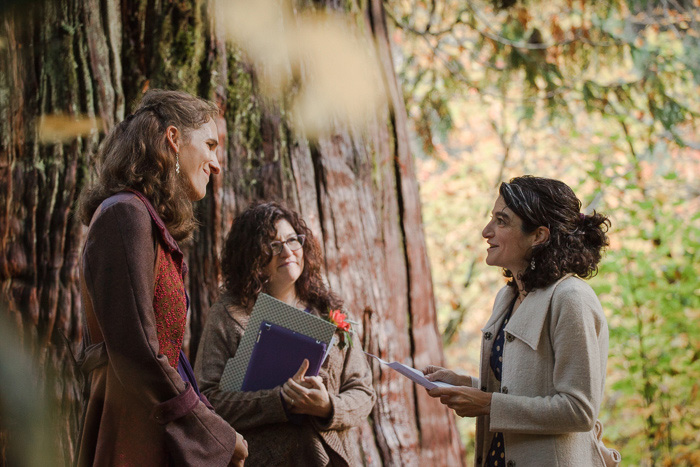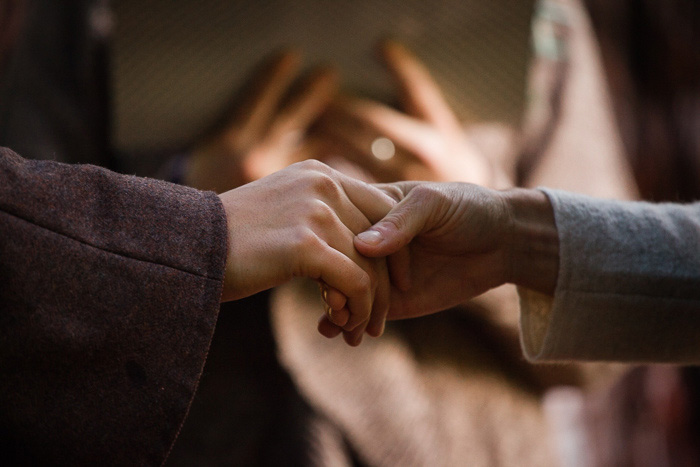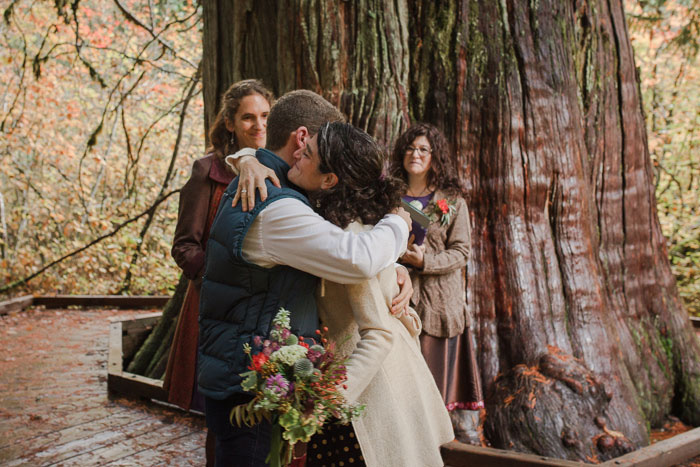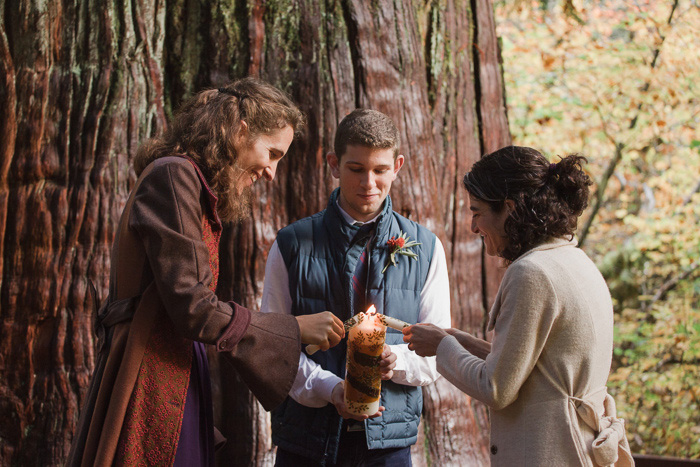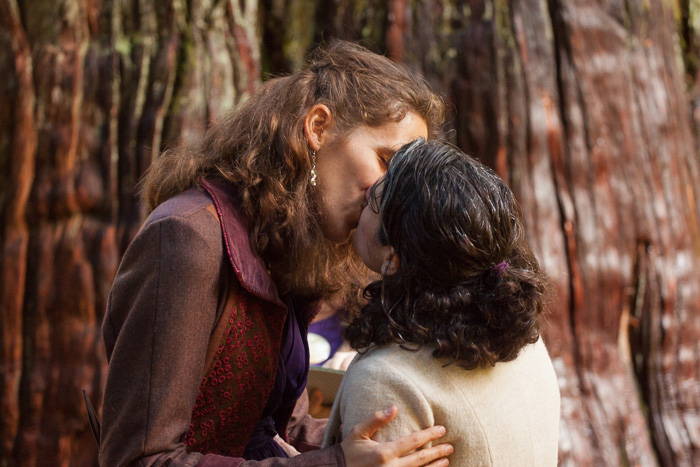 What was the best thing about having an intimate wedding?
Having the freedom to create an intimate, relaxed, and very meaningful ceremony in a stunning and inspiring place without any outside expectations, obligations or stress.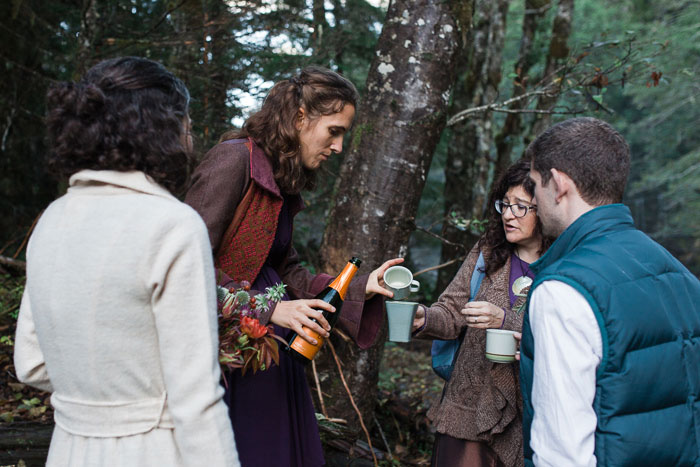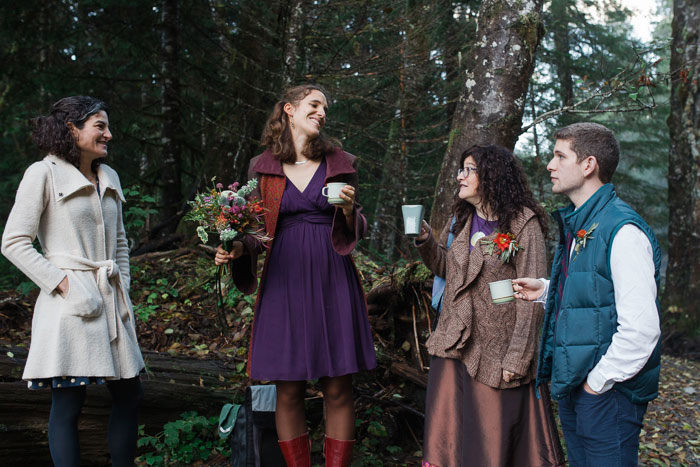 What advice do you have for couples who are considering an intimate wedding?
Do it. And do it your way in the place you want to do it.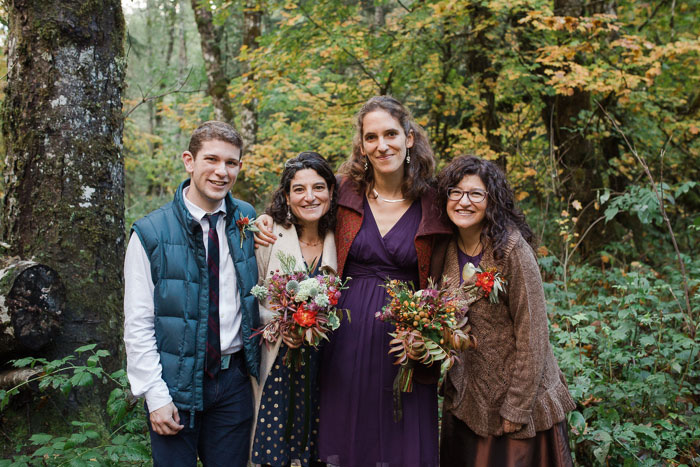 Vendors:
Floral: Marigold and Mint
Dominique's Coat: Rieger
Rings: Touch Wood Rings
Photographer: Tracie Howe Photography