By Laura Keller
Favors are one of those relatively small wedding details that oftentimes take on epic proportions. It can be a nightmare to decide on a wedding favor that is meaningful, budget-friendly, and useful to your guests. One option that has universal appeal and can be quite affordable, however, is food.
For a delicious and personal way to send off your wedding guests, select a delicacy local to an area of significance to you, your husband-to-be, or your families. Give your guests jars of authentic maple syrup if your fiance grew up in Canada, or if the two of you met down South, use small bottles of Carolina-style barbecue sauce as wedding favors.
Couples with strong ties to their family heritage can draw on traditions that extend even further back in time. If you or your soon-to-be-husband descends from an Italian family, provide guests with jars of homemade pasta sauce, while cute packages of Irish soda bread are a great option for the newlyweds of Irish descent.
Even the most difficult of guests can be appeased with an edible favor and selecting something representative of your background adds a personal touch but requires only minimal effort.  Consider the sorts of foods you grew up on or the ones you and your fiance have grown to love and you're sure to find an abundance of flavorful favor options.
Old Bay is a flavorful seasoning primarily used on crab and shrimp dishes in the Chesapeake Bay region and is conveniently sold in cartons perfectly sized for favor-giving.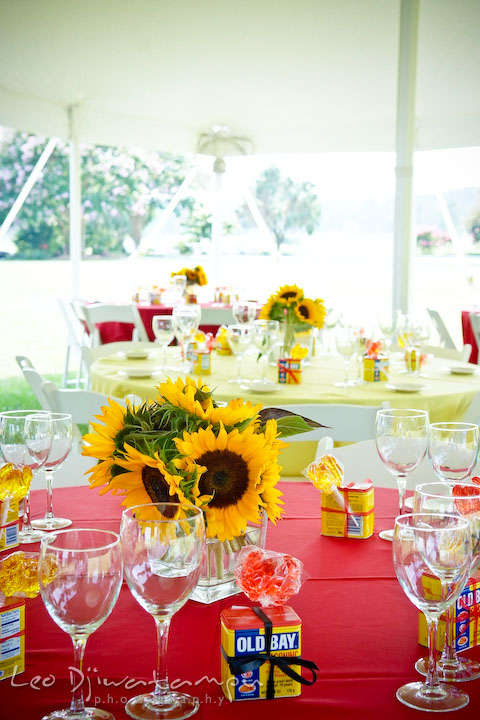 Different varieties of barbecue and hot sauces are great favor ideas for Southern weddings.
Irish soda bread muffins are a cute and delicious way to acknowledge your Irish roots.
For the Italian bride, canning a few batches of your family's secret pasta sauce makes for great favors, while bottled olive oil is a delicious Italian favor option that requires no cooking whatsoever.
If you hail from wine country and really want to splurge on your guests, consider bottles of wine. Provide an assortment so guests can choose whatever they fancy, or supply one particular bottle that is a favorite of you and your fiance.
First Photo: Country Living, Second Photo: Leo DJ Photography, Third Photo: Wedding Paper Divas, Fourth Photo: Kitchen Parade, Fifth Photo: Bluebirdbaby, Sixth Photo: Recycled Bride, Seventh Photo: Elizabeth Anne Designs
Laura Keller is a 20-something living in Baltimore, MD. Some of her favorite things include crafts, cooking, and culture, which she shares on her blog Radiator Tunes.