For an intimate wedding, a multi-tiered cake isn't always necessary. A single-layer cake can still be eye-catching and also a way to cut down on your budget! If you, a friend, or family member are keen bakers this is also an opportunity for you to make your own cake. We've selected 10 single layer cakes for you to peruse.
1. In Gold 
You will not be missing those extra tiers when you have this polished beauty. The gold icing is a perfect way to make your cake a showstopper.
2. Bunny Love 
If you're looking to add a wedding custom to your non-traditional cake, then go for a bride and groom cake topper. With a twist of course…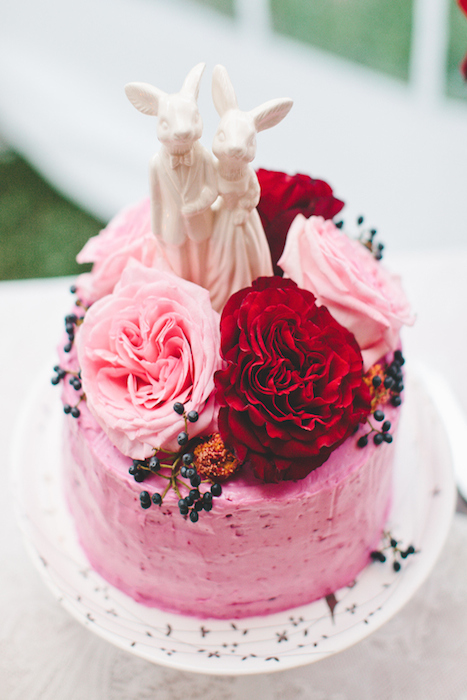 3. Glass Cloche
These glass cloche covers are so beautiful when placed over a mini cake with a floral decoration. Plus, how cute are the tiny easels!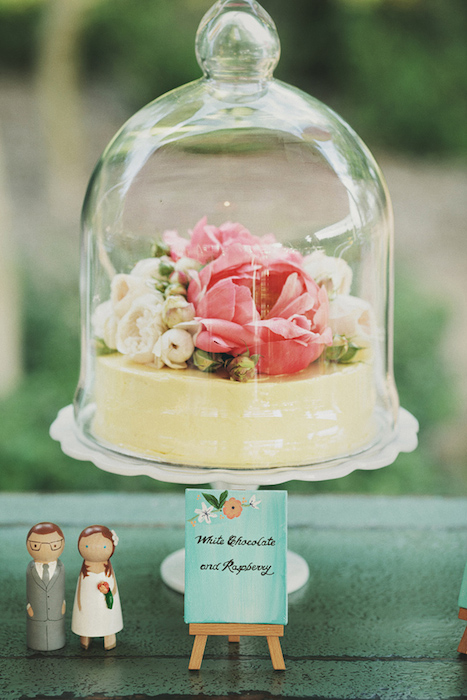 4. Cake Table
Single-layer cake are just waiting to be joined by their partners in crime. Give your guests a choice by having a table of different flavored cakes. You can never have enough cake.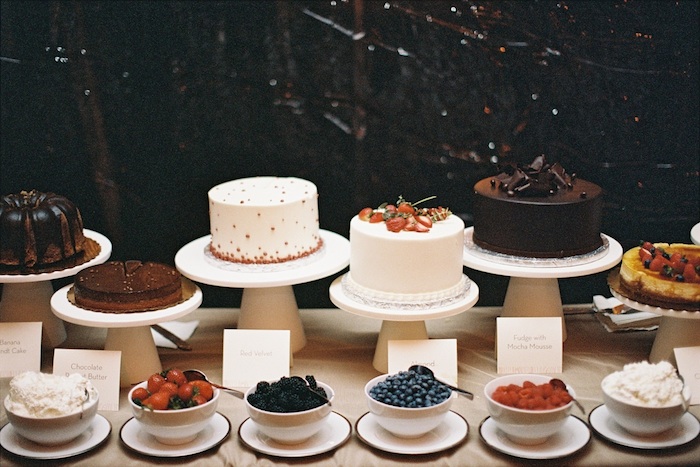 5. Standing Tall
When you're only having one tier feel free to add more layers to the cake to increase height. You can play around with different flavored cakes or frosting inside too!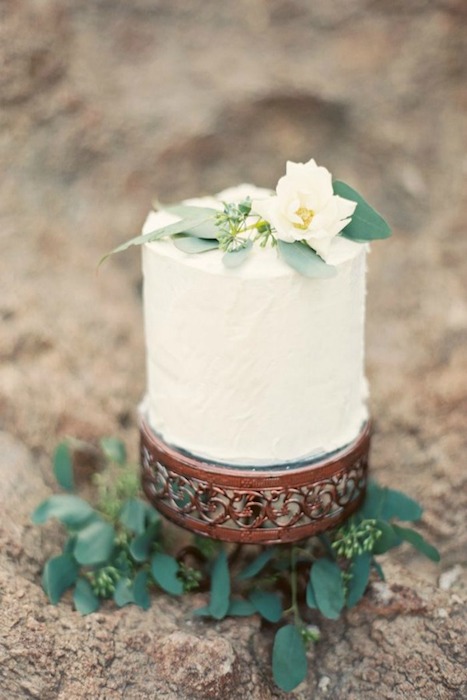 6. Classic Pairing
If you're having a formal and classic theme you can still opt for a single-layer cake. Red roses and pearl dragees are lovely decorations that will stay within the look of your wedding.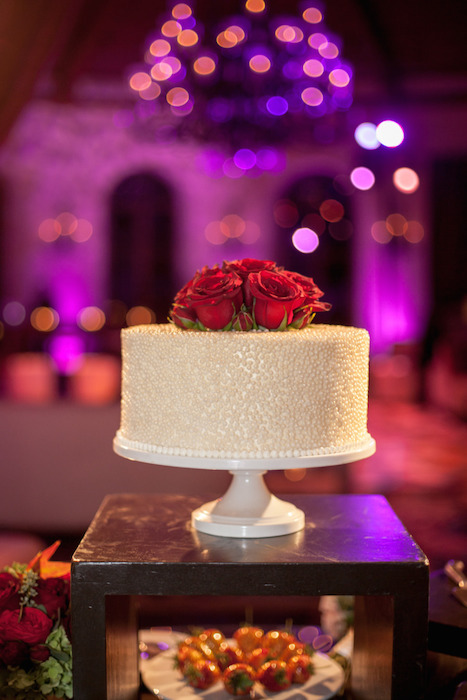 7. Coral and Aqua 
This is a winning color combination, and works even better when it comes in edible form. The extra detail of the gold glitter adds a little glamor.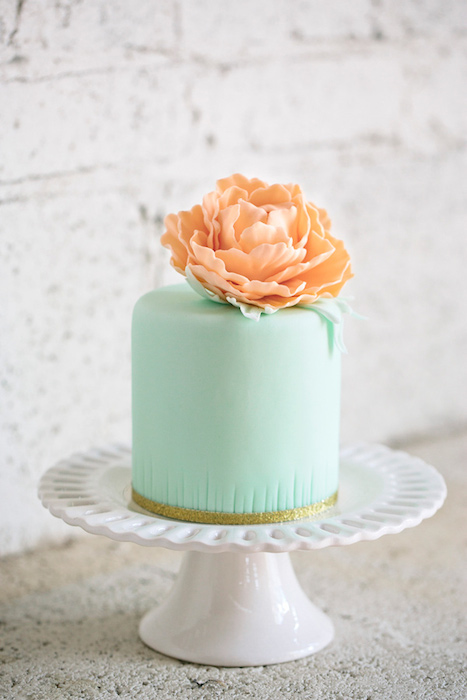 8. Pink Peonies
A small cake with a pile of pink peonies looks rather regal when placed on an antique silver tray.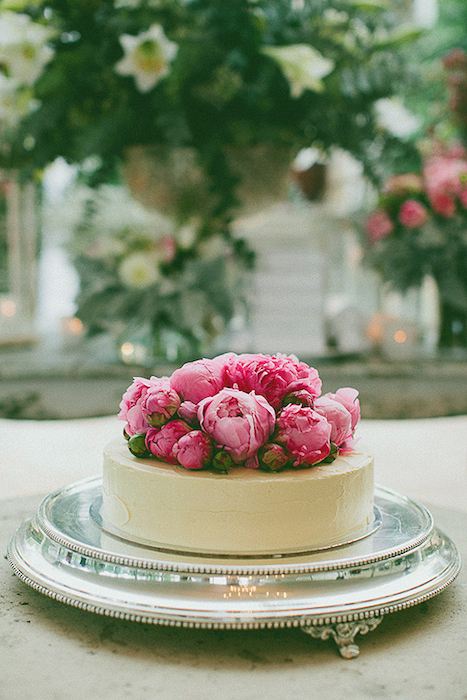 9. Lace Overlay 
This delicate pink cake is elevated by the addition of an intricate lace overlay and single flower. A wonderful idea if you are having several single-layer cakes or a vintage inspired garden party for your reception.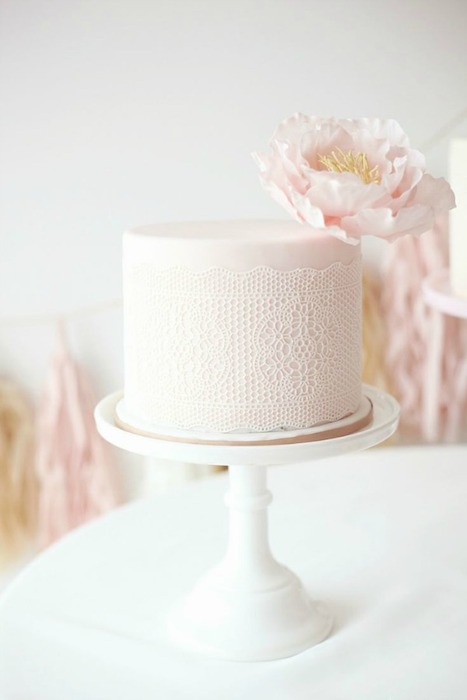 10. Rustic Buttercream 
The frosting on the cake has a rustic effect when combined with the fresh flowers. The buttercream technique is also a great way to frost the cake if you fancy doing it yourself. Especially, if you're not a master baker.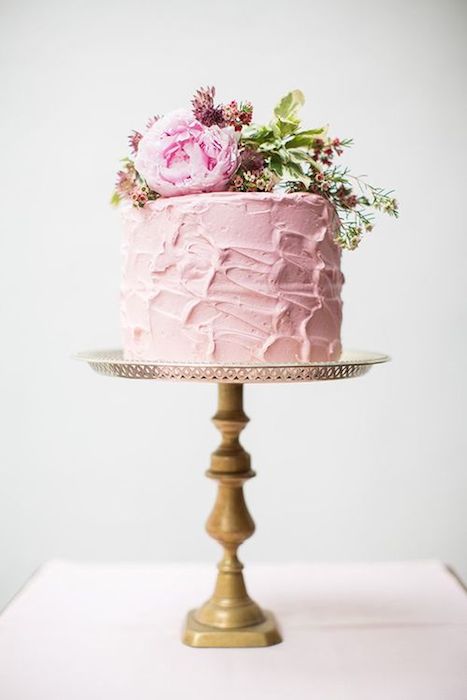 Photo one: jlaynephotography.com; Photo two: theknot.com; Photo three: ruffledblog.com; Photo four: blissweddingsandevents.com; Photo five: greylikesweddings.com; Photo six: mohaphoto.com; Photo seven: hudsonnicholsphotography.com; Photo eight: polkadotbride.com; Photo nine: sweetstyleblog.com; Photo ten: pinterest.com