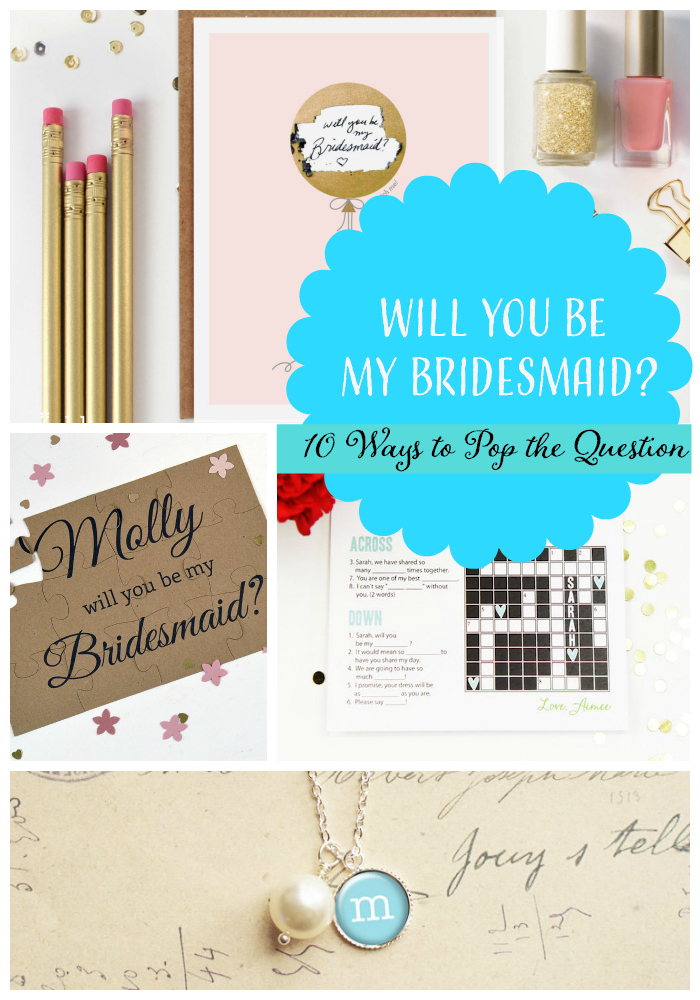 Once you've been asked the all-important question, it's time to return the favor by asking your ladies to be your bridesmaids. Sure you could just ask them over coffee or cocktails, but there's definitely more fun to be had here. Start the festivities early and show your friends how much you want them to be included in your wedding. Here are 10 fun-filled ways to pop the question to your bridesmaids.
1. Personalized Treats
A personalized bottle of sparkling wine is that special extra touch that can really elevate your gift. Add to a box filled with a note and some sweet treats.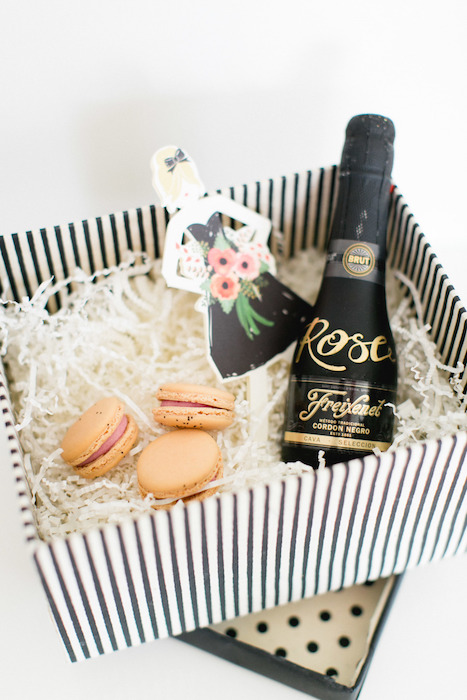 2. Mini Flipbook 
Create some signs and create your own photobook. Spell out the ask in your photos then have them printed into a flipbook. You'll have a great time taking the photos and your bridesmaids will get a wonderful gift and many laughs out of it too.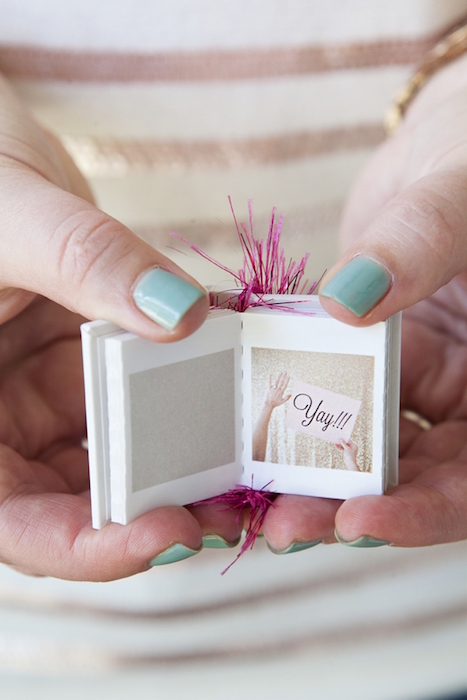 3. A Dinner with a Difference 
Hosting a gorgeous dinner party for your bridesmaids is a lovely way to celebrate your engagement and to get your wedding planning started. You can ask your friends if they'll be your bridesmaids and enjoy the moment with some great food and table decor.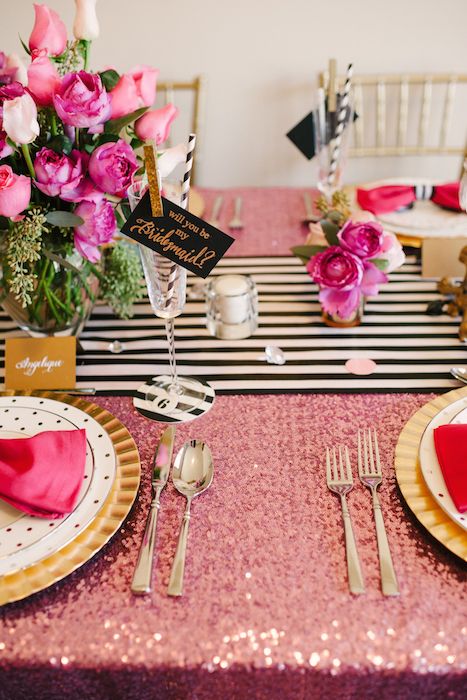 4. Brunch for Bridesmaids
Not like you need an excuse to use a pun or to have a brunch. But having a brunch for your bridesmaids is a relaxing way to spend some time with your favorite ladies and to also eat copious amounts of donuts. Even better if you just invite them over and surprise them with a few of these signs.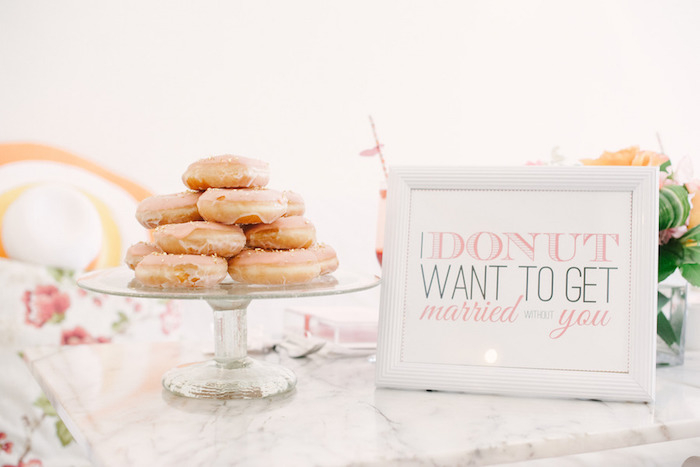 5. Say it With A Crossword 
Send your friend on a trip down memory lane with a personalized crossword. Add in a few special moments as clues for a meaningful and unexpected way to ask if they'll be your bridesmaid.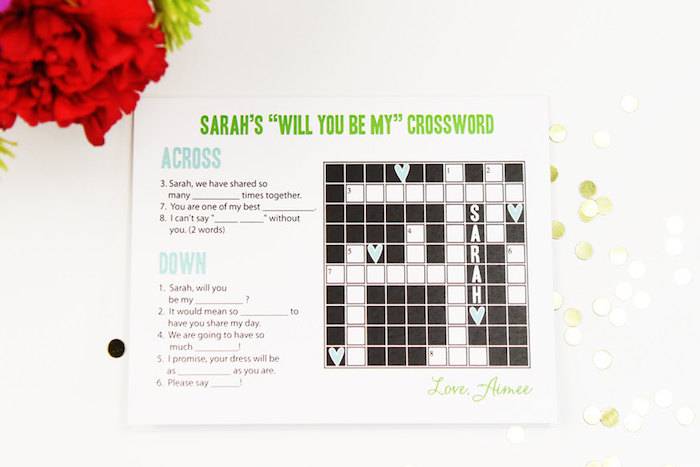 6. Scratch Card

Write your own message and pop the question to your besties with these adorable scratch-off cards in champagne pink and gold!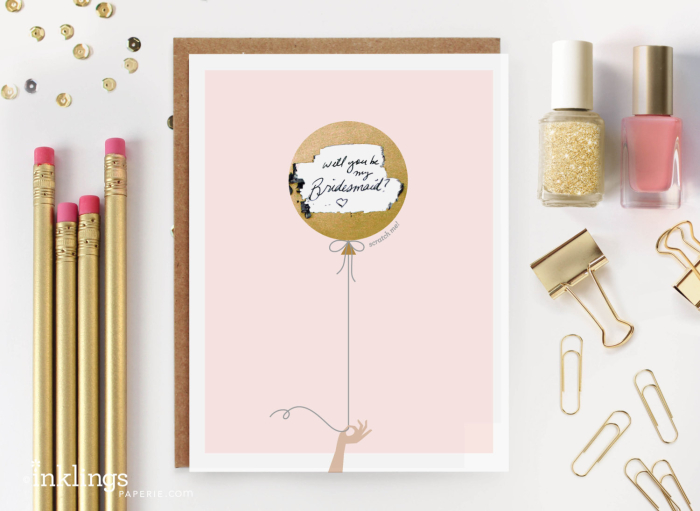 7. Solve The Puzzle 
A pretty note is lovely, but a puzzle is a really creative way to ask the question.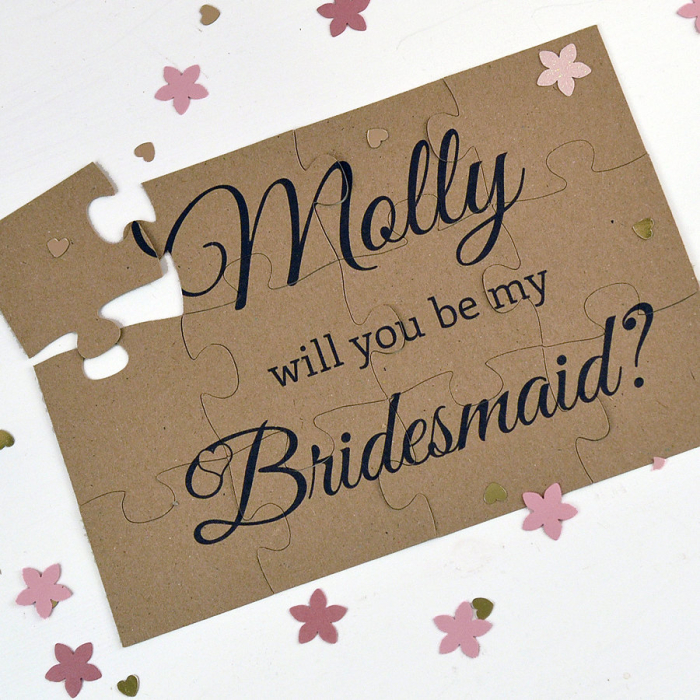 8. The Survival Kit 
With the abundance of memories you will be sure to create, treat your bridesmaids to a survival kit. Set your bridesmaids up with a case of goodies that will not only show your appreciation but will sweeten the deal when you're asking for their help in your latest DIY project.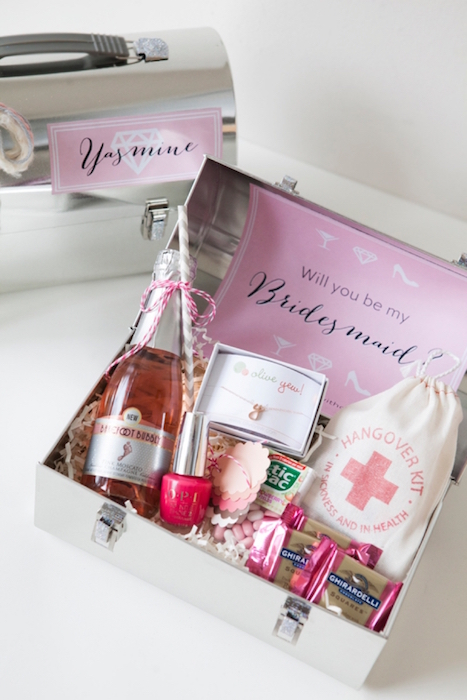 9. Pop, Pop, Pop
Balloons are always a good time, but an unexpected balloon that comes in a gift box is an even better time. Fill the balloon with a note and some sequins or confetti, then tie with a note to "pop me". Attach a gold safety pin for the popping duties and there you go!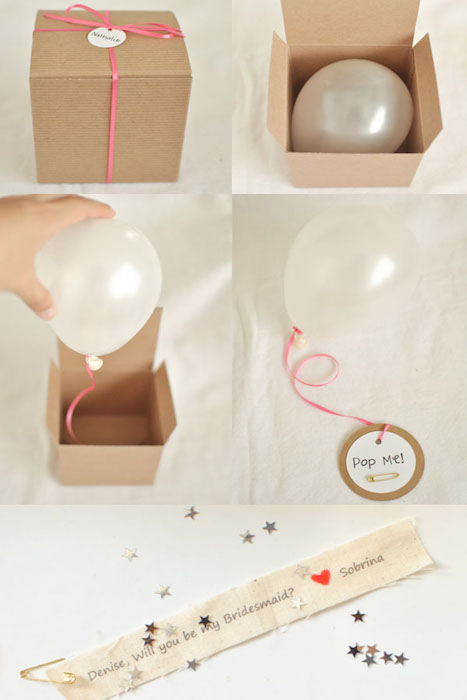 10. Necklace
You can never go wrong with jewelry. This personalized initial necklace makes the perfect 'Will You Be My Bridesmaid?' gift.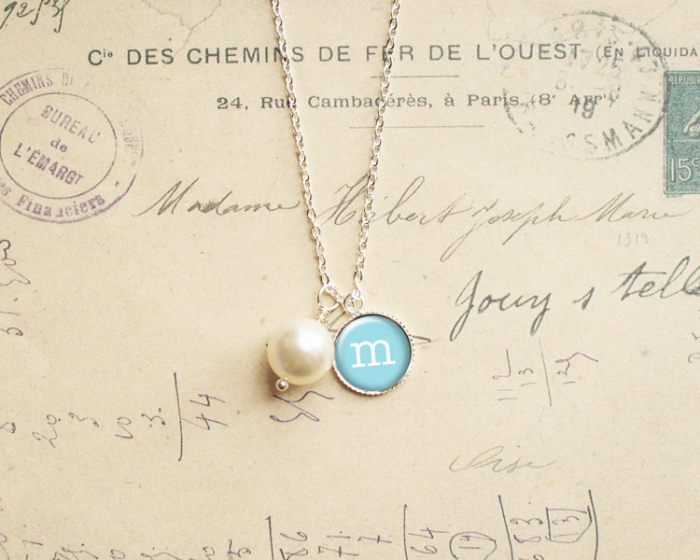 Photo one: rutheileenphotography.com; Photo two: studioelevenweddings.com; Photo three: theperfectpalette.com; Photo four: stylemepretty.com; Photo five: etsy.com; Photo six: Etsy.com; Photo seven: etsy.com; Photo eight: somethingturquoise.com; Photo nine: quietlikehorses.com; Photo ten: etsy.com
Save
Save
Save
Save
Save
Save