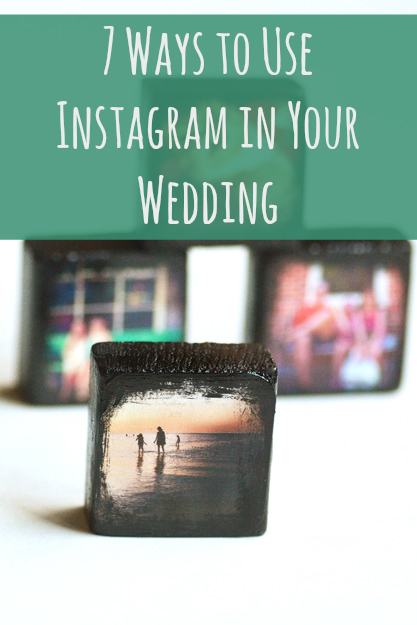 Instagram has replaced the humble disposable camera as a way to crowdsource your wedding photographs. Even with a professional photographer capturing the main moments, it's nice to see the day through the eyes of your loved ones. By using a personalized Instagram hashtag the images are instant, saving the wait for printing and waiting for guests to send their pics to you. We've picked out 7 ways for you to get connected and use Instagram in your wedding.
1. Drink Stirrers
We are obsessing over these drink stirrers. You can print out your favorite Instagram pic and have your hashtag printed onto the other side. This is a great way to include social media if you only want to include your hashtag in a subtle way.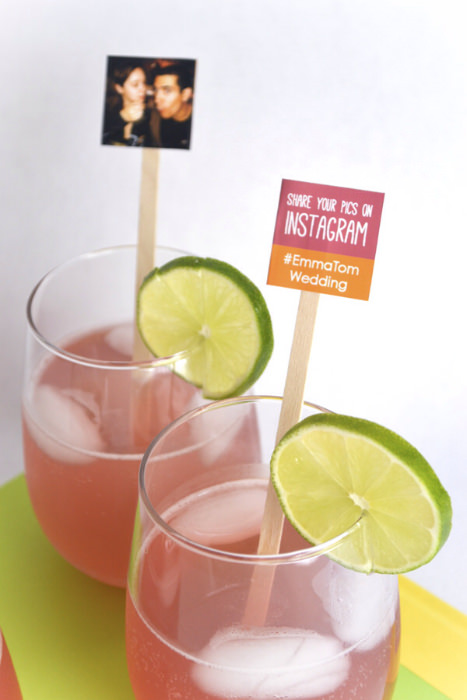 2. DIY Save-The-Date Stickers
Why not include Instagram in your DIY save-the-date cards?  You can print out an Instagram picture and turn it into a sticker. Affix them to your save-the-date cards with instructions for your guests to stick the photo onto their calendars. (Photo: Something Turquoise.)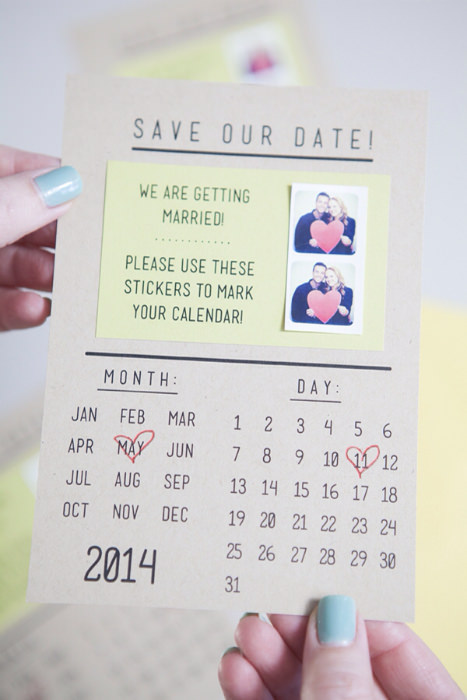 3. Print the Hashtag
For a truly interactive wedding, you can keep track of the images that are uploaded onto your Instagram hashtag. The Instaparty Box prints out all of the uploads as they arrive. This is lovely as you can see what your guests are seeing. Then at the end of the night you can collect them up to look at before bed.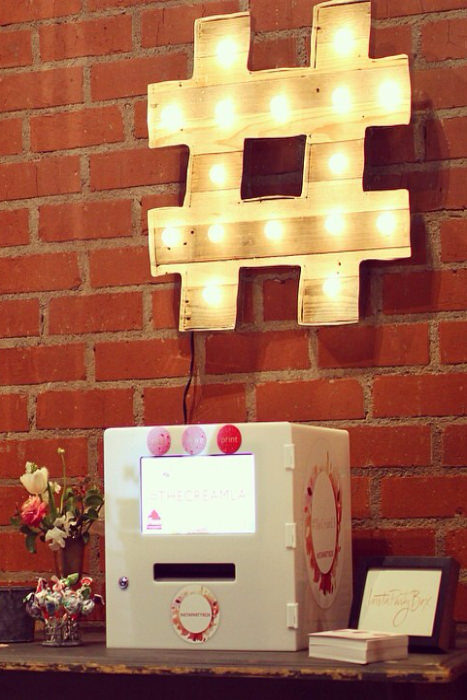 4. Mini Sign 
For a cute way to show off your hashtag, opt for mini signs displayed at each table. The small squares mimic the size of an Instagram shot which adds a nice detail. We love these mini signs as an alternative to having a larger one placed at the welcome table.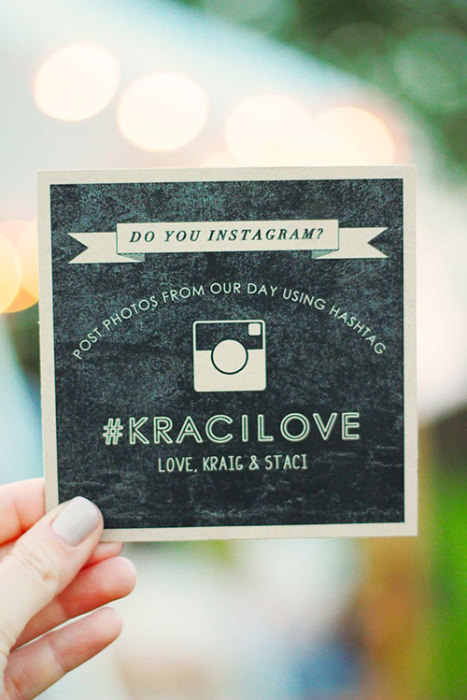 5. DIY Photo Blocks
With all of the amazing images that you will be collecting from your wedding, it's time to think about what to do with them. Check out our tutorial for these fab DIY Instagram Photo Blocks. You can also make these before the wedding and display a few couple portraits.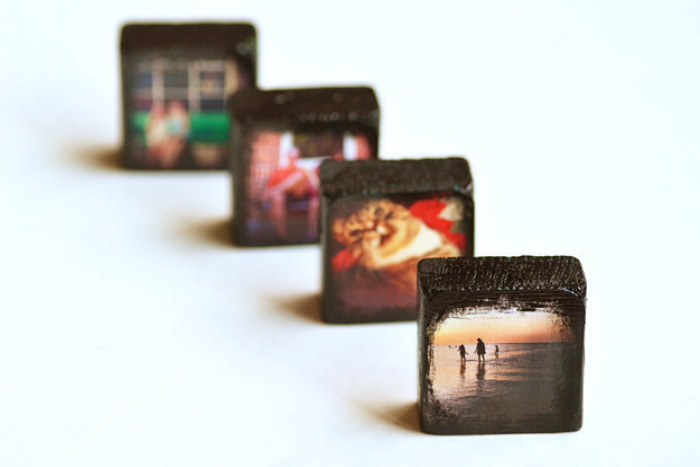 6. Printable Sign 
The best way to show that your wedding is Instagram friendly is by having a prominently placed sign. This is also an opportunity to step up your decor. Here is a gorgeous sign for you to print out for free from Pretty Little Palace.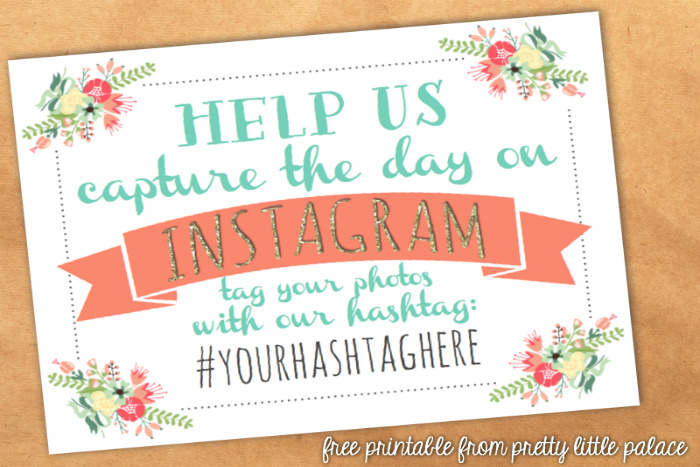 7. Photo Scavenger Hunt
Turn Instagram photography into a fun game for your guests. Give your guests a handout with a list of shots for them to capture on the day and upload onto Instagram. Different shots could include food, photobombing or photos with the bride and groom. Great activity for them and bonus behind the scenes photos for you.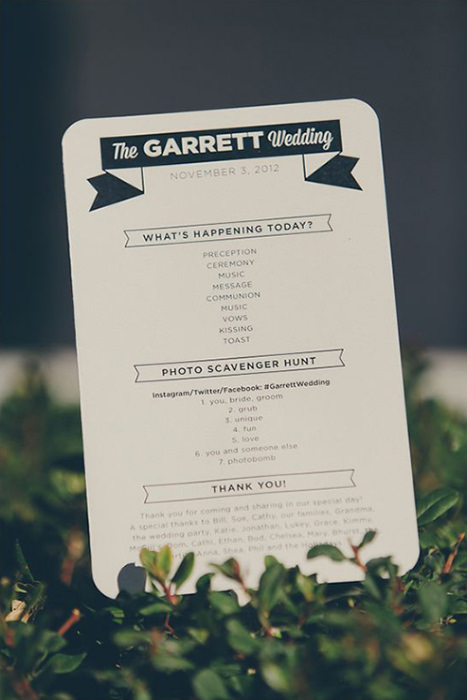 Photo one: ruffledblog.com; Photo two: somethingturquoise.com; Photo three: pinterest.com; Photo four: eatsleepcuddle.com; Photo five: Intimate Weddings; Photo six: Pretty Little Palace; Photo seven: stevecowellphoto.com