Being a grad student from France, Bérénice couldn't see herself having the time or the desire to plan a huge wedding. Still wanting to celebrate with those closest to them, however, she and Mike didn't feel eloping was the right option for them either. Instead, the couple opted for a low-key courthouse wedding in Raleigh, North Carolina where they live, inviting only immediate family and a few close friends. They followed up their sweet civil ceremony with a photo session around town with their talented photographer Carolyn Scott, and finished off the day with dinner at their favorite Lebanese restaurant.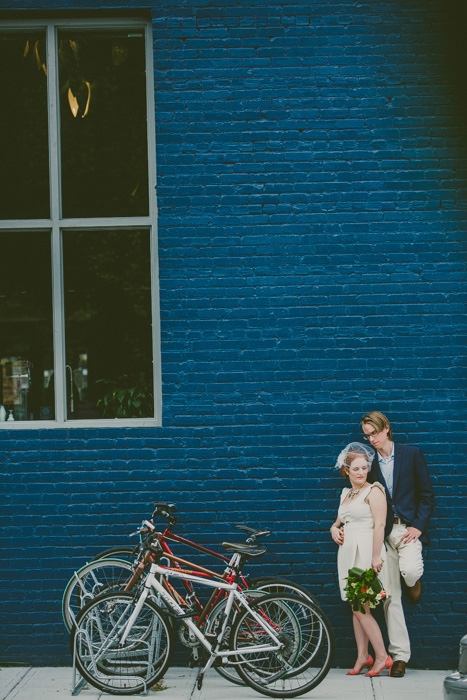 Bérénice, 26 & Michael, 34 
Raleigh, NC
Wedding Date: July 31, 2014
Number of Guests: 8
Wedding Cost: We never actually wrote everything down, but from what I calculated it was about $6,750 including wedding bands, but not the engagement ring.
Wedding Ceremony Location: Wake County Courthouse, Raleigh, NC
Wedding Reception Location: Our family went to a bar while we had our pictures taken and we met them there for drinks before dinner; then we went to a great Lebanese restaurant in downtown Raleigh for dinner.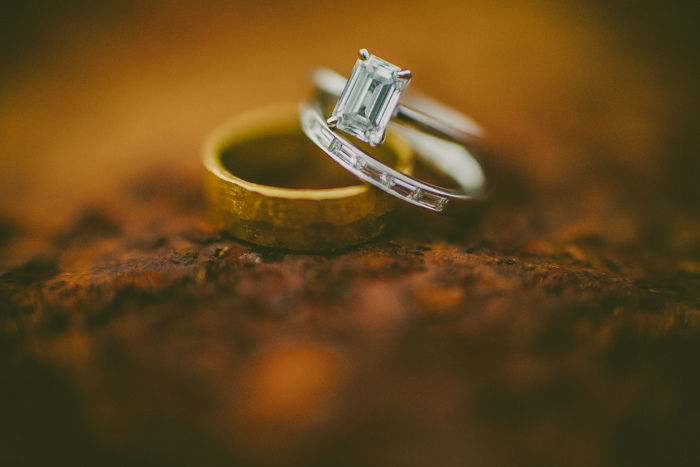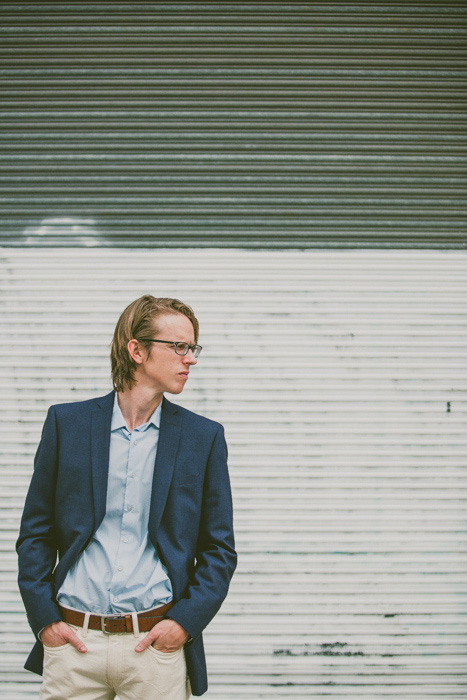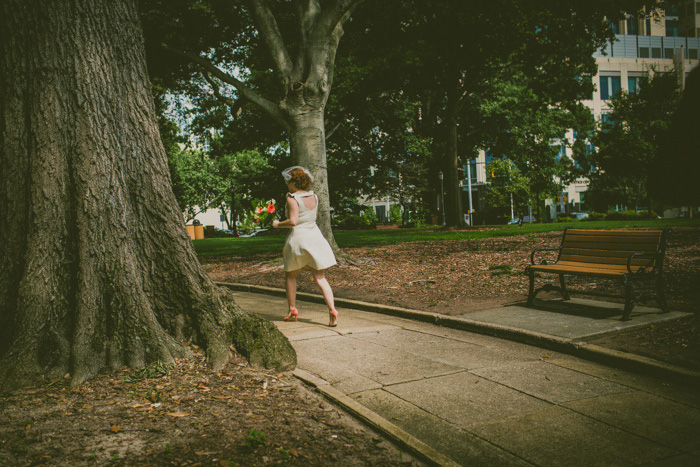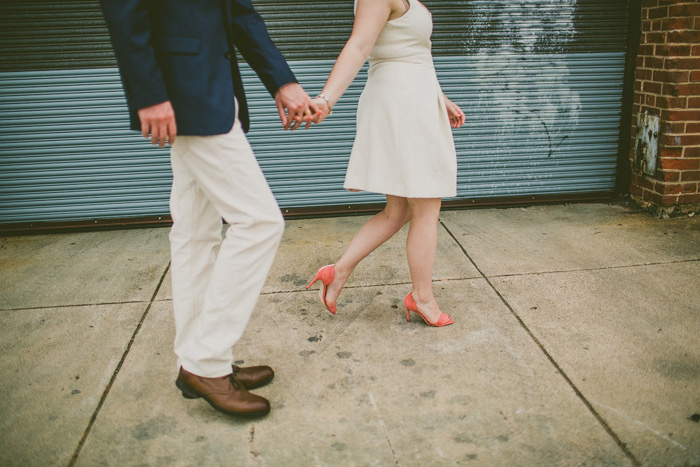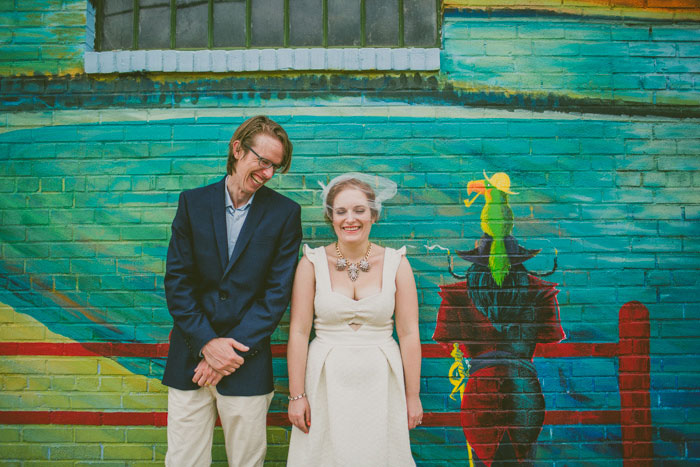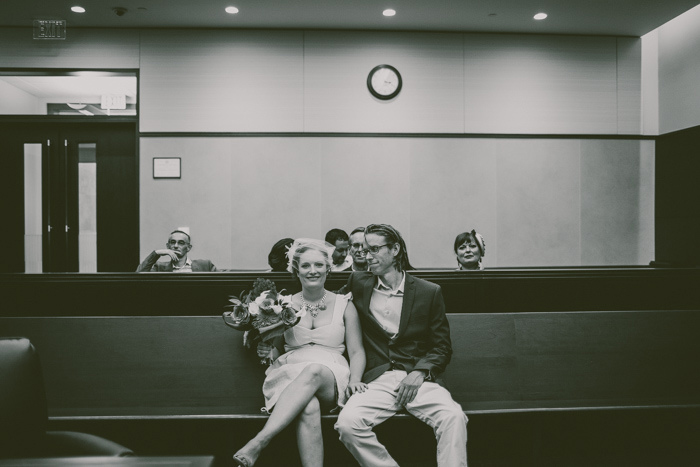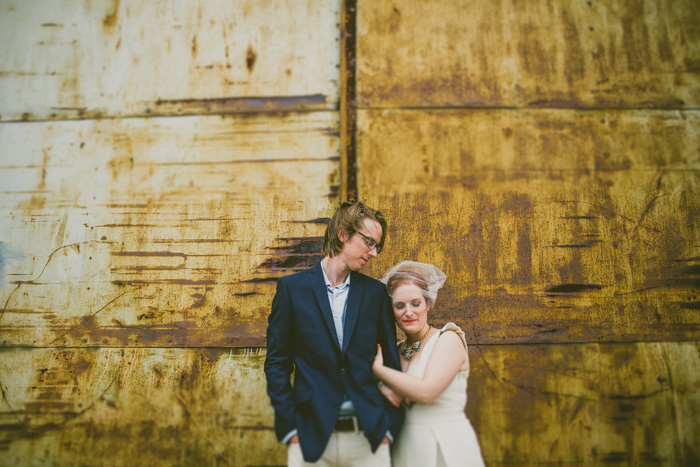 Why did you have an intimate wedding?
I am French, Mike is from Massachusetts, and we currently live in North Carolina. So it was difficult to plan a big wedding because everybody would have had to travel. I am also in grad school, so I am super busy and I didn't see myself planning a wedding! But most of all, we didn't want anything big because it is not us: we are more comfortable in small groups. On the other end, it was important for us to celebrate that day with our closest family rather than just elope. So we decided on a very small – immediate family only – wedding.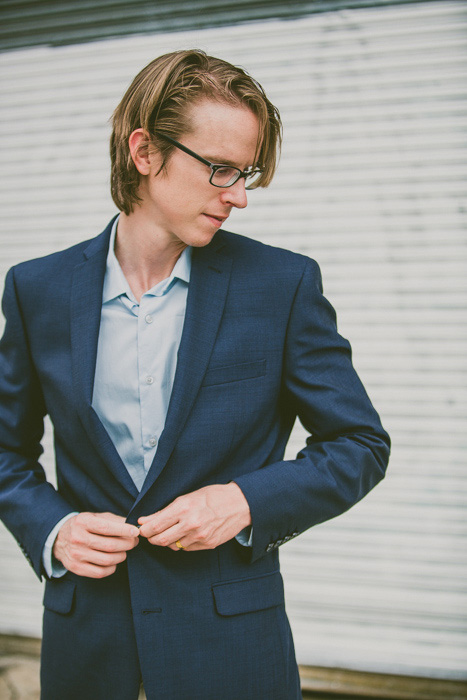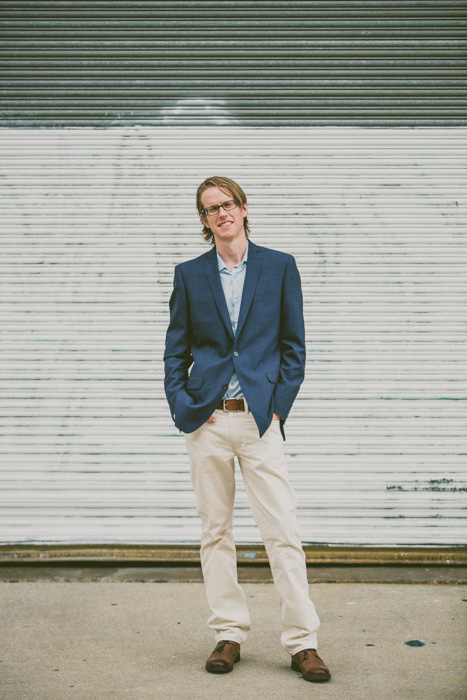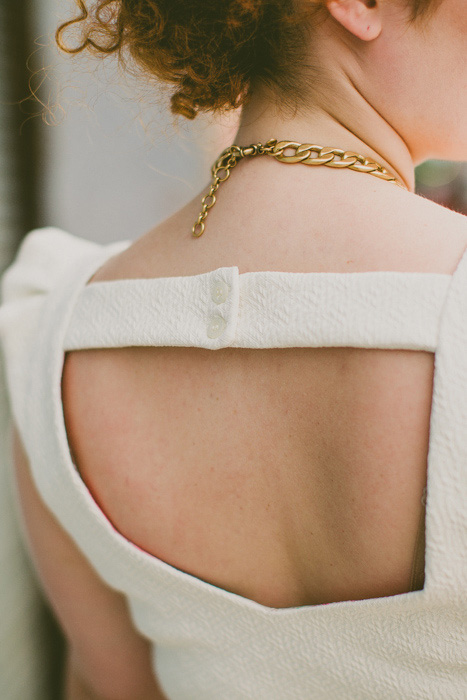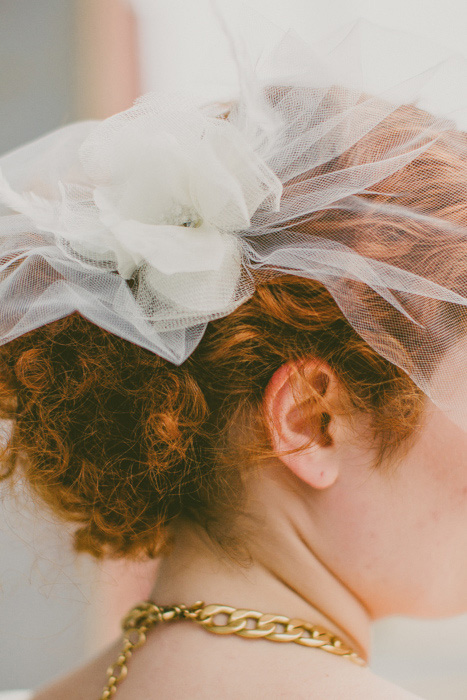 What are some of the challenges that you faced planning an intimate wedding?
For a little bit, we considered having a wedding in Massachusetts or in France and both options were challenging in their own right. However, once we decided that we would go with an intimate wedding in Raleigh with only our immediate family, there was no challenge anymore! This is one of the reasons why we wanted a small wedding.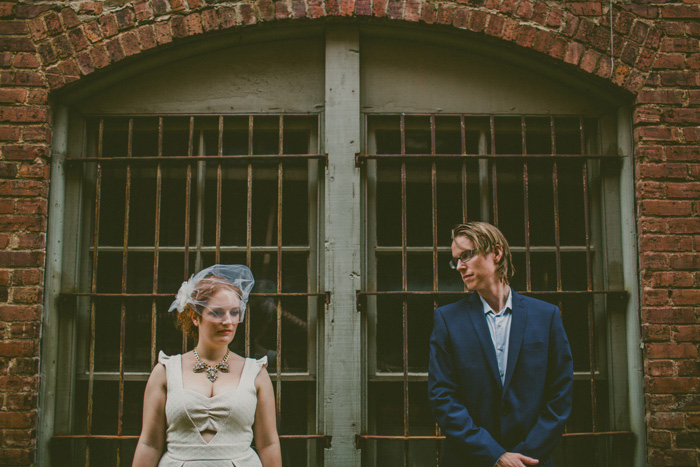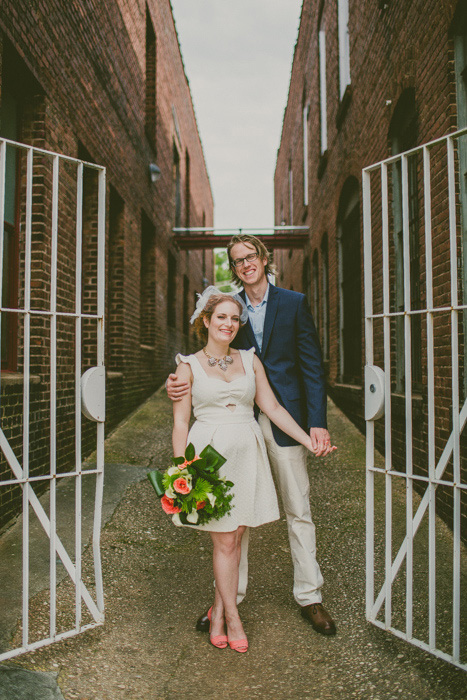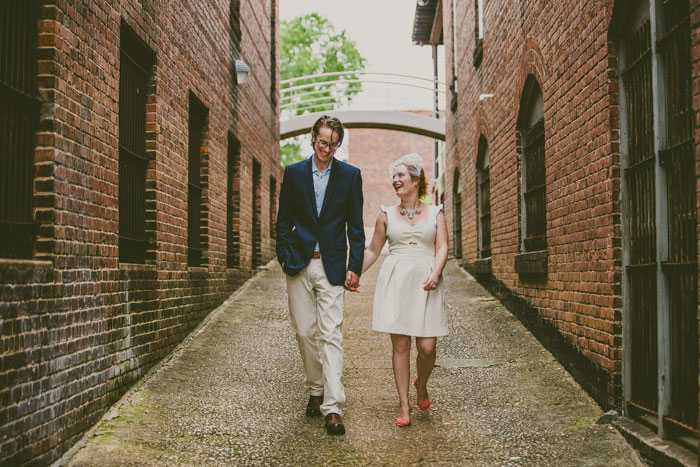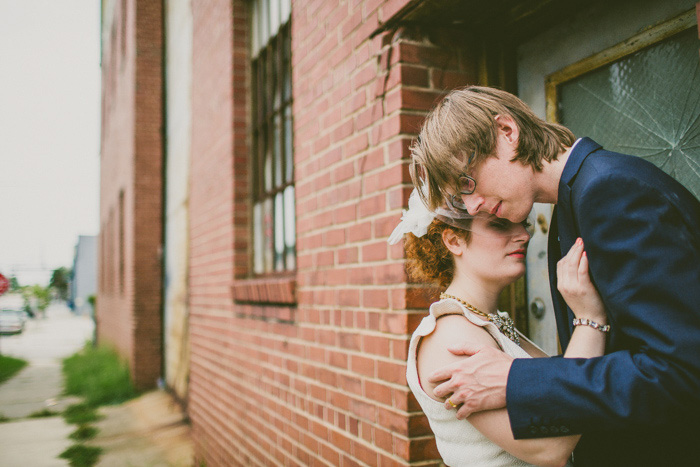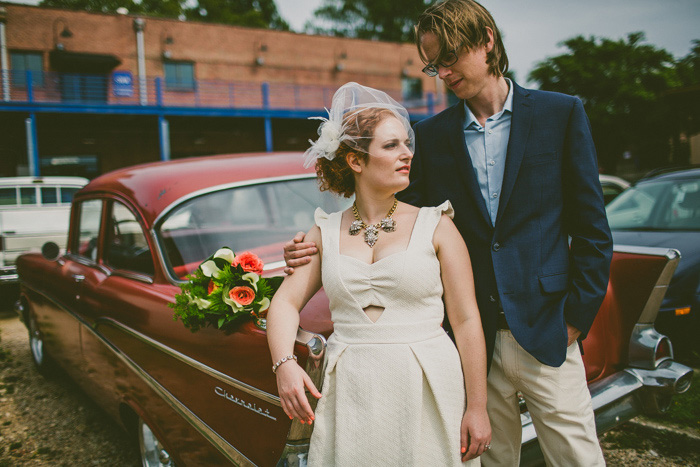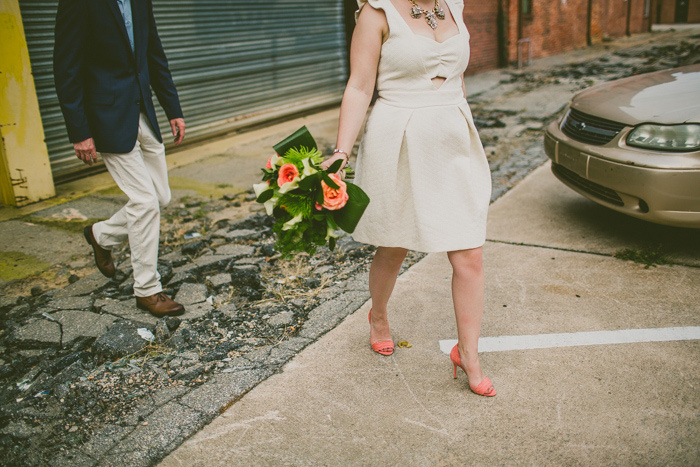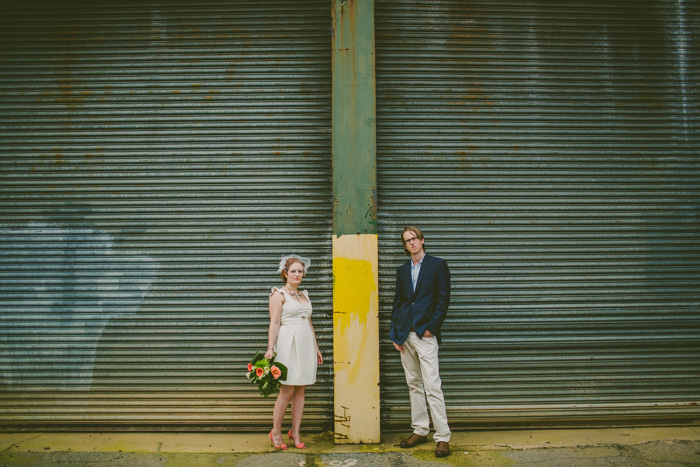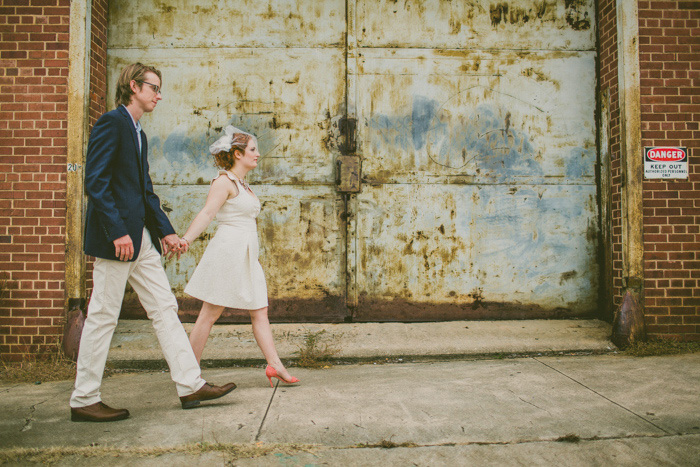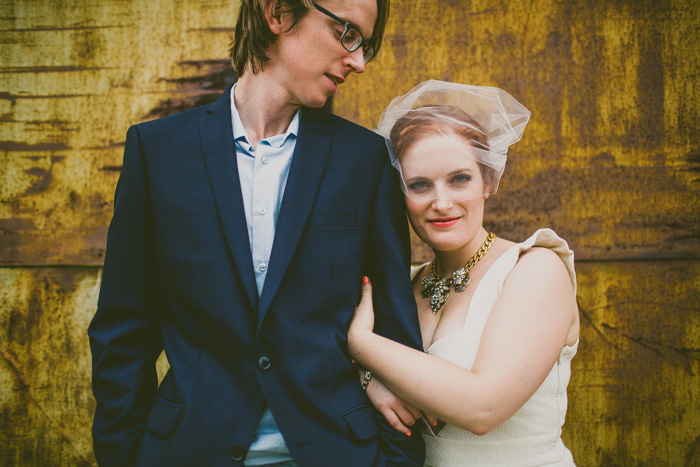 Was it difficult to pare down the guest list?
No, we invited only our parents, siblings, grand parents, and a couple of close friends that live in Raleigh so they didn't have to travel. Unfortunately, our grandparents couldn't travel from Massachusetts and France. We would have liked to share the day with more people, but this is the compromise you have to make when you decide to have a small wedding!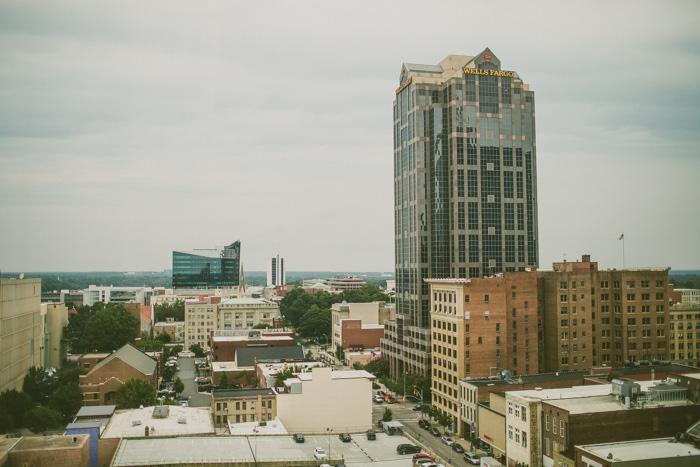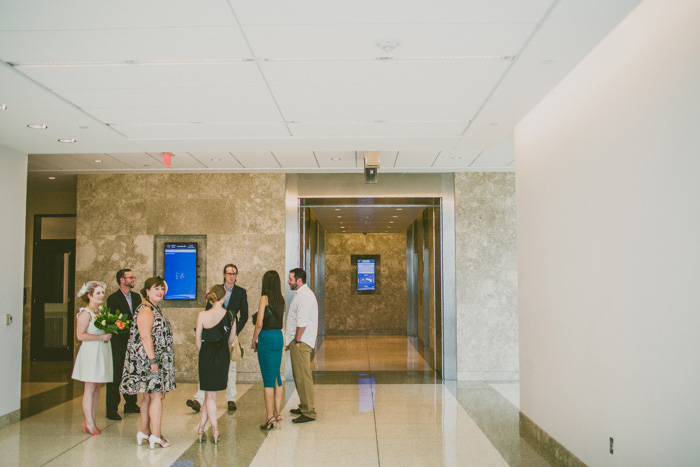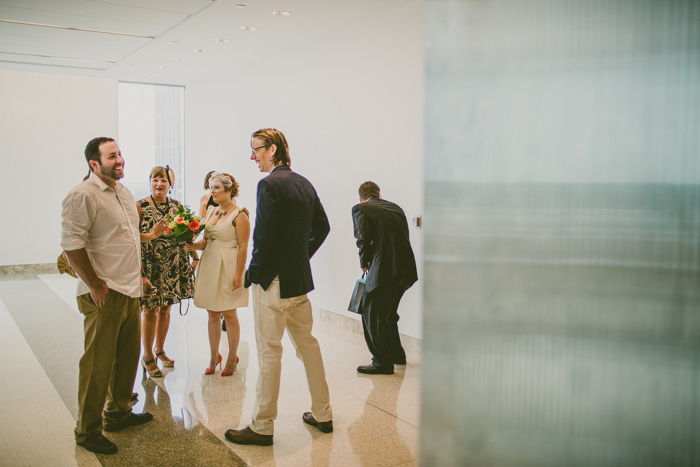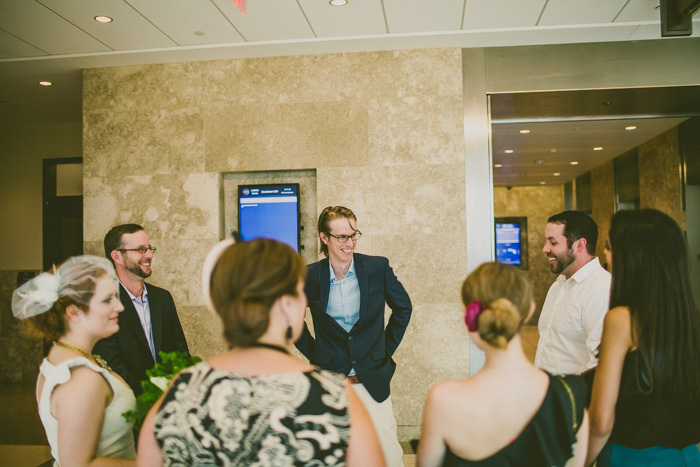 Did you have any 'issues' with the small guest list from friends and family? If so, how did you address them?
No we didn't have any issues. We told our family and close friends that it was immediate family only and they understood. We sent wedding announcements with pictures of the wedding to everybody afterwards.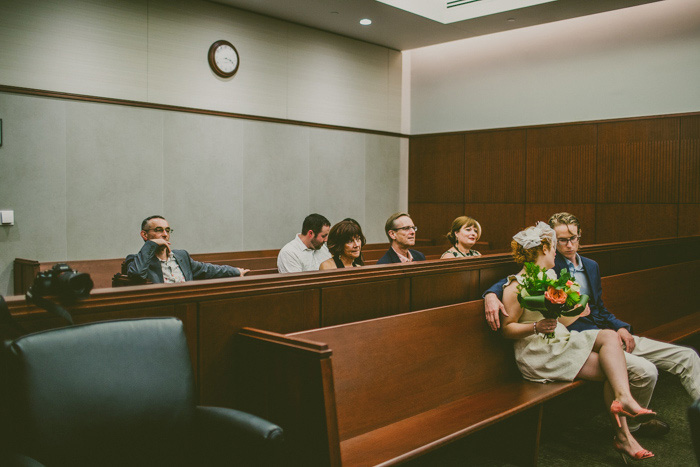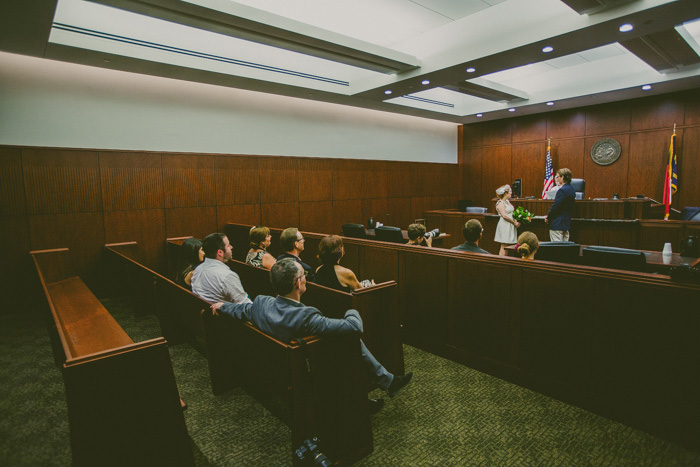 What were the highlights of the ceremony?
I was getting ready with my family at our house and Mike was getting ready with his family at their hotel. Mike picked me up at our house to go to the courthouse and when he got there with his family, my dad walked me down the stairs of the front porch to "Ghosts that We Knew" by Mumford and Sons. It was like being walked down the aisle and it was very emotional!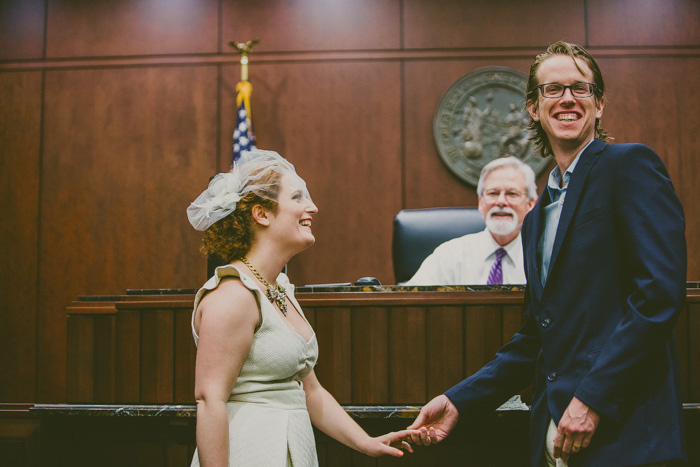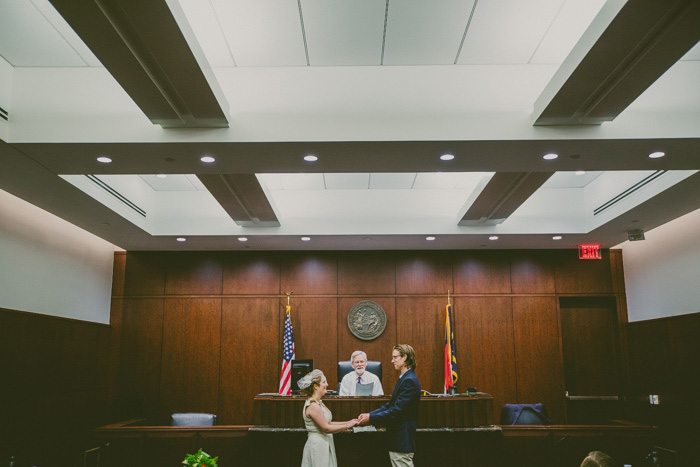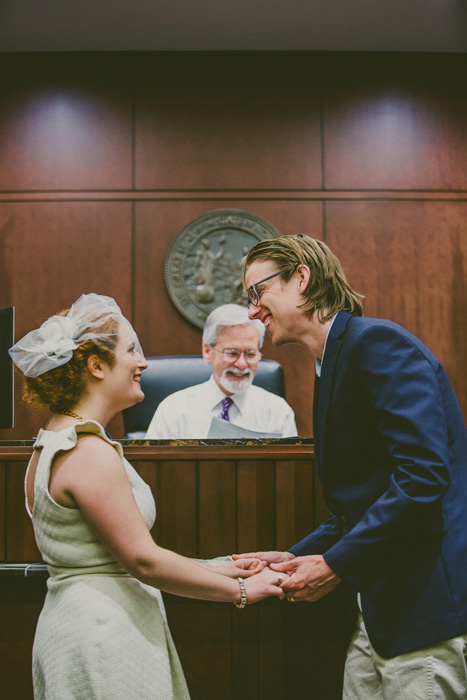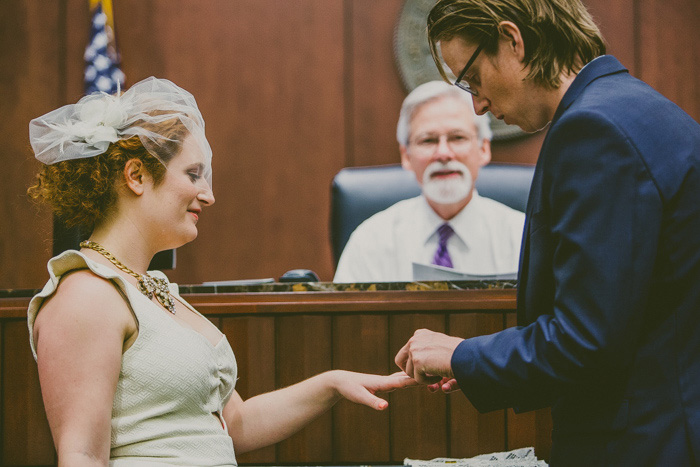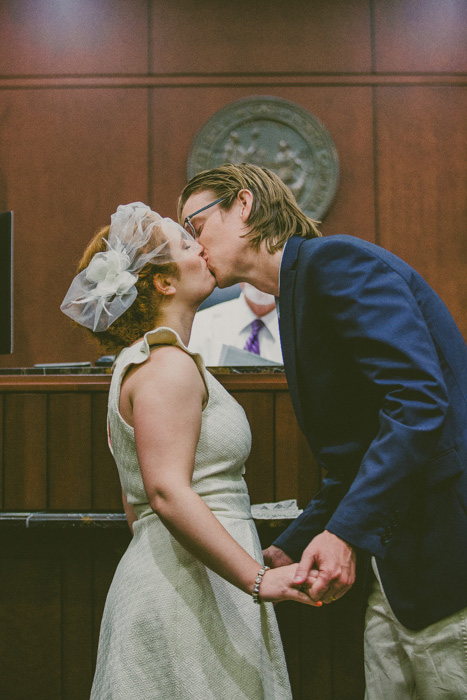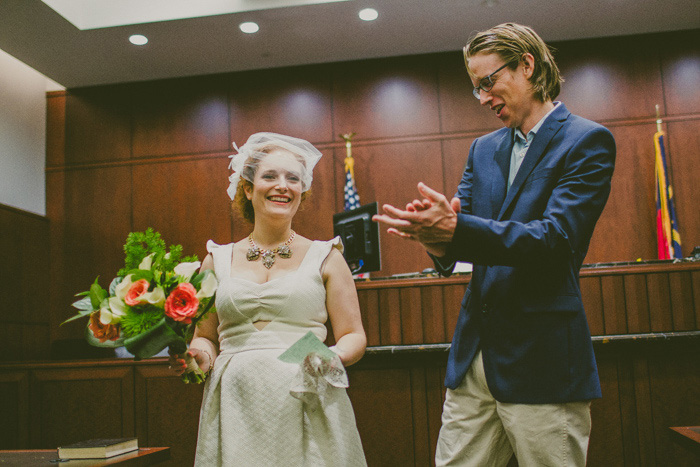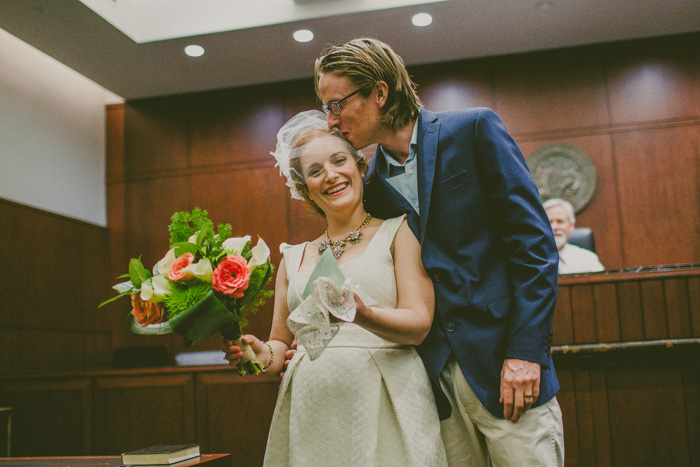 What were the highlights of the reception?
We had dinner at our favorite restaurant in Raleigh called Sitti. It was great to be at the same table as all of our guests! We were able to talk to everybody and enjoy our great food!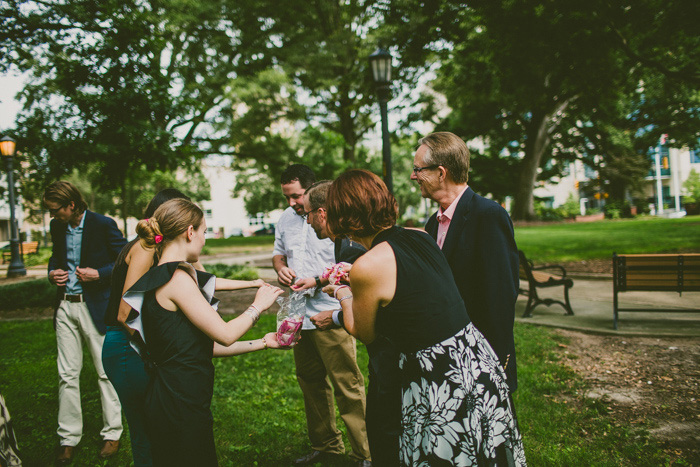 What was the best thing about having an intimate wedding?
The very light amount of planning and the small bill that goes with it!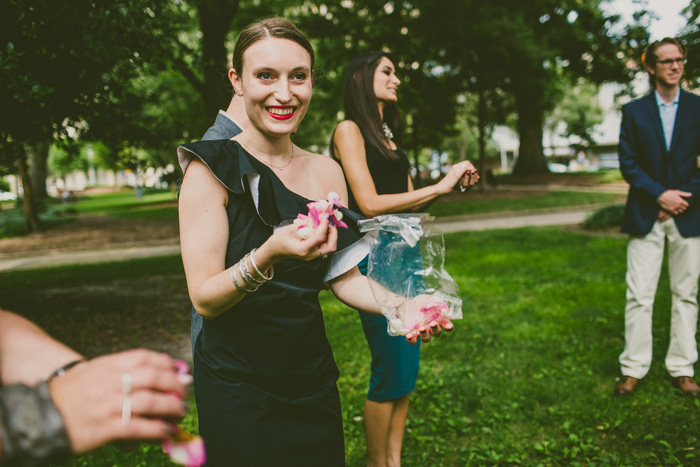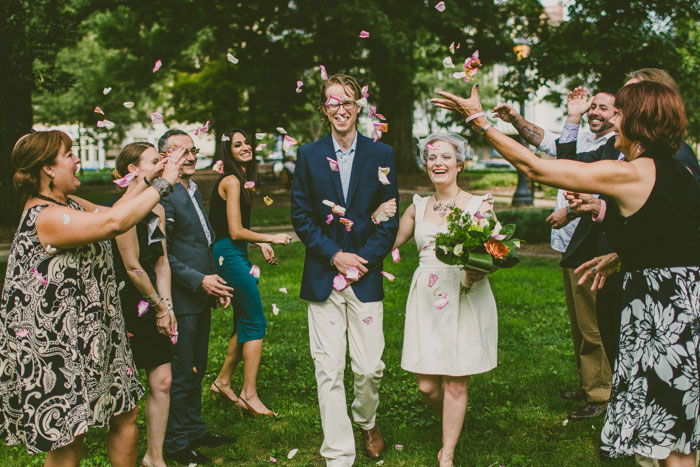 What advice do you have for couples who are considering an intimate wedding?
Do what makes you feel comfortable! It is your wedding and it should represent who you are! Also, get photographers to document the day for you and the people you didn't invite.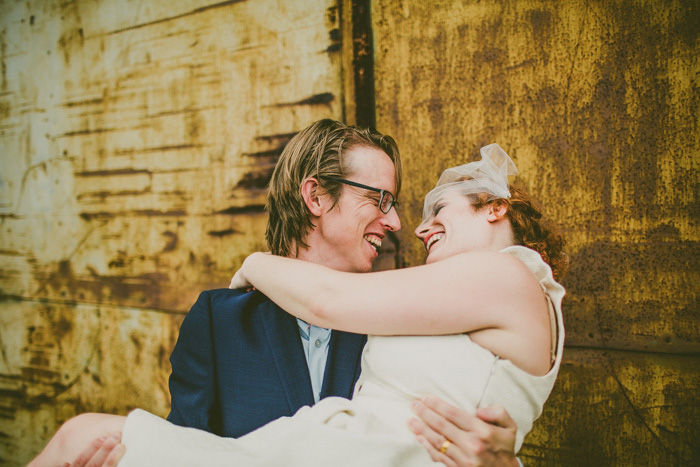 Vendors:
Wedding Dress: Kookaï
Bride's Shoes: SJP Bobbie Nordstrom
Bride's Jewelery: J. Crew
Headpiece: Dahlia Blusher from BHLDN
Groom's Sport Coat and Shirt: Macy's
Groom's Jeans: J. Crew
Groom's Shoes: Clarks
Photographers: Carolyn Scott Photography
Cake: The Cheesecake Factory
Make-Up and Hair: I did my own make-up and hair as well as my mom's.
Flowers: My mom made my bouquet with flowers from Fresh Market.