For many couples, a simple civil ceremony at city hall makes sense; it's quick, low-fuss, and it gets the job done. Sadly, however, most registry offices aren't exactly known for being the most beautiful of venues at which to exchange vows of marriage. But before you go and write off all city hall registry offices as too dimly-lit and depressing for your own happy occasion, we urge you to think again! We've rounded up 8 of the most beautiful and wedding-worthy city hall and courthouse venues we think just might change your mind on the matter.
1.  San Francisco City Hall
This one is an absolute no-brainer. San Francisco City Hall is known for its stunning architecture and is widely regarded as one of the country's most beautiful Beaux-Arts building, so it's no surprise that thousands of couples from all over the world flock here every year to tie the knot.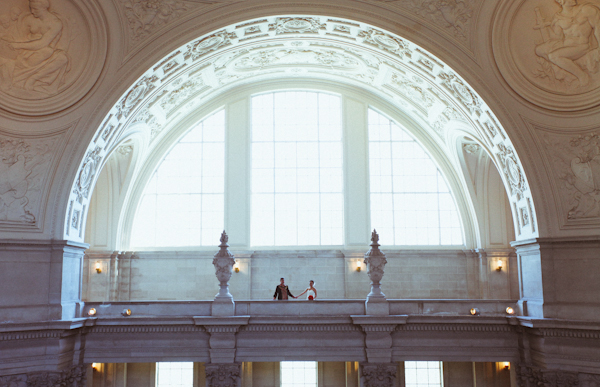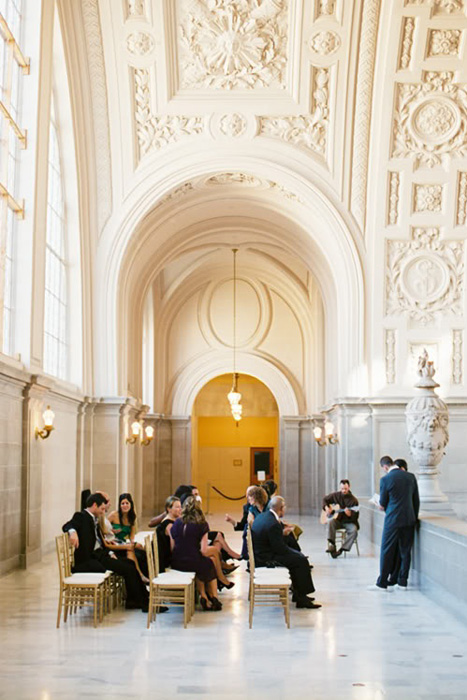 2.  New York County Supreme Courthouse

The New York County Supreme Courthouse's interior isn't nearly as beautiful as San Francisco's, but its iconic nature and imposing facade, make it just as destination worthy in our eyes.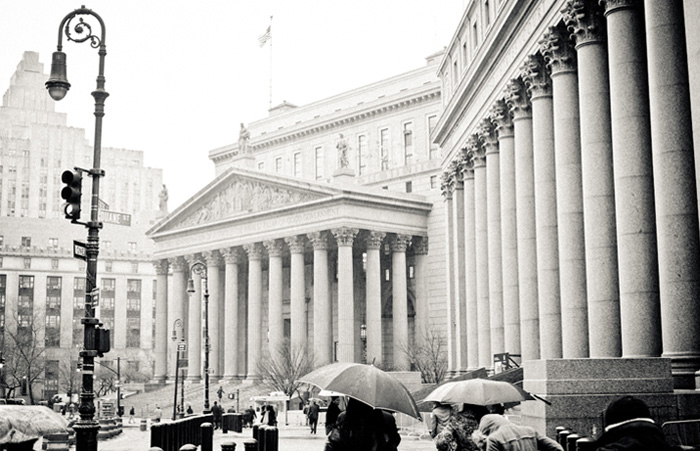 3.  Santa Barbara Courthouse
If Spanish Colonial Revival is more your style, the Santa Barbara Courthouse is a gorgeous choice for your civil ceremony. Ceremonies performed by the clerk-recorder take place either in the Hall of Records or outdoors in the garden, but the Mural Room (pictured below) is also available with a reservation and at an additional fee.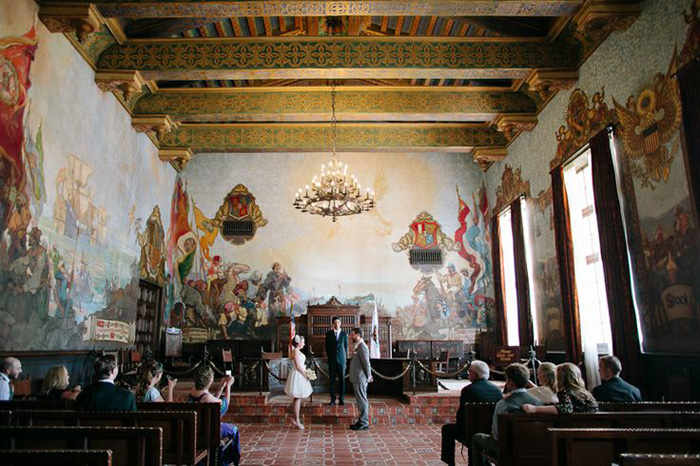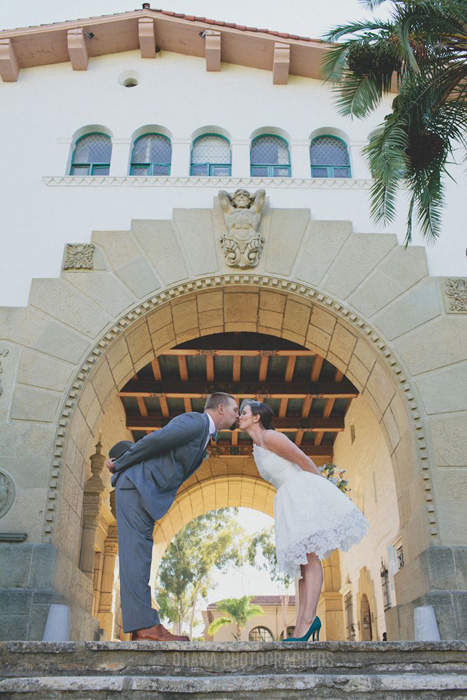 4.  Philadelphia City Hall
A grand building in the heart of the city, Philadelphia City Hall is one of the largest municipal buildings in the world. It's equally grand interior makes it a popular destination for brides and grooms, but be warned, weddings are only performed on a few select days of the week so spots fill up quickly and you may have to wait a month or two before you can say you I do's.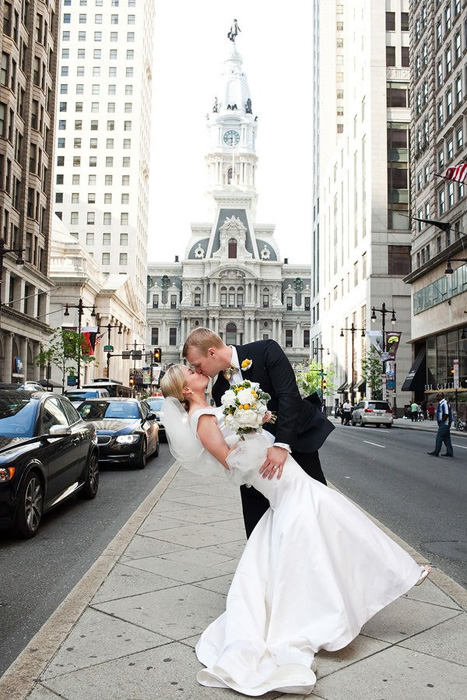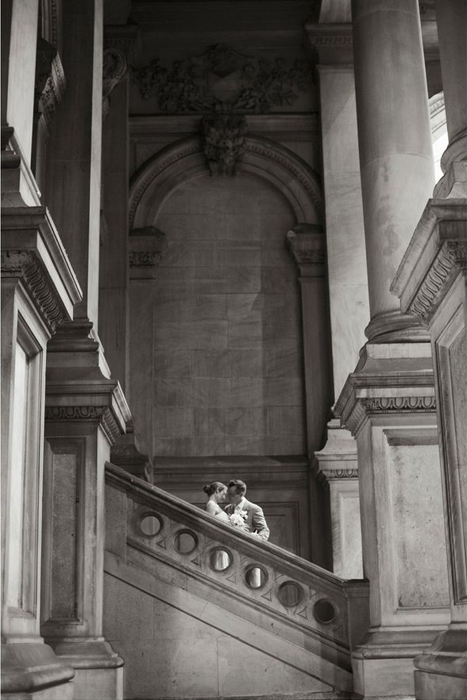 5.  Pasadena City Hall
Another North American gem of a building is the Pasadena City Hall. Unfortunately, there isn't a Commissioner of Civil Marriages located at the city hall itself, but the courtyard and rotunda can be rented out for weddings, both large and small.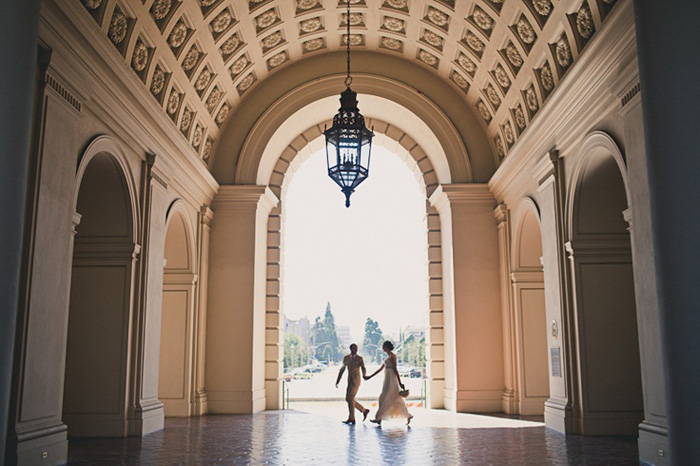 6.  Marylebone Town Hall
If you're looking across the pond, there's no cooler register office than Old Marylebone Town Hall a.k.a. The Westminster Register Office. Paul McCartney married his first and his third wife here and if it's good enough for Sir Paul, well it's certainly good enough for us! Other celebrities wed here include, Ringo Starr, Oasis front man Liam Gallagher, Chrissie Hynde, Antonio Banderas, and Pink Floyd's Dave Gilmour.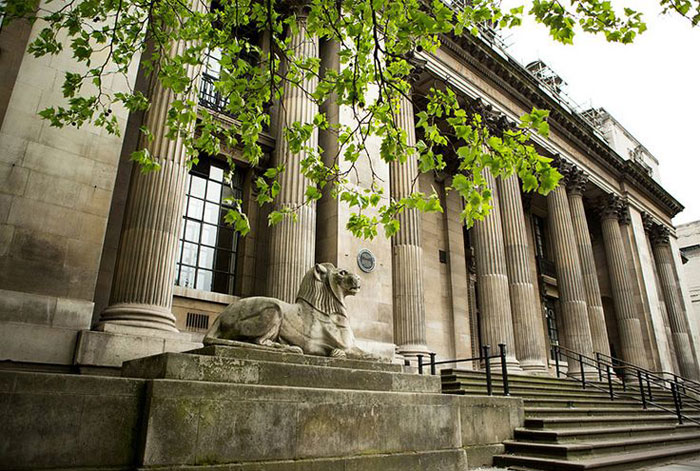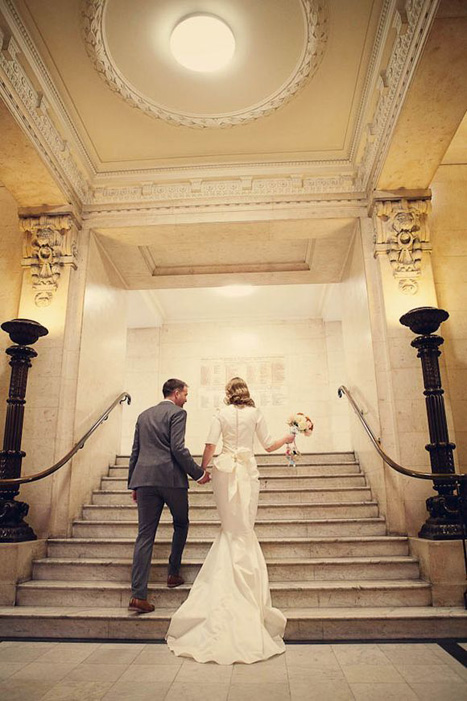 7.  Dublin City Hall
Dublin City Hall doesn't have then same rock 'n' roll history that Old Marylebone has, but its stunning interior space speaks for itself. Like Pasadena, the register office is located in another building and use of the space requires a reservation and rental fee.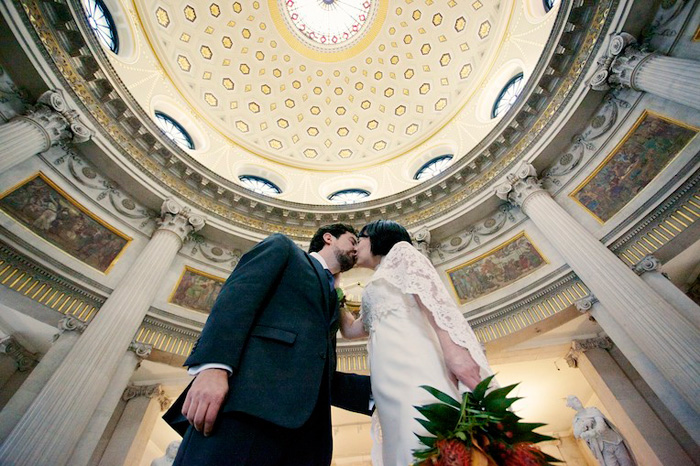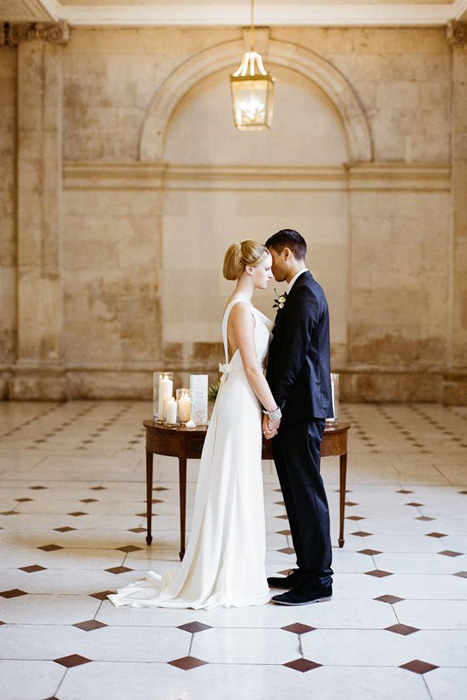 8.  Certaldo Town Hall
For those who dream of Tuscany (and who doesn't?), there are any number of beautiful town halls to choose from across the region. What makes Certaldo Town Hall stand out from all the rest is its charming hilltop location and open air courtyard where the ceremonies are performed. If wonderful old-world charm is what you're after, it doesn't get much better than Certaldo.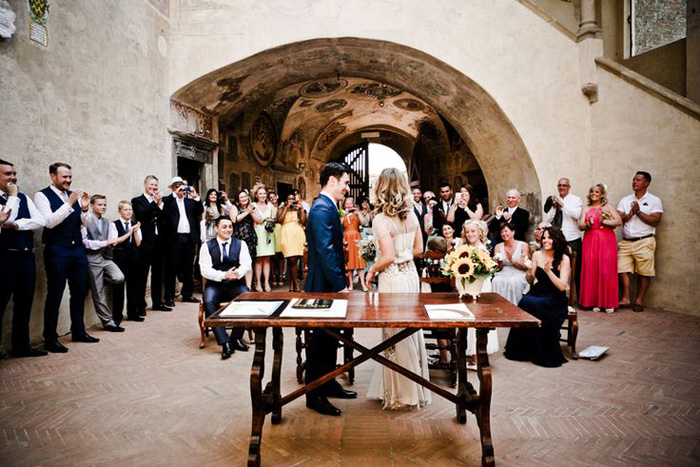 Photo one: Intimate Weddings; Photo two: snippetandink.com; Photo three: wstudiosnewyork.blogspot.ca; Photo four: cacasantoro.com; Photo five: ohanablog.com; Photo six: stylemepretty.com; Photo seven: qohweddings.com; Photo eight: anikalondon.com; Photo nine: lilyandfrank.co.uk; Photo ten: lovemydress.net; Photo eleven: mhphoto.ie; Photo twelve: styleserendipity.com; Photo thirteen: thebridalconsultants.com
Save
Save