When it came to planning their wedding day, both Brittany and Cameron agreed that they wanted to keep things simple. While Brittany wanted to elope on the beach, however, Cameron wasn't quite on board with the idea. The couple compromised and opted instead for a small wedding at one of their favorite spots – Yahoo Falls – with just their closest family and friends by their sides. With an easy family reunion vibe to their nuptials, the couple celebrated their union with a bluegrass band and a taco feast – making sure their tummies and those of their guests were just as full as their hearts on their big day.
A huge thank you to Brandi Potter for sharing all the lovely photos of Cameron and Brittany's unique wedding day with us!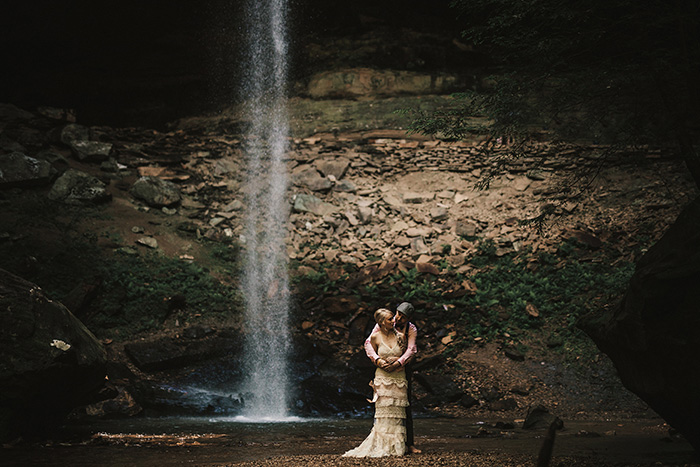 Brittany, 25 & Cameron, 29
Location: Georgetown, KY
Wedding Date: May 22, 2016
Number of Guests: 40
Wedding Cost: Somewhere around $5,000-$6,000 including the rings, dress, and everything. Plus we rented a small cabin at Cumberland Falls to get ready and spend the night.
Wedding Ceremony Location: Yahoo Falls in Whitley City, Kentucky
Wedding Reception Location: Cumberland Falls in Corbin, Kentucky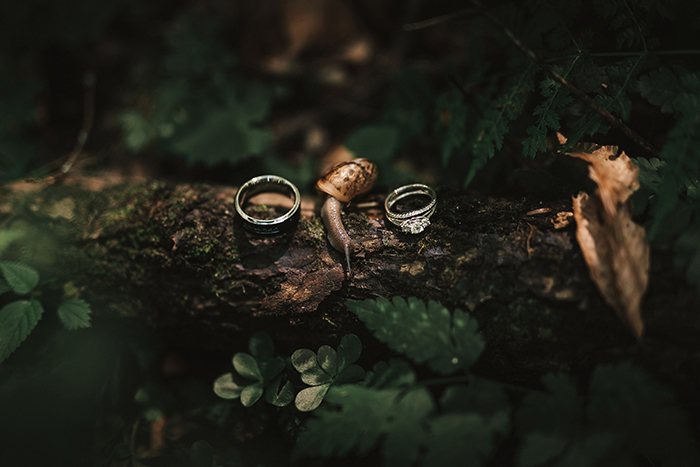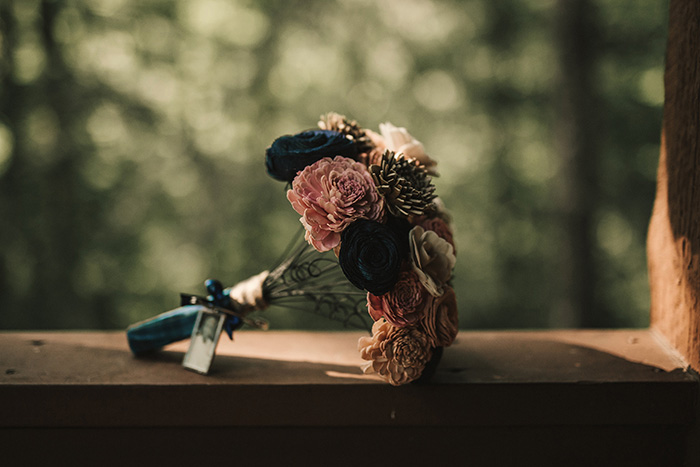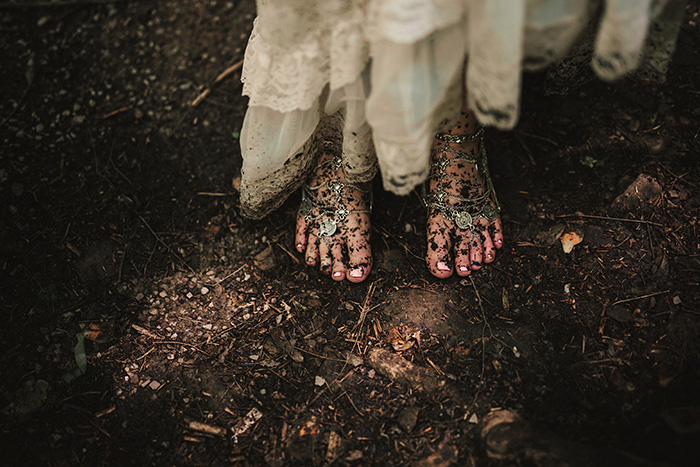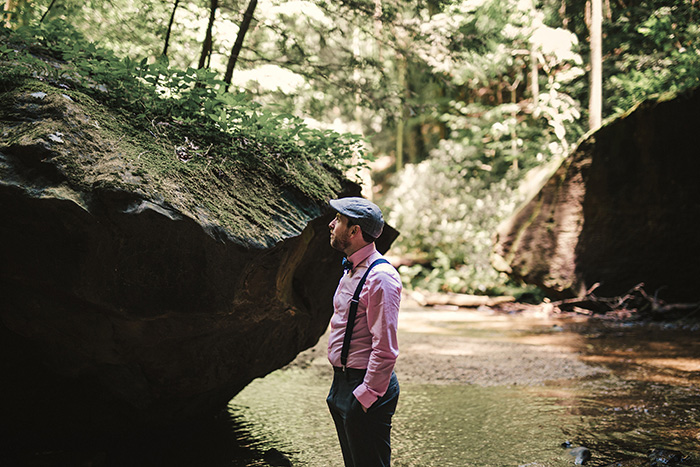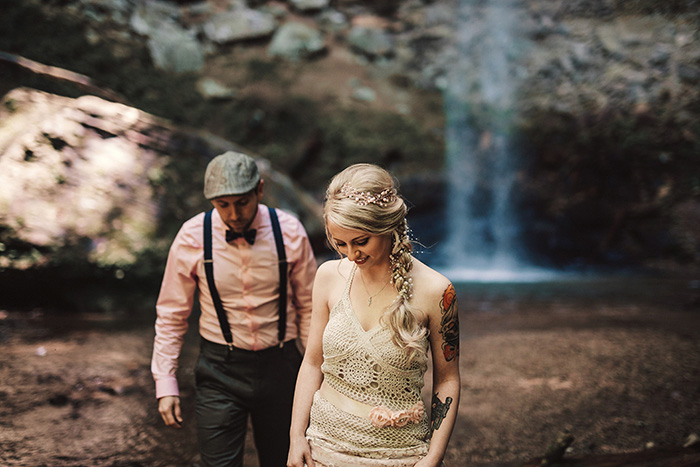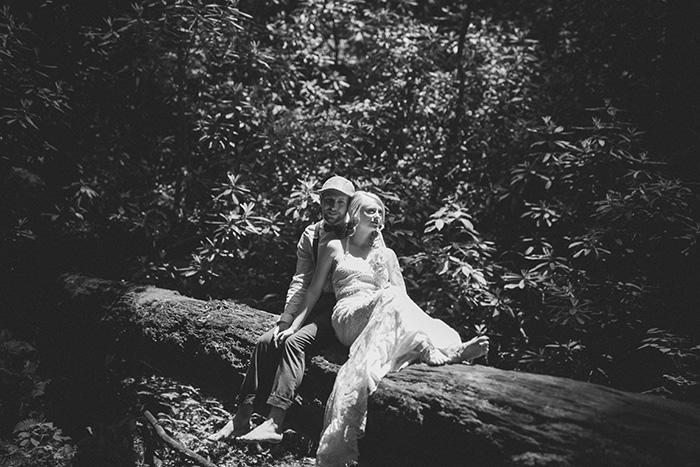 Why did you have an intimate wedding?
Brittany: Same reason as anybody would, really, to focus on what's important – two people who really love each other vowing to spend their lives together surrounded by the ones they love the most! And also because Cameron wouldn't settle for my idea of just eloping on the beach with only the two of us.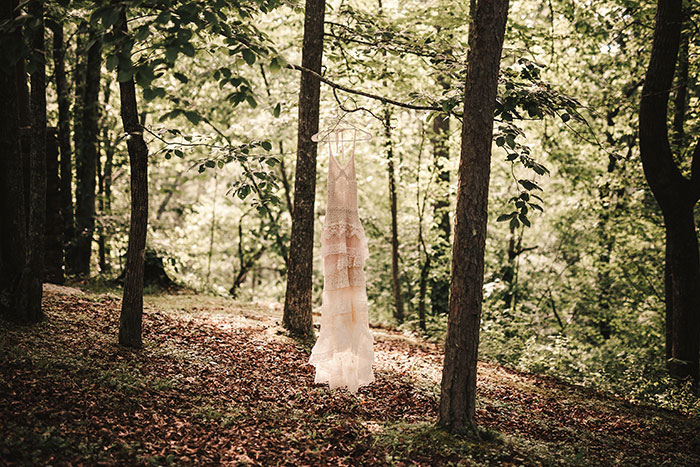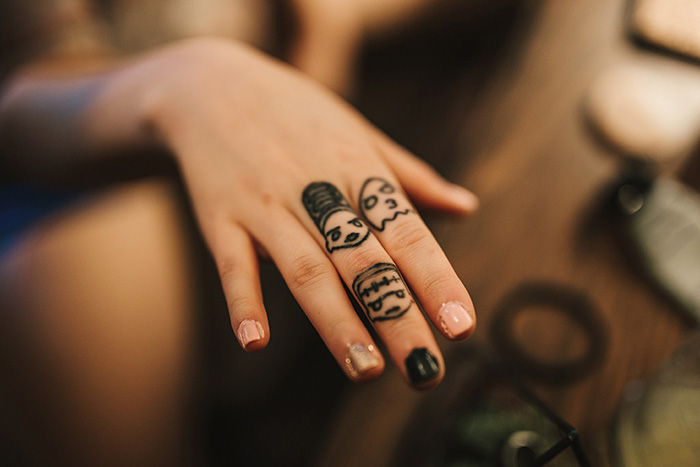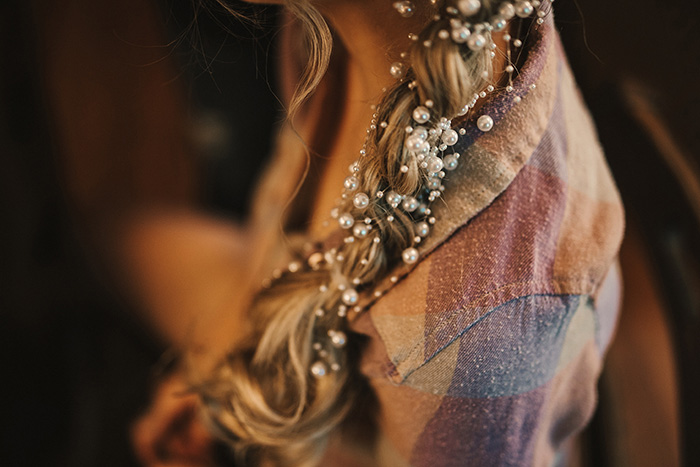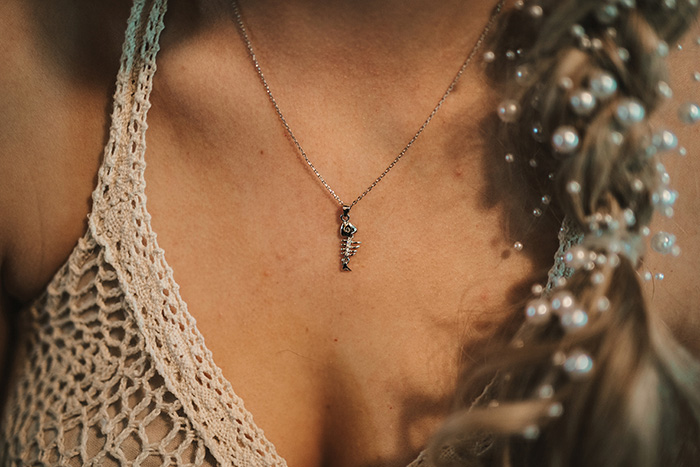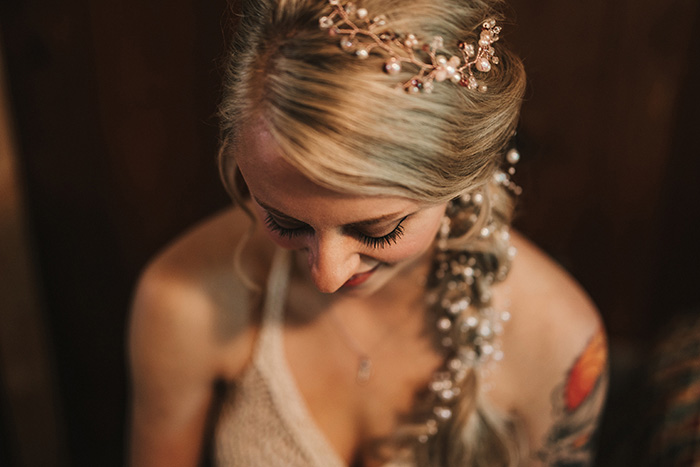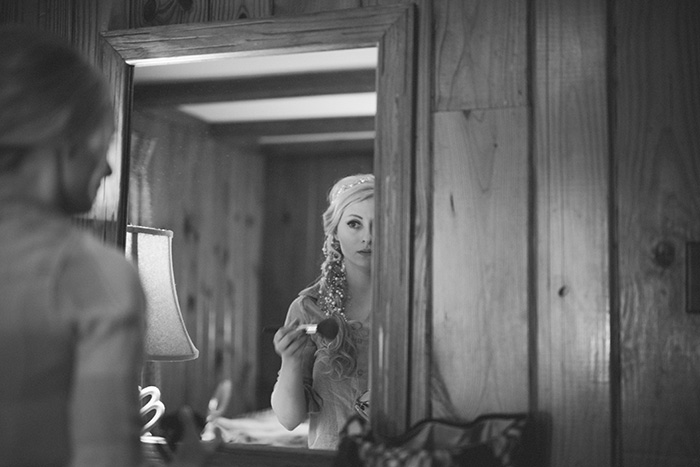 What are some of the challenges that you faced planning an intimate wedding?
Brittany: My stress. Even planning a small wedding can be challenging when you have a lot going on in your life. Bills are still coming in and work doesn't pay you to take time off to plan for a wedding. Also, deciding how to narrow down who to invite was a challenge.
Cameron: Brittany's stress, and trying to find a venue that wasn't too big for the amount of people we were planning on having there.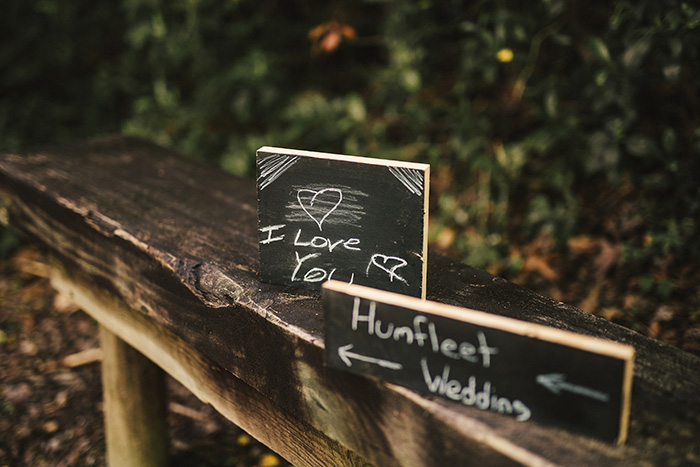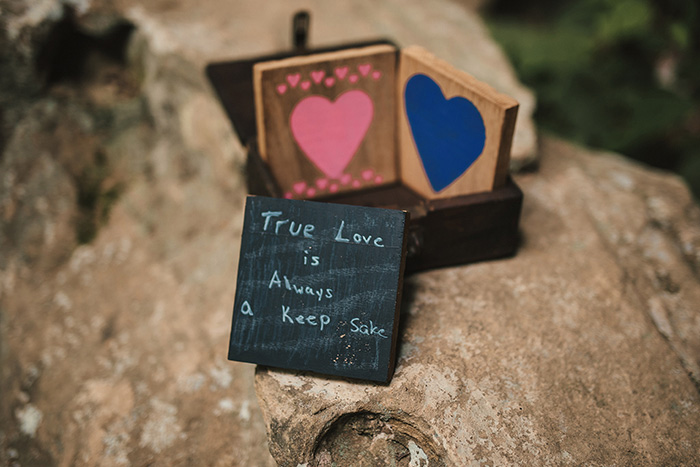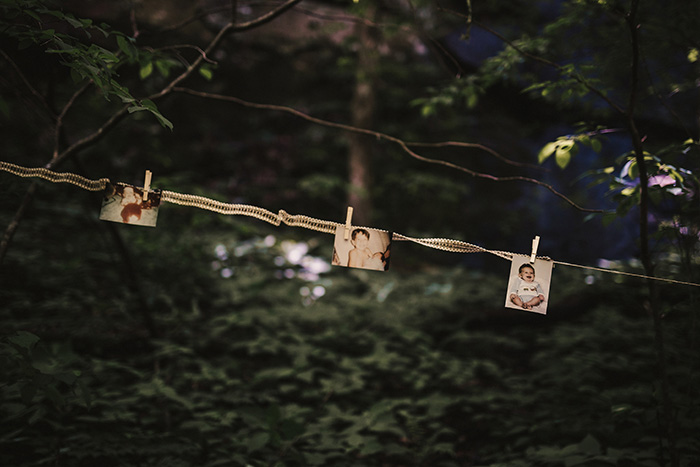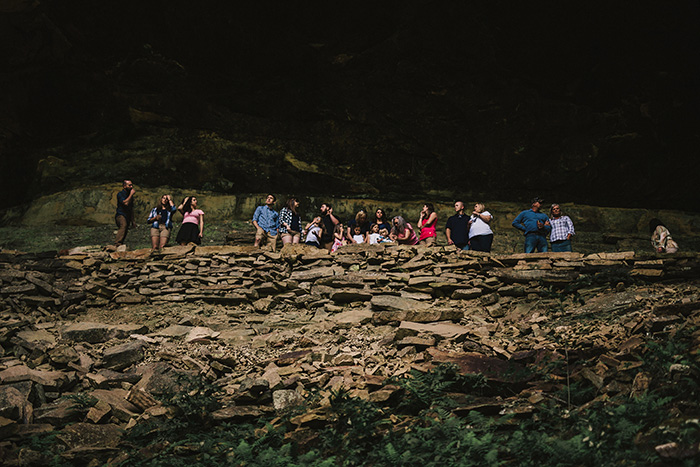 Was it difficult to pare down the guest list?
Brittany: In a way it was. When you really take the time to consider how special an occasion it is, however, it's easy to see who is actually important to you and should be a part of it. It gets confusing though because you feel like you want so many people there, but it makes it so complicated that you lose sight of everything else.
Cameron: No, not really.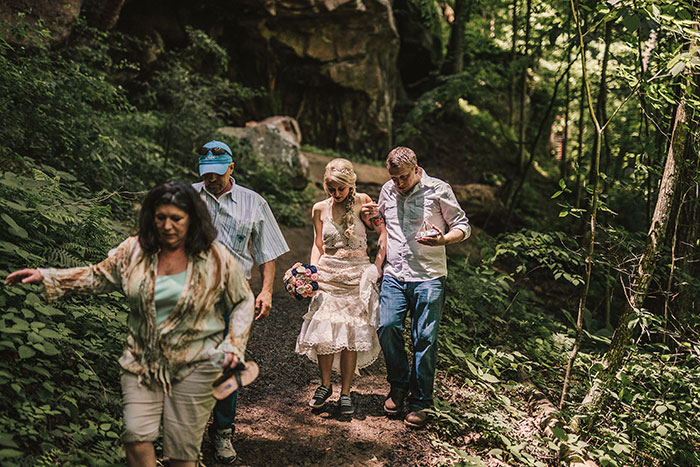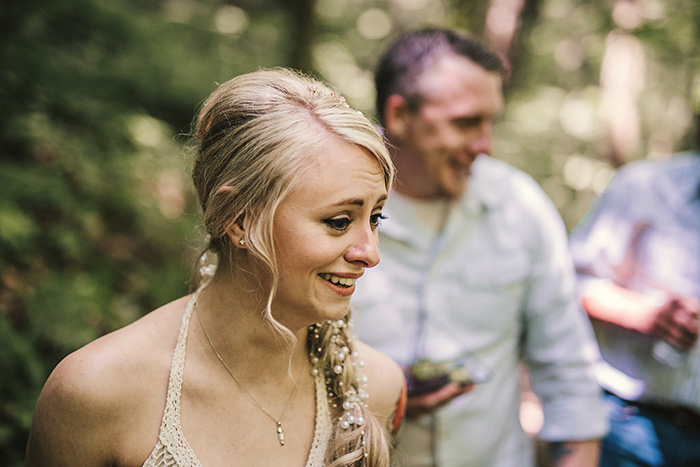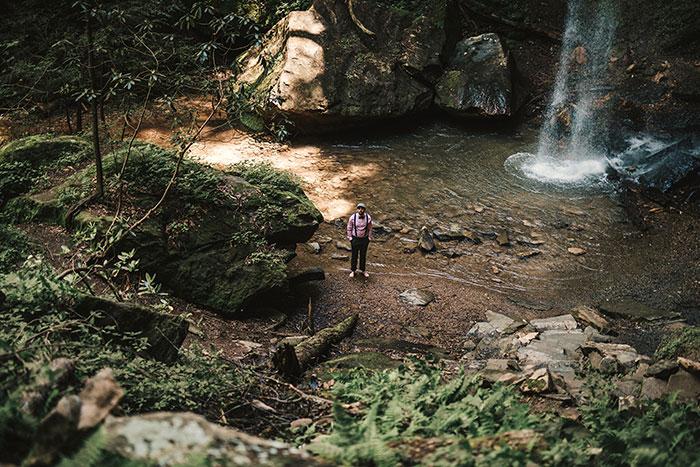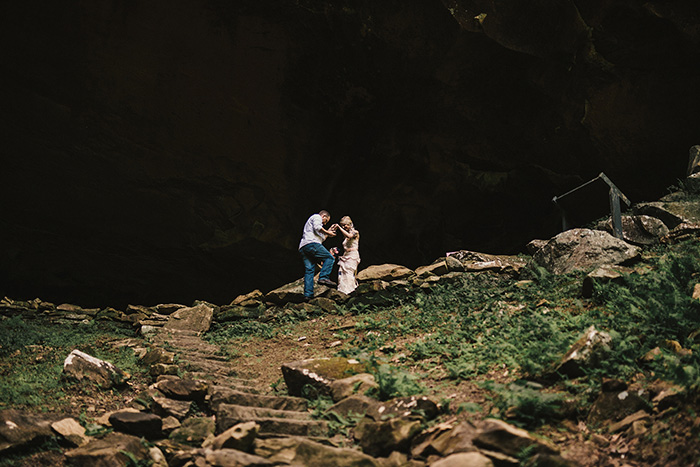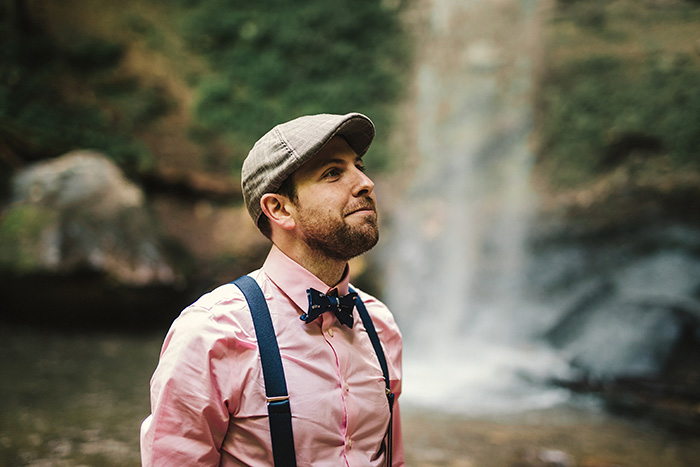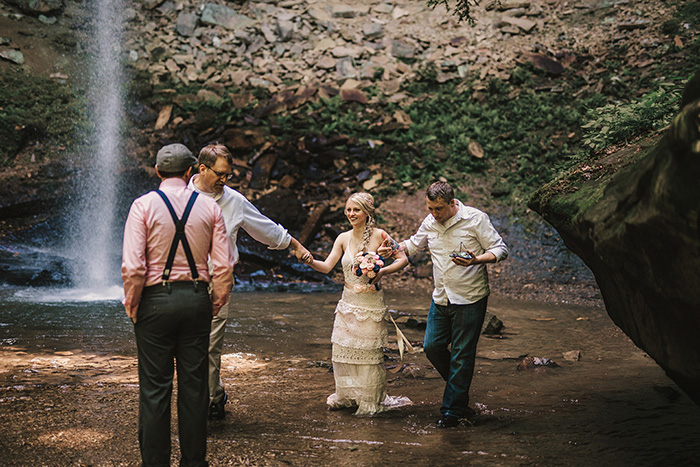 Did you have any 'issues' with the small guest list from friends and family? If so, how did you address them?
Brittany: Yes. Both sides of the family had issues with who they wanted to be invited. It wasn't their wedding, however, and we pretty much just politely reminded them that it was up to us who should be there.
Cameron: We didn't really have too many issues. We sent out the invitations and went from there.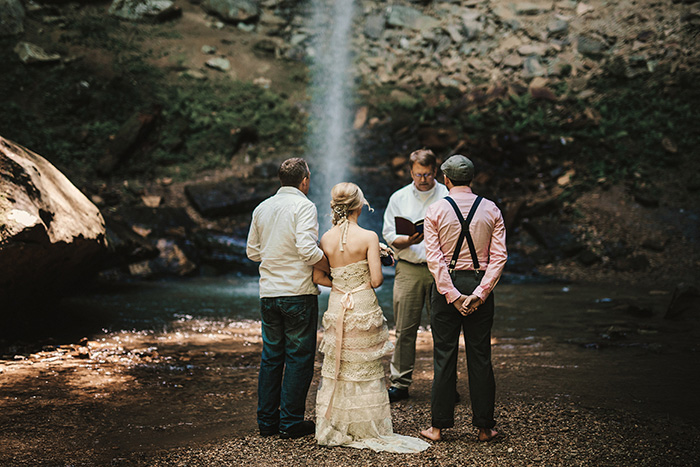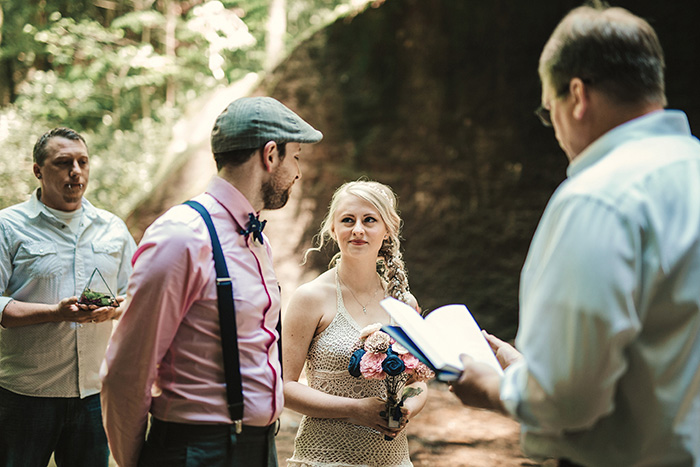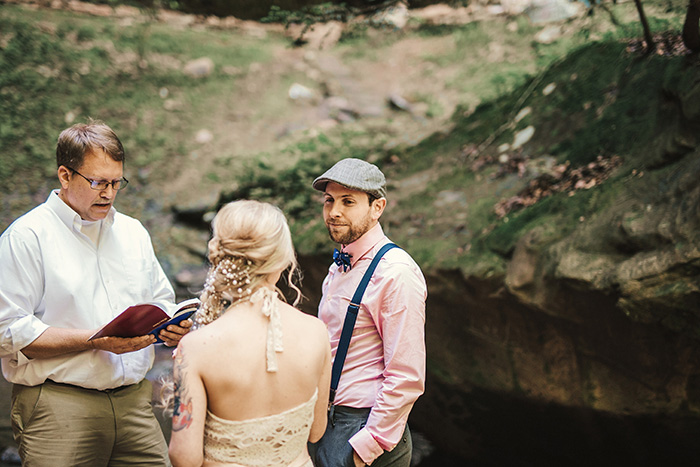 What were the highlights of the ceremony?
Brittany: All of it was amazing. Yahoo Falls is one of our favorite places to visit and has been for many years, so when we realized that it could be an option, we were both immediately dead set on it. The waterfall was running strong that day and Cameron surprised me by setting up little things on the hiking trail to the falls like signs he had made, and pictures of us when we were young. His family made a trail mix and water station, and there was even a little place set off for me to change my shoes since the trail was pretty muddy. Seeing our families getting out and enjoying the beautiful scenery in the park was incredible. It was so perfect in every way I could have imagined; he's never failed to surprise me.
Cameron: Watching her walk down those steps, cause of how pretty she looked; I'll never forget it. Also, Brittany being late cause she's always late for everything.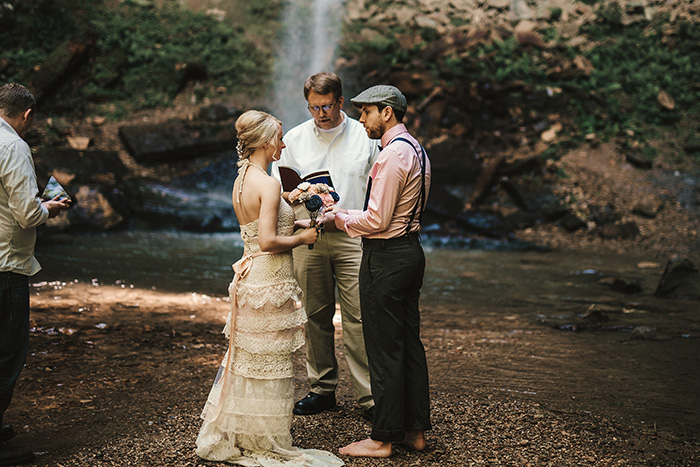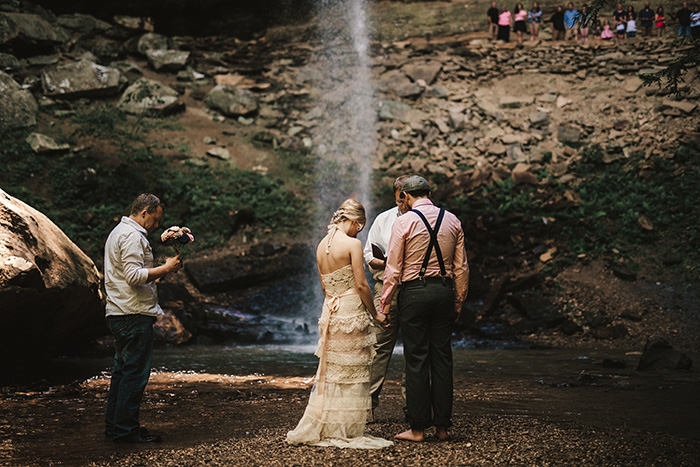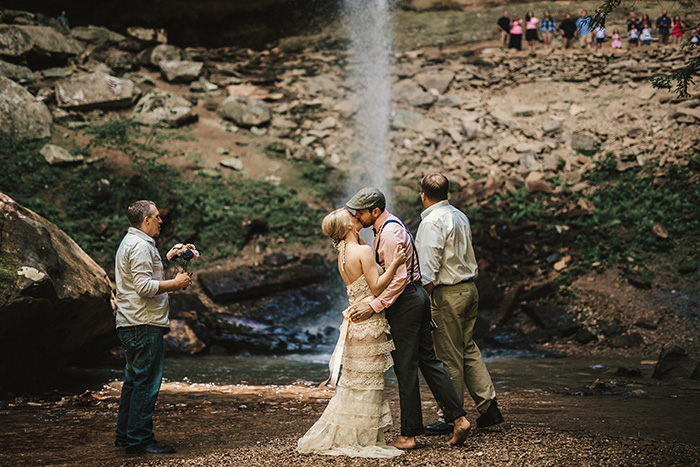 What were the highlights of the reception?
Brittany: Everything! My aunt and my mom took a whole lot of the planning stress off my shoulders before I went completely mental and with the help of both of our families and friends, the reception was decorated exactly how I imagined it would be. It was so simple, which is how we like to keep everything in our lives. Every detail was perfect. Our favorite local bluegrass band Tidalwave Road started playing Wagon Wheel when we arrived which was one of my favorite things, because Old Crow Medicine Show has always been a band we've shared a deep love for and I introduced Cam to them. Also, one of the highlights was being surrounded by my family and friends laughing and dancing. There was so much love that day, it still makes me a little emotional thinking about it! Oh and we used my Mamaw's old Singer sewing machine for our cake stand. It was beautiful and was a really important detail for me, because I was always so close with my grandparents.
Cameron: Mom dancing and making Brittany dance in front of everyone for our first dance. Me and Brittany being able to just sit and talk after everyone else was gone.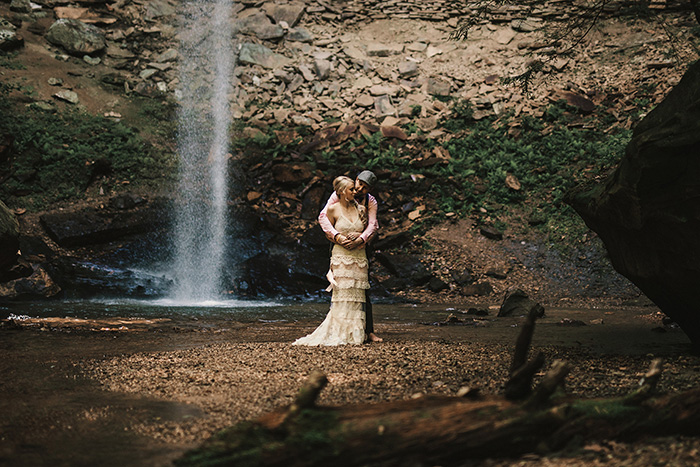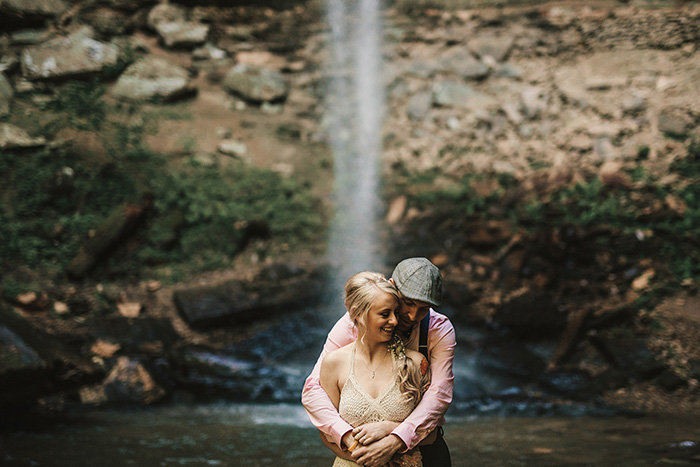 What was the best thing about having an intimate wedding?
Brittany: Everything. We enjoyed ourselves and all of our guests and we weren't overwhelmed trying to run around greeting everyone and making sure everything was going okay. It was just like a big family reunion or something. We came in, got our taco bar feast on, danced, and had fun with everyone there after we filled our tummies. Seeing everyone's faces when they got to the waterfall (that none of them had seen before) and how amazing it all was instead of trying to bob and weave around the people in the chairs in front of them was excellent.
Cameron: The personal touch. We kept it simple, like us.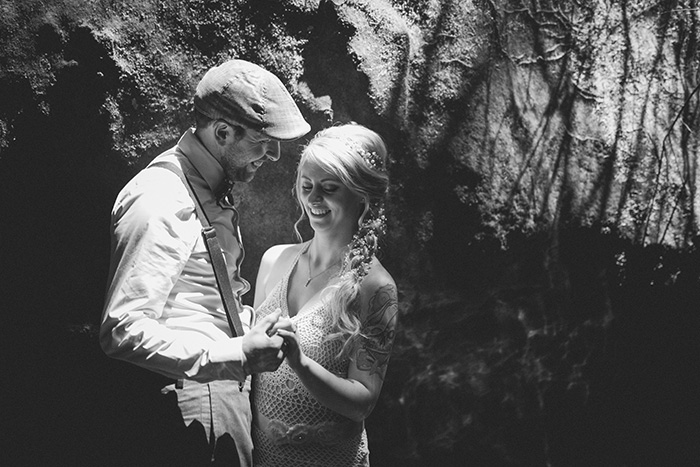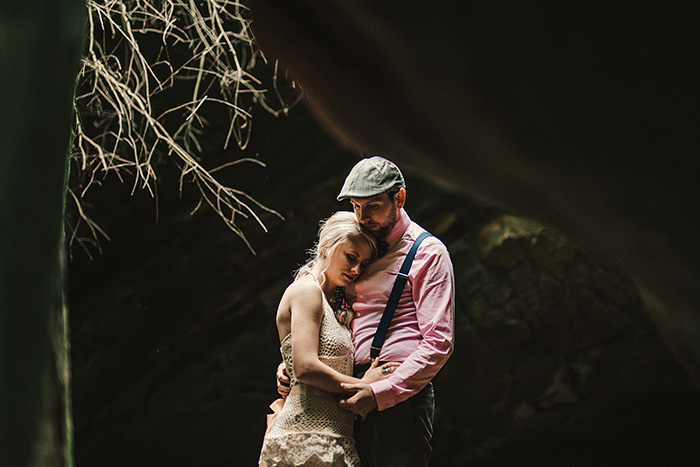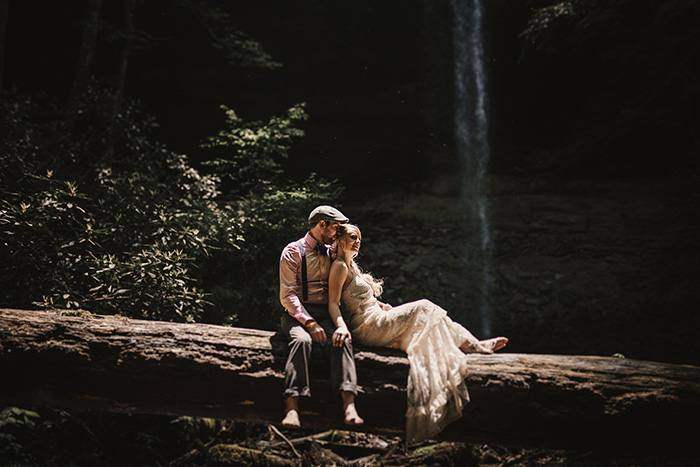 What advice do you have for couples who are considering an intimate wedding?
Brittany: There will still be stress, no matter how small unless you really just elope. We tried to avoid having anyone help us financially because we didn't feel like it was anyone's place to pay for something we made the decision to do or let anyone think they were going to tell us what to do with our wedding just because they paid for something. If your family and friends want to help you do what you want, please let them. It means so much to them to be able to be part of everything and you will realize how much you're truly loved and cared for, but don't forget that it's your wedding and don't be afraid to make a final say on things. If you don't feel comfortable with something, say so. This is supposed to be something for you that's once in a lifetime; don't regret getting food you didn't want because someone paid for it and thought you should get something else or something silly like that. Also, know what's important when you're on a budget. To us, photos are something we'll cherish forever, not tablecloths. Having Brandi as our photographer was the best decision we made for our wedding.
Cameron: Personalize every detail to your liking, and make it everything that you want. Also, choose what's important to spend your budget on.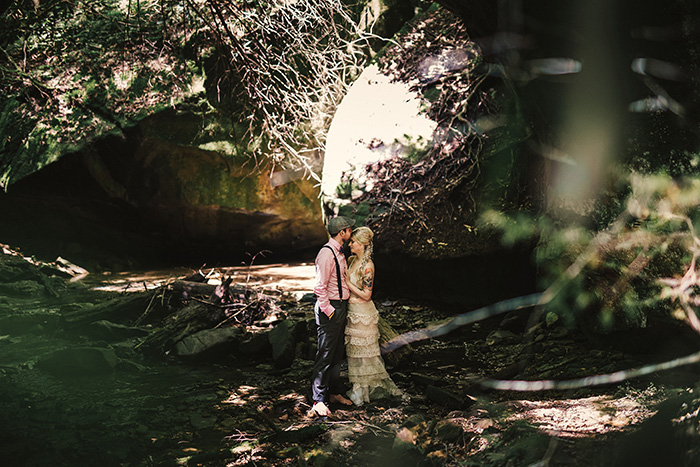 Vendors:
Photography: Brandi Potter  and Justin Skeens (second shooter who also helped Cam set up)
Dress: Vintage Opulence 
Belt: Goldcoast Chic
Hair Piece: Vintage Taylor Made 
Save
Save