Wanting a romantic, memorable, and extraordinary wedding day experience without the stress of a traditional wedding, Derek and Emily both decided that a Paris elopement was at the top of their wedding day wish list. While the decision to elope was an easy one for the bride and groom, it was not so easy for all their friends and family. In order to make everyone happy, including themselves, the couple hired Brant Smith to document their elopement and hosted a reception in their hometown six weeks after exchanging their vows at the Place des Vosges – the oldest square in Paris – in order to properly celebrate with all their loved ones. For the newlyweds, it was a compromise that allowed them to honor their own wishes as well as their families, giving them the best of both worlds in the end.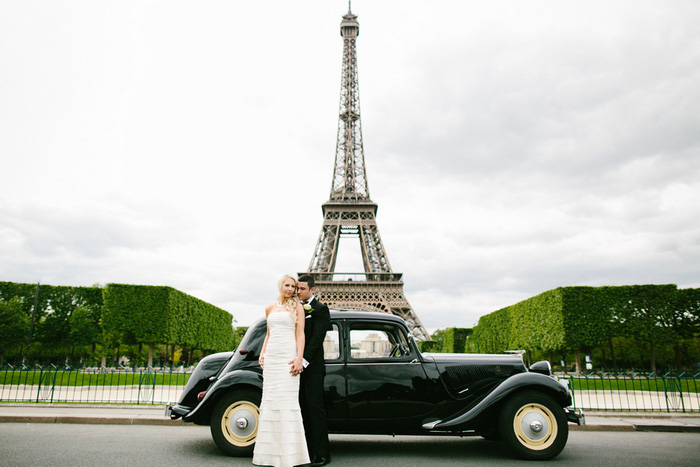 Derek & Emily
Paris, France
Wedding Date: May 7, 2015
Number of Guests: 0

Wedding Ceremony Location: Place De Vosges Paris, France

Wedding Reception Location: Dinner at Lapérouse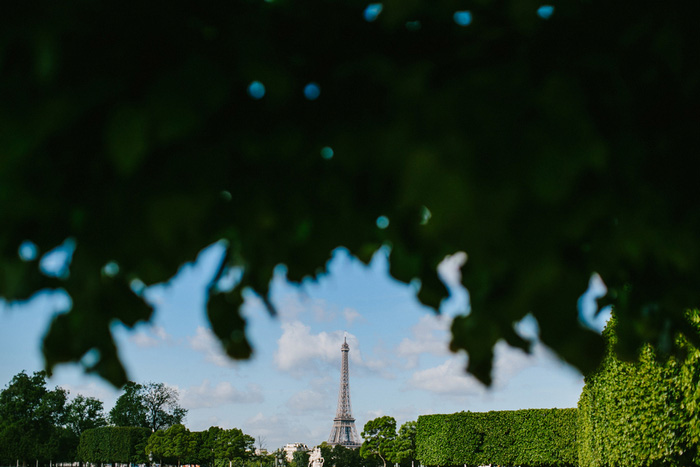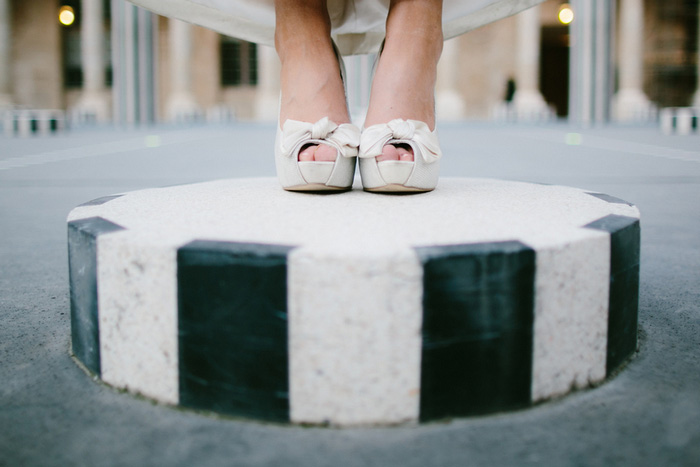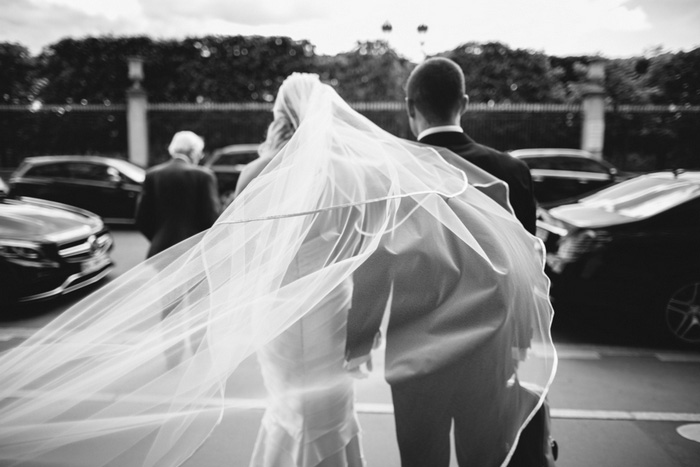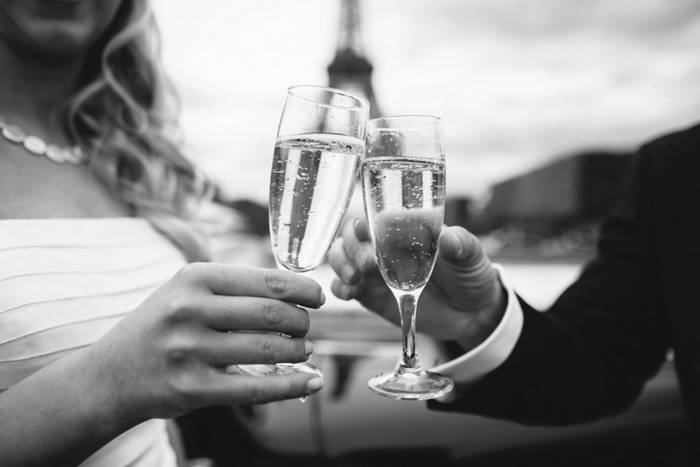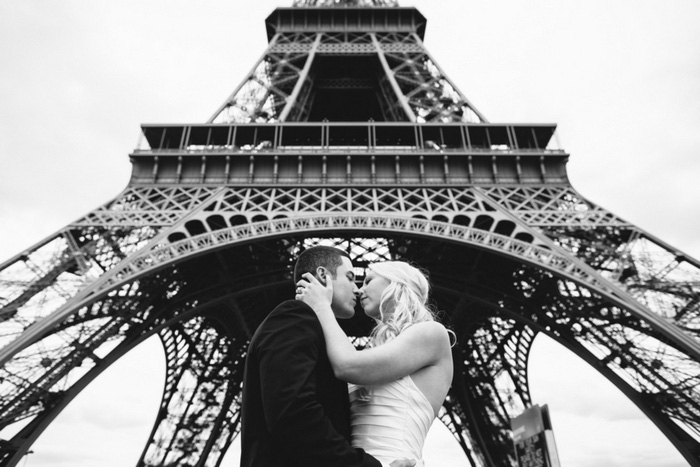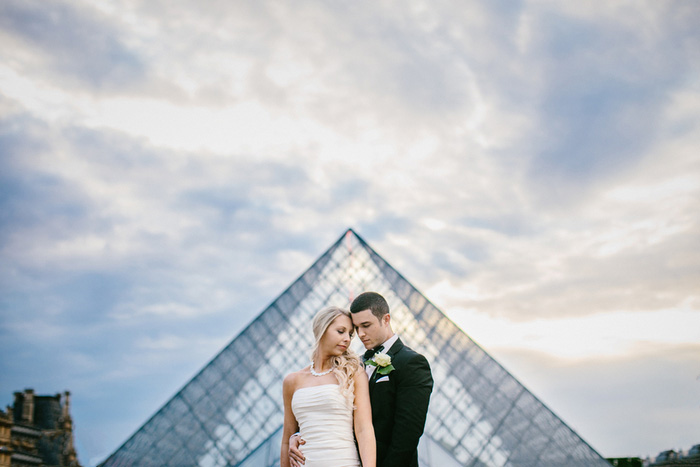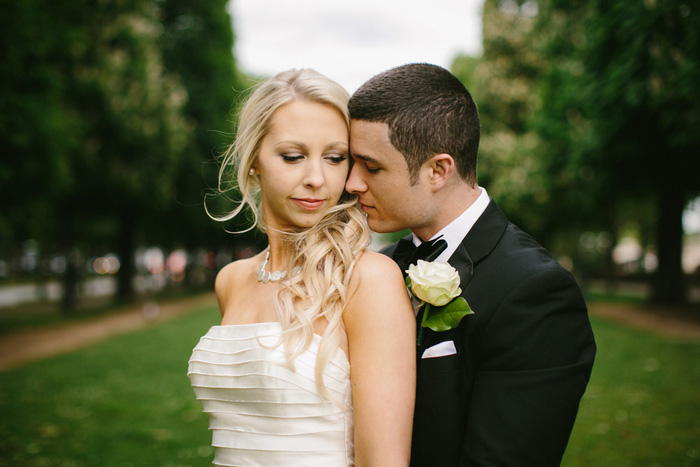 Why did you have an intimate wedding?
Coming to the decision was the easy part. After the engagement, we both decided to sit down and independently come up with ideas for the wedding. Where would it be? How would we celebrate? Then we would come together and share our top picks and come to some agreement between the two of us. Oddly enough, we both listed a Paris elopement as our number one choice and the decision was made. It really came down to the fact that we wanted to enjoy "our day" together and make it a romantic, memorable, and extraordinary experience. Weddings are expensive and exhausting. We didn't want to spend our day worrying about everyone else. Spending our day together in Paris was magical and something we will remember and cherish for the rest of our lives. We also planned a reception for friends and family when we returned home.We were able to share our special day in Paris with our friends and family by creating a slideshow using the photographs from the wedding day. We played this slideshow as guests arrived to the party and throughout the cocktail hour and dinner. Initially we experienced some push-back from friends and family regarding the decision to elope. However, after viewing the pictures in the slideshow, our family has not stopped talking about how beautiful it was to see us get married in Paris as the photographs truly captured the story of our wedding day. We also like to think our guests appreciated getting to "watch" us get married while drinking cocktails, eating dinner, and socializing with one another. It felt like more of a celebration, rather than a stuffy, traditional wedding ceremony, which is just not us. It was also nice to have two events to look forward to with the Paris ceremony and reception at home.  Also, we enjoyed looking forward to our day in Paris and got to look forward to a party with friends and family once we returned. Splitting everything up into two events allowed us to actually enjoy ourselves.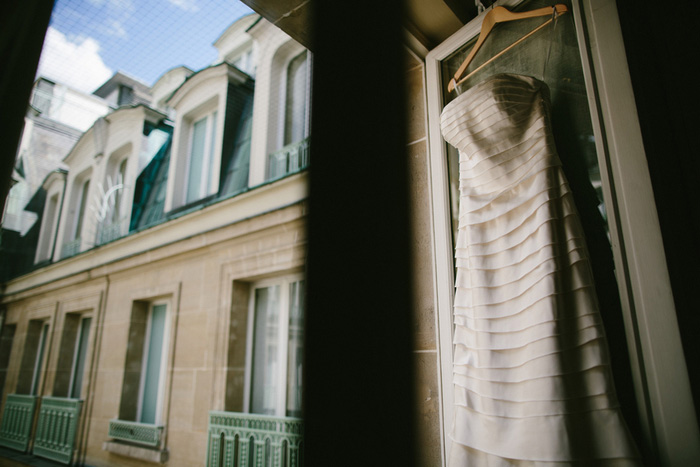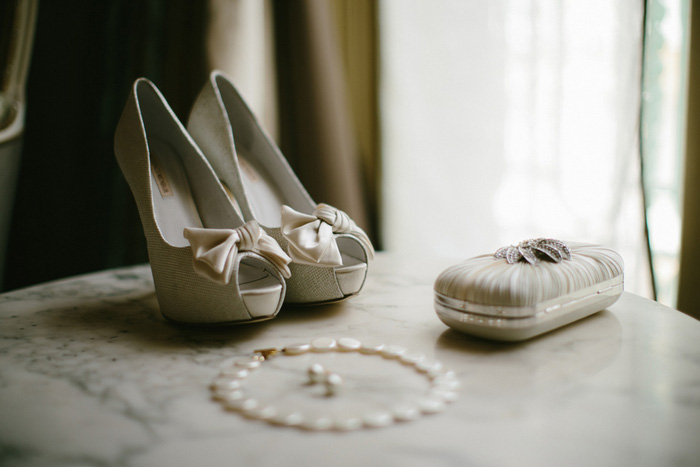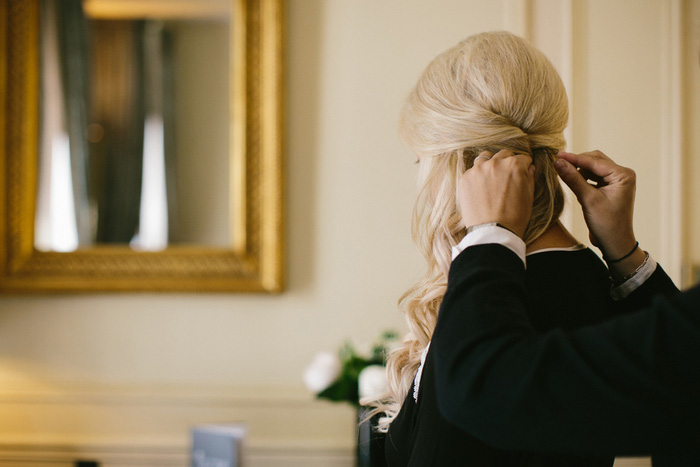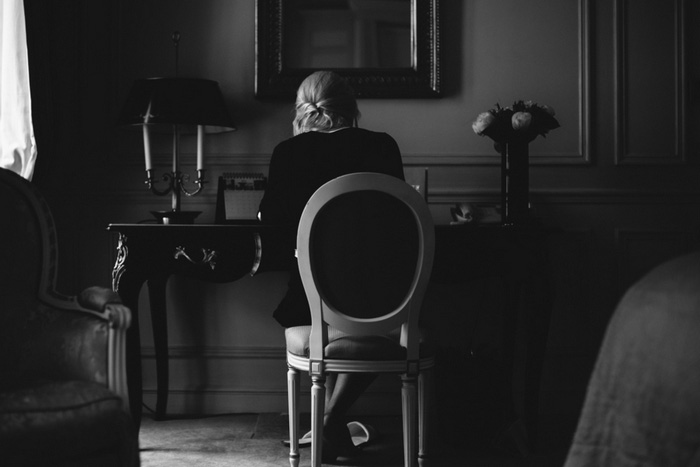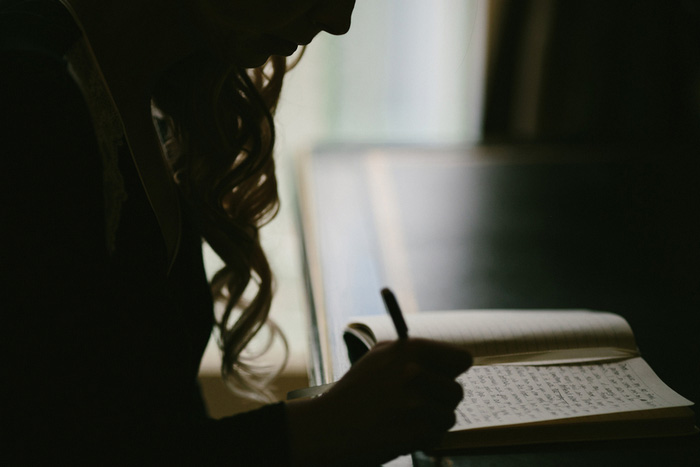 What are some of the challenges that you faced planning an intimate wedding?
We planned the wedding on our own. We did not use a wedding planner. We spent hours and hours researching, but we tried to have fun with it. It was a lot of work but it was extremely rewarding (when you think about it, the "challenges" were not that big of a deal – just a reminder that we were getting married in Paris kept things in perspective). It all came together perfectly and we wouldn't have done it any other way. It was our day and we owned it. We had a vision, stuck with it, and tried to enjoy every minute.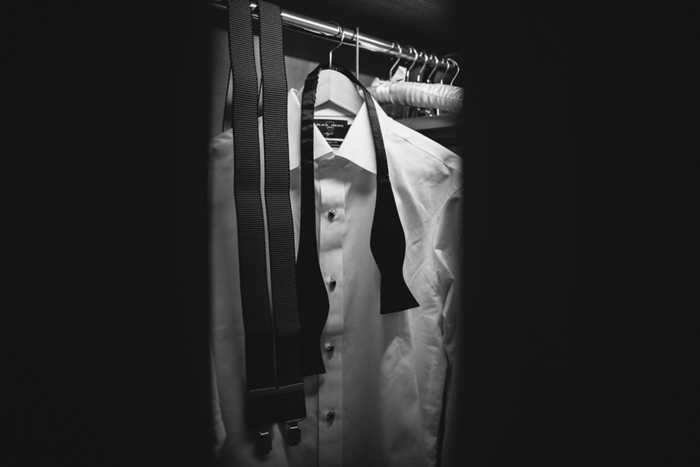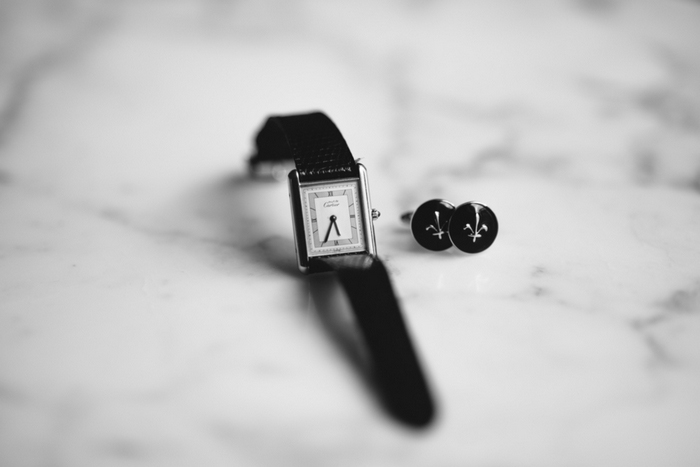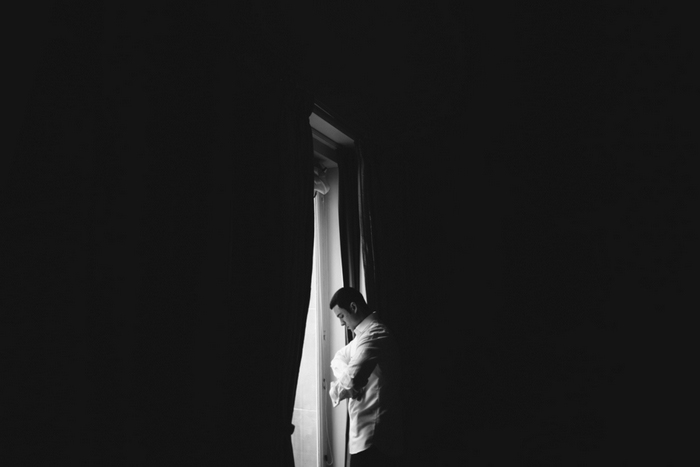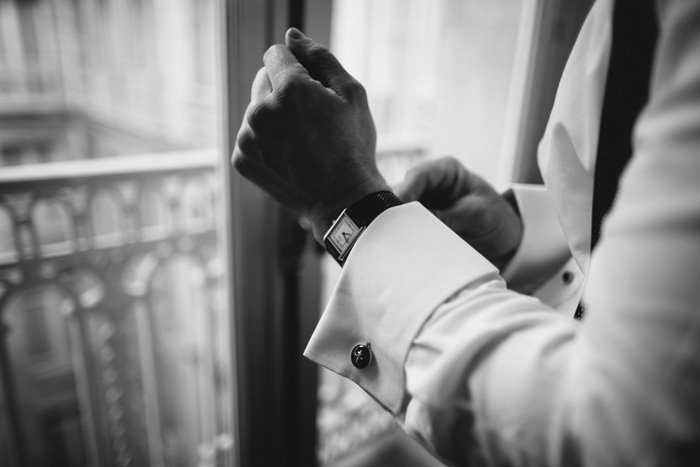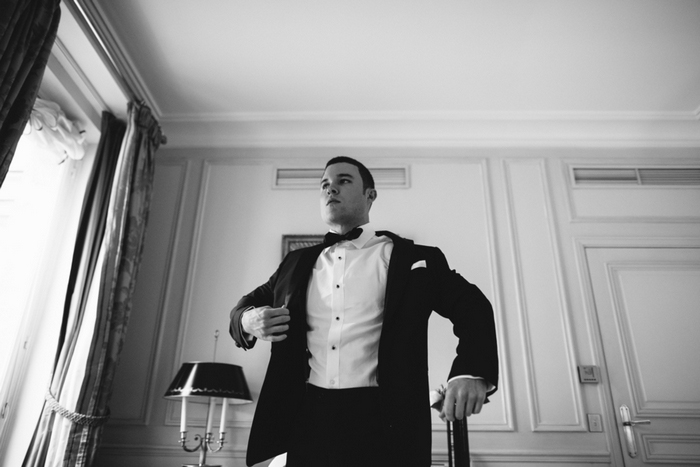 Was it difficult to pare down the guest list?
Making the initial decision to pare down the guest list was not difficult for us. Explaining our decision to everyone was more difficult.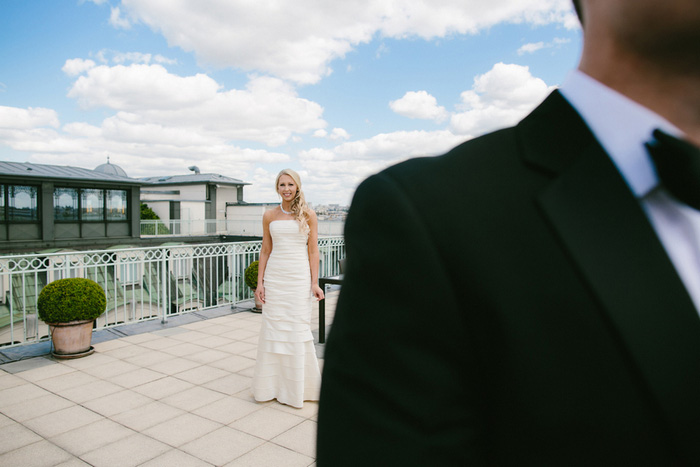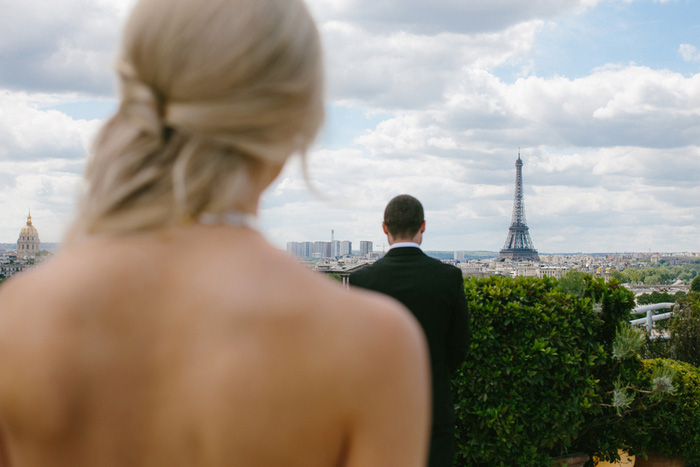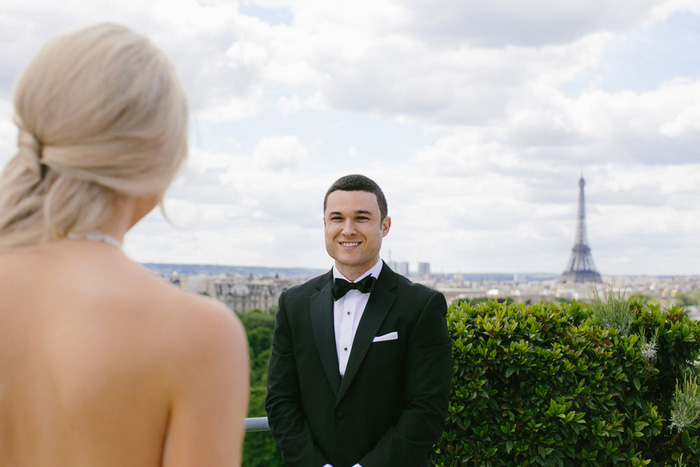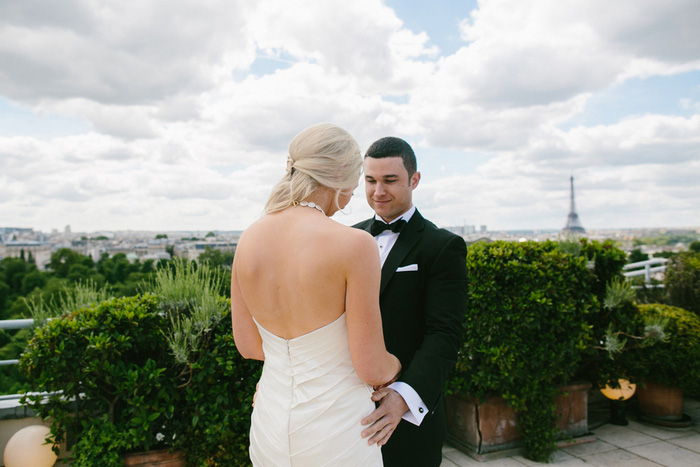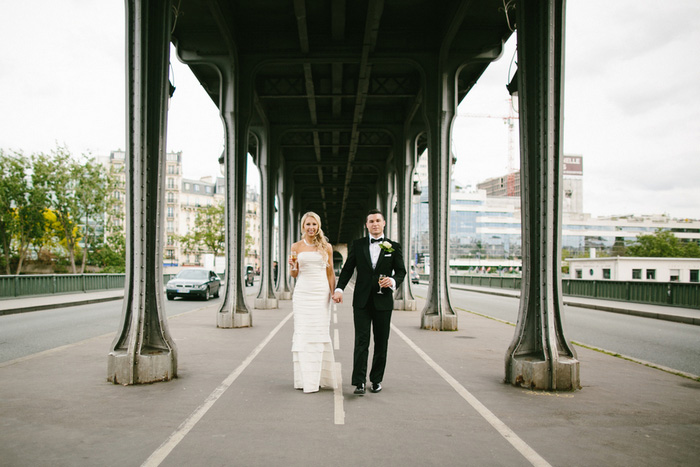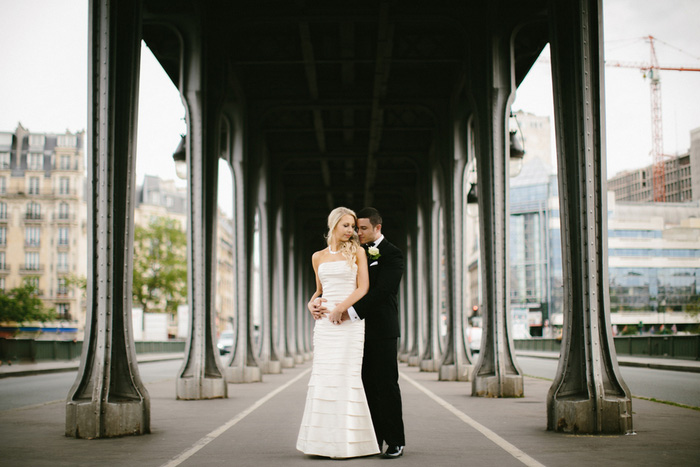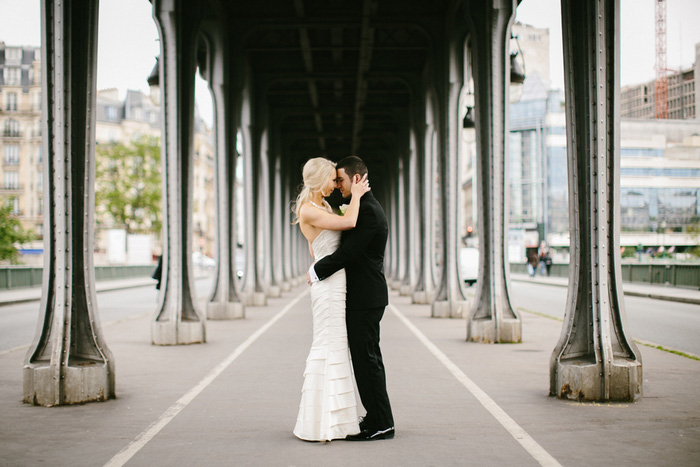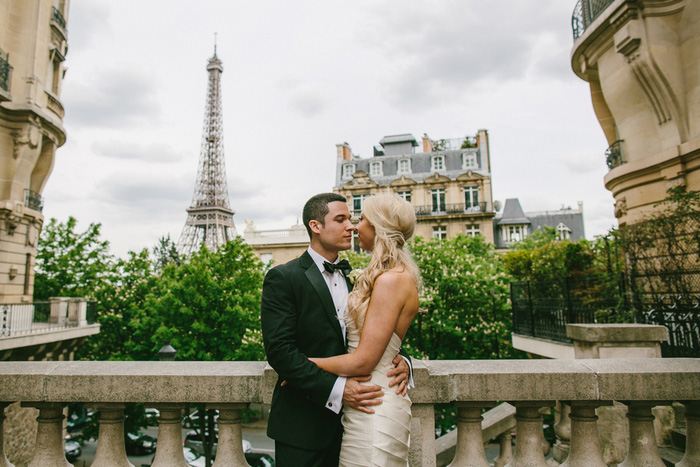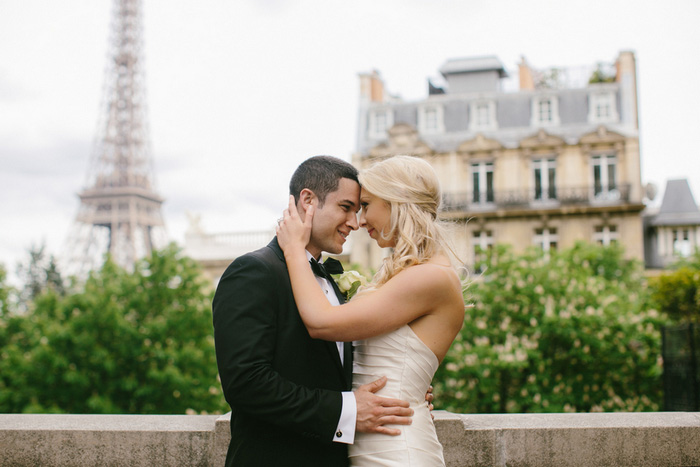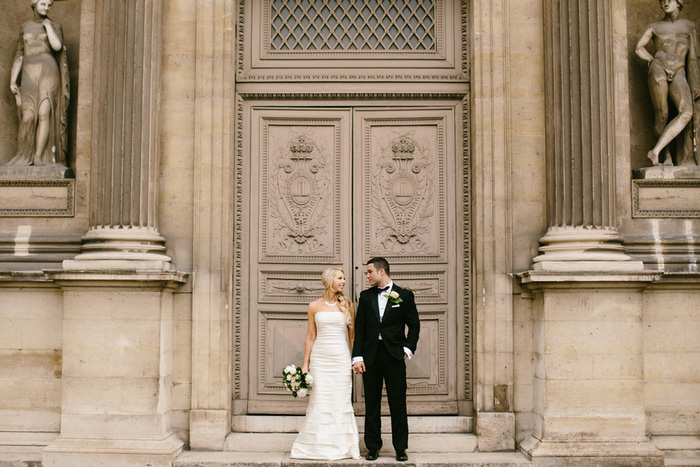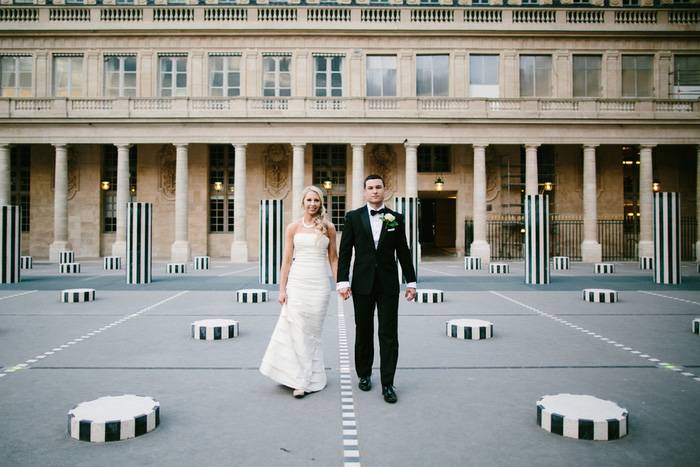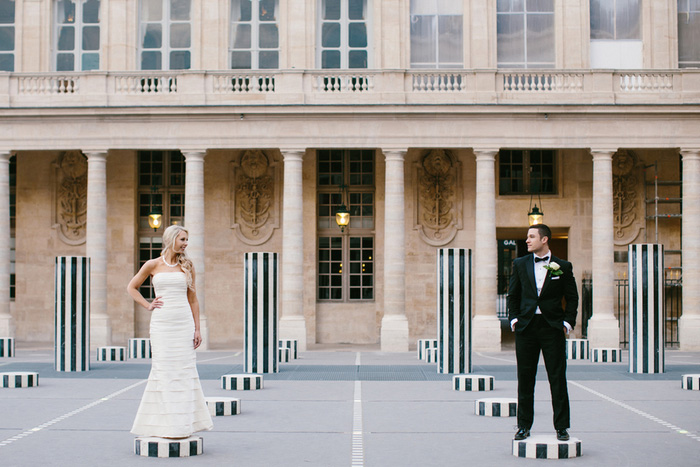 Did you have any 'issues' with the small guest list from friends and family? If so, how did you address them?

Yes, several family members were disappointed at the idea of not being there for our ceremony. In order to involve everyone in some way we came up with several ideas. Since a marriage ceremony in France is not technically legal unless you live in the country for 4 straight weeks prior to the wedding date, we needed to officially get married in the United States first. Derek works as an attorney at the courthouse so it made sense for us to ask one of the judges to marry us. We decided to do this on the Friday before we left for Paris. We invited our family to witness the official marriage ceremony and then celebrated afterward by going out to dinner. We also held a reception in our home town 6 weeks after the wedding. We invited 80 of our closest family and friends for a sit down dinner in a venue near our home. After the dinner, we participated in all of the traditional wedding festivities (cake cutting, bouquet & garter tosses, dancing, etc). We also hired a photographer to capture photos of family and friends that were able to celebrate with us. By doing things this way, we were able to honor both our wishes and our families' wishes.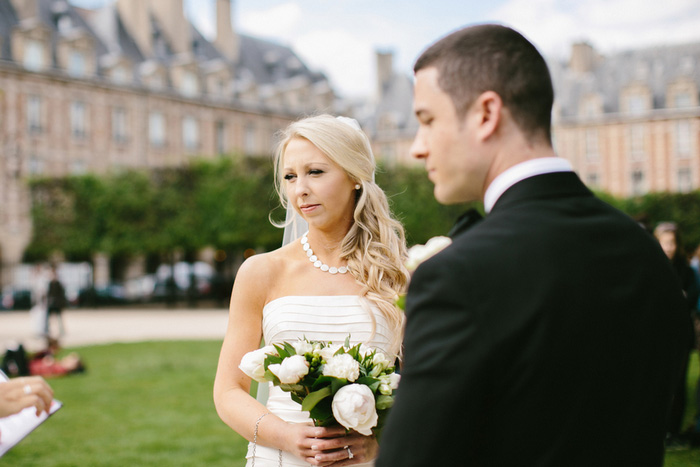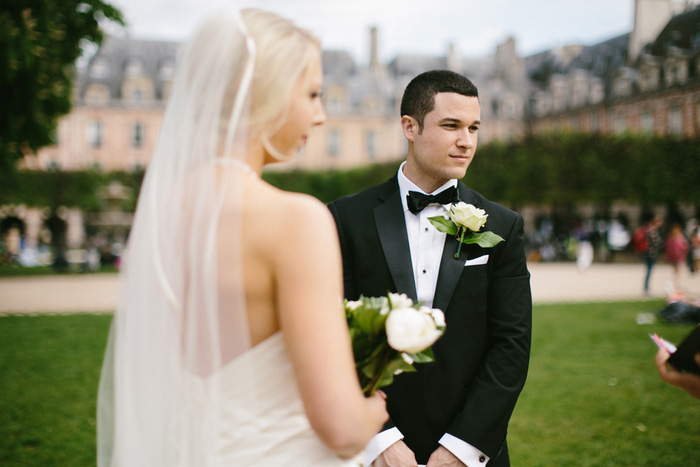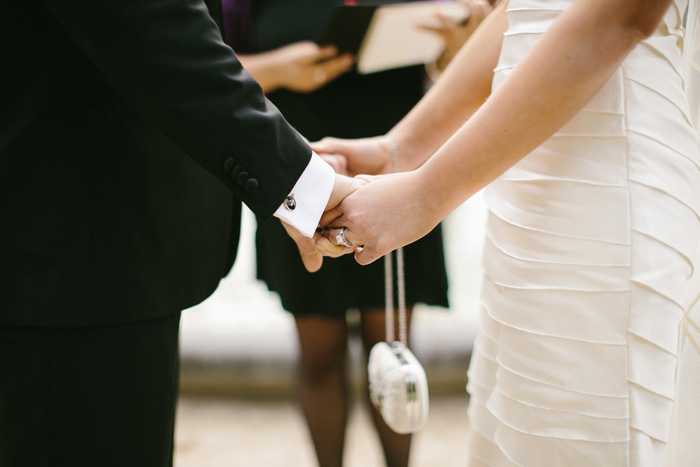 What were the highlights of the ceremony?
Oh, there were so many highlights that day! The first highlight had to be the "first look." We had not finalized a plan for our first look upon arriving at the hotel, so the day before the ceremony, Derek spoke with the staff at Le Meurice (the hotel where we stayed) and they were kind enough to allow us to use the Belle Etoile Royal Suite for our photographs. The suite is the entire 7th floor of the hotel that opens up to a 3,000SF private terrace overlooking the Louvre and the Tuileries Gardens with a magnificent 360 degree unobstructed view of Paris.  The view was absolutely breathtaking (it has been used to film several movies including Midnight in Paris).  We could not have dreamed of a more romantic and intimate location to see each other for the first time on our wedding day.
As for the ceremony, we had originally planned on holding it at the Musée de Carnavalet, however, upon arriving to the museum, we realized the location would not work out logistically. Luckily, our driver and officiant both had a plan B ready for us. We walked approximately a block away to the oldest square in Paris, the Place des Vosges. Upon walking into the square, several college aged kids started whistling the wedding song. Right away, we knew we'd have an audience. We scoped out a location and proceeded with the ceremony. We decided to write our own vows, which we strongly encourage everyone to do. Reading them to each other in front of the fountain at the Place des Vosges in front of a jubilant crowd cheering us on really captured the moment and emotions of the day.  That is exactly how you should feel on your wedding day.
Finally, being driven around Paris in a classic French car, sipping champagne and getting pictures in front of the most romantic locations in Paris was surreal. Complete strangers would pull up alongside the car in their scooters and shout words of congratulations through the windows. We also received our fair share of attention from those on the sidewalks. It seemed all of Paris was celebrating with us.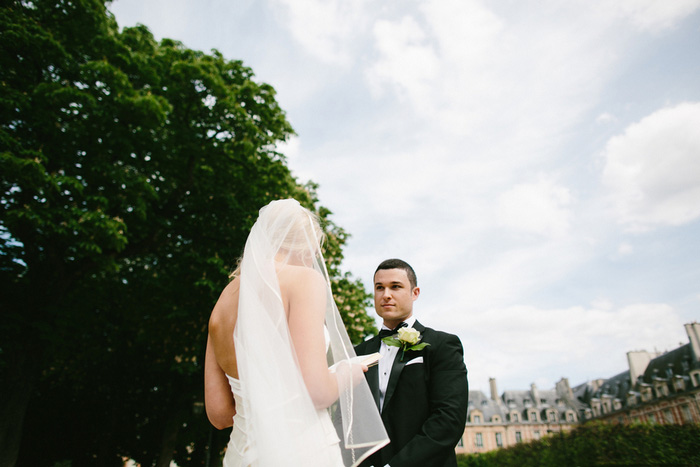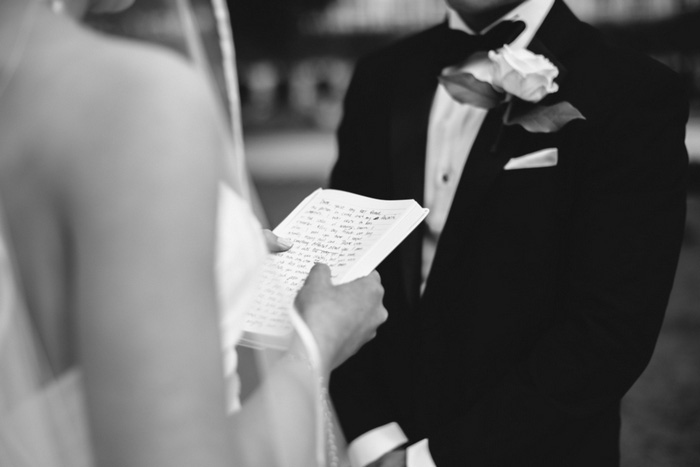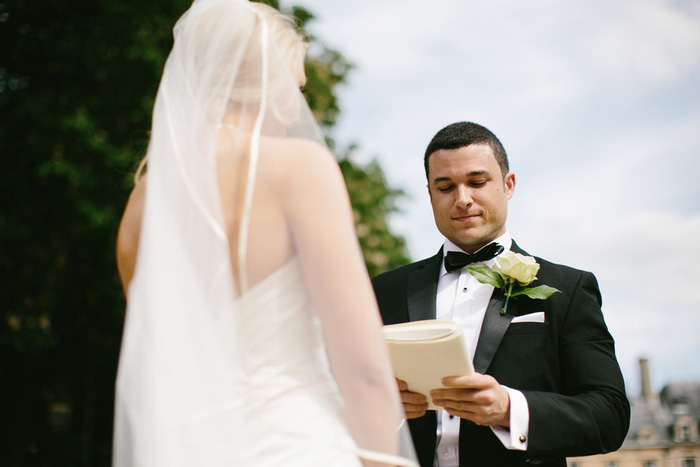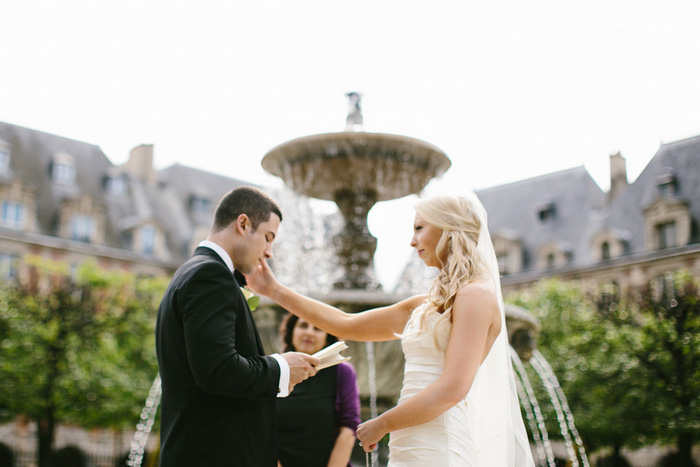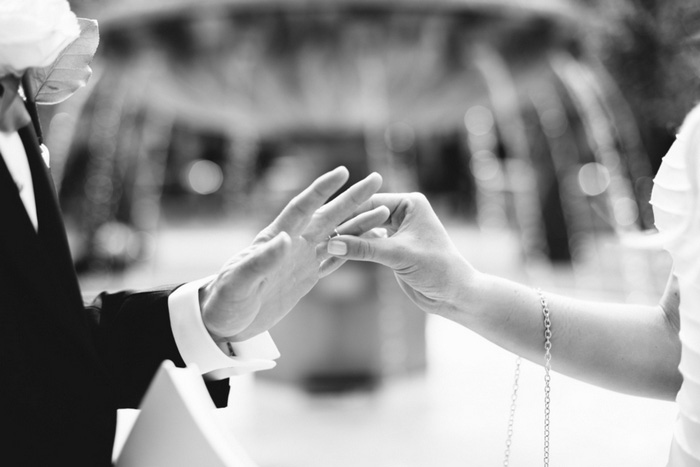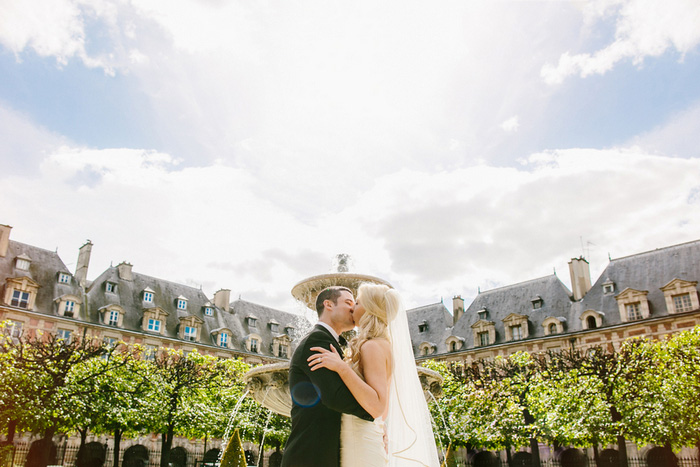 What was the best thing about having an intimate wedding?
Getting to spend every second with each other and not worrying about anything else (like saying hi to hundreds of guests, stressing about cake, flowers, seating arrangements, etc.).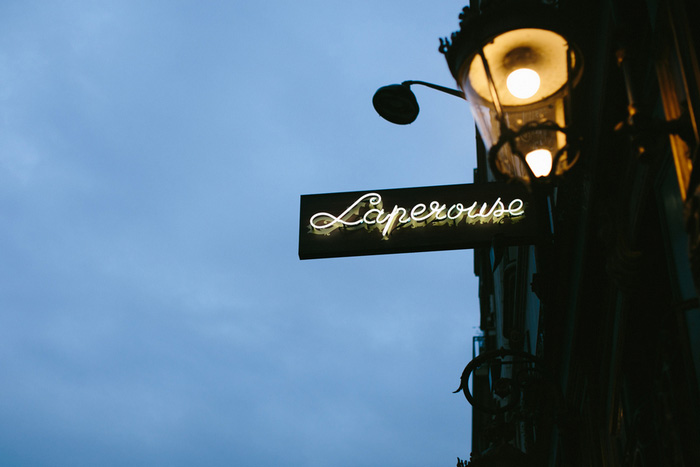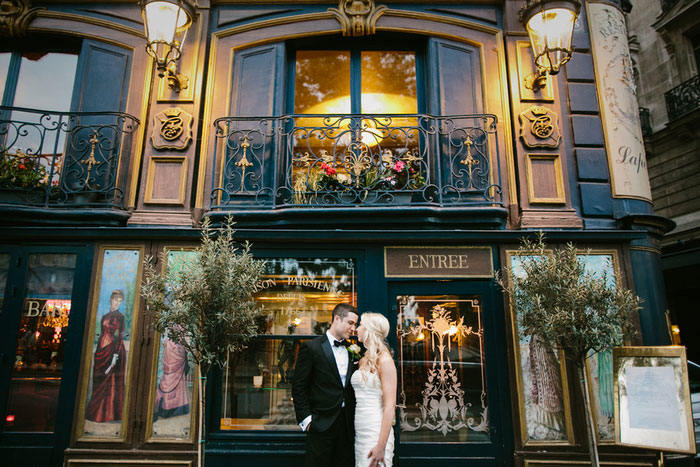 What advice do you have for couples who are considering an intimate wedding?
Do what you want to do. It is your day. Don't let guilt or fear drive you to do something you don't want to do. You will not regret your decision. We don't.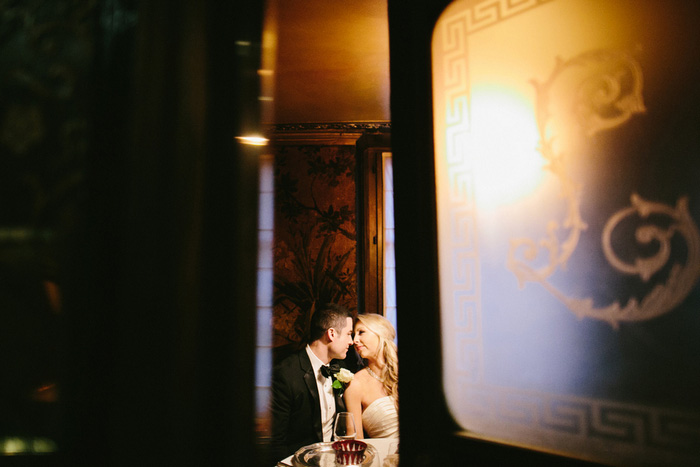 Vendors:
Photographer: Brant Smith
Dress: Amy Kuschel
Flowers: Aquarelle 
Shoes: Menbur
Driver: Cedric's
Paris Hotel: Le Meurice
Hair: Sonja Stein Benhamou
Dinner: Lapérouse