A long distance engagement, visa issues, and the austere beauty of a tiny black church in the middle of nowhere are just a few of the factors that led Pia and Jamie to run of to Iceland and elope.
The couple met while studying at the University of Michigan, but have spent the past year and a half apart while Pia, who is Dutch, waits for a visa to return to the United States. With family and friends scattered around the globe, and wanting to make the most of their precious and limited time together, they quickly fell in love with the idea of an Icelandic elopement. The empty church pews, the isolation of their countryside location, and the striking surroundings not only added to the already sacred and intimate nature of their nuptials, they made for some absolutely stunning photographs – courtesy of the amazingly talented Nordica Photography .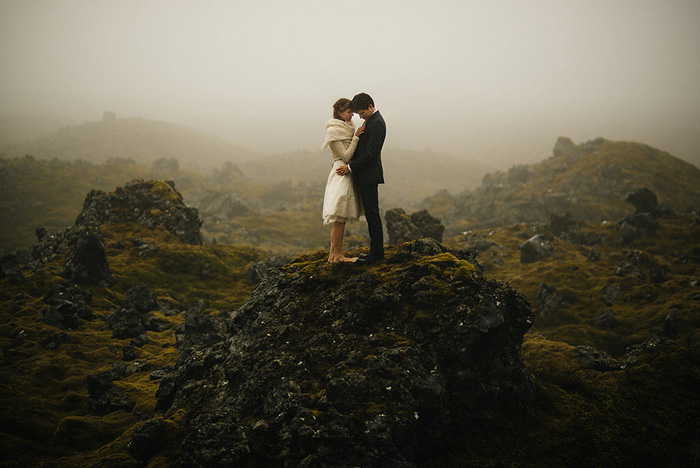 Pia, 29 & Jamie, 27
Snæfellsnes Peninsula, Iceland
Wedding Date: May 27, 2014
Number of Guests: 0 — Just the two of us plus our pastor, Páll Águst, and our photographer, Jakob Granqvist, from Nordica Photography.
Wedding Cost: ~$10k including travel from separate countries and all other expenses.
Wedding Ceremony Location: Búdakirkja. Pia fell in love with the little black church while on a camping trip with some of our Icelandic friends the summer after we had met. As soon as we set our minds to having the wedding in Iceland, we immediately set our hearts on the venue. The little church stands proudly against the desolate countryside and the sea to the south. It has an austerity about it that suits the landscape perfectly. Inside, however, it is warm and friendly. The perfect place for an intimate wedding.
Wedding Reception Location: Hótel Búdir. Hótel Búdir sits beside Búdakirkja at the intersection of the sea and the lava fields under the watchful eye of Snæfellsjökull. From within its cozy confines you can't help but feel completely isolated from the world around you. Since we didn't have any guests, we spent our day together just the two of us. The hotel staff were extremely perceptive and attentive, helping us with all of the little details — even when we didn't ask. The chef at the hotel is a true master. We secretly looked forward to each and every meal, wondering what the menu would bring us next. Forced to spend the bulk of our wedding day inside away from the rain, the staff saw to it that we were seated in various nooks around the hotel just enough out of sight to give us our privacy, but just visible enough that passersby would notice and deliver their congratulations. The entire atmosphere made us feel that we were among kindred spirits even though our families were thousands of miles away.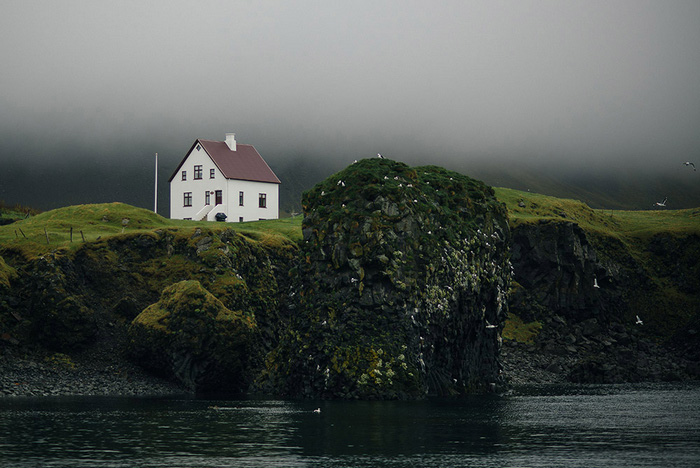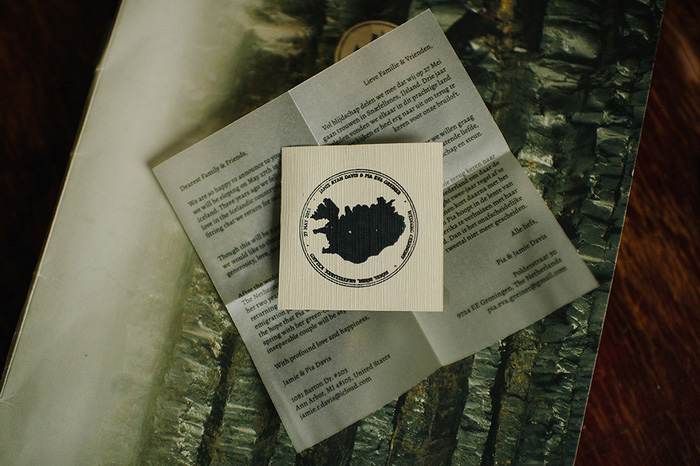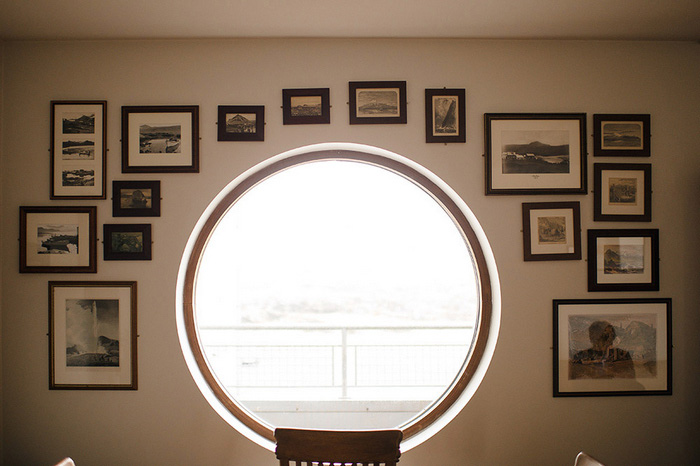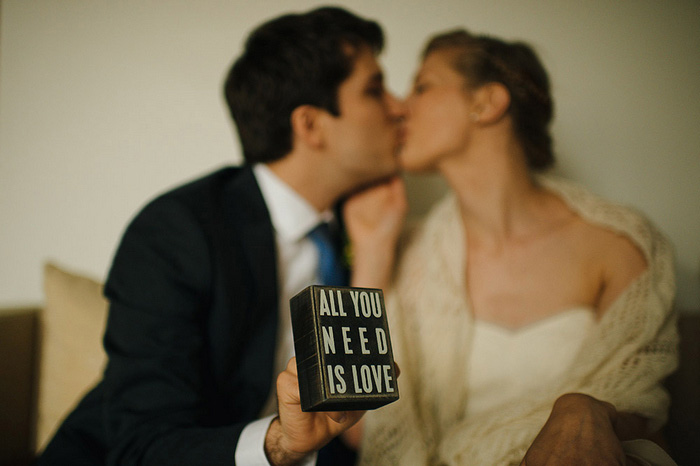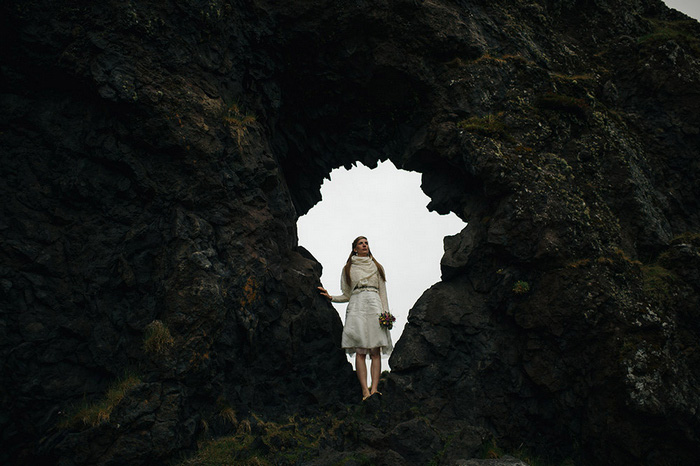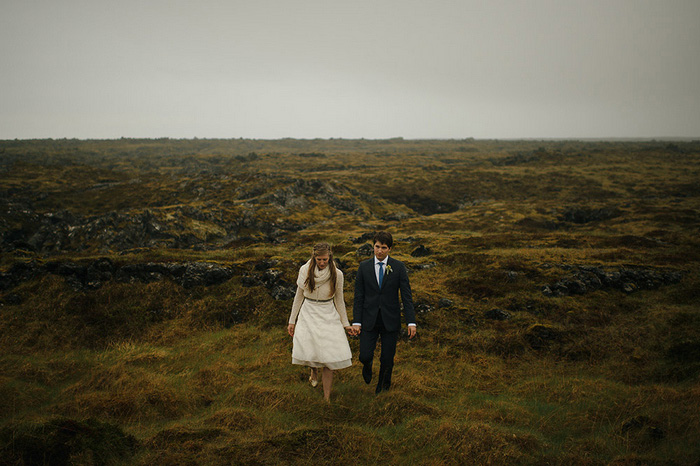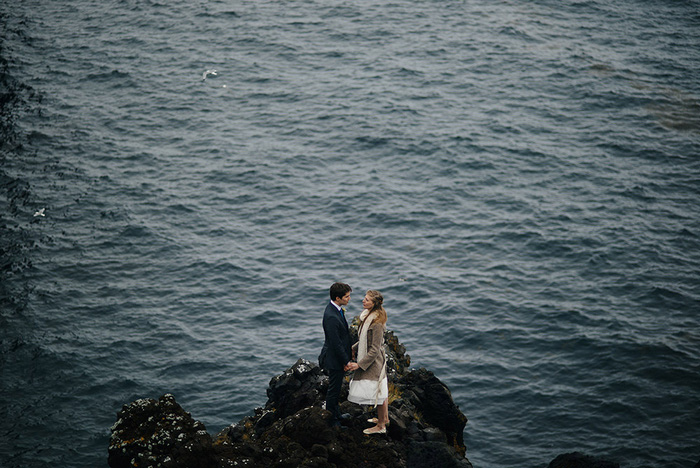 Why did you have an intimate wedding?
Intimacy is something we have always had. We are both sensitive spirits who spend a lot of time thinking about the little details of things. No matter how we had this wedding, it was going to be an intimate affair. But compounding the intimacy factor are the circumstances that we have been forced to face. For the past year and a half, we have been separated, forced to live over four thousand miles apart because of complex visa issues – Pia is Dutch; Jamie is American. We both met while studying at the University of Michigan. Pia initially came as a Fulbright Fellow, meaning that once she finished her doctorate, she would have to go home for at least two years before she could come back to live in the U.S. — regardless of our marital status. So we have been living apart trying to get that requirement out of the way so that we can move forward with our lives. This also means that the times that we have been together have been very precious. There is this need to live completely in the present because that moment of departure is looming in the background.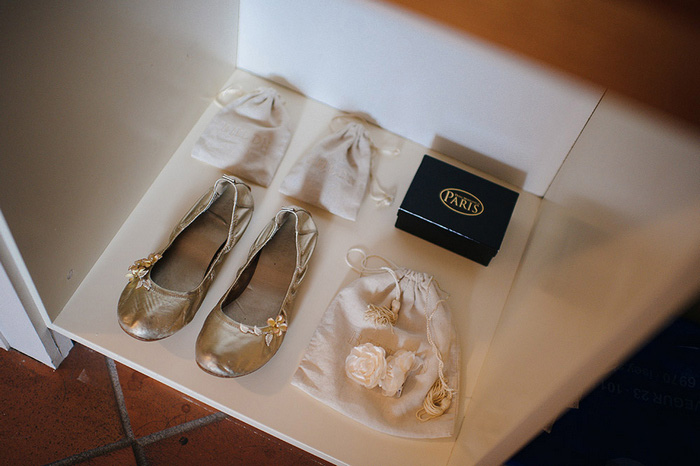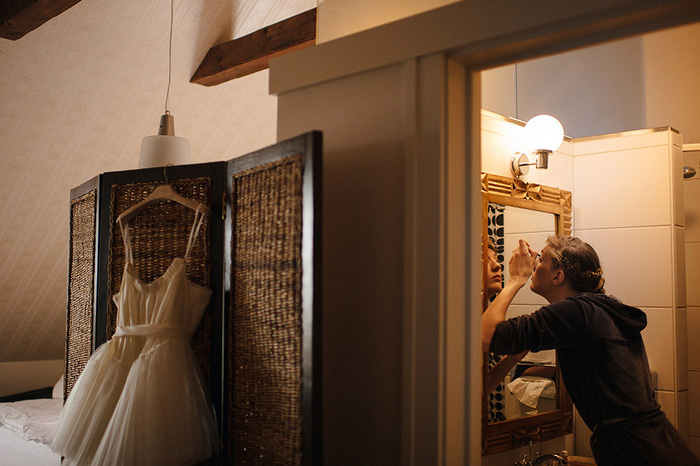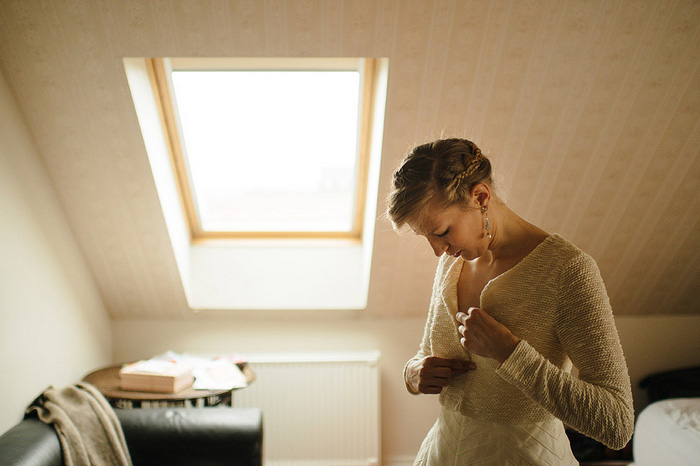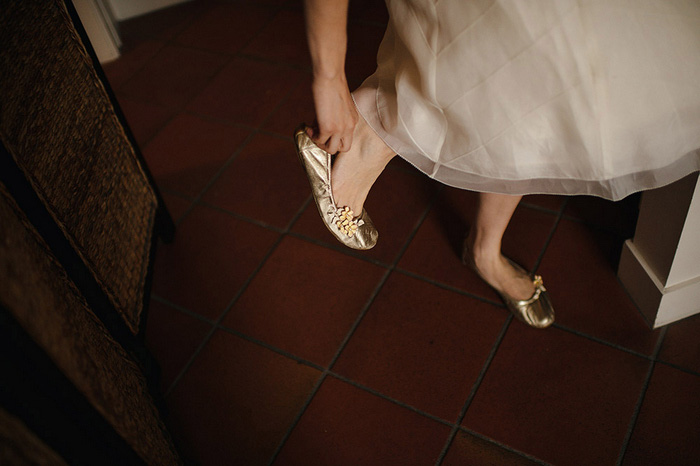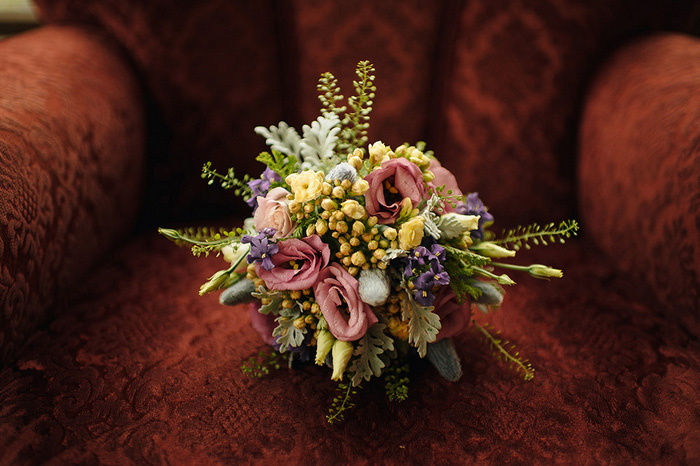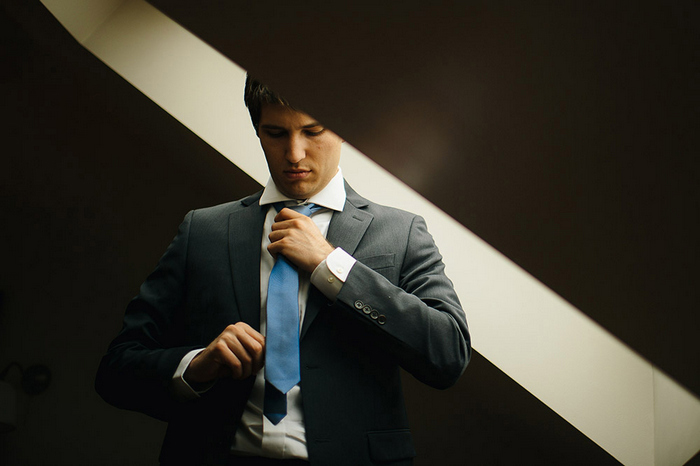 What are some of the challenges that you faced planning an intimate wedding?
Planning a wedding in a third country while living six hours apart is tricky on any scale. Though we spend a lot of time on Skype and FaceTime, we actually managed to do a lot of the planning together, in the same place. On the whole, we did some of the traditional steps out of order. We bought Pia's dress in Chicago and Jamie's suit in Ann Arbor. We picked out our rings together on one visit and hand-made all of the wedding announcements on another. Logistics were complicated, but we lucked out in many ways. There was a very small window of time that we were looking at in late May where both of our schedules could align for the wedding. When we were honing in on a date, it just clicked that Búdir was available on the same day that Jakob would be on his way across the atlantic heading to Toronto. Though there is quite a bit of red tape in having an international wedding, we both have mastered the art of navigating bureaucracy. We have filled out so much paperwork over the course of our relationship that we already had a shared 'Visas' folder on DropBox containing all sorts of official documents. Along the way, though, we had many friends and family step in to help out. Pia had a horrendous time getting to Schipol for her flight and an entire team of friends stepped in save her. Our friends John & Mary in Michigan helped us quite a bit as well by serving as surrogate parents. And of course our lovely friends in Reykjavik helped make everything come together. So though we didn't have anybody on site to help arrange the wedding, it seems like everyone did their part to help out.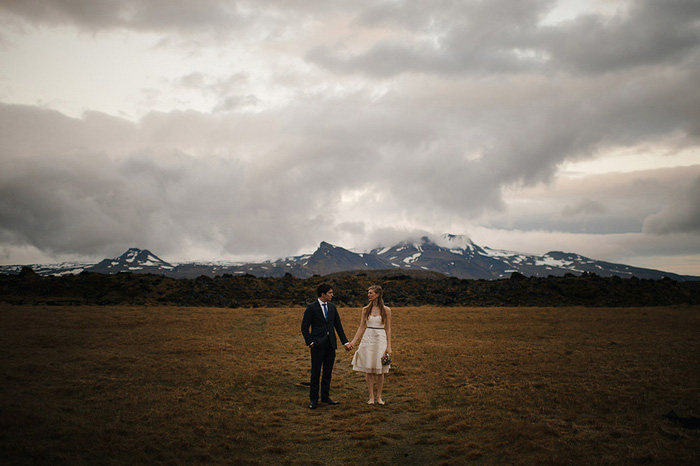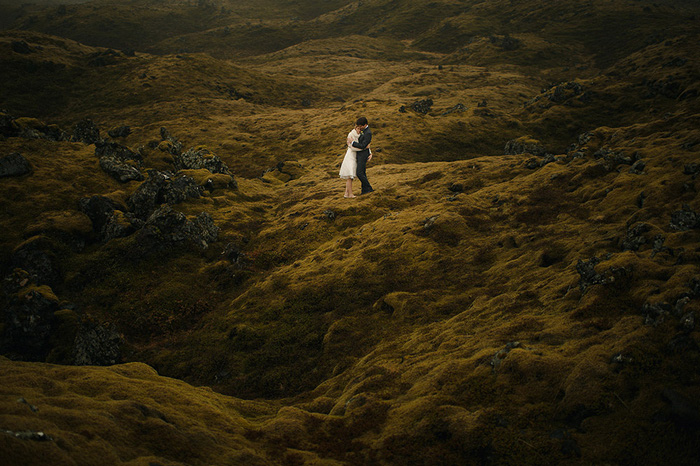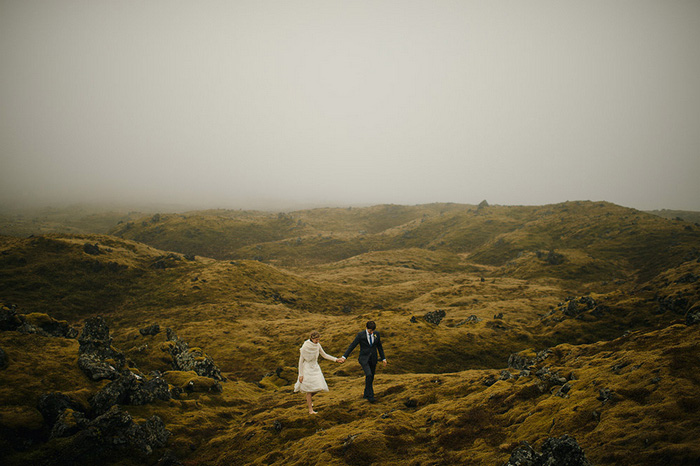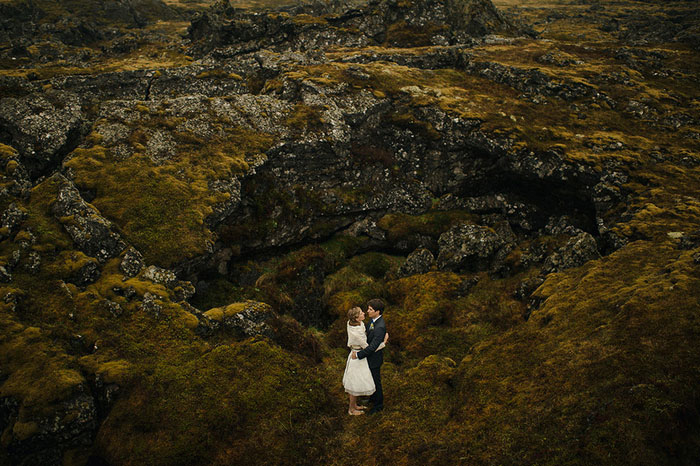 Was it difficult to pare down the guest list?
We wrestled quite a bit with how we wanted to handle the guest list. Our friends and family are scattered all around the globe and they are all very dear to us. As we planned the wedding, we had to settle this dilemma over how to have an intimate day while trying to include all of those near and dear to us. The problem with small weddings is that once you start to pull the thread, more and more keeps coming. We tried to start with ten people — the ten people that absolutely had to be there. Already our immediate family had us over 15. But then there are friends who are just as close as family, and other friends, and other family, and… Ultimately we both came back to just the two of us. That's what a wedding is, anyway — a covenant between two people. By that point, we had also fallen in love with the idea of an austere wedding in the middle of the Icelandic countryside. So we ended up deciding that we should elope, just the two of us, and make our union something sacred shared just between the two of us.
When we made the calls to our families, almost everybody got it right away. Our moms both had this rebound reaction. They loved the idea at first, but two minutes into the conversation it dawned on them that they also would be excluded. After some reassurances that we really wanted an elopement, even our moms were in agreement.
Probably the best response we got after announcing the news was from Jamie's grandparents. They eloped in the '50s while his grandfather was in the service. Shortly thereafter, he was stationed in Morocco, and the two had to live apart. After we broke the news, Jamie's grandparents couldn't have been happier, and said we were making the right choice no matter what anybody would tell us.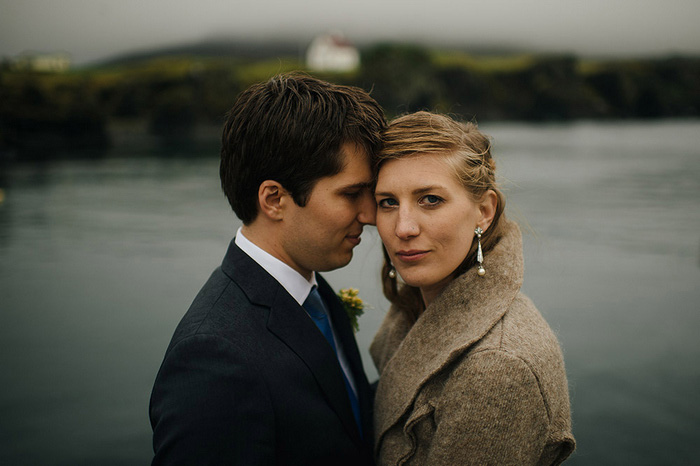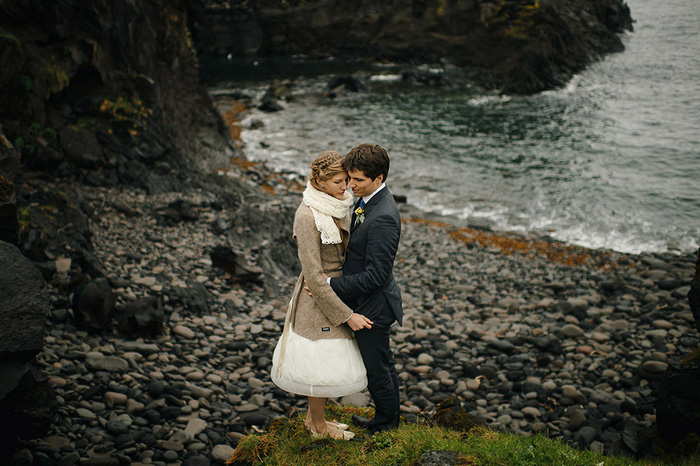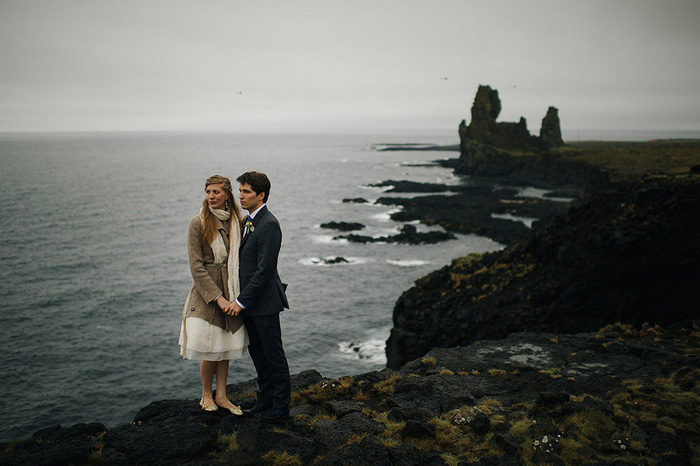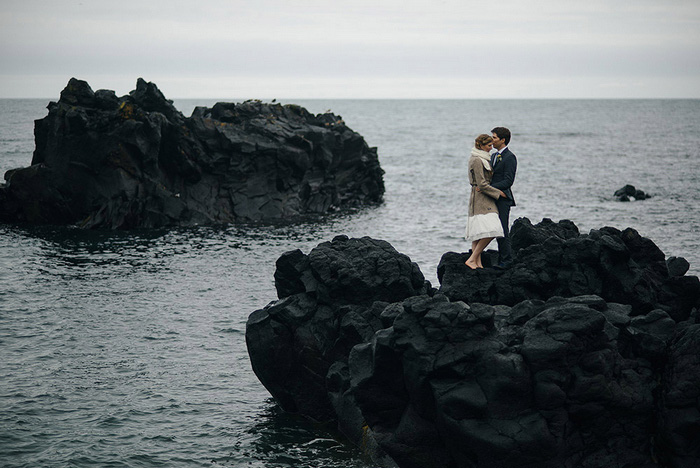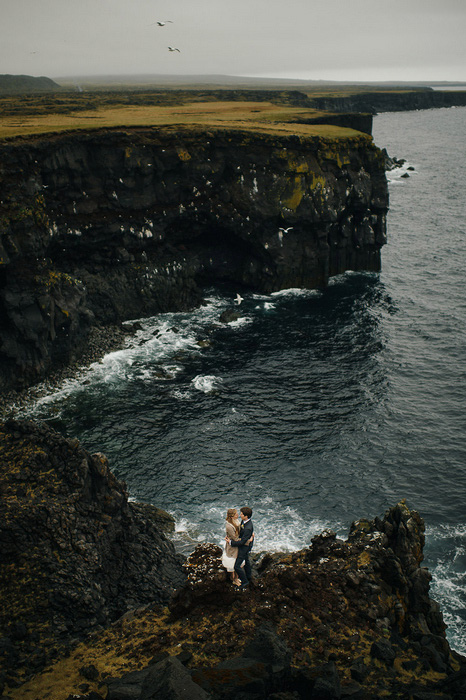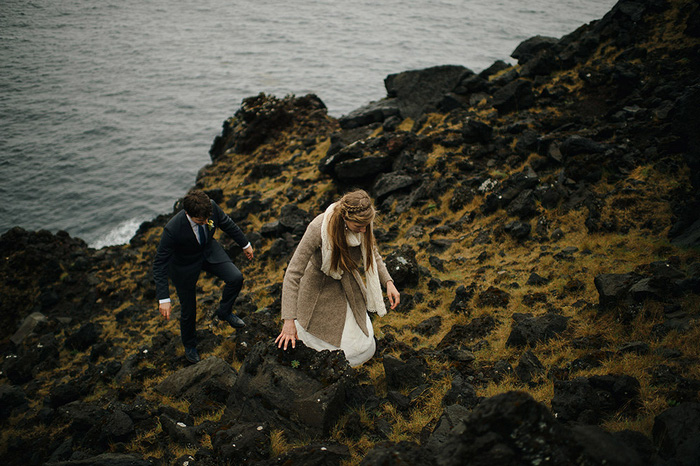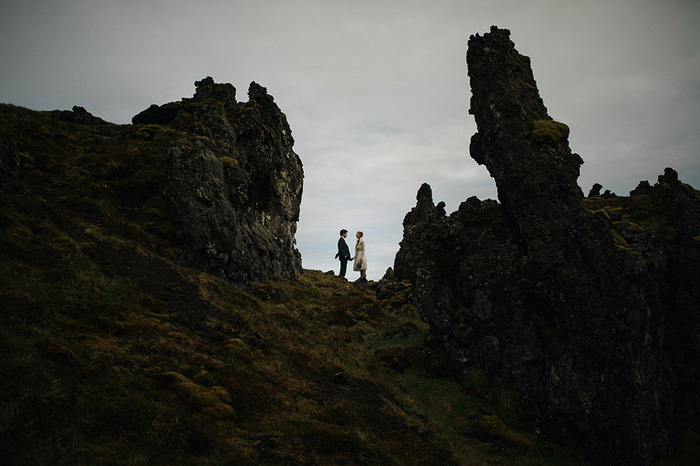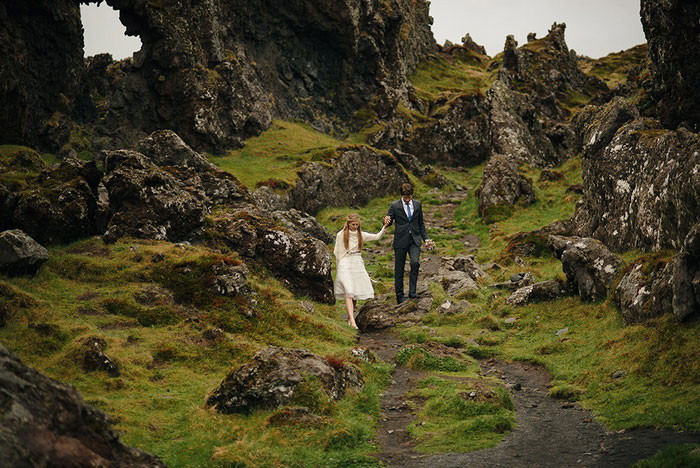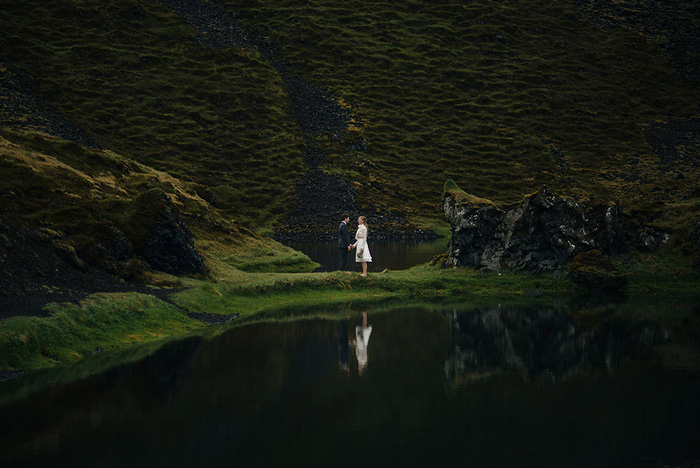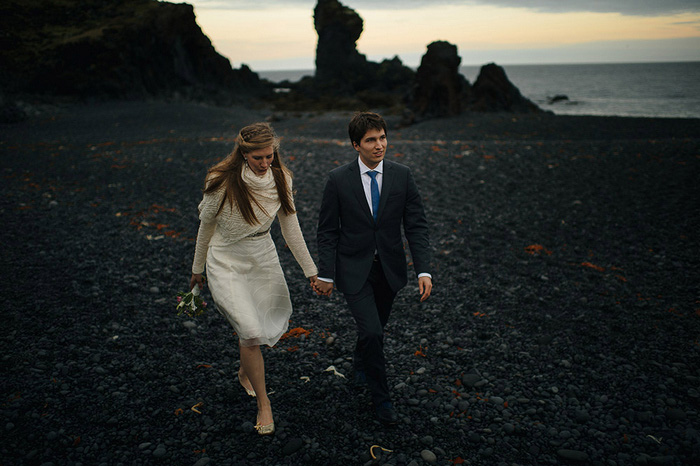 Did you have any 'issues' with the small guest list from friends and family? If so, how did you address them?
Most people who plan an elopement might encounter a bit of controversy from family and friends, but in the end, these are also the people that love you and want to see you happy. After personally reaching out to our families, we sent announcements to everyone and created a blog (jamieandpia.com). The response was tremendous. Everybody understood that what we were doing was special. Many reflected that they wish they had taken our approach themselves.
Our big compromise with the elopement was that we were going to make sure we had fantastic photographers who would capture and document the day. That way we would have the memories and could involve everybody in our story. Throughout our wedding week we posted stories and photos to our blog. When the photos were ready, we also posted those. Having the blog was a great way to digest and internalize our experiences in a very intimate way while still being able to keep our friends and loved ones close to our stream of consciousness.
We also invited anyone who wanted to, to send along a card that we would open and read together on the day of the wedding. We spent the afternoon of the wedding day opening the cards and reading them to each other. The messages we received were filled with so much love, and everybody got to voice their congratulations in a very personal way.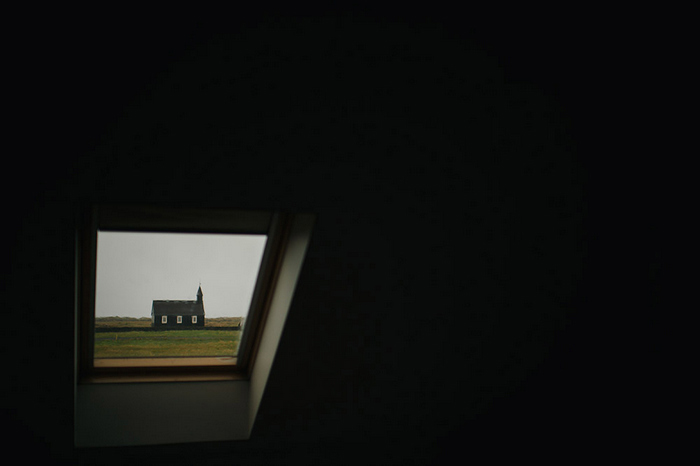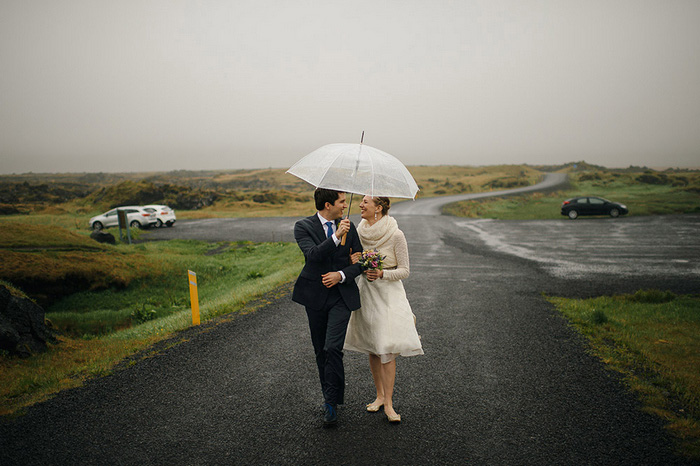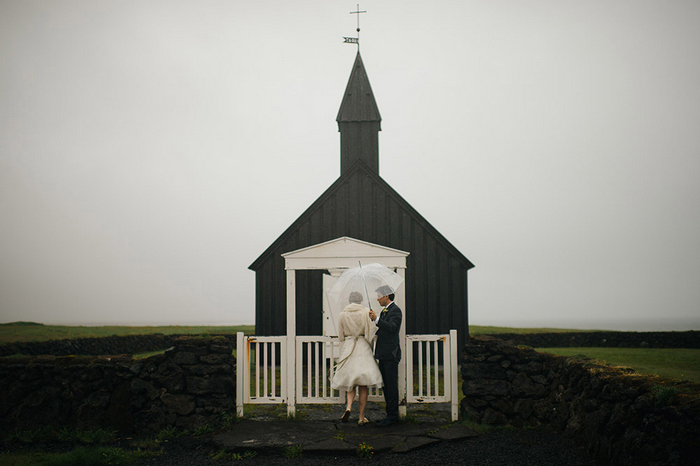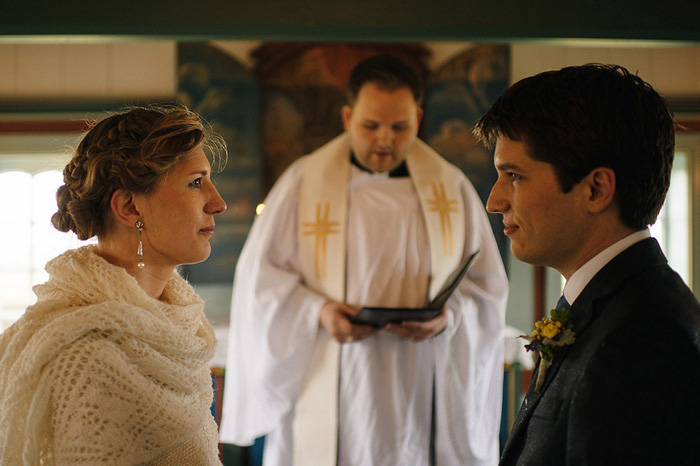 What were the highlights of the ceremony?
Well, what isn't a highlight when it comes to a ceremony in a tiny black church in the middle of nowhere with the love of your life beside you? Although we only spoke to our priest via email and very briefly in person the day before our wedding, he put together a beautiful ceremony. The ceremony was very spartan. In between the traditional bits, Páll Águst read a very moving letter written by Pia's father, and we read our own vows to each other. Though it was a simple ceremony, there was a lot of laughter, love, and tears.
Having the ceremony in such a small, empty church added quite a bit of gravity to the ceremony. The vacuum of the empty pews seemed to focus everything about the ceremony into something special. For the duration of the ceremony, everything else ceased to exist. It was just us, in a church, isolated from the rest of the world.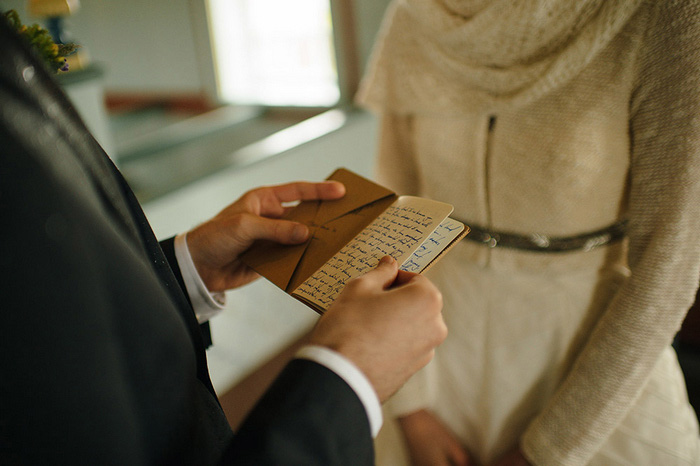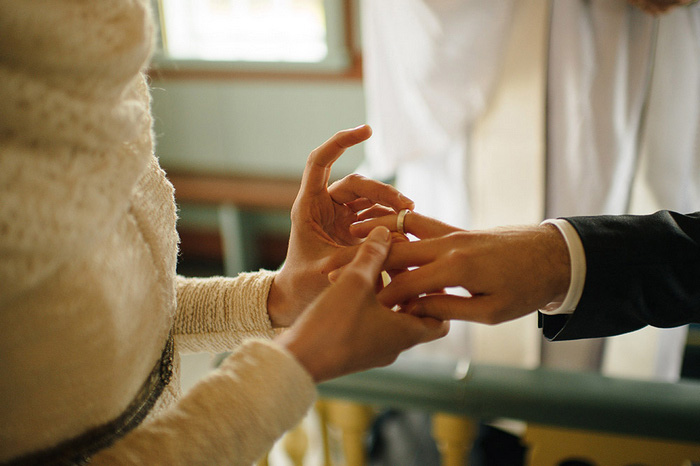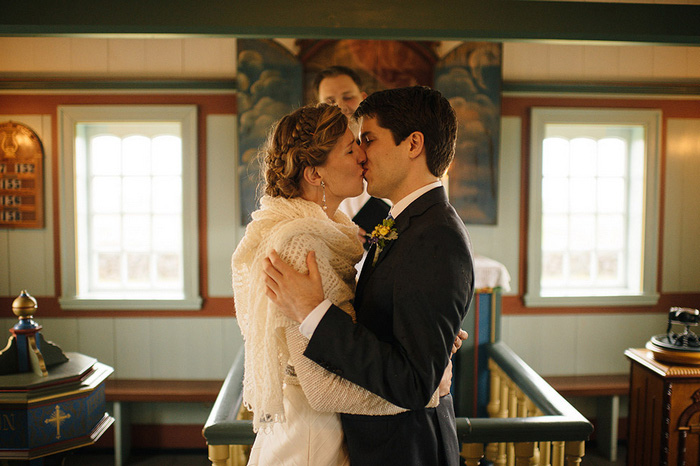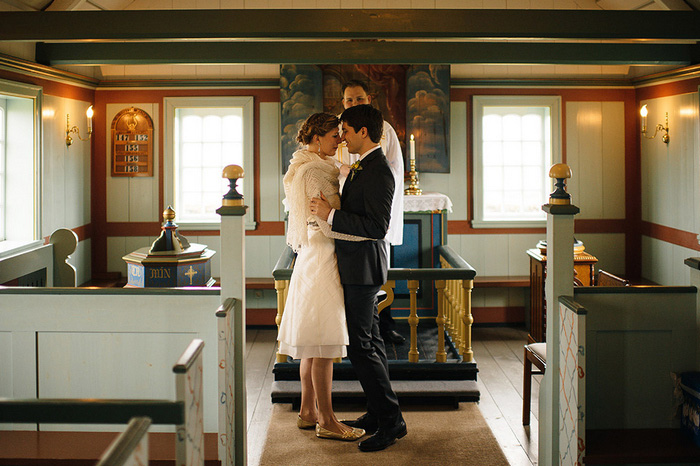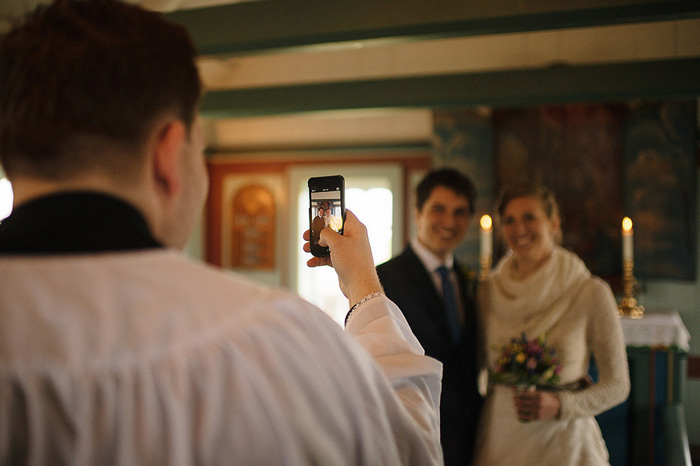 What were the highlights of the reception?
It was incredible to traverse the lava fields and balance along the cliff lines for some of our photos. In addition to that, we felt so much love from everybody at the hotel and from all of the cards and calls that we received.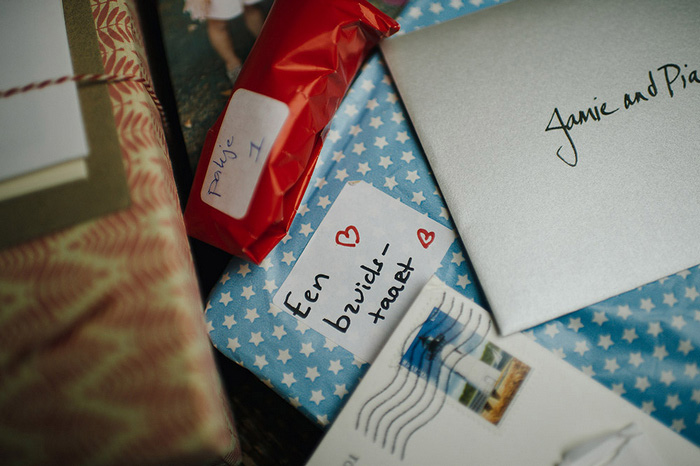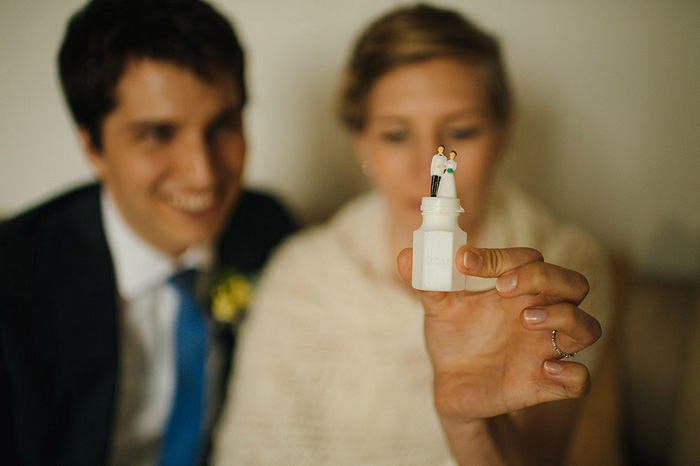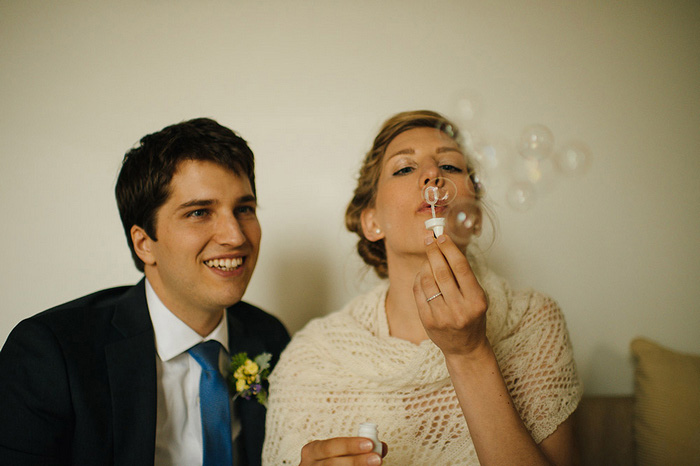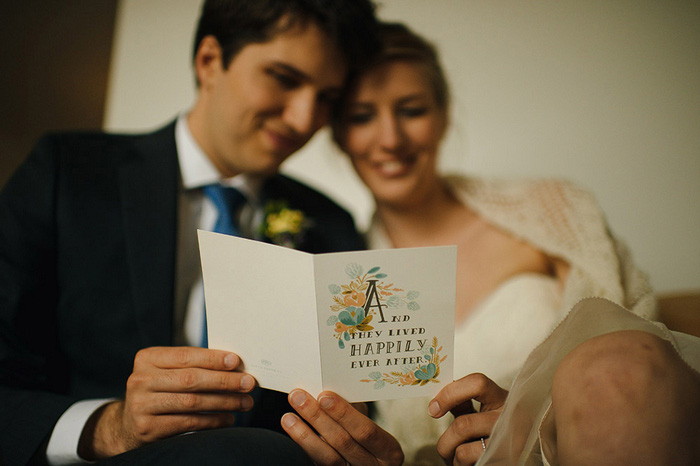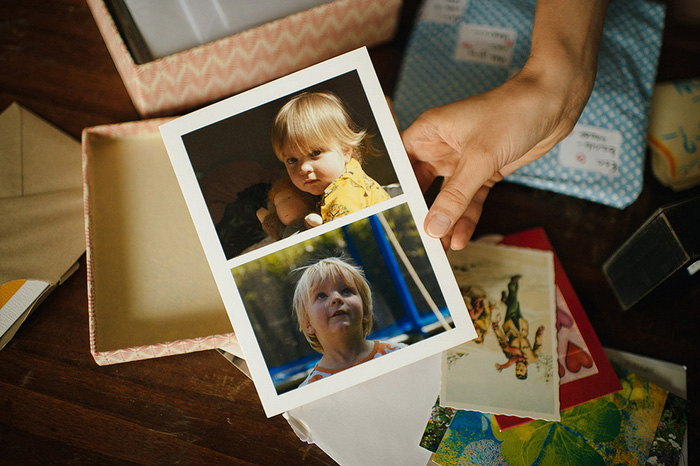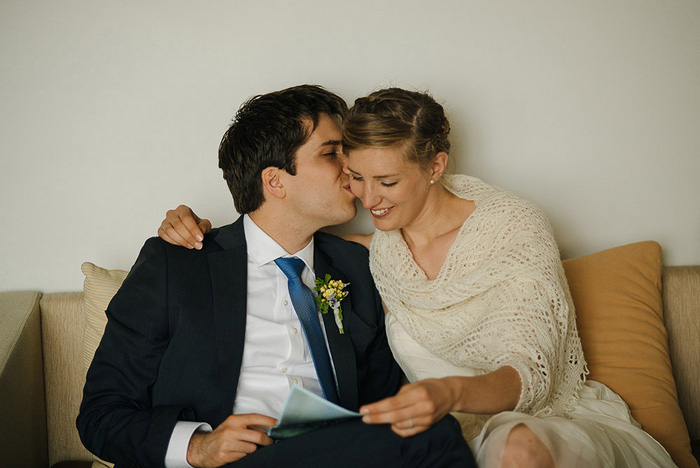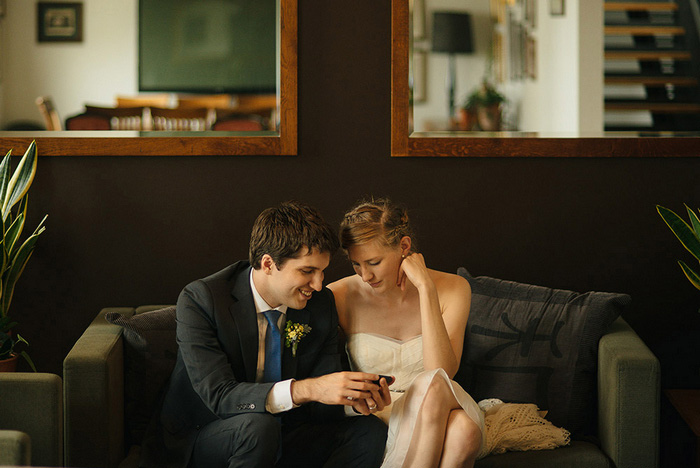 What was the best thing about having an intimate wedding?
We now have a million little secrets about our magical day that only the two of us know. We'll always be able to look back on the day knowing we shared something absolutely special.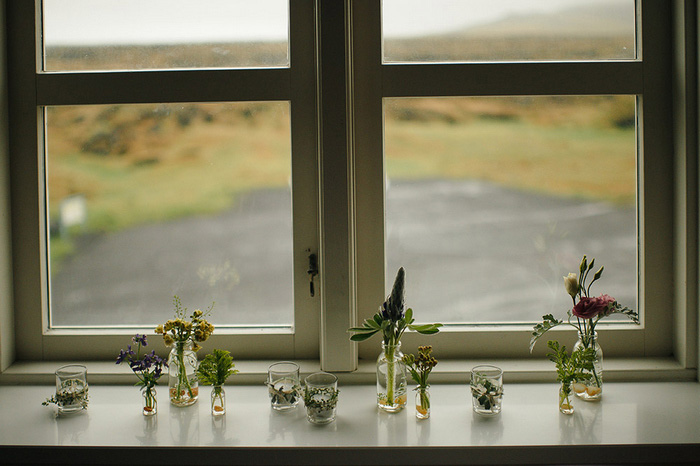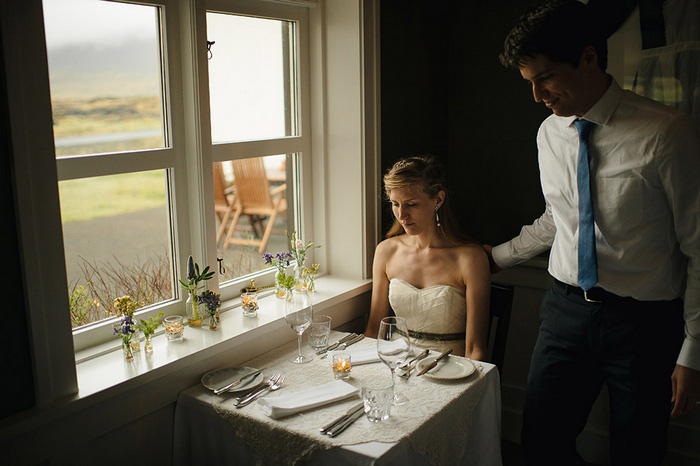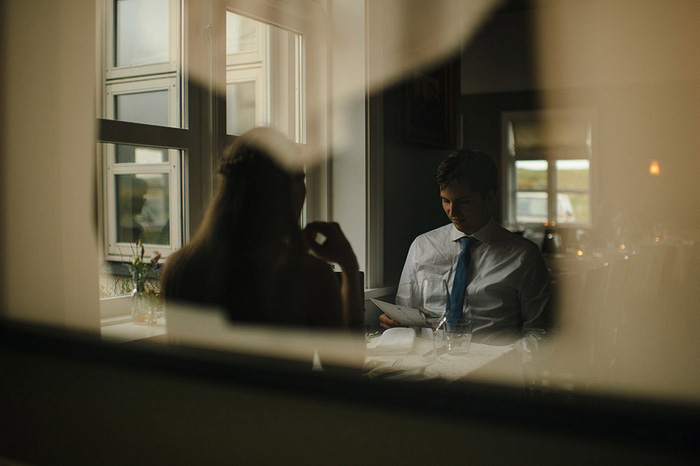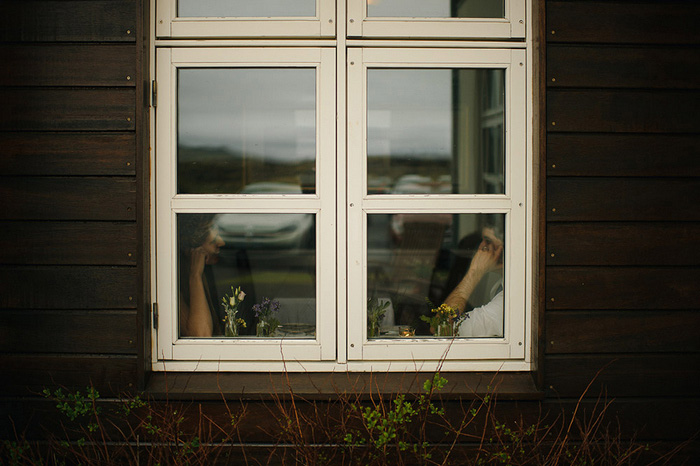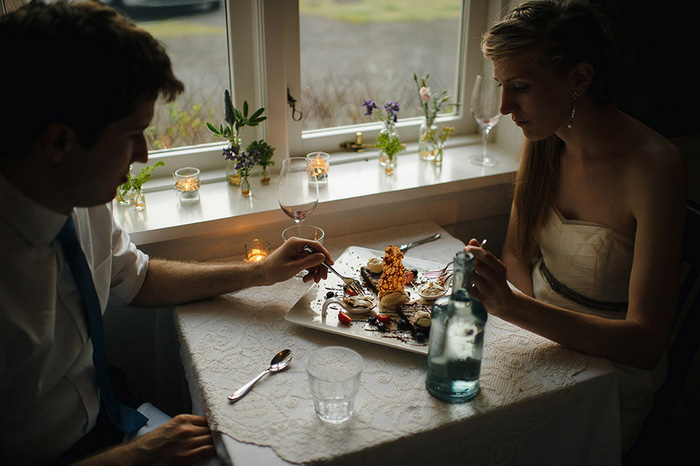 What advice do you have for couples who are considering an intimate wedding?
Just follow your heart. There is no 'correct' way to celebrate your love. For us, at this moment in life, this was the perfect way.
Details are wonderful and can create beautiful results, but just make sure it doesn't become the main focal point. At the end of the day, you will be married — no matter what — and that is a very beautiful thing.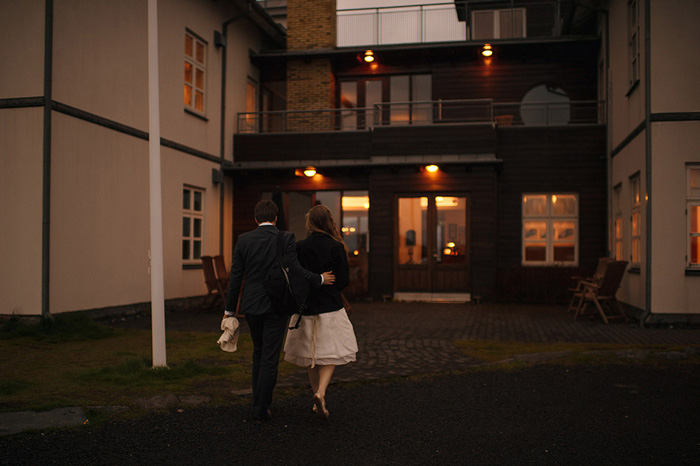 Vendors:
Photographer: Nordica Photography – Photography was huge for us. We are both highly-trained classical musicians who love art, color, atmosphere, balance, and composition. While looking at the website of Hótel Búdir, our venue, I saw a beautiful image of the Búdakirkja, and I looked up who took the photo. The image was from Nordica Photography. When I looked up who they were, they turned out to be these amazing wedding photographers whose entire portfolio captured each couple uniquely. I'd like to say: storyographers. Though they are marketing wizards, Cole & Jakob of Nordica Photography really capture the story of your day rather than just doing shots of people in dresses and suits. We had a great time working with them; from the first email to Jakob squeezing into a small car and driving off into the Icelandic mountains to being in touch about this feature.
Flowers: Agnes Lind Heidarsdóttir – Amazing flowers. Perfect little bouquet and beautiful arrangements for dinner and room. You can reach Agnes through Hótel Búdir 
Bride's Dress and Jewelry: BHLDN
Bride's Shoes: Kenneth Cole with a hairpiece from BHLDN (Pia's creation)
Hair & Make-up: Pia (the bride)
Jacket/Scarf: Varma
Groom's Suit: DKNY with major alterations
Shirt/tie/belt: Hugo Boss
Shoes: Aldo
Stationery: Handmade with love by us
Website: jamieandpia.com