A deliberately simple wedding doesn't have to mean a boring wedding; case in point, Jessie and Fabien's backyard ceremony and art gallery reception where the couple kept the guest list small, and the details minimal, but meaningful. With florals to die for, a quirky sense of style, and lots and lots of pie, their wedding day, which was planned in only three months, was delightful, simple, – and anything but boring!
A huge thank you to Buffy Goodman for sharing their lovely wedding day with us.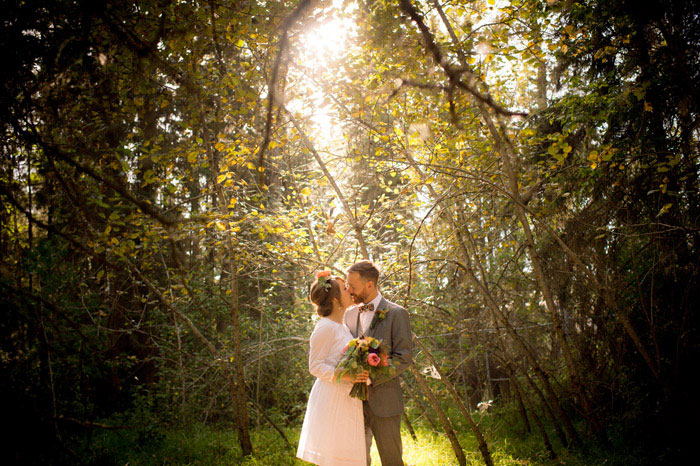 Jessie, 25 & Fabien, 34 
Edmonton, Alberta
Wedding Date: September 21, 2013
Number of Guests: 40
Wedding Cost: $13,000
Wedding Ceremony Location: Friend's backyard in Edmonton
Wedding Reception Location: Latitude 53 Contemporary Art Gallery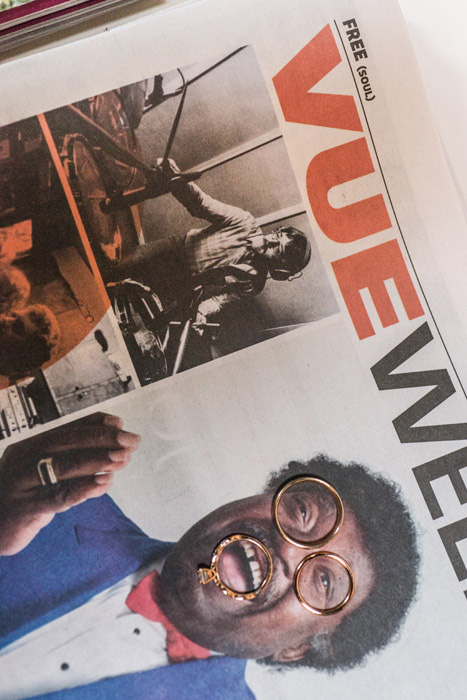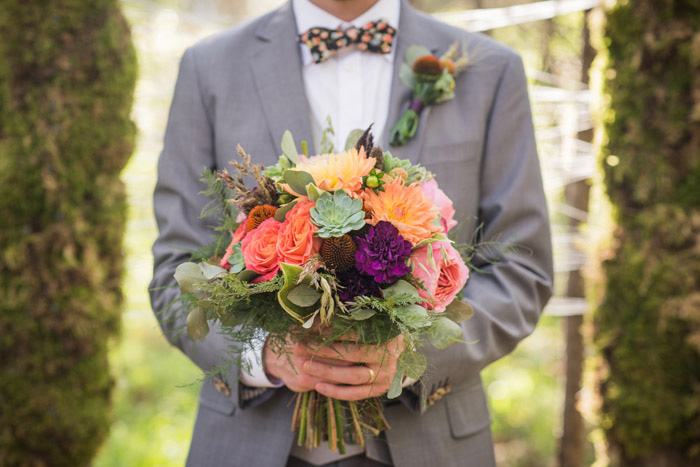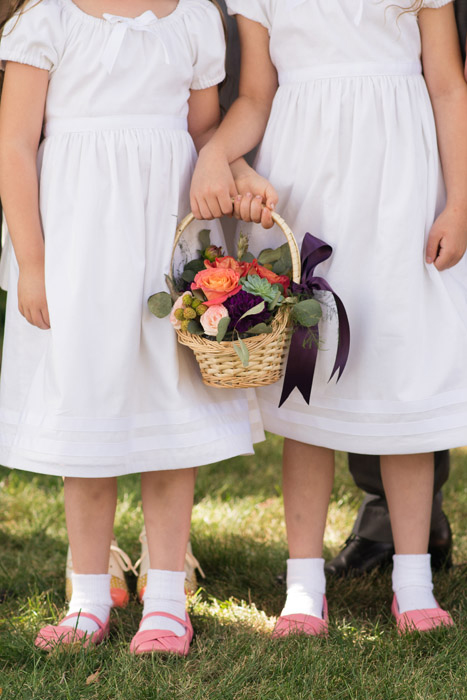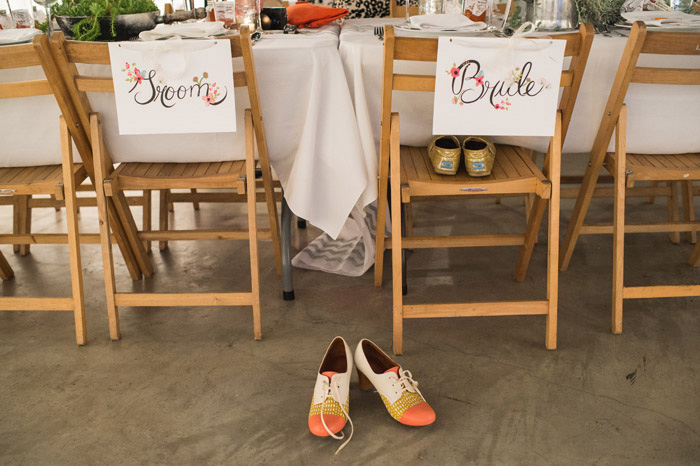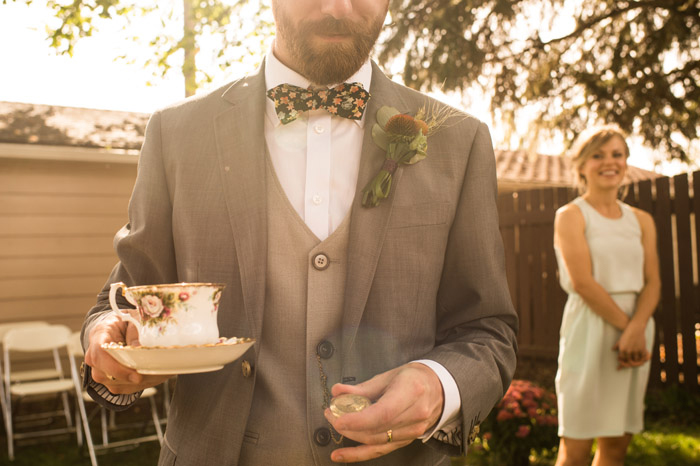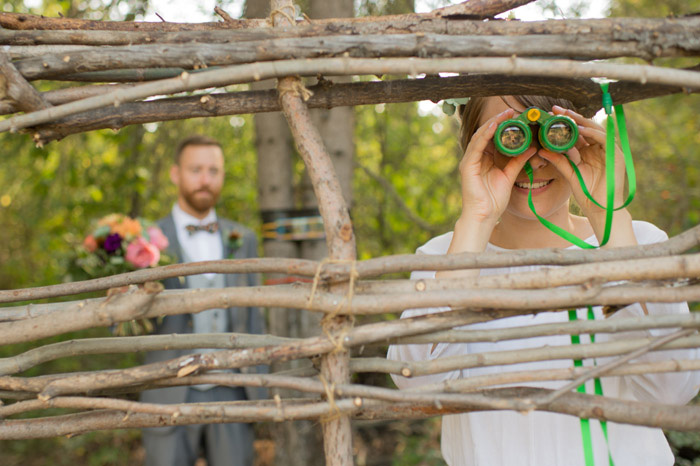 Why did you have an intimate wedding?
We wanted our wedding to be a celebration of our relationship rather than a show, and we wanted to be able to celebrate with our close friends and family – the ones that know us the best.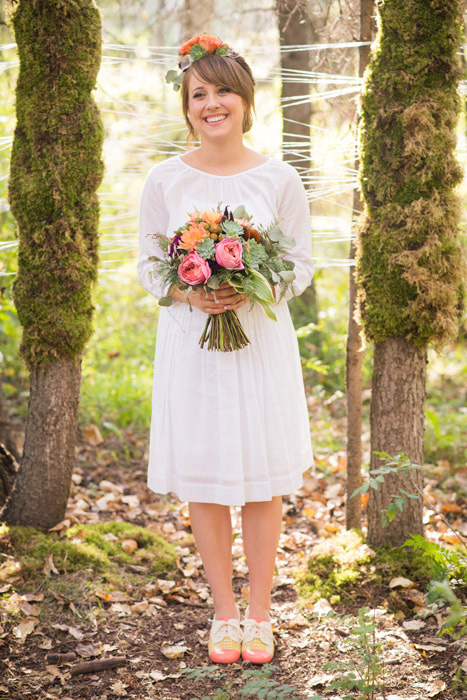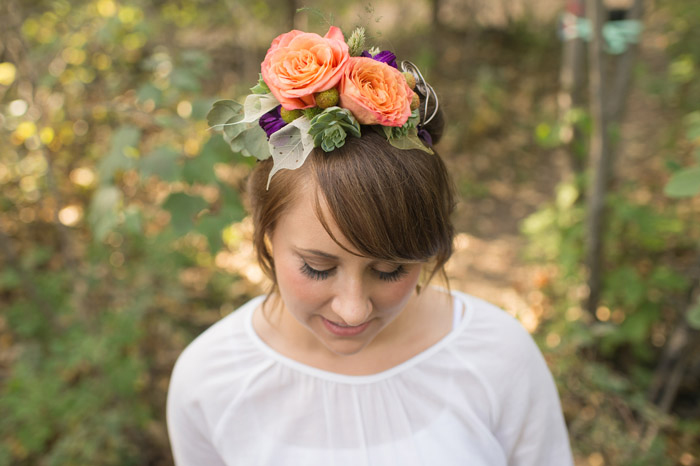 What are some of the challenges that you faced planning an intimate wedding?
We got married only three months after we got engaged so the challenges were mainly due to a short timeline rather than the size of our wedding. If anything, the smaller number of guests helped us to achieve this within the time frame. If an idea became too time consuming or difficult we simplified it into something that was more manageable and aligned with what we were trying to realize. Our goal was to be deliberately simple.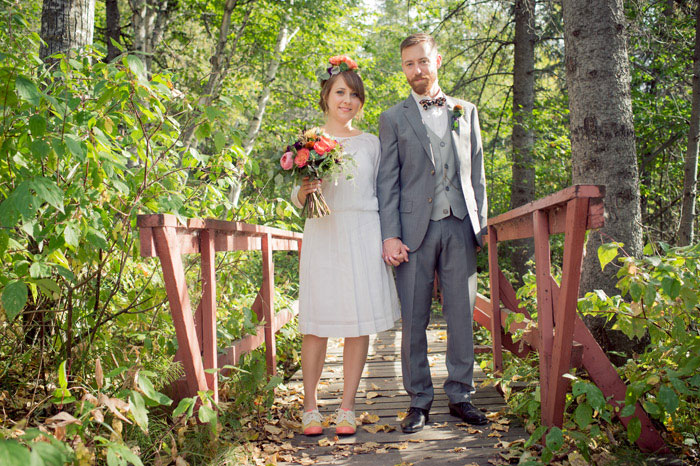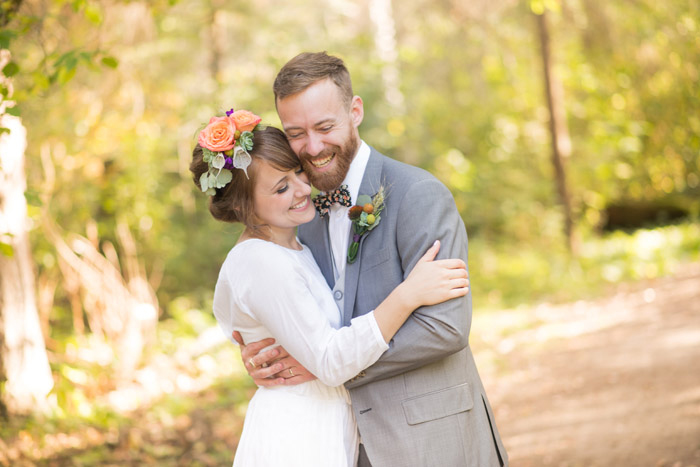 Was it difficult to pare down the guest list?
We decided on no extended family other than the groom's godmother and our grandparents so that eliminated many people as I (the bride) am from a large Ukrainian family and he is from a large French family.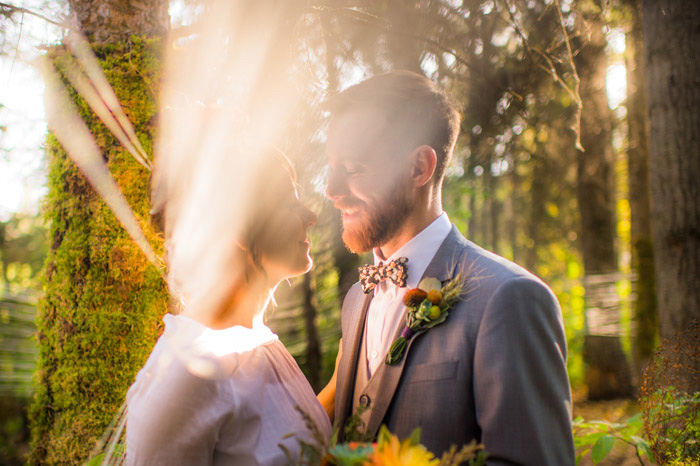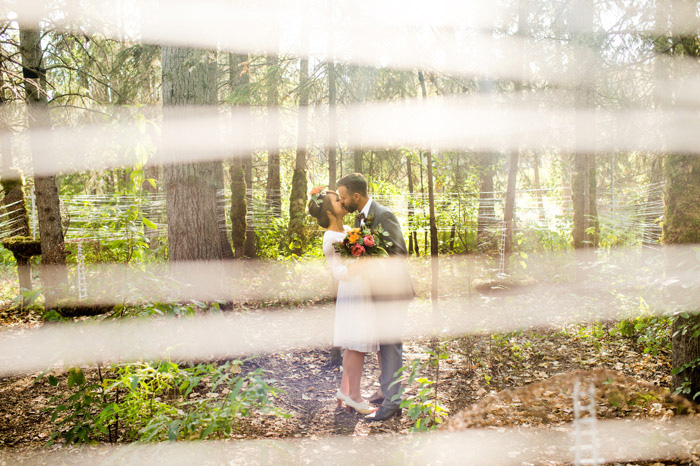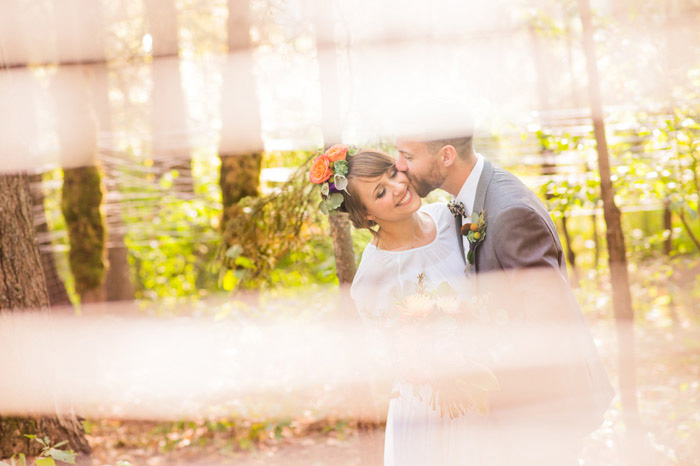 Did you have any 'issues' with the small guest list from friends and family? If so, how did you address them?
Since we were firm in our decision it wasn't really an issue. We explained to our parents that this was not a family reunion and that there would be other occasions to celebrate with family. This gave us an opportunity to have two showers with each of our extended families in both Alberta, where we are currently living, and in British Columbia, where my parents are. This was better not only in timing as these happened during the summer, and people didn't need to travel really far to attend.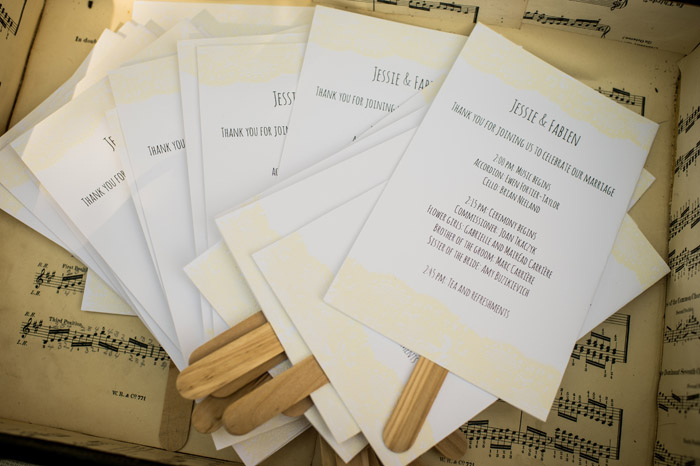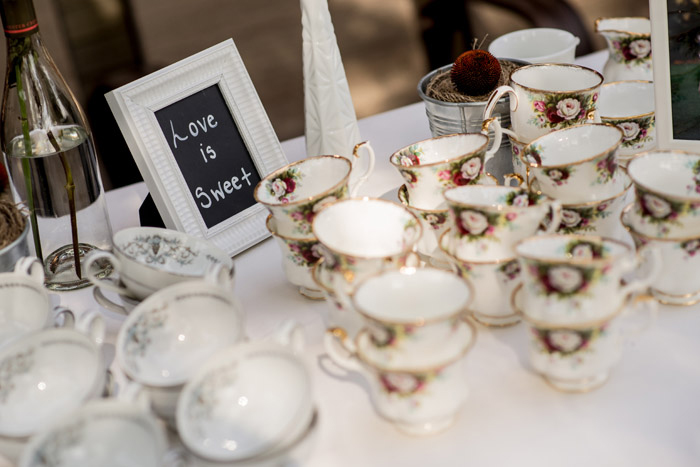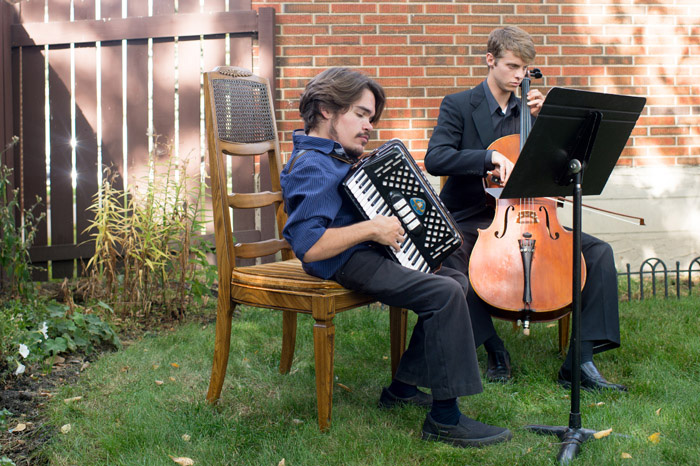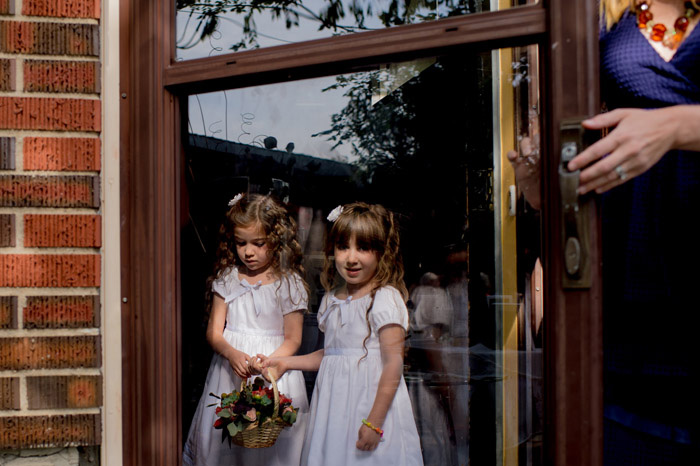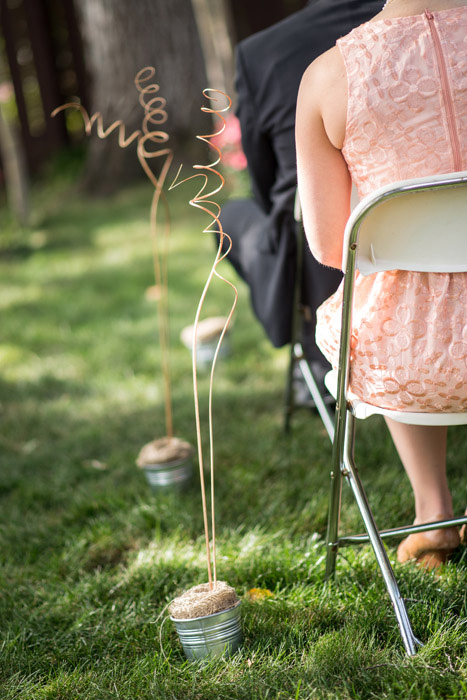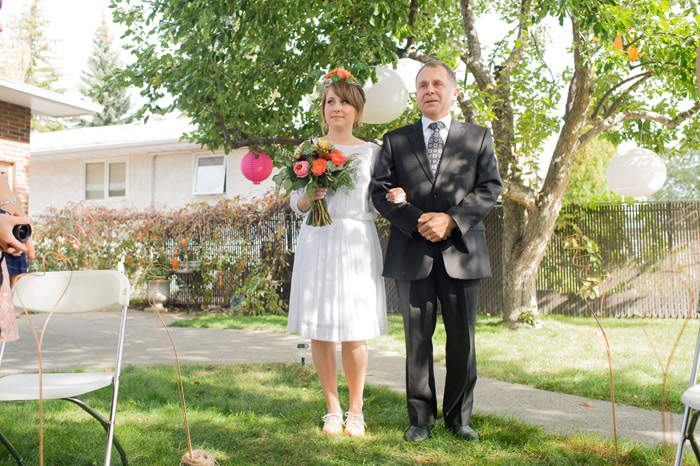 What were the highlights of the ceremony?
Our friends were playing the accordion and cello before and after the ceremony. Having live music was much better than having it played from speakers. This also left a lasting impression with us as they also play at the Farmer's Market on the weekend so whenever we hear them play we are reminded of our wedding.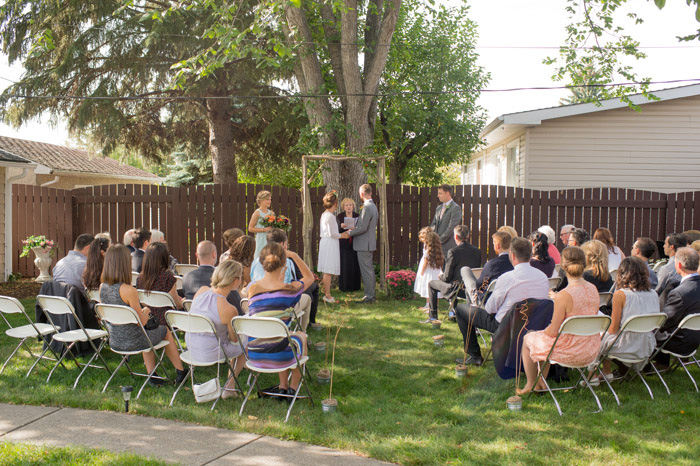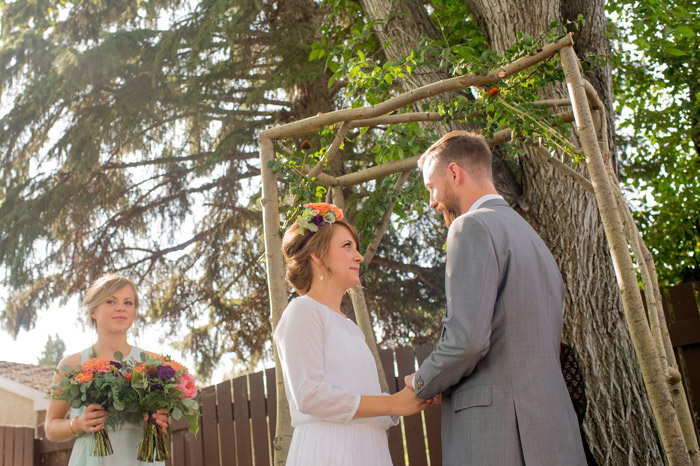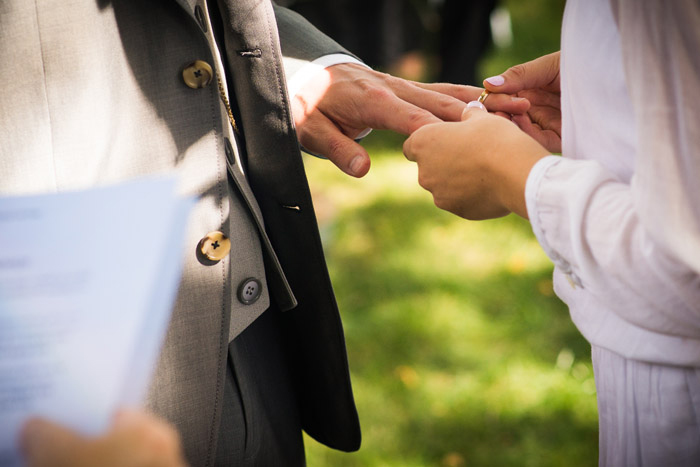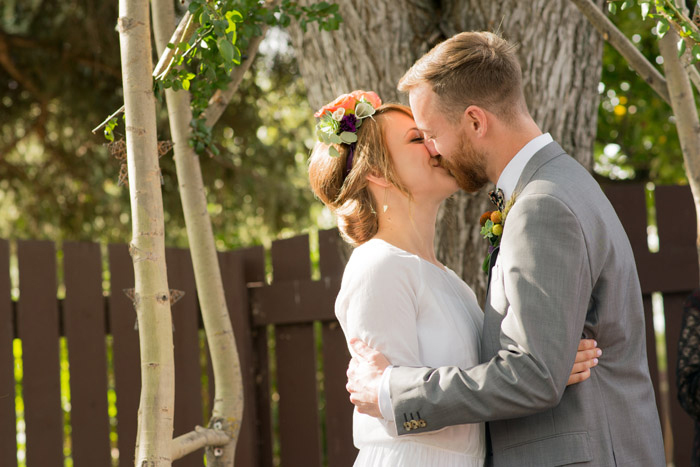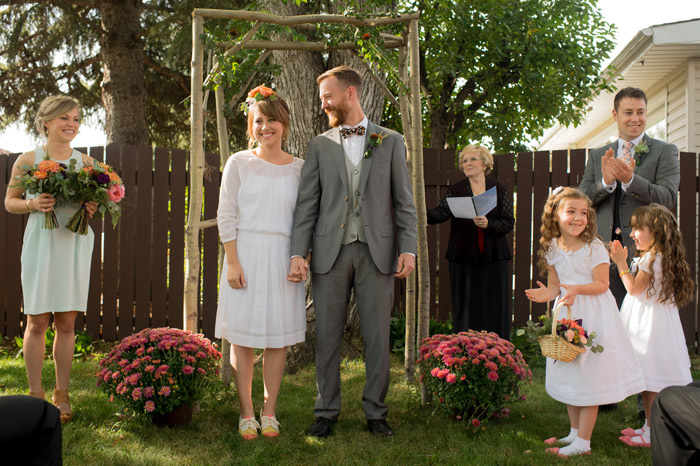 What were the highlights of the reception?
There are many! The food was absolutely amazing. We chose to serve a vegetarian meal family-style. This was important to us, but we also didn't draw any attention to the fact that there wasn't any meat. After dinner the people who were skeptical about the lack of meat came up to us and told us how good it was! Another highlight were the speeches. They were much more intimate and personal than if there had been more people present. One of the best things about our reception is that everyone danced! We created our own playlists for cocktails, dinner, post-dinner, and dancing and we ran out of dancing music at midnight. We had to buy music off iTunes to add to the playlist until well after 2:00 am!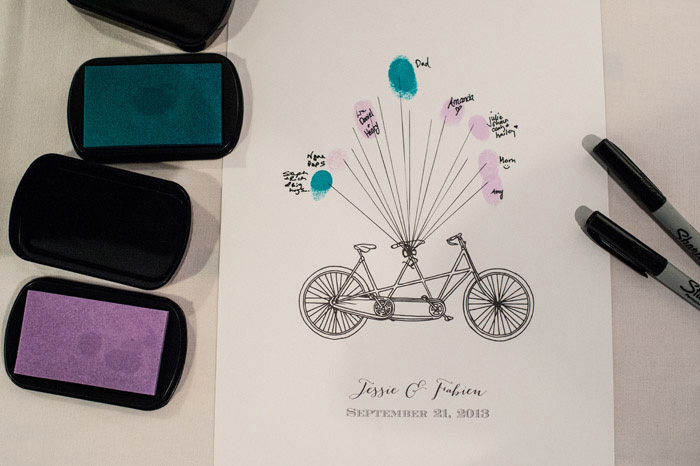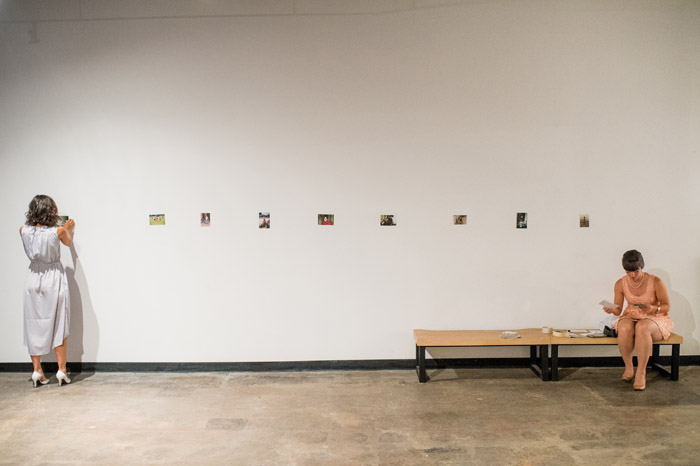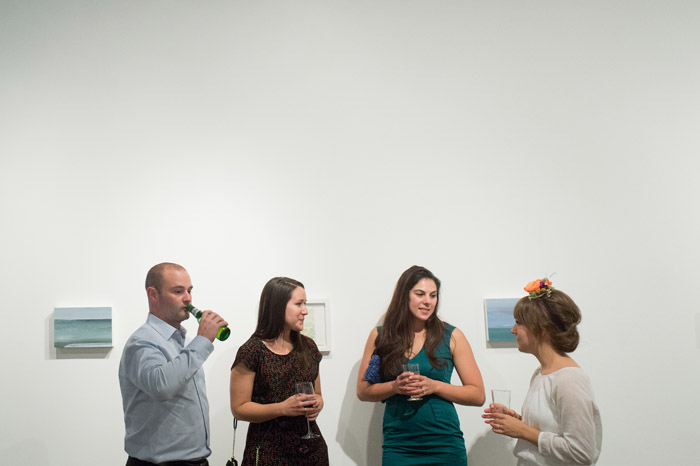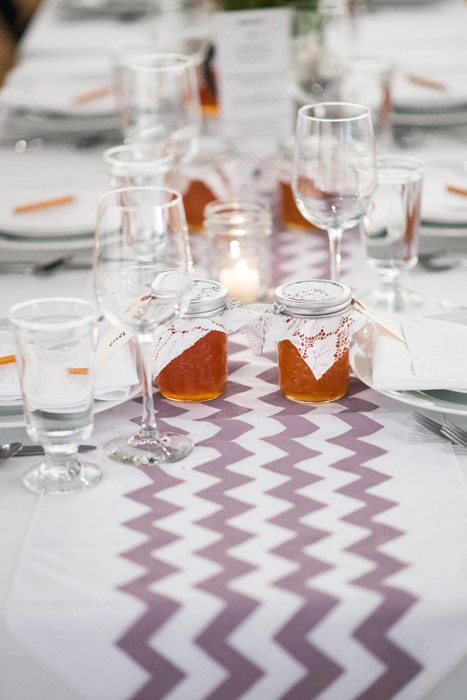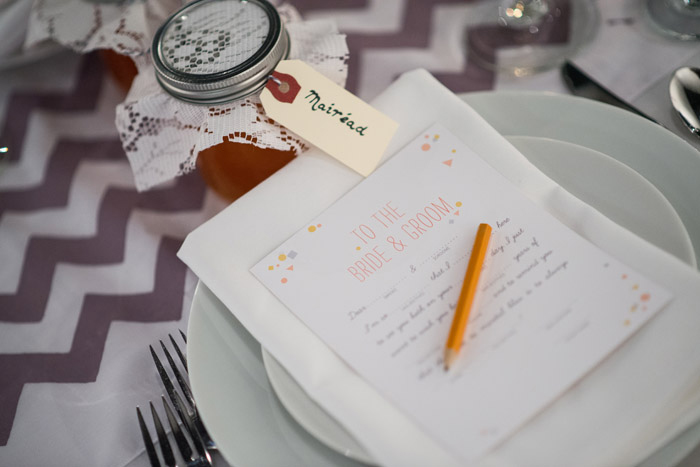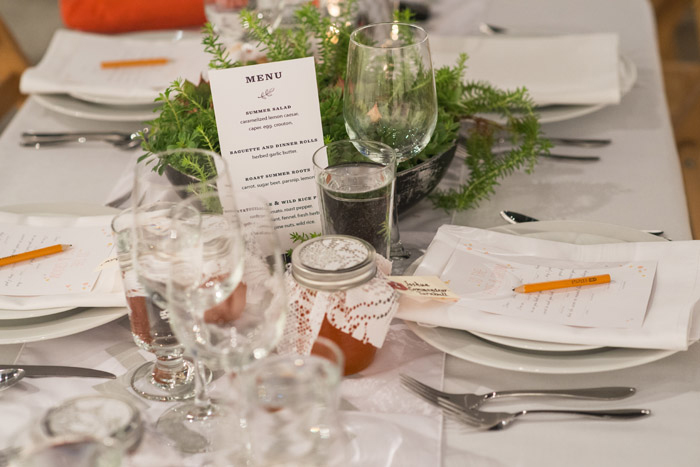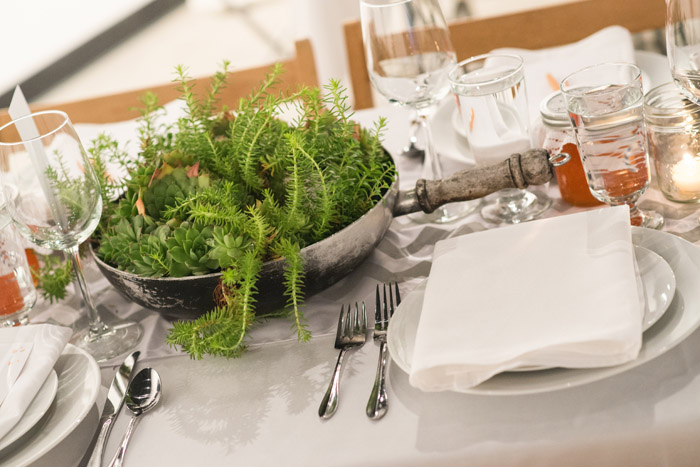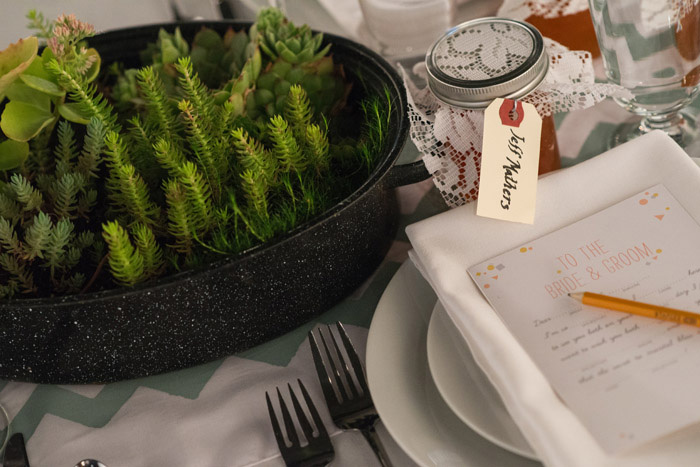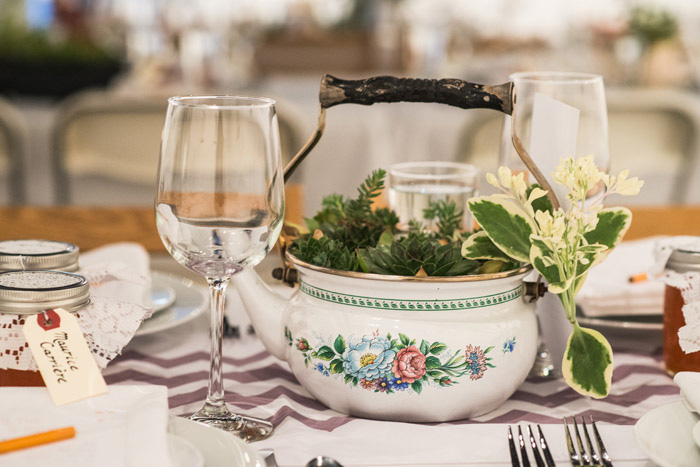 What was the best thing about having an intimate wedding?
It really allowed for flexibility. We invited our guests to have tea and coffee directly following the ceremony so we could interact with everyone and enjoy the moment before being swept off for photos. Another wonderful aspect is that we got to talk to everyone! There are so many weddings where couples get caught up in the production and don't have time to talk to their guests. Intimate weddings also allow for more personal touches. The favours were apricot jam made by my father, and instead of having a cake the Fabien's mother baked pies which we individually served to all of our guests.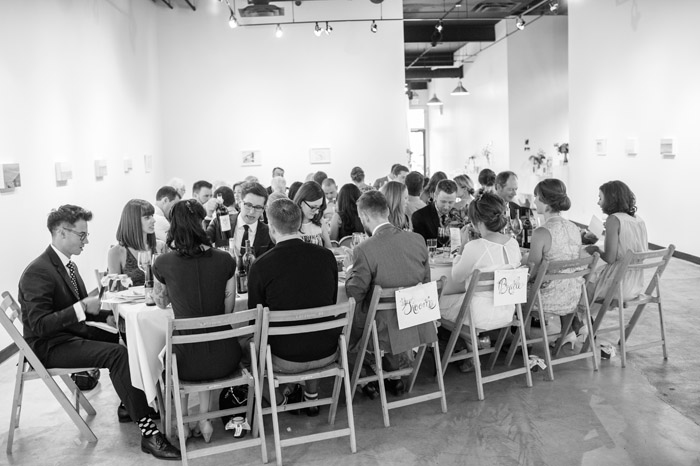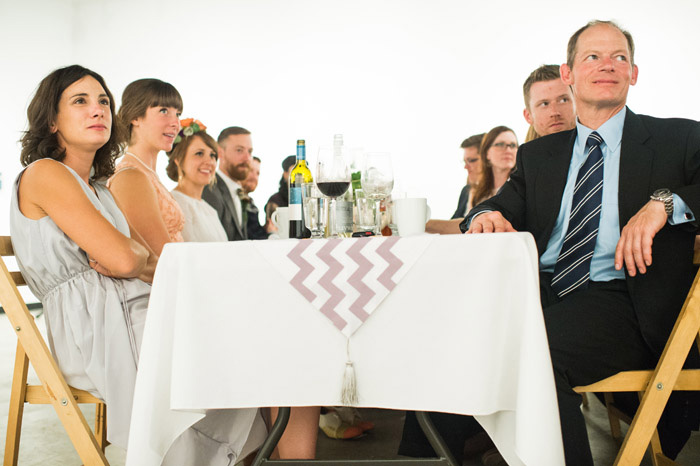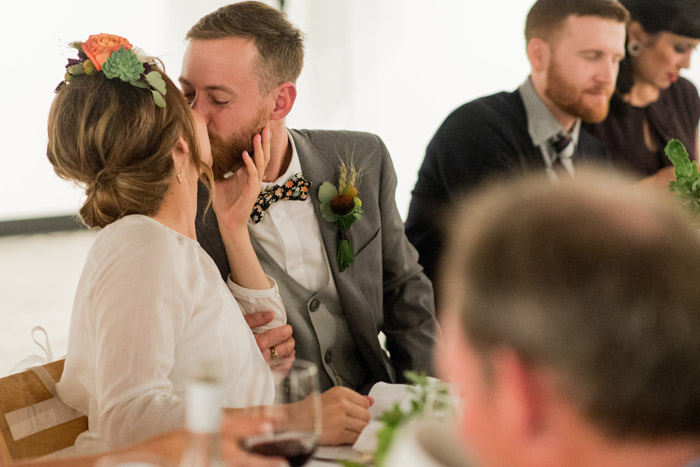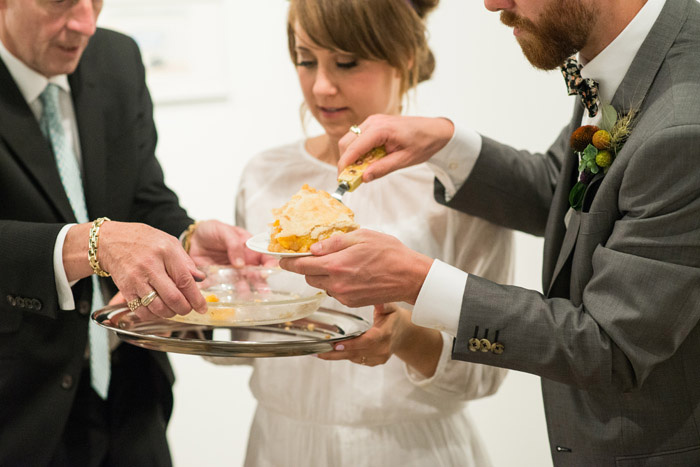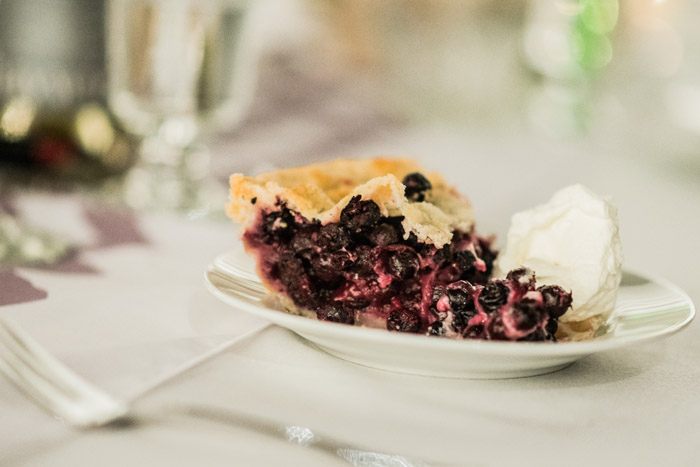 What advice do you have for couples who are considering an intimate wedding?
We couldn't imagine doing it any other way. We had an amazing evening with our guests. They still tell us how fun it was over 8 months later! There are also other opportunities to celebrate with extended family and friends so don't feel like you need to invite everyone.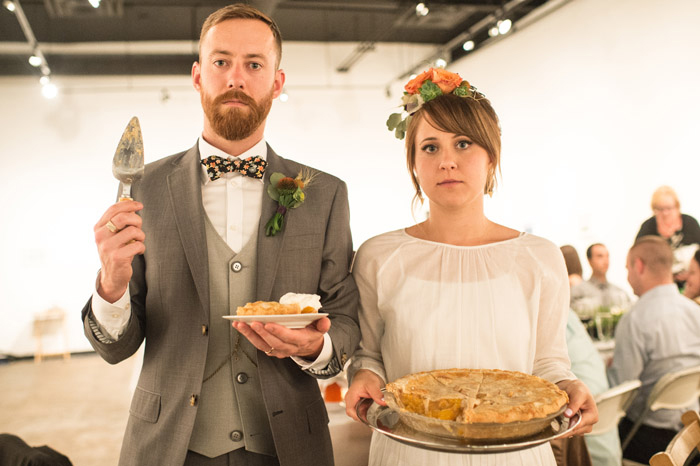 Vendors:
Food: Elm Café and Catering
Photography: Buffy Goodman Photography
Flowers: Laurel's on Whyte
Venue: Latitude 53 Contemporary Visual Culture
Hair: Patricia Jastrzebski
Makeup: Colleen Nuc