Be inspired by Moroccan glamour with bright, rich tones and bohemian rustic touches. Introduce some exoticism into your wedding with jewel -tone hues in your decor, authentic cuisine and geometric shapes. This will no doubt leave your guests feeling that they have been transported to a dreamy faraway location. What's so great about this look is that you can incorporate it into a range of venues and locations. An outdoor tent is an ideal space to show off this trend.
An abundant and colorful centerpiece of flowers will add the vibrancy that you need for your tables. Go for dinnerware sets that are reminiscent of Moroccan decorative art. Lanterns are one of the essential lighting options to really capture this trend. White lanterns on the table are a fresh inclusion to soften the brightness of the flowers.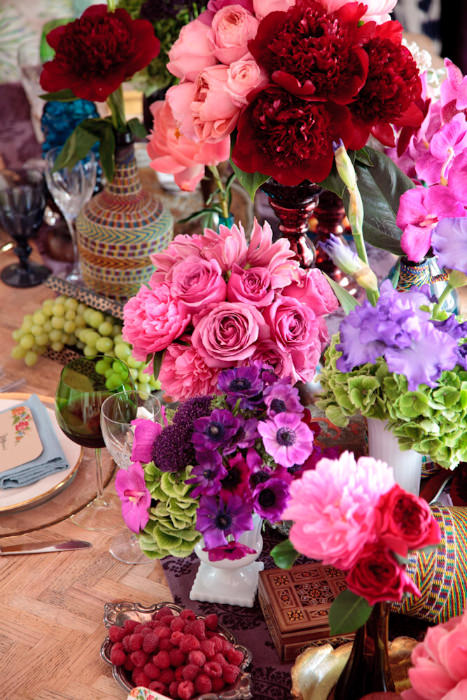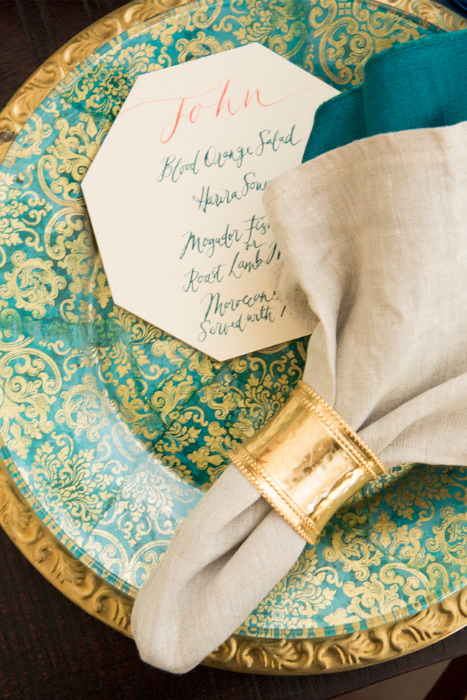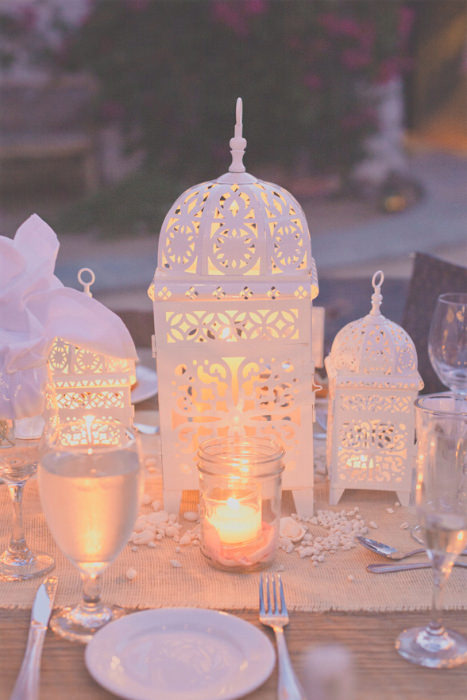 Moroccan architecture and Islamic art feature beautiful geometric patterns. These work well in cake decorations and give a subtle nod to this look. Mint tea is a Moroccan tradition and usually included in a tea ceremony. You can serve authentic mint tea in gorgeous teapots as your signature drink. Platters of pastries and sweets will have you thinking that you are in the middle of a bustling market in Marrakesh. Traditional tagines served family-style are not only delicious, but the stunning tagine pots will add to the decor.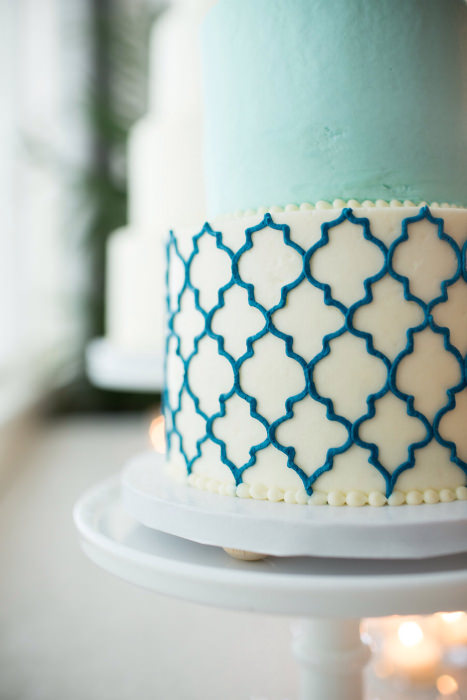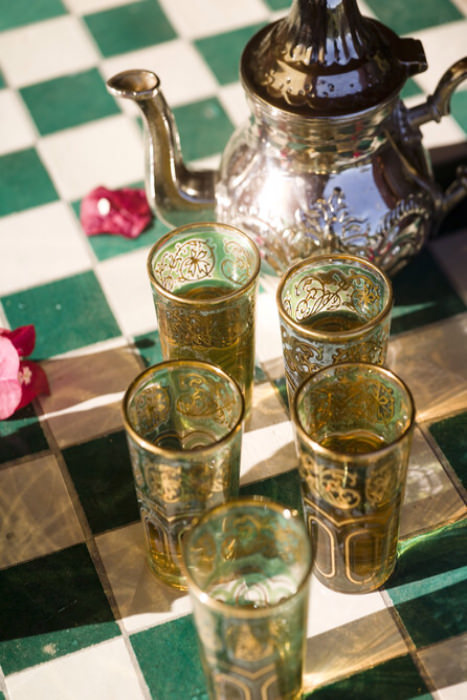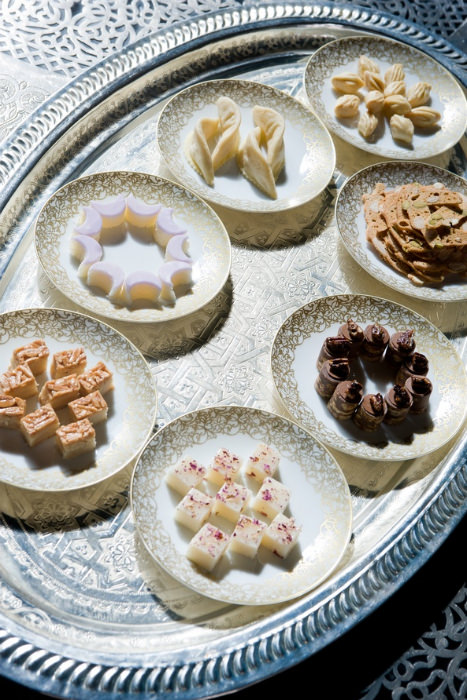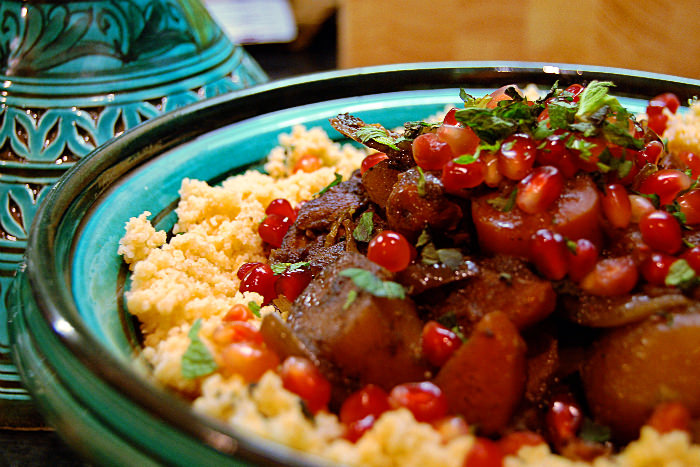 An arrangement of lanterns, candles and flowers are a unique way to decorate a place card table. Create a luxurious haven in your venue space for your guests to relax in with pillows, blankets and large rugs. Can you think of a better way to rest sore dancing feet?
Start as you mean to go on with vivid invitations in keeping with the key colors of orange, pink and purple.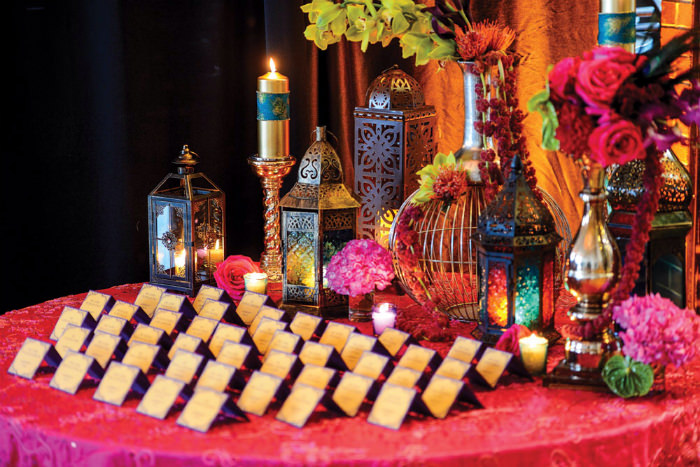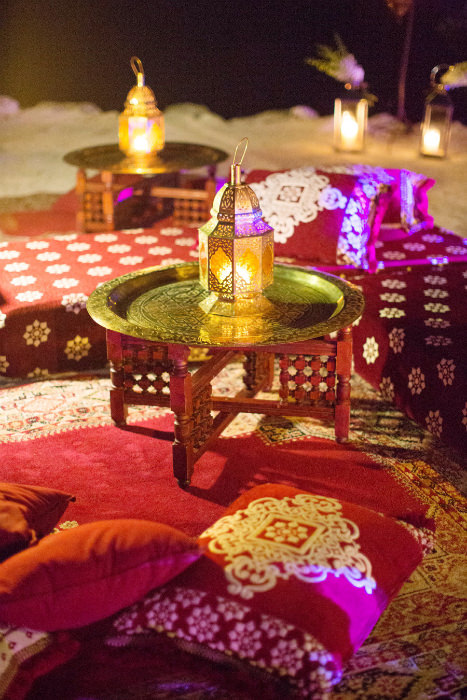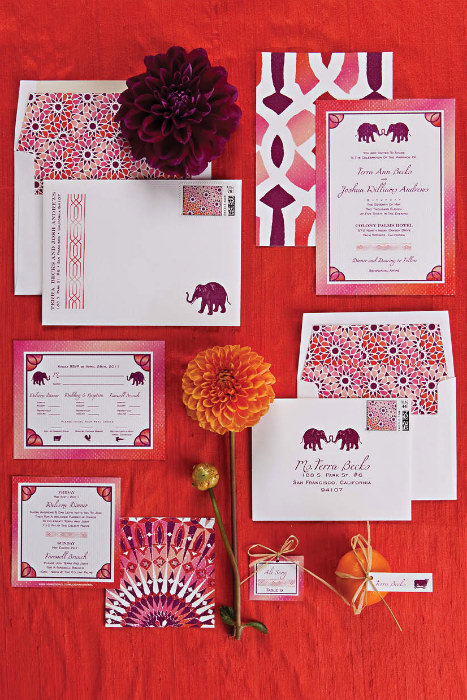 If you want to add hints of Moroccan style to your dress, then once again look at architectural details which are often replicated in embroidery and lace. For a bouquet alternative or just a pretty place to stash your lipstick, then go for an embellished bronze clutch.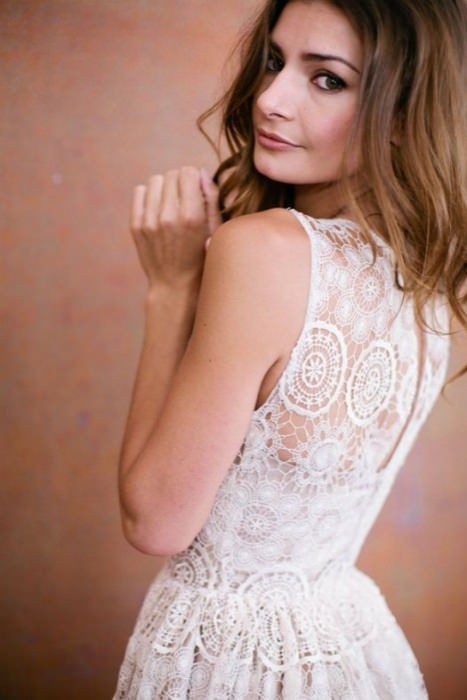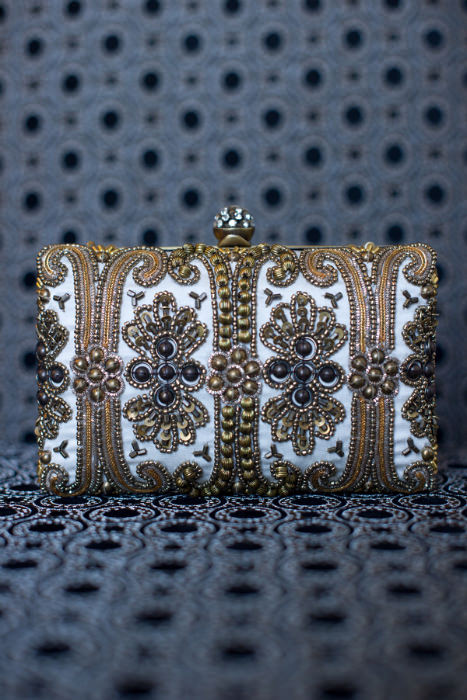 If you're a little color shy then you can still have a North African mood in your wedding but with smaller details. A centerpiece of blood oranges gives an injection of color to a white table. Occasional fuchsia flowers in a gold and brown setting, has more of a bohemian look.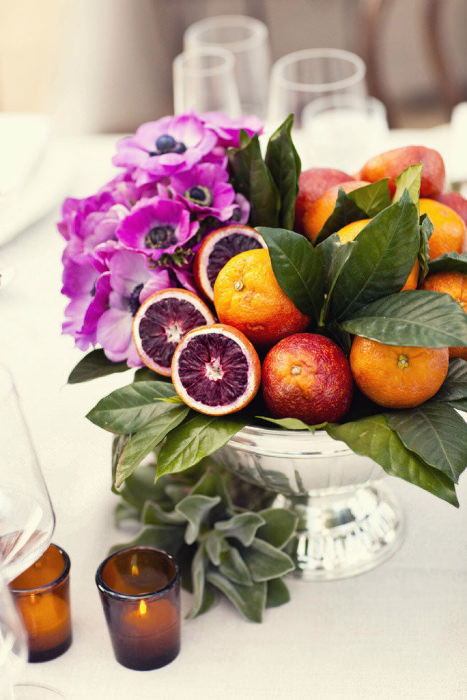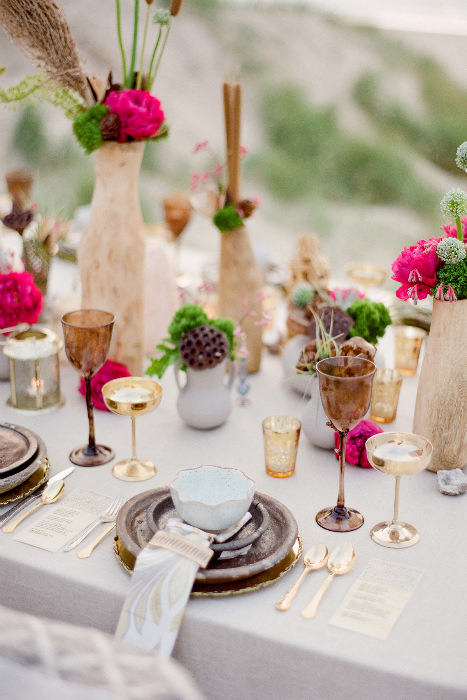 Photo one: samuellippke.com; Photo two: christinebentley.com; Photo three: hazelwoodphoto.com; Photo four: theomilophotography.com; Photo five: pinterest.com; Photo six: pinterest.com; Photo seven: globalstreetbite.com; Photo eight: jefftismanphotography.com; Photo nine: ktmerry.com; Photo ten: alchemyfineevents.com; Photo eleven: alinapizzano.com; Photo twelve: munaluchibridal.com; Photo thirteen: joymariephoto.com; Photo fourteen: josevilla.com