Not being big party people, Keegan and Tyler searched high and low for the perfect venue to host their small, low-key wedding. They found a gem of a venue in Portland's Leach Botanical Gardens, and with the stress of finding the perfect venue behind them, everything else just fell into place.
After an intimate ceremony on the venue's terrace, the couple sneaked off into the gardens with their photographer Anna Caitlin in tow for some alone time and a romantic photo shoot, before returning to the terrace and their guests for an evening of good food, good fun, and mingling with friends.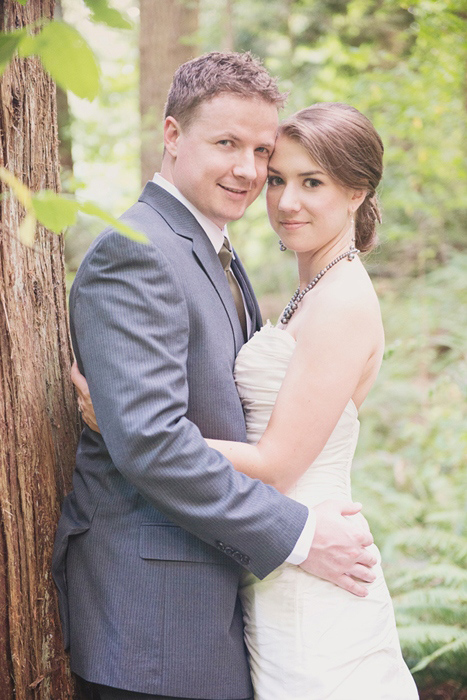 Keegan, 28 & Tyler, 31
Portland, OR
Wedding Date: August 8, 2013
Number of Guests: 35
Wedding Cost: $6,500
Wedding Ceremony Location: Leach Botanical Garden
Wedding Reception Location: Leach Botanical Garden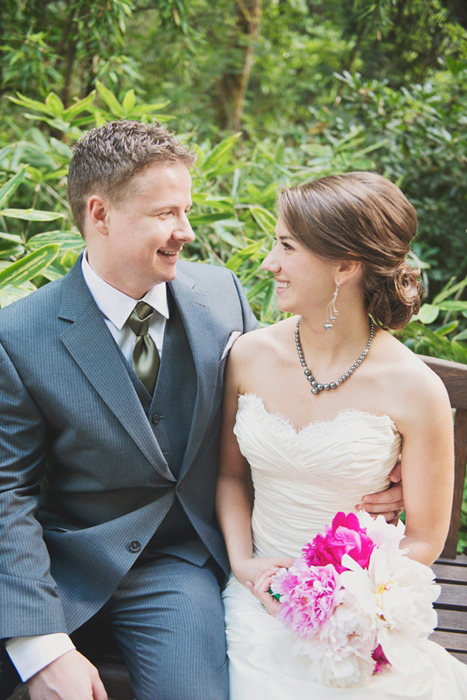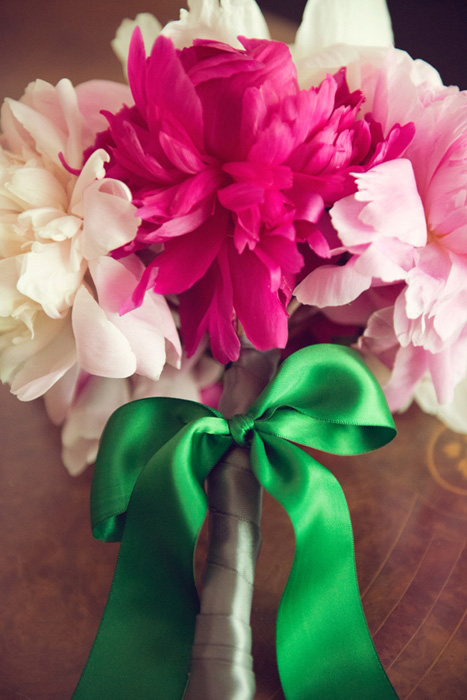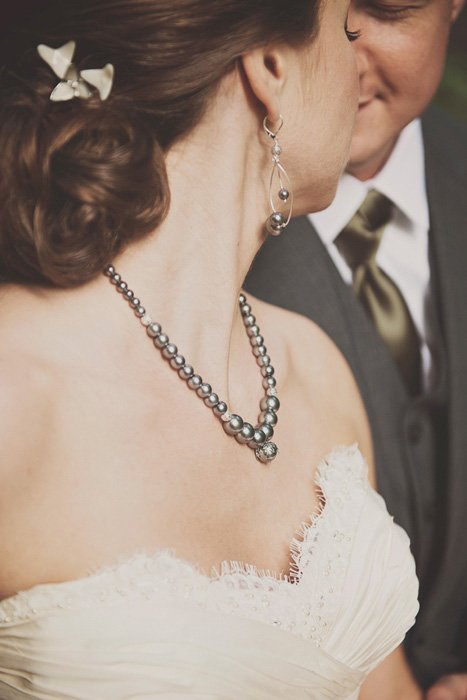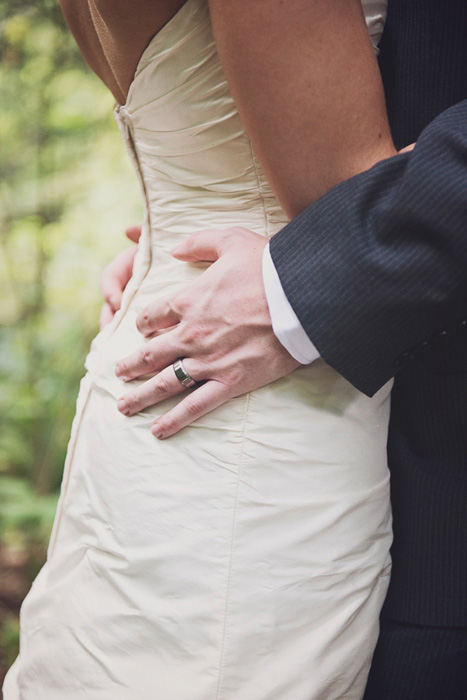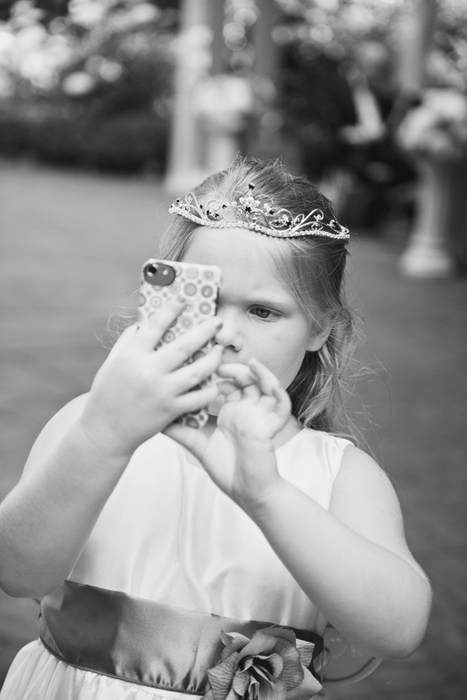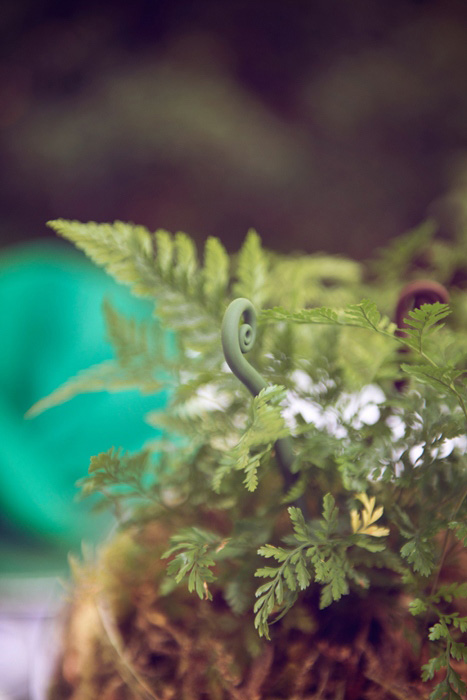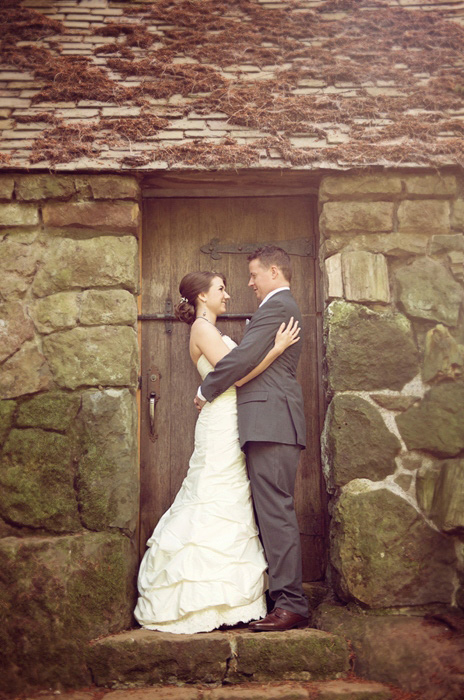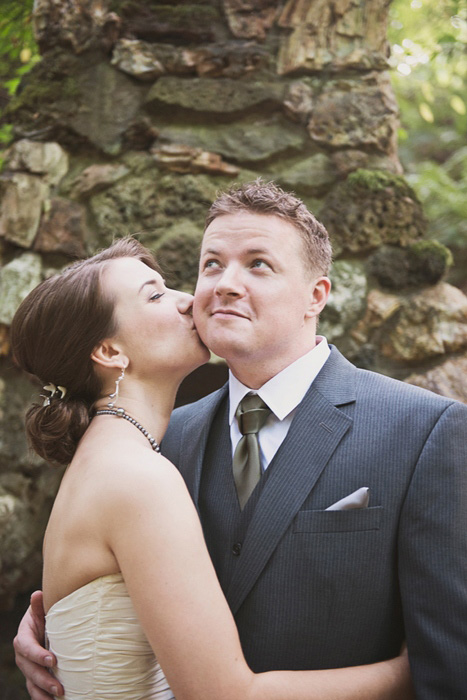 Why did you have an intimate wedding?
We wanted close family and friends to be there while being able to spend our money on the things we wanted for the wedding. Focusing mainly on location and the beauty of the Northwest, we were able to find a a literal gem in the rough.  We aren't big party people, so we wanted something relaxed and simple.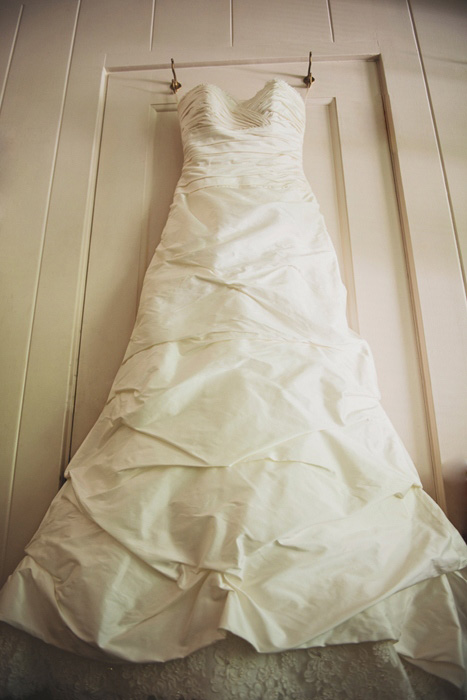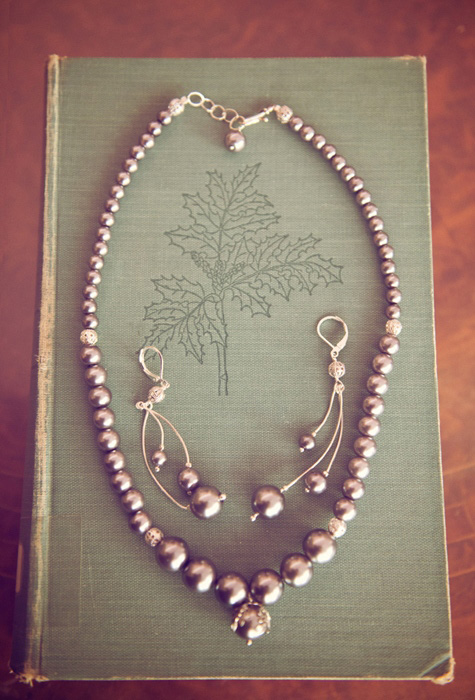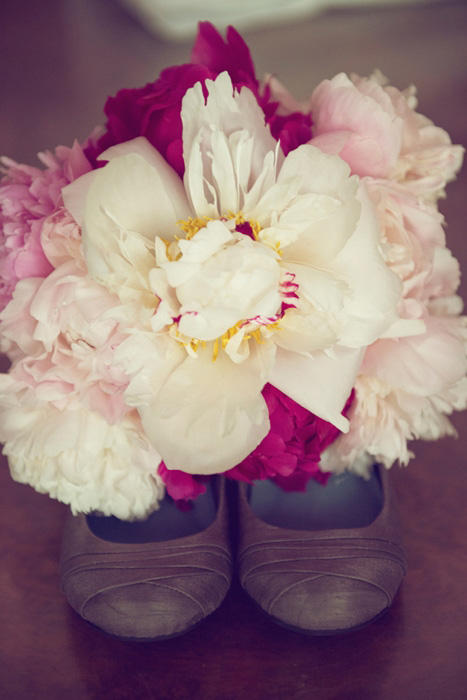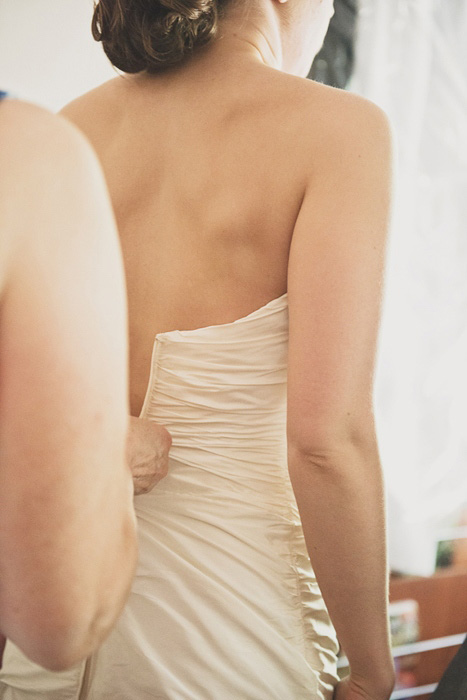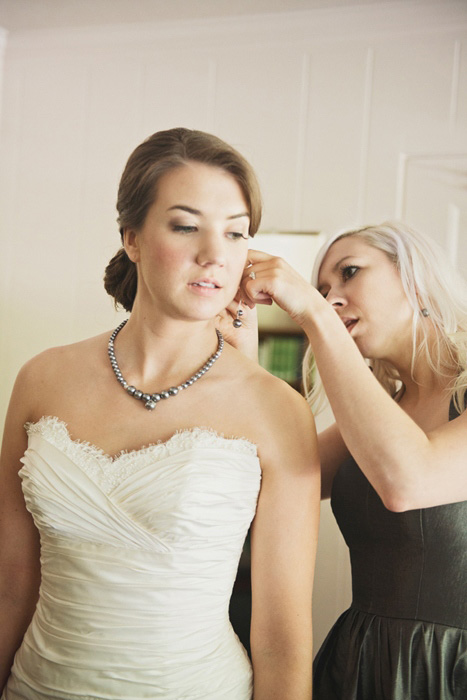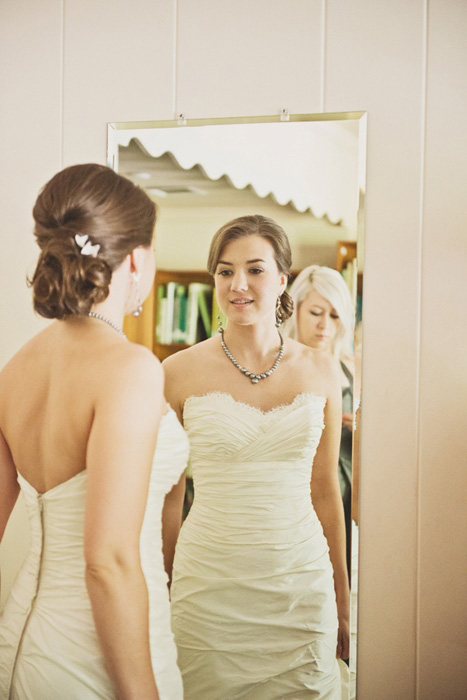 What are some of the challenges that you faced planning an intimate wedding?
Our biggest challenge was making sure no one's feelings were hurt.  We always got the same advice when we worried about feelings however – that it was our day and we could plan it as we liked.  The most stressful part for us was finding the venue; everything else falls into place once you find the 'where.' It seemed that every time I would look up venues in the Portland area, new ones would crop up.  We seriously considered getting married at a park, and while the location is cheap, you end up having to rent so much, so we felt that finding a venue with a building would make things so much easier.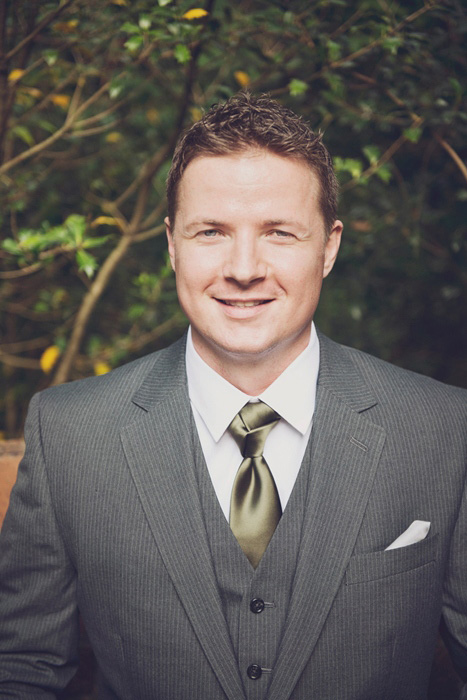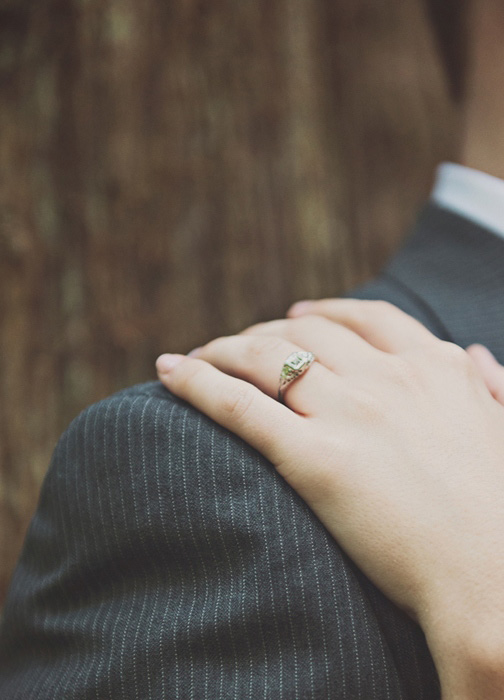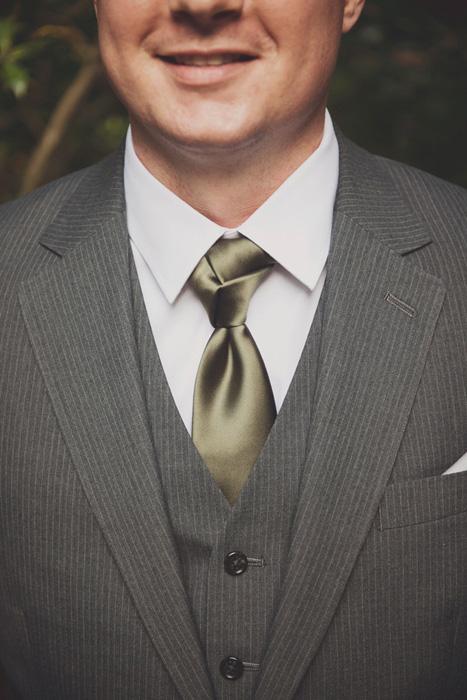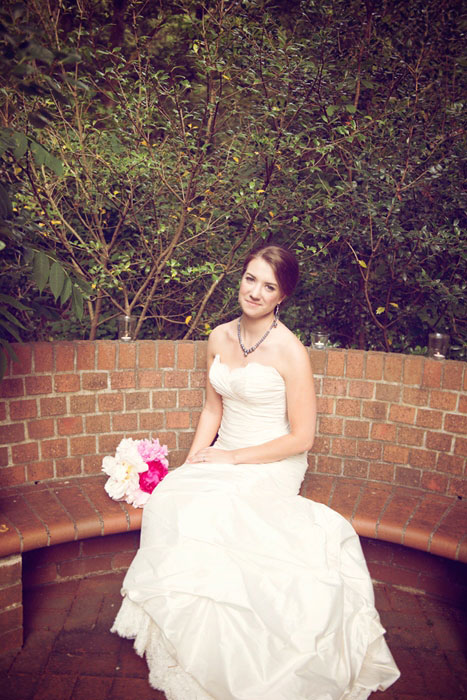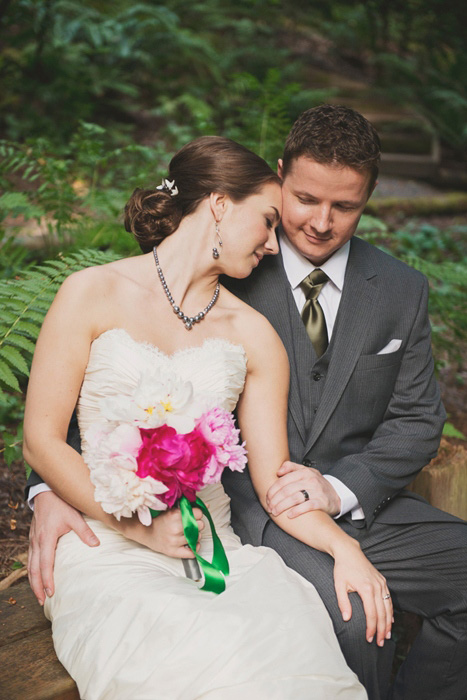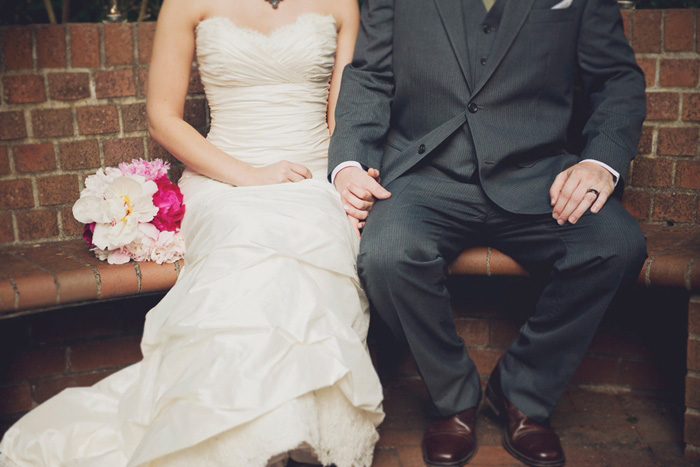 Was it difficult to pare down the guest list?
We had a little difficulty paring down the guest list. To help us, we wrote out our friends and family in circles. The inner circle were people that we really wanted there, a second ring around that inner circle of people we would like to be there if the budget allowed, and a third ring of anyone else if we ended up going for an all out bash.  So we ended up with only the inner circle.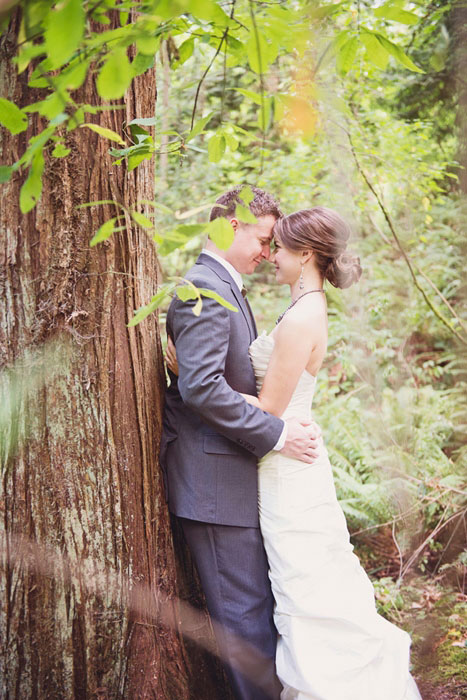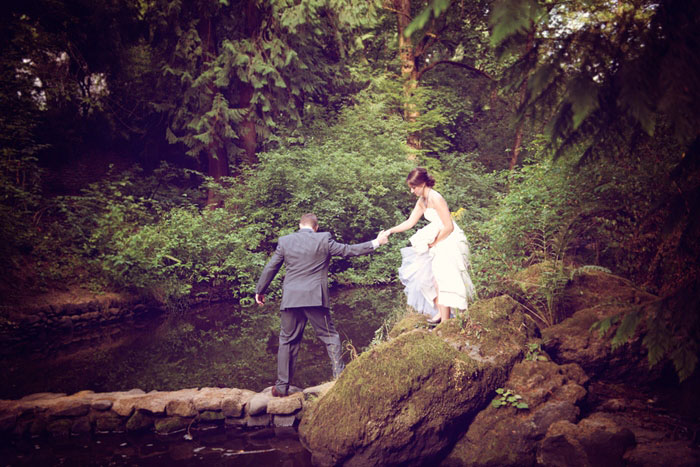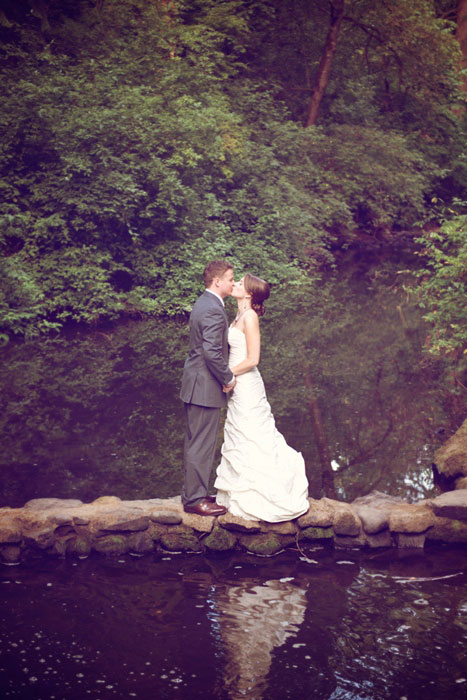 Did you have any 'issues' with the small guest list from friends and family? If so, how did you address them?
I think when it came down to it, everyone understood we wanted a small wedding and that we were paying for it ourselves.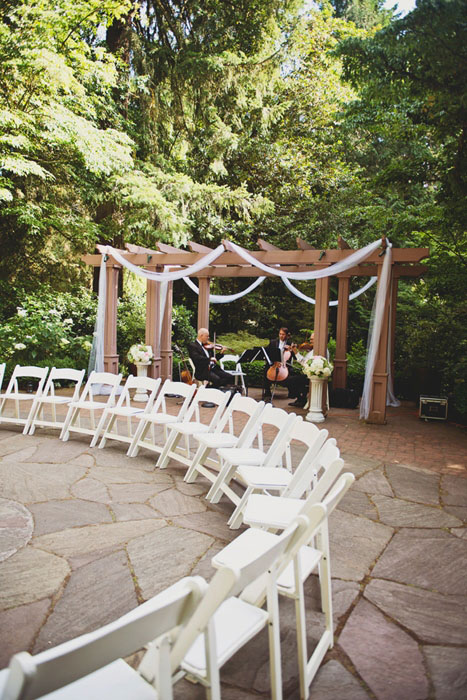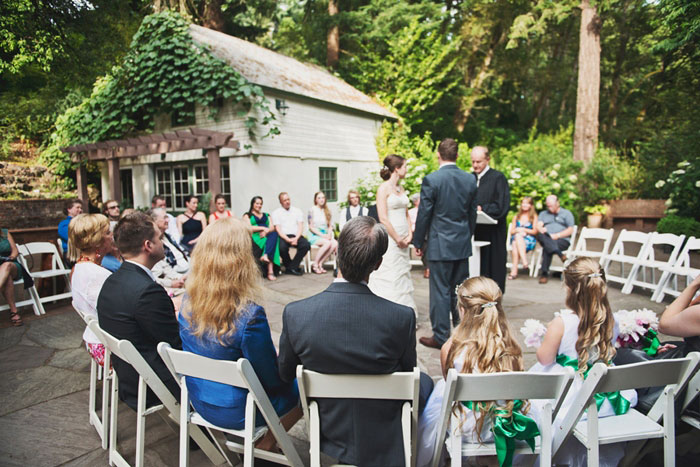 What were the highlights of the ceremony?
A gift from my Dad was a quartet to play for the ceremony and they were wiling to score a song from the video game Chrono Cross as a surprise to my husband as we walked down the aisle. We kept it short and sweet, wanting to leave most of the time for visiting and eating the wonderful food.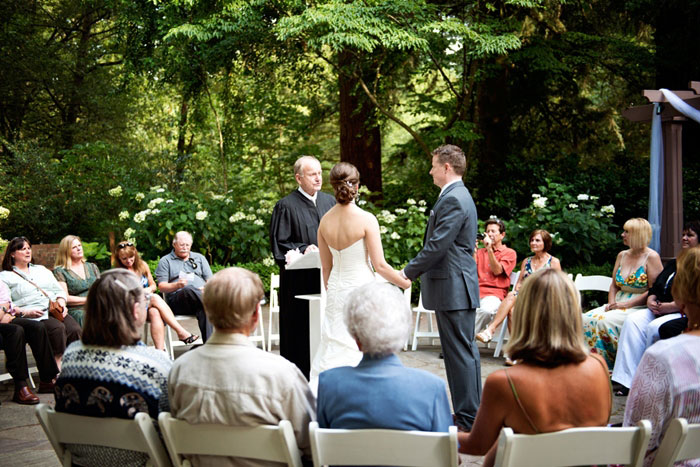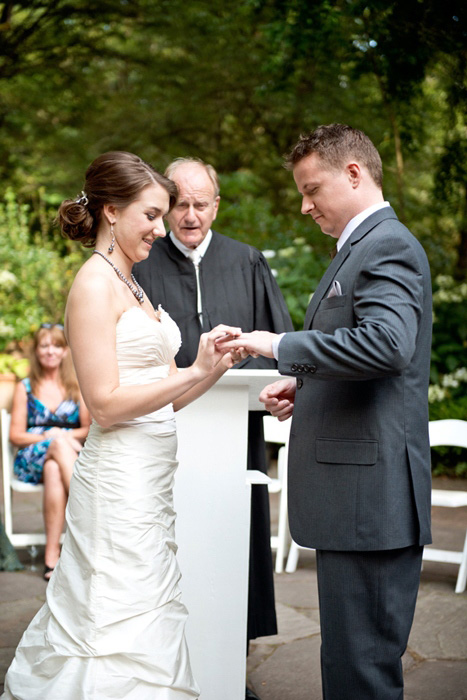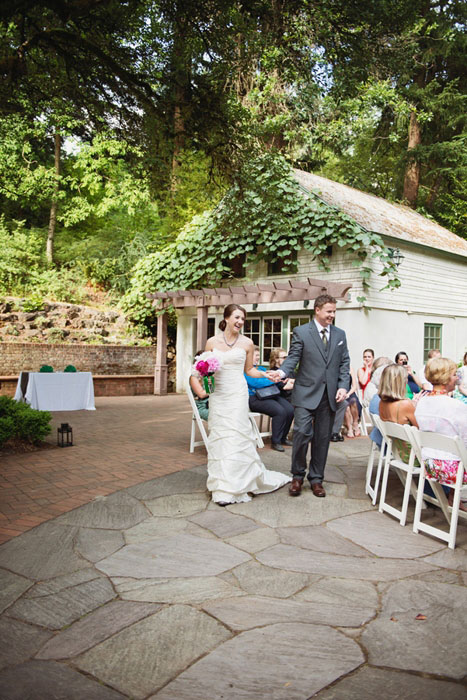 What were the highlights of the reception?
The thing we looked forward to the most was having the time alone with the photographer after the ceremony so we could just be with each other. We were very lucky to have a family friend cater; he did an amazing job and we heard about how great the food was for weeks.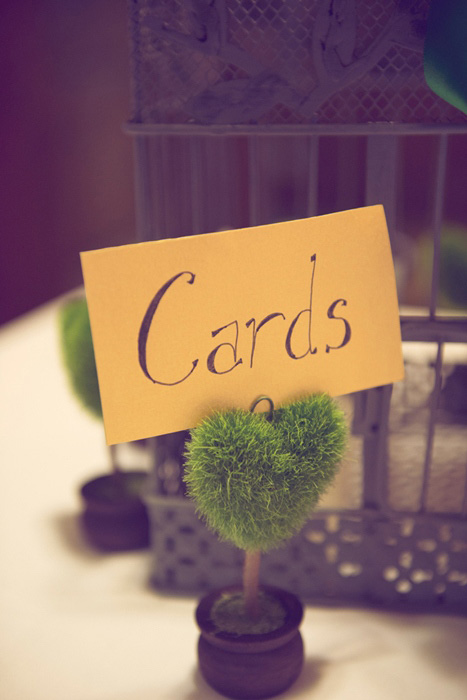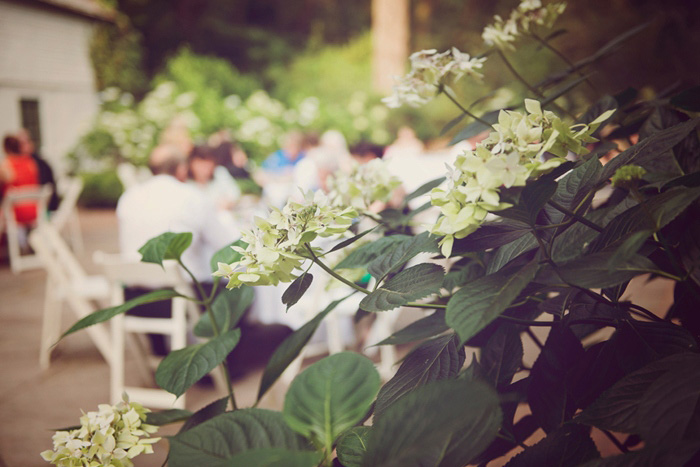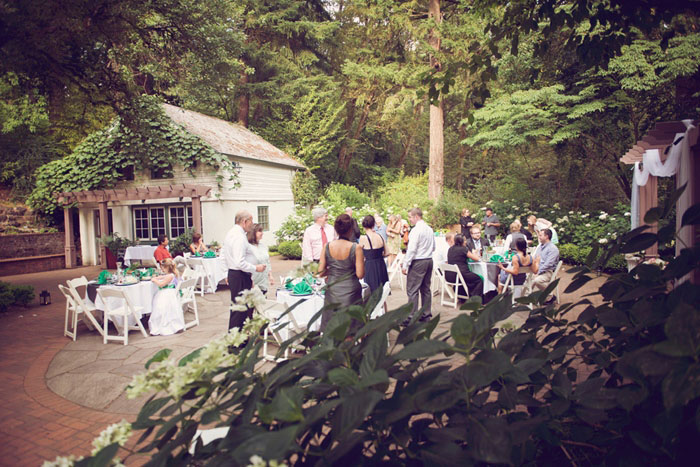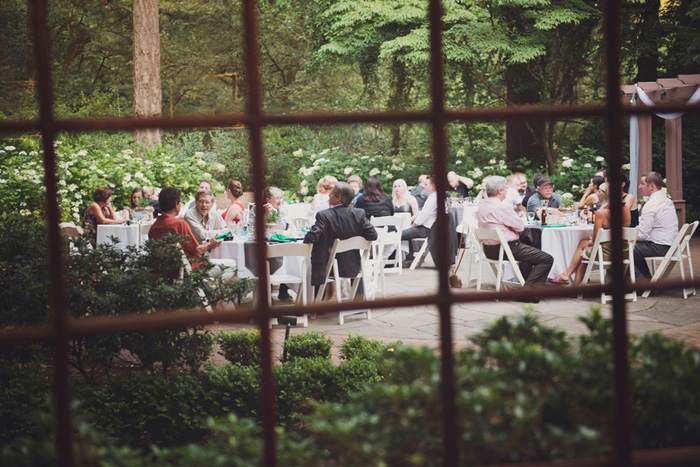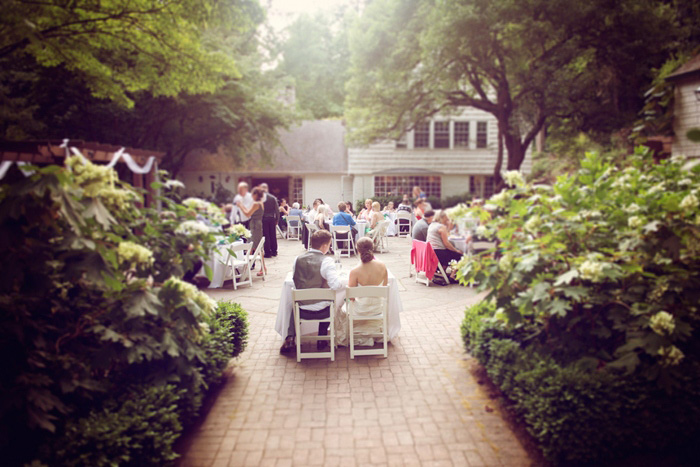 What was the best thing about having an intimate wedding?
We could really spend time with and talk to everyone who was there. I kept hearing stories of huge weddings and how the bride and groom would be constantly pulled away from each other to talk to some distant relative who they hadn't seen since childhood.  We didn't want that. This was our day and we wanted to spend some of it together. Getting to sit at the other tables after everyone finished eating and chat was really great.  We didn't have to worry about trying to catch up with anyone there either; it was relaxing being around people you just saw the other day. It didn't feel like we had to cram in a couple years worth of time together with people you had not seen in a long time; it felt easy.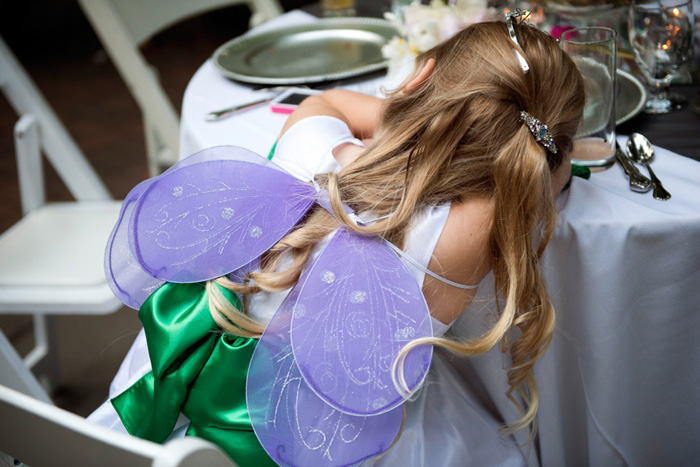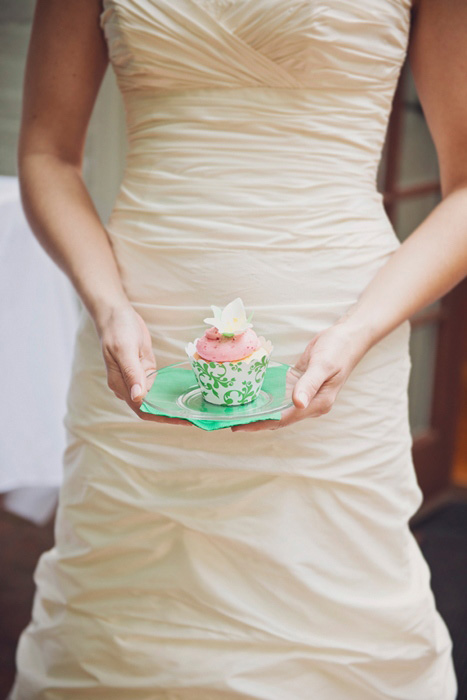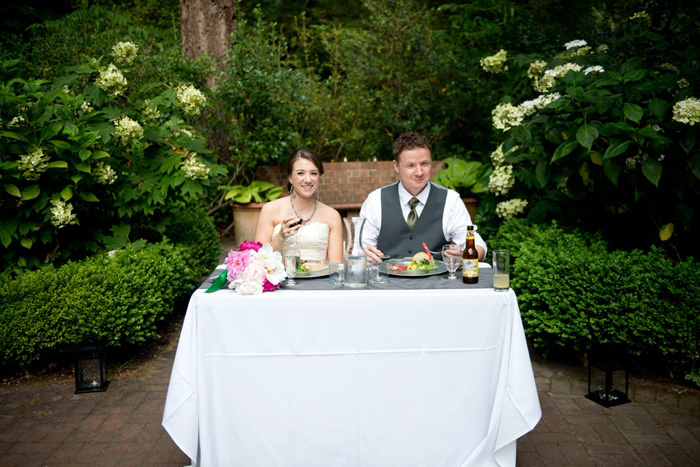 What advice do you have for couples who are considering an intimate wedding?  
If you have the means, set a broad idea of a budget, but then scour the land for everything cheap, but beautiful. I think limiting yourself to specific numbers can get pretty stressful.  We were hoping to only spend around $5,000 and I think we did pretty well, just going over the budget by $1,500. It was still way lower than the average cost across the U.S.  We were asked many times what our budget was, and the reply was always, "as cheap as possible".  A great way to cut back the cost is to have the wedding on a weekday; this not only helps lower the venue cost by more than half, but it keeps people from getting too wasted, and staying too late.  Also, it might hurt to do, but don't invite all the extended family. Both our sides have 9 parental siblings each and it would have doubled the head count with spouses and cousins, so we only invited a few.  Another thing, when looking into venues, try to find one that provides tables and chairs so you don't have to rent them, and also allows you to bring your own caterer instead of choosing one of the expensive ones from their short list. If there is one thing you should spend money on, however, it's a photographer; it is well worth the money to get a reputable one.  The photos are the one thing you will be left with when all is said and done.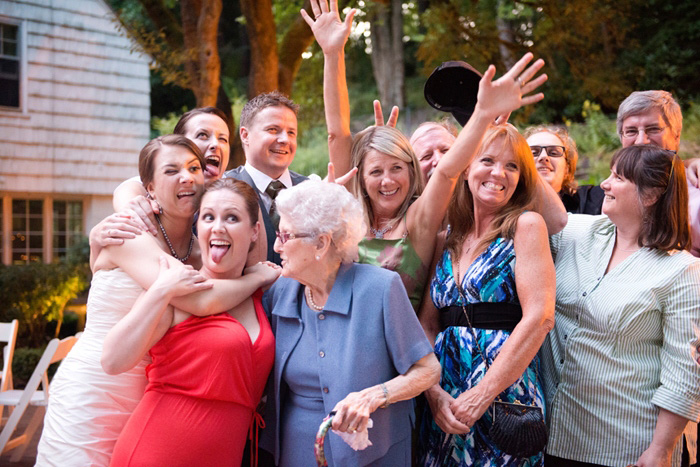 Vendors:
Cupcakes: Lizzy Cakes Cupcakes
Rental: Barbur Rentals
Quartet: Duo Con Brio
Photographer: Anna Caitlin Photography
Peonies: Alaska Perfect Peony
Dress: Paloma Blanca purchased from Ania Collection
Suit: Men's Warehouse
Hair/Makeup: AJ's Hair Design and Makeup