With a baby on the way, reunited college sweethearts Leah and Nick felt that eloping was their best option. With just their immediate family and their son by their side, the couple chose to tie the knot in the small town of Lutsen, Minnesota. The bride, who was five months pregnant, hiked to the top of the cliffs overlooking Lake Superior along with her groom to exchange their vows in a beautiful tear-filled ceremony, followed by an intimate dinner and a bonfire on the beach.
Special thanks to Bailey Aro for sharing Nick and Leah's super sweet elopement with us today!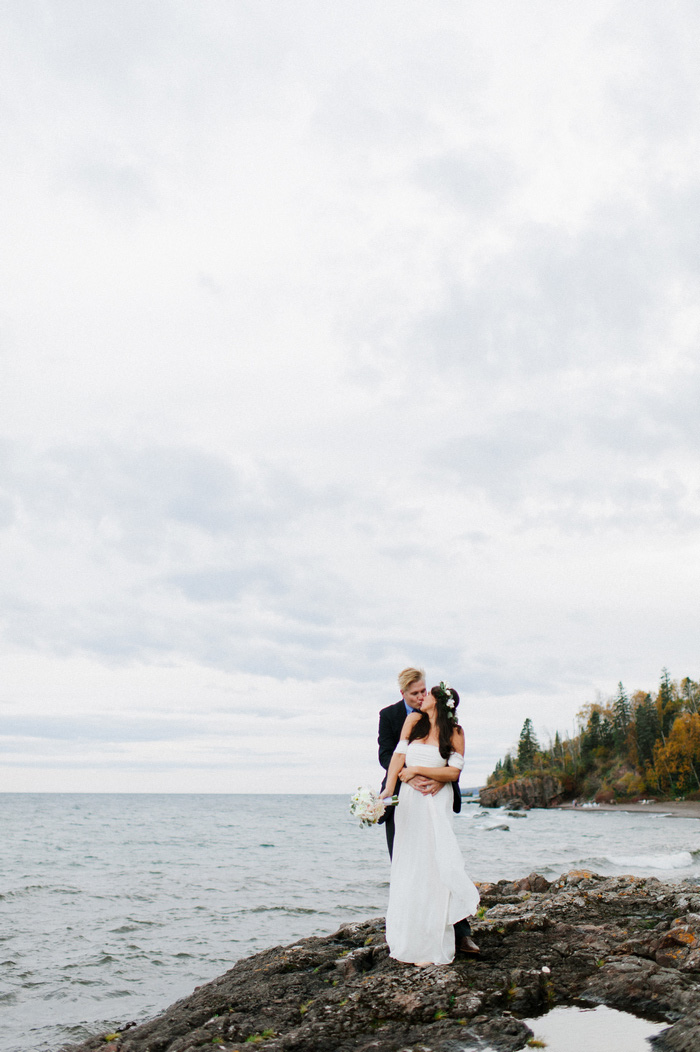 Leah, 37 & Nick, 39
Location: Lutsen, MN
Wedding Date: October 9, 2015
Number of Guests: 8 (including us, my son, and also our daughter who was in my belly!)
Wedding Cost: $2,300 (not including the gown and rings)
Wedding Ceremony Location: On the cliffs of Lake Superior at Lutsen Resort
Wedding Reception Location: Lakeside Dining Room, Lutsen Resort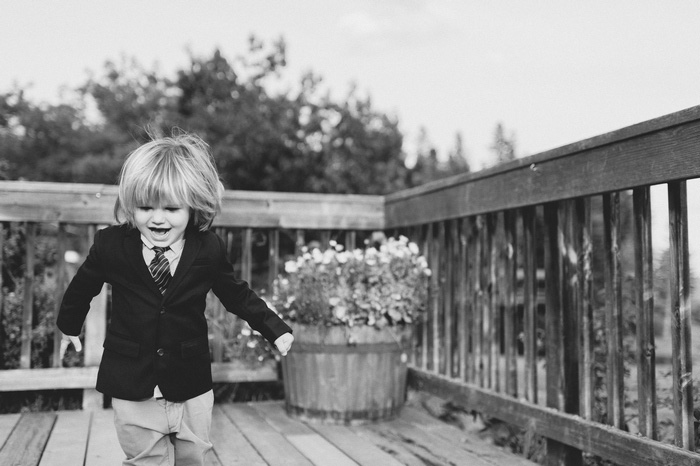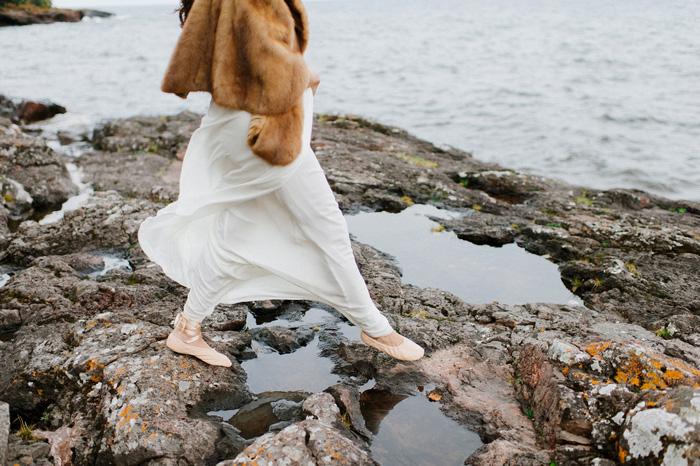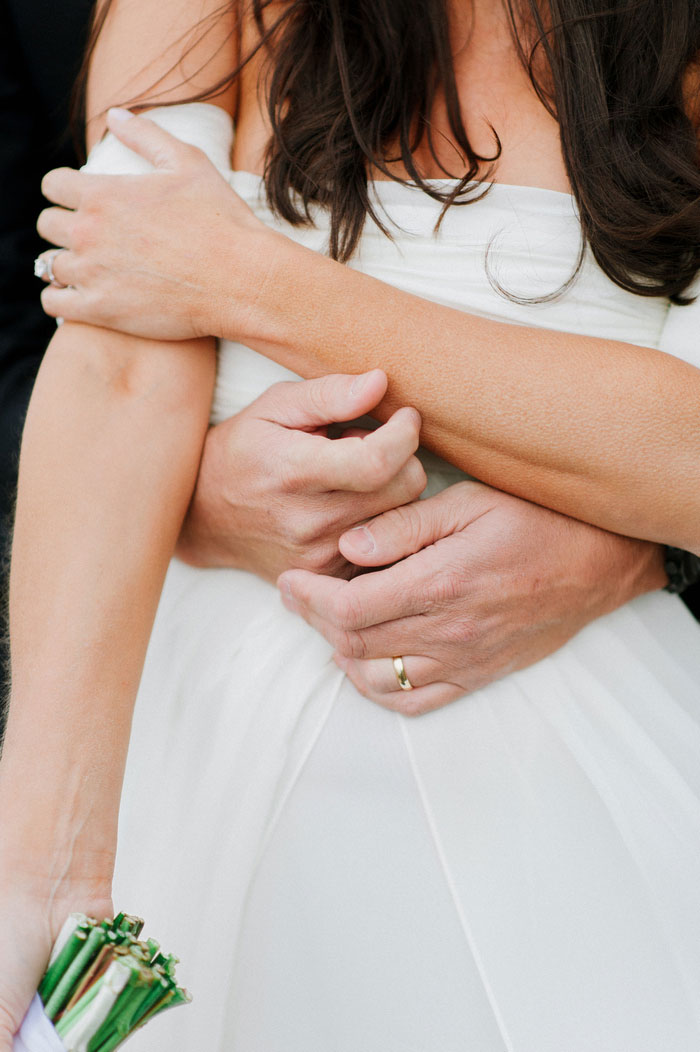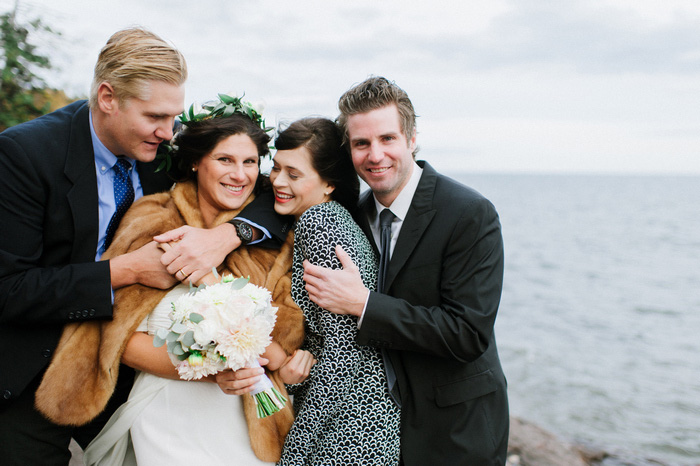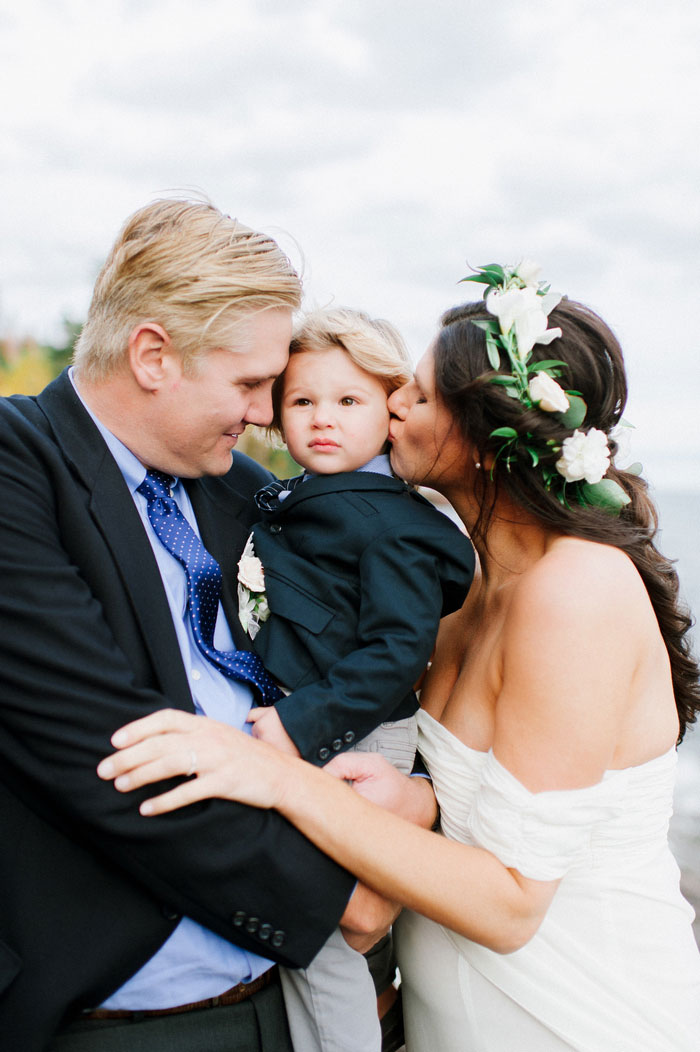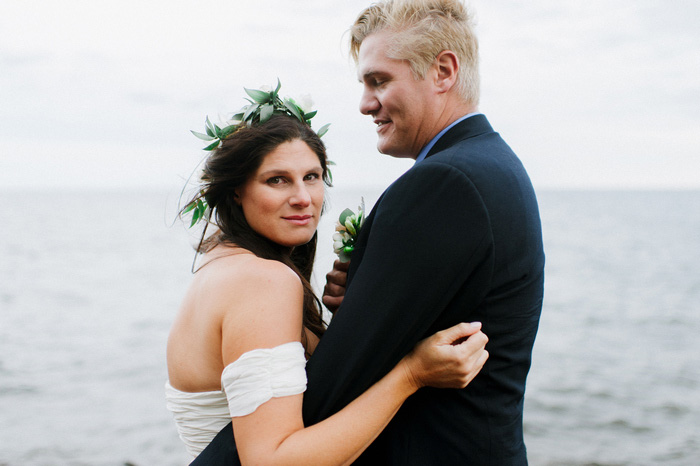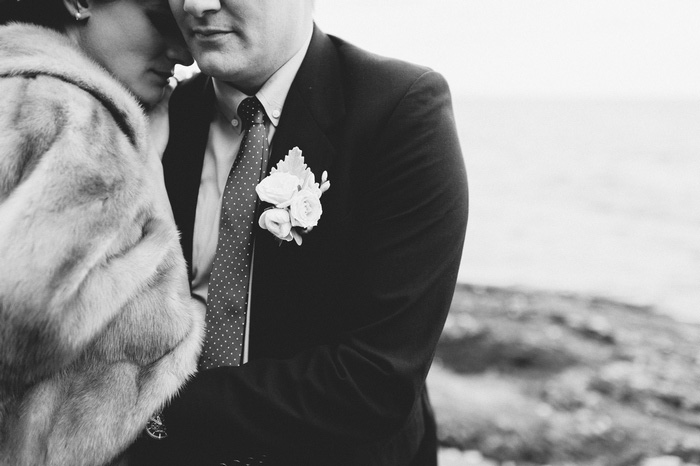 Why did you have an intimate wedding?
My husband, who was my college sweetheart, had already had a big wedding and felt it was too impersonal. Originally we were planning a destination wedding with 30-40 guests, but the event I was envisioning would have cost a lot of money. That, paired with the fact that most of our friends and family were scattered across the country and in the midst of major life events (having kids, buying houses, getting married!), and that we wanted to make things official before baby number two arrived, we decided to elope in Lutsen – a place my husband had been coming since he was in his mother's belly.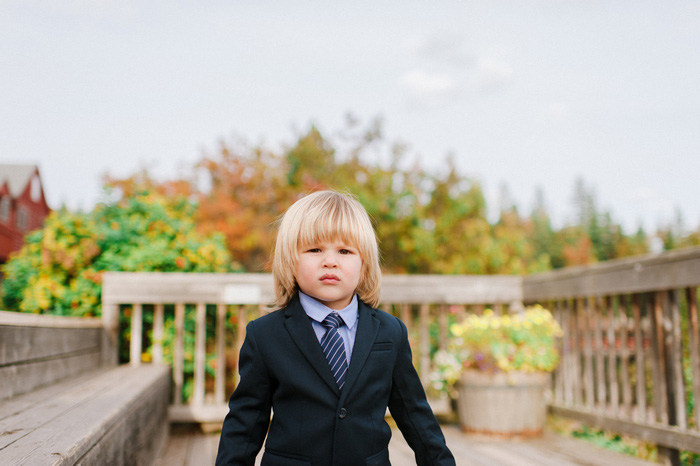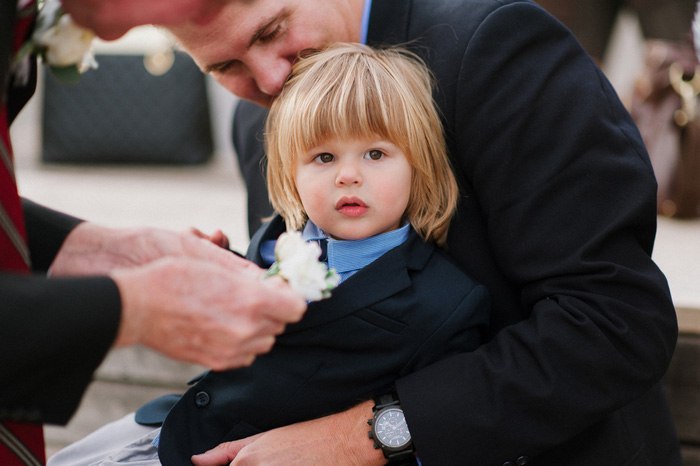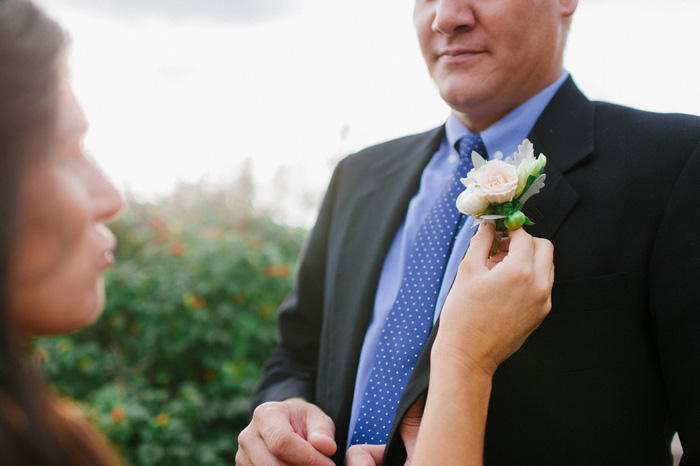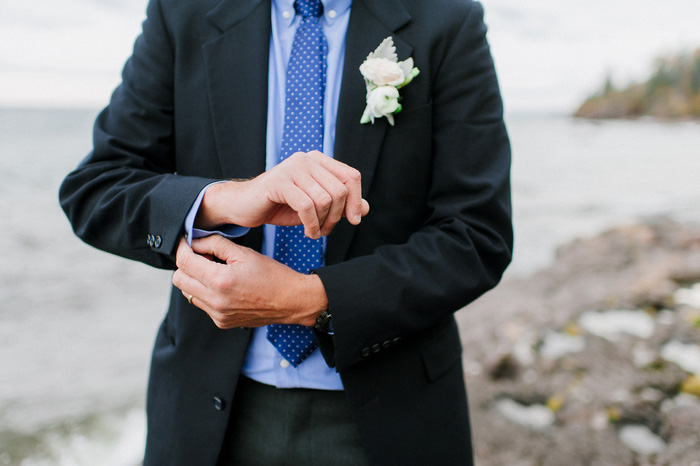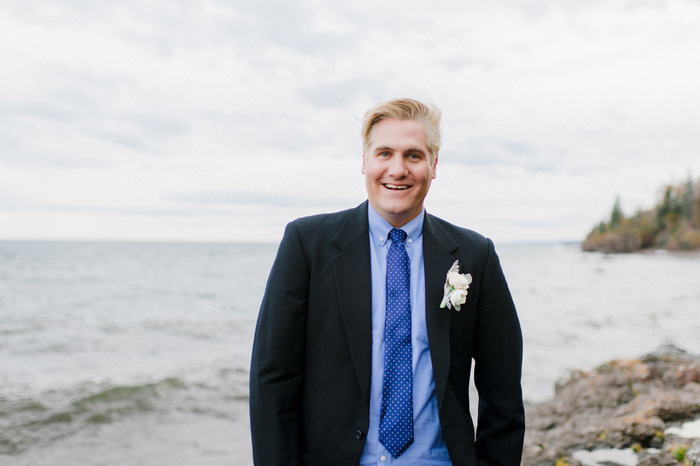 What are some the challenges that you faced planning an intimate wedding?
I wanted everything to be perfect despite the fact we were eloping. I had a very specific vision in my mind for our wedding day. It was difficult planning my dream day without the help of a wedding planner (other than my mother-in-law, who was my partner in planning crime!) in a super small town with few resources. Since most of the other weddings that took place at the resort were bigger, they were able to use vendors from Duluth, which is two hours away. The closest salon was an hour away, so I found a hair/makeup girl whose day job was dairy farming. My mother-in-law and I got beautified in her living room, while chickens roamed around us.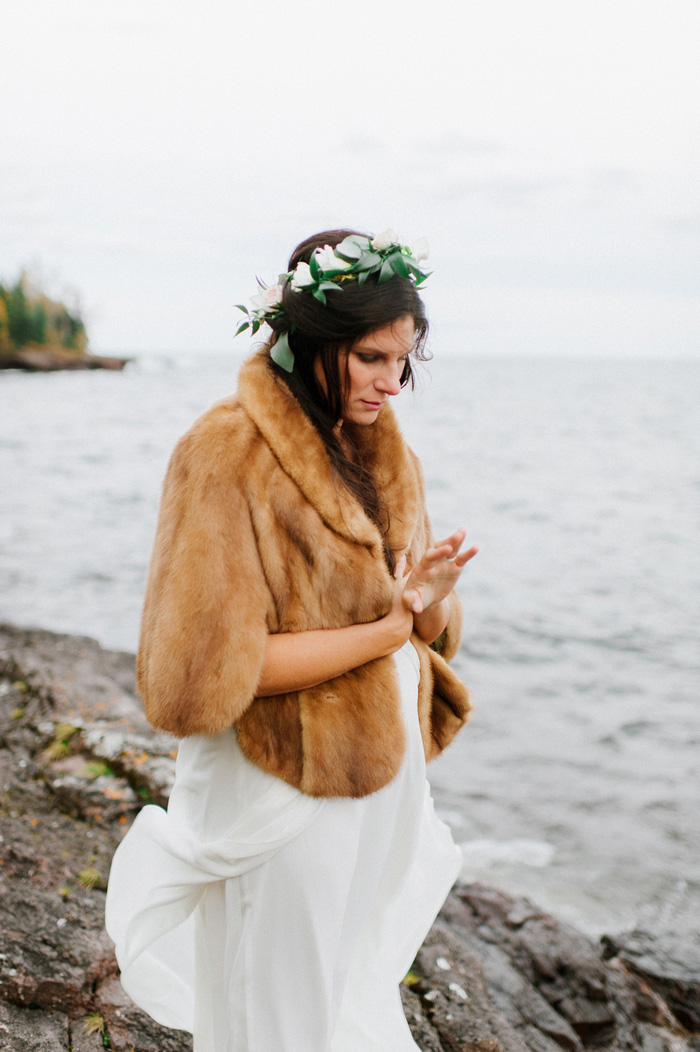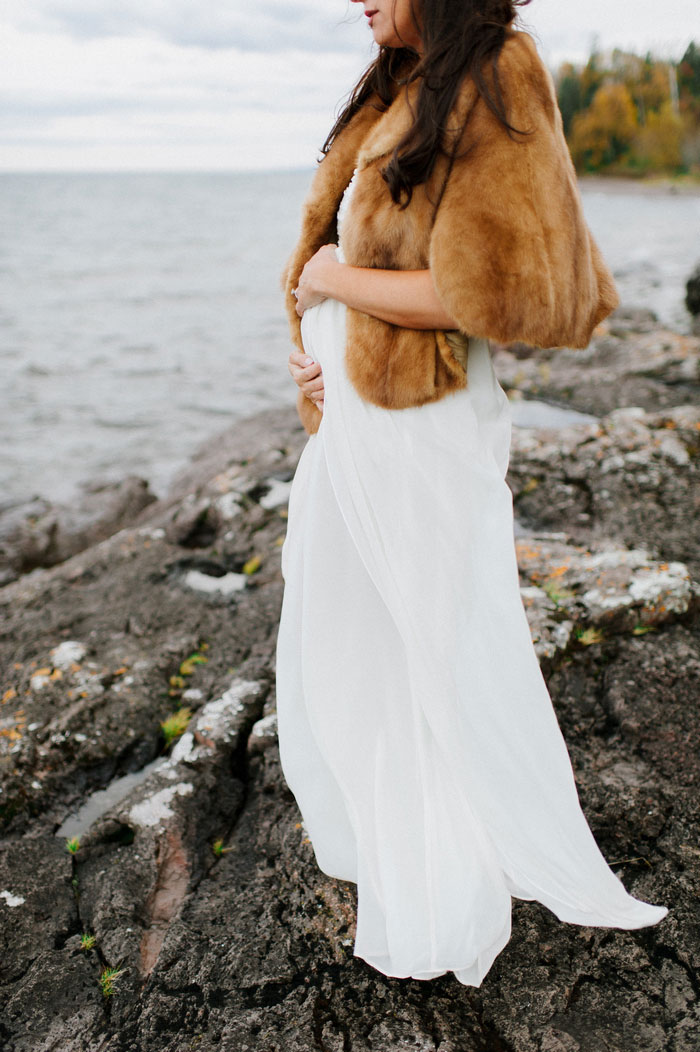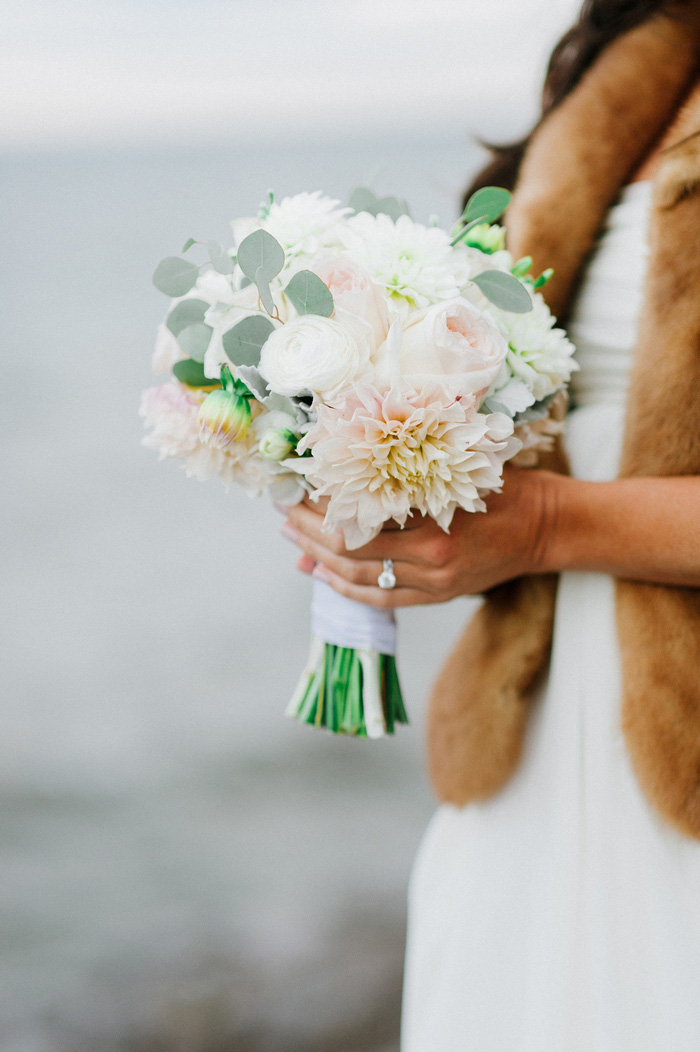 Was it difficult to pare down the guest list?
We went back and forth about just how intimate the wedding was going to be. At first we were going to invite a few close friends in addition to immediate family, but it started getting a bit tricky. Once we decided to elope with only immediate family, it became a lot easier.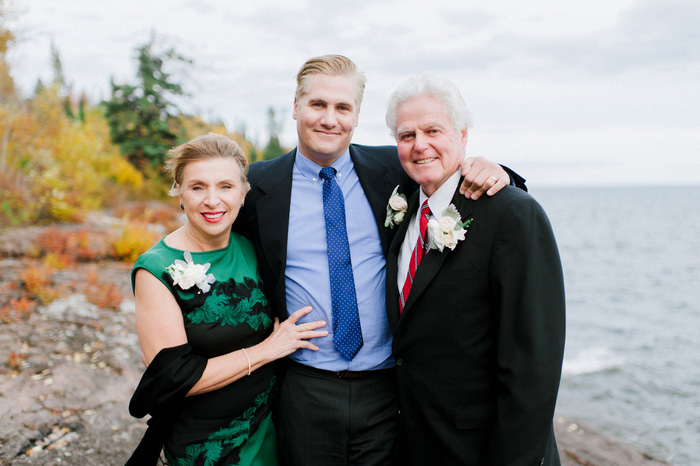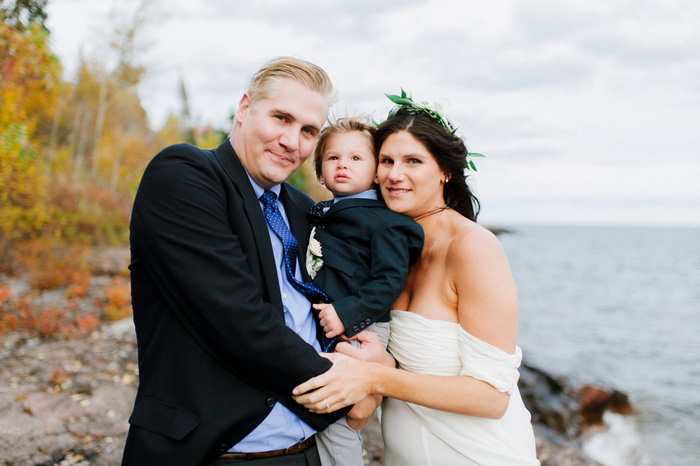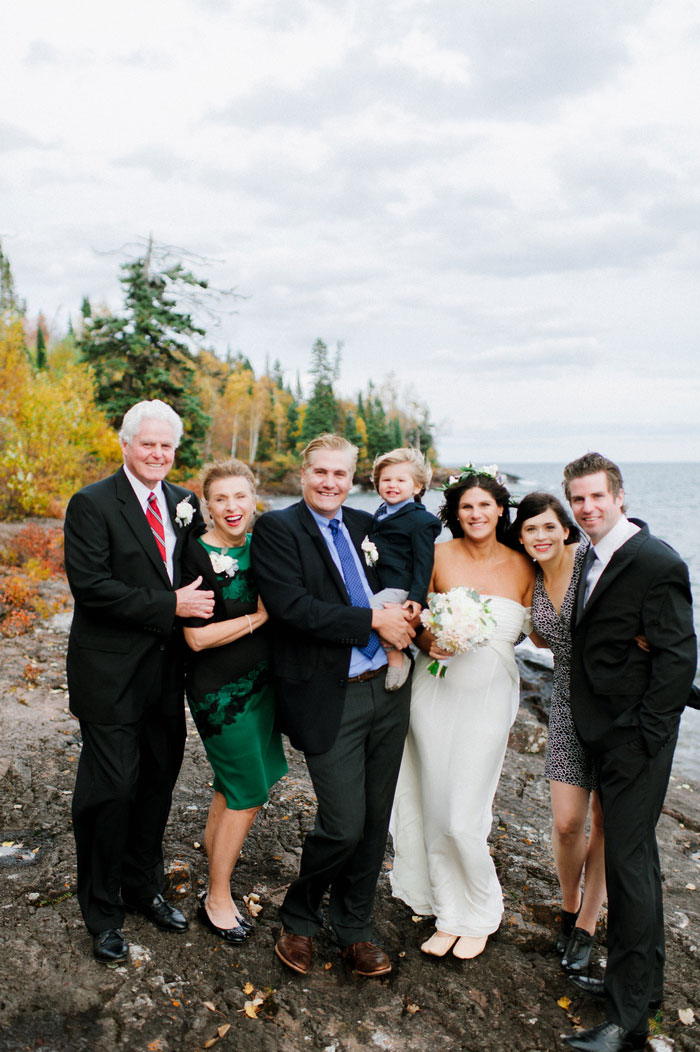 Did you have any 'issues' with the small guest list from friends and family? If so, how did you address them?
My husband has a rather large, close-knit family, and there was some pressure from his parents to have a bigger wedding. Because it was his second marriage, however, and the fact that his brother was having a giant wedding two months later, it was less of an issue, and in the end, I think people were understanding of our decision.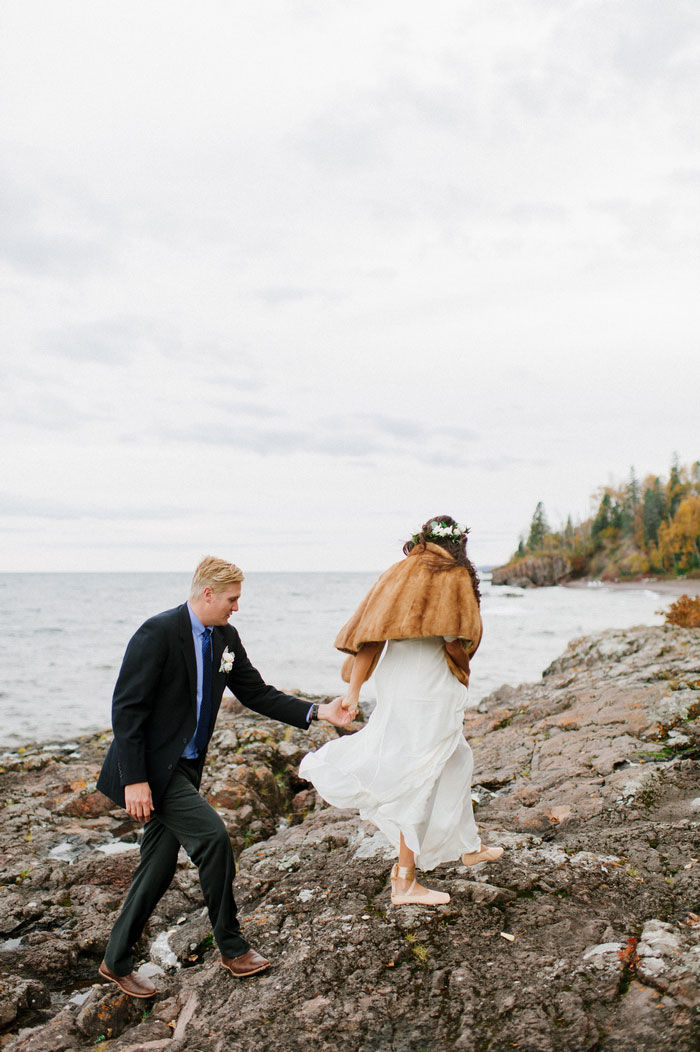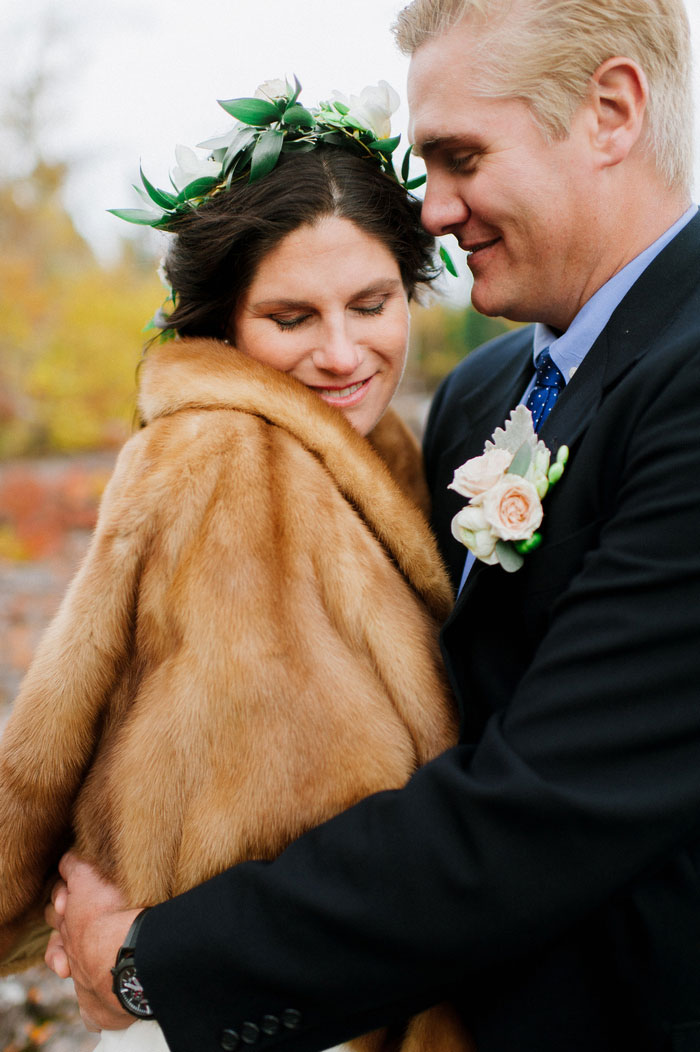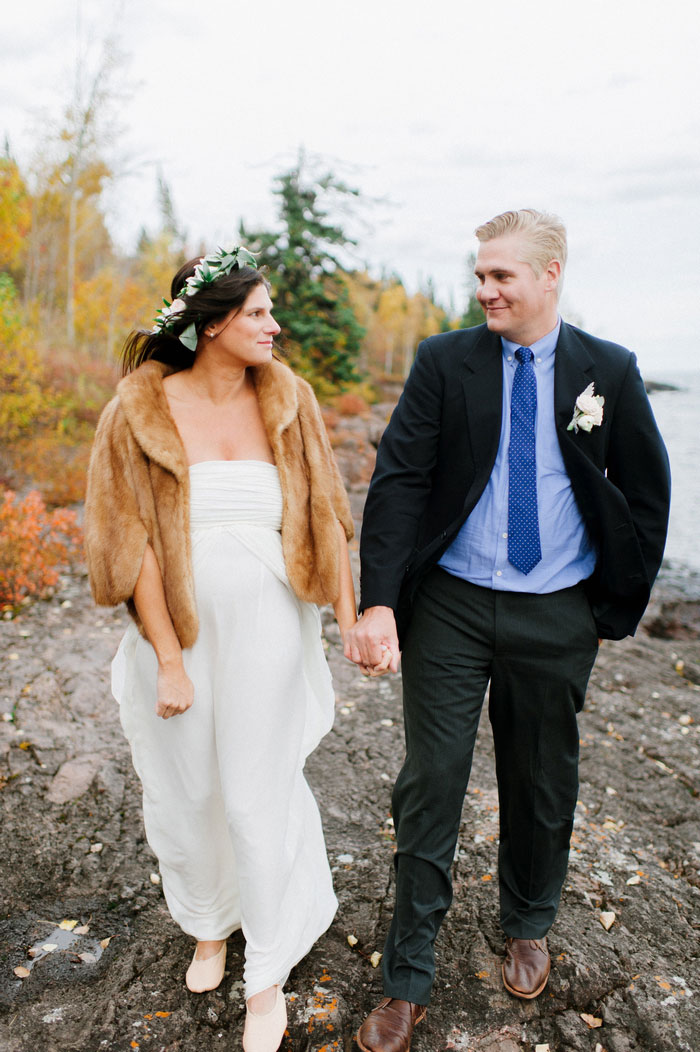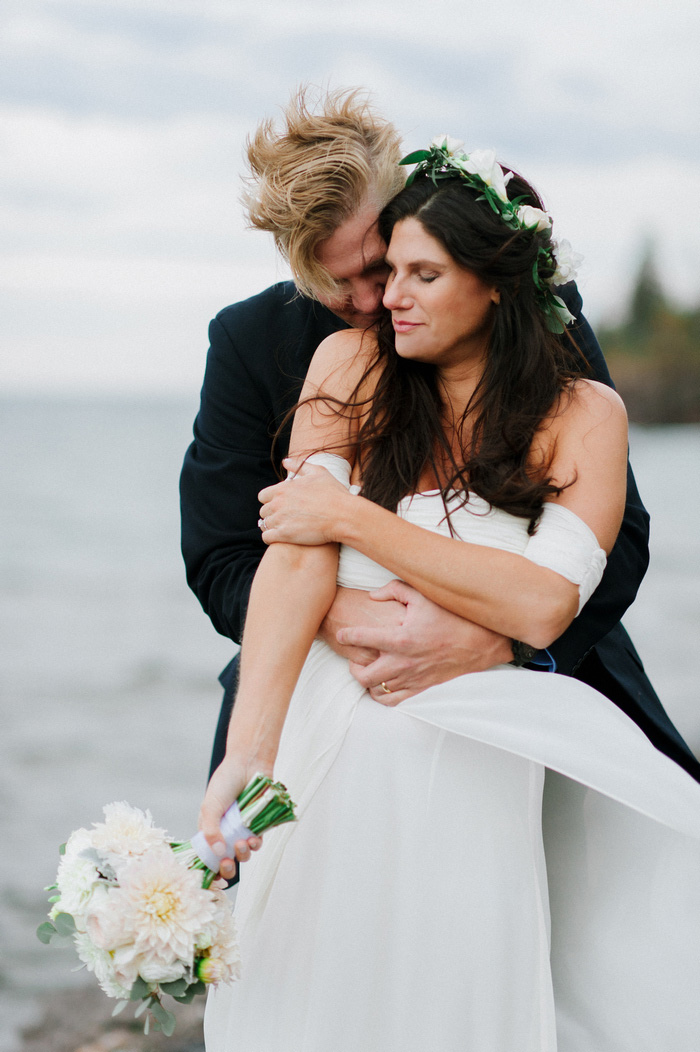 What were the highlights of the ceremony?
We knew we wanted to get married on the lake, but didn't have the exact location nailed down until right before the ceremony. The photographer suggested an intimate spot on the cliffs, so there I was, five months pregnant in my wedding gown, hiking to the staggeringly gorgeous location. The whole ceremony was such an adventure. I walked down the rocks with my son and father-in-law to Romance in G. Despite never meeting, it felt as if we had known our officiant, Timothy Young, for years. It was difficult reading our handwritten vows to one another, because I couldn't stop crying.
Marrying the love of my life half a lifetime after I fell in love with him for the first time, while pregnant with our daughter and our son by our side, was so profound. In that moment I realized that God truly had a plan for both of us, and that things in the world were exactly the way they were supposed to be.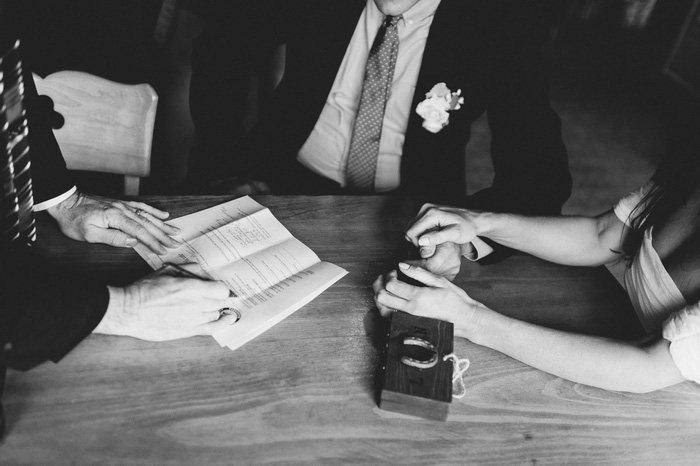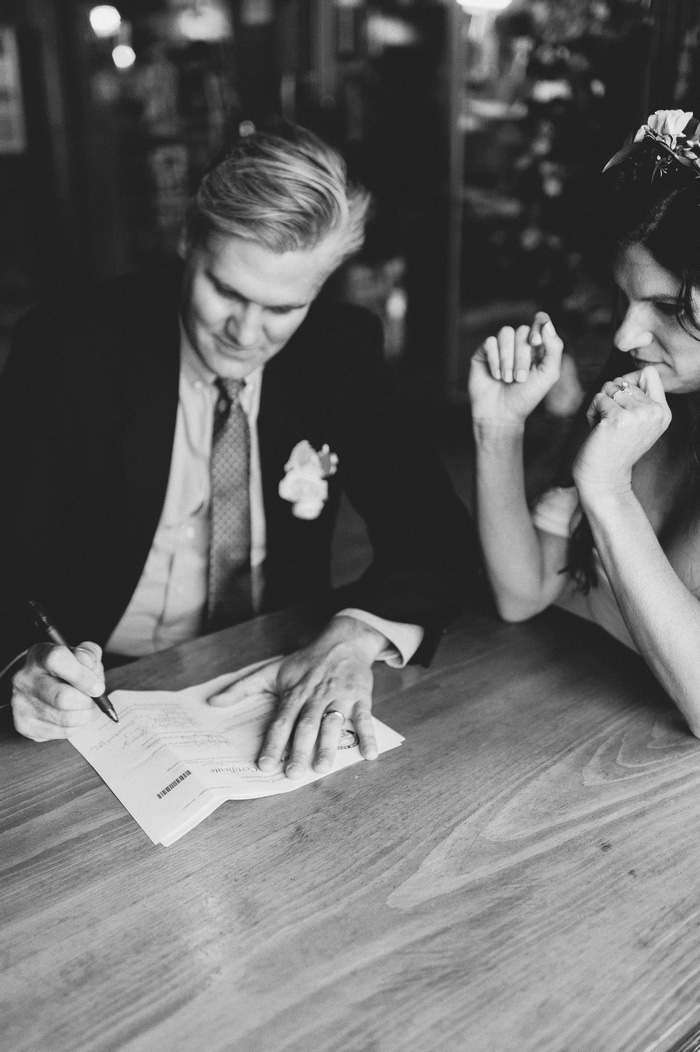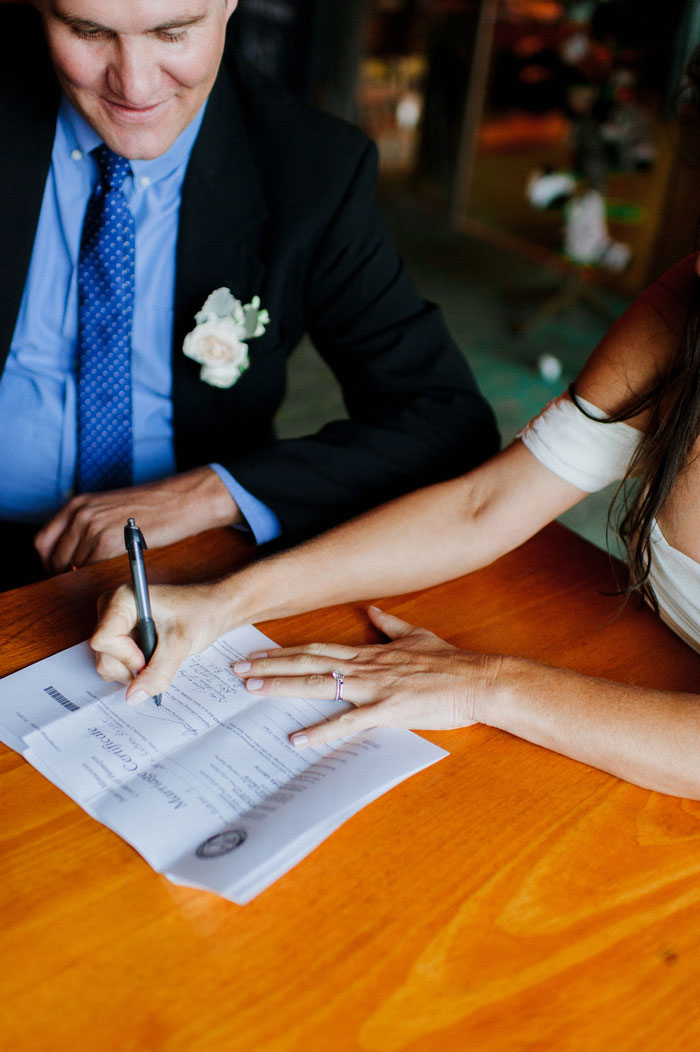 What were the highlights of the reception?
Enjoying a delicious meal with our family and getting to refer to each other as husband and wife! I decorated our $20 cake – carrot with cream cheese frosting – with flowers and served it on a slab of wood; and it was the best cake we'd ever had. It came from a small bakery located in the kitchen of an old church in the next town over. After dinner, we changed out of our wedding attire and headed down to the beach for a bonfire.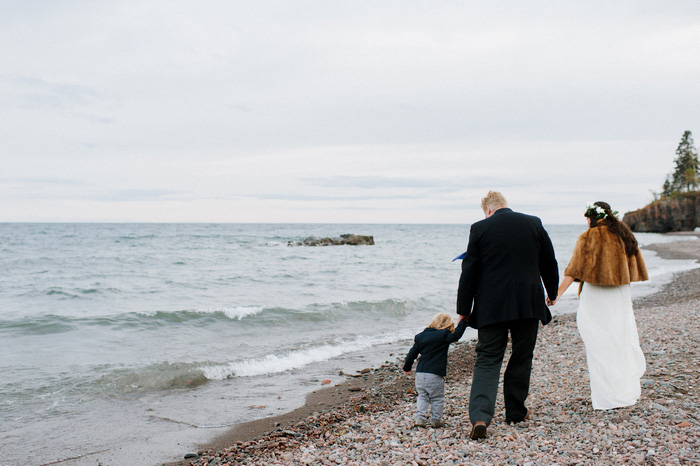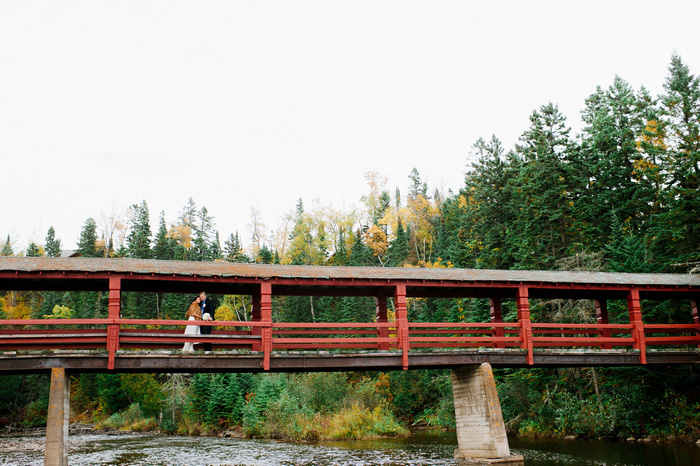 What was the best thing about having an intimate wedding?
Instead of spending nearly every moment visiting with other people and worrying about standing in the right spots or saying the right thing, we were able to really appreciate and enjoy every moment.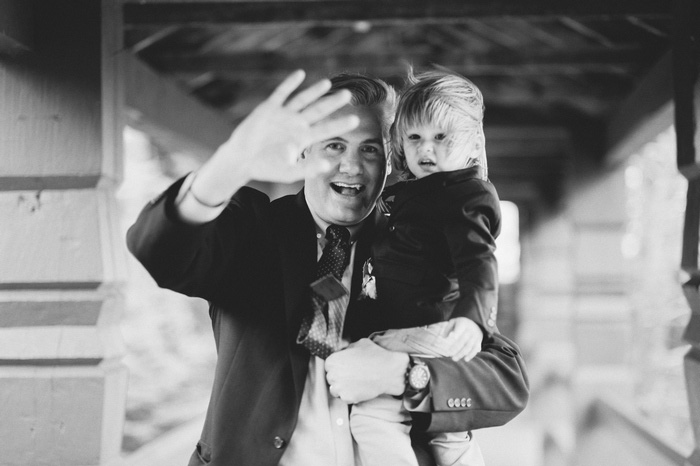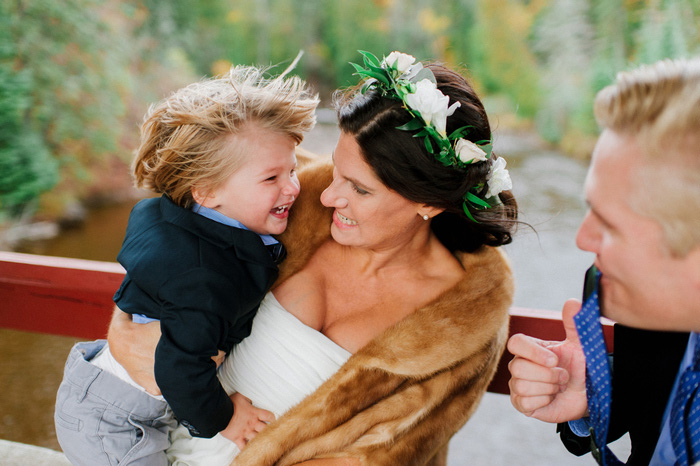 What advice do you have for couples who are considering an intimate wedding?
You don't have to compromise your "dream wedding" just because you opt to have an intimate wedding. Don't sacrifice what is important to you just because there aren't very many guests. Put together a vision board on Pinterest and get creative. Plan but don't over plan, and let the small details take you on an adventure. When it comes to budgeting, be very clear on what things are important to you and splurge and save where applicable. You can wear a gorgeous dress, have beautiful flowers and eat delicious cake without spending a ton of money. Also, I firmly believe that a beautiful backdrop and an amazing photographer are crucial, and that if you are going to splurge on one thing, it should be the photos. We are absolutely in love with ours, thanks to the brilliant Bailey Aro. I knew she was the one the first time I visited her website.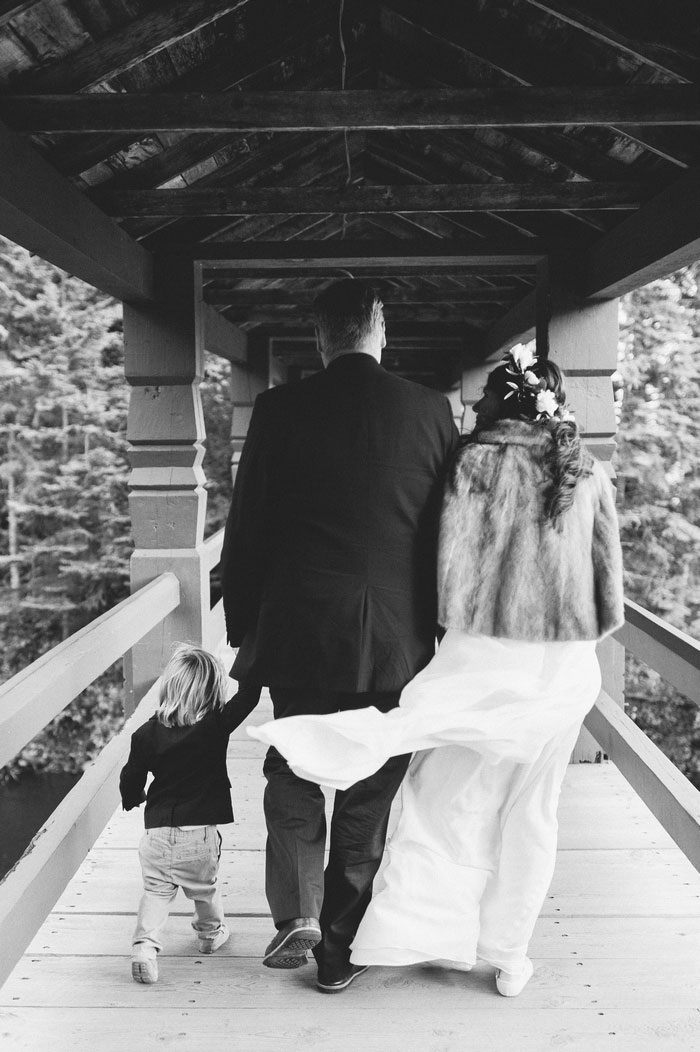 Vendors:
Photography: Bailey Aro Photography
Venue: Lutsen Resort
Officiant: Rev. Timothy Young
Florist: Terra Bella 
Cake: Elfvin's Bakery
Violinist: Max Bichel
Hair & Makeup: Lindsay Berglund
Wedding Dress: Rachel Zoe
Wedding Shoes: Linge
Bride's Wedding Band: Kwiat
Groom's Wedding Band: Tiffany & Co.
Save