Max and Elizabeth wanted to avoid the drama that can sometimes go hand in hand with a large wedding, but that doesn't mean they wanted a bare-bones elopement either. The couple chose Paris as their destination of choice and brought a healthy dose of glamor and style to their early morning photo session (complete with chauffeured vintage Rolls Royce!) and elopement ceremony overlooking the Eiffel Tower. After all, it doesn't get much more romantic or more glamorous than the City of Love itself, now does it!?
Special thanks to Brian Wright for capturing all the lovely moments and memories of Max and Elizabeth's big day, and for sharing them with us today!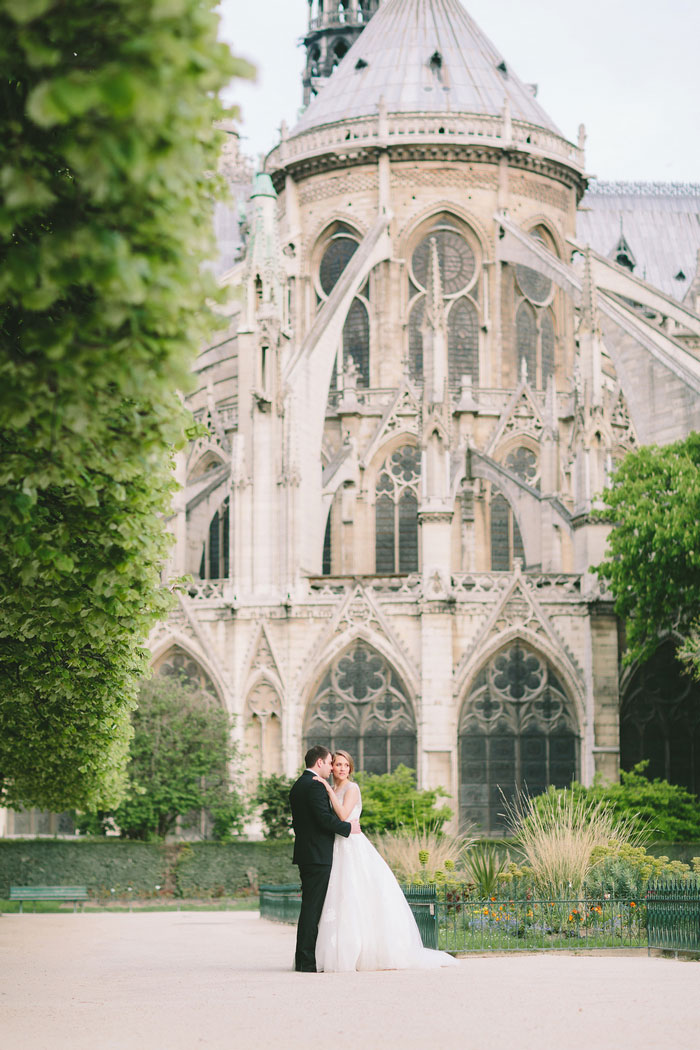 Elizabeth, 25 & Max, 28
Location: Paris, France
Wedding Date: April 21, 2016
Number of Guests: 0, unless you count the lovely tourists and locals who gathered a few hundred feet away from our ceremony location and cheered and clapped when we had our first kiss! 

Wedding Cost: $9,000.00 total; Dress from Allure Bridal – $1,800.00; Suit from Joseph Abboud – $500.00; Plane Tickets – $2,600.00; Wedding Expenses – $3,000.00; AirBNB – $900.00
Wedding Ceremony Location: Pont de Bir-Hakeim Bridge (overlooking the Eiffel Tower and the Seine River)
Wedding Reception Location:  After our wedding ceremony we went back to our AirBNB, took some pictures of our own, cut our wedding cake, danced to "la via en rose" by Louis Armstrong, and toasted to a happy marriage with authentic French Champagne. A few months later, on June 18, 2016 our family threw us a small elopement party that we affectionately dubbed our "I DO BBQ." At our party we were able to celebrate with our family and close friends, cut a cake, and eat some great southern barbeque (we live in North Carolina, Eastern Style BBQ all the way!).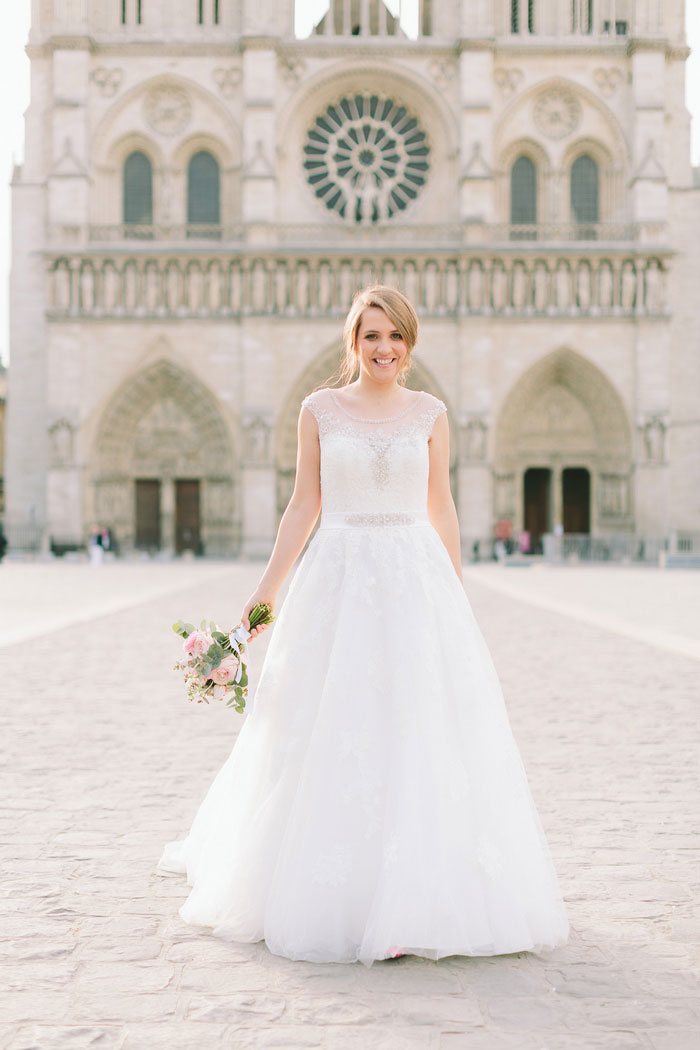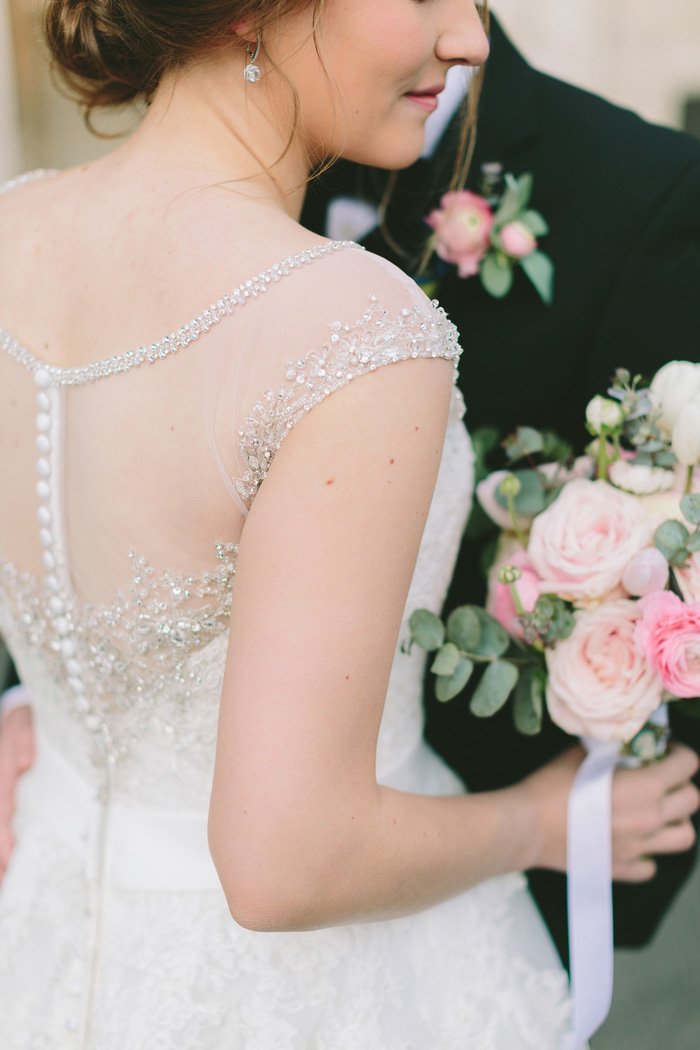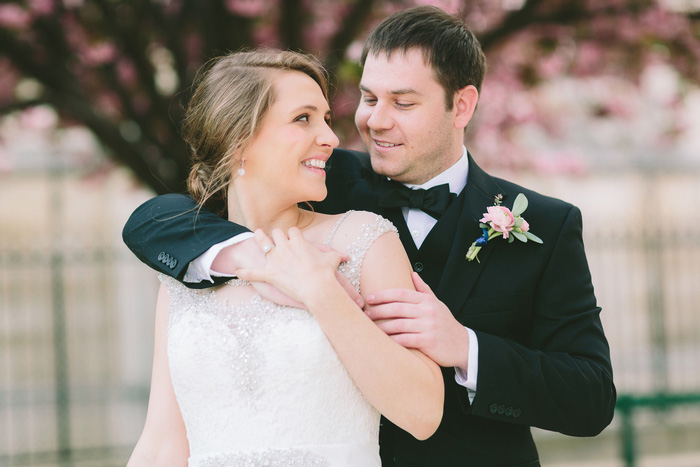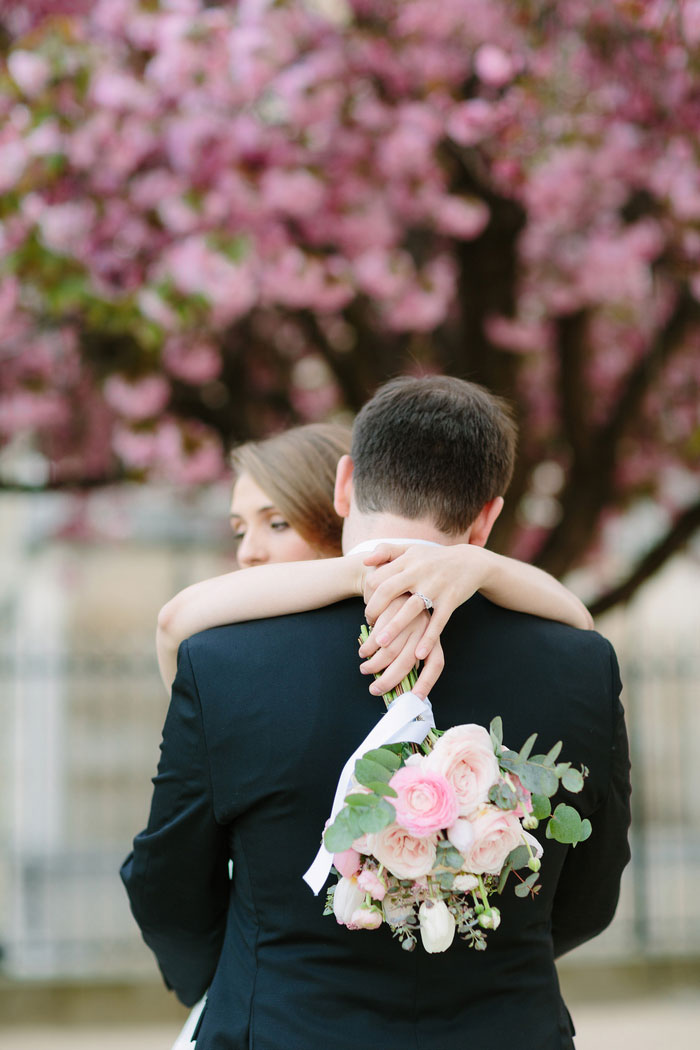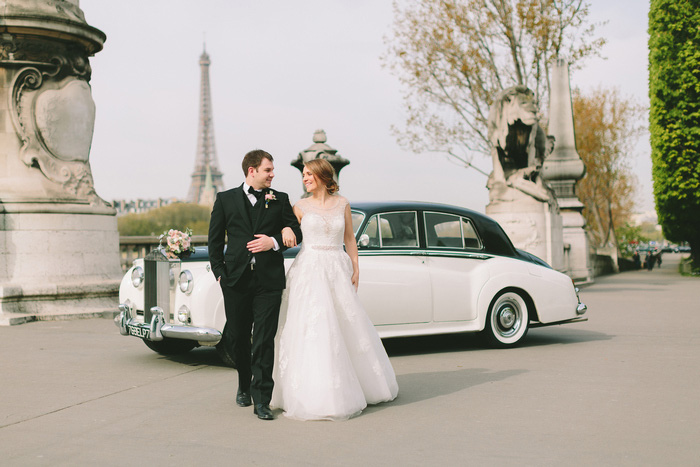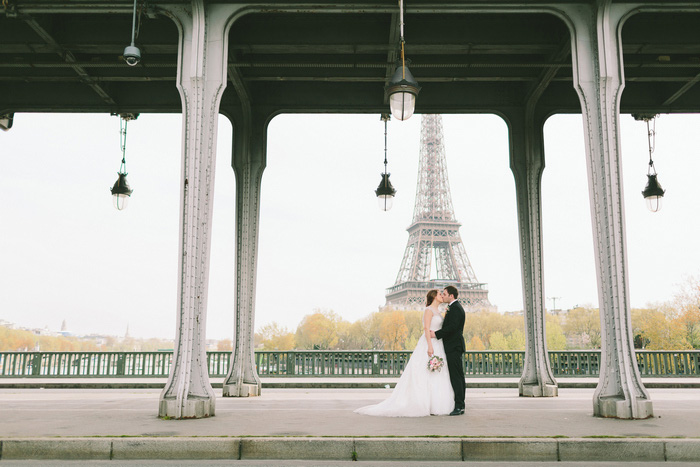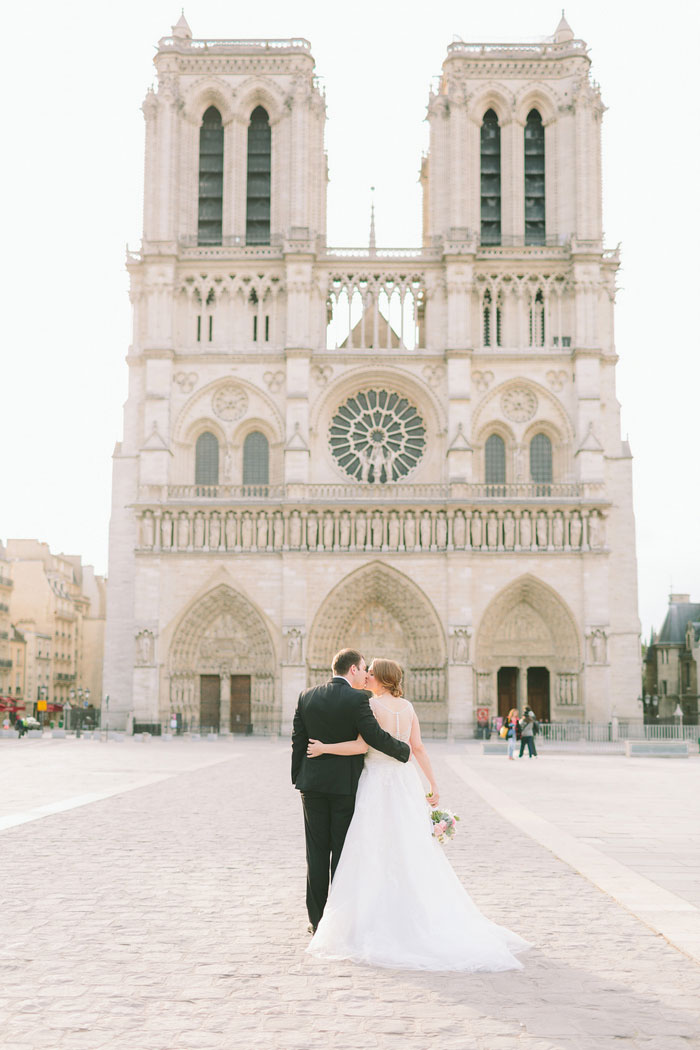 Why did you have an intimate wedding?

The idea of a large wedding felt more like a show than a celebration for Max and I. Plus, we did not want to deal with any of the drama that a wedding can sometimes bring. We always wanted to travel and see the world. We considered tropical places, and local places, but finally narrowed it down to the most romantic city in the world – Paris, France – and it was the best decision we have ever made.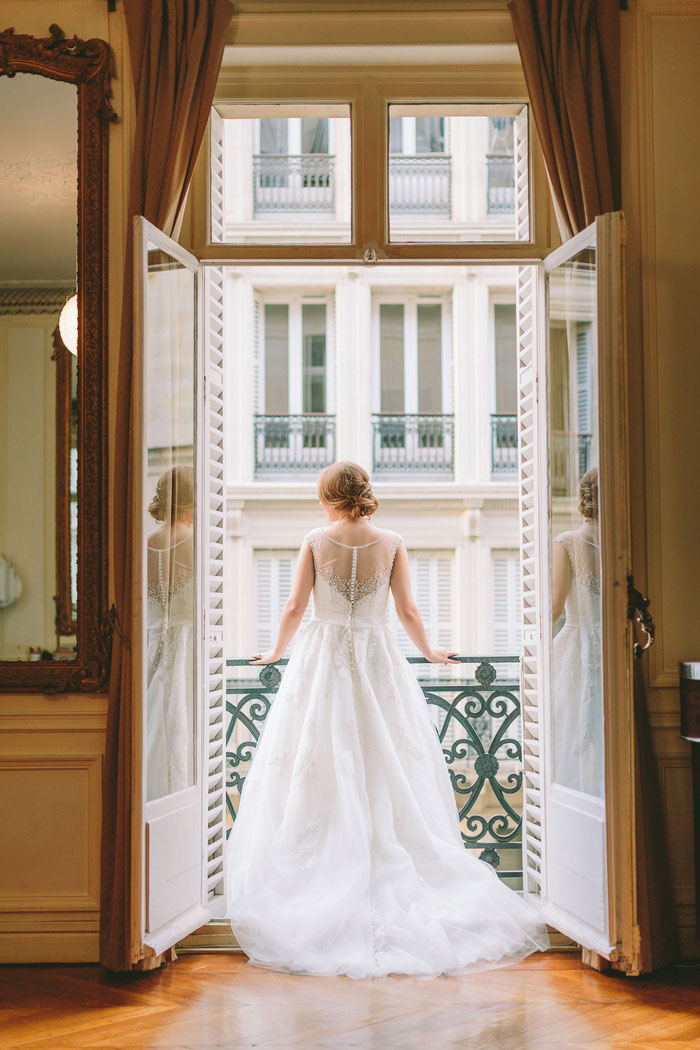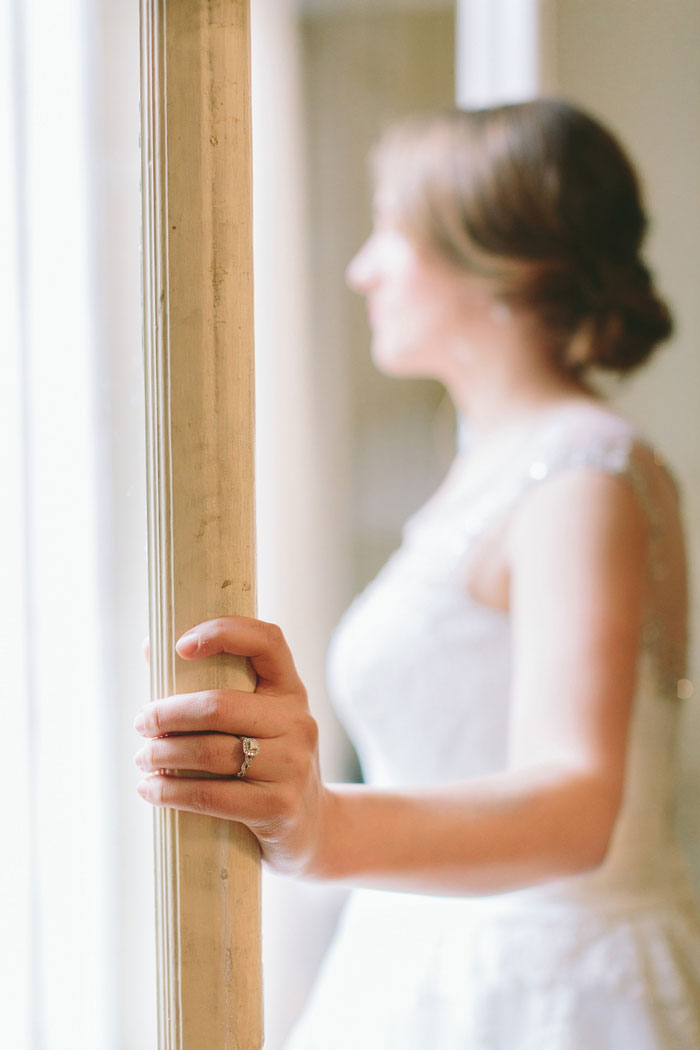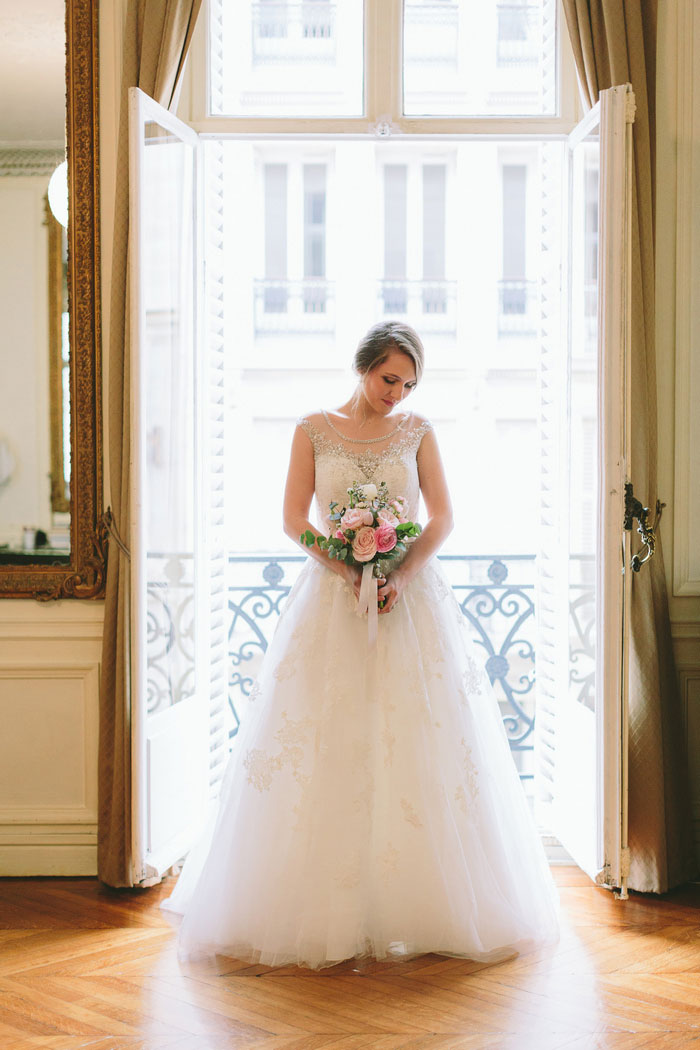 What are some of the challenges that you faced planning an intimate wedding?
The biggest challenges were mostly in the form of my own emotions, which I feel like every bride considering an intimate wedding struggles with. Lots of questions crossed my mind – will my parents be upset? Will I regret my father not walking me down the aisle? Will people be upset/disappointed in us? Will we regret not having the traditional wedding day? I had to stop myself and remember that a wedding/marriage is not about other people, and even though a wedding does honor family, at the end of the day it is not about them either; it is about the bride and the groom. Once I realized this, I knew we had made the right decision. 
Also, I must note that our officiant/photographer are a husband and wife team that offer wedding packages in Paris, France and they made the entire process seamless!!! Their services included the photography, officiating, the flowers, and the driver. They also speak flawless English which is a blessing in any foreign country. They treated us as old friends and we now consider them as such. I can't say enough wonderful things about them and their services.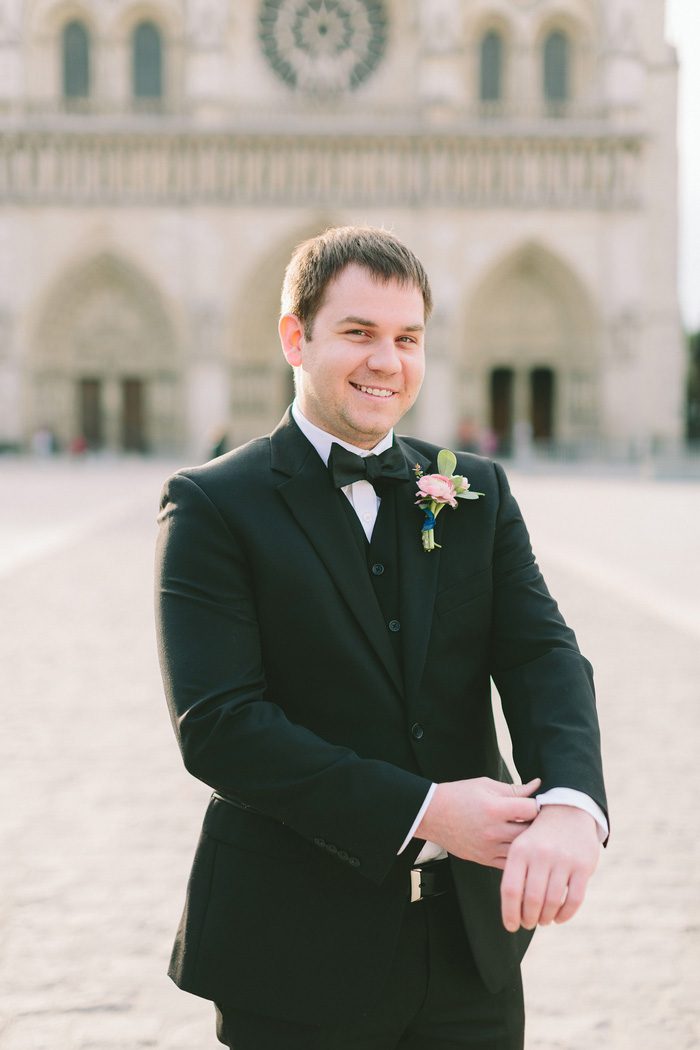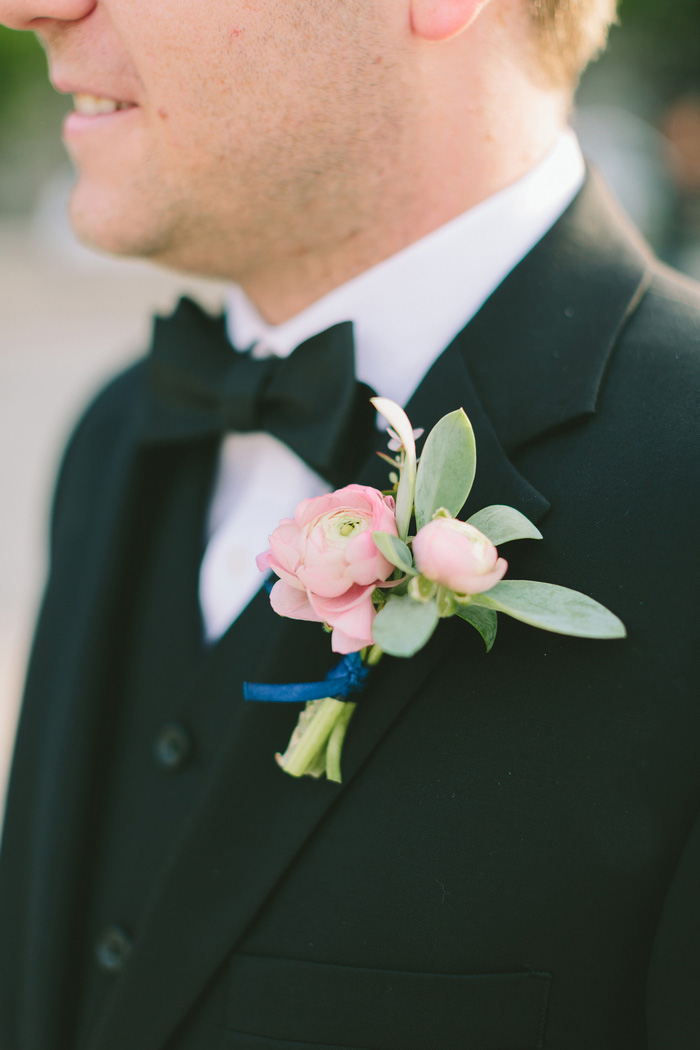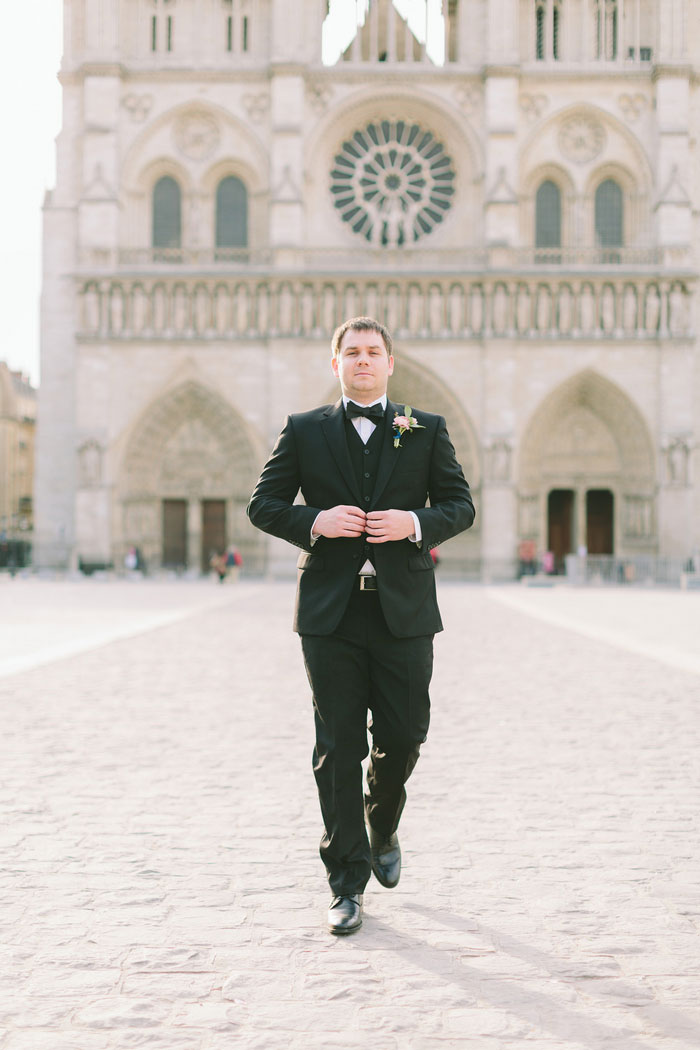 Was it difficult to pare down the guest list? 
No, choosing to marry each other across the pond made the process easy as we did not want anyone financially burdened by our decision.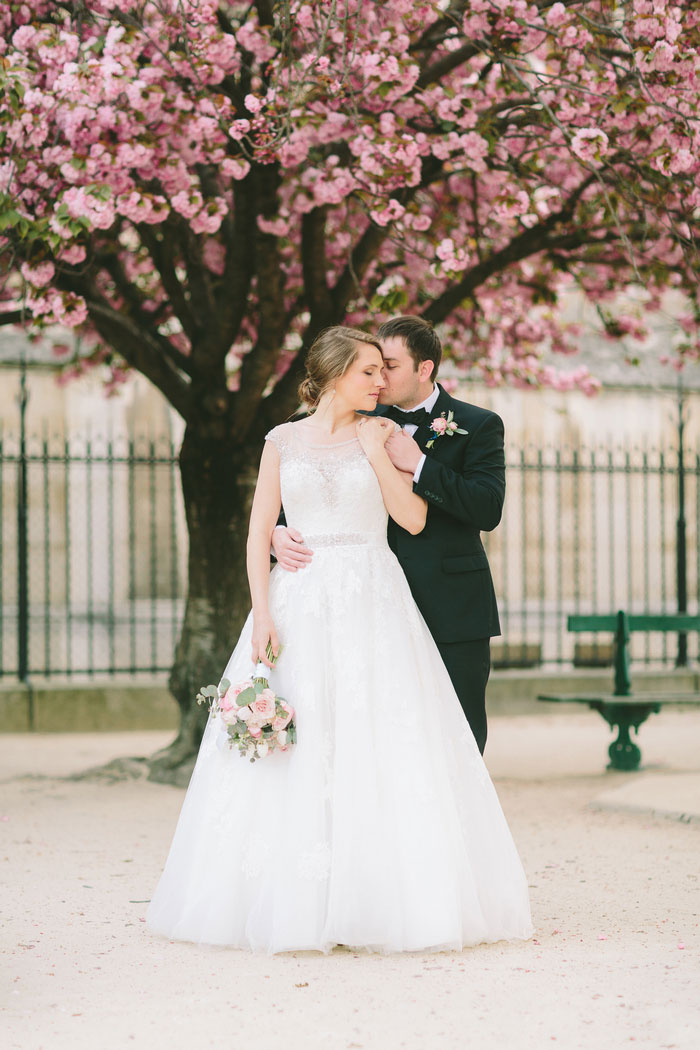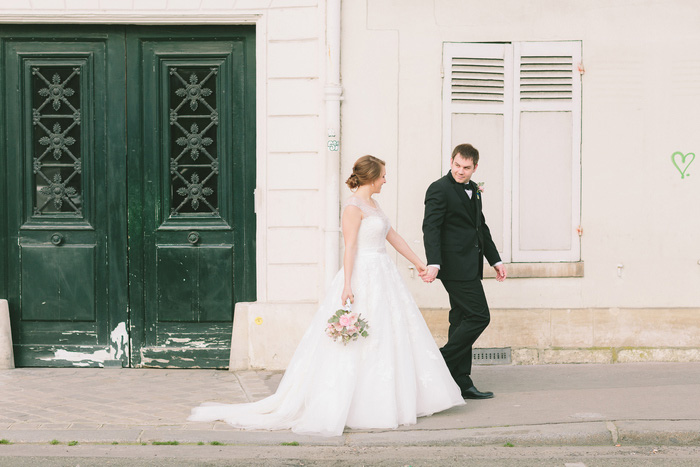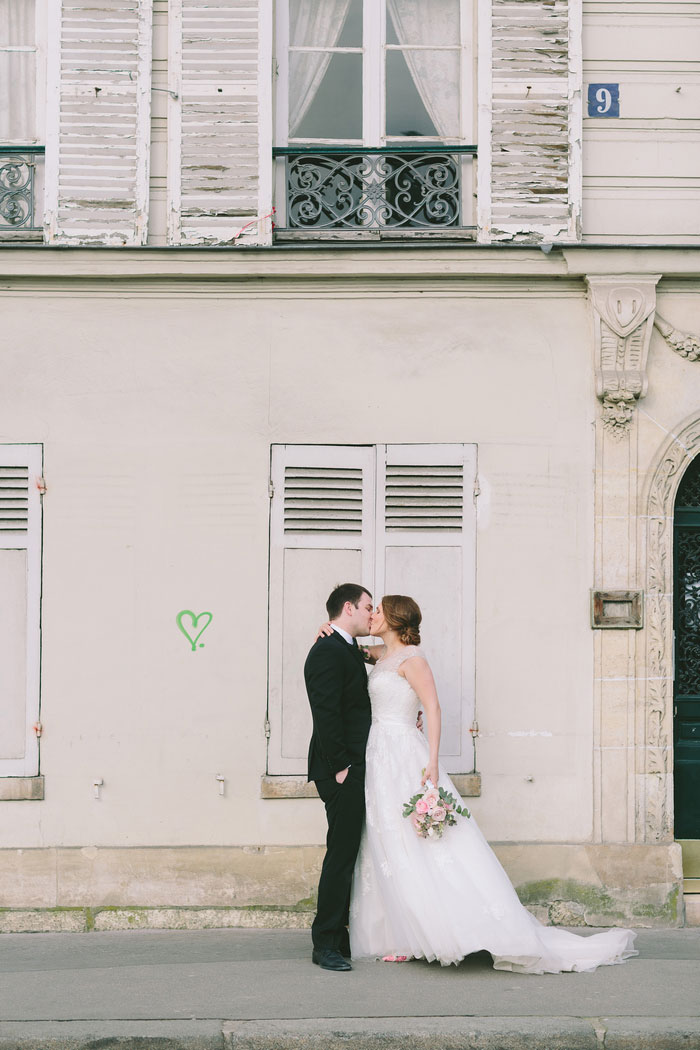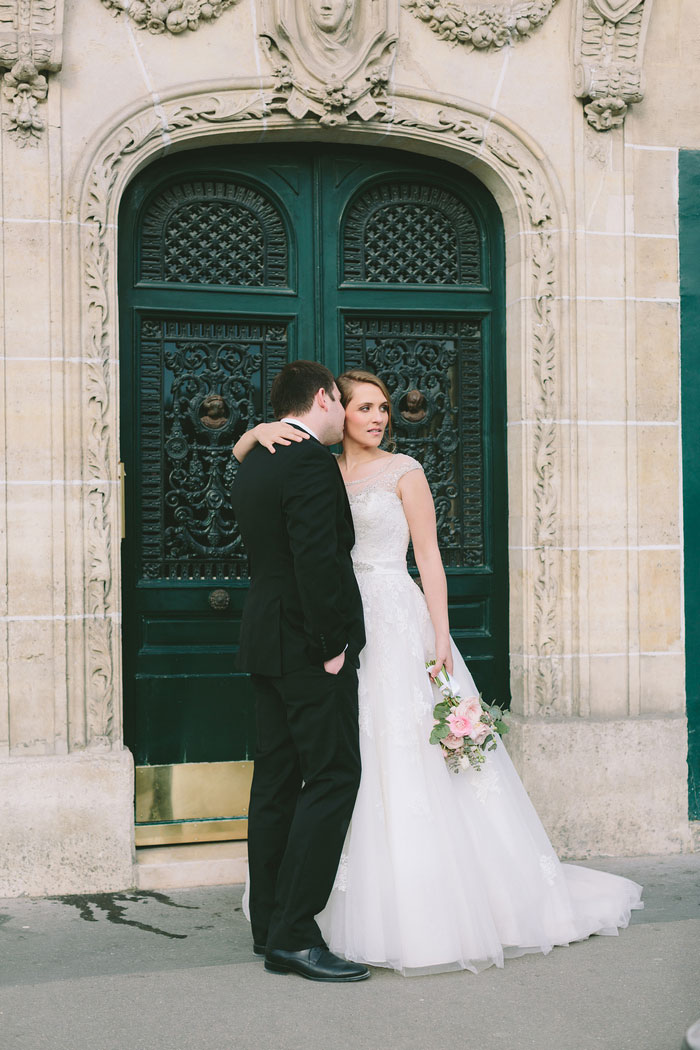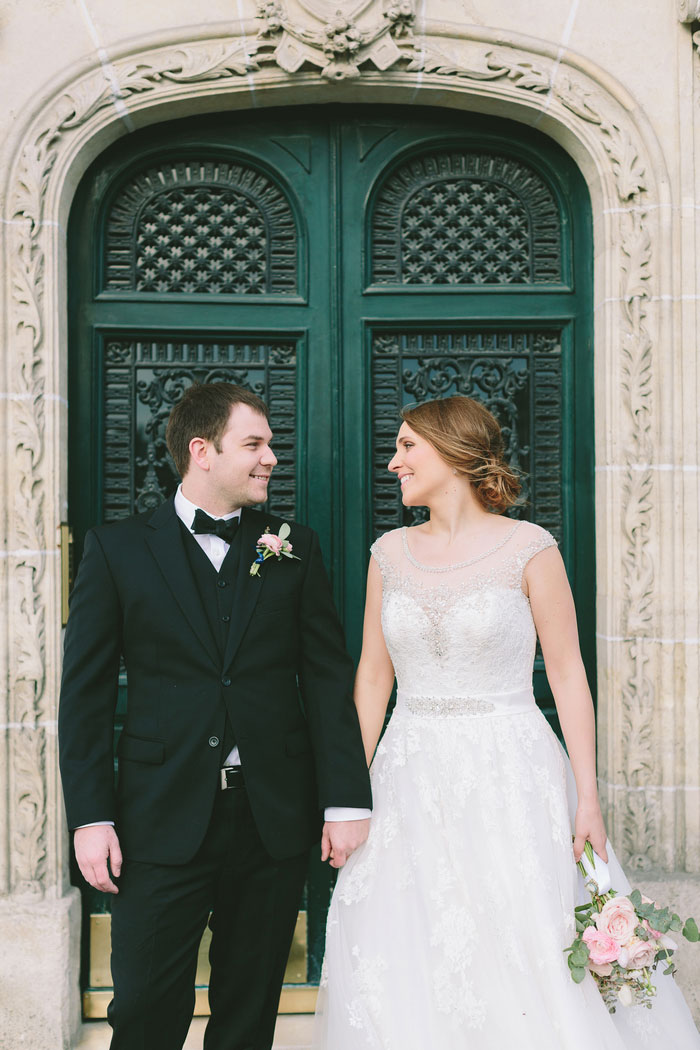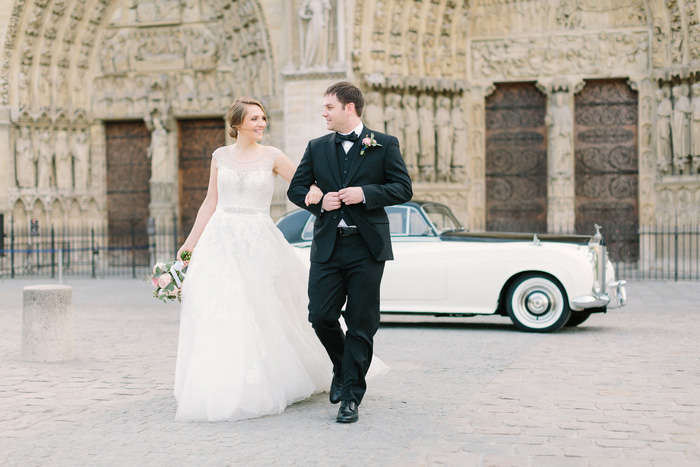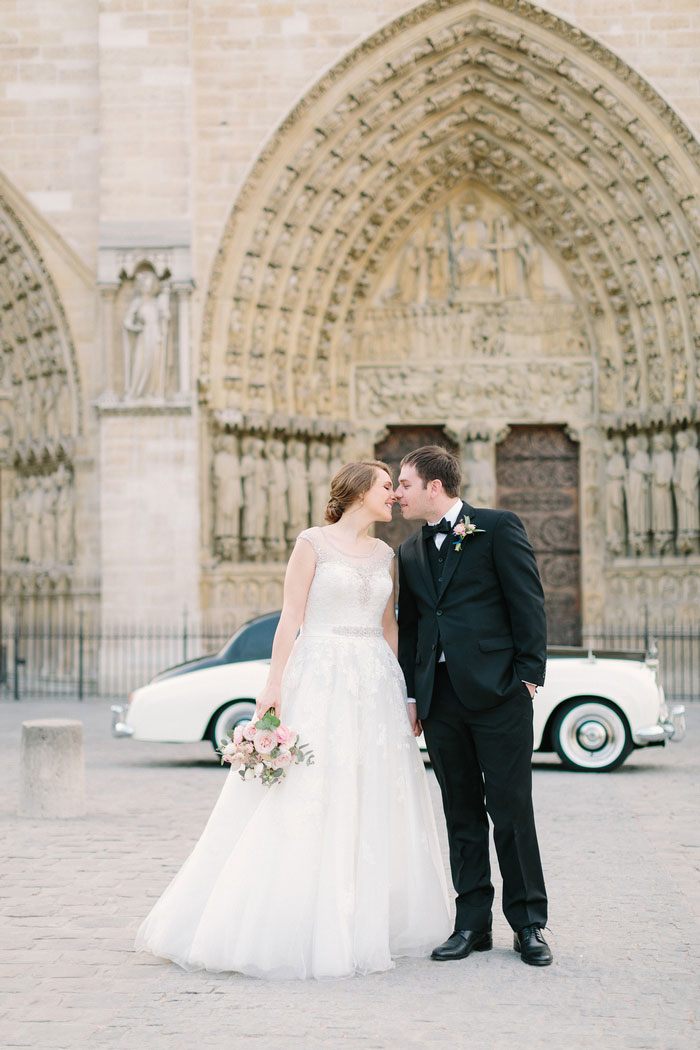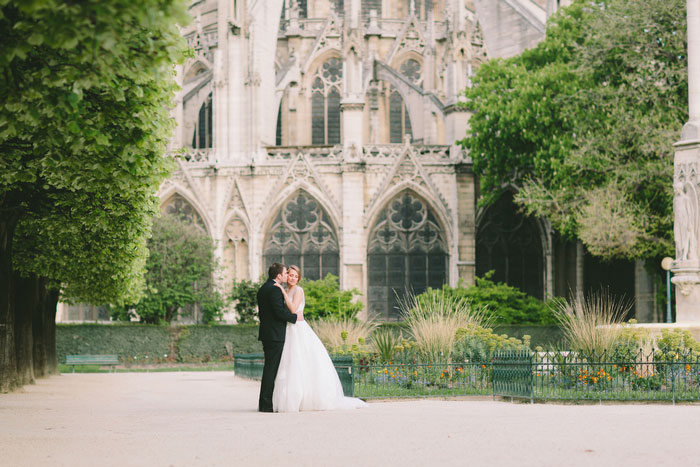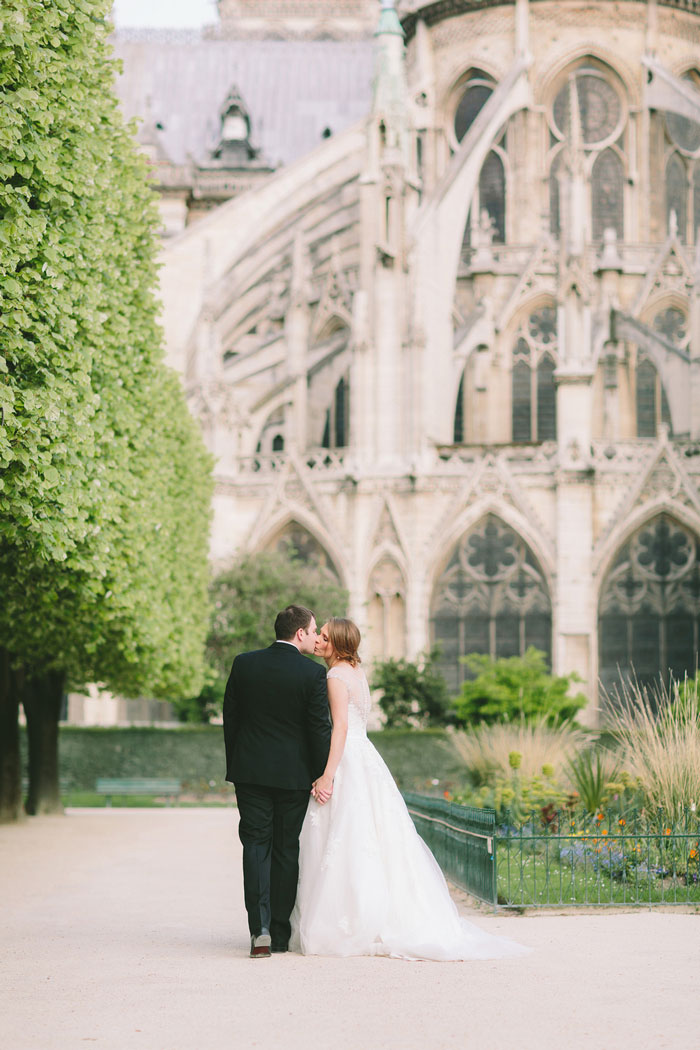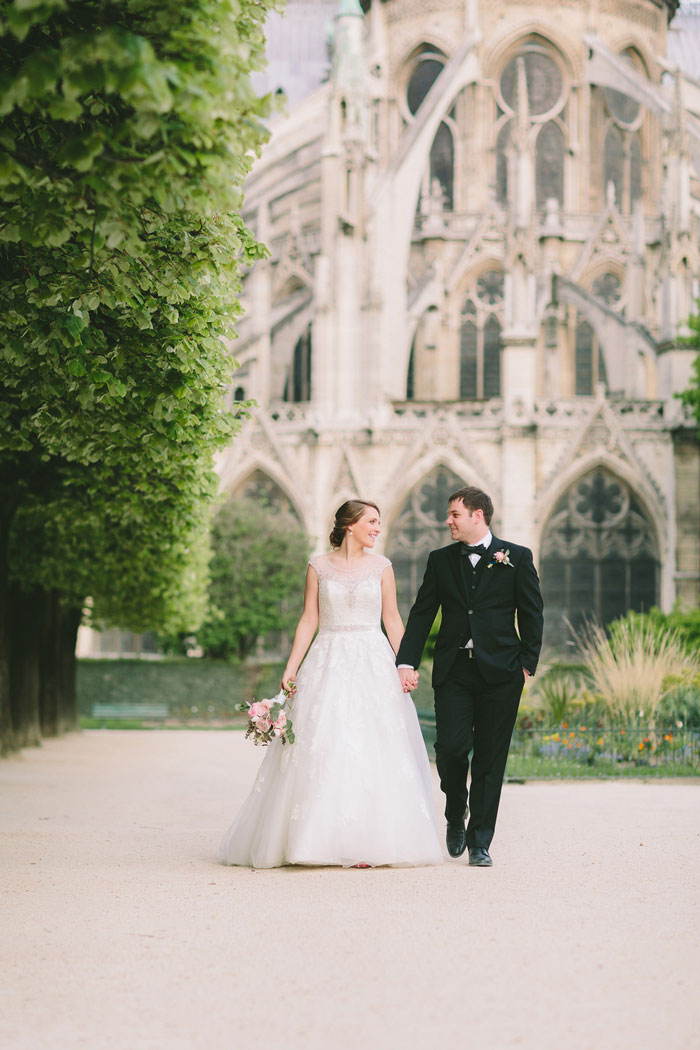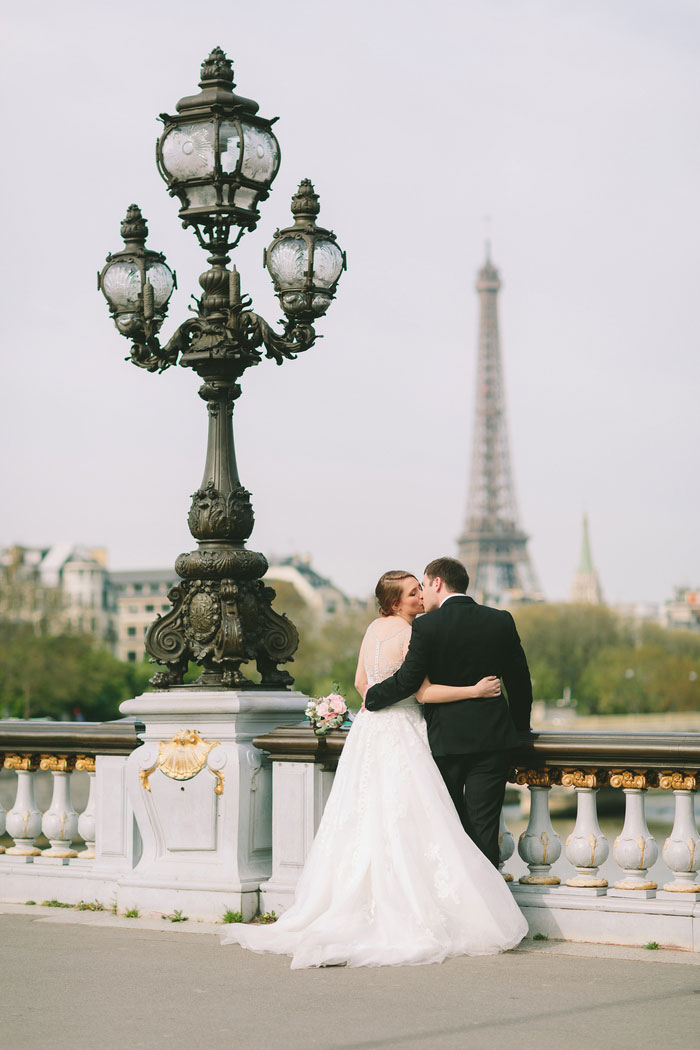 Did you have any 'issues' with the small guest list from friends and family? If so, how did you address them?
Yes we did. Some family members did not understand why we would want to get married in Paris with no one around. Those who knew us well, however, knew how perfect a decision it was for us. No one actually said anything to us personally, so we didn't really have to address it too much. We just stayed true to us! Once we received our photos, and family members saw how beautiful they were and how happy we were, there were no issues. Plus, we had the "I DO BBQ" to celebrate with family as well, which helped with any issues and allowed us to celebrate with everyone stress-free!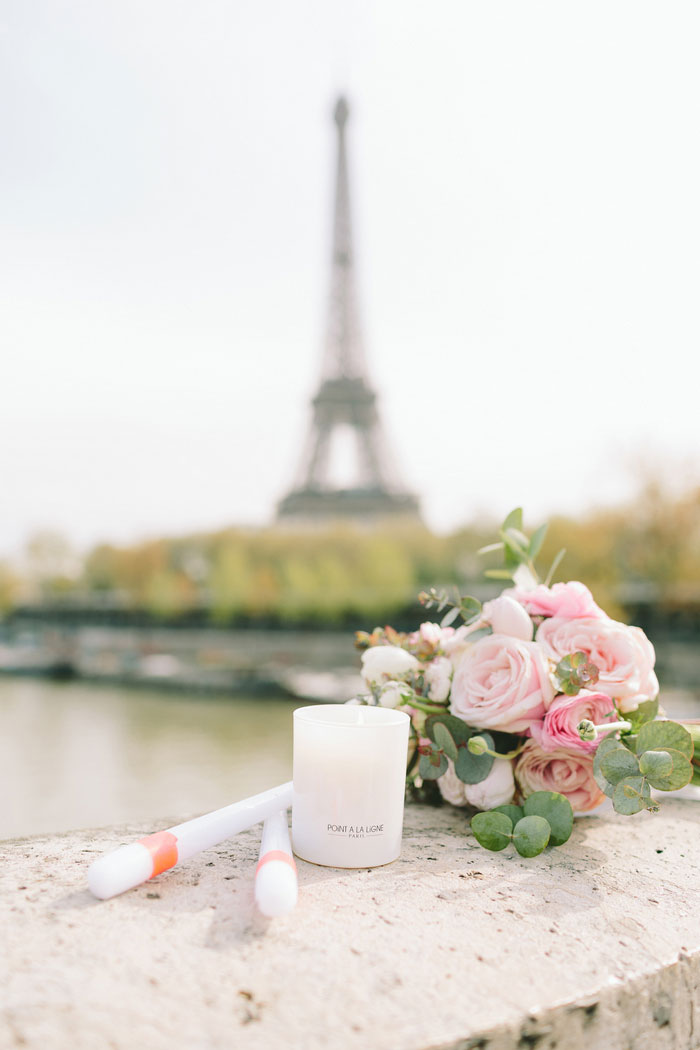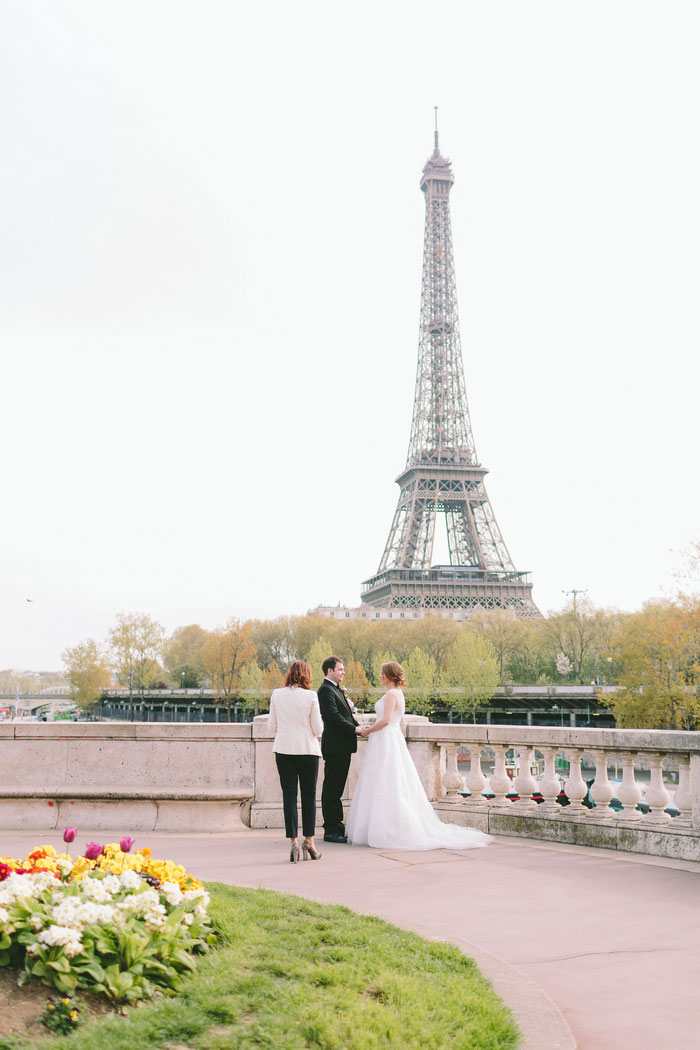 What were the highlights of the ceremony?

Where do I even begin? Our wedding day started early as our makeup artist/hair stylist, Victoria Farr, arrived at our apartment flat in Paris at 5am. I will never forget watching the sunrise over the Paris rooftops as she transformed me into a bride. After getting a few bridal shots, we started our morning at the Notre Dame Cathedral. It was around 7am, the light was dreamy, and it felt as if we had rented the whole city of Paris just for ourselves as no one else was around all morning. It allowed us to capture so many lovely moments. We ended our morning with our lovely ceremony. Honestly, the best part of the ceremony was Kasia, our officiant, who created the most beautiful wedding vows that featured words that literally brought tears to our eyes and put laughter in our hearts. Another notable thing we remember were the sweet people of Paris, as tourists and local Parisians alike would see us and yell out congrats in all different languages, beep their horns, take pictures, and wave at us. We honestly felt like celebrities!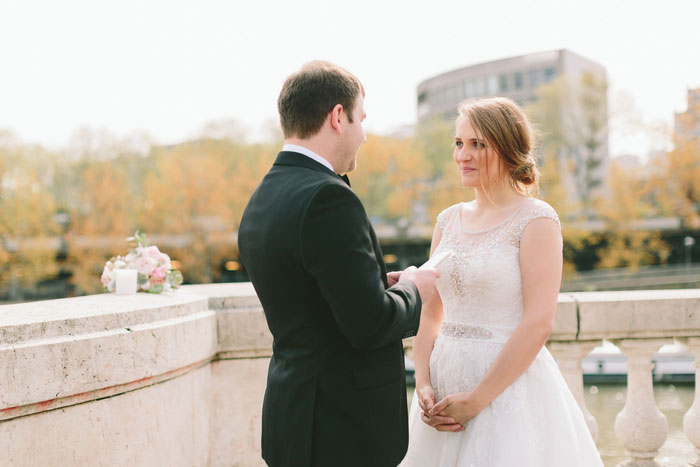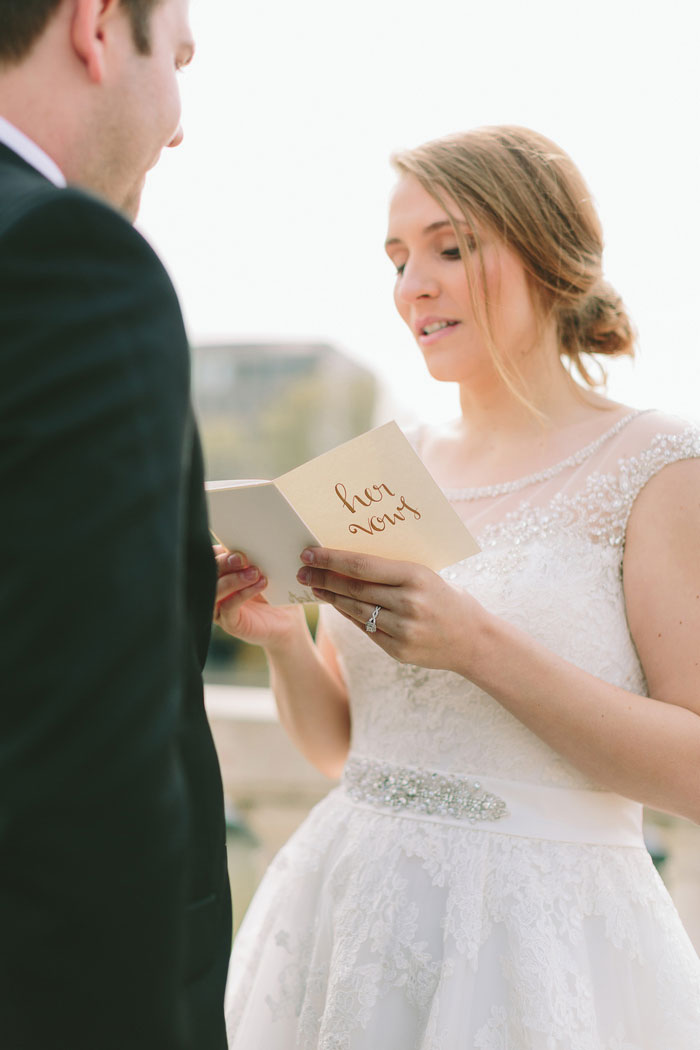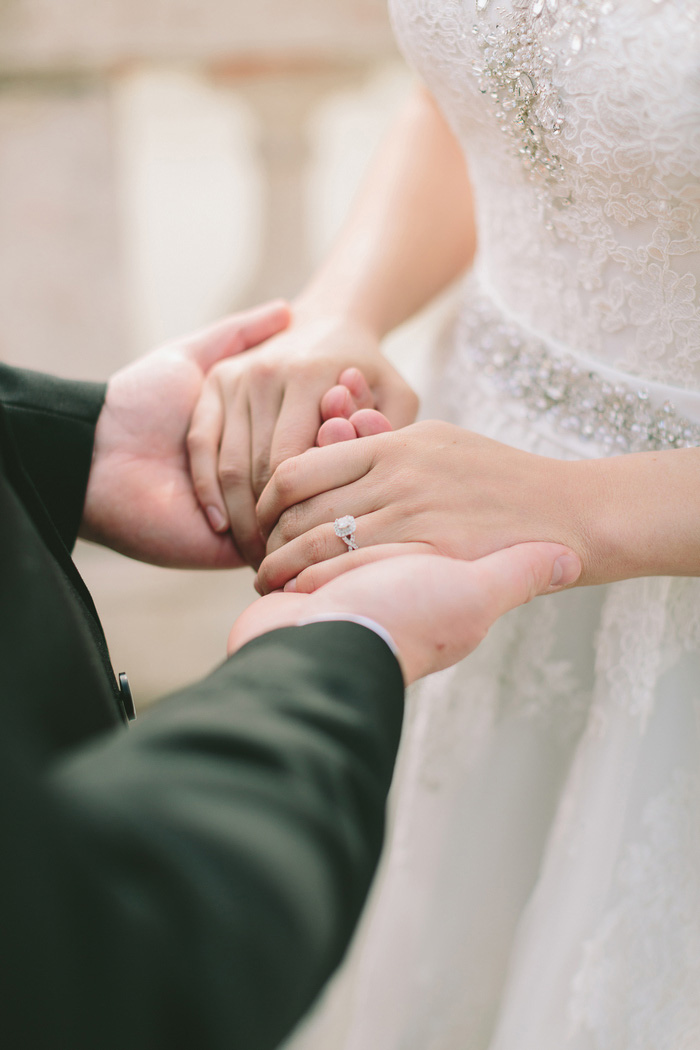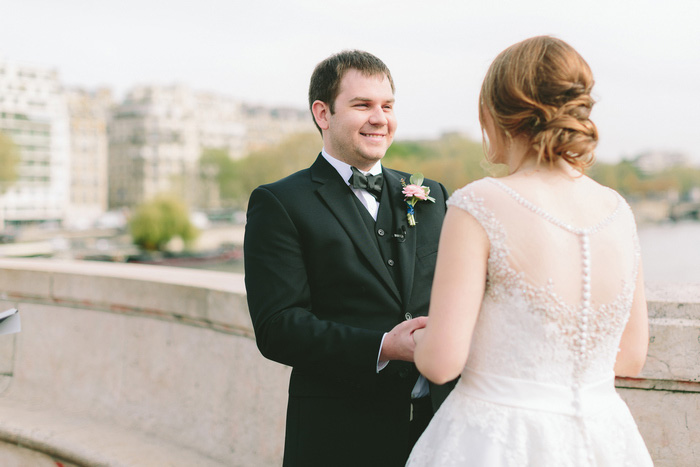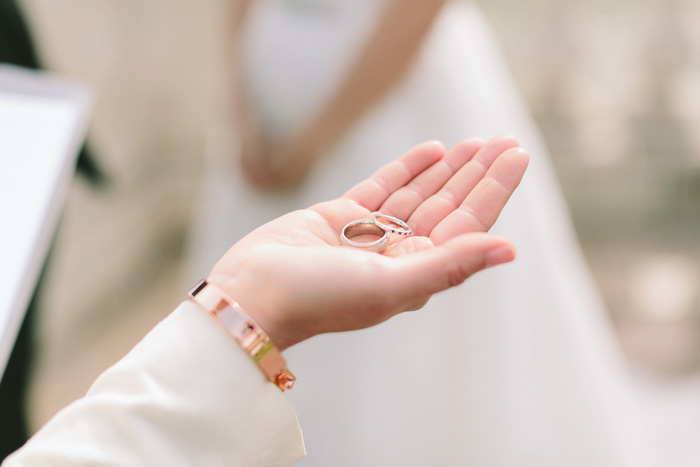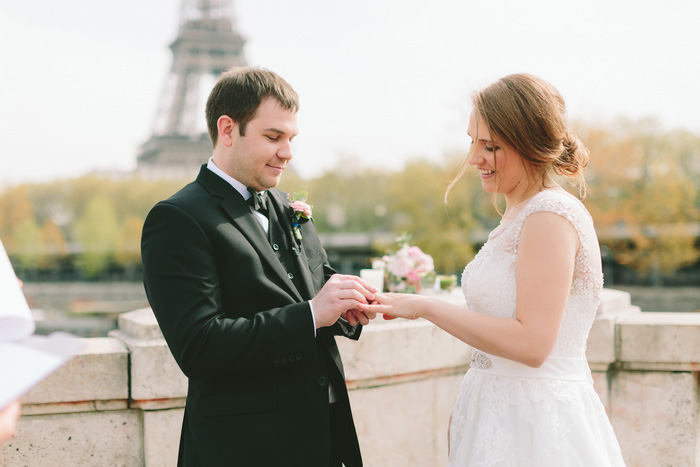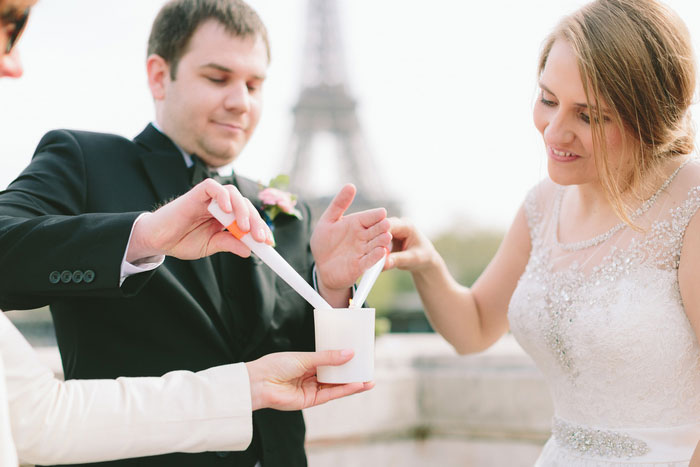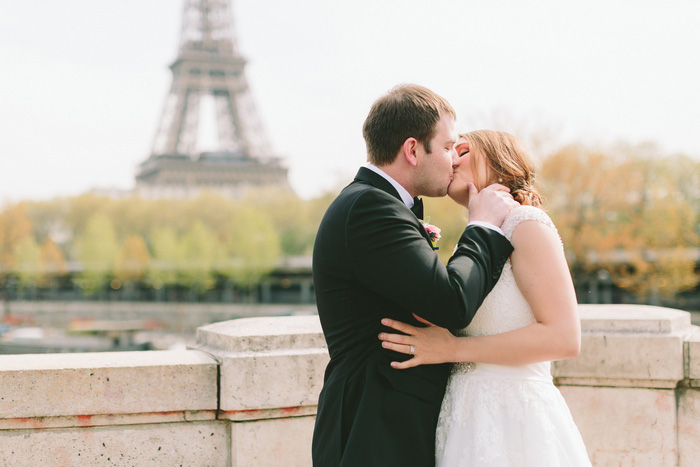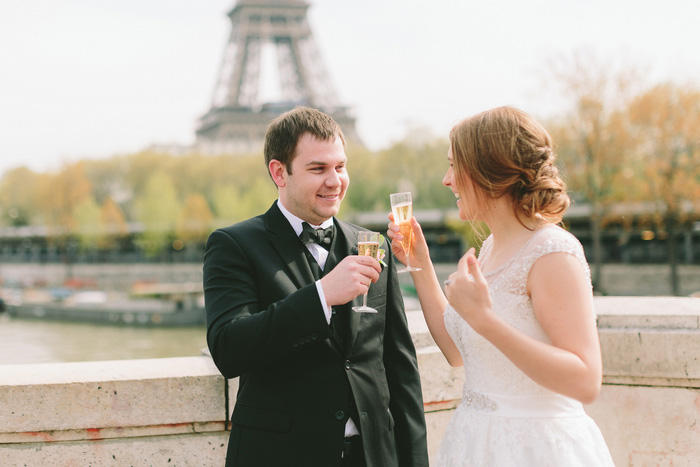 What were the highlights of the reception?

Although we didn't have a formal reception, the "I DO BBQ" that our family threw for us when we got back was amazing. It was laid-back and we had about 75 guests. We ate authentic southern BBQ under a large white tent on the family property, mingled, played lawn games, viewed all of our Parisian wedding photos, and when the sun went down we watched our wedding video on a projector in the field. It was a perfect addition to our lovely wedding in Paris and made us feel so loved.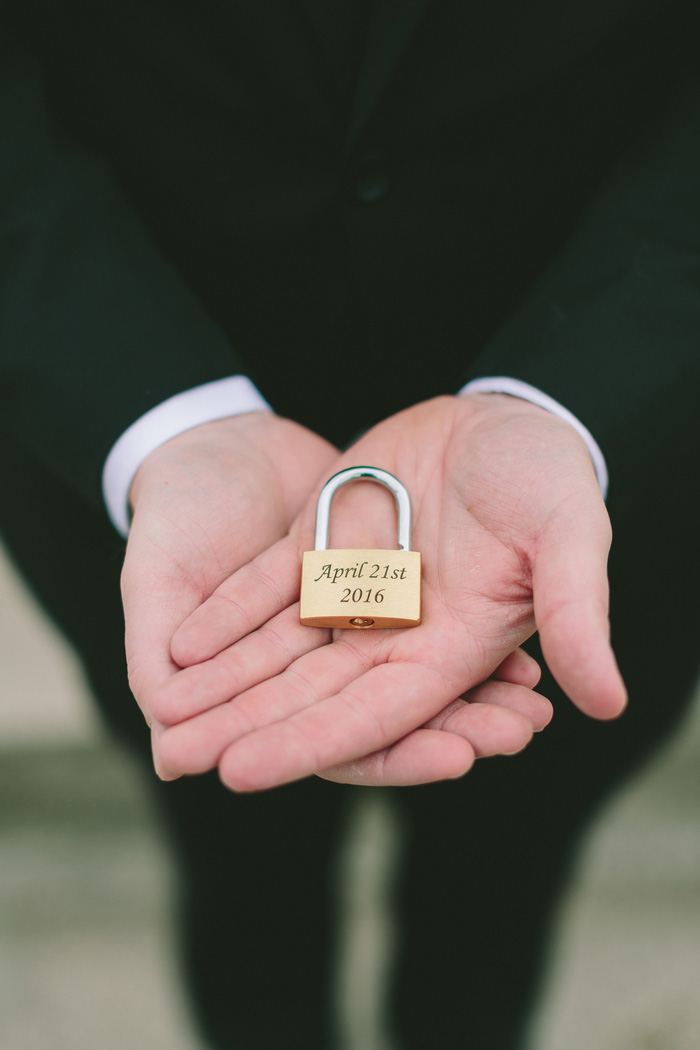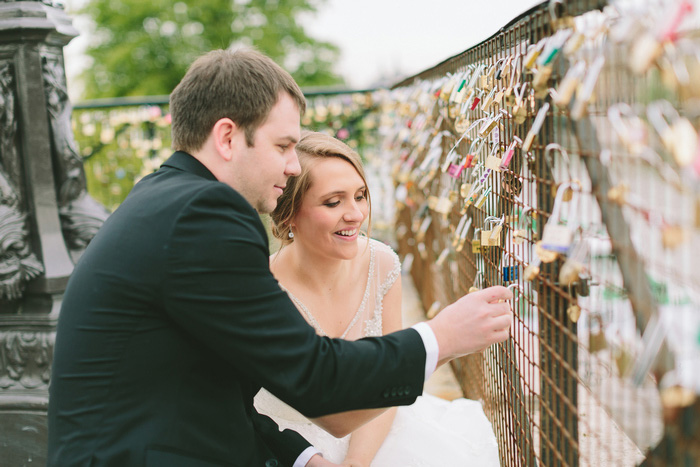 What was the best thing about having an intimate wedding?
The best thing about it was that we were able to focus on just us. We wrote our own vows which made it so special and intimate. We were able to have a glamorous wedding for two at a third of what a large wedding for 100+ would be, plus we were able to travel and experience Europe as well (we were able to see England and Germany too while we were there!).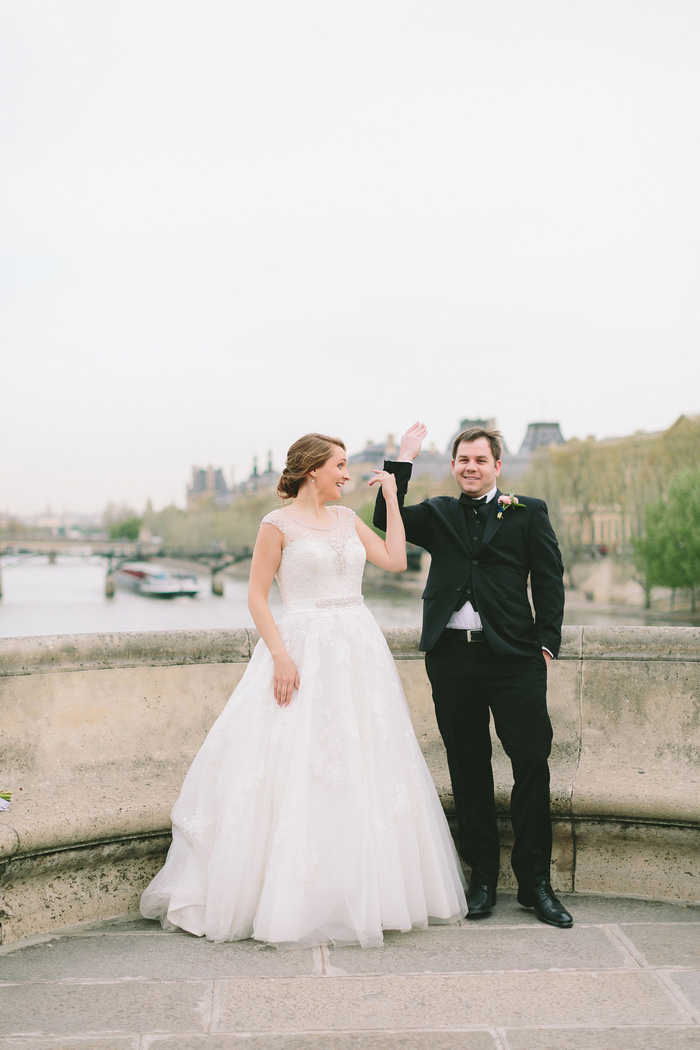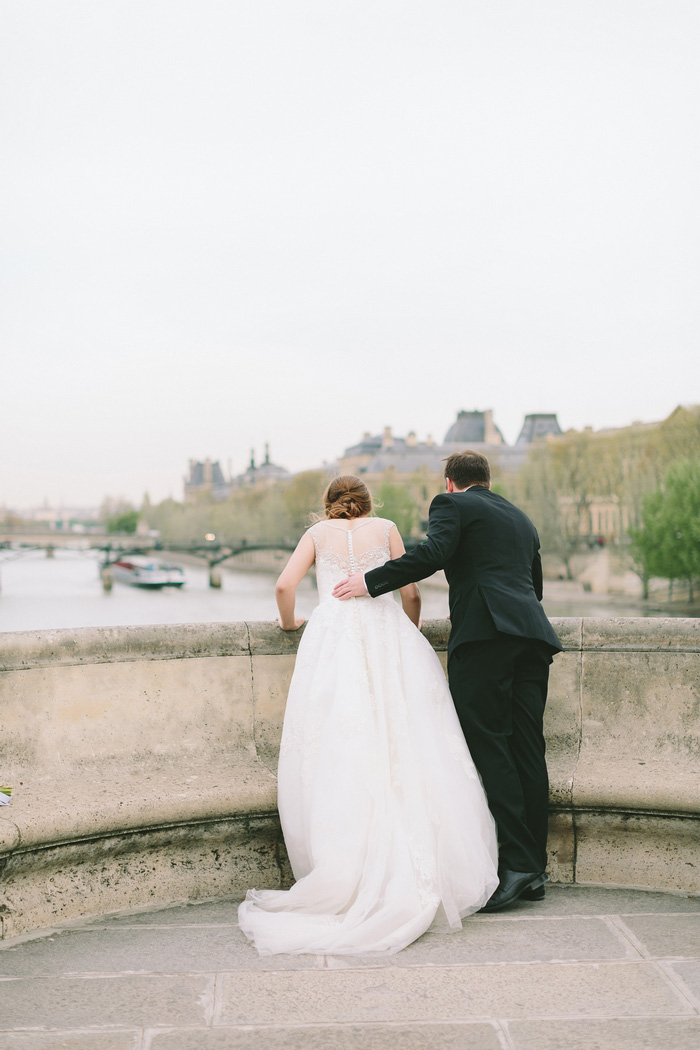 What advice do you have for couples who are considering an intimate wedding?

My best advice to any couple thinking of planning an intimate wedding, whether you are planning just the two of you or 50+ people is to always remember to stay true to you. Do not do something based on what other people would want; do what makes you happy and you will have NO regrets, trust me! Also, remember that having an intimate wedding doesn't mean you can't have the glamour of a bigger wedding. I still had my something new (my dress/shoes,) my something old/borrowed, (my grandmother's fur coat that was given to her on her and my grandpa's 3rd wedding anniversary, and they have been married 50+ years), and my something blue (the pendant on my cameo pendant that my father bought for me at an antique shop while I was in college). Also, being chauffeured in a 1954 vintage Rolls Royce in a beautiful dress and suit in the most romantic city in the world, I'd say that is pretty glamorous! Remember your wedding day, and your marriage too, is all about you and your future husband. Congrats on the engagement and do what makes you happy always and forever! xoxo.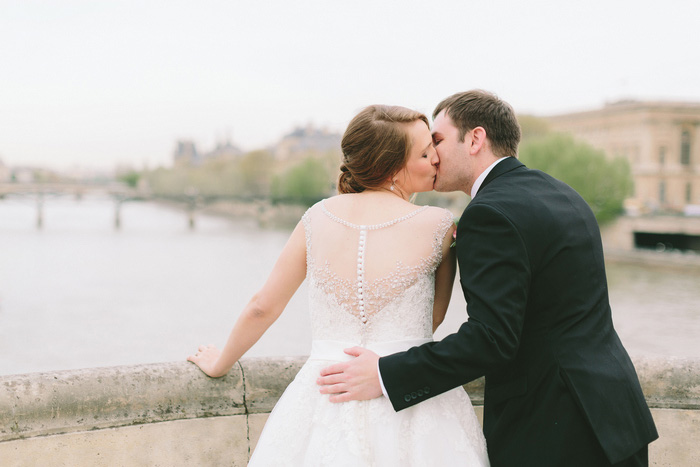 Vendors:
Photographer: Brian Wright, French Grey Photography 
Officiant/Flowers: Kasia Wright, French Grey Events

Hair/Makeup: Victoria Farr
Videographer: Studio 80 
Save