Summertime and the living is easy, especially when it comes to perusing the farmer's market, enjoying frozen treats, relaxing at BBQs and picnics and relishing in the bounty of fresh summer crops. Raspberries are a summer fruit –usually in season between June and August– that are delicious, bright and best enjoyed fresh. Raspberries can be found in many summer-themed desserts and cocktails, but they can also be enjoyed as fresh favors, decorations and pops of color for your wedding.
If you love raspberries as much as we do – read on for oodles of ways to use this delicious (and gorgeous!) fruit in your wedding!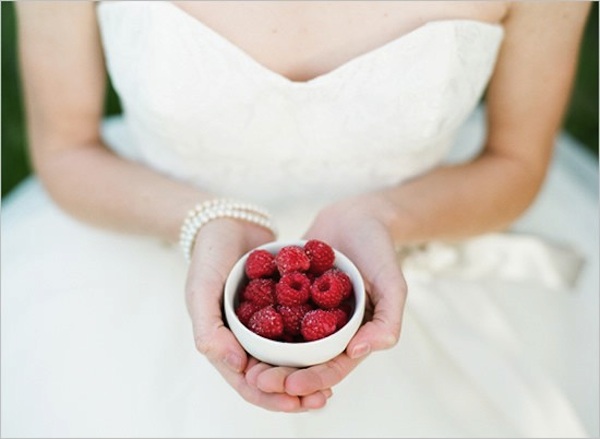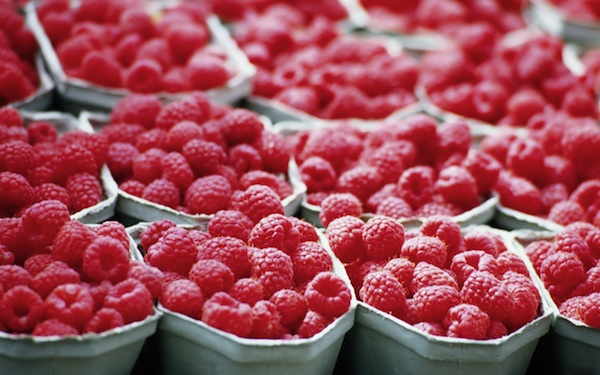 Raspberries, and raspberry liquors, add a fruity, pink color to drinks and guests will appreciate a garnish or two to freshen up their cocktail. Raspberry liquor goes well with punch, soda and even beer (try the Southern speciality of raspberries, vodka, beer and lemonade mixed together).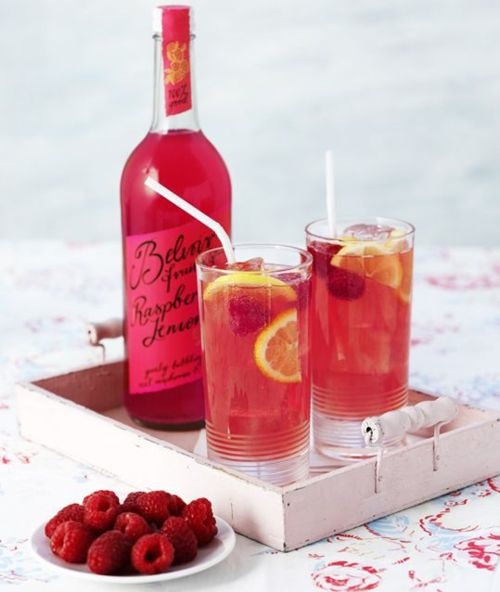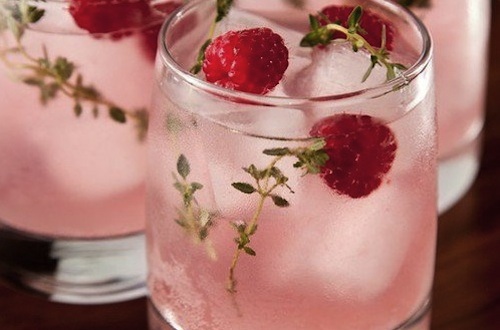 Add a pop of red berry color to your cake, cupcakes and desserts.  Try a traditional white cake with raspberries or a sponge cake with fresh berries and sauce.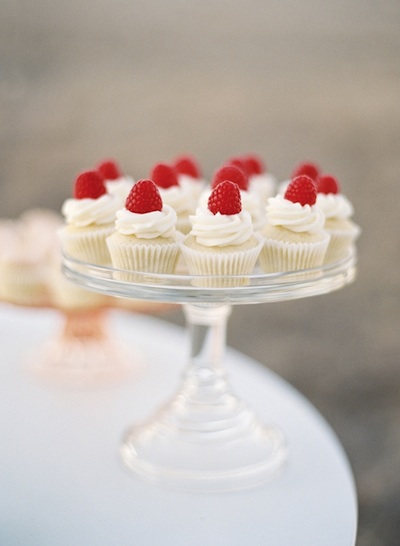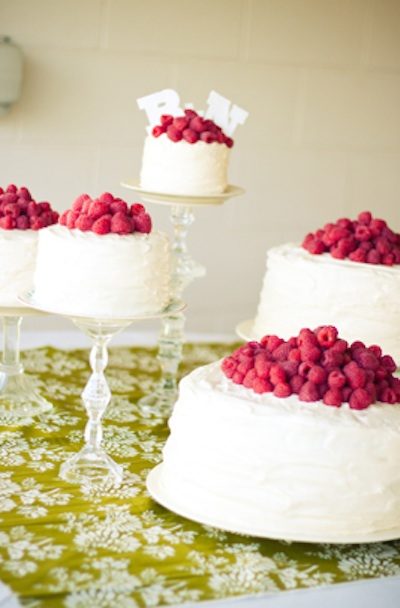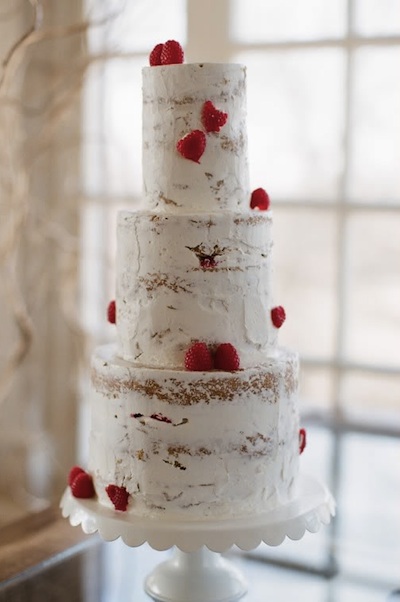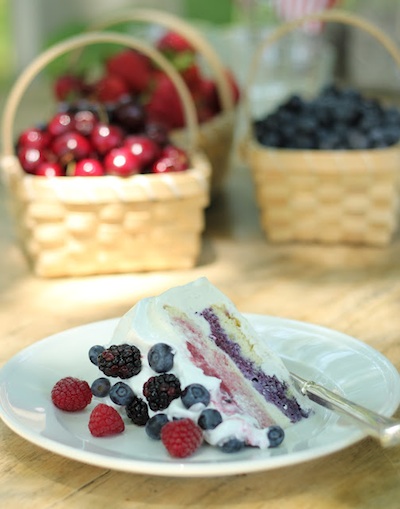 Use raspberry preserves and jam to make these linzer cookies that would be great for weddings or holidays. Cut them into romantic, hearts or flower shapes and lightly powder them with icing sugar.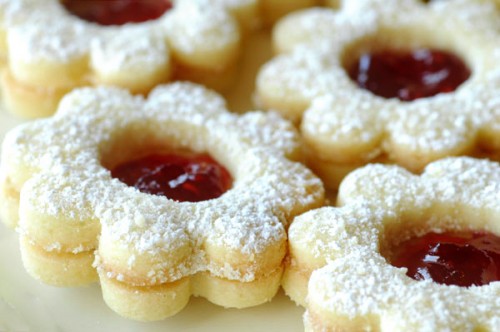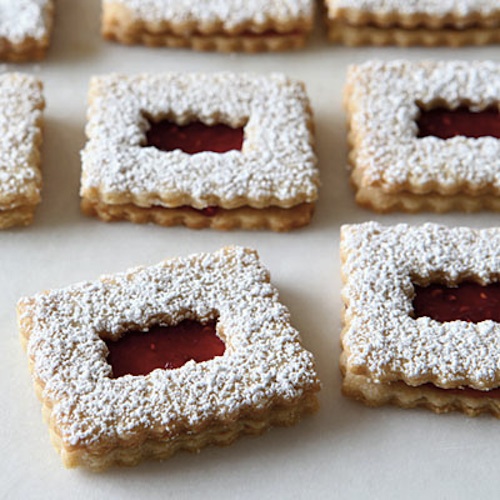 "Spread the love" by making your own raspberry jam favors. Buy berries in bulk during the summer and freeze them for canning projects. Then add a custom label and fabric topper to the jar, so everyone can enjoy a sweet homemade touch. Jam also lasts for years, so you can make it up to a year ahead of time and guests will still have a lasting keepsake. Learn how to make raspberry jam favours here.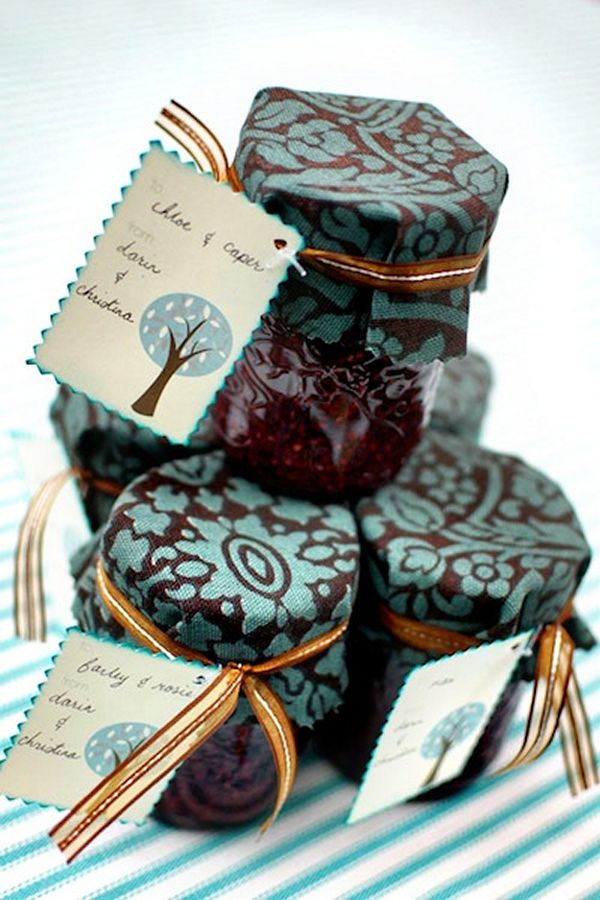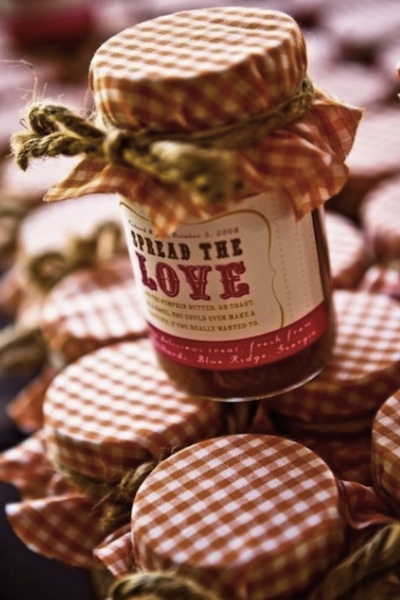 Guests will enjoy a simple, fresh fruit favors gift they will want to take home and enjoy or snack on throughout the night. You could even spend a fun afternoon raspberry and berry picking with your friends or husband-to-be to gather fruit for the wedding. Wrap raspberries in kraft paper or patterned fabric bags or pouches. These DIY cupcake liners could also be used to hold fruit.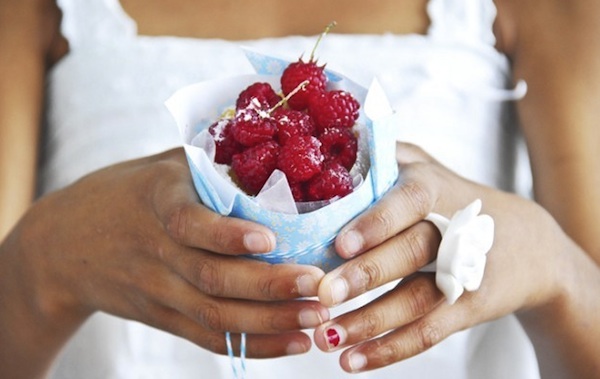 Old fashioned raspberry candies also make fun favors!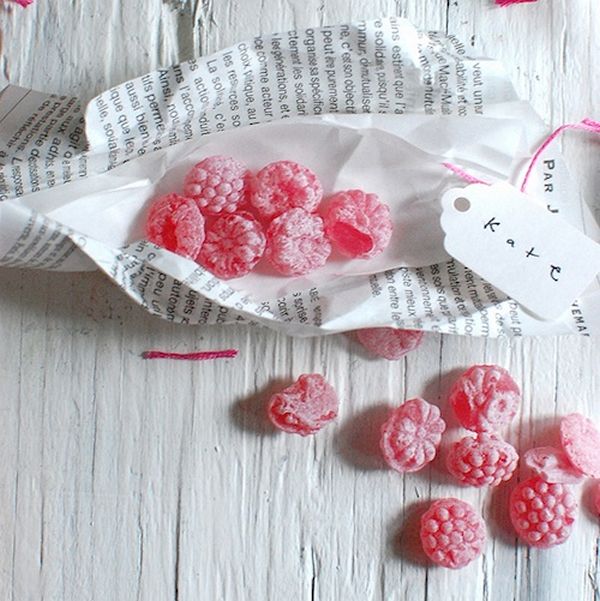 For a rustic, natural look, try a paper or wooden box wrapped in twine or ribbon for the candies.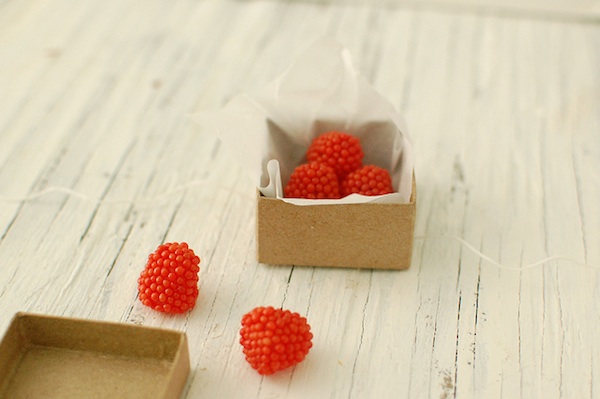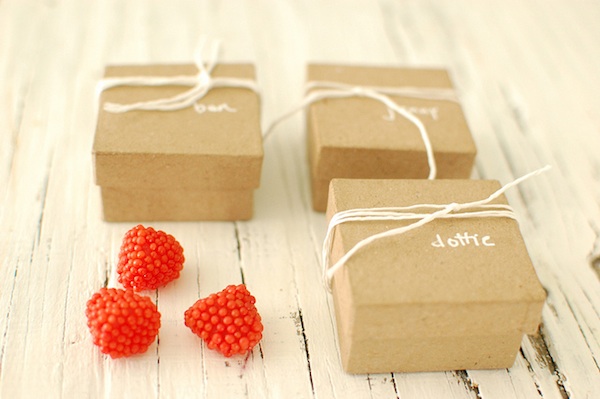 More and more brides are incorporating fresh herbs and even fruits into their bouquets and flower arrangements. Raspberries also come in yellow and green colours, like this stunning purple and green raspberry bouquet. After all, using blooms in season, even fruits, is always the best option for your budget.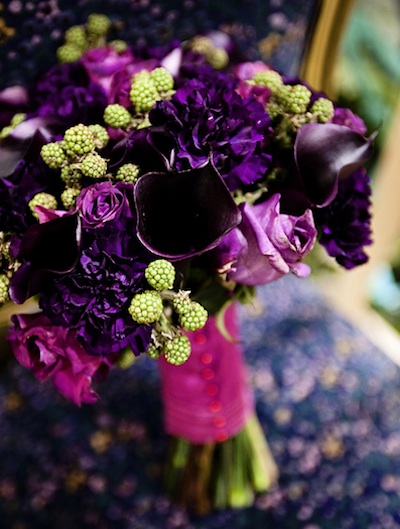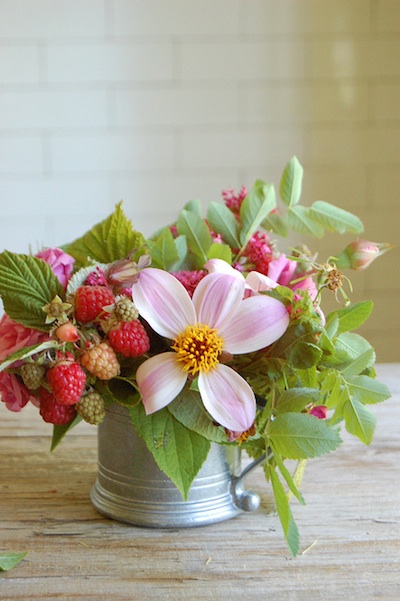 Colorful fruit goes perfectly with a summer theme. You may have seen plenty of  inspiration involving patriotic colors recently with red, white, blue and bright colors to celebrate the holidays.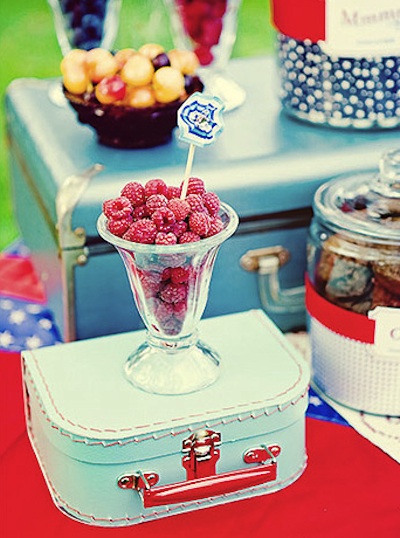 Get inspired by the stunning colors of raspberries by incorporating it into your color scheme. Match it with brown, black, white, teal or pale green for a modern look. You could even try raspberry colored shoes and accessories. It's not quite as soft as pink or as striking as red, but it has its own beautiful and bold shade that you will fall in love with for your wedding.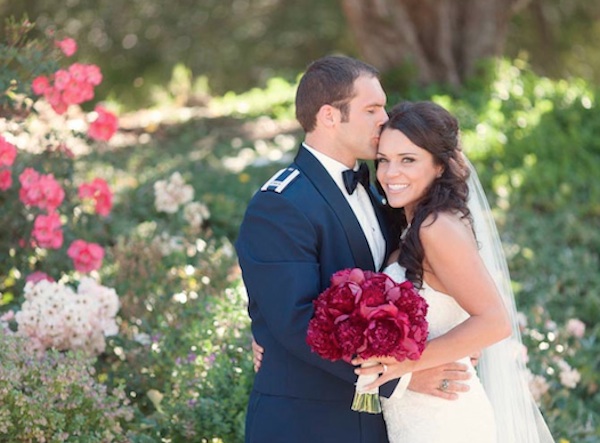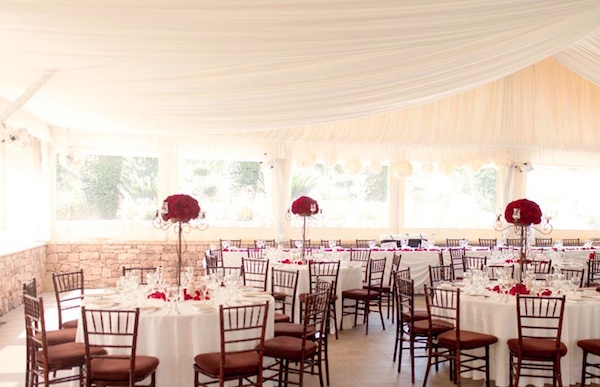 Photo One: ninamullinsphotography.com; Photo Two: fantom-xp.com; Photo Three: lindseysauter.tumblr.com; Photo Four: color-crazed.tumblr.com; Photo Five: pinterest.com; Photo Six: strawberry-chic.blogspot.ca; Photo Seven: alealovely.tumblr.com; Photo Eight: jennysteffens.blogspot.ca; Photo Nine: Intimate Weddings; Photo Ten: cookinglight.com; Photo Eleven: intimateweddings.com; Photo Twelve: trishadean.blogspot.ca; Photo Thirteen: fun.kyti.me; Photo Fourteen: frolic-blog.com; Photo Fifteen: mywedding.com; Photo Sixteen: mywedding.com; Photo Seventeen: styleunveiled.com; Photo Eighteen: tinywaterblog.com; Photo Nineteen: tinywaterblog.com; Photo Twenty: weheartphotography.com; Photo Twenty One: weheartphotography.com