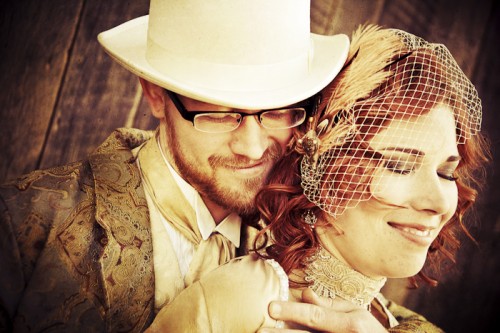 Julie, 26 & Jon, 27
Foresthill, California
Wedding Date: October 10, 2008
Number of Guests: 50
Wedding Cost: $10,000
Wedding Ceremony Location: Forest House Lodge
Wedding Reception Location: Forest House Lodge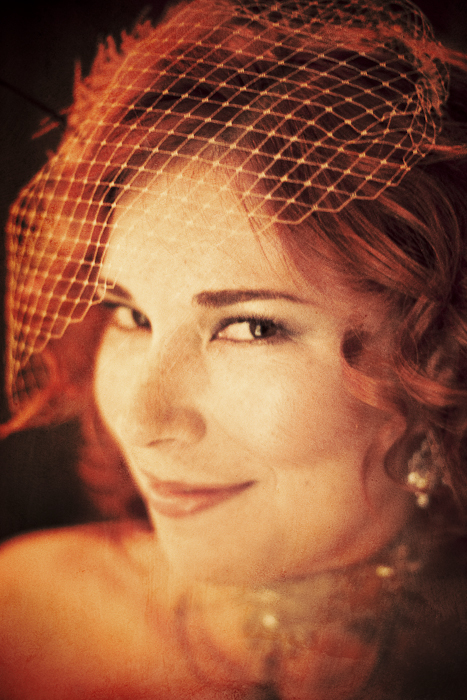 Why did you have an intimate wedding?
Jon and I are a very creative couple, and wanted to do something really fun for our wedding.  We chose to have an Art Nouveau/Art Deco themed wedding, and asked all of our guests to dress up in 1900-1920s attire. To our delight, every single guest did! It was so much fun! I approached the entire wedding as an art project, and I couldn't possibly be happier with how it all turned out!
Our primary reason for having a small wedding was financial. Another reason for the smaller guest list was the limited amount of guest rooms at the lodge where the wedding was held. We also wanted the wedding to completely emulate us and our personal styles, and we felt that a smaller, more intimate wedding would truly reflect us. The whole wedding was DIY. We designed the invitations (with help from my amazing artist Uncle), the centerpieces and bouquets. The feather fascinators, birdcage veil, and customized guest baskets for all the overnight guests were also DIY. My wedding dress and Jon's tuxedo jacket and vest were also custom made for us by my amazing seamstress mother.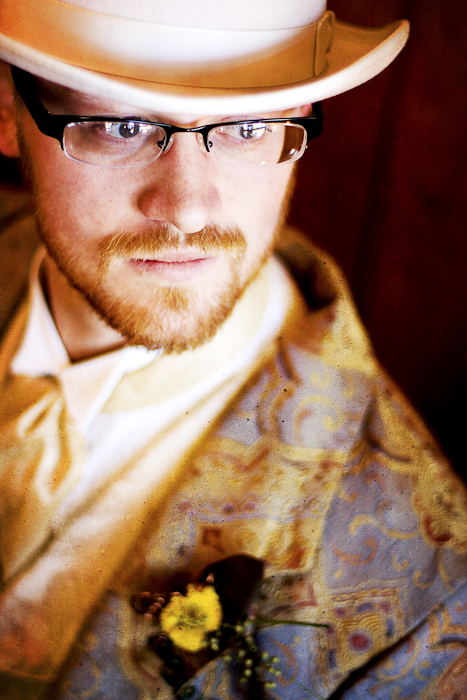 What are some the challenges that you faced planning an intimate wedding?
Our biggest challenge in planning an intimate wedding was dealing with the wedding budget. Although it was a DIY wedding, it still was not cheap! We didn't want to go into debt to pay for the wedding, so we made a list of our priorities, and then cut down on everything else. I, being an artist, absolutely needed an amazing photographer (Tinywater Photography, which was SO WORTH IT!), and Jon, being a chef, absolutely needed delicious food (we had a sit down dinner, and it was great!).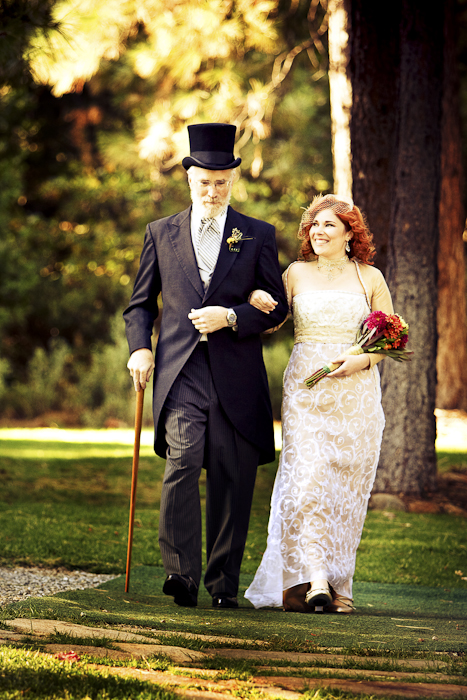 Was it difficult to pare down the guest list?
We had to cut our wedding guest list a few times. It was certainly difficult cutting the list at first, but we knew it was the only way for us to have the wedding we really wanted. We limited our guests to only very close friends and family members. When more distant friends or family asked us about our wedding planning, we were sure to tell them we were planning a very small, intimate wedding, and I know they all understood. The result was amazing, though. We felt so much love from our guests. It was a really magical event.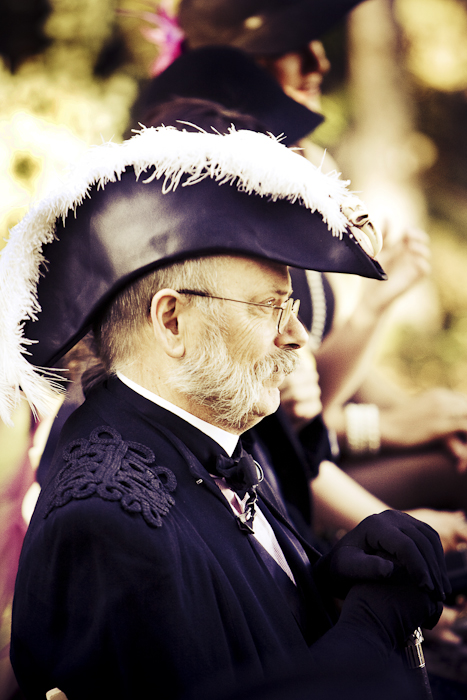 Did you have any 'issues' with the small guest list from friends and family? If so, how did you address them?
We didn't really have any trouble with the small guest list. I'm sure a few people felt a little left out, but every guest who came to our wedding truly knew Jon and I as individuals, and as a couple, and we felt like that was really important.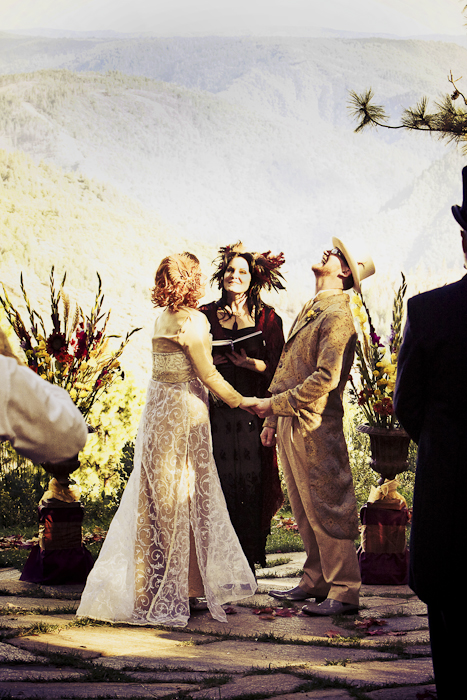 What were the highlights of the ceremony?
My favorite memory from the ceremony: Our ceremony took place in a small meadow overlooking a vast valley and the Sierra Nevada Mountain range. As I stood at our "altar," looking into the eyes of the love of my life, I could hear the quiet echo of nature to my left, and the tangible love emanating from our family and friends to the right of me. My cousin Erika served as our officiant, and wrote a beautiful ceremony just for us. Jon and I wrote our own vows. We both laughed, and we both cried, and I think all of our guests did, too. It was truly an amazing moment.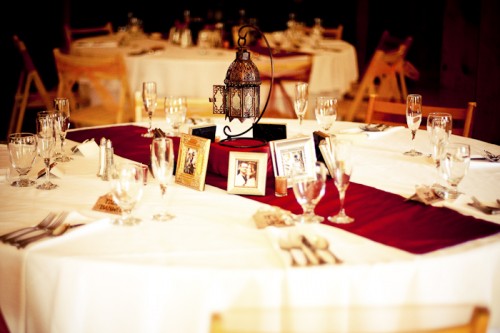 What were the highlights of the reception?
We had the wedding at an historic inn that used to be a bordello for the Foresthill miners. We got the entire inn for two nights, so all of our guests stayed with us the night before, and the night of the wedding. The hotel also had an awesome game room, so people were playing pool, ping pong, shuffleboard and Rock Band late into the night!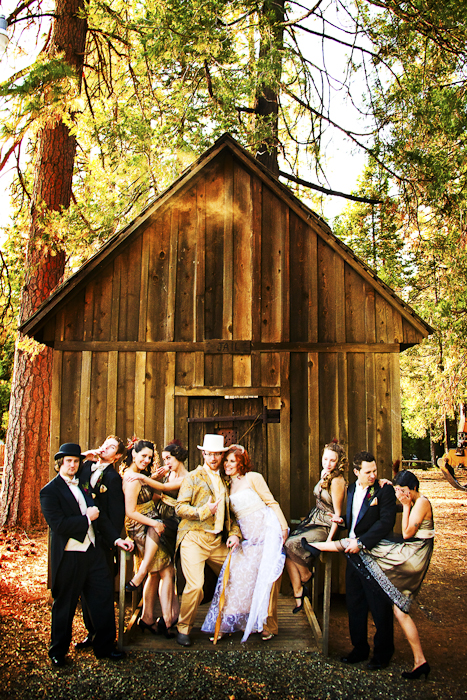 My favorite moment from the reception: Being able to relax, celebrate, and enjoy our wedding with all of our favorite people in the world was so much fun for us. The food was amazing, and our cake was so delicious! I would say the most fun, was when Uni, our Ukelele player, sang some beautiful songs, and we danced and sang along. Also, taking photos with crazy hats that the venue had… and listening to our friend Alan rock out on the piano… the late night appetizers, and an acoustic set from my cousin Erin B.
I also loved the DIY bouquet making party that my maids and I had the night before the wedding. I bought a bunch of flowers from Trader Joe's, and the girls and I all made our own bouquets. While we made the bouquets, we could hear all the wedding guests playing pool, shuffleboard, ping pong and Rock Band in the game room right next to us. It was so great knowing that everyone was having such a good time, and I didn't have to worry about playing "host."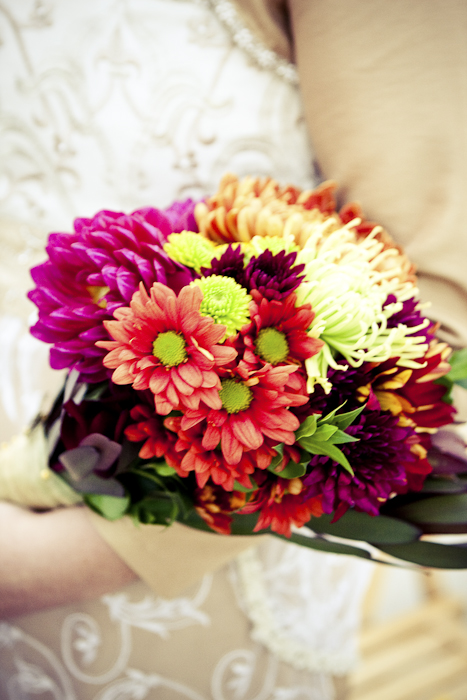 What was the best thing about having an intimate wedding?
The best thing about having an intimate wedding was knowing that all of our wedding guests truly know and support Jon and I. We were so much more relaxed, and enjoyed mingling with all our friends and family. We were also able to have a delicious sit down dinner, and DIY almost everything. Overall, I felt that having a smaller wedding allowed us to customize every detail of the wedding, and to have a fun and artsy wedding that truly reflects both of us as individuals, and as a couple.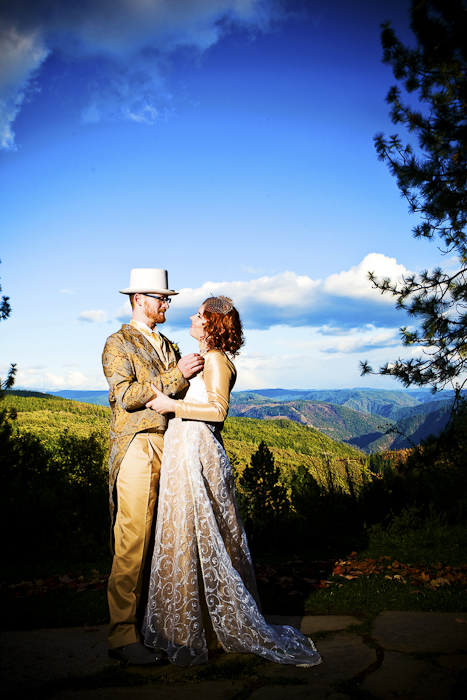 What advice do you have for couples who are considering an intimate wedding?
My advice for couples considering an intimate wedding is to remember that your wedding is an expression of the love shared between you and your partner. Don't worry about other people's expectations for your event, and do what symbolizes you two as a couple. ENJOY IT! Have fun, and don't stress! Don't be afraid to ask for help from family and friends, trust me, they want to help!
It is so easy to get lost in the crazy hubbub of the wedding industry. Having a smaller, intimate wedding allows you to customize your wedding to truly fit you as a couple.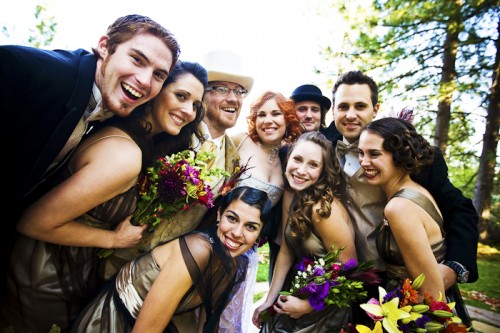 Vendors:
Birdcage Veil, Feather Fascinator, Bridesmaid's Feather Fascinators: Julie Ke (Bride) She sells them on Etsy.
Wedding Invitations,Custom Cake Topper: Tom Banwell. Etsy Shop Here.
Wedding Photographers: Tinywater Photography
Wedding Venue, Catering, Wedding Cake, Lodging: Forest House Lodge
Custom Wedding Dress, Groom's Brocade Tuxedo Jacket and Vest: Bride's mom jayabpeace(at)yahoo dotcom
Live Music: Uni and Her Ukelele,  Erin Banwell
Photos: Tinywater Photography