Who says destination weddings need to be tropical? For their destination wedding, Kristyn and Roger chose to forego the typical sun and sand destinations of the Caribbean in favor of Ireland's lush green countryside. Set on the grounds of the bucolic country estate of Ballyvolane House and filled with tons of personal and intimate touches, we think their wedding just might be one of the dreamiest we've ever seen!
A huge thank you to Pawel Bebenca for sharing the photos with us today!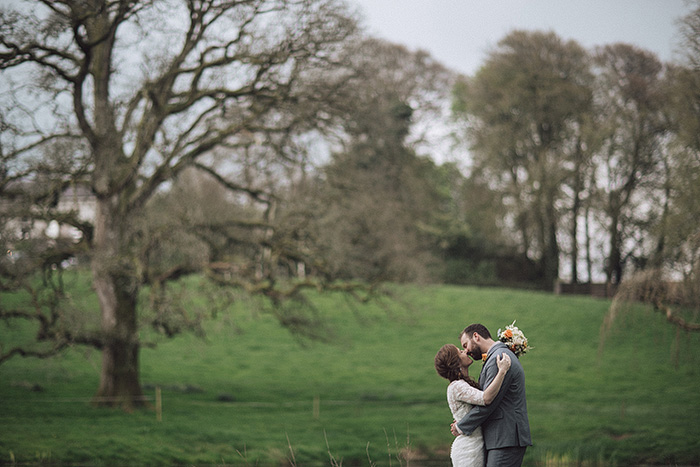 Kristyn, 33 & Roger, 31
Fermoy, Ireland
Wedding Date: April 22, 2014
Number of Guests: 27
Wedding Cost:  $38,000
Wedding Ceremony Location: In the woods at Ballyvolane House
Wedding Reception Location: In the marquee at Ballyvolane House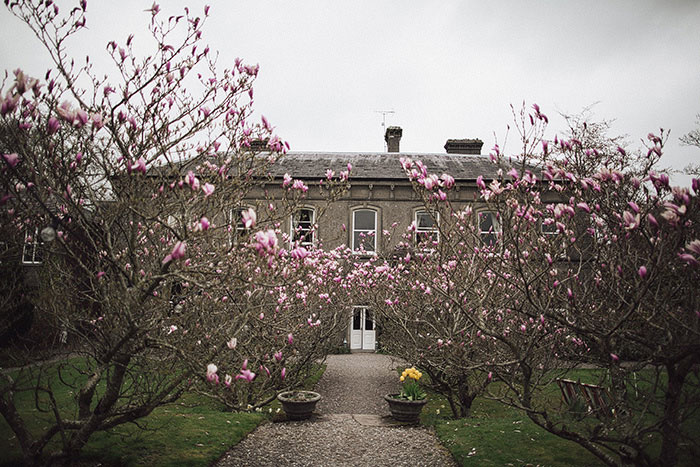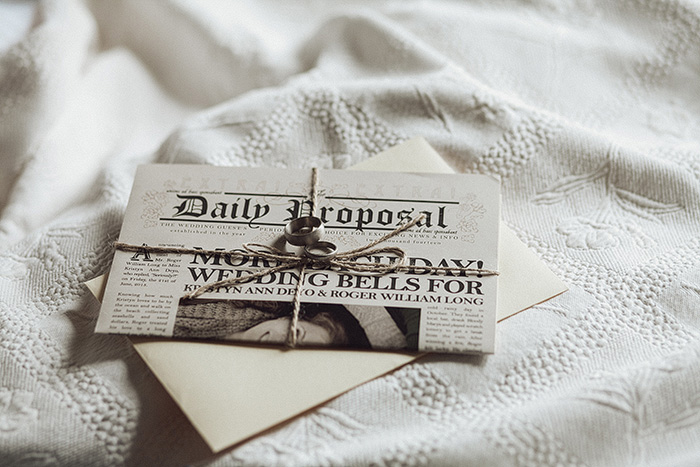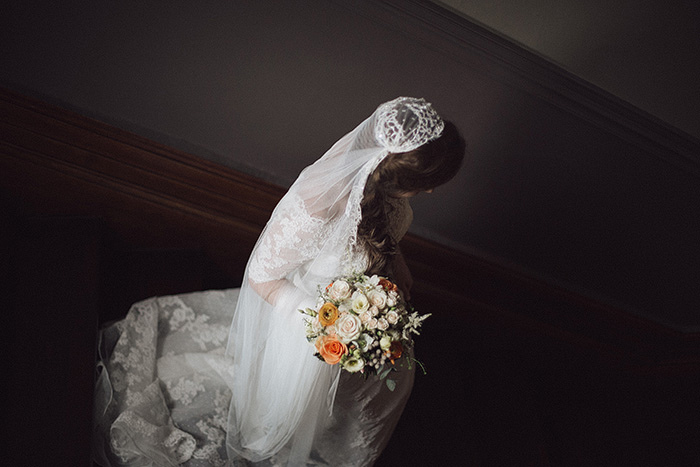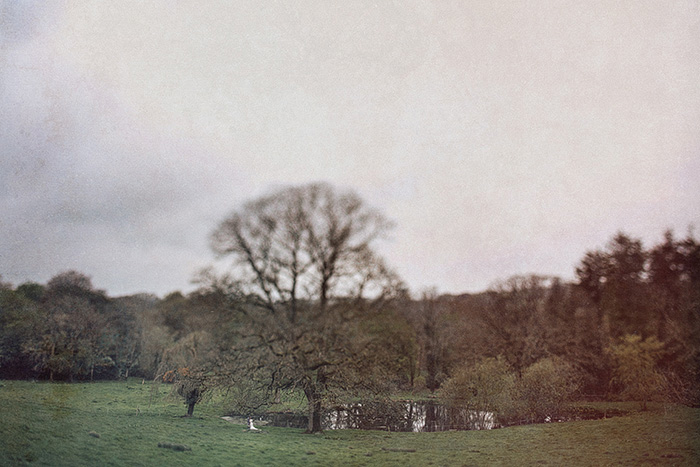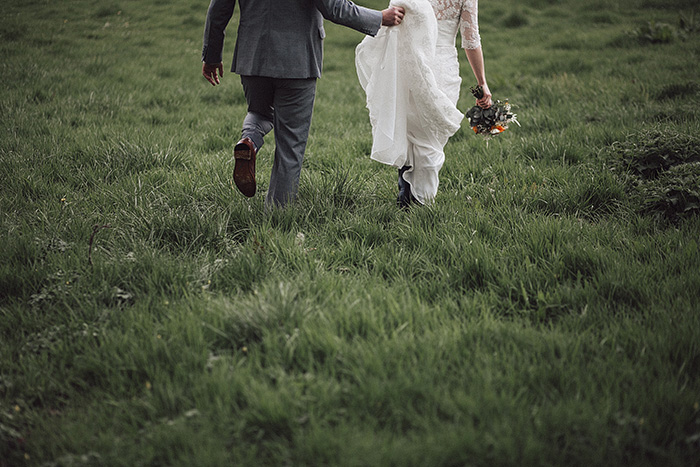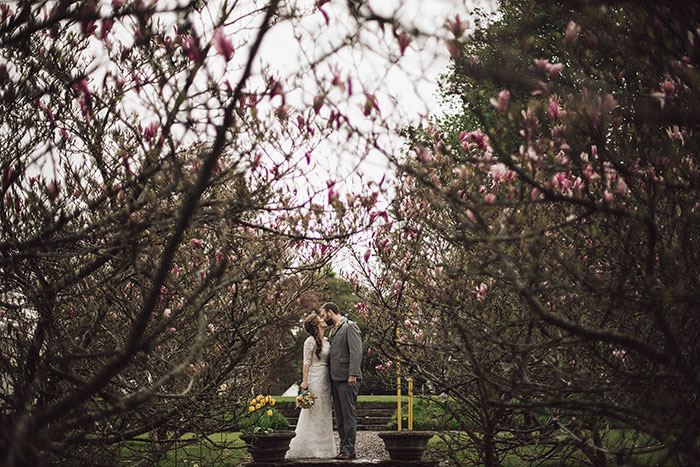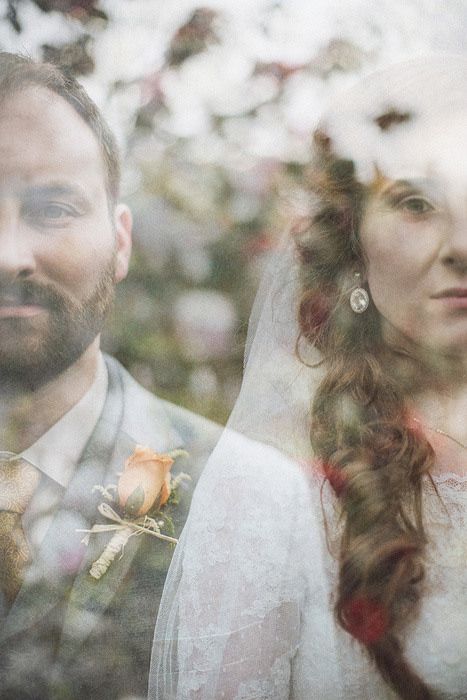 Why did you have an intimate wedding? 
We wanted to enjoy our guests as well as our wedding. We have both been to many weddings where we hardly saw the bride and groom, or where the bride and groom were so busy talking with people they didn't get a chance to enjoy their wedding. We didn't want to plan a wedding for everyone else, we wanted to plan a special day for us and invite our family and close friends to share it. We both felt that many weddings lose the impact that they should have for the bride and groom, because the day has turned into a huge production for all those attending.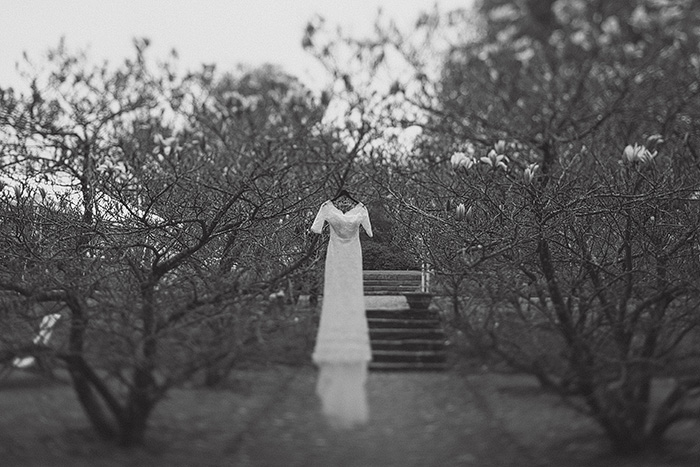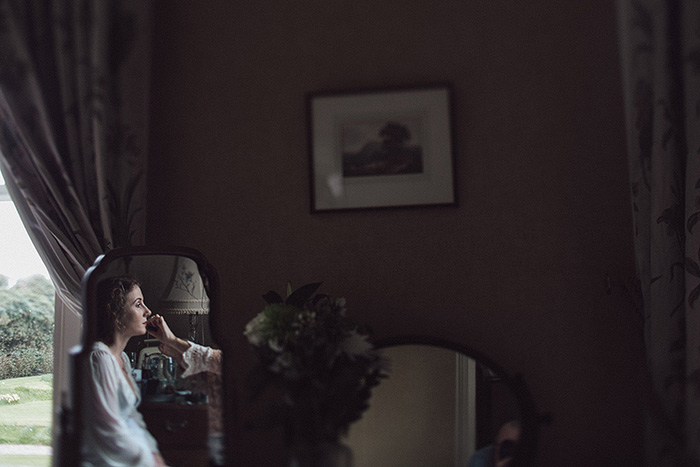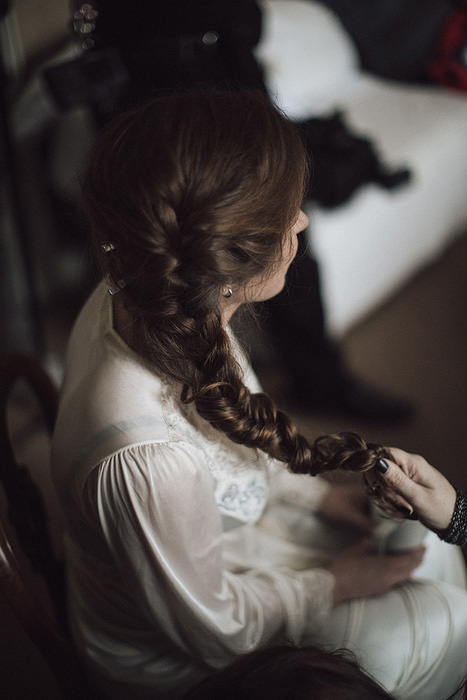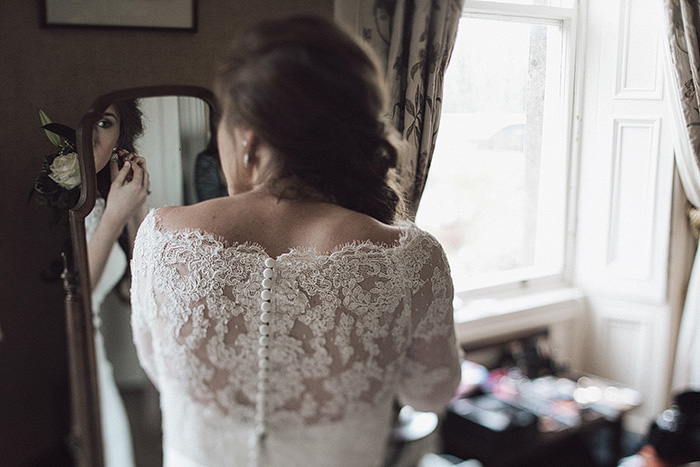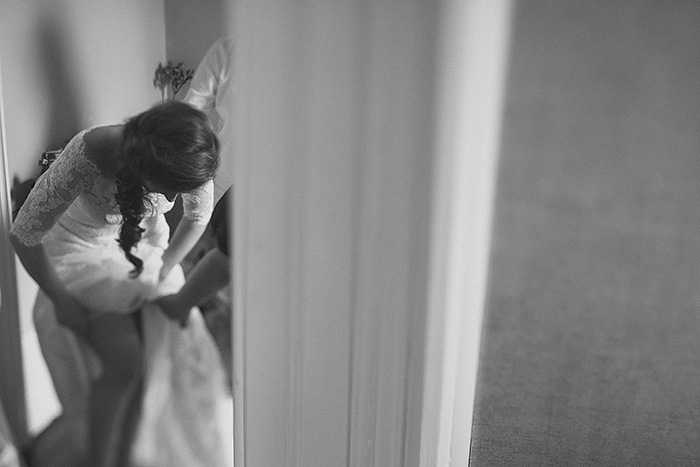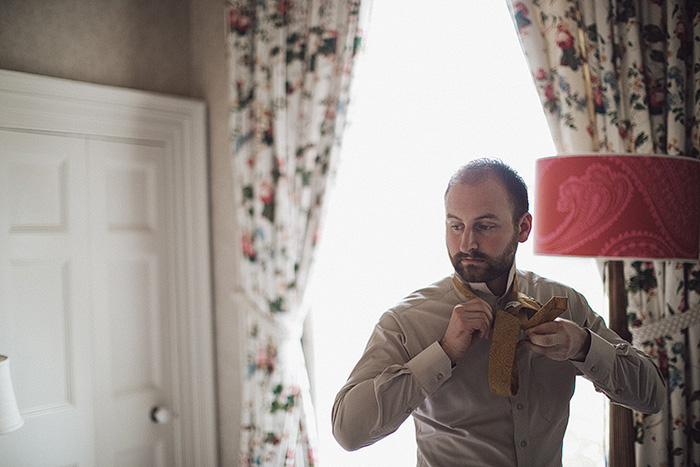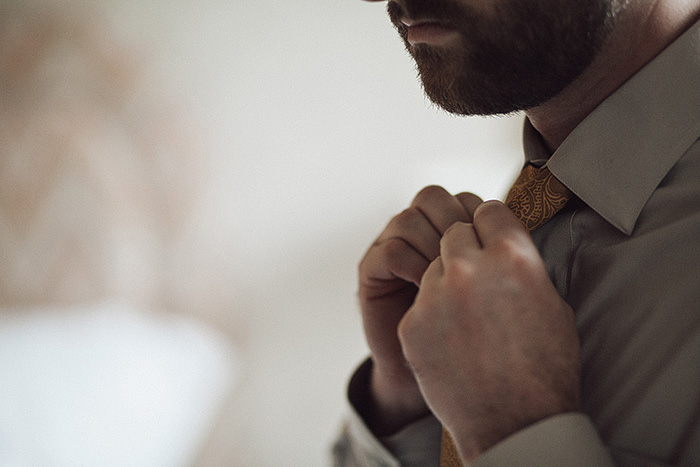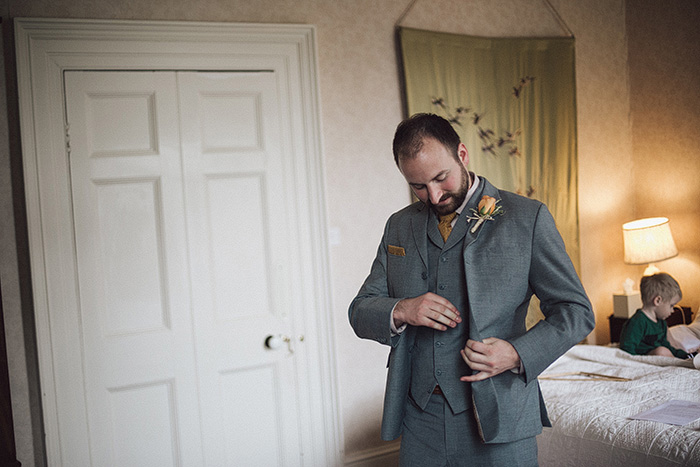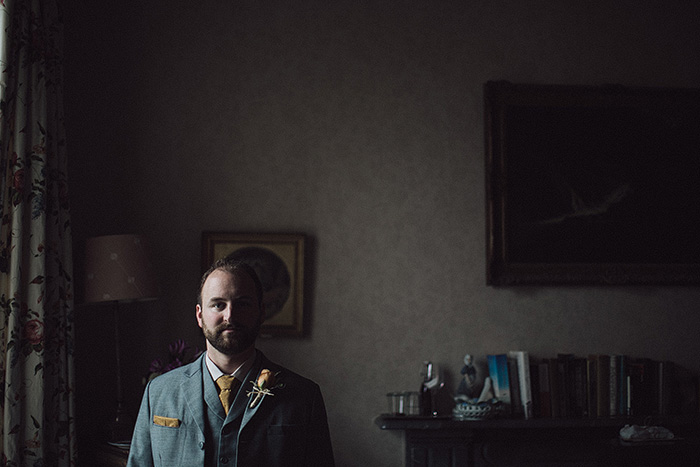 What are some the challenges that you faced planning an intimate wedding? 
We toyed with the idea of having an intimate wedding in the US, but we were concerned that we would not be able to keep the guest list down. We took the wedding international knowing that many people would not be able to attend.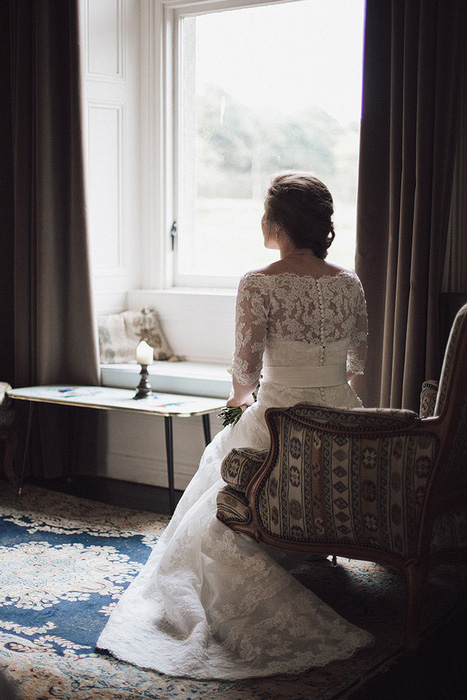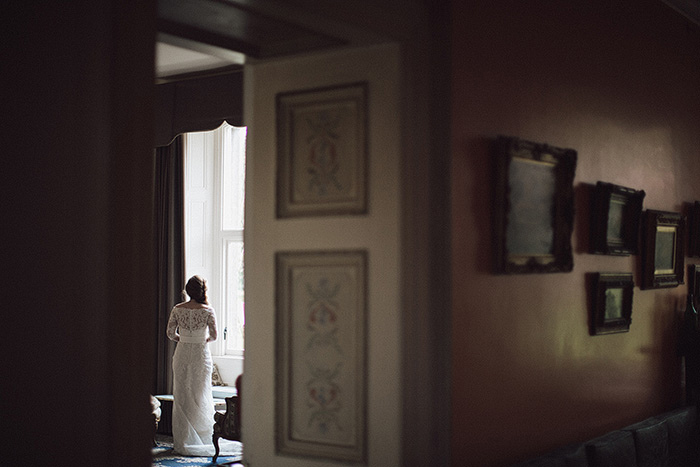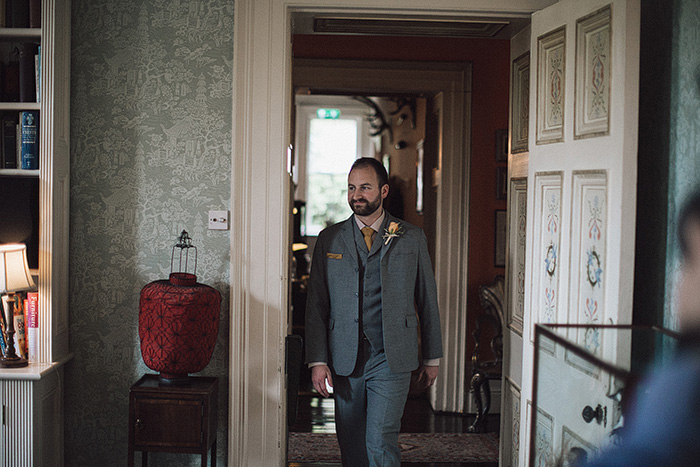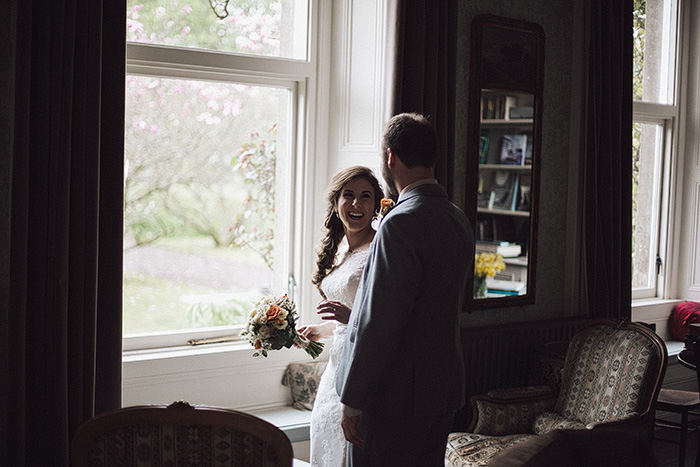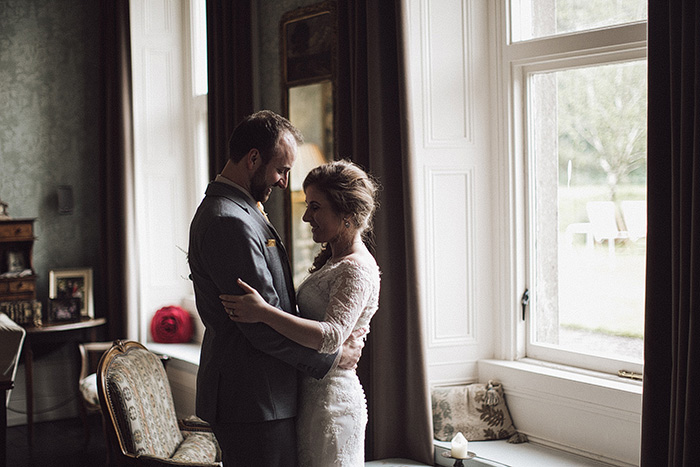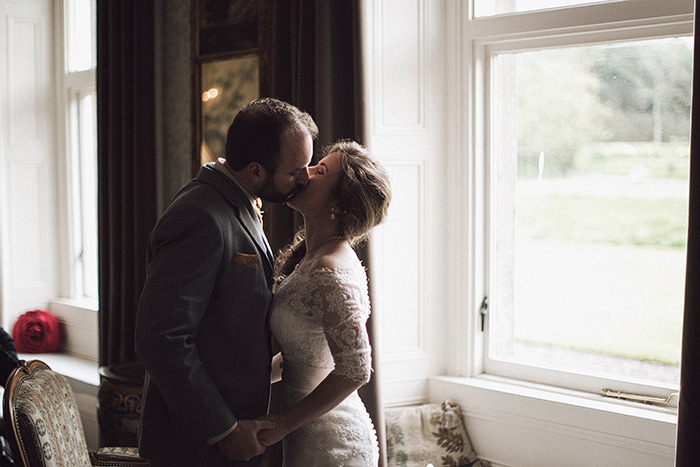 Was it difficult to pare down the guest list? 
Yes. There is the fear that you will leave someone out, or hurt feelings. There is also that inevitable list that will come from the parents which was the toughest for me. You want to respect people, but at the same time you want to help them understand the wedding day that you and your spouse have envisioned. We ended up sending out more invitations than we had anticipated.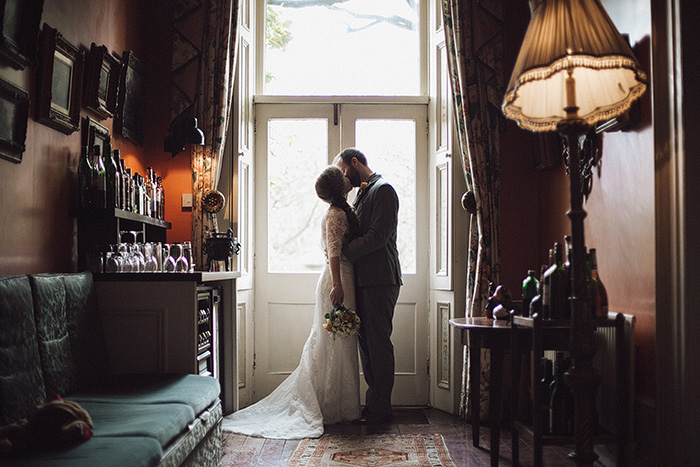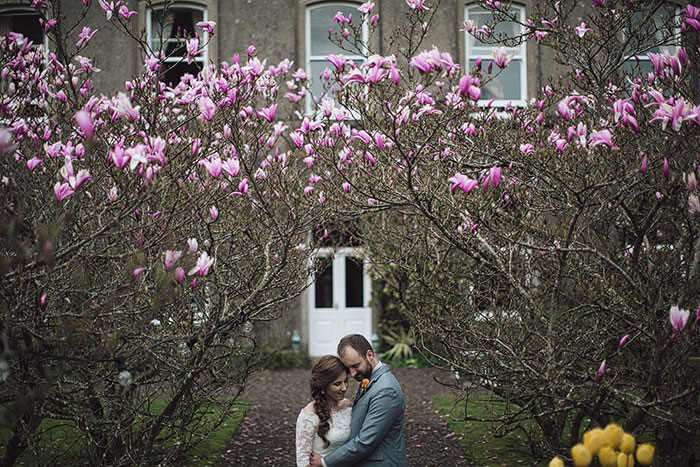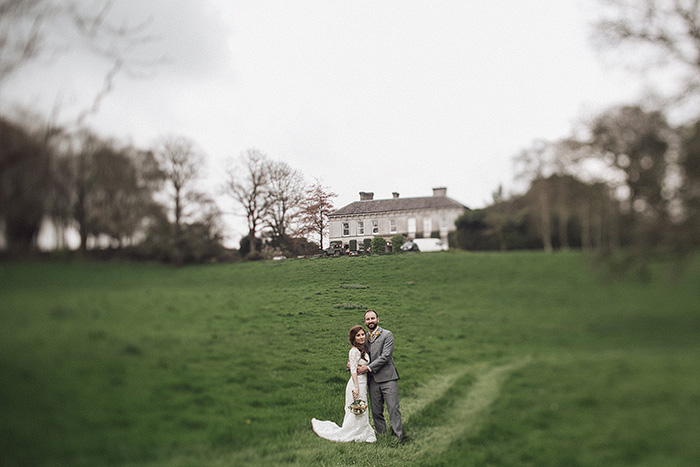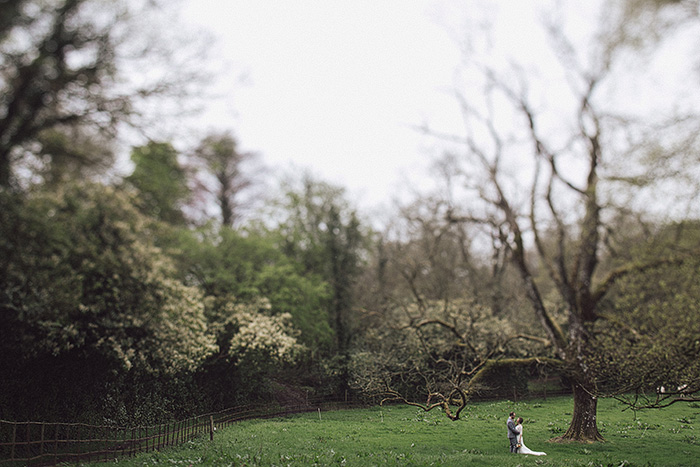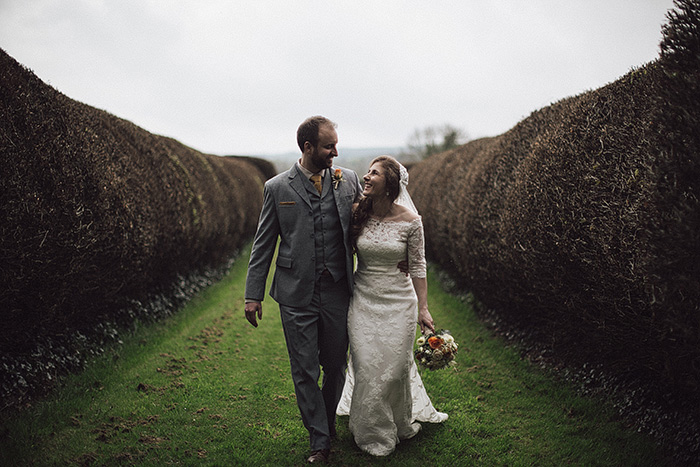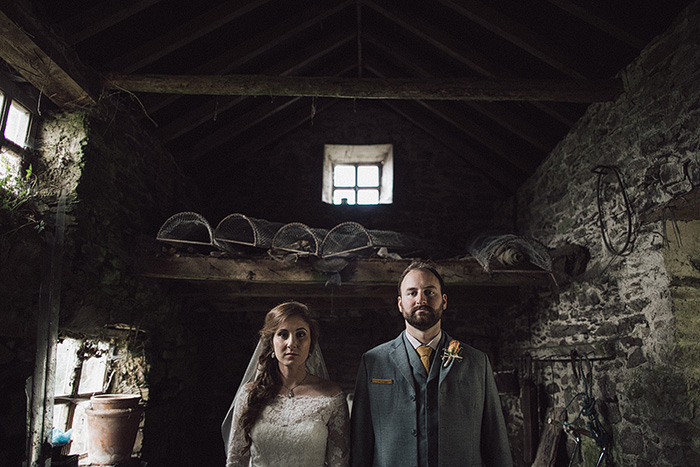 Did you have any 'issues' with the small guest list from friends and family? If so, how did you address them? 
Our guest list ended up being larger than we anticipated which we struggled with. My best advice would be to express the type of wedding you two are creating, explain it TOGETHER with each other's parents, explain the difference between a wedding announcement and a wedding invitation, and then ask your parents for their guest lists. Be upfront in the beginning; don't pussyfoot around it because talking about it after they give you a list is much more difficult than doing it before.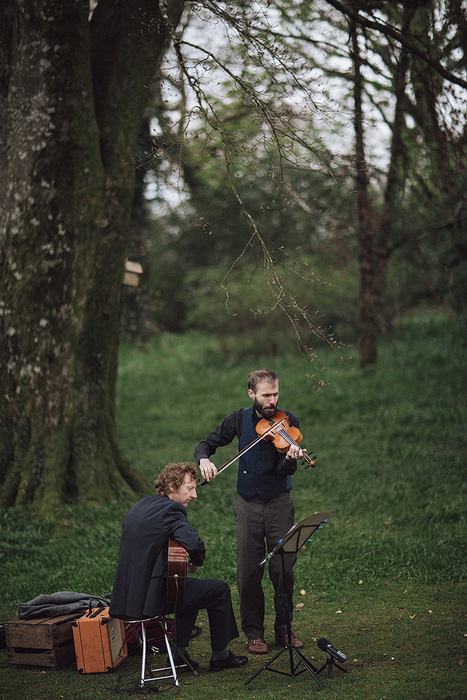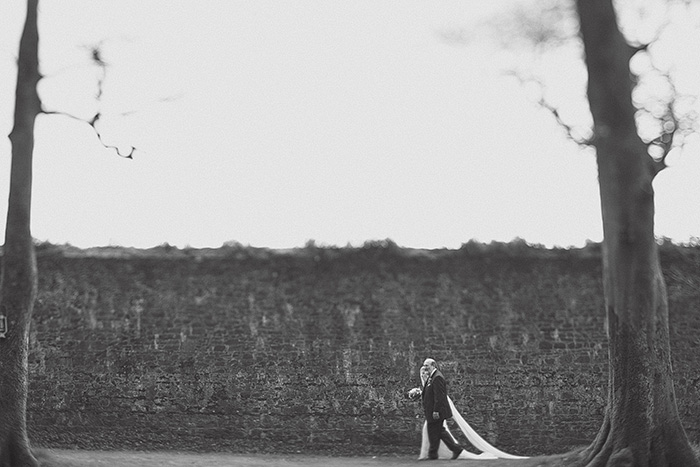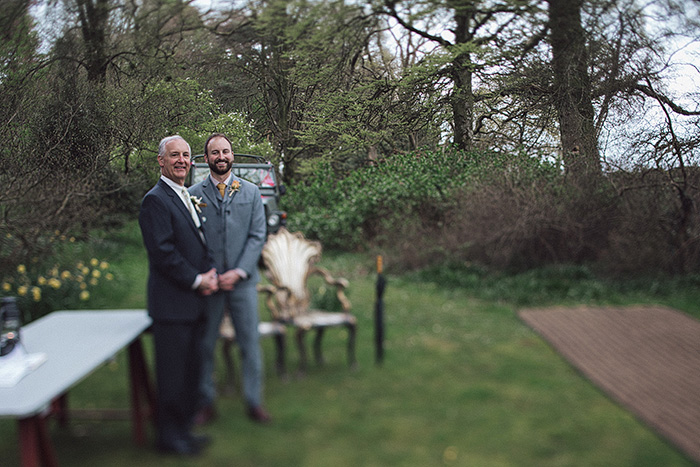 What were the highlights of the ceremony? 
We loved everything about our ceremony. We wanted our wedding to be about love & family. We asked Roger's dad to become ordained and marry us and the entire bridal party was made up of our siblings and their spouses. My dad participated in our hand fasting ceremony and I wrote the ceremony and all of our vows. It was really important to us to have vows that weren't cookie cutter. Roger's brother introduced our ring warming ceremony. We personalized our whole ceremony, so it spoke about who we are as a couple and gave our guests a glimpse of our personalities. Roger and I also wrote personal vows to one another that we shared for the first time at our ceremony. Having your spouse write something from their heart, and share it with you in front of everyone is a beautiful moment in and of itself.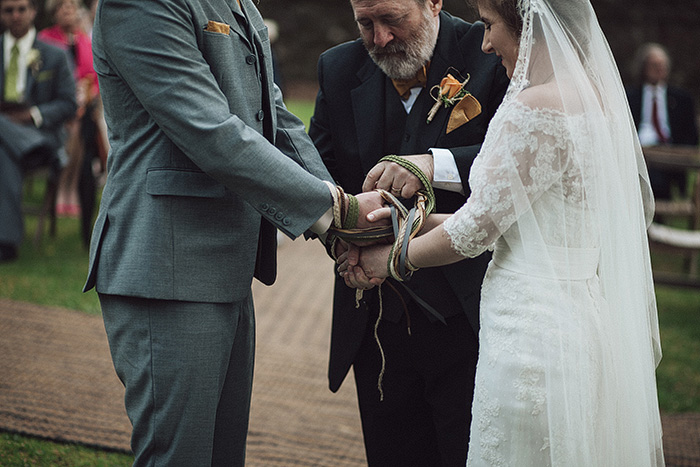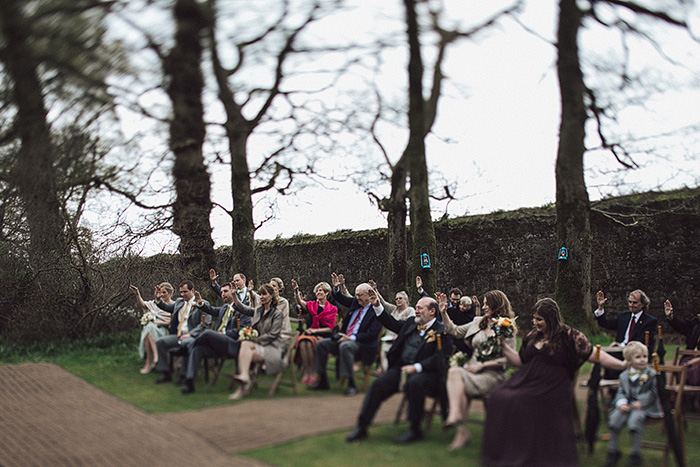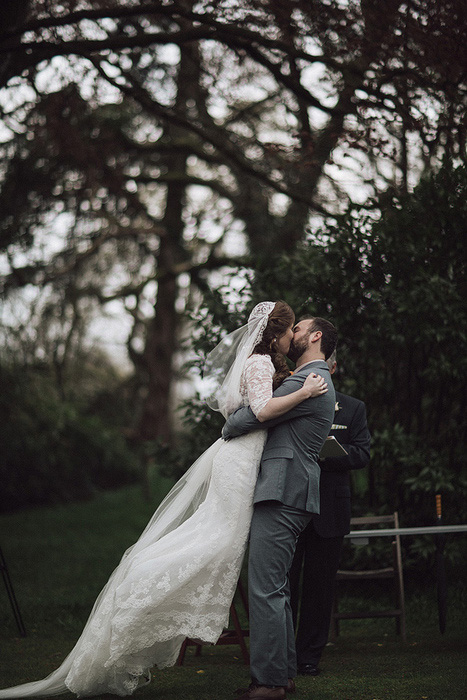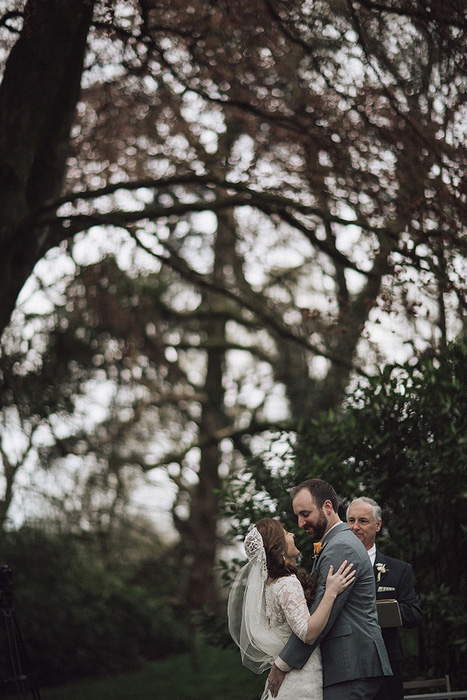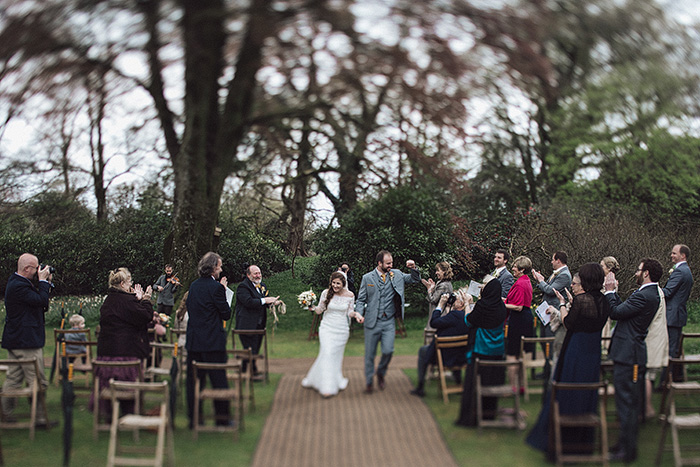 What were the highlights of the reception? 
We handmade and wrote each person a personalized thank you card. We both took the time to write in each card and had them placed at our reception table. We did a seated dinner at one long intimate table. The guests were seated and given time to sip their wine and read our notes before we made our entrance. It really set the tone, and gave us the opportunity to thank them for coming all the way to Ireland. We asked our parents and siblings to bring their favorite picture from their wedding day and used them at our reception. We also asked our parents to bring pictures from our grandparents' wedding days as well. We wanted to emphasize love, family and how important they are in our life together. We didn't do a traditional champagne toast; we did Grasshoppers which was a lot of fun. We loved our band!! Since our wedding was so small, it was very important to us that everyone dance. We really took the time to find a fantastic band that didn't really need a lot of direction from us.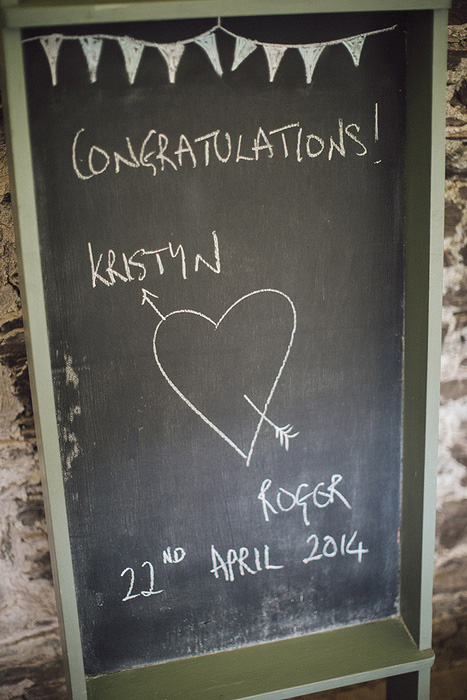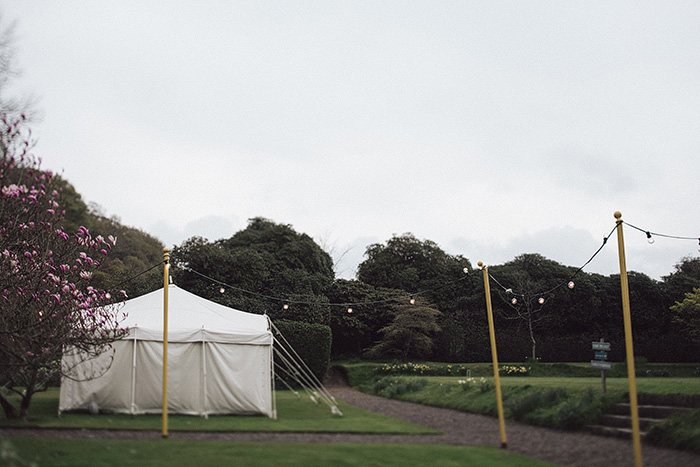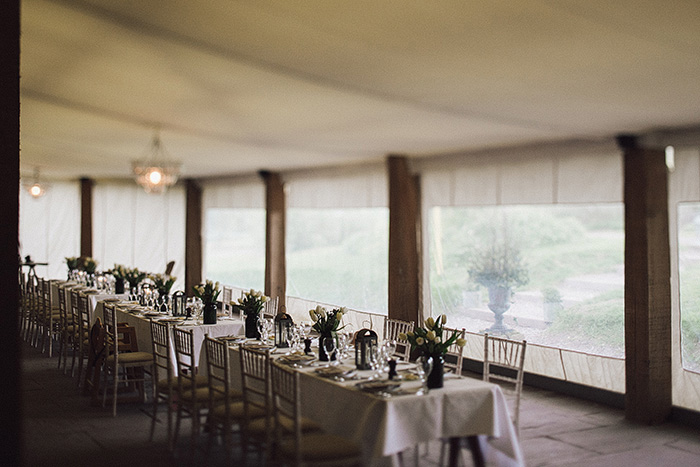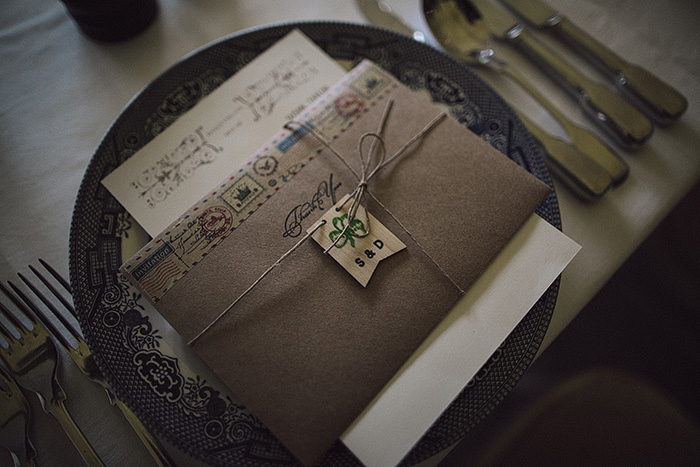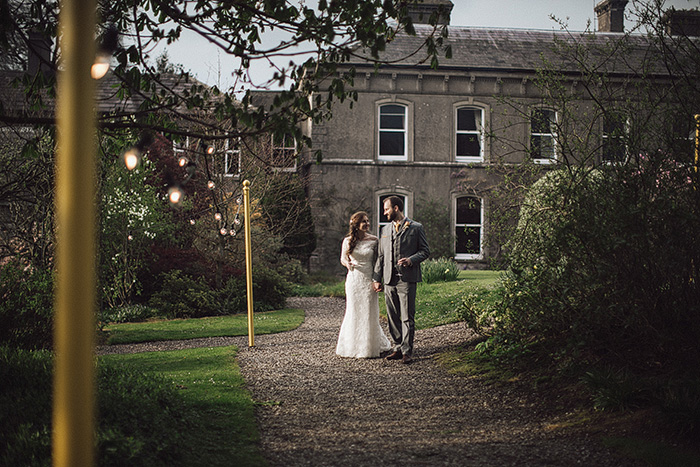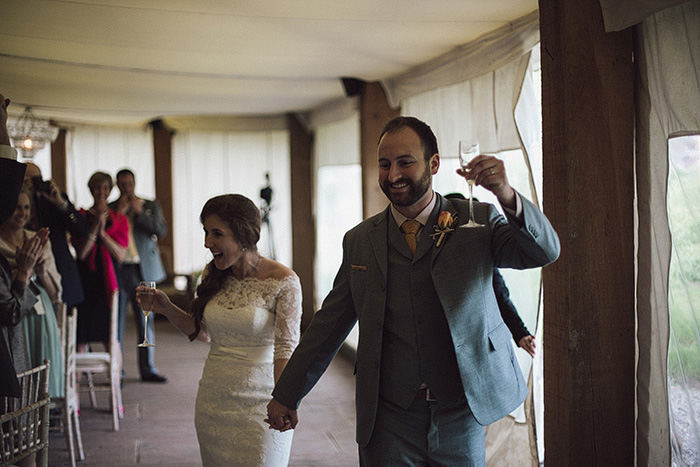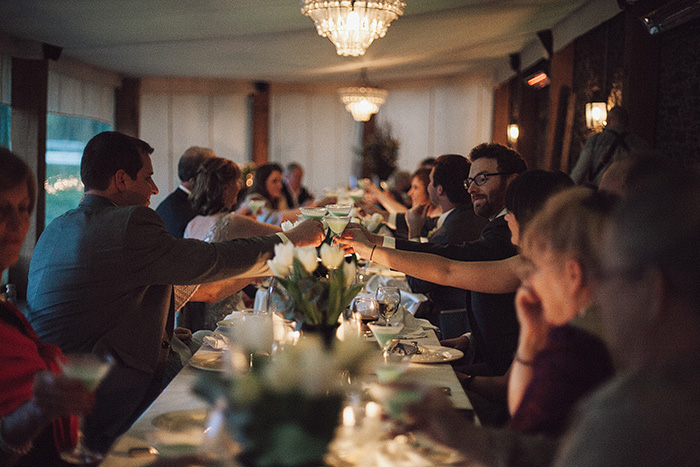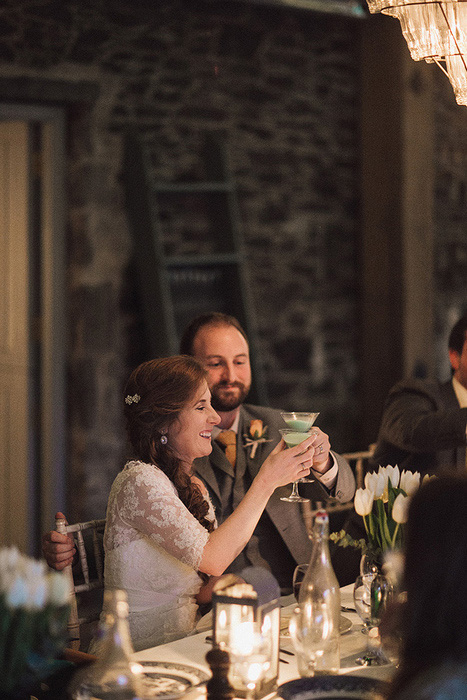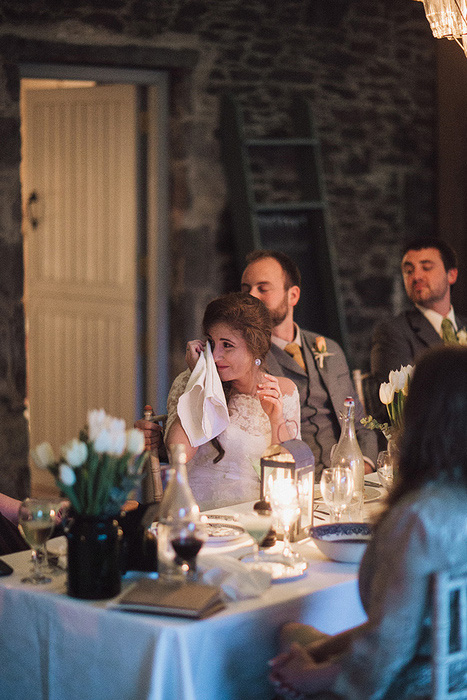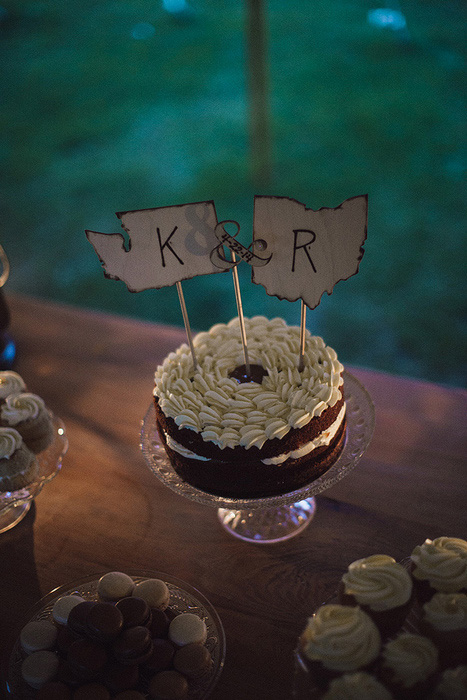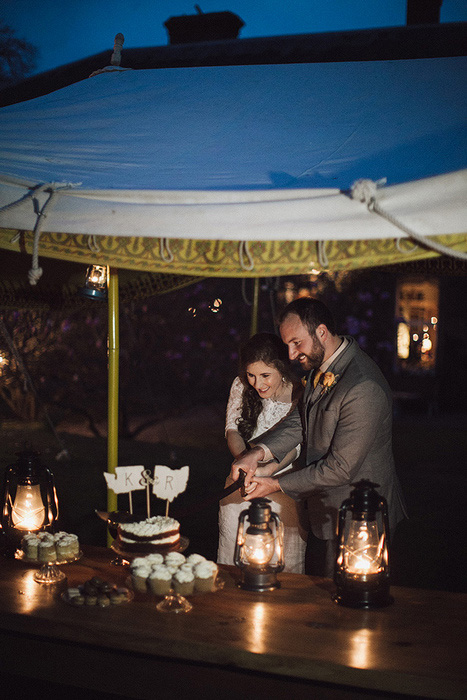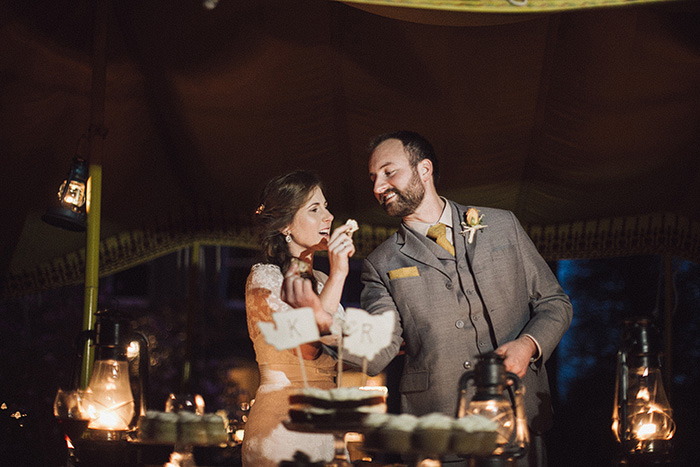 What was the best thing about having an intimate wedding? 
We were a part of everything that entire day and we really were able to enjoy ourselves. We didn't miss a thing that transpired. We were able to participate and party right along with everyone else. Our favorite part was our seated dinner; it really felt like we were at home having a family meal. We all ate, talked, drank and enjoyed the intimacy that one long table created.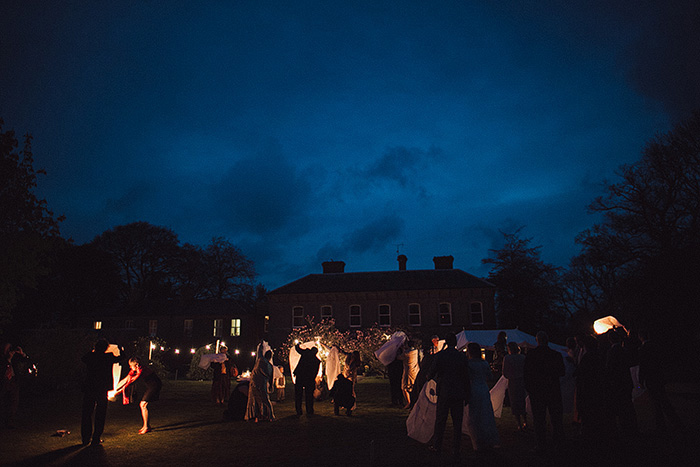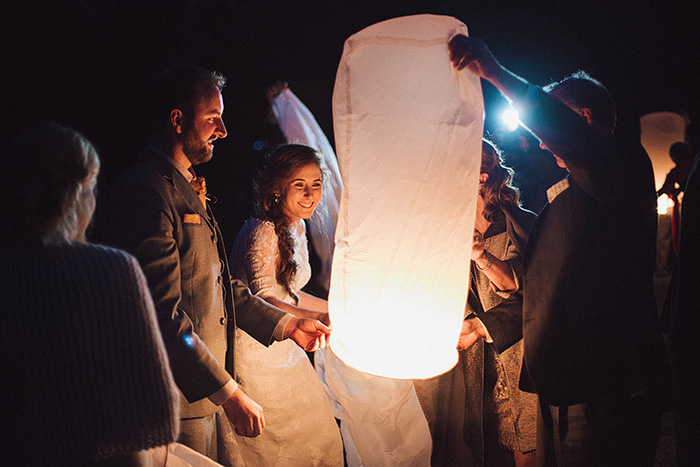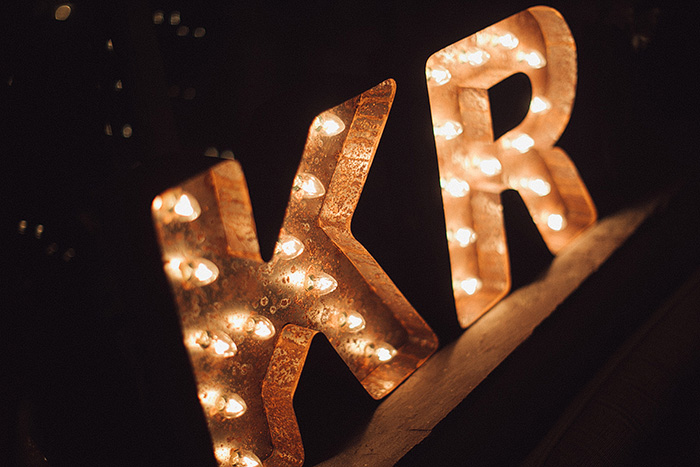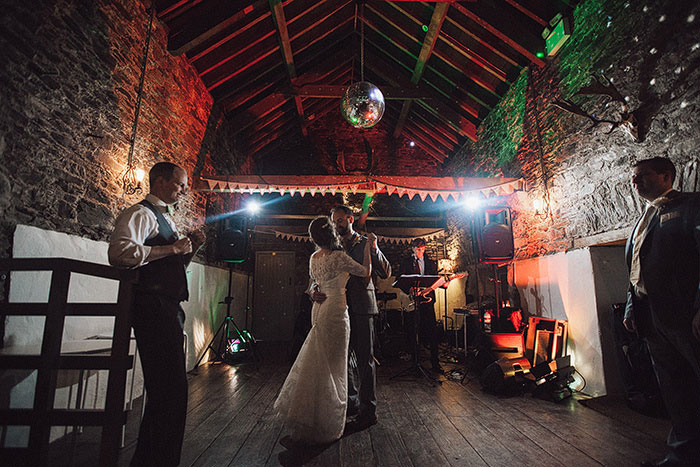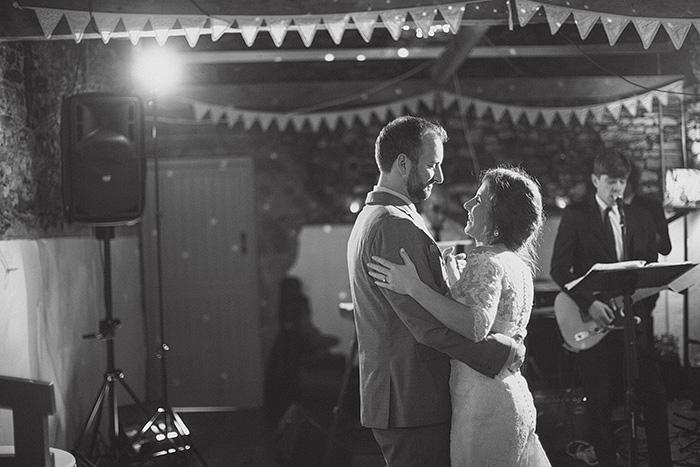 What advice do you have for couples who are considering an intimate wedding?  
Besides keeping it small, it is the little things that make it intimate. We took a lot of time to create a wedding invitation that would set the tone of our wedding, as well as share a little bit of our hearts with our guests. We had a lot of information to share for a destination wedding and we did not want a website. We really wanted to keep it intimate in that regard as well. Roger's mother addressed all of our invitations with her beautiful calligraphy. We had ties/bowties hand made for everyone in the bridal party and Roger's aunt stitched their sweetheart's nicknames on the back with a clover. All the ladies in the bridal party were given rose gold four-leaf clover necklaces with their sweetheart's names engraved on the back. We had a close friend of Roger's make our guestbook. We made our own programs and included photo strips that we had made of our adventures as a couple.We made each guest a welcome bag and really took the time to fill it with personalized mementos. Some of the items in the bag were wooden ornaments in the shape of Ireland with a special saying engraved from us, my godmother graciously embroidered a monogram that I drew onto fleece blankets, a wish bracelet and little bags of sleepyhead (which Roger's brother-in-law is the co-founder and owner of). We included our family as much as possible, and having them help with a lot of the little touches really made it more meaningful.
The most intimate part of our whole wedding was that we made each other's wedding bands.  We met Stephanie at Get Hitched Give Hope and won a bid on a ring making session at a silent auction.  Roger had decided that he wanted us to have matching wedding bands. We worked with Stephanie on a conceptual design, picked the metal and then had an 8 hour work day where we each had the most amazing experience creating a one of a kind wedding band for one another.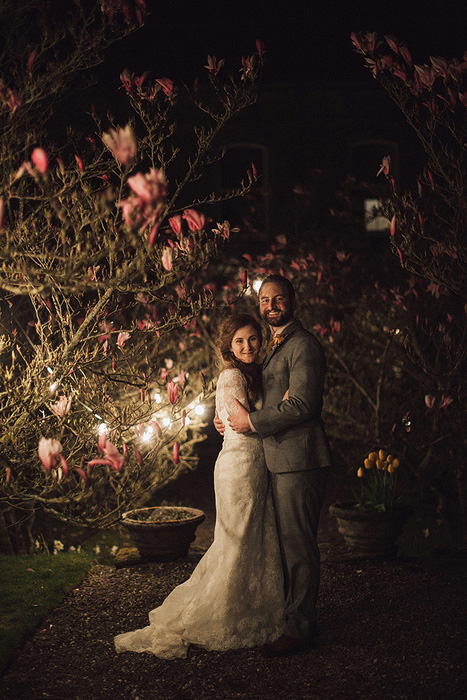 Vendors:
Photography: Pawel Bebenca
Videography: Lukas Jamroz- Diga Video Wedding Videographer 
Wedding Dress: Calla Bridal
Venue: Ballyvolane House
Invitations: Melissa Meek of One little M
Veil: Sheila Bobeldijk of Sibo Designs
Cakes: Touch of Magic
Rose Gold Four-Leaf Clover Necklaces: Starlette Bjoux
Wedding Earrings: Swarovski Crystal
Groom's Suit: Duchess Clothier
Wedding Shoes: Nordstrom
Reception Band: Bentley Boys
Custom Ties: Tux & Tulle
Garter Set: Contessa Garters 
Cake Toppers: Prince Whitaker
Wish Bracelets: madebydina  
Sky Lanterns: Sky Orbs
Wedding Bands: With These Rings  
Makeup Artist Hair & Makeup: UpStyle Junkie & Mobile and Mobile Make-up Artists
Ceremony Music: Justin Grounds
Flowers: Sakura