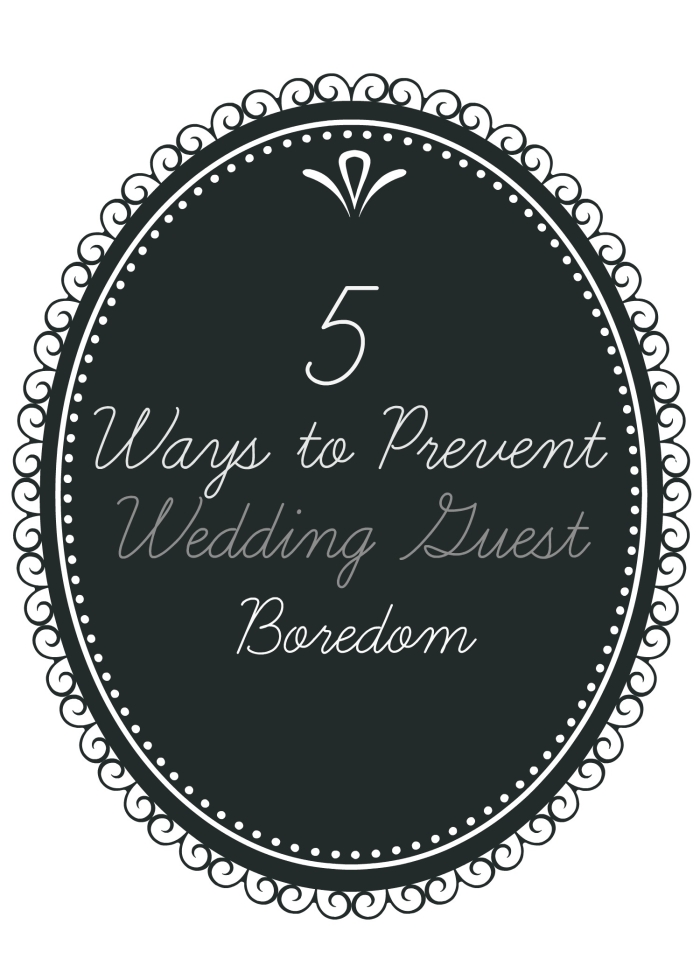 No one wants bored wedding guests! In fact, this is probably one of the biggest fears that brides have about their wedding day. It was definitely one of mine. In fact, I had recurring nightmares of guests yawning, checking the time, and wanting to leave early.
Although you can't guarantee that everyone will have a rollicking good time at your nuptials, there are a few sure-fire ways to prevent your guests from getting grumpy.
1. Plan your timeline carefully
My biggest wedding pet peeve is the amount of time between the ceremony and the reception. If there is a huge gap, then you're almost guaranteed your guests will get antsy. Depending on your wedding timeline, try your best to arrange to have less time in between. If the gap can't be avoided (due to photos etc.), open the bar early so guests can have some drinks while they wait. Make sure there are plenty of appetizers to help absorb the alcohol!
2. Food, glorious, food!
Everyone knows that the way to a wedding guest's heart is through their stomach, so make sure you've got some good eats planned for your reception! That doesn't mean you have to break the bank for a gourmet 10-course meal; food trucks and food stations, pizza bars, taco bars and popcorn bars are just a few lower budget options that will up the fun factor and have your guests raving about your big day.
3. Great entertainment

You will most likely have activities and crafts for the kids coming to your wedding to keep them entertained, why not add some fun and frolic for your other guests?  Along with a traditional guest book, have things on each table for guests to do, such as puzzles, mad libs, trivia or even a modern I Spy game. A band, DJ, live performers, dancing lessons and musicians also help to keep people's attention after dinner.
4. Account for down time
Most weddings start in the early afternoon and then continue late into the night. That is a lot of time that guests will spend in one or possibly two locations. Try to account for the common lulls in a reception, such as right after dinner before everyone starts dancing or after everyone has danced for an hour and needs a break. Maybe put out a candy bar or late night snacks at that time or activities such as board games, a live event artist, on-site poet or a photo booth.
5. Create inviting lounge spaces

At my wedding reception, I noticed the reception hall quieted down around 10 pm. I walked downstairs to find a group of guests relaxing on couches in the basement of the venue chatting and having a good time. Was I upset that they weren't getting crazy on the dance floor? Definitely not! Sometimes guests just want to chill – and that's why it's a great idea to create some inviting lounge spaces that include comfy seating.
Save