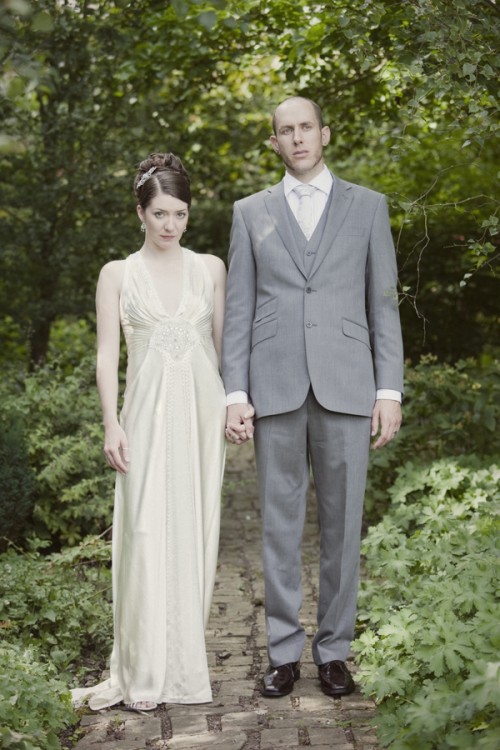 This is our first British real wedding here at IW. Lucy and Rob had a 1930's Glamour theme, with an English country twist. Their color scheme was black and white.
Lucy, 29 & Robert, 32
Leicester, England
Wedding Date: August 22, 2009
Number of Guests: 69
Wedding Cost: £16,000 (including Honeymoon 15 nights in Thailand)
Wedding Ceremony Location: Halstead House Farm, Tilton on the Hill, Leicestershire
Wedding Reception Location: Halstead House Farm, Tilton on the Hill, Leicestershire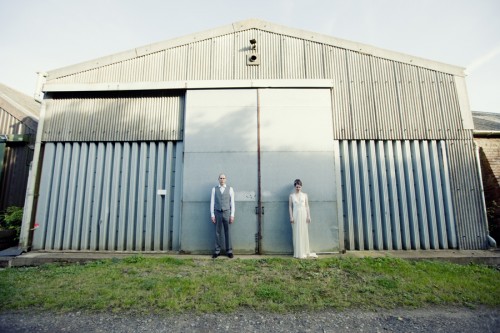 Why did you have an intimate wedding?
We considered having a wedding abroad, but we would have excluded a lot of our friends and family who could not afford to travel, and myself & Rob thought that one of the most important things about a wedding is sharing it with our closest friends and family. We loved the venue that we chose, as the ceremony room was quite small and very intimate.
We looked at a lot of wedding venues. Most of them were big hotels, and they just were not right somehow. They were too restrictive and felt a bit like a wedding conveyor belt. With more than one wedding on at the same time this meant that there would have been other people's guests around at the same time. One of the best things about Halstead House Farm, was that we had exclusive use of the venue, which meant the only people we saw were our friends and family.
The photographer was really important to us, as we are both interested in photography. I spent ages browsing through different photographers websites, just seeing the same picture's over and over again. We went to visit a few photographers and came away quite uninspired and deflated, then we saw Crash Taylor's website, and were both impressed by his style of wedding photography as it was different to all the other photographer's we'd seen.  He got us to do things we would never thought of, and the results are amazing. I think photographs are one of the most important things for a wedding, as they are what you have left after the wedding and honeymoon are over, and every time you look at them you relive the day.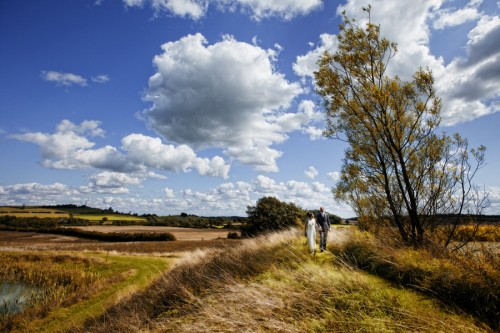 What are some the challenges that you faced planning an intimate wedding?
Not being able to invite everyone, but we also had to keep the cost down, so we did quite a lot of organizing ourselves. So we just looked through magazines and found things that we liked, we did all the decorating ourselves, all the girls stayed over at the venue in a cottage the night before, so we put all the chair covers on and tied ribbon around them, which took a while as there were 70 to do. We also printed our own invitations, place cards, table numbers & table plan. We bought our flowers from a wholesale flower company, so we got them at cost price, we also bought our cake from M&S (a high street store), and decorated it ourselves with ribbon.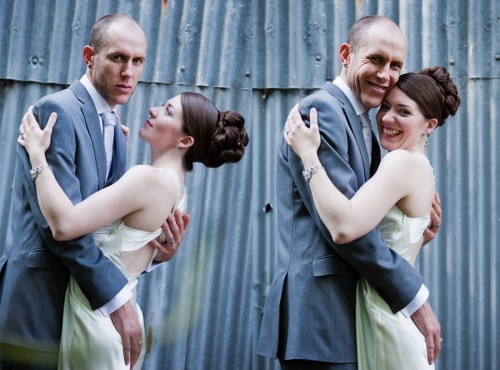 Was it difficult to pare down the guest list?
Yes, I think this was the most challenging thing's of the whole wedding. Choosing a venue with a small ceremony room, gave us a target number of guests (70). In a way, this helped us to choose the people who were most important to us, and we were able to have a lot of our friends present, as myself and rob don't have huge families. Seventy sounds like a lot of people, but we have lots of friends and once we started to put a guest list together it was apparent that some people would not be invited to the ceremony.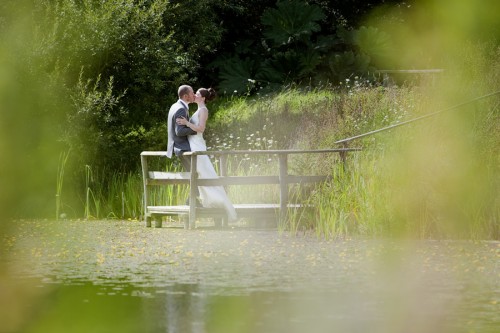 Did you have any 'issues' with the small guest list from friends and family?
I think our parents would have liked to have invited more people, but it was important to us to have our own friends there.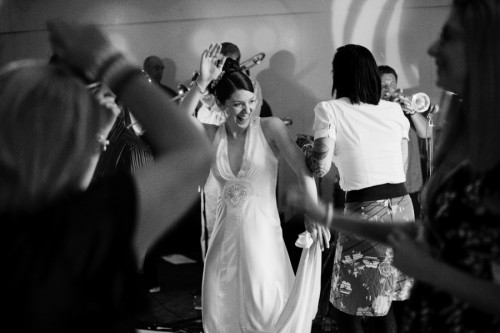 If so, how did you address them?
People were quite understanding about the fact we had limited numbers. There were some people who were offended, but you can't please everyone. I think once you realize that, the easier it gets.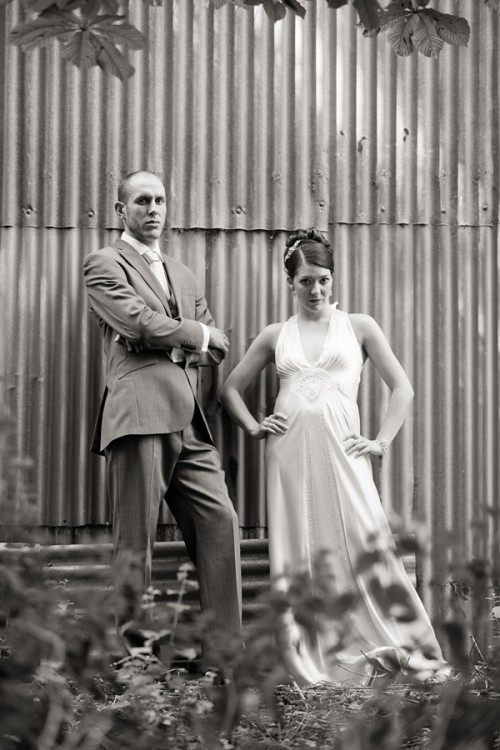 What were the highlights of the ceremony?
I loved the whole ceremony. It was such an intense moment shared between me and Rob. The registrar was fantastic, and made us both feel at ease whilst giving a really heartfelt service. I was quite nervous before the ceremony, but as soon as I walked down the aisle and saw Rob's face, all my fears left me. I read a poem, which I was really nervous about before the ceremony started, but when I got into the ceremony room I was really looking forward to reading it, and was really calm and really enjoyed it. One of our closest friends also read a poem, which he read amazingly well, and put his heart and soul into it, which made most people shed a tear.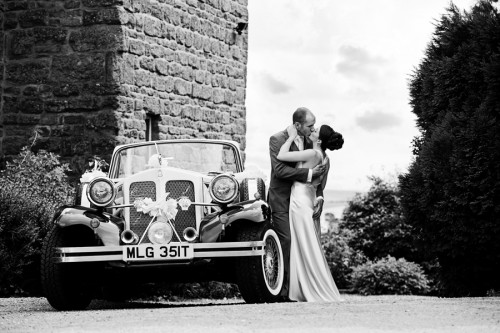 What were the highlights of the reception?
After the ceremony, myself & Rob went for a drive in our hired 1930's wedding car. We drove around the country roads, surrounding the venue. It was a beautiful day (which is rare in England). This was really nice as it gave us some time together on our own to reflect on the ceremony. We had an acoustic folk band playing outside to entertain our guests, who were hired by our head bridesmaid as a wedding gift; this was a nice surprise, as they were really good and really worked with the country setting. We sat down for the wedding breakfast and had the speeches which were brilliant. We were both touched by everyone's kind words. The evening band was also brilliant; they played 1960's style Ska music and they got everyone on their feet dancing all night. When it got dark we invited all our guest's to come onto the lawn outside and let off 70 Chinese paper lanterns. The effect was stunning, and after the wedding everyone still comments on the lanterns and how lovely they looked.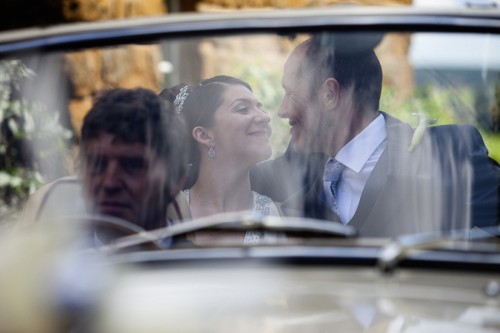 What was the best thing about having an intimate wedding?
The best thing about having an intimate wedding is that you have enough time to spend with each other and your guests. It's over so quickly so you need to make sure you spend some time with each other during the day. It's easy to end up speaking to everyone else and realize at the end of the day that you've hardly spoken to your new husband/wife.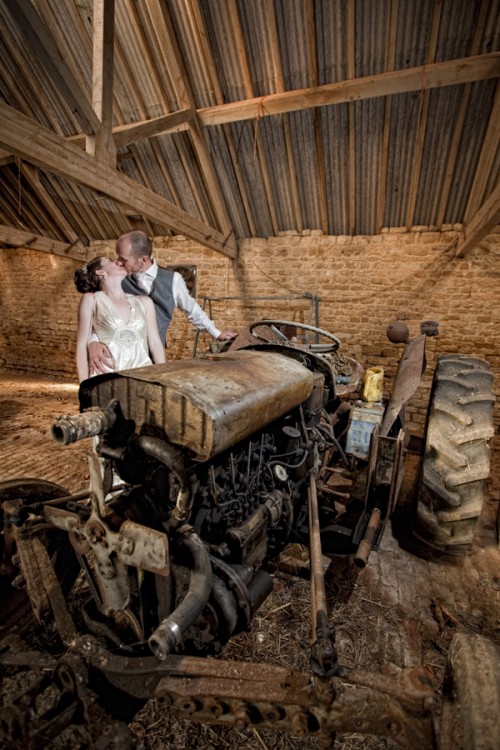 What advice do you have for couples who are considering an intimate wedding?
Don't worry about trying to please other people because you can't please everyone. The most important people are you and your partner. Ultimately it's about showing each other how much you love each other, so nothing else should really matter. Also, don't worry if things don't quite go according to plan. Nobody will notice. Lastly, enjoy it! It's your day and your memories.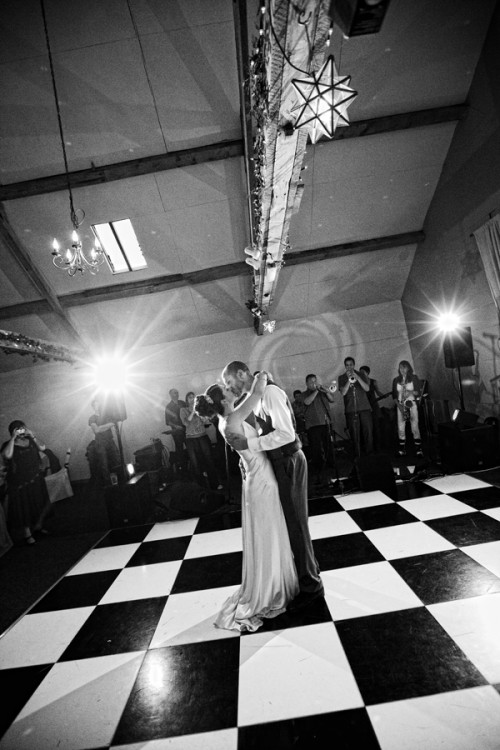 Vendors:
Venue & Caterers – Halstead House Farm, Tilton on the Hill, Leicester
Dress – Jenny Packham– Liz Corker Bride, Leicester
Band Day – The Good, the Bad & the Ugly
Band Evening – Kingsize
Florist – The Flower Company
Car – Amanda's Cars
Men's Suits & Bridesmaid Dresses – Debenhams
Photographer – Crash Taylor Wedding Photography
Jewellery –www.crystalbridalaccessories.co.uk
Decorations – www.confetti.co.uk