From the ceremony space to the reception, chair backs are a great way to individualize your wedding decor.
Many of these chair decor ideas can be fun DIY projects . Here are 10 chair decor looks that we've rounded up for you to inspire you:
1. Fabric
Sheer fabrics such as tulle and organza look wonderful on the back of chairs. They can be draped in any way that you choose. Burlap can also look amazing!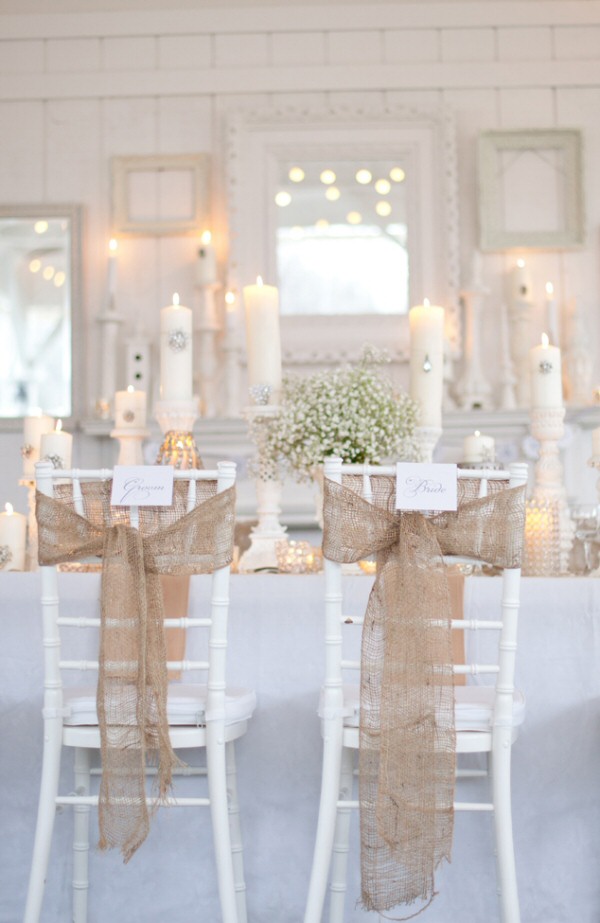 2. Lace
For a rustic wedding that needs a dose of pretty, go for a heavy lace fabric that is reminiscent of your Grandma's favorite tablecloth. This adds some femininity and vintage charm to wooden chairs.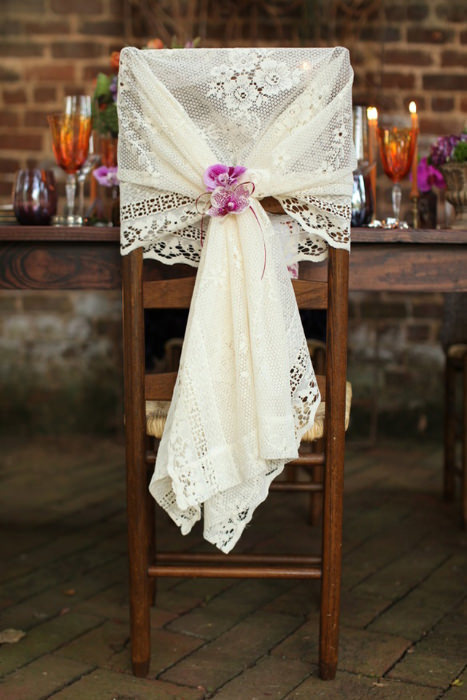 3. Wreath
Take some visual cues from nature with a wreath of leaves and delicate blossoms. This is a stunning option for outdoor weddings with a Grecian or Italian mood. This will make even the most mundane chair come to life.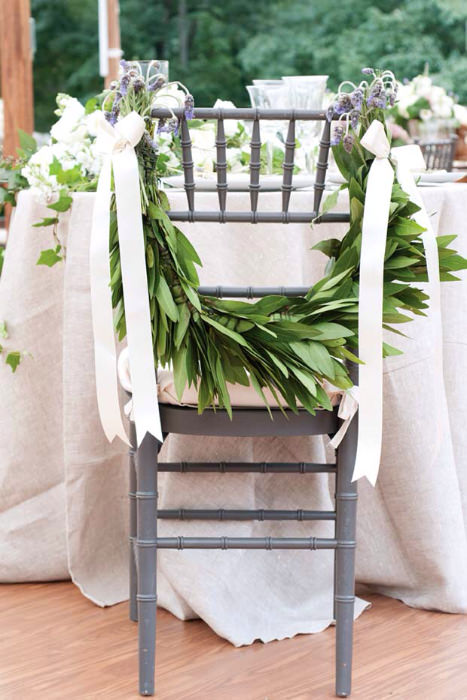 4. Pearls
It's time to get busy in the thrift store and hunt for some pearls. But, this time you'll be placing them around your chairs and not your neck. Pearls as part of the chair decor would be perfect for a Parisian inspired wedding and would also look great for a bridal shower.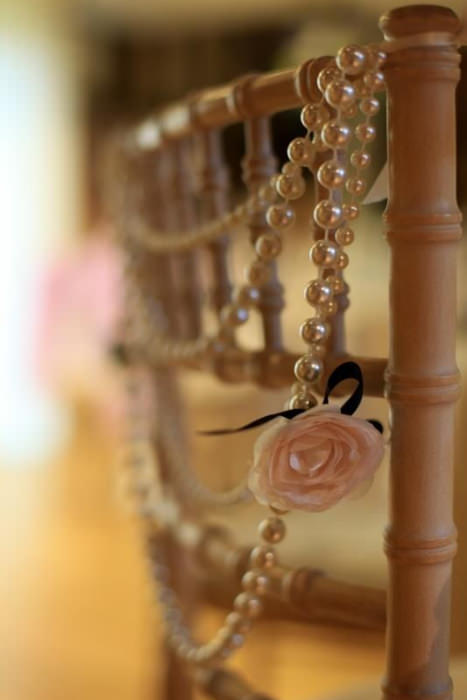 5. Joint Greenery
Make the bride and groom chairs stand out with a joining flower arrangement to bring the two chairs together. This is a romantic idea that will work whether you have a separate sweetheart table or if you'll be seated with other guests.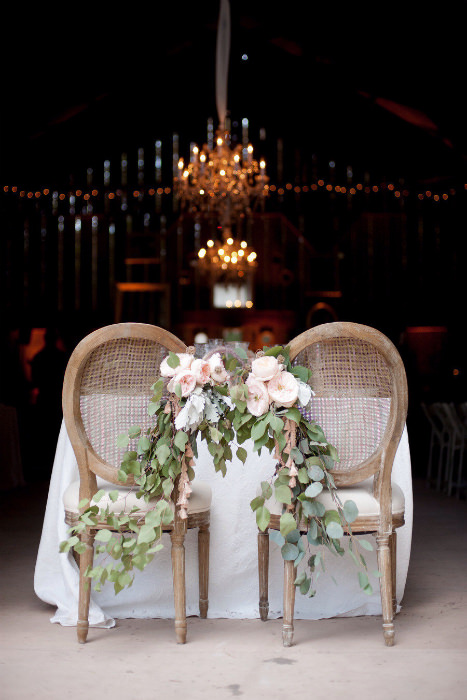 6. Love 
You can never have enough love, so you might as well say it in glitter. A love sign on the back of chairs is a fun statement piece. You can do this on just the bride and groom's seats or get creative with different words on your guest's chairs.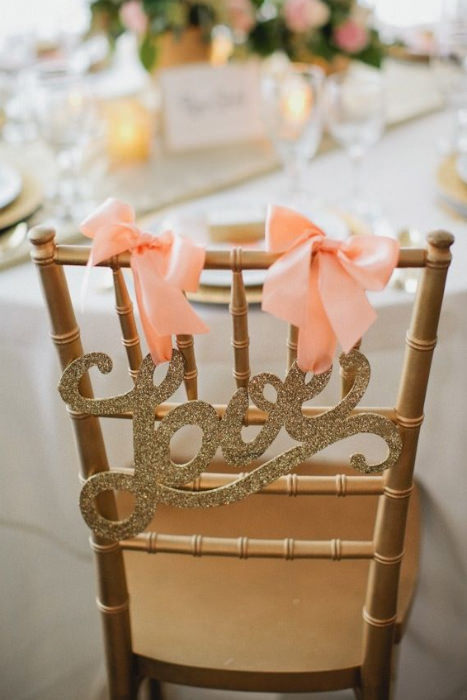 7. Flowing
For an ethereal look, choose a light fabric and drape it within the chair and leave the end to flow out from the bottom. How gorgeous would this be for a beach wedding!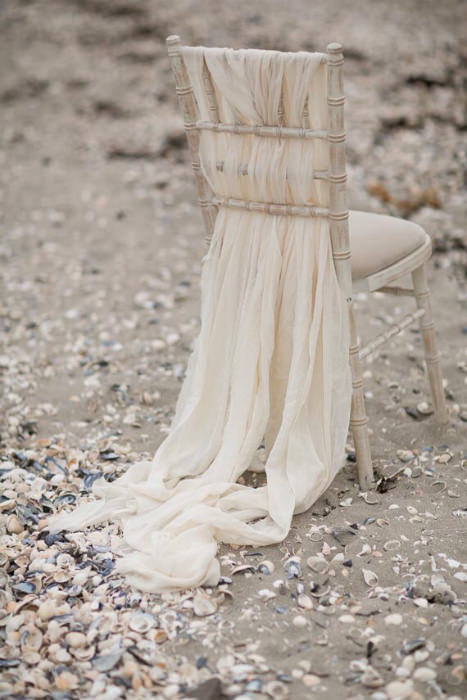 8. Ribbon
If you already have chairs that you love the look of but need a simple update, then you can use long lengths of ribbon to decorate them.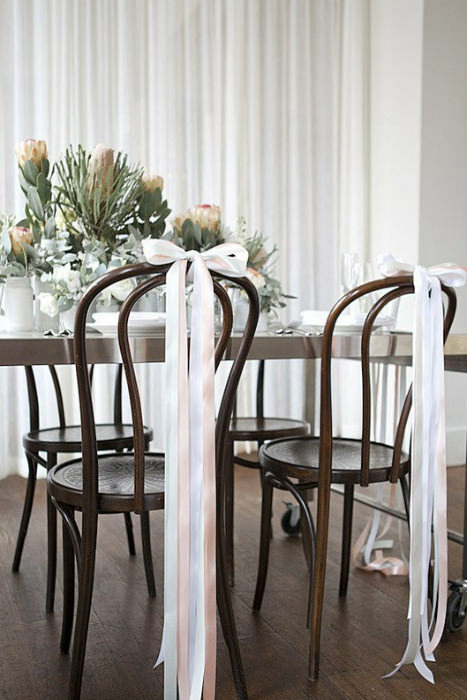 9. Floral
We are obsessed with these hydrangea decorations. Work with your florist to design an arrangement of your initials for the chair backs.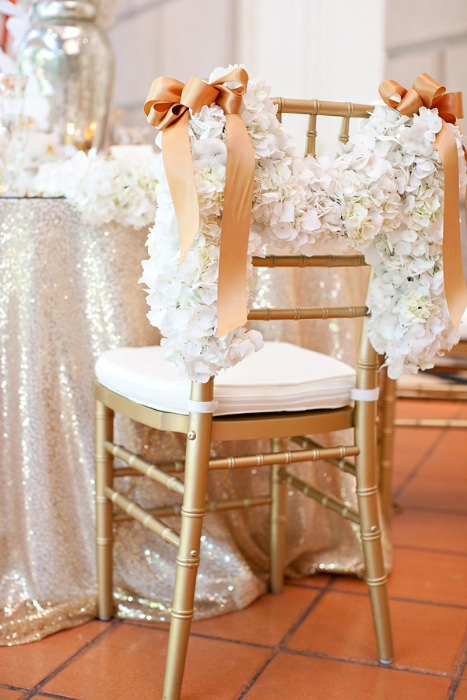 10. Silhouette
This is such a unique alternative to the 'Mr and Mrs' chair back signs. You can go all out and have your own personal silhouettes made, which will be a lovely keepsake.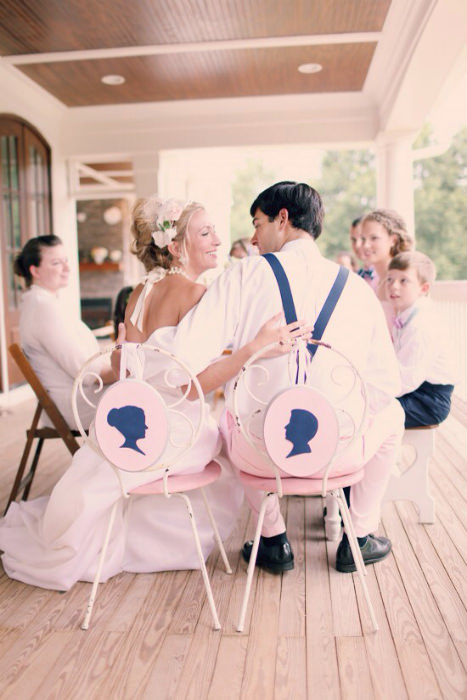 Photo one: Pocketful of Dreams; Photo two: Marrighi DIY Wedding and Events; Photo three:kristydickerson.com; Photo four: beautifulblooms.com; Photo five: pinterest.com; Photo six: kimfoxphotographyblog.com; Photo seven: lover.ly; Photo eight: paulamcmanusphotography.com; Photo nine: ohmysweetlove; Photo ten: perezweddings.com; Photo eleven: weddingchicks.com