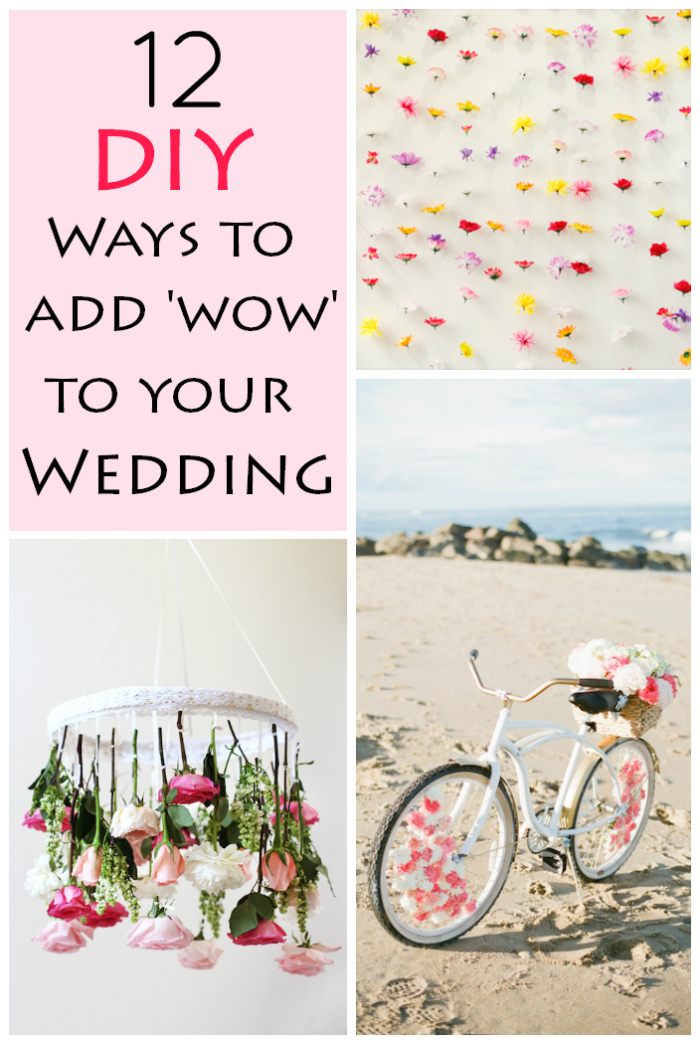 A few DIY projects can really inject some personality to your wedding decor. They are also a great way to take your reception to the next level with unique ideas that you've put some effort into. Your guests will be seriously impressed by your handy skills. We've picked our 12 DIY ideas that will really add the wow factor to your reception.
1. Flower Chandelier
An embroidery hoop can be transformed into a gorgeous flower chandelier with some basic supplies. Roses and peonies in pink, peach and white have a classic look, but you can also go for bold and bright blooms for a dramatic look.
2. Moss Table Numbers
Instant green moss sheets are used here to create these table numbers, which can be placed under bell jars for a different look. You can expand on this idea by using the moss for letters or to spell out words on the tables.
3. Spun Sugar Decoration 
Spun sugar can be used to decorate so many desserts at your wedding to give a little flair and color. If you're having a simple cake you can also make some spun sugar to place on top of it for a quick and easy decoration.
4. Feather-topped Drink Stirrers 
Putting some extra thought into the smaller details will really make a difference to the overall style of your wedding. These are great to do yourself too as they don't take very long to make, but have plenty of impact. Drink stirrers topped with a feather will look gorgeous for a bohemian affair.
5. Flower Power Photo Backdrop 
Creating your own photo backdrop will save on the expense of a photobooth and also add some stunning color to a plain wall. These silk flowers will have your guests lining up for their time in front of the camera.
6. L.O.V.E Marquee Letters 
These marquee letters might require some more effort, but it's such a fun project to work on as a couple. Just look how awesome they've turned out!
7. Edible Gem Favors
These yummy DIY gems will not only look and taste delicious, but they can also be used as a decoration for dessert tables too.
8. Mini Disco Ball Place Cards 
The contrast between the shimmering disco ball and the plants will ensure that these place cards keep your guests interested. Unexpected details like this are fun to make and great to watch your family and friends enjoy.
9. Floral Beach Cruiser 
Decorating a white bicycle with flowers and a sign will give you the perfect exit for a beach wedding. It also looks great as an interesting piece of decor too.
10. Light Columns 
If you're having a wedding that also has an outdoor or pool area, these paper lantern columns will brighten up the space.
11. Test Tube Chandelier
Who would have thought that a chandelier made from test tubes could look so good? With the added bonus that you can tell everyone that you made this eye-catching piece yourself.
12. Chevron Risers
These DIY chevron risers will look perfect on top of the bar, dessert tables or to give your centerpieces a vivid lift.
Photo one: honestlywtf.com; Photo two: ruffledblog.com; Photo three: blog.etsy.com; Photo four: 100layercake.com; Photo five: blog.etsy.com; Photo six: evanandkatelyn.com; Photo seven: projectwedding.com; Photo eight: ohsobeautifulpaper.com; Photo nine: stylemepretty.com; Photo ten: marthastewart.com; Photo eleven: oncewed.com; Photo twelve: stylemepretty.com
Save