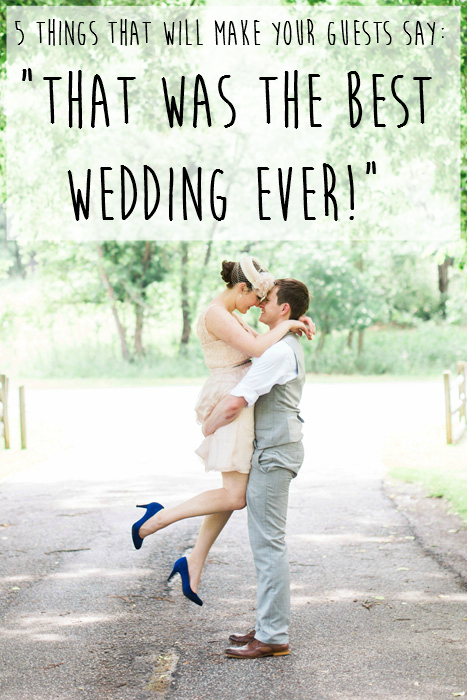 Take a second to think of the weddings you have attended. Think about the memorable—and not so memorable—elements of each. Then remember the highlights and what was done right. You want your wedding to stand out from the rest, so how do you make your wedding the best wedding ever? We have a few ideas that will leave your guests amazed.
1. Surprises
Everyone will be amazed if you plan something that is totally unexpected–something that hasn't been done at any other wedding. Hire an interesting entertainer, band, dancing lessons, portrait artists or try any of these unique reception ideas. Instead of a regular snack table, set up interactive food stations or a wine tasting. There's always the fun option of starting your first dance off slow and then surprising everyone with a fast-paced group dance.
2. Entertainment options
The entertainment doesn't have to be a complete surprise, as long as you have something for guests to do throughout the night. Think beyond dancing for people who aren't so keen and have interactive elements, such as a photo booth, lawn games, table games or mad libs. For people who love the dance, make sure your DJ knows how to keep the crowd going with high energy songs–and that the bar isn't too far away.
3. Short and sweet
Unfortunately, guests will also remember if they were bored at a wedding. One way to make sure things keep moving is to keep everything short and sweet. Keep the ceremony, speeches and toasts down to a short length. View your wedding through your guests' eyes and think of ways you can keep them interested and engaged.
During the reception, make sure your guests are seated at a table with someone they know. If that's not possible, put ice breakers on each table so people can get to know each other. Then keep the time between each event brief, so nothing feels like it's dragging.
4. Keeping guests comfortable 
If possible, have a lounge area or patio seating at your reception, so guests can move around. Instead of having them sit in one place the whole night, give your guests opportunities to mingle. Also, make sure you keep everyone fueled and hydrated by providing enough drinks to keep them happy, coffee to keep them awake and snacks to keep them from leaving early. Late night snacks are also something people look forward to later in the evening; they may even stay longer if they know more food is coming.
5. Memorable and interesting
Lastly, having personal touches that are special to your wedding will make guests remember your wedding. Don't feel like you need to personalize everything or break the bank to make everything memorable. A few personalized wedding details go a long way. Things like personalized napkins, homemade gifts, favor donation cards or customized puzzles will have people saying, "I totally want that at my wedding!"

Photo one: Lane Baldwin;
Save
Save