Many of the couples we have featured here at IW have opted for a dinner party instead of a formal reception. The vibe at a dinner party is much more intimate and allows for couples to actually spend time with their guests!
Although some dinner parties are all out casual, others are big on elegance. Here, we've rounded up some of our favorite ways to make your dinner party fabulous!
1. Great Lighting
Lighting can transform a small space into something spectacular. Exposed low-hanging bulbs look perfect with a simple table setting.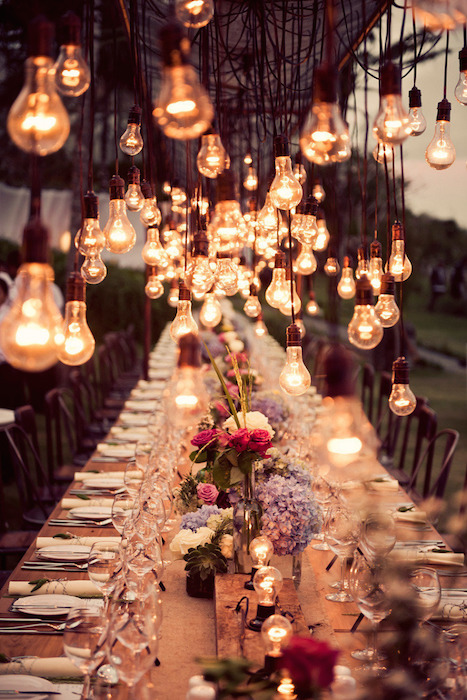 2. Vintage China
For a stunning outdoor setting, choose ornate, vintage china plates. Add a pretty runner , some bright blooms and fresh fruit.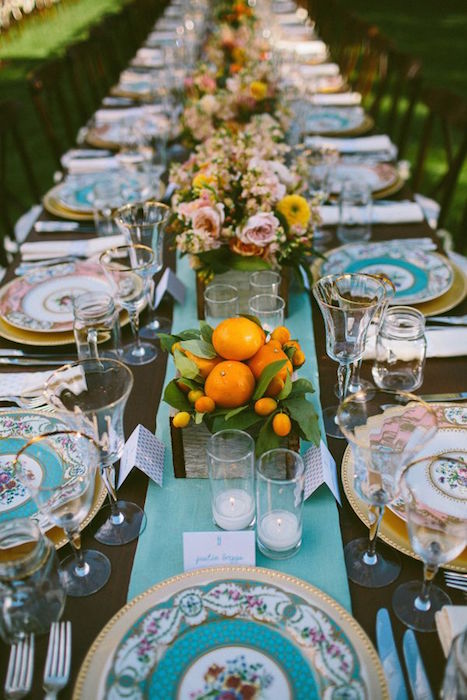 3. Candles
What better way to add romance and warmth to a dinner table, than with candlelight?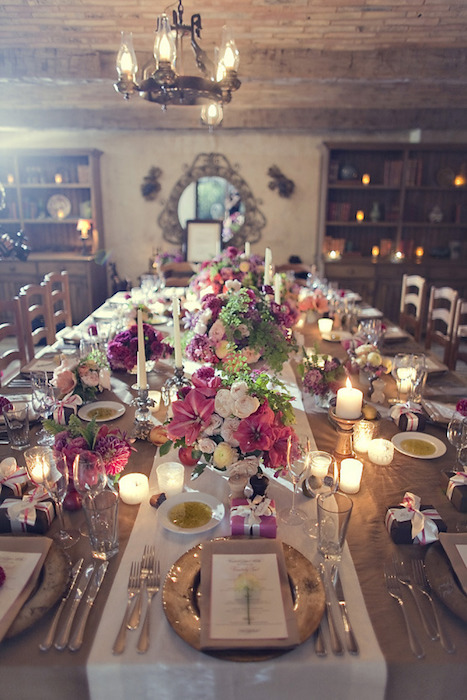 4. Small Details
Small details go such a long way for an intimate dinner. Wooden menus on mini easels not only add to the decor but show your guests how much thought you've put into planning the menu.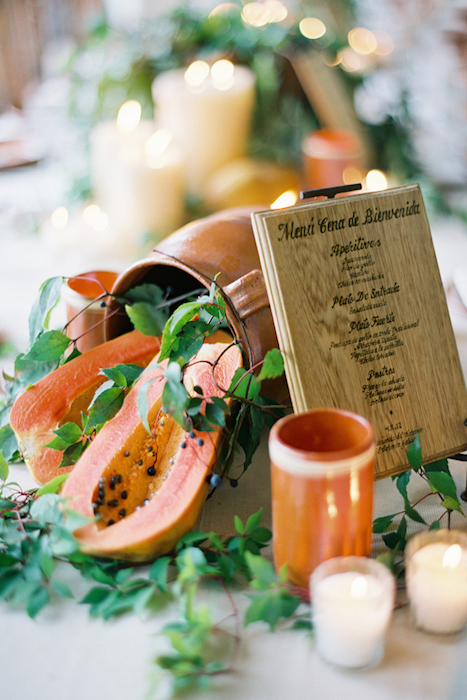 5. Fresh Fruit and Cheese
Fill the table with tempting cheeses, fruit, charcuterie, fresh bread and bottles of wine.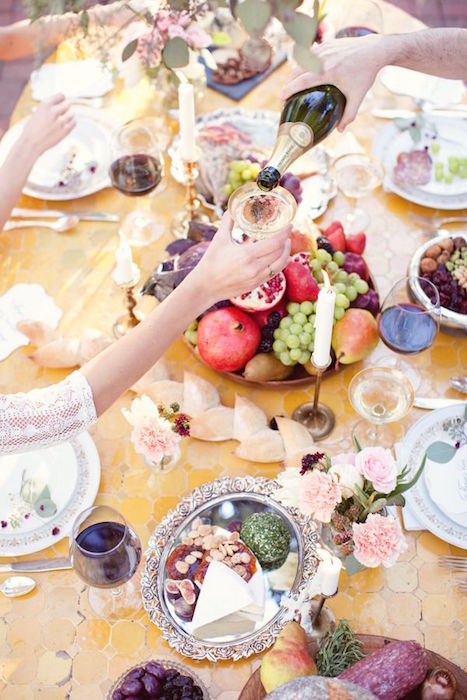 6. Table Runner and Chair Details

A sheer runner falling to the floor, along with lace draped chairs will give you some drama for an Edwardian style dinner party.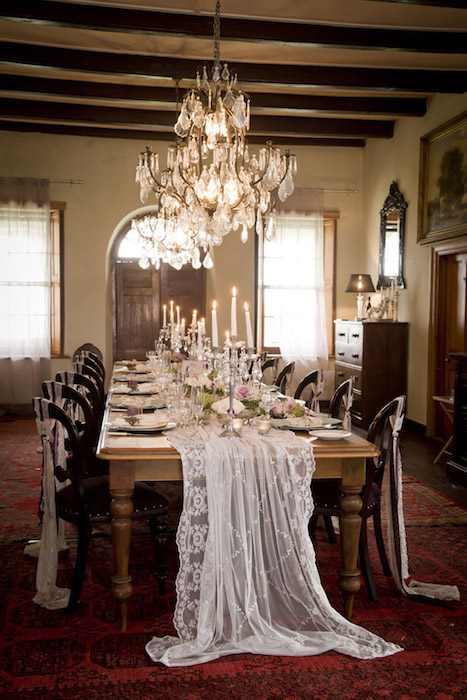 7. Mismatched Chairs
If you are going for a more rustic look, use mismatched chairs in an outdoor setting. A low-cost backyard wedding with a focus on good food and great company has so much charm.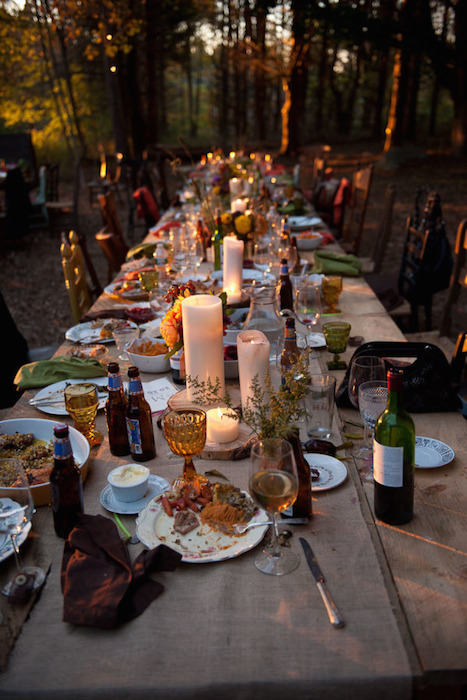 8. Greenery
Create a runner with leaves, vines and lemons for a Mediterranean flair.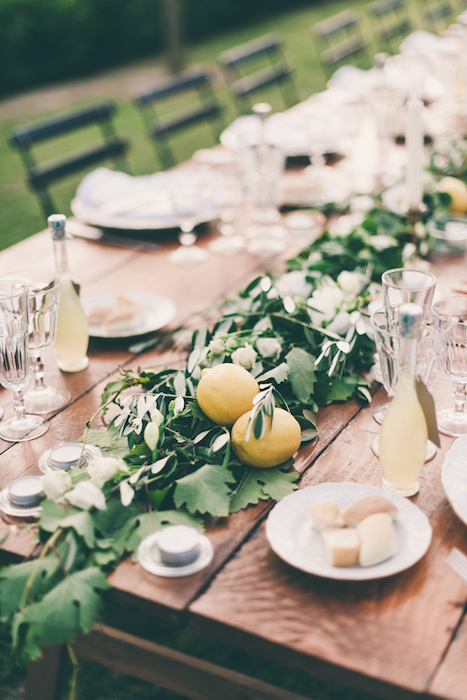 9. Exposed Wooden Tables
For a farm to table feast, strip things back with wooden tables and benches. Decorate with metallic candles and small floral centerpieces, or use fresh herbs.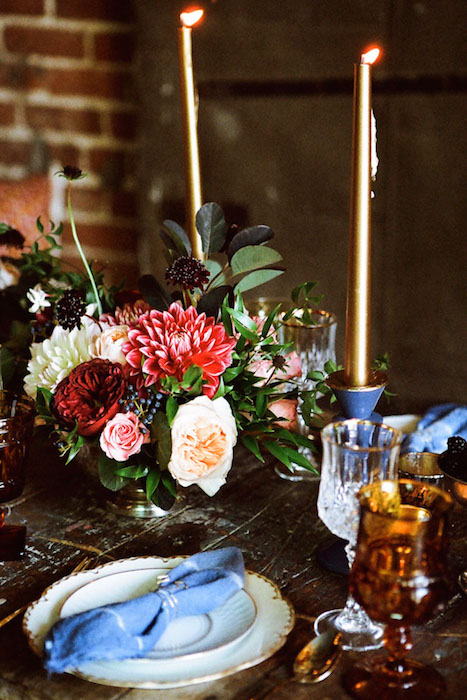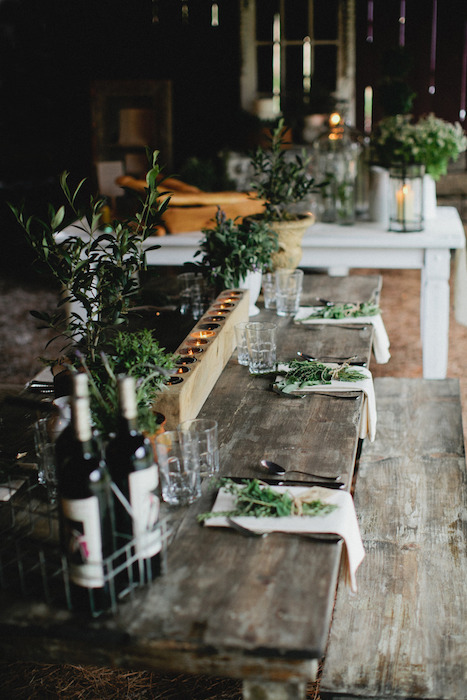 10. Go Family Style
Family-style dining is the way forward for a fuss free dinner party. Sharing food at the table allows for more variety on the menu and adds a lovely atmosphere. Seat everyone at one long table to enhance the intimacy of the event.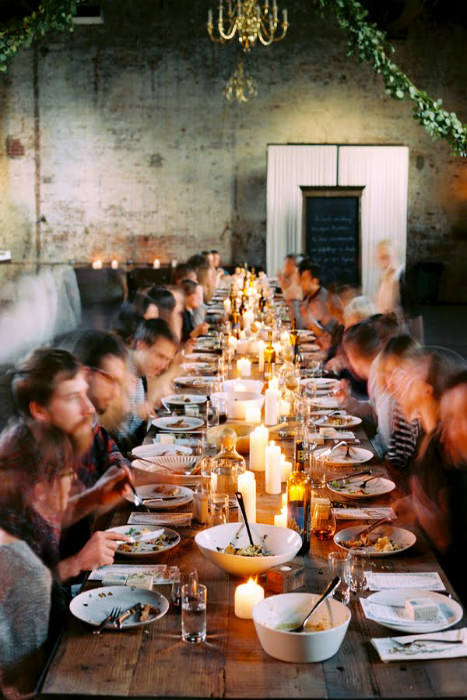 Photo one: studioimpressions.com;  Photo two: weddingomania.com; Photo three: stylemepretty.com; Photo four: rusticfolkweddings.com; Photo five: halforangephotography.com; Photo six: southboundbride.com; Photo seven grazierphotography.com; Photo eight: lisapoggi.com; Photo nine: greenweddingshoes.com; Photo ten: kristynhogan.com; Photo eleven: pinterest.com