Engagement photos are meant to be a natural depiction of you as a couple—and a way to get to know your photographer as well—but there's no reason why you can't add some style, personality and even glamor to your shots. Some creative couples want more out of their pictures than the obligatory kissing and hand holding shots. Engagement shoots are becoming more editorialized and can tell a story or depict a certain theme or idea.
After all, the reason for many engagement shoots is for a stunning save-the-date card or photo announcement, so show off who you are as a couple. Here are some neat ideas depicting everything from vintage, seasonal and romantic themes to creative poses and props:
Use the seasons as inspiration like with this winter shoot complete with cute, cozy outfits and snowboards. The photos may be a nice contrast to the season in which you're planning your wedding (ex. winter engagement and a summer wedding).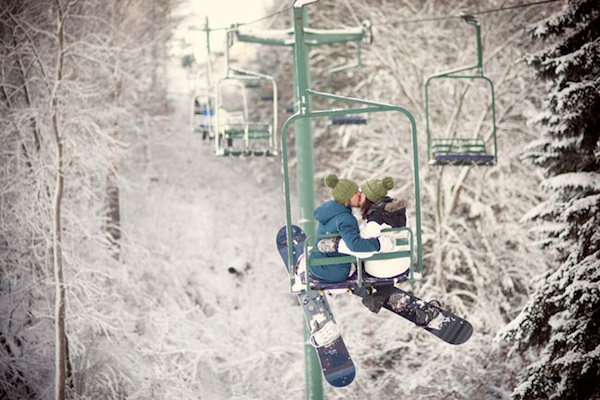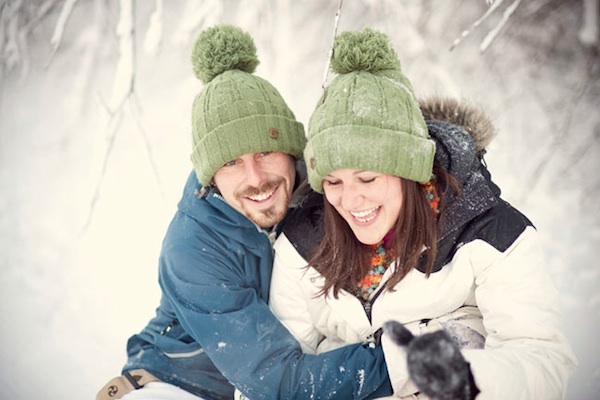 For a summer shoot, highlight your favorite activities, such as hiking, camping and traveling. Water makes a beautiful summery backdrop and you can even throw in some nautical inspiration. Who doesn't love a romantic frolic on the beach?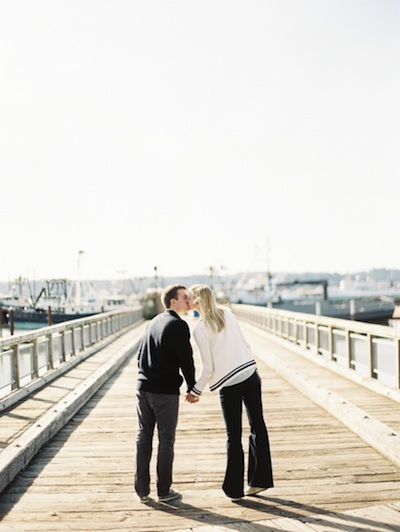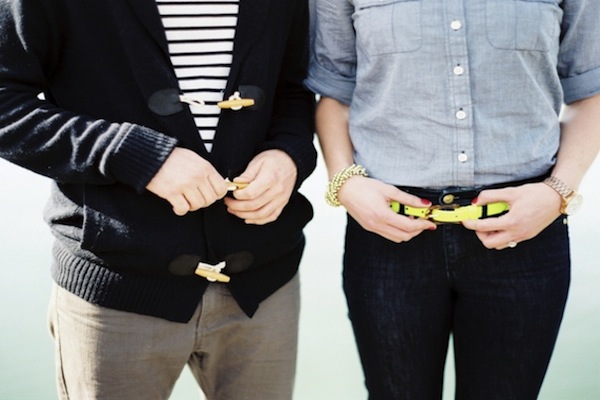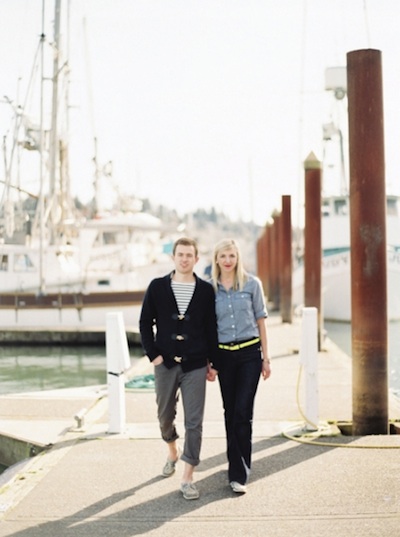 You don't have to be a professional stylist to add some accessories and decorations to your shoot. Some simple flowers, furniture or even transportation can add a focal point.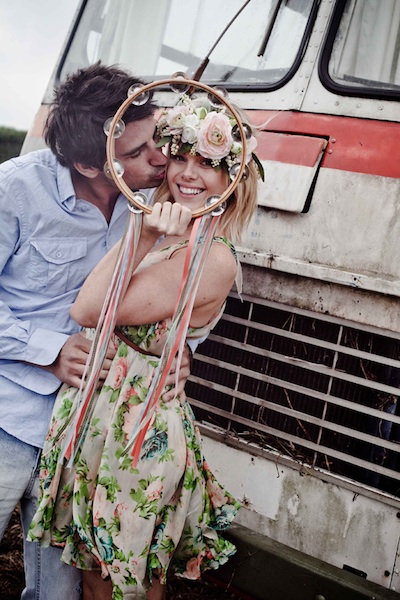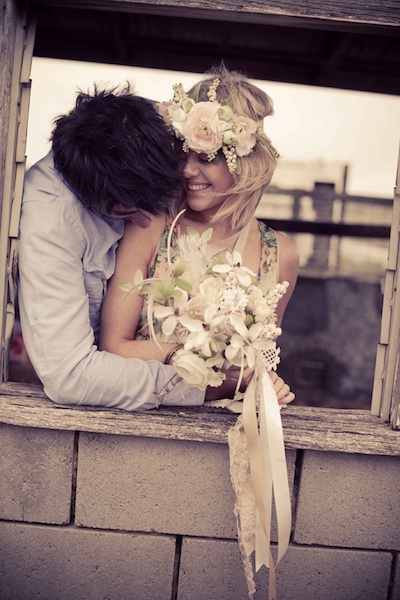 Scout your favorite date or weekend spots for interesting backdrops and locations. Some lettering or signage can spell a sweet statement in your shots. For urban couples, a mural or visually interesting building is a neat option.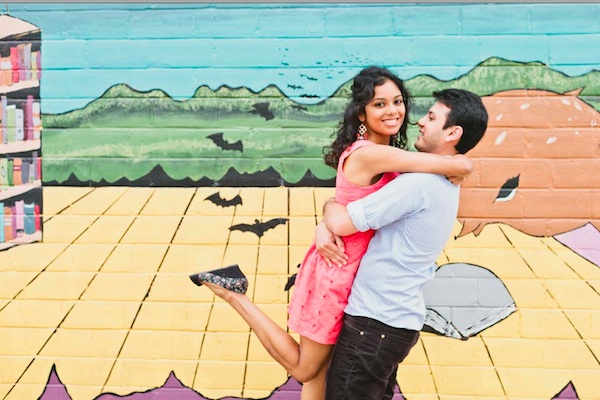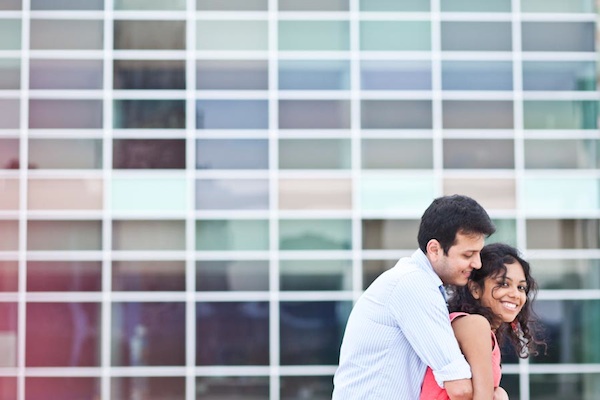 Create your own backdrop and scene at home, whether it's in your backyard or living room. What better way to signify you as a couple than a look inside your daily, and future lives, as Mr. and Mrs.?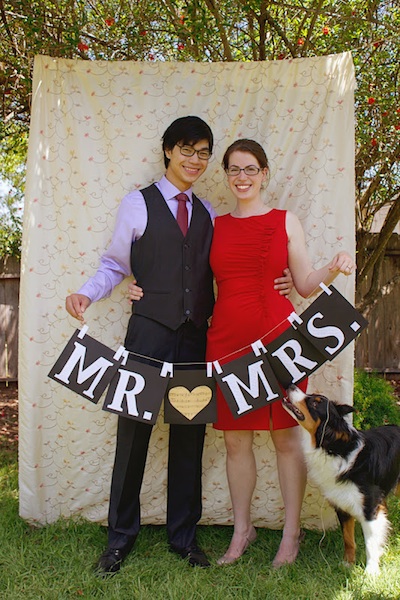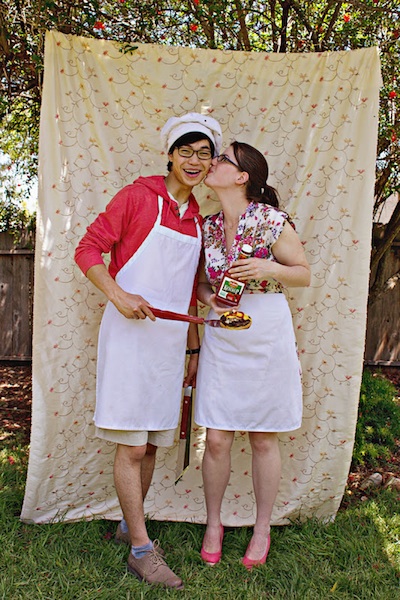 I love this idea of creating a scene with chalk paintings and props as the photographer shoots from up high to give the appearance of flying or exploring: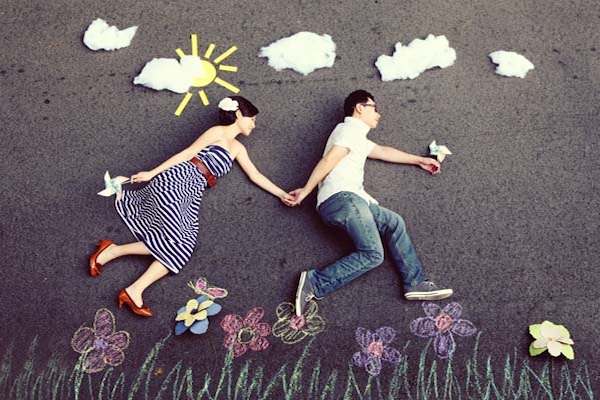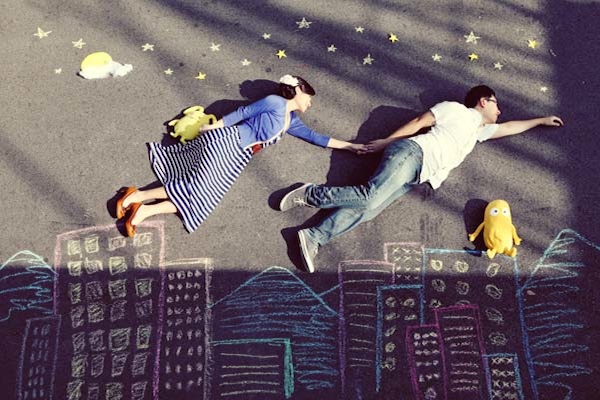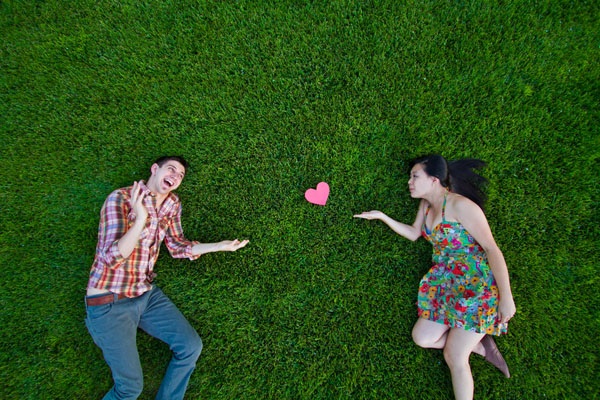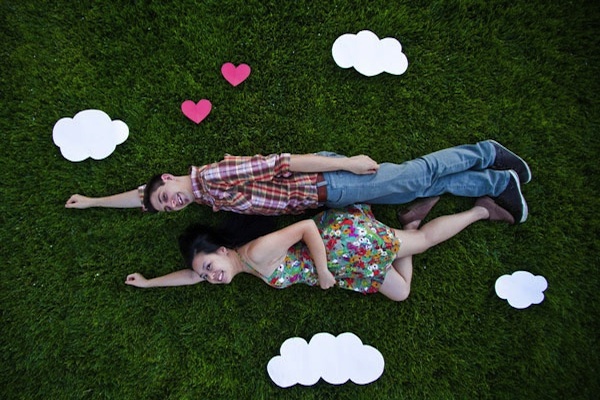 Bring along some fun props, like balloons and garlands, or make your own creative signs. For example, holding a sign with your wedding date will save a ton of effort when it comes to making your "save the date" cards!
Whether you go all out and tell a progression with your photos or stick to a few classic shots, you can even tell a story through the outfits you choose. Make sure to coordinate clothing with each other and that you match your surroundings. A few outfit changes can tell just as interesting a story as big props or backdrops.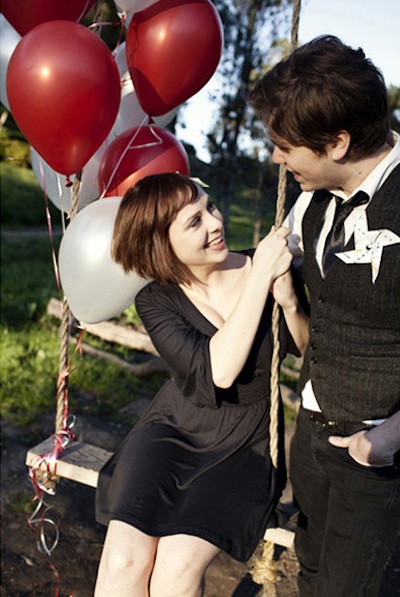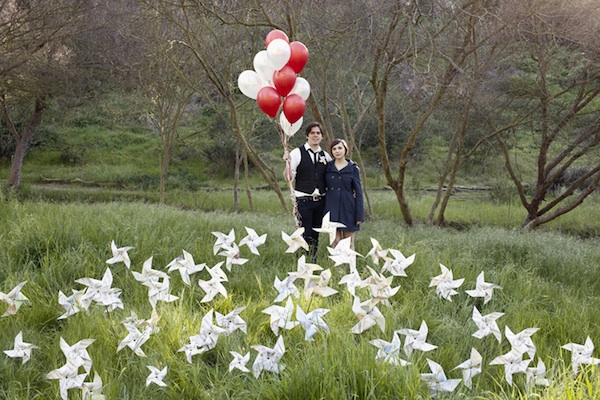 There is a ton of inspiration out there for creative engagement shoot ideas, with everything from movie-inspired (such as Disney or fantasy-style shoots) to book-inspired (classic, vintage romance novels perhaps?) to adventurous (extreme sports) and quirky; it's all about you and your style.
Photo One: Adam Alex; Photo Two: emilysteffen.com; Photo Three: emilysteffen.com; Photo Four: erichmcveyblog.com; Photo Five: erichmcveyblog.com; Photo Six: erichmcveyblog.com; Photo Seven: mywedding.com; Photo eight: mywedding.com; Photo Nine: tarawelchphotography.com; Photo Ten: tarawelchphotography.com; Photo Eleven: tarawelchphotography.com; Photo Twelve: tarawelchphotography.com; Photo Thirteen: studiosequoiablog.com; Photo Fourteen: studiosequoiablog.com; Photo Fifteen: oneeyeclick.wordpress.com; Photo Sixteen: oneeyeclick.wordpress.com; Photo Seventeen: pinterest.com; Photo Eighteen: pinterest.com; Photo Nineteen: sarahlaynephotography.com; Photo Twenty: sarahlaynephotography.com