A table runner is a great way to add another textural element without a lot of fuss. You can use a table runner instead of a tablecloth or accent a solid colored or fabric tablecloth for a special design touch.
Burlap table runners are a trendy choice for rustic, vintage weddings. To make them yourself, simply buy a roll of burlap then cut out strips the size of your tablecloths or the length of your tables (with room for them to hang over the sides of the tables). Then turn the sides under and hem the edges to finish or leave the cuts visible for a less polished look.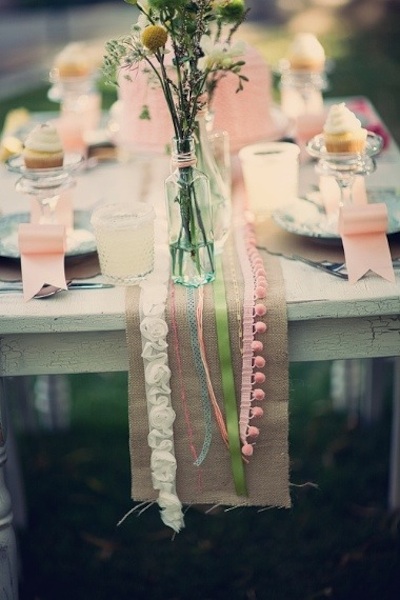 Customize your burlap runners with a monogram, initials or a personalized message for your guests.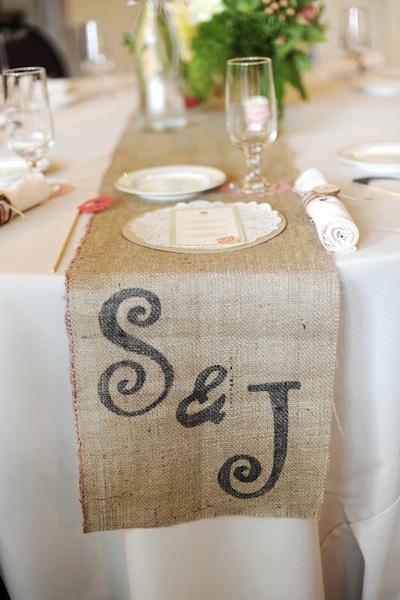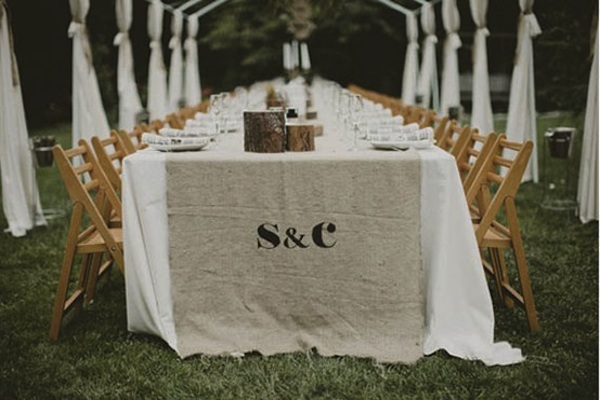 Fill your tables with personal mementos, photos and pieces of your life together, like with this idea for using a photo collage for a table runner. Or pay tribute to your family with wedding photos from multiple generations: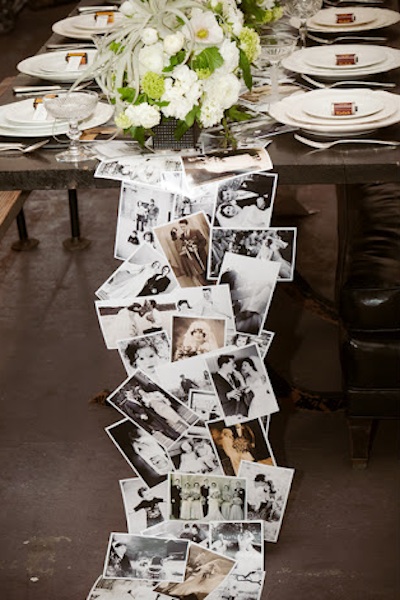 Choose some fabric in classic colours and tie each end with ribbon or twine or have it romantically cascading off the tables. Table runners are also significantly easier to sew and cut than attempting DIY tablecloths, which can get tricky for long or round tables.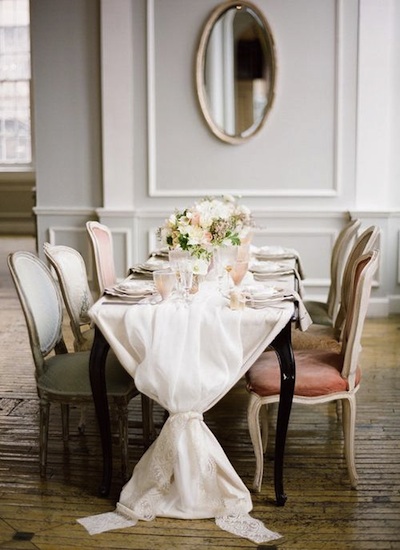 Sew lace and doilies together or transform antique table cloths into vintage-inspired table runners. Or simply add lace trims for softer edges.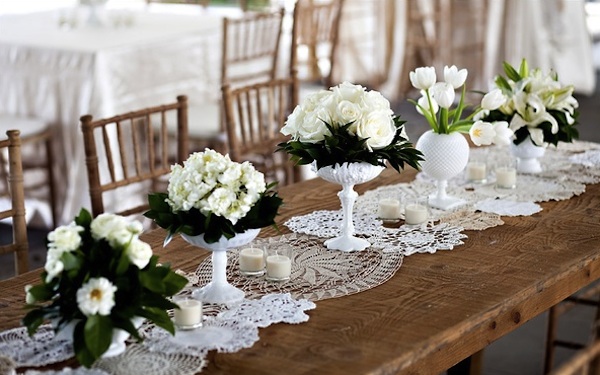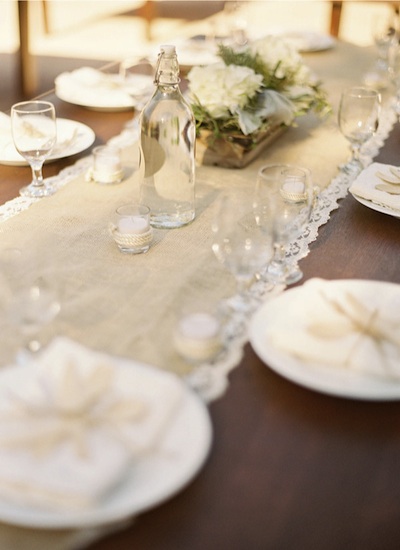 Bold designs like chevron can really make your flowers and table pieces pop for bright, and even neon, color schemes.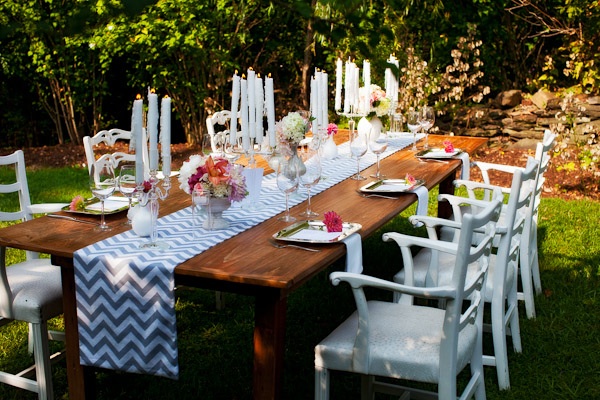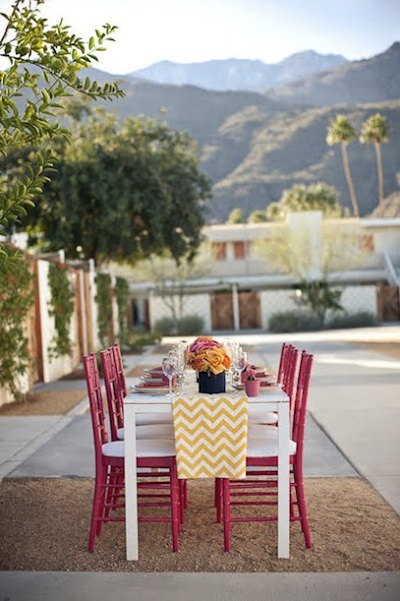 Another DIY table idea to consider is paper flowers seen here grouped together to make a stunning table runner on top of kraft paper (and more budget friendly than real flowers too).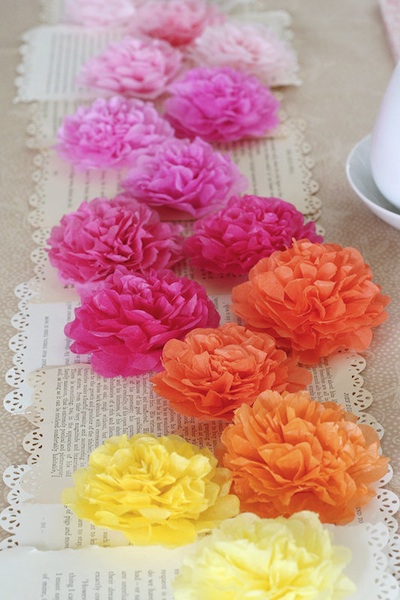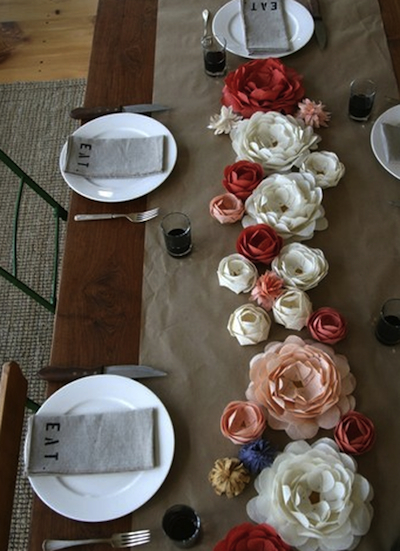 For a rustic touch, place wooden planks on each table to add more levels and depth to the table setting. No sewing required!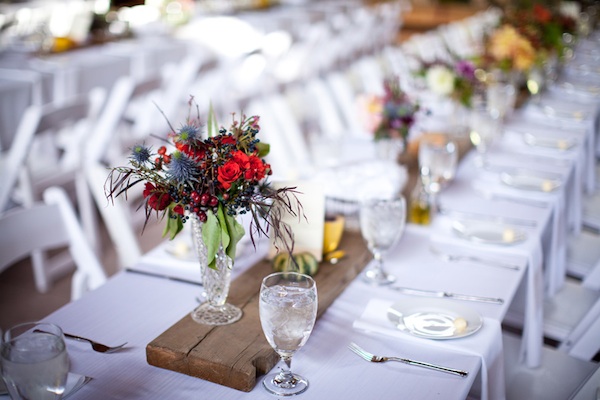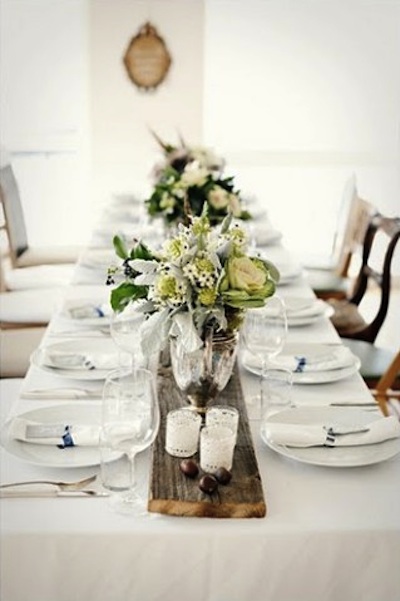 Photo one: ucreateparties.com; Photo two: coffeefilterbride.com; Photo three: blog.jennicajophoto.com; Photo four: pinterest.com; Photo five: kristamason.blogspot.ca; Photo six: rpscissors.typepad.com; Photo seven: madamebonbon.com; Photo eight: carterandcookeventco.com; Photo nine: elizabethannedesigns.com; Photo ten: jldesigns.blogspot.ca; Photo eleven: partypatisserie.com; Photo twelve: thedecorista.com; Photo thirteen: taliaevents.com;  Photo fourteen: feathersandcupcakes.com