With a burnt, rustic and metallic finish, copper details are a great way to incorporate the feeling of fall in your wedding. It's an understated alternative to gold and silver which complements many themes and color palettes. We've picked  10 ways for you to embrace all things metallic and use copper in your decor.
1. Water for the Table
Sometimes a plain jug of iced water just doesn't cut it. If there's any occasion that is deserving of an extra fancy pitcher, then your wedding is surely it!
2. Metallic Cake Stand 
This copper stand is the perfect way to complete the look of this delicious cake setting. As if the dripping caramel wasn't tempting enough…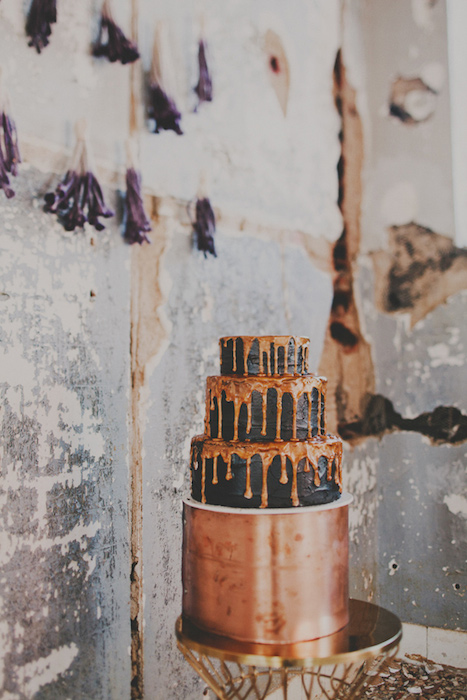 3. Skinny Belts
We love the contrast between a lace wedding dress and a skinny metallic belt. The copper tone in the belt can be used to complement peach flowers in your bouquet or rose gold jewelry.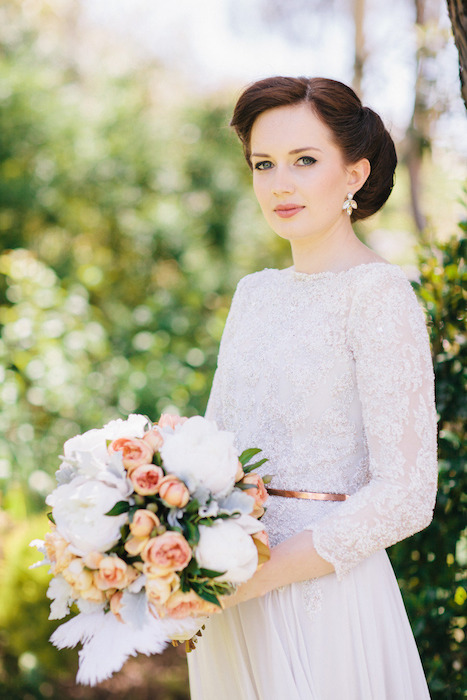 4. Flowers in Copper Vases
Vases are so versatile, you can use so many things that you might already own to hold your floral arrangements in. You can use glass bottles and paint them with a copper finish to create a lovely centerpiece. Mixing them with gold and clear bottles will create a stylish mismatched look.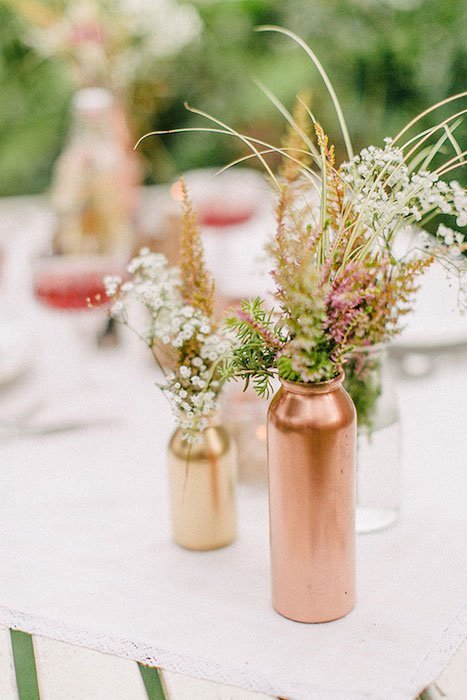 5. On Tap
Keep your guests warm with hot drinks, blankets, bonfires and outdoor heating. Ideal for a nostalgic camp theme. This copper camp dispenser is such a neat way to serve up warm jugs of apple cider.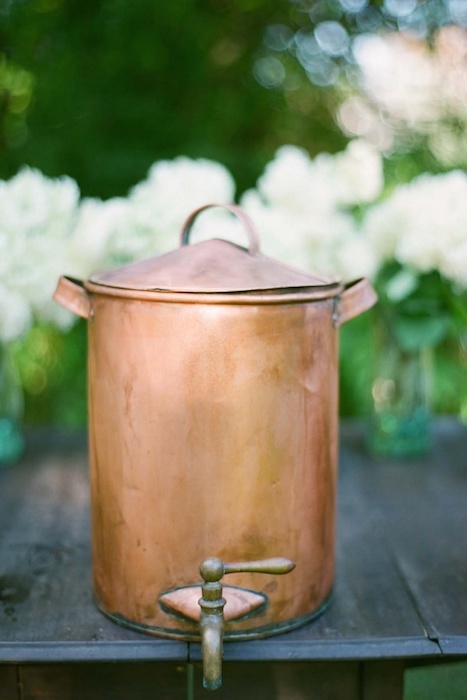 6. Escort Cards
These copper escort cards are reminiscent of old hotel keys. They have a rustic look that still has a polished quality. Plus, your guests would love these as keepsakes. Definitely a keyring or luggage tag in the making.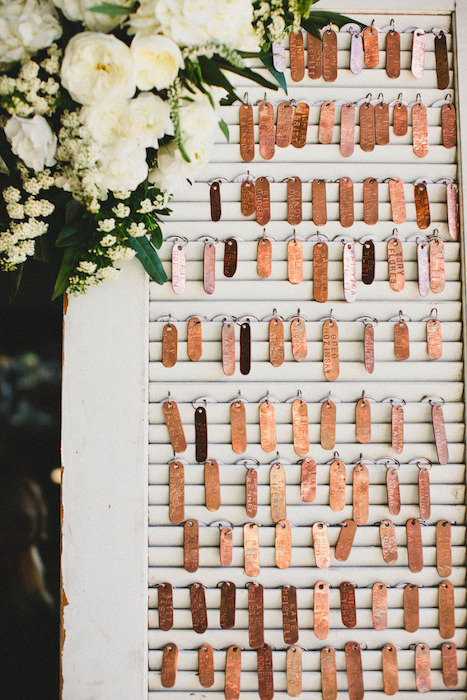 7. Shoulder Accessories
If you're wearing a strapless dress and looking for a necklace with an  impact, this is a special alternative. A chain that wraps around your shoulders is a delicate choice that is unexpected. It really gives the dress a much needed finishing touch.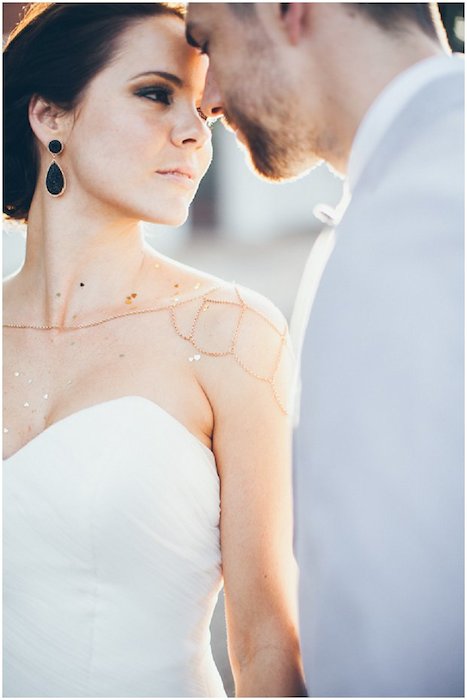 8. Copper Invites
These copper-hued invitations are perfect for fall. The metallic envelope is a great statement and the subtle copper typography is very appropriate for the season.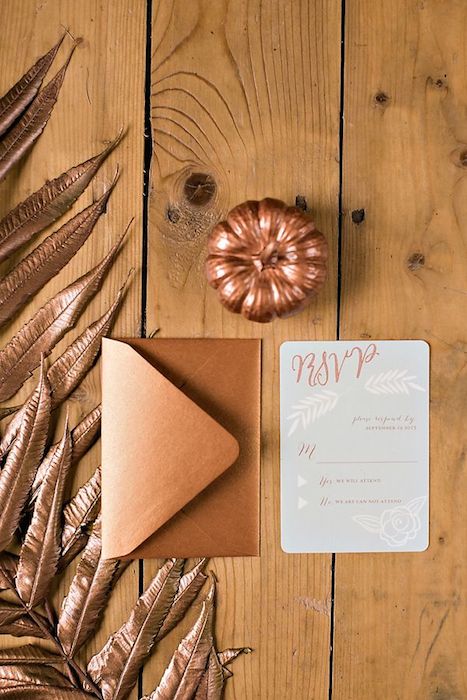 9. Steampunk Centerpiece 
For fans of the steampunk aesthetic, this centerpiece will fit in well with your wedding decor. If you're good with DIY projects then you can try your hand at making these with plumbing accessories, glasses and candles.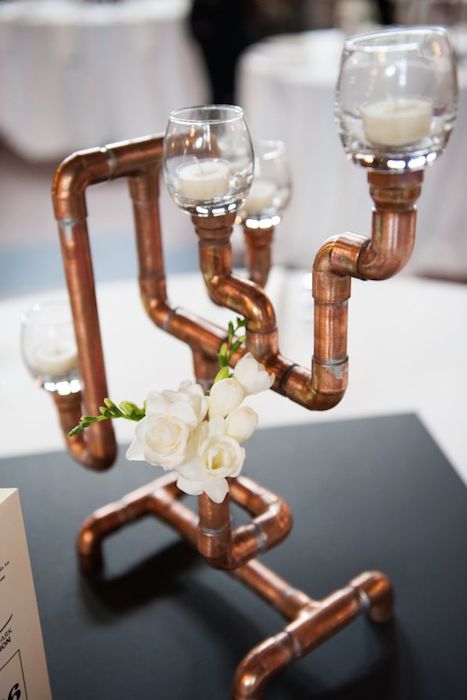 10. Lanterns
Lanterns not only provide a source of lighting, but they make great centerpieces. You can place white candles in them and  decorate with white flowers. Copper lanterns can also be used to frame the aisle for the ceremony.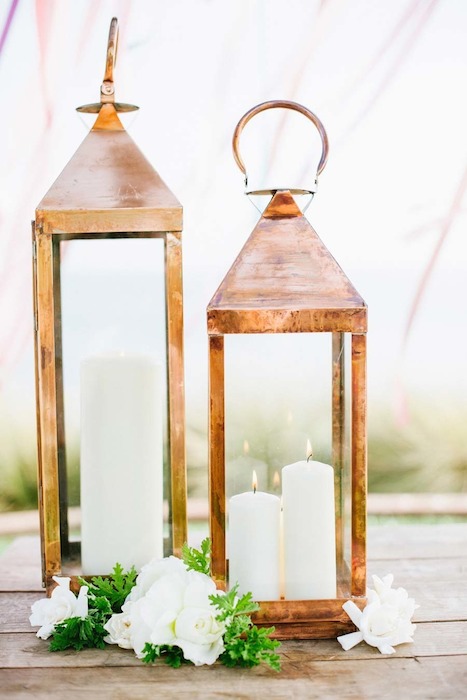 Photo one: elizabethannedesigns.com; Photo two: ruffledblog.com; Photo three: eonimages.com; Photo four: hochzeitsguide.com; Photo five: thesweetestoccasion.com; Photo six: pinterest.com; Photo seven: wantthatwedding.co.uk; Photo eight: weddingchicks.com; Photo nine: pinterest.com; Photo ten: birdsofafeatherphoto.com