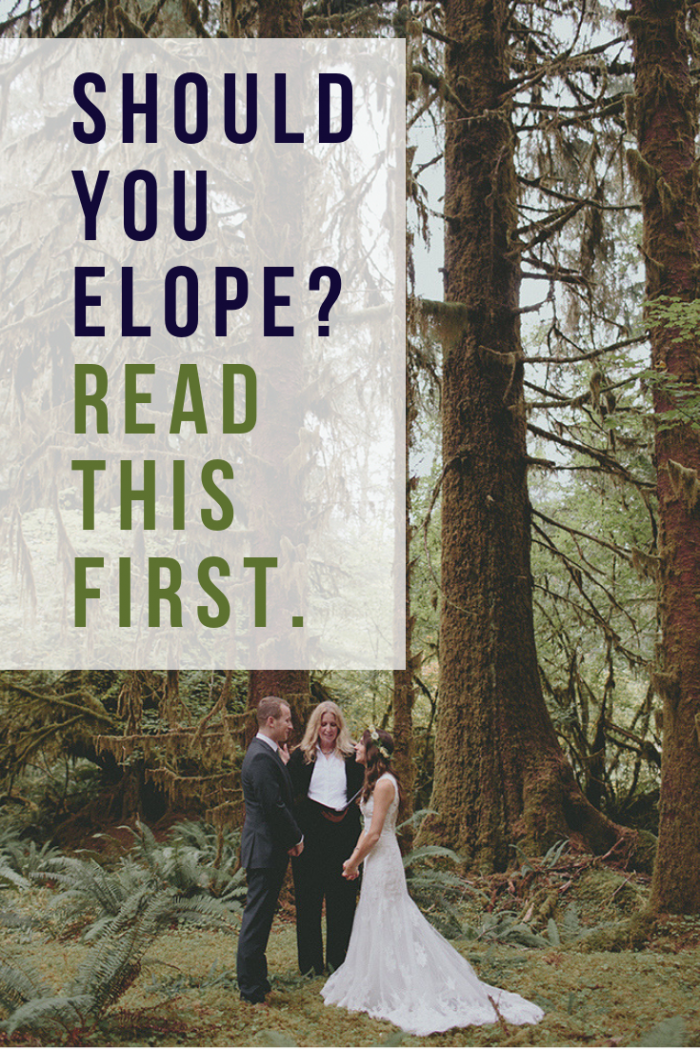 Elopements have been steadily gaining popularity in recent years, and we couldn't be happier. Elopements are a wonderful way for you to save money, and focus on what really matters: the love shared between you and your spouse. We're seeing more and more couples giving in to their wanderlust, and traveling the world to say their "I dos" in breathtaking locations, from the middle of the Mojave Desert, to the rugged and mystical Isle of Skye.
Eloping can be a dream for many couples, but choosing to run away from it all is a big decision, and one that must be made carefully. Here's what we want you to know before you decide to elope:
1. Consider the reason why you want to elope.
Planning a large 150+ guest wedding is inevitably going to cause some level of stress. Sending out invitations, navigating the politics of choosing bridesmaids, arranging a menu that accommodates gluten-free vegan diets and picky children – it's enough to make your head spin! Obvs, we think you should keep your guest list small, but the "all or nothing" rule doesn't have to apply. Consider opting for a 20-40 guest wedding instead. Your choice to elope should be a deliberate one, not a knee-jerk reaction to wedding planning stress.
2. There's eloping and there's eloping.
While the perception of elopements as only drunken Vegas "I dos" (we're looking at you Friends) or hushed courthouse nuptials has evolved, many couples feel constrained by the idea that an elopement involves just the two of them and an officiant. This isn't always the case. An elopement can involve you, your hubby and both of your parents, or the two of you and your 10 closest friends.
3. You really should hire a photographer.
Pics or it didn't happen. While we have heard of couples opting for photographer-free elopements, we highly recommend hiring a photographer to capture your wedding. Search for a photographer that specializes in capturing emotional moments, 'cause your wedding is going to be filled with them! Further on down the road, you'll truly appreciate having photos that capture the magic of your wedding day. Plus, if your close friends and family members can't witness your special day firsthand, they're certainly going to want to see wedding photos!
4. You will still have to deal with logistics.
Sorry guys and gals- you ain't getting out of this one. An elopement still involves a venue (of some sort), a photographer (see above) and a marriage license, so your nuptials will still require some degree of planning. Does there have to be a witness at your wedding ceremony? If you're getting married internationally, what are the country's marriage laws regarding foreigners? How does one go about getting married in a national park? Is your preferred photographer available on your wedding date? Ensure that you figure out the logistics well in advance.
5. Feelings are probably going to get hurt.
The most difficult part of eloping can be the reaction of family and friends. While they'll be super excited that one of their favorite couples is finally tying the knot, they may be disappointed that they won't get to take part in your special day. Telling your nearest and dearest about your decision in person before you tie the knot can help minimize hurt feelings- be prepared for some pushback, however, especially from close friends and family members.
6. Little wedding? Big wedding? You can have both.
It's not totally uncommon for a couple to have two weddings- an elopement followed by larger wedding with family and friends. This way, you experience the best of both worlds: an intimate, stress free day for just you and your s.o. and a fun, celebratory bash surrounded by family and friends. If this option isn't feasible, consider hosting a larger reception, inviting your nearest and dearest for a celebratory lunch or dinner. Either option can help eliminate some of the guest list drama mentioned above.
7. Eloping can save you a bunch of money, but it doesn't have to.
Eloping can save you tens of thousands of dollars.  That doesn't mean that you have to opt for a $500 courthouse elopement, however (although those can be quite wonderful!). Luxury elopements have become a trend, with couples jetting off to dreamy destinations to tie the knot. And chances are, even with flights, fancy accommodations and a moonlit dinner for two factored in, your elopement will be a fraction of the cost of a traditional wedding.
8.  Eloping is a rewarding experience.
If you feel that an elopement is right for you, go for it! You will save yourself some serious money that you can put towards future expenses (a house perhaps) and best of all, you and your s.o. will be able to spend one of the most important days of your lives together completely focused on each other. Your can be intimate, low-stress and positively magical. Don't just take our word for it. Here's what three brides and grooms have to say about their elopement experiences:
"We did it just the way we wanted!  We didn't have the stress of planning, and we were able to have our parents and sons there to celebrate with us.  I didn't have bridesmaids or anyone else to worry about. The morning of the ceremony, we were completely relaxed.  I actually had time to just sit back with a glass of champagne because we were ahead of schedule.  I'm not sure how often that happens when you have a big wedding!  It was a day about simplicity and love."- Katherine and Michael's Black Balsam Mountain Elopement
"We were able to focus on what was important in the long-run – our marriage and each other. I think it really helped to eliminate the "noise" that is created around weddings, as it relates to pleasing so many people, having "instagram-worthy" decor, etc."- James and Emily's $600 Restaurant Elopement
"It was so simple [and] it gave us time to really reflect on what we were doing and how important we are to each other. We just had an incredible day together, with minimal stress."- Jessica and Karl's San Francisco City Hall Wedding